Best Oxford Heels Reviewed & Rated for Style
In a Hurry? Editors choice: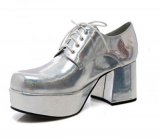 Test Winner: Funtasma by Pleaser Jazz

There are certain pieces of fashion that never go out of style: the little black dress, the classic tuxedo, and of course, a polished Oxford shoe. These pieces continue to inspire to this day, so it comes as no surprise that Oxford heels are such a popular type of footwear.

Combining the classic appearance of men's formal footwear with a high heel, these high heel oxford shoes are the ideal choice for those looking for their next pair of work shoes. Not only will they look great in a formal office setting, but they will also easily move into casual wear, elevating the appearance of your favorite jeans or dress.

The list below features the ten highest rated pairs of Oxford heels, from those that are work-ready, with plenty of comfort and support features, to those which will look better on special occasions.
Standout Picks
Criteria Used for Evaluation
Materials
We cannot stress enough how important the materials used to make a shoe are. Typically, consumers are more concerned with the design of the shoe – than knowing how the product was actually made. Fortunately, for those of you who are wanting Oxford shoes, we did the research for you. We took the time to study dozens of different products and the materials that manufacturers. What we noticed was that these brands typically used the following materials:
Leather
Polyester
Suede
Velvet
Plastic
Rubber
Now, you might be wondering, why is this important? Well, the materials used to make a shoe speak volumes about the quality of the product. For example, a heel that is made of leather and a heel made of plastic are two entirely different items. The one made of leather is clearly superior and will last for months, or years longer.
Additionally, a product made of suede, while good for durability, is poor for outside use as, the moment it rains, the footwear would be ruined. These are all different aspects we took into consideration when evaluating the best shoes of this type
Upper
Another critical part of a shoe or boot is known as the upper. This is the top part of the product and is typically responsible for keeping your foot in place during walking. Additionally, the upper helps in wicking away moisture, keeping your feet stable and in control, and providing comfort padding.
In this market, we noticed that many cheaper brands tended to slack in this department, keeping their uppers made from the standard materials, making it rough and tough on the individual's forefoot. In this case, previous consumers nearly always complained about blisters or heat spots.
The brands that we selected today all invested quality materials in their upper to ensure that, when you are walking, you don't need to think about whether or not you will be comfortable.
Outsole
One of our favorite aspects to always inspect and research is the outsole of a shoe. This is the bottom part of any shoe or heel. For shoe gurus, we typically look at this part of footwear as the glue that holds everything together.
If a shoe has a poor outsole – chances are, the shoe has minimal durability and won't last after a few uses. In most cases, the outsole of any shoe will be made from a varying type of rubber.
When it came to picking out the best products for your consideration today, we carefully studied the outsole of each product to ensure that not only it was of rubber – but that it was durable enough to handle months of use. To our surprise, we found that many of the brands featured today spent some quality time developing their outsole. There were a few unique features that captured our attention, including:
Traction technology
Slip-Resistant Features
Non-Skid properties
Wear-and-Tear Resistance
Midsole
When it comes to assessing the comfortability factor, we carefully studied the midsole and insole of each heel. Reason being, this is precisely where comfort comes from.
For those who don't know, the midsole and insole are the interior part of the shoe, typically comprising the entire footbed. Combined, they provide an individual with the comfort, padding, and security while walking around.
In today's buying guide, we carefully measured each product based on its midsole and insole to ensure that you are receiving the best cushioning. Many of the products featured Ortholite padding, which is great for comfort and durability. Additionally, we also noticed that some brands included a removable insole so that consumers can customize their own comfort.
Color
When it comes to this specific type of shoe, we noticed that many different brands tried to do different things to stand out from the competition. One of the best ways for a brand to do this is by offering different colors and styles of their product.
In this, when picking out the best Oxford heels, we carefully analyzed each product based on the different color choices that the offered – or whether they offered options or not.
In today's buying guide, we highlighted 10 products that nearly all offered you an opportunity to pick a color or style that matches your specific desires or personality. If you are looking for a genuine brown Oxford heel – we have that! If you are looking for a blue one, we have that too!
10 Best High Heel Oxford Shoes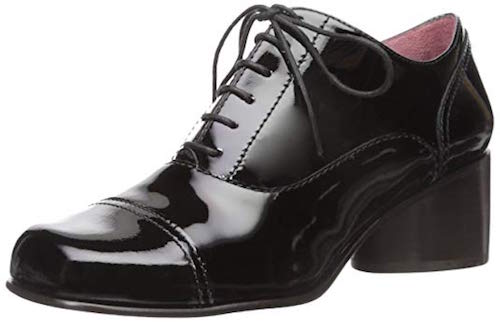 A pair of black patent shoes ideal for formal occasions and office wear, the Binx women's oxford heels by Marc Jacobs is an investment piece you definitely won't regret getting. This is a truly great pair of footwear, not only in terms of look and style, but also the premium materials used in construction, as well as all the little details that will make your wearing experience so much better.
The main feature of the Binx women's oxford heels is the goat leather patent upper which is so polished it looks almost liquid. With only a few subtle stitching details, this is a pair of footwear that will perfectly compliment your favorite slacks, and the square cap toe borrows from menswear for an added touch of comfort.
The lining and sole are also made with the same goat leather as the upper, and are a good choice because they're extremely soft to the touch, while still being more durable than leathers sourced from different animals. The block heel is 2 inches high, providing the wearer with a stable base to walk on, great for long-term wear. As for cost association, the price of these high heel oxford shoes is considerably higher than any other listed, but is a good investment for those who want quality and durability.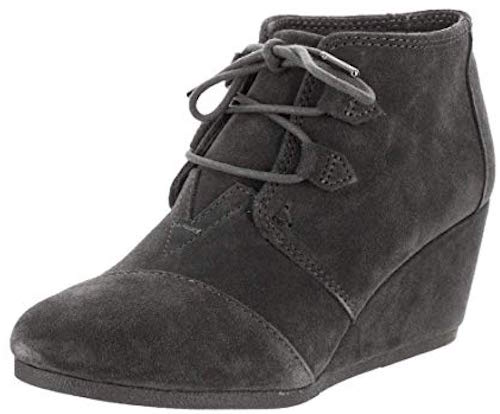 These women's oxford heels by Toms is a great choice for those who want to combine the classic tuxedo shoe with a bit of casual comfort. The Kala by Toms is a wedge bootie inspired by classic footwear and is the perfect choice for pairing with jeans or a skirt. It is available for purchase in three colors: black, taupe and iron-grey.
The upper of the Kala oxford high heels is made with soft suede - the same material that's often used in the brand's most popular models. The cap toe and open lacing borrow from the classic Derby shoe, while the wedge heel gives it a modern touch. The lacing system is sturdy and allows for fit adjustment.
The lining of the Kala oxford high heels is also made with a material that's been treated to repel bacteria, which means that you won't have to worry about bad odors while wearing this wedge. Furthermore, the outsole uses rubber, ensuring great grip and durability on both indoor and outdoor surfaces. As for cost association, this model ranks slightly below average, making for an excellent purchase for most.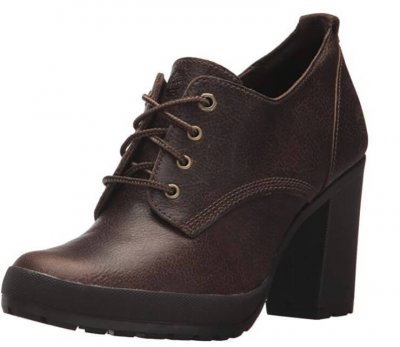 If there is any Oxford heel that can challenge the number one spot and make a good argument as one of the best products in the game – it's the Timberland Camdale oxford heels. These high heel oxford shoes are not only stylish and fashionable, but it also boasts some unique features that many consumers will find valuable.
The footwear manufacturing industry is heavily saturated with items of this type, featuring dozens upon dozens of options. With that, it's important for manufacturers to make their products different. To stand out, this brand made its product in three different stylish colors and designs. You may choose from a medium brown, dark brown, or the traditional wheat nubuck colors.
Investing in these women's oxford heels is an investment in one of the best shoemaking brands. This company invested quality time and innovation in their footbed. The Camdale uses an Ortholite insole that's cushioned and supportive, and ideal for all-day wear. With the Camdale, consumers are getting a high-quality, genuine leather heel - with the ability to choose from three different fashionable colors and styles. The slightly high price certainly is justified by the comfort factor.

4

. Rockport Cobb Hill Shayla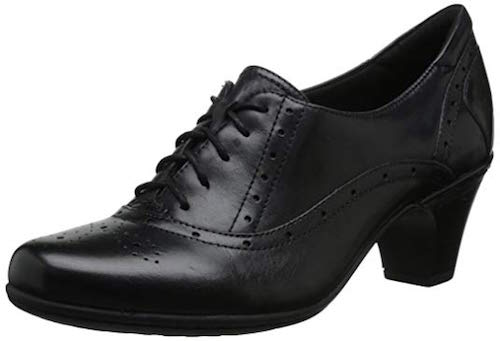 Inspired by menswear, the Shayla high heel oxford shoes may look like a simple pair of lace-up heels, but in fact, it is so much more. Made by Rockport, this is a pair of high heel oxford shoes completely focused on comfort and functionality, without once neglecting the stylistic features that make it the perfect choice of office wear.
The upper of the Shayla is made from full-grain leather that has been laser cut for precision and is embellished with broguing details that you'd find on a pair of Oxfords. The collar features padding which will prevent rubbing at the back of the heel, and the lining is made with plush microsuede that's not only soft to the touch, but also moisture-wicking.
As for comfort, these women's oxford heels has a shock-absorbing EVA foam footbed covered in leather and textile, and the 2-inch heel offset is supported by a steel shank for ultimate stability that lasts all day long. The TPR outsole has grippy traction nodules on the forefoot, allowing you to walk on any surface, including highly polished floors, without slipping. As for cost association, this is an averagely priced product, but can often be found on sale, which makes it a real bargain.

5

. Rockport Cobb Hill Gratasha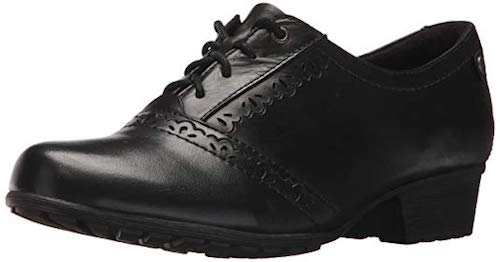 These women's oxford heels are the ideal choice for those who need a formal pair of footwear to wear to work. The Oxford cut coupled with the petal-inspired cutouts gives the Gratasha oxford high heels a feminine flair while still remaining 100% practical and comfortable, even for wear on long days. The 1 ½ inch heel is the perfect height, allowing for a bit of elevation, without putting too much pressure on the ball of the foot.
The upper of the Gratasha is made with full-grain leather that is soft and breaks in easily with just a couple of wears. It breathes fairly well, being ideal for fall and winter use, and the classic lacing system allows for fit adjustments. The inner is lined with microfiber which is moisture-wicking, which means that you won't have to worry about bacterial overgrowth and bad odors.
The footbed of the Gratasha, as we've all come to expect from this brand, is generously padded, adding a good layer of shock absorption to an otherwise classic pair of Oxfords. The rubber outsole features a great traction pattern, and is one of the grippiest on this list. As for price point, these high heel oxford shoes are an affordable option that will fit almost anyone's budget.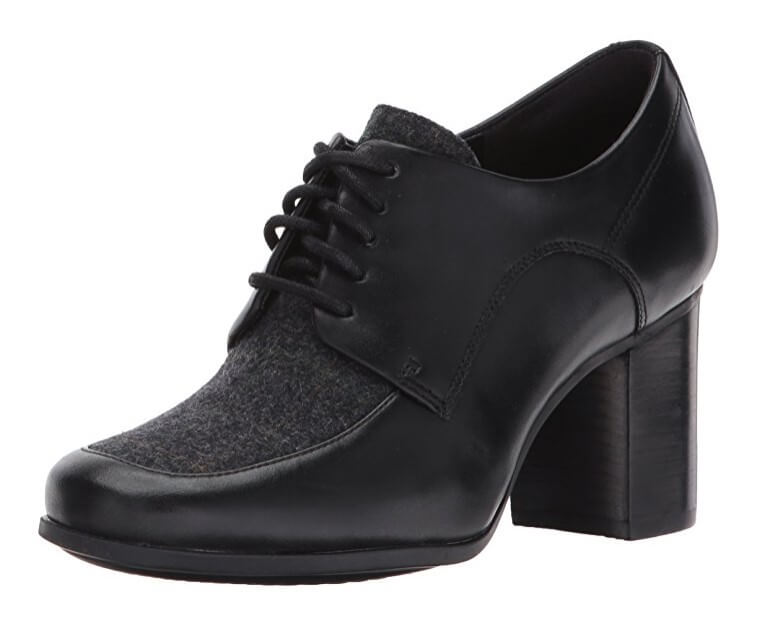 The Clarks Kensett Darla is one of the best pairs of oxford high heels you can invest in, thanks to its classic design, quality footbed, and a list of impressive features. With this product you will receive durability, and comfort. If that is something you are looking for, this is the pair of shoes for you.
What sets these oxford high heels aside from the competition is the way the footbed is constructed. Now, if you have never purchased something from this brand, you should know that they are well-known for comfort. With this, the product has a footbed made by Ortholite, which is known to promote maximum cushioning for the individual while walking around.
The upper uses genuine leather in construction, while the outsole is made with well-tractioned rubber. On the whole, these women's oxford heels are an affordable item, and it affords great value to those looking for this type of shoe. The average price definitely makes it worth purchasing.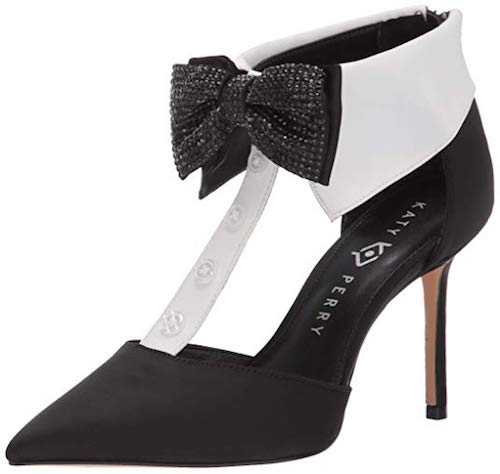 Now, if you really want to stand out, then definitely check out this model designed by Katy Perry. Not only are The Adella women's oxford heels inspired by the classic black tie tux, but they are also a fun take on the traditional T-strap pump. Perfect not only for formal functions but also for nights on the town, the Adella is a one-of-a-kind choice of heels.
The upper of the Adella women's oxford heels is made with satin, which has a number of benefits. First and foremost, it's a soft material that won't require long breaking in periods. Secondly, it's highly breathable and coupled with the cutout details, it will allow plenty of air flow to reach your feet.
Other notable features include the zipper closure at the back of the heel, which is an easy way to secure the shoe, but also one that's fast, not requiring you to bother with straps or buckles. The synthetic sole won't be damaged by slightly damp surfaces, nor will it give in to abrasion when worn outside. As for cost, it's only slightly higher than average, making this an overall good buy for those who want to stand out.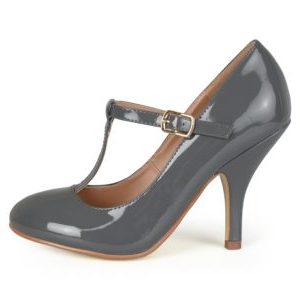 The Brinley Co Dress Pump women's oxford heels boast a very classy, luxurious design that is destined to win the hearts of many consumers. The T-strap style is an excellent choice for those who want a classic pump look, but wish for a little bit of additional security while walking, and it is exactly this that makes this model a great choice for both work and time off.
The Brinley Co Dress Pump women's oxford heels feature a simple slip-on design that is secured by a buckled strap that is not only easier to put on and off, but also makes for a cleaner aesthetic without any laces.
While these high heel oxford shoes may not have dozens of color options and designs to pick from, what it does have going for it is that the four different designs possess the same level of sophistication and intelligence as the others. With choices ranging from beige, pink, black, and green, consumers can really liven up their outfit or complement their neutral colors. As far as cost is considered, this product is not really too costly, making it easy for consumers to purchase without much doubt or question. We would like to mention that, this product does not feature the same level of padding or cushioning as other products; however, as many consumers have said, this product is still very comfortable to wear.

9

. Guilty Shoes Classic Retro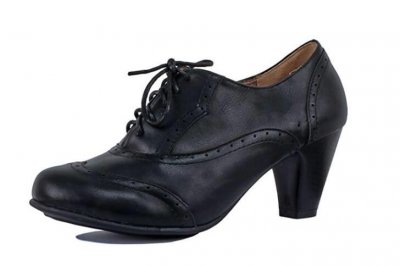 Whether you have a party, wedding, or a special event coming up that you need to stand-out for, the Guilty Classic Retro oxford high heels are a great option to consider. Offered in a huge number of color options, you can truly can personalize your experience and match your outfits, dresses, and even personality. With endless choices, let's see what type of value this shoe offers.
Let's start with the most noticeable facet of these women's oxford heels: there are over 21 different choices to pick from! With colors ranging from grey, brown leather, white, black, red, and even yellow – there are so many choices that consumers might just purchase more than one! The best part, since these are incredibly cost-friendly, it's a purchase to be proud of.
In efforts to make their heel more enjoyable to wear around, the company made the entire product out of lightweight materials. In fact, as many consumers have attested, it's quite shocking how light this heel can be. With some extra padding, cushioning, and the adjustable strap, these will make any event or day special – and comfortable! If you are looking for a pair of footwear for a reasonable price tag offering some great value – look no further.

10

. Funtasma by Pleaser Jazz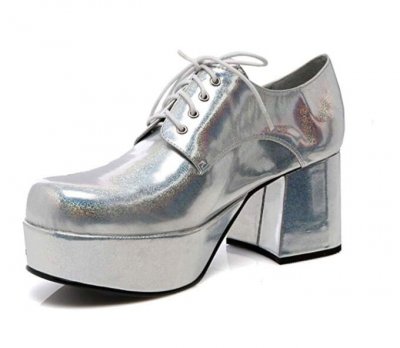 If you are looking for a pair of footwear that will help you stand out from the crowd – the Funtasmahigh heel oxford shoes by Pleaser Jazz is the product for you. This item is designed with glam and fashion brought to the traditional men's option. Wearing these shoes will make the wearer the center of attention, while also being comfortable.
What really captured our attention with these high heel oxford shoes is the style and design. For one, there are over 6 different designs and three different shoe set packages for consumers to purchase. Colors range from gold, leopard, zebra, silver, white, and even black. Each is made from a unique polyurethane material, causing the heel to reflect and sparkle.
Many consumers have stated that these are the best and most comfortable shoes of this type for individuals that are looking to spice up their Halloween costume. However, after wearing them once, it's evident that these are comfortable enough for frequent use! If you are looking to stand on top of the crowd while staying comfortable, here you go! Out of the options listed in this guide, this is arguably the most affordable choice. The best part about these is that, not only are they stylish and fashionable, consumers could wear these more than once and enjoy daily walking without noticing any discomfort.

Subscribe to our Newsletter