Best Insoles for High Heels Reviewed & Tested for Comfort
In a Hurry? Editors choice: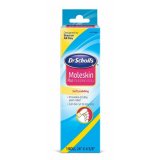 Test Winner: Dr. Scholl's Moleskin Plus

Wearing high heels will put extra pressure on your knees and balls of your feet, which means that your posture will be affected. Depending on heel height, pressure on the ball of the foot can increase up to 70%, so it is imperative that you don't allow any additional issues to come up. Luckily, there is a wide variety of high heel inserts that are available, made out of various materials, in different colors and patterns. All you have to do is determine which part of your feet need special attention and you are bound to find the best insoles for high heels that will help you get rid of the pain.
Standout Picks
Criteria Used for Evaluation
Use
The consequences of wearing high heels for prolonged periods of time include joint disease, hammertoe deformities, calluses, bunions, ingrown toenails, neuroma, and many more. In addition, there are the added effects that can result from an ill-fitting shoe, such as blisters and corns which can easily be fixed, ensuring a good fit and by preventing your feet from sliding forward in the shoes. Different products will address different symptoms so you can choose one or more of them in order to relieve some of the pain you may be feeling.
Always make sure to use tape or grips to address parts of the shoe that are giving you trouble in a particular spot. These products are made to relieve the effects of skin rubbing or being squeezed by hard shoe materials and stitching and can be used with new shoes, or every day according to need. They represent fairly simple solutions that are affordable ways of preventing issues that can take even months to heal. By taping the parts of your feet that are in discomfort you can avoid calluses and corns which can be just as troubling as blisters or raw and broken skin.
Pads and cushions is great for lessening the impact and stress that are put on the ball of the foot or heel when walking in high heels. Most are made out of gel-like materials which will provide a soft and comfortable surface to walk on, and which can be a real lifesaver when walking on hard surfaces such as concrete or marble floors. Another great feature of these types of inserts is the fact that most of them will provide a better grip your feet have on the shoe, which will mean less sliding forwards, which, in fact, will result in preventing issues such as hammertoe, overhang, or even uncomfortable bunion pain.
Full-length insoles provide the most cushioning and support and can be used by those who already have developed issues stemming from wearing high heels or other uncomfortable shoes (e.g. plantar fasciitis, metatarsal pain, neuroma, flat feet, etc.). These insoles will often feature arch support and heel cups, both of which will provide some much-needed stability.
Finally, there are those products that do not fall into any of these categories, but which can make or break a shoe-wearing experience, such as bunion and toe guards and toe spacers. These are small inserts targeted to protect those irregularities which may, or already have resulted in more serious foot problems. These devices made out of soft materials will not only relieve pressure and prevent pain but even more, they have great use in promoting correct foot and toe placement in any type of shoes.
Use tape or grips for focused pain relief.
Pads and cushions help lessen the impact, shock, stress and provide grip.
Full-length insoles provide full-coverage and can provide arch and heel support.
There are specialized inserts that have a specific function that other inserts can't treat.
Materials
The second most important criterion used to choose the best high heel inserts was the make and materials which comprise these products. Just as the material of a shoe (or heel) can make or break it – natural, soft, and breathable almost always having an advantage over synthetic – so can the material of an insert make a huge difference in the way it affects the wearer.
The first thing to look at is the amount of cushioning an insert will provide. More is almost always better, so it is natural that the most comfortable inserts are those made out of memory foam. These polyurethane materials will react to body heat and mold to the wearer without losing any elasticity in the long run. Gel and silicone inserts are also excellent choices, as they offer a bit more support and stiffness, but are still soft enough to have shock-absorbing qualities. What is key with any of these materials is the level of effectiveness when using only small amounts.
As any shoe insert will take up precious space in your shoe, it is important to look at exactly how much that space comprises. Thick and bulky inserts can do more harm than good in that they allow for less space in the shoe for your foot. In addition, they can change core features of the shoe and the way it fits, so, for example, if your inserts raise your heel too high, this can create problems such as reduced stability or uncomfortable rubbing. The best inserts will have a thickness larger than just a couple of millimeters, so make sure to pay special attention to this aspect when shopping.
Apart from the cushioning, there is another aspect that can make or break an insert, and that is the material that will come directly into contact with your skin. Here is where preferences differ the most among wearers. If you are looking for something that will give you security and stability, and that will reduce sliding around in your shoes, make sure to choose one of the inserts which are made out of soft suede materials. These allow a good grip while also being soft on the skin. However, this type of material can cause your feet to feel hotter and will retain moisture for longer periods of time, which may lead to odors in your shoes. An alternative would be silicone or gel which is a material that won't breathe and that does cause sweating, but which is also very easy to clean and dry after every use. Some inserts will use special moisture-wicking fabrics in order to make them more comfortable for the wearer, while others include carbon filters and anti-microbial linings that help control odors that will inevitably occur after excessive sweating in the shoes.
It's also important to take into consideration the hygienic aspects of each shoe insert. While reusable and washable inserts are cheaper in the long run, they will definitely also mean more work for you. Doctors will recommend changing the insoles on any pair of shoes every three months in order to maintain optimal support and hygiene, but with several inserts, this time can be prolonged based on the materials which comprise them. First and foremost, if you plan on wearing your high heels without any hosiery, it really is a good idea to get inserts that can be easily removed and washed.
Otherwise, your favorite pair of shoes could become a breeding ground for numerous bacteria that not only cause unpleasant smells but can also lead to more serious, uncomfortable and hard to get rid of issues such as fungus or warts. Generally, silicone or gel inserts are easier to maintain as it can be enough to just put them under a stream of water and thoroughly dry them before the next use. Those which include fabrics and other natural materials such as leather or suede will usually still be washable, but will also take longer to dry. Just remember – in order to keep the shape of your shoes, never put wet inserts in them. This is also important for your feet as you should aim to keep them as dry as possible.
Finally, what you want from the make of your shoe inserts is good adhesive power. Without this, slipping is inevitable, which means that your new insoles or cushioning tape can do more harm than good. The perfect insert will stay in place regardless of use. In the case of grips and pads, this means that they won't move with your feet, or slip to places in which you need no cushioning, leaving the parts of your feet that do need protection bare. With tapes, adhesive power is just as important because failure to stay put will not only expose sensitive skin but even more, will allow for rolling and bulking which can create even worse blisters and sore spots. The products listed above have all been chosen considering user experiences paying special attention to how they would perform when required to stick.
Inserts that are soft and breathable are the best choice.
The thicker the cushioning, the more support and comfort.
Memory foam is the most comfortable.
Polyurethane (PU) responds and molds to body heat while keeping elasticity.
Gel/silicone give more support and are usually stiffer.
Pay attention to insert thickness. Too thick can make the shoe even more uncomfortable to wear.
2 mm in thickness is best.
Soft suede can give the best grip but causes the most odors from sweating.
It's best to change inserts every three months, even for washable/reusable inserts.
Adhesive power determines the insert's sticking power.
Features
If you are wearing high heels, chances are you are wearing them for aesthetic reasons, so an insert that breaks up the aesthetic of a shoe is definitely out of the question. That's why design is crucial, especially with heels that feature open toes or are sandals that leave little to the imagination. This means that any insert on this list needs to be practically invisible, or alternatively, to perform as an integral design component of the shoe.
When choosing an insert, make sure you do not skimp on looks. If the insoles of your shoes are black or beige, you have endless opportunities to choose inserts that will match these colors and that won't be seen by anyone but you. If you want something a bit more adventurous, get one of the products that have fun designs. For example, Foot Petals come in a pack of assorted animal prints which are a great way to make your sensible work heels a bit more fun.
If you cannot find inserts or grips that match your shoes, make sure to get ones that can be trimmed to give you the needed benefits but also that will remain invisible. Test the inserts out at home and try to look at them from all angles to make sure your beautiful shoes are not made less so by pieces of tape or suede sticking out of them.
Translucent/invisible inserts are best for open-toe shoes and sandals.
Inserts for open-toe shoes and sandals are usually thinner in cushioning.
For closed-toe heels, the options are better and you can wear color-matching inserts or unique designs.
Trimmed inserts can give you even better options.
Comfort
The price of a shoe can sometimes be a deal-breaker. That's part of the reason why footwear manufacturers invest time and energy into creating cost-effective technologies to incorporate into their shoes to make them durable, long-lived, versatile, and inexpensive.
Durability & Longevity
Footwear, usually, lasts more than a few months, because shoes that are going to fall apart after a few months of use aren't worth the investment of more than a few dollars. Leather and synthetic overlays can be used to make the shoes more durable without sacrificing flexibility. Firm leather or synthetic uppers provide durability and support.
Versatility
Great footwear can be used for more than one activity. Walking and running shoes, for example, can be used in some casual sports. Stylish athletic footwear could be used in informal work environments. Sandals can be used in casual and semi-formal settings. The more situations you can use the shoe in, the more value it offers for the price.
Maintenance
Good footwear is easy to maintain and clean. They don't require a lot of expensive shoe treatments or time-consuming upkeep. Shoes that need a lot of effort, time and money to maintain, don't sell as well as shoes which are easier and cost less to keep.
Removable inserts
As mentioned earlier, removable inserts in footwear make it customizable, but that's not the only bonus to removable inserts. Removable inserts increase the longevity of the shoe, which is why some come with removable inserts.
Cost
A hefty price tag can be a deal-breaker for people on a budget. That's why many can be found in the low-to-middle price range. They're affordable, and if they are priced a little higher than others, then they offer many features to make the footwear worth the extra investment.
Value
Even though your health and comfort have no price tag, it's also important that your inserts don't cost more than the actual shoes you will be wearing them with. Although most products on this list are affordable and won't break the bank, it's also important to take into consideration how much they will actually pay off.
Reusability is a great feature that will allow you to put your inserts in any pair of shoes you need. This can even mean going to work in one pair of shoes, then taking the inserts, and putting them in another pair for a night out. This way, you get all the benefits across all of your footwear while only having to purchase one product. On the other hand, there are those products that are designed so as to become an integral part of your chosen pair of high heels, such as heel grips which you do not want to be easily removable, and which you want to stay in their place for as long as possible.
Lifespan also plays an integral part when choosing your inserts. You want your inserts to be as durable as possible, seeing that frequent replacements can make a big dent in your budget. You will need to think about how often you will use your inserts – are they for a pair of shoe you wear day in and day out, or do you intend to use them with high heels you wear once or twice a month, but which could use some help in the comfort department? Whichever the answer, make sure to consider the overall cost of the product. Be aware of the fact that some inserts are only intended for single-use, or have a limited lifespan, and consider whether the benefits will justify them costing you a lot over a considerable period of time.
Cheaper inserts can have a shorter lifespan.
When choosing inserts, think about your shoe usage.
Shoes that are worn rarely can have a short lifespan insert.
Shoes that are worn regularly need to have a durable and long-lasting insert.
For inserts that are more robust, you might have to spend more than usual.
10 Best High Heel Inserts Reviews
1

. Dr. Scholl's Moleskin Plus


Even though Dr. Scholl's Moleskin is not high heel inserts per se. It could easily become your next go-to aid when battling blisters, calluses, and corns. This is a self-adhesive padding roll that is made out of soft padded material (not leather) that you can stick to the sports on your feet that give you the most trouble. They are easily removed, just like a band-aid, and will keep you comfortable for any day full of walking. The roll contains plenty of material, and you can cut it to any shape you need while leaving the rest to be used later.
Moleskin can be used in many different ways. Some people like to go with the traditional stick-to-troubling-area approach, while others will put these dr Scholl's heel inserts directly in their shoes to line places that are causing pain. In order to find out which of these ways works for you best, we recommend testing the product in a few ways until you have found the best possible way.
This is not a product that requires a lot of work. All you have to do is determine the size and shape of the padding you need, and go at it with a pair of scissors. The backing will come off easily, so you can just stick it on and are ready to go. This product is the cheapest on this list of best high heel inserts, so you can just try it out and see whether it works for you. The time one roll will last you depends on how many spots you want to cover, so if you need a lot of protection, it may not last long. However, it's a great product that can be combined with any other high heel insoles, and we can wholeheartedly recommend keeping some of it with you at all times. It will definitely come in handy at some point.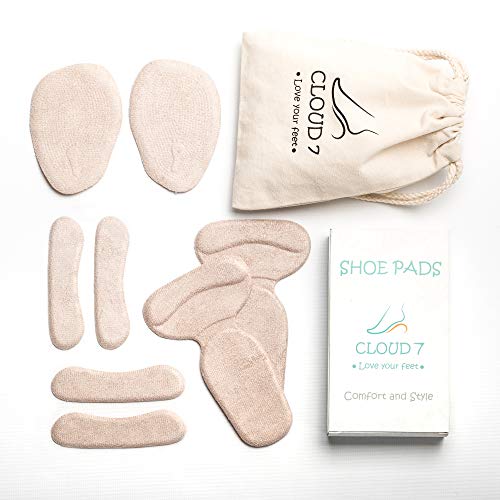 Are you unsure about which part of your heels is giving you pain? Or are your entire shoes doing so, including your heels, arches, and balls of your feet? Then you will definitely do well to choose this set of high heel inserts. They include eight pieces to use as you like, including heel grips, heel cushioning inserts, and ball of foot inserts. And best of all, they are reusable - all you need to do is run them under some water, then stick to your next pair of shoes.
These cushions are made of silica gel that provides high elasticity and flexibility and will cushion every step you take. The velvety upper is sweat-absorbing and skin-friendly, so you will feel comfortable using these both on bare feet as well as with hosiery.
These inserts for high heels will fit most sizes as they do not add too much bulk to your shoes. However, you need to keep in mind that if your shoes are already tight, these will make them feel even smaller. This assortment of inserts is a bargain as it will provide you with different solutions at an affordable price. Seeing that the cushions are reusable, you will be able to take full advantage of them in all of your shoes, from high heels to flats, and even in sneakers.

3

. SISFUNG Metatarsal Pads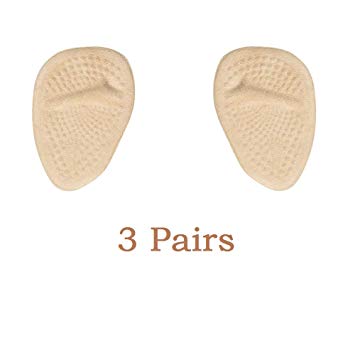 These metatarsal cushions are made out of medical-grade TPE gel material and are a great alternative to those who want something that is really easy to just wash and reuse. They will provide soft cushioning to the balls of your feet and are a great way to prevent pressure or pain in relation to diabetes, tendonitis, metatarsalgia, arthritis & a variety of forefoot problems.
These cushions include small massage particles that will be helpful if you often have burning sensations in the ball of your foot. In addition, they have a unique feature which is a small cushion in the middle of the forefoot which provides extra comfort and can prevent your feet from sliding forward in your shoes.
The fact that these insoles for high heels are made out of gel material means that you can just put them in water and wash as often as you wish. And you won't need any extra drying time. Just stick them in your preferred pair of high heels and you're good to go. Considering the time these will last you, they come at a great price. If you take into consideration the 12-month warranty as well, their price seems even smaller than it already is. Due to being washable and reusable, these are truly a great investment.

4

. Ballotte Ball of Foot Cushions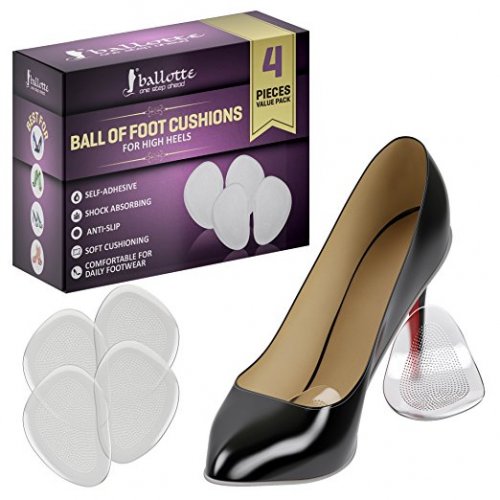 Dancing the night away? Or, running the office? Whatever the purpose, these high heel inserts will make wearing your heels so much easier! Specifically for the ball of the feet, these high heel insoles are extra thick for comfort but slim enough not to take up extra space or be visible. Constructed with medical-grade silicone, these inserts are very soft and gives a light massage with every step.
The medical-grade materials the inserts are constructed with give optimum shock absorption. This is great for heel wearers that suffer from metatarsalgia (inflammation in the ball of the feet) and will help with the pounding your feet take from walking every day in heels. No matter what foot pain condition you suffer from, you'll be asking "what pain?" when wearing these inserts.
Some inserts can make heel wearing a miserable experience by not staying in place. These inserts are self-adhesive, making them not only stay in place but easy to apply (just peel and stick). This will also help keep your feet from sliding forward in your shoes even when sweaty. Don't let a lack of grip to cause even more foot problems.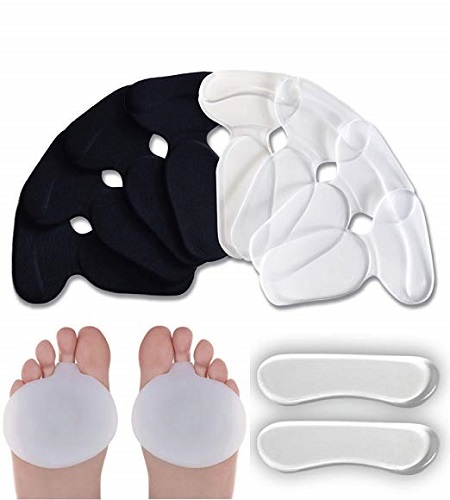 Heels will often shift your center of gravity slightly, putting the majority of your body weight on the balls of your feet. With extended wear, this can cause pain or even injury, which will make you less likely to wear them. Some of the most heinous offenders will find themselves sequestered to the back of your closet, and nobody wants that. This is where metatarsal supports come in. These inserts for high heels are specifically designed for the balls of your feet, and provide them the support you need to stay comfortable in your heels.
Some cushions and inserts are thicker than others, which means that some are not ideal for use in heels, especially heels with more open designs such as sandals. These metatarsal inserts from Aveilo are made to be a moderate thickness, allowing them to properly strike a balance between providing proper support, without leaving the shoe feeling tight or the cushion itself being visible. However, the manufacturer does suggest wearing these with shoes that are normally slightly too big for you, to reduce the chance of them feeling overly tight.
What's better than a good pair of metatarsal cushions? Six of them! These cushions from Aveilo come is a package of six pairs for a reasonable price, having an average unit cost of roughly $1 per pair. This along with their versatility makes them work well in almost any kind of heel, from beach-ready sandals to booties.

6

. HappyStep Shoe Insoles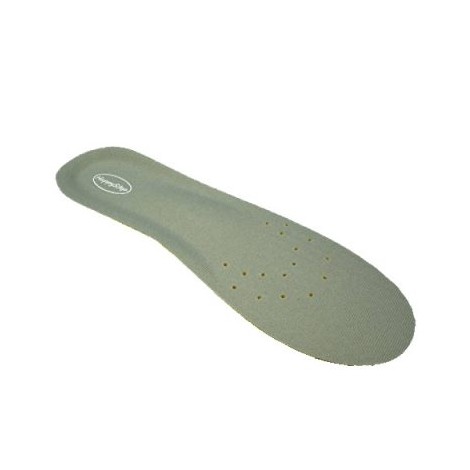 Two words: memory foam. For your high heels. What more could you possibly want? These insoles are a great choice if you land heavily on your heel, or just require extra cushioning and shock absorption on your entire foot length. Your arches will be fully supported, and the heel pads for shoes feature a stoma design that promotes better air circulation and active carbon fibers which do a great job at odor control.
These insoles have a lot of fans. First of all, they are made out of a high-quality memory foam which can take a beating - some users have reported having used them to take over one million steps. That's almost 500 miles! The good thing about these insoles is that you have a choice of three sizes, and are then expected to cut them according to what you need. All you have to do is take out the existing insoles of your shoes, trace the heel pads for shoes by lining up the heels, then cut. Note that you should ditch your old insoles, as these are meant to be worn on their own.
For full-length insoles made out of memory foam, these insoles for high heels come at a pretty reasonable price. However, doctors do recommend changing your insoles every three months, so make sure you track their wear and replace them when needed. Otherwise, you lose all the benefits.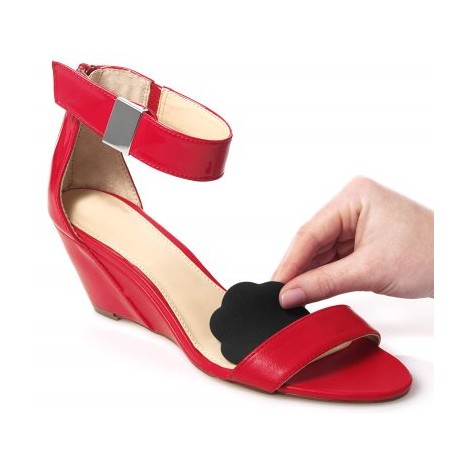 Foot Petals - even the name is alluring. These beautiful things are small cushions that will eliminate the pain in the balls of your feet. They feature a strong adhesive and a non-slip design that will prevent you from sliding forward in your heels and scrunching up your toes. Due to their size, they can be used in open-toe shoes as well, which means no more toe overhang. These high heel inserts come in various colors and can be used in any pair of high heeled shoes.
Foot Petals use a material that provides great cushioning and superior shock absorption that will not go flat with use. This means that you get a pair of these for your shoes, and they're there to stay. These little things are a godsend for summer shoes. They are small enough so as to easily fit into any shoe, and won't be seen by anyone unless they can take a look inside your shoes. Even more, you can choose from a variety of colors and prints to achieve maximum covertness.
Depending on the design and pack you choose, the price of these can vary greatly. What is great are the assortment packages that will include three pairs of petals, with which you will get more out of your money. Otherwise, these are great as they don't deteriorate and can stay on for a long time. Just be aware that they will not perform miracles and make a pair of extremely uncomfortable shoes feel like walking on clouds.

8

. Brison Metatarsal Cushion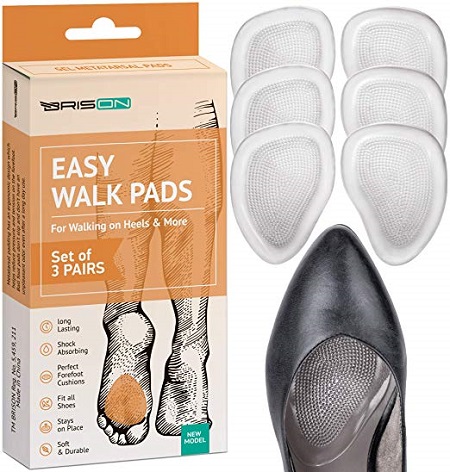 These metatarsal cushions and inserts for high heels from Brison are made from eco-friendly and medical-grade silicone gel that is designed to give you maximum comfort without compromise. They attach to the inside of the shoe with a strong adhesive that stays in place all day long. It comes with three pairs, so you can have cushiony comfort in more of your shoes for the same reasonable price.
It's important that cushions and supports don't slide around within the shoe. In the case of these Brison cushions, an adhesive is used to hold them to the inside of the shoe and keep them in place. This adhesive is strong enough for long-term use and ensures that the cushions won't inadvertently stick to your feet.
Given the nature of high heel shoes, they often require a different type of cushion or insert than sneakers or Oxfords will call for. Cushions for heels should be narrower, and provide the proper support without sliding or being visible within the shoe, especially in the case of sandals or other open designs.

9

. Helloheel Contour Slim


This product is simply genius if you are a fan of strappy sandals as it was specifically designed to use on small surfaces that cause discomfort. You can line any part of your preferred shoe with these and be sure that it will not painfully cut into your feet. The straps are thin and adjustable to any required length which means that you can use them on a wide variety of shoes.
These straps are made out of latex foam which is lined with a soft suede finish giving you a spongy comfortable feel. They will reduce friction from your shoe straps, and can provide blisters from forming in tight spots. The Helloheel grips are made out of 100% biodegradable latex which is organic and is made through an environmentally conscious and sustainable manufacturing process. This means that your comfort will not come at a high global cost.
The grips come at an excellent price and are the second cheapest item on this list. Though they are advertised as inserts for sandals and strappy shoes, you can easily use them on any other pair of footwear you need some extra protection in. The pack of four inserts for high heels can be used on numerous pairs of shoes depending on the amount of cushioning you wish to achieve.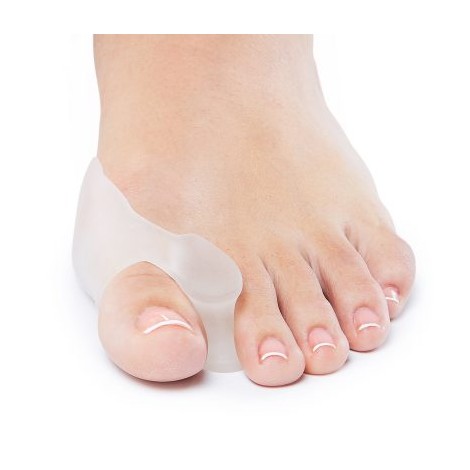 Finally, we're giving you a product that you may not have predicted when we said high heel inserts. This gel bunion guard and toe spreader by NatraCure is a great solution for anyone who suffers from painful bunions that happen so often after wearing high heels. The gel pad covers the outside of your foot, relieving pressure from the shoe, while the toe spreader works to correct the alignment of your toes, preventing further damage and pain.
This gadget is made out of a type of gel that releases medical-grade mineral oil, Vitamin E, and Aloe Vera, all of which are a great way to nourish, moisturize and protect your skin from rough shoe materials. While this particular guard is made for bunions, you can also choose to get the type that was made to protect your pinky toe from rubbing against tight shoes. This is great for those who have wide feet or soft and sensitive skin.
Though the cost of this item is about average, note that it will only be good for one foot. If you want to use them in both shoes, you will need to get two pieces which will bring the cost of it up by 100%.

Subscribe to our Newsletter