Best Superfeet Inserts Reviewed for Performance
In a Hurry? Editors choice: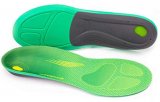 Test Winner: Run Comfort

A lack of good foot support can lead to health problems ranging from neck strain to hip joint stress. Superfeet insoles can alleviate these issues by supporting and cushioning your feet in a certain way. There are different types of inserts that cater to different types of feet with specific styles available that target the following foot problems: toe pain, knee pain, corns, metatarsal pain, Achilles heel pain, bunions, and neuroma, along with other conditions. Individuals with high arches or who need deep heel support can find the right insole with Superfeet.

If you feel like you need help with these foot-related ailments, then don't hesitate to take a look at our guide! A great pair of Superfeet inserts might just be what you need to get that spring back in your step!
Standout Picks
Criteria Used for Evaluation
Effectiveness
Choose the right type of insole for the type of activity you will be performing.
Superfeet insoles are designed for aerobic performance usage and the performance-related features they offer are critical to their positioning on our list.
These insoles aren't just an average insertion to your inner shoe; their purpose is to maximize comfort and functionality while performing in a wide variety of sports. This is achieved by applying technologies and designs that serve this specific purpose.
Arch support is one of the most imperative factors of a performance insole. Since arch support preferences may vary considerably amongst different users, performance footwear manufacturers often include a generic amount of arch support.
Customizable insoles, on the other hand, allow you to access just the right amount of arch support that you need. Whether your arch is really high, or nearly flat, personalized insoles will adapt to your foot and provide adequate support.
The performance features of these insoles vary according to the type of activity you will be performing, which is why Superfeet delivers a wide range of options when it comes to customized insoles.
They offer slim designs for the light discipline athletes and thicker options for rougher activities that require greater support. There are also intermediate designs that improve performance on all types of disciplines. However, it's recommended to own two specialized pairs of insoles if the intensity of your activities is too different.
Superfeet inserts are weightless, and you'll barely remember they are there. Acting as a replacement for traditional insoles, they will maximize performance without altering the normal fit of the shoe.
Heel
These insoles protect your heels from impact and thus improve your performance no matter what sport you're engaging in.
Superfeet insoles offer deep and wide cushioning and support on the heel zone, which considerably reduces the amount of stress on the heel when performing impact activities like running and jumping. Thanks to this, the ankles are also comforted, as tension normally makes its way up from the heel.
The deep and wide approach allows the heels to achieve a much more secure stance and keeps them cradled in the insole for much greater stability. By providing a secure fit to the heel, internal slipping is eliminated and the heel gets the most out of the cushioning technology.
These inserts are engineered for performance optimization, thus they'll endure anything you put them up to. From walking and jogging to hiking and climbing, these insoles will continue to provide each one of their qualities regardless of the amount of tension placed on them. Additionally, they'll also reduce a lot of the shock that would normally go through your feet and up to your legs.
The materials of these inserts are made from are very comfortable – even for barefoot performance. The smooth traction between your feet and the materials cause no irritation at all. Furthermore, humidity protection technology prevents sweat from becoming an obstacle during wear and in turn prevents odors from occurring.
Adjustability
Opt for inserts which adapt to the shape of your feet and provide you with a personalized type of support.
The adaptiveness of a sole refers to its ability to resemble the anatomical shape of your feet. This allows users to experience a much more customized performance and gives them access to features that improve their specific foot shape and proportion. Believe it or not, those little aspects that are not present in standard insoles are making a difference in your performance.
For instance, arch height is one of the most underestimated features of insoles. The lack of arch support – or the excess of it – can, and will prevent you from reaching your most optimal performance. Not to mention that in some cases users aren't even able to perform due to the extreme difference between their arch and the support provided by the insole.
An insole that provides adequate arch support, on the other hand, will offer a much more comfortable wear. Furthermore, it allows your feet to perform much more naturally, reducing a lot of stress on the arch.
Another aspect to consider is the heel; heel cushioning is just as important as arch support – especially when we're talking about a particularly high arch or flat foot.
One of the adaptive features you want to keep in mind is the depth of the heel cushioning, depending on the activities and sports you'll be performing. The heavier the activity, the deeper the heel cushioning should go. However, deep cushioning may be more comfortable for activities such as jogging as well.
Superfeet insoles can compensate for some of the features lacking in a shoe and in most cases, these features are a matter of comfort. If you've performed any sports on your own, you know the huge importance of comfort.
However, Superfeet insoles can also fill in some very functional aspects related to performance, such as cushioning and padding. They know how important it is to personalize your performance experience. Because of this, they feature a build of memory foam. This material consists of a type of foam that is somewhat molded by the pressure of your feet and takes the shape of your feet, thus providing you with unique adaptation.
Although it may take a few wears for the memory foam to adapt properly, once it's correctly shaped by your feet it will stay that way. Despite these inserts being excellent for sports performance, they're also excellent solutions to generic casual shoe insoles. Users who suffer from feet irregularities such as plantar fasciitis, high arches, or heel pain will find customizable insoles to be a huge relief to their daily life.
Protection
It is vital that your footwear inserts protect you from shock, from alignment-related issues, as well as from bad odors and potential infections.
When it comes to protection from injuries, pain, blisters, and other conditions of the foot, an insole plays a crucial role in keeping your feet guarded against these annoyances. There are elements of an insole that are vital to ensuring the prevention of future injuries and the formation of underlying conditions, while also being paramount to the treatment and recovery of current foot-related problems.
Some of the most important elements to consider when thinking about an insole's protective qualities are:
Cushioning:
Adequate cushioning is a factor that many people assume will not become a problem for them because they have purchased a pair of shoes which claims to be 'comfortable.' Unfortunately, many shoe manufacturers use the cheapest methods of cushioning available and use a generic insole that does not provide an appropriate level of cushion.
Wearing well-cushioned footwear protects the delicate underside of the foot from the pressures of every step, as well as supports the arch. For individuals with conditions like plantar fasciitis, a well-cushioned shoe is a must!
Alignment/Arch Support/Shock Absorption:
Did you know that there are actually three arches in your foot? Many people believe that they only have one arch, which is not the case. There is the medial, lateral, and trans-metatarsal arch.
The arches of the foot are there for specific reasons, including to absorb the impact of every step, to support your body while you move, and to redistribute weight more evenly throughout the foot. The arches are also responsible for the alignment of the foot; when your feet are out of alignment conditions such as overpronation or supination can occur.
There are many insoles which are designed to anatomically support the three arches of the foot by re-aligning both feet through the redistribution of weight more evenly. This will prevent future medical issues involving your feet and will work to correct any pre-existing ones too.
Superfeet insoles are adequately cushioned with a polyurethane middle layer that contributes to reduced vibration and greater absorption. Additionally, this second layer also provides a more solid structure to the insole; delivering stronger support and stability.
Heel Support:
Superfeet insoles include a heel cup, which is the most external layer and covers the heel zone. The heel cup maintains the heel in its most natural position, making it much easier to absorb impact. In combination with the cushioned depth, the heel cup also provides a better grasp of the inner shoe. Aside from absorbing shock, it also retains the heel in a neutral position for natural performance.
Additionally, these inserts have humidity-reducing technology which works in combination with the shoe's breathability to keep your feet fresh. This, along with anti-bacterial technology, works at protecting your feet from fungi and athlete's foot, and bad scents in general.
Keep in mind that protection varies according to the model of the insole, as well as its purpose. There isn't necessarily a more protective insole – they just offer different types of protection. For instance, a recovery and pain relief Superfeet insole counts with a considerably different design than that of a performance one. The features and technologies of both simply act differently, aiming at separate results.
Comfort
Aside from cushioning and support, comfort also comes in the form of maintaining the right temperature for your feet.
One of the most important aspects that will affect your overall performance, is how comfortable your feet are. It doesn't matter if your footwear is high-quality; if your feet aren't sitting comfortably and well-supported it's going to negatively impact your performance.
It would be extremely hard (or impossible) for footwear manufacturers to make an insole design that provides comfort to every single user. An insole that's meant for high arches wouldn't fit a user with flat feet, and so on. This is why it's so important for you to research carefully before making a purchase so that you take the time to find the most appropriate products for your own specific needs.
Superfeet insoles are engineered in a biomechanical shape that resembles the natural shape of the foot to provide a number of comfort enhancements for the wearer.
Temperature regulation is one of the many features they provide. The responsive temperature control equipped with Outlast Adaptive Comfort on the top layer of the insole absorbs, retains, and releases heat. For colder environments, a thermal layer featuring open cells retain heat and keeps your feet warm for better performance.
The toes are arguably the part of the feet that suffer the most in cold environments. Because of this, Cold Performance Superfeet Insoles are equipped with an insulating foil on the posterior end of the insole to repel cold from the toes.
Thermal features are not to be taken lightly, as the weather can have a huge impact on you. Extreme temperatures can lead to quicker muscular fatigue, but also to irritation of the feet – affecting both performance and recovery. Thermal technologies can be the difference between a smooth, warm experience and an uncomfortable one. Cold weathers can make your feet go numb causing discomfort and impeding your ability to complete daily tasks or activities.
Top 10 Superfeet Insoles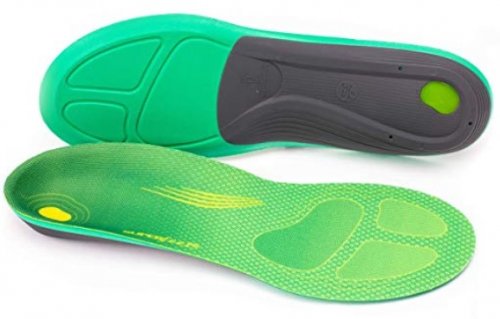 The Run Comfort is a vividly colored Superfeet insert meant specifically for those who run on the regular. It has the standard Superfeet durability, meaning that it retains its shape regardless of the activity you're performing, and also the signature deep heel cup which cushions and absorbs impact in the back of your foot. Along with that, the Run Comfort is packed with a ton of more technologies to improve your running experience.
Let's start with the H. I. T. or Heel Impact Technology pod. This is a tiny insert in the heel area of the Run Comfort which disperses impact on your every heel strike. Then there is the Aerospring rebound foam which makes sure that you are well-cushioned throughout the entire length of the insole. The bottom side of the Run Comfort is covered with the Evolyte carbon fiber cap which has stabilizing properties and is meant to compress under your weight only to spring right back up to its former, original shape.
All of this is completed with the Moisturewick system that ensures odor control and that no unpleasantries develop while you're training. While the Run Comfort may not be suitable for the everyday walk, if you're an active person it will definitely blow your mind when it comes to any kind of high impact activities like jogging, running and the like.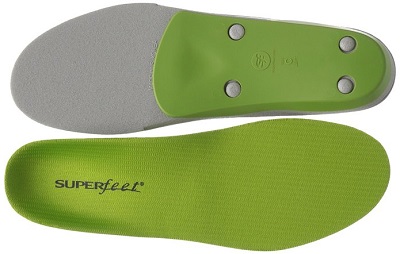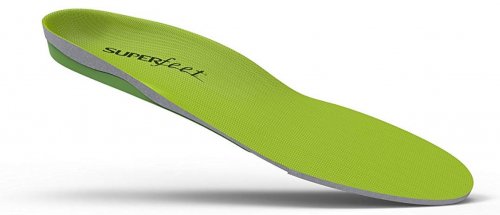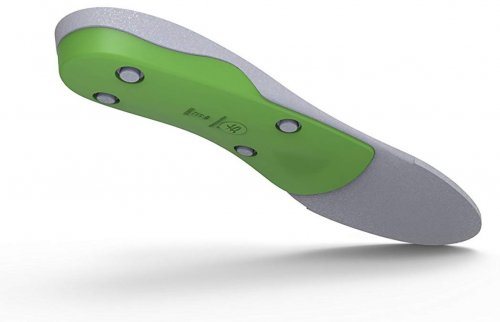 The Green edition has the deepest and widest heel support for your foot. There is odor neutralizing technology that will help keep the bacteria out of reach, while its firm support gives structure and stability as the foam is high-density. This bright green insole works well for those who need tremendous support in their arches and heels and provides all-around cushioned support.
This Superfeet insolehas heavy-duty support with thick foam to allow for the firm, cushioned feel on the base of the foot. The high volume of the insole is great for shock-absorption, so it is great for high arches and prominent heels. The thick foam is also great for athletic activities where cushioning is needed, such as running, jumping, or higher impact movements.
The deep heel has the complimentary support a high arch needs and adds to the base layer for stability. This adds extra support, allowing the individual to experience pain relief as soon as possible. The deep heel creates a cradle that allows for support and ensures proper gait when walking or running.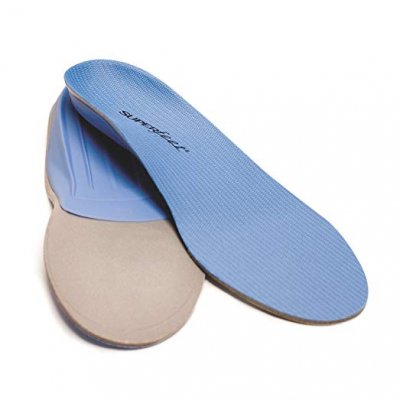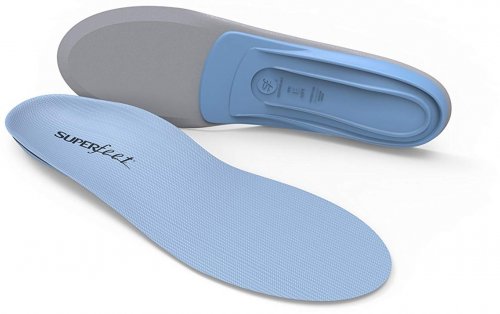 The Superfeet Blue is a medium sized insole that is more natural to the foot. The product is thinner than the Green design and is worthy of casual wear. This works well with common foot pains in regards to the arch, heel, and plantar fasciitis. Like the Green insole, there is a preventative coating that protects from bacteria. The Blue is also latex-free and vegan.
The Blue is best for an everyday shoe that you wear. The insole is made of durable plastics, yet it is comfortable enough to allow for arch and heel support. Perfect for those who are working long hours on their feet, but may not need the higher impact foam cushioning from our top pick. Nurses, construction workers, or laboratory personnel will appreciate the durability of this insole.
Designed to provide immediate relief, the Blue will go above and beyond for hours. Those who need casual support for standing hours at a time will find that this product will suit their needs. The sturdy material helps alleviate foot fatigue while keeping natural foot gait and positioning.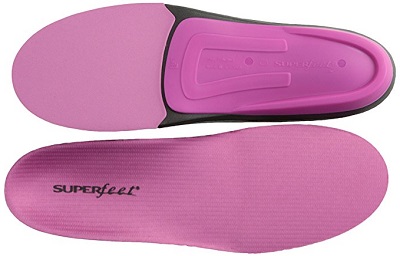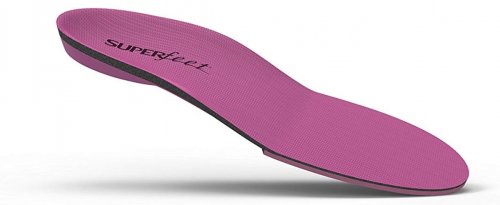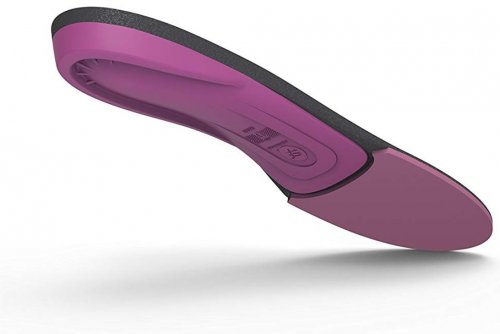 The Berry insole is designed for pain relief and maximum support for the individual who is always on their feet. It has a slimmer heel, a wider foam shape, and a deep heel cup. The heel stabilizer works to fill in the gaps that your shoe leaves under your foot. The reinforced stabilizer cap in the back of the insole works to provide flexibility and sturdiness.
Since the Berry insole is medium profile, this means that there is more support than casual, daily wear insoles. This is not to discredit the everyday use of the Berry insert, but to attest to the fact that it offers a thicker sole but not as much as the Green or Orange insert.
The deep heel support adds pain relief for those who have a medium to high arch. They are designed for those who enjoy running and hiking. The cup also helps nestle the foot into proper positioning for walking or running, and helps avoids slippage in the shoe during movements. Ideal for those with a narrow heel who require a little extra fit for their favorite pair of active footwear.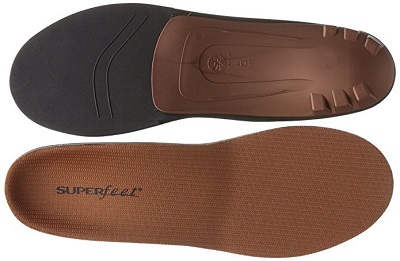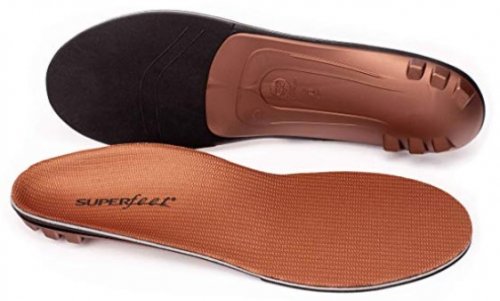 The Copper insole has memory foam and is sensitive to the curvature of the foot. Since it is made of a memory foam layer, it will mold to any unique foot shape. This insert provides maximum support and is designed especially for pain relief. The insert has three layers that serve to protect your foot from impact.
Since the Copper inserts are made of memory foam, they contour to your foot exactly. There are three layers. The bottom layer is for maintaining shape and support, the middle layer provides comfort and stability, and the top layer is pressure-sensitive. Great for work shoes or sneakers, they'll help give that added cushioning that could be missing.
The Copper insoles are best for those who want to relieve foot issues that do not relate to other joint issues. The foam allows for easy comfort for those who do not necessarily participate in high impact activities on a daily basis. Perfect for those on their feet all day long, or just individuals who appreciate a little extra cushioning in their footwear.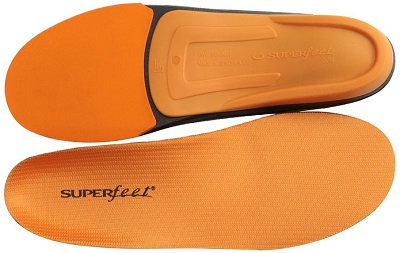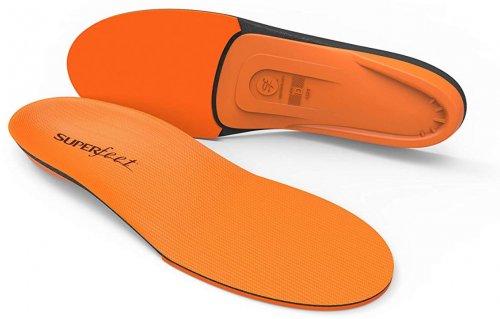 The Orange provides excellent support and boasts a firm and sturdy grip. They are in line with the Superfeet brand as they provide immediate relief to those with knee problems, plantar fasciitis, etc. You can feel a difference as soon as you step onto these Superfeet insoles. They are recommended for those who need a strong arch support and high profile thickness.
The Orange insole has the widest and deepest heel cut of all the Superfeet inserts. It is designed with shock absorption and long-lasting comfort in mind. The full-length foam will provide necessary pain relief for those who need a high arch and deep heel support. This product is engineered for intense activities such as track running, soccer, and other related high impact sports. The maximum support allows for the individual to continue their day without an aching foot or painful knees.
Since the Orange has the most support and high profile thickness, it is higher in price when compared to the rest of the line. However, this product is definitely a smart investment when it comes to those who wish to work longer and harder at their high impact activities.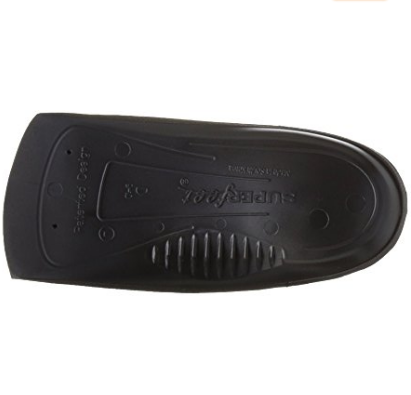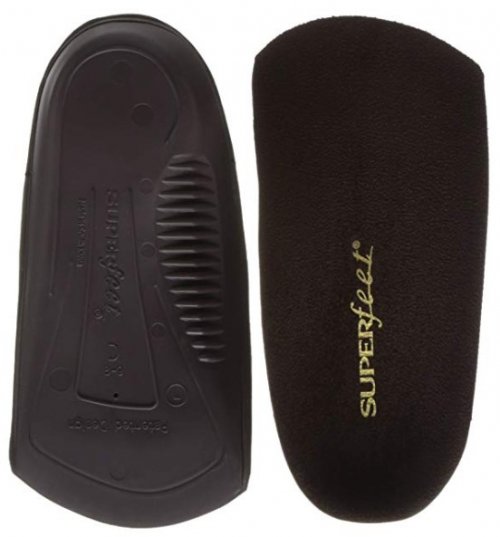 The Easyfit is a ¾ length insole specifically designed for use with low-heeled, slip-on, and flat shoes. These Superfeet insoles are made to stay perfectly in place and even work with non-removable factory insoles. The Easyfit relieves common foot pain, fatigue, and pressure while preventing blisters from occurring. Made with a natural NXT anti-bacterial coating to prevent odors, the Easyfit is a latex-free and vegan-friendly product. They're also designed to prevent toe crunching and relieve strain off the ball of the foot.
Made to prevent blisters and common foot pain, the Easyfit is one comfortable insole. No-slip wearability and an NXT anti-bacterial coating keep your feet feeling fresh and secure all day long, while the Easyfit's latex-free composition ensures you won't experience any irritation.
The Easyfit Insole comes pre-treated with an NXT anti-bacterial coating that acts as a powerful protective agent against bacteria, mold, and fungus that can build in a shoe over time. When these things have time to multiply they can cause unpleasant odors and infections.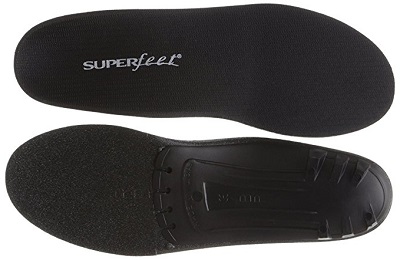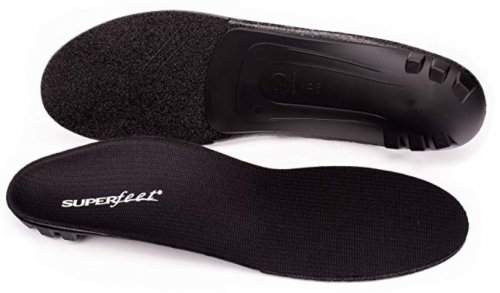 The Black insoles are developed to provide a comfortable fit with a thin natural support. It is a versatile insert and is low-profile to accommodate all types of shoes. These are recommended for those who have flat feet and need an extra boost in support. They will work in most shoes, ranging from sandals to ice skates.
It may be that it is more common to find insoles that provide thick support, however, the low-profile feature is important as well. Because these have a lower arch design, they fit the flat foot much better. The low-profile also allows for the individual to put them in tighter shoes and still have room for mobility without pinching.
The rear-foot of the insole is reinforced and has extra support in order to add flexibility to the thin, natural-feeling insole. It is firm in the heel and metatarsal area to provide sturdy support. This allows for cushioned support in the toe area while still allowing impact absorption in the heel. The flexibility also allows for a moldable fit should you need to customize the insole slightly.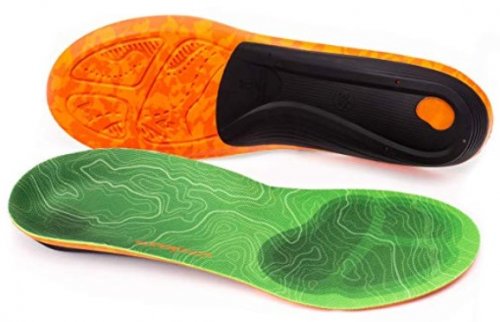 An insole built specifically with boots in mind, the Trailblazer Comfort is packed with various features and technologies that work together to give you the most comfort and support possible. An impact pad on the front of the insole works with the heel cup to promote stability and shock absorption, while the carbon-fiber stabilizing cap provides maximum support with minimum weight.
Carbon fiber is an uncommon material in shoe insoles, but does come with significant benefits. Carbon fiber is incredibly durable while still being lightweight; this and its unique appearance make it a very popular choice in jewelry and cell phone cases. In the Trailblazer Comfort, carbon fiber is used in the stabilizing cap to provide you with the support you need on the trail, without having a significant impact on the overall weight of the insole.
When it comes to hiking and trails, stability is paramount. A lack of stability can cause your foot to move around within the shoe, leading to fatigue and the chance of falling. The Trailblazer Comfort works double duty in this area with an impact pad at the front of the insole as well as a contoured heel cup. These both ensure that your foot remains stable in the shoe.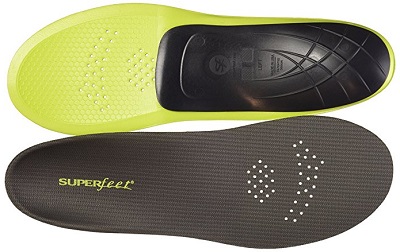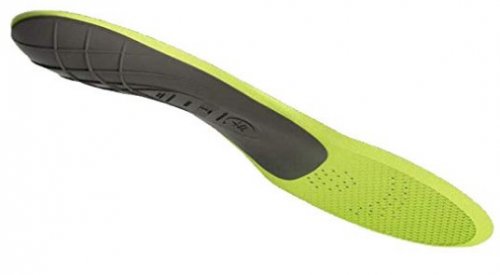 The Carbon insole is a natural and low-profile fit. It is mainly meant for comfort and not pain relief. Superfeet uses carbon fiber technology and ultralight foam to design a thin high-performance sole. There is a beveled edge to ensure a better fit and sizing experience, a wider and biomechanical shape.
The ultralight feature of the Carbon insole means that it is the perfect product for those who value a light spring in their step. There are perforations in the middle and front of the insole to provide reduced weight and breathability. The breathability makes these great for those with sweaty feet, but also those who need extra cushion and ventilation during athletics. Marathon runners will love the support and lightweight feel!
The low profile of the Carbon insole means that it allows for a more natural feeling in the foot. They are great for trail running while offering flat feet the support it needs. This design has a low arch, so it does not impede the mobility of the flat foot. No need to fear blisters as the beveled edge helps keep a snug fit without rubbing.

Subscribe to our Newsletter