10 Best Insoles for Plantar Fasciitis Reviewed & Rated
last updated:
Jun 08, 2020
Plantar Fasciitis can be incredibly painful. The band of muscle that connects the heel bone to the toes becomes inflamed and often swollen, making it harder to move the foot affected. Walking can sometimes be next to impossible. Thankfully, there are inserts which can be placed inside almost any shoe which can help alleviate some of the pain. These insoles won't cure the condition, but they can help reduce the amount of pain inflicted by it. Of course, it's best to consult a doctor about any medical condition, but for those who are interested in over the counter (OTC) options, there is a number of products that can be effective.
In a Hurry? The test winner after 13 hrs of research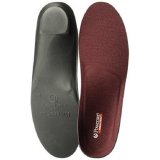 Powerstep Pinnacle Maxx
Why is it better?
Anti-Microbial Top Layer
Support & Cushioning
Shoe-to-Shoe Compatibility
Angled Exterior Heel Platform
EVA Foam Base
In a
Hurry? Editors choice: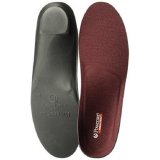 Test Winner: Powerstep Pinnacle Maxx

16
Researched Sources
1894
Reviews Considered
13
Hours Researching
17
Products Evaluated
Materials
Support
Durability
Shock Absorption
Adjustability
By Default
Top 10 Insoles for Plantar Fasciitis
1

. Powerstep Pinnacle Maxx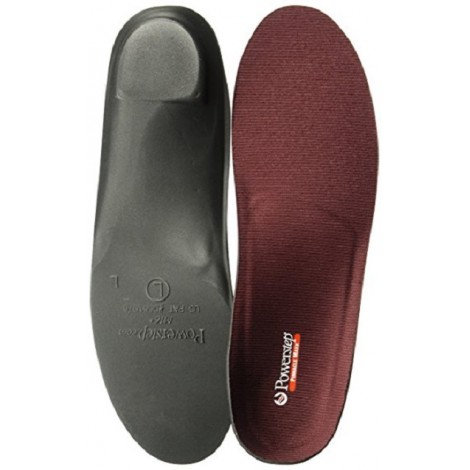 Anti-Microbial Top Layer
Support & Cushioning
Shoe-to-Shoe Compatibility
Angled Exterior Heel Platform
EVA Foam Base
Powerstep is a name frequetly mentioned when plantar fasciitis relief is a point of focus. Several insoles can seem to be geared toward sports and athletics, but these made for those who are constantly on their feet for longer periods of time. It's an excellent product that offers slightly more motion control for those who overpronate and will work for low, medium and high arches alike.
A firmer arch increases foot stability and, when combined with the slight angle of the exterior heel platform, allows for longer lasting comfort even when worn for hours at a time.
A common complaint with insoles is that their top layer creates friction and heat when worn for longer lengths of time. This causes feet to sweat and can lead to further irritation. The Powerstep Pinnacle Maxx avoids this by using an anti-microbial top layer and variable cushioning. This combination reduces friction and irritation while supporting the foot at key locations.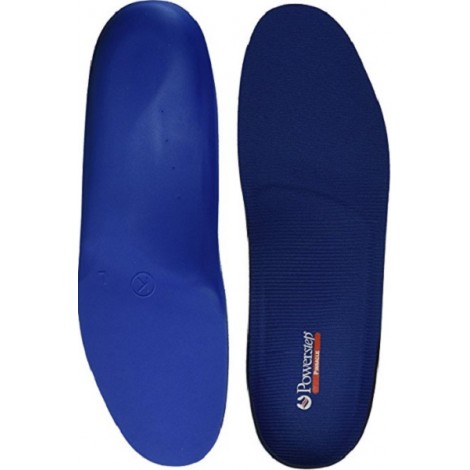 Anti-Microbial Top Layer
Deep Heel Cup
Medical-Grade Support
Semi-Rigid Arch Support
Supports All Arch Types
Powerstep is one of the heavy-hitters among the listed brands, offering support for a range of foot needs. The Pinnacle offers a range of support features from heel to toe and was designed with comfort in mind. Perfect for a number of medical conditions, these will work for metatarsal pain as well, as well as mild overpronation issues.
Medical-grade support will give stable and consistent support. Multiple layers of foam and a deep heel cup give extra comfort to feet in pain.
Their anti-microbial top layer will keep feet from stinking and sweating, reducing friction that can agitate the skin. This is especially important if you spend a lot of time wearing your shoes.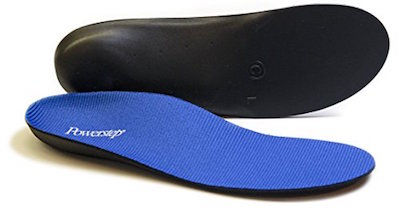 Semi-Rigid Arch Support
Heel Cradle
Dual-Layer Cushioning
Low-Profile Design
Seeing that it's a company completely immersed in offering you simple options to help alleviate foot pain and make your favorite footwear more comfortable, it comes as no surprise that a large number of the products listed are made by Powerstep. They make some of the best and most affordable inserts on the market with a range of offerings for footwear that goes from casual to dress, athletic to daily wear. The Original was the first item of this type they manufactured, and made in the USA, it offers great value for anyone with pain issues.
Foot pain is rarely limited to one part of the foot; that is, trying to minimize pain in one area often leads to strain in another. Powerstep tries to remedy this by giving a strong cradle for heel support and layering in several forms of arch support so that the foot, from heel to toe, is given relief.
Powerstep's products are made in the USA rather than shipped in. For those who worry about worker exploitation and supporting domestic markets, this is a key factor when making any purchase.
4

. Nazaroo Orthotic Insole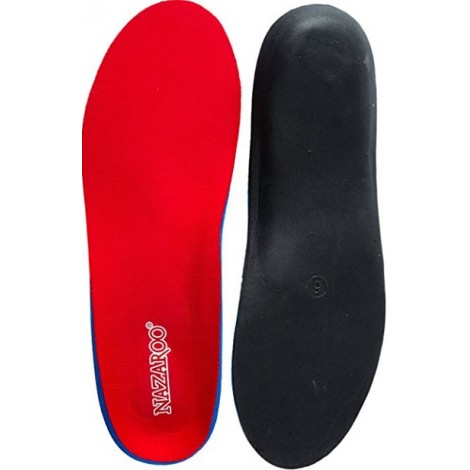 EVA Anti-Microbial Treated
Cushioning Latex Pad
Moisture-Wicking Fabric
Ideal for Flat Feet
Deep Heel Cradle
Break-in Period
Color May Rub off on Socks
With microbial activity being one of the leading cause to foot odor, this EVA anti-microbial treated insole is great in reducing microbial build-up. Additionally, moisture-wicking fabric helps to keep sweat to a minimum. Furthermore, ideal for flat feet, there is a deep heel cradle and cushioning latex pad to help give you the best in comfort.
Pain is a suffering which those with this condition know all too well. With the cushioning latex pad, however, pain levels are decreased; and with it, comfort is increased.
These ones are specific to those with flat feet. Combine the design with a deep heel cradle and you have a combination for maximum early morning comfort.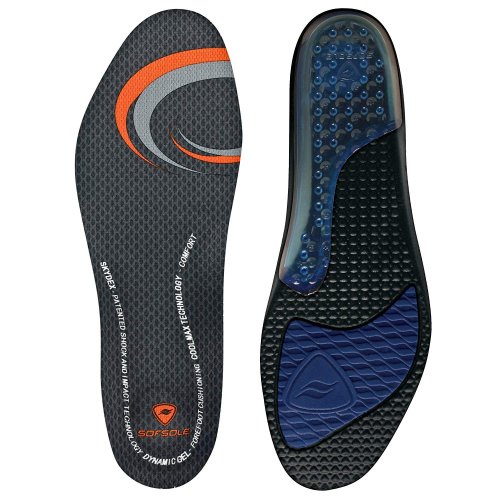 Biomechanical Shape
COOLMAX fabric top cover
Deep Heel Cup
Skydex Air Bubbles
Made for High Arches
Beware of Counterfeit Items
Made to help alleviate the pain associated with the condition, the Sof Soles Insoles have a biomechanical shape that's been specially developed to help a number of foot conditions, and they are designed to help control the gait associated with overpronation. There is a break-in period involved with this particular set, but after said period, they bring great pain relief.
This brings you added structure at the rear of the foot, thus helping to give stability to the foam layer of the insole. In turn, you gain more control over your gait, preventing from too much pressure being put on the inside of the foot, helping keep proper alignment while walking, standing and exercising.
The Sof Soles Insoles feature Skydex air bubbles in the heel and arch to help absorb impact with each step. The COOLMAX fabric top wicks away moisture so your feet remain cool and dry, making them perfect for athletic shoes like running, cross training, or walking.



Class 1 Medical Device
Dual Arch Support Types
30-Day Exchange Program
Easy Sizing
These ones are made with class 1 medical-grade material. Furthermore, there are two options which accommodate both medium-to-high (Original Stabilizer) and medium-to-low (Slim Stabilizer) arches. A 30-day exchange program is in place to ensure you get exactly what you need. They help to relieve pressure in both the heel and forefoot area. Additionally, these are great for improving posture and overall skeletal structure.
The two variants are in place to address both medium-to-high and medium-to-low arches. Moreover, you can gain a fit which is right for you, as these are designed to handle your condition.
These can help improve your posture over the long-term. In essence, your skeletal structure improves, as a result. When compared to other options on this list, these are expensive. They are made, however, to last a long time. But more importantly, however, they are designed to heal over the long-run and not just address symptoms.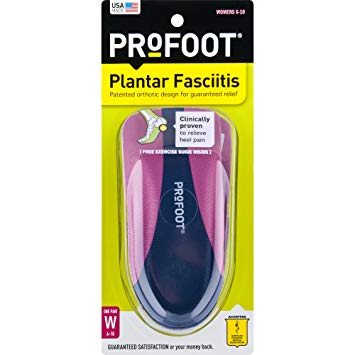 Shock-Absorbing Pads
Anti-Friction Top Layer
Deep Heel Cup
Heel Crash Pad
PROFOOT's inserts seem specially designed for sports enthusiasts, construction workers, and those who find themselves on their feet constantly pacing and walking. The Heel Pain & Plantar Fasciitis inserts feature multiple forms of support, with Vita Foam XD technology for cushion, and will help your daily routine feel more energized when you're on your feet..
Three separate locations feature shock-absorbing pads following a patent-pending design. These lower the strain of impact from running and jumping, making them perfect for athletes and those whose work keeps them on their feet all day.
They are all about heel relief. They feature heel supports that supports the width of the plantar fascia and cradles your tender heel; as well as featuring a shock-absorbing pad that ease strike force on the foot. This, in turn, eases the movement of the foot and lowers strain on the forefoot, particularly when running.
8

. Superfeet Orange Premium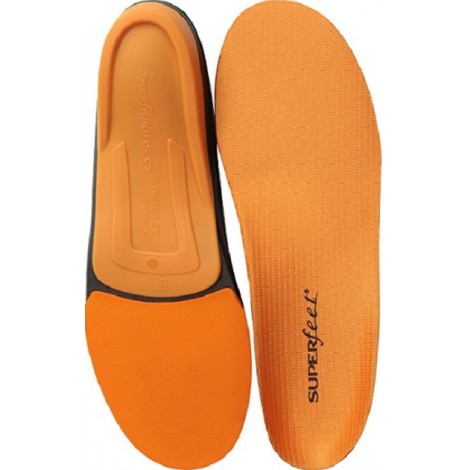 Rebound High-Density EVA
2-inch High; 4-Inch Wide
High Arches
High-impact Foam
Superfeet keeps the hits coming with their Orange Premium Insole. As with their other inserts, this particular offering has several key features that recommend it to those suffering from foot pain caused by this condition, ranging from the materials it is constructed with to the specific forms of support it offers.
Many inserts seem designed for those with low arches, as flat feet are often associated with the condition. The Orange Premium ones, however, are intended for those with high arches. Their height is meant to offer as much support as possible while remaining unobtrusive.
Shoe styles can vary wildly, and that often leads to problems when non-factory ones are introduced. The Orange Premium insole is specifically designed for shoes with a narrow heel, making them particularly well suited to dress shoes and high heels.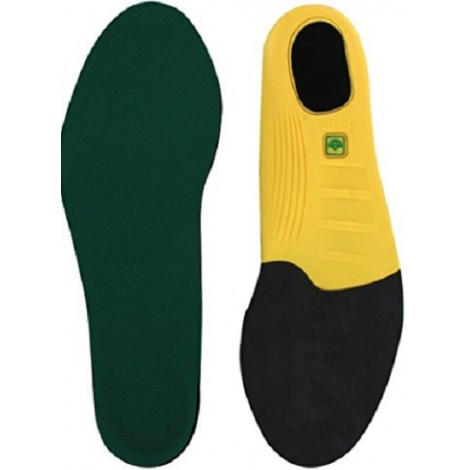 Budget-Friendly
Anti-Microbial Top Layer
Heel Plug
EVA Forefoot Cushioning
4-Way Stretch Fabric
Insoles have to fit the needs of the person wearing them. Spenco's Polysorb Cross Trainer ones are designed from the ground up to support the feet of athletes participating in sports with high levels of foot impact. This means they're great to use with your running shoes, but also if you tend to spend a lot of time on your feet or walking.
Spenco features anti-microbial fabric as the top layer, reducing friction between socks and the insoles. They also feature 4-way stretch fabric so that they can survive the foot moving in different directions.
Arch pain can cause an altered gait and this can lead to a harsher heel strike. Spenco's heel plug softens the force of heel strike to make walking easier and less painful. These ones have the lowest cost. Unfortunately, they have fewer forms of support than others that may cost a bit more.
10

. Samurai Insoles Instant-Relief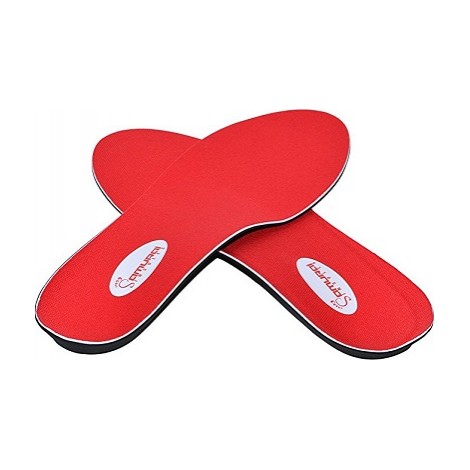 Inner Core Shapes to Your Foot
Fits as Expected
Casual or Athletic Use
Medical-Grade Insert
Podiatrist-Designed
This brand makes its first appearance on this list with a strong offering. Their instant-relief orthotics promises quick relief from the pain of the condition, heel spurs, and fallen arches with a unique inner core and a low-profile insert that won't call attention to itself.
They have taken a unique approach to their arch support. Instead of layered foam or hard plastic, their arch support is a molded, inner core that moves with your foot; forming as needed to give you support and balance.
It is rare to find an insole that fits without too much trimming, but this brand seems to have gotten their measurements down to a tee, as more reviews champion them as fitting true to expectations.
Criteria Used for Evaluation

Materials
When shopping for inserts, one of the first things you'll want to consider is how they're made. While you may be tempted to go with the cheapest kind, you'll find that different materials used will come with different advantages and disadvantages, and the best thing to do is consider them before making an investment, no matter how large.
Most manufacturers will use some type of foam or polyurethane as these provide a good amount of support, without being too rigid. However, those with very severe forms of plantar fasciitis may need to use firmer inserts, which is where plastic elements come into the picture. If you've been diagnosed by a medical specialist, they are very likely to give you some recommendations about what type of insert you will be needing. If, however, you're looking to try out a few products in order to relieve everyday pain, you will surely benefit from less rigid options.
Before investing, you should consider whether you have any material allergies, as it would be best to avoid materials that could cause irritation. Cheaply made insoles may even be made with unsuitable materials, or may be dyed with colors that will rub off or cause a reaction. Your best bet is to purchase something with medical grade construction, or at least consider your personal preferences.
Furthermore, you will greatly benefit from getting a pair that has a moisture wicking lining or anti-odor treatment, as this will greatly help wick sweat away from the feet, ensuring a dry environment that won't aid the growth of fungus and bacteria that could lead to further conditions.

Support
Some of the ones listed above are very specific about the arch height they support. Buying too high or low a support can lead to even more intense foot pain, ultimately costing more in the long run. It is important to take time and make sure the arch support height matches what each foot requires. Since the condition is caused by small tears in the plantar fascia that stem from the strain on other areas of the foot, properly supporting your arches is essential in treating the condition. Most sufferers have chronically low arches which allow for too much strain to be put on the plantar fascia ligament. These kinds of arches have to be propped up and supported to give the ligament the rest and support it requires to heal and prevent re-injury.
However, plantar fasciitis and arch pain are not exclusive to those with flat feet and can happen in all types of arches. Sometimes, it can even be prevented, which is why manufacturers also make products for those with medium and high arches. By cradling the underside of the foot, inserts can help the tendon from having to work overtime to absorb shock, which, essentially leads to less likelihood of an injury.
If you're unsure of the height of your arches, there is a simple way you can determine their height, which will lead to an easier shopping experience and a product that will be better suited to you. All you need to do is place a piece of paper on the floor and step on it with wet feet. The shape your foot makes on the paper will show you the height of your arch:
If the middle of the foot shows no curving towards the inside, you have low arches
If there's a slight curve to the inner line of the foot, your have average, medium arches
If the curve is pronounced, then you have high arches
Choosing your inserts based on this information should help ensure a higher level of support, and thus a less painful experience when standing and walking for prolonged periods, regardless of whether you've been diagnosed with an ailment, or just want to stop the pain from happening.

Durability
With any product you purchase, you want to get a fair amount of use for the money you invested. Even though they're made to be swapped out every few months, you will still want to get the best possible level of durability out of your purchased inserts.
The time they will last will mostly depend on the materials used. For example, foam materials are great for support and cushioning, but you may find that they tend to pack or flatten with regular wear, which may mean you'll need to swap them out more often. Another factor that may contribute to the lifespan of your inserts is the frequency at which they're used, as well as the type of activity. It is inevitable that the insoles in a pair of running shoes will last a shorter amount of time than those in a pair of dress shoes that are only worn on special occasions.
Overall, podiatrists recommend changing any pair of insoles every three months or so. Not only is this because they may lose their shape or support, but also due to the natural degradation that happens when any materials are in contact with moisture and bacteria (that come with sweaty feet). If you want to make sure you get more time out of your insoles, you may want to invest a few dollars more in those with moisture wicking or anti-odor properties, as well as to choose ones made with better material compounds, preferably using several different methods of cushioning and support.
Otherwise, there are a couple of simple ways you can prolong the lifespan of your footwear in general, including wearing it in appropriate conditions, thoroughly airing it out between uses, as well as washing it according to the manufacturer's instructions.

Shock Absorption
Last but not least, the insoles you use in your footwear may greatly contribute to the level of shock absorption you get from your footwear. Whenever you take a step (especially when running), you will land on your foot with a force that can be up to several times greater than your body weight. Most people land with their heel, which is naturally not too padded, and this can often cause the arch to work overtime to try and absorb the shock.
The best way to keep your feet safe is to choose footwear with at least some level of cushioning, most often found in the midsole material. However, you will find that most formal shoes do not offer this type of protection, and are often made with hard soles that are unforgiving, especially if you spend a lot of time on your feet. With this type of shoes, a good insole can do wonders.
Not only can a cushioned insole help alleviate pain, but it can also even prevent any type of deterioration of foot health, eliminating long recovery times that are associated with severe plantar fasciitis. Several of the models listed above have great cushioning properties, comforting the heel and forefoot upon impact, and some are even appropriate for athletic use, allowing you to swap out the original inserts with these more supportive ones.

Adjustability
While most inserts can be purchased in a specific size, it's important to note that not all your footwear is shaped the same, and thus may present some problems when trying to fit your insoles into the shoe.
That's why, when making a purchase, you should pay attention to two things. The first is the sizing - whether a certain product is too thick or wide, determining whether it will fit in a particular pair of shoes. The other is the adjustability factor. Some basic insoles can be cut down to fit a shoe shape, but there will also be those that do not offer this option.
For this reason, it is suggested that you carefully read the item description, as well as to check out the reviews left by customers, to check whether a product runs true to size.
Expert Interviews & Opinions
Most Important Criteria
(According to our experts opinion)
Experts Opinion
Editors Opinion
Users Opinion
By Default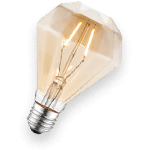 How To Treat Plantar Fasciitis
Walking and standing are part of our everyday lives, and having pain when trying to go about your day due to plantar fasciitis can make the simplest tasks seem daunting. While there isn't a complete cure for the condition, there are steps you can take to reduce pain and inflammation.
After seeing your doctor for a proper diagnosis, they may prescribe anti-inflammatories to help reduce swelling and inflammation in the area. Icing the tendons can also help minimize inflammation.
Stretching out the tendons that plantar fasciitis affects can help long term recovery and reduction of pain, so long as you set aside time for this activity each day.
Where Would I Feel Pain?
Pain associated with plantar fasciitis is usually due to the tendons that connect the heel to the forefoot. While pain can be felt throughout the entire arch of the foot, you may feel the most tender parts of the condition at the heel, or back of the arch.
If you suspect you may have plantar fasciitis because of pain in this area, it's best to get the opinion of a medial professional to confirm, and plan a path to recovery.
Other Factors to Consider

Breathability
Because any addition of material in your shoes lowers the foot's ability to control temperature, you should try to always purchase inserts that have a good level of breathability. Plastic and nylon materials should be avoided seeing that they completely prevent airflow inside the shoes, and should be swapped out for technical or natural options that are better for the foot.

Bottom Line
Foot pain can be devastating. When walking causes misery, everything from household chores, to work, to a person's favorite hobby can become the most hated thing in the world. The right inserts might not cure it but they can relieve the pain and let the sufferer get back to leading their lives. Prescription ones can run about twice the cost of standard-issue footwear but these alternatives make them more accessible for those who suffer, offering relief in a variety of styles so that there is something for everyone. There are also shoes for foot pain that you can buy, these insoles are the cheaper option.
Frequently Asked Questions
q:

How do I put them into my shoes?

a:

The factory ones must be removed before new or custom ones can be put in. Some types of footwear make this easy and they will come out cleanly, but others will not be able to be removed without tearing out the old ones.
q:

How often will I have to replace them?

a:

The life of an insole depends on a few things, but most of all it depends on how often it is put to use; as well as, what kind of use it sees. A runner's inserts will wear out faster than a casual pair that only makes a few laps around the office before the wearer switches to a different pair for the evening.
q:

What if they don't fit my shoes or my feet?

a:

The resolution to ill-fitting ones depends on the type of material the insole is made of and where the problem fit is. If the insole doesn't properly support the arch in need, then trying to returning or exchanging the insole is the only real option. Some, however, can be trimmed down around the edges to fit a narrower shoe. It's important not to snip any gel packs or air cushions, but the foam edging may be able to be trimmed.
q:

Why do they help the condition?

a:

They serve a dual purpose in the treatment. They help stretch the plantar fascia tendon to prevent it from growing too stiff during recovery while at the same time supporting the arch of the foot and reducing impact from walking and exercise to help prevent the tears and strain that can prolong the condition.
q:

Can it be cured?

a:

In most cases, it can be cured. It may re-occur more easily, due to the pre-existing wear on the ligament, but it is possible to recover from the condition in a few months if the foot is treated properly. This can include icing, supportive footwear, stretching therapy, and rest. The exact option is best discussed with a health professional and most will recommend an insole like those listed above, as a starting measure to treat the condition.
q:

How do I know what type of insole to buy?

a:

Insole fit sometimes requires a bit of trial and error to get right, but there are a few basic ground rules that people with the condition need to go by. The insole must have a fairly strong heel support so that the foot does not twist or become re-injured while the ligament is healing. Each insole must, also, support the typically low arches of people who suffer from it; since, strain on the plantar fascia occurs when a low arch put strains on the center and ball of the feet with each step, as it moves too much under the strain of use. A strong arch support is one of the keys in preventing this from taking place. A higher than normal arch will be uncomfortable at first, but many swear that over time the pain stops and their feet are healthier than before. A doctor or medical professional is, of course, the best person to consult for specifics on any foot pain that starts after buying new ones.
q:

Are they required to cure the condition?

a:

Strictly speaking, nothing is required for its cure aside from rest and time. They can, however, shorten the time required to heal from the condition and to prevent it from happening again. Most people cannot spend days, weeks, or months off their feet. It simply isn't an option, so aides such as inserts, ice, and stretches can shorten the recovery time significantly.
Subscribe to our Newsletter