Best Dress Shoes Reviewed
In a Hurry? Editors choice: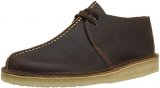 Test Winner: Clarks Desert Trek Moccasin

Most people wish to get quality footwear that looks great, but the selection can be a major problem since not everyone knows the factors needing to be considered when choosing the best dress shoes. The main aim of this write-up is to enlighten every stylish man and woman out there on how to select these shoes for you. Tips for comfort, durability, affordability advantages, and disadvantages will be highlighted below so that we can all get a great picture of the ideal footwear for those big occasions you prioritize.

Standout Picks
Criteria Used for Evaluation
Materials
One of the most important things you want out of your pair is a quality make. Not only will this greatly contribute to their appearance, but it will also ensure that you get a comfortable pair that will last you plenty of time. Although high-quality ones will often feature a hefty price tag, you might find that an initial investment can pay off with years of use.
The best brands cost more than an average pair of footwear for more reasons. One of these is the use of the best materials (usually leather) which will perform better and look better than most synthetic ones. Unless you are in the market for vegan footwear, try to invest in a pair of premium leather ones that will look amazing, mold to your feet to create the perfect fit, last a lifetime and will get better and more comfortable with age.
The highest quality products are usually handmade, which not only contributes to the fact that they are unique but also leaves you with a product which is of a better quality due to higher levels of quality control. Although machine-sewed footwear can be great as well, handmade ones are sure to set you apart in a crowd.
Most are made of leather, and there are four types that are most commonly found in quality models. All of these are good options, but note that each has its unique characteristics and advantages that will make a difference in how they behave and fit.
Patent - By far the dressiest, and most commonly worn type of leather. Often paired with a tuxedo, patent leather should be a special occasion type of shoe only. Although you might see them in more informal settings nowadays, note that patent leather creases easily, so it is best to save these for special occasions only.
Smooth - The most common when it comes to leather options, and the easiest to clean and shine. Due to the lack of pebbling, you are working with a completely smooth surface, and therefore these are a great option for more frequent wear.
Full Grain - Made from the most durable part of the hide, full-grain leather is resilient and can even be worn in the rain. It will also age beautifully and last you a lifetime.
Top Grain - Similar to full-grain, however, the pebbling has been smoothed out to give a softer appearance to the shoe. It is the second most durable leather and great for everyday use.
It is important to take the time to consider all the features before making a purchase. This way, you are going to get a pair that will last a lifetime, especially if you opt for an investment piece. High-quality footwear that you can rely on, although they require a bigger initial investment, pay off their value through durability and the fact that you won't have to purchase new ones every so often.
Style
Whether you are going to work, a wedding, or any other ceremony, you will want to match your footwear and suit to reflect the best possible image that you have to offer the world. A good pair can effortlessly tie your entire outfit together, under the condition that you choose the correct styling. There are several styles, and although most look great on their own, there are a few rules that you will have to follow when matching them with an outfit.
Oxford - The most common style, this closed lace design gives a sleek and elegant appearance to the shoe, so a nice pair of black oxfords should be your go-to for a classier event. This style of shoe, which originated from Scotland may also be referred to as a Balmoral and can be made in any type of leather, but opt for a patent if you want the sleekest look.
Loafer - These slip-on ones may be more informal than others. However, they offer extreme comfort, and if the fit is just right, they can become a go-to shoe for more casual business meetings. As of lately, Gucci has made a large name for themselves in regards to the loafer, by making them a formal shoe worn frequently by celebrities.
Chelsea Boot - Comfortable and effortlessly chic, these slip-on boots are extremely versatile and add that extra something to any outfit. Of course, they are not as dressy as a patent loafer, Chelsea boots are ideal for dressing up a more casual outfit and seamlessly taking you from day tonight. Don't be scared to choose them to go to a formal event, you will stand out and look stylish.
Chukka Boot - A more casual boot than the Chelsea, these ankle boots are made from two pieces of leather and have a specific amount of eyelets, generally three. Chukka Boots are often made in various colors and styles, however, stick with brown, tan or black and avoid crepe soles if you are going for a more fancy look.
There are so many styles to choose from, and although it may be intimidating at first, assessing your wardrobe and what it is lacking is the first step towards purchasing the perfect pair. Think about each of these styles and how much use they would get if you were to buy them - do you frequent formal events often, or do you prefer something that will work in a more casual setting as well? A good rule of thumb is to always have a smooth leather pair of Oxfords on hand so that you can style them up or down as needed.
When it comes to boots, keep in mind that these do fall more on the casual side and therefore are much more versatile in your everyday life. You can never go wrong with a good quality pair of Chelsea boots, these will last forever and will become your go-to shoe when looking for the perfect something to spice up your skinny jeans and leather jacket.
Advanced Features
When deciding to invest in a new pair pay attention to the details and know that although similar, each pair you come across will be unique in its way. They are very complex and come in many different shapes and sizes. One of the key things that make them stand out from each other is the toe design. Though not everyone will notice the toe, it can decide whether a pair is suitable for a certain occasion. The four most common toe styles are:
Plain Toe - Simple and elegant, this is a classic style you can't go wrong with. It will be featured on the sleekest models, so a pair of Oxfords with a plain toe is a great choice.
Cap Toe - This extra piece of leather stitched on to the toe makes a pair less formal and a bit more versatile. Appropriate for formal occasions if styled correctly, a cap toe should mostly be worn in a business setting.
Wingtip - When looking down at the shoe you will see a "W" shape at the toe. This makes them less formal, and more appropriate for casual wear. Depending on the rest of your outfit, the wingtip can be a great stylistic choice.
Split toe - Also known as the apron toe, there is a seam that runs down the middle of the shoe. More common in casual footwear, this style is not considered to be formal at all.
Details are everything when it comes to picking the proper pair. They can completely change the look of your outfit, and can even make a pair inappropriate for certain occasions. Small details like these can make a large difference, so take the time to choose the best option for you.
A rule to always remember is they should have a rounded toe, never square. One of the first things people look at after your overall appearance and outfit is what you're wearing on your feet, and whether or not they go with your outfit and are nice quality. It's been said you plan your outfit from the toes up, so keep that in mind the next time you even consider trying on that pair of squared toes.
The outsole of your footwear makes a huge difference in their function and style. Not only will it affect its quality, but it will also determine how the pair feels on your feet. There are a few types of soles most commonly used and they all offer different things.
Single Leather - The most common and sophisticated choice, the single leather sole allows for a very sleek look. Although nice looking, it does not offer much support and can be slippery, especially when wet.
Double Leather - Most commonly seen on more casual styles of boots, this offers much more protection and warmth but takes away any sleek appearance from the shoe.
Crepe - Often seen on the chukka boot, this type of rubber sole is lightweight, however, can wear down quickly and does not give off the appearance of expensive.
Rubber - Not the most formal, however, rubber soles provide excellent traction and can be great in colder months when the ground is wet, and you do not want to wear your leather-soled ones.
Fit
One of the most important things is fit. Unlike other styles of footwear where there is some wiggle room when it comes to sizing, if your special pair doesn't fit perfectly it will wear in all of the wrong places. These are made to fit close to your foot, and eventually, after plenty of wear, they will mold to the shape of your foot. Ideally, this will make them feel like a second skin. If you are not feeling as comfortable as possible, here are some key things to check for:
Creasing where there shouldn't be - If you notice creasing, especially in the front of the shoe (toe area), they are probably bending in ways they shouldn't. This will affect how long they last.
You find yourself tying them as tight as you can - The eyelets should create a "V" shape from the bottom upwards when tied properly. They shouldn't be miles apart because you are tying them too loosely, or touching for a tighter fit.
Your heel slips out of the back of the shoe - Your entire foot should feel comfortably snug in the shoe, although there should be space for it be not feel constricted, your foot should not be moving around, especially out of the shoe.
They feel too tight right away - They do require a break-in period and may not feel the most comfortable off the bat, but they should not feel too tight. Leather will stretch over time but don't expect them to grow a full size.
Most have caps in the front and back of the shoe which serve to keep their shape and to give you some added stability. If you find that the heel caps are giving you any discomfort - either by rubbing or being too stiff - this means that their fit is not perfect. Always take the time to assess how your feet feel in your new pair, and be aware of every part of the shoe and how it feels against your feet.
With styles such as the loafer, you are slipping them onto your feet, so there is no room for adjustment if they do not fit properly immediately. Ensure that it fits your foot properly throughout and that your foot is not slipping around or coming out of the shoe. Because you are pulling them on to your feet every time you wear them, you risk them stretching out, especially in the back. Lace up ones, on the other hand, allow for a bit more adjustability, which may be a better option for some users.
You may think that buying the right shoe is simple; get the same size as all of your other footwear. That is very wrong, and you will quickly find that out! Not only does the size of your feet vary throughout the day from swelling, your left and right feet are also not the same sizes, to begin with. This can go unnoticed for your entire life if you constantly wear runners, or trainers where it does not make a large difference. When it comes to dressier footwear; however, some are tailored made for your specific feet, so knowing exactly what your size is will guarantee the perfect fit.
Durability
Another factor that has a lot to do with the materials and construction of a pair of shoes, the durability will greatly depend on the quality of the make. Nonetheless, you will want to go with something that won't wear out after just a few hours of wear.
The top products featured in this article are all made with the best leather money can buy, and you can expect them to hold up to wear well. But how any footwear ages will also greatly depend on how you use it. We would advise against wearing fancy shoes in foul weather. You should also take care of how you store it, making sure it's in a dry and well-ventilated space.
If your footwear gets wet, you will need to dry it thoroughly, and maybe even use some conditioning products to lessen the damage. Last but not least, do not wash leather items with too much water (or in the washing machine). Instead, take the time to care for it properly, and you'll find that it'll last you much longer that way.
Top 10 Dress Shoes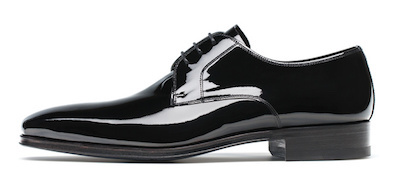 These formal patent leather shoes by Magnanni are a pair of premium quality fashion staple ones that are going to take your style to the next level. If you're looking for a pair that will be unparalleled in comfort and quality, then this is definitely the pair for you. Handmade in Spain, these look so good that they definitely justify the price tag they come with.
They have a patent leather upper, as well as a leather cushioned footbed that feels absolutely amazing under your feet. It's comfortable and breathable, which means that you can wear them without having to worry about dealing with any type of pain once you take them off.
In general, they are known for being way firmer and more uncomfortable to wear than typical everyday footwear. And while you may want to go with a foam or rubber outsole, some occasions require something a bit more elegant. Even though the outsole is made out of leather, they still provide plenty of flexibility so as not to constrict your foot's movements while walking.

2

. Clarks Desert Trek Moccasin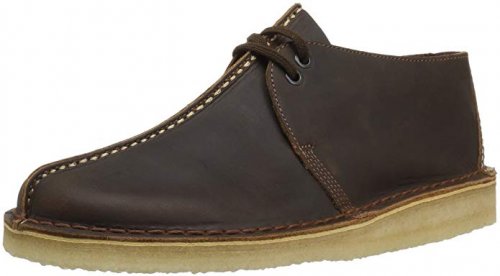 Clarks is known for its clean lines, classic designs and comfortable all-day wear, and the Desert Trek Moccasin is no exception. Able to transition from business to business casual and back, you can sport the Trek during the day or night. Featuring a 100% suede or 100% leather upper and a plantation crepe sole, it's a winner for those seeking comfort and class.
With a modest (almost) one-inch heel height, the Trek will help you stand tall and get down to business when in the boardroom or at a client lunch. With colors such as beeswax leather or dark brown suede, the Trek projects reliability and dependability. Just the vibe you want to give off if you are trying to close a deal!
The plantation crepe outsole offers excellent grip and traction and adds a unique design to the overall shoe, complementing the moccasin vibe. The reinforced heel cap adds a touch of class to the overall look of the Trek. Based on many customer reviews, the Trek also exhibits a strong trueness-to-size, so you can be sure your pair will fit you correctly.

3

. Johnston & Murphy Conard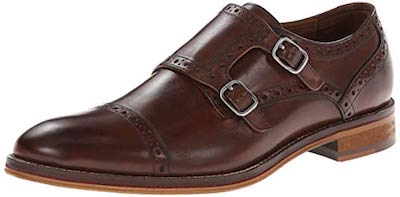 Monk straps have become increasingly popular in the last couple of years, mainly because they offer a refreshing look that's still greatly formal, and works well with almost any outfit - from sleek suit to skinny jeans. This model by Johnston & Murphy is a premium quality option for those who like to make good investments in life. Nonetheless, the Conard also comes in a cap toe, plain toe, wingtip, and single monk strap option, just in case you prefer to stay away from lots of buckles.
When it comes to leather, you can't get much better than that which comes from tanneries in Italy. Hand-burnished and featuring some of the best done broguing money can buy, the Conard truly is an excellent choice. The closure features two sturdy buckles that'll allow you to find the perfect fit, while the leather itself is soft enough to mold to your feet for a pair of monk straps you'll be wearing for years to come.
Formal footwear is often uncomfortable, as any woman will be glad to say (those heels are a killer). But flat styles can also be uncomfortable to walk, stand or dance in for prolonged periods of time, so a cushioned footbed is a most welcome addition, ensuring a higher level of support and shock absorption, lowering the level of fatigue you feel at the end of the day. If you're planning on wearing these to a wedding, you should expect a bit less swelling than you'd get from your regular, stiff pair of Oxfords.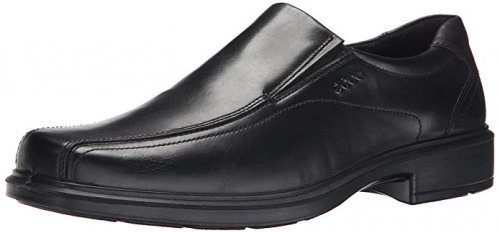 Focusing on providing the wearer comfort and shock-absorbing footwear that looks stylish and is great for everyday use, ECCO's Helsinki slip-on can be paired with almost anything business or business casual. Featuring a full-grain leather upper and unique ECCO comfort technologies, this is one of our top choices.
The Helsinki offers easy on and off due to its slip-on design. The PU outsole is great for traction, no matter what the terrain or season and the Direct Injection process ensures you get a great fit, no matter your foot shape. The midsole of the Helsinki is shaped to anatomically match the wearer's foot.
The insole of the Helsinki is treated with AGION technology, which repels moisture and prevents the buildup of bacteria and odor. Nothing is worse than developing unnecessary and unwelcome foot conditions, such as athlete's foot, because your feet are too wet during the day to stay comfortable. For its price point, the Helsinki offers great value.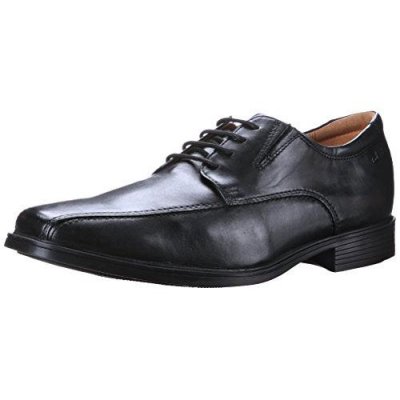 This pair of Oxford shoes by Clarks is an excellent choice for those looking for an affordable option. With a leather upper and plenty of comfort features, these will feel great on your feet after a solid 8-hour workday, and you won't dread the special occasions when you have to put these on. And what's best - they also come in a wide fitting for those who need a bit more room in their footwear.
They have a lace-up closure, but for the sake of comfort, and added elastic slit has been added, ensuring that you feel comfortable while wearing them. The padded leather upper is soft and will fit most foot shapes.
In addition to a soft synthetic sole, they also offer an Ortholite footbed that is cushioned and has excellent moisture-wicking properties. This means that they won't develop odors, even with longtime wear.

6

. Timberland EK Brook Park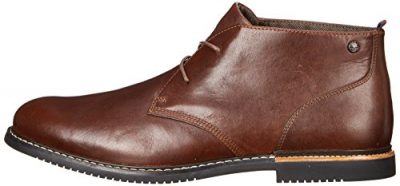 These chukka boots are great for everyday use but can easily be dressed up with a nice pair of pants depending on where your night may take you. Made with full grain genuine leather and 100% recycled materials to make the lining, time was really spent to ensure the best quality product. Featuring Timberlands anti-fatigue technology you will be sure to feel pain-free all day and night.
Standing on your feet all day can be a pain, literally. Ensuring you have the proper cushioning in whichever shoe you decide to wear that day is crucial to preventing foot pain, and possible injuries. Timberland not only has a leather-lined footbed, but it is also made with their anti-fatigue technology to provide you with comfort and support without the need for additional insoles.
Environmentally friendly options are a big plus and can make you feel better about your purchase, especially if it is a slight splurge. These boots are carefully lined with 100% recycled herringbone to wick away moisture all day and keep your feet dry and cool.

7

. Dockers Moritz Wingtip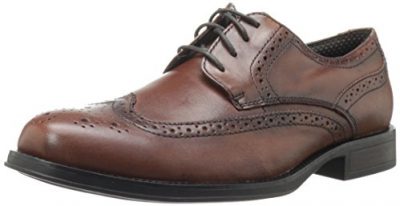 The Moritz Wingtip by Dockers is made with a supple burnished leather upper that offers excellent comfort and flexibility. With a rubber outsole that is stable and comfortable, you can wear them anywhere. Available in both black and brown, the Moritz can be worn with any of your favorite suits or outfits.
In addition to being made with genuine leather, these ones have some hidden features as well in order to provide you with a maximum level of comfort. One of these is the hidden padding in the collar, which will prevent them from creating problems in the ankle area.
Both the leather upper and the rubber outsole are flexible, allowing your foot to freely move, without any constraint. That's what makes them an excellent option for all-day wear.

8

. Calvin Klein Bram Diamond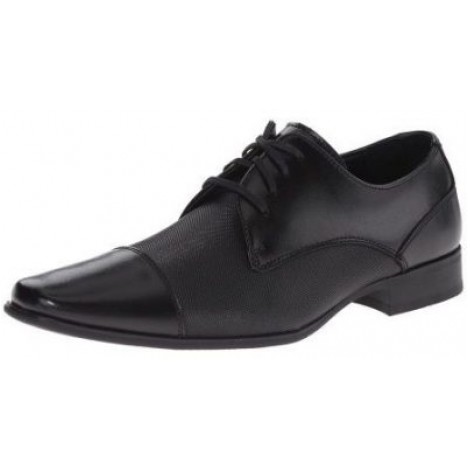 With a subtle update to the classic design, the Calvin Klein Bram Diamond is an excellent choice if you want to get something less ordinary. You will look exceptionally stylish in these unique Oxfords that look incredible with a nice pair of pants. With a silky-smooth leather and diamond textured pattern they will make you stand out in any business meeting.
Unlike the typical all one textured leather ones, these have a little bit something extra to make them stand out, but only subtly. The rich textured pattern makes these oxfords look expensive and high quality which is never a bad thing.
Standing on your feet all day can be exhausting enough as it is, make that even worse by having your feet be in pain. The addition of a soft, comfortable footbed means you can go from meeting to meeting without thinking twice about your aching feet.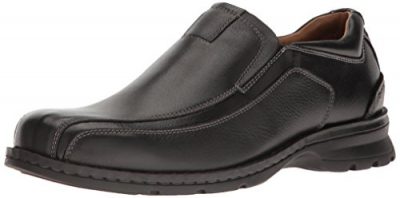 If you're looking for a slip-on style, then the Agent by Dockers is a great choice. Not only do they look good, but they're made with a quality leather upper and a softly cushioned latex footbed. A padded collar and synthetic sole contribution to the overall feeling of comfort you will get with them, while the heel measures about 2cm, which is the perfect heel height according to foot health specialists.
The best part about them is the full-grain leather upper that is not only protective and durable but has also been burnished to give it a unique look. They will mold to your feet and will develop a warmer, richer color with the time that will be unique to you.
They are made to be comfortable out of the box, requiring no break-in period. You will love the soft, flexible outsole that features generous cushioning that will bring relief to your hard-working feet.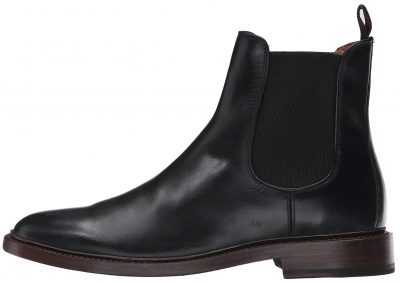 These boots are a staple in any closet, the rich leather wears beautifully over time and although they look rather simplistic, they add the perfect stylish touch to any outfit. A great boot to not only wear to work or in a professional way, but on nights out or a nice dinner as well, the styling options are endless and will have you reaching for these all year round.
There is nothing better than knowing you are spending money on an item that you will get plenty of wear out of and that will last. Frye boots look stylish with absolutely any outfit, and can be worn anywhere, but don't fret that they will deteriorate over time, they are crafted with a rich leather that will only look better as time goes on.
There are some items that everyone needs in their closet, to have on hand at all times; formal boots are one of them. When the colder months start approaching and you want a little more protection and warmth, these boots will be what you reach for. Depending on how often you wear them, one pair is really all you need, so why not invest in the best.

Subscribe to our Newsletter