Best Leather Shoes Reviewed & Rated
In a Hurry? Editors choice: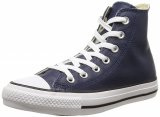 Test Winner: Converse All Star

Having a pair of shoes is great, but having a good pair of shoes is definitely a bonus. Leather happens to one of the oldest fabrics that have been used in making different types of footwear. It is exceptionally durable and offers great appeal to the eye. High-quality leather goods can cost quite a bit and it's important to make sure you know if you are buying genuine or if you are buying something made of synthetic materials that replicate leather.

Below we have compiled for you the best leather shoes ranging from oxford shoes to simple walking footwear. No matter the occasion, there is an awesome design and style out there for you.
Standout Picks
Criteria Used for Evaluation
Materials
Learn about the different types of leather so you can choose the best one for yourself.
There are about nine distinguished types used in footwear (depending on who you ask), but let's go into the most common. Because this material is used as a catch-all term, it's easy to confuse and mix-up the many different types there actually are or aren't. The type of this material can be differentiated by its processing method, or by the animal hide or raw material which it was made from.
Roughout – Roughout is an inverted version of the material, meaning it's flipped inside-out. It is somewhat more breathable than the standard material and is favored because it does not need any extra attention when it comes to cleaning. This product is used for rough-wear and performance rather than looks and fashion.
Vegan Tanned - This is super simple with no special tanning methods or the processing is done to it. It's actually made from organic plant material using tree bark for tanning. It usually comes out light in shade, but the shade does not stick around for long. The materials will naturally darken up with use, and should not be an alarm to you if you do notice a darker shade over time.
Pulled – These ones are a group of highly oiled and waxed skins turned a different shade, usually lighter, when force is put on the product, such as stretching or pulling. Footwear made of this is extremely easy to maintain and fairs well against scuffing and similar damage.
Chamois – This is also referred to as the "shammy". It resembles suede in a way, and because it absorbs liquids, it is usually heavily waxed and oiled. On the bright side, the heavy application of the wax and oils makes it so you don't need to shine it very often.
Suede – Just like the RO, suede is inverted but instead applies a sanded and highly buffed-out finish, making it extremely soft and easy to the touch. Water and muck will easily attach itself to the material, so footwear made of suede should not be worn in rough environments.
S. Grain – Commonly referred to as pebble grain, this is made using barley in order to form the texture. The barley assists in shrinking the material, which instead of shriveling makes the interesting pattern this product is known for. You can also find this made in an alternative way, using embossing techniques over cowhide.
Cordovan – For many, this is the most favored of all listed here. It is made using horsehide, and the reason it's as strong as it is has to do with the area of the horse which the skin used for this leather is pulled from. It is taken from the hind area, where the skin is hardest due to dense pores. This also means it will be a whole lot more naturally water-resistant. Another benefit is less creasing.
Calfskin – This is made from cow calves. The young skin means it will be much thinner than normal cowhide. It will also have much fewer blemishes and natural imperfections than the skin of an older cow. Despite the age of the cow and less thick skin, it still holds the same durability and strength. This polishes up really well and is of the most ideal skins for dress footwear.
Patent – This material is an extremely polished and shined version of cowhide and calfskin. With methods taken from old Chinese polishing habits, or by use of plastics, an extraordinarily eye-catching shine is achieved. It is typically seen in use on formalwear and is probably most popular for this type of shoe across the board.
Features
High-quality materials, water-resistance, and malleability are important in this type of footwear.
Leather is often considered to be one of the highest quality materials used in footwear, thanks to its durability and other unique qualities that other fabrics may not offer. However, not all are created equal, and certain types will have better quality than others. Ideally, that used in footwear should be of robust quality, with good waterproofing and enough softness to allow the design to be broken in well without compromising durability.
Robust Quality
More often than not, quality goes hand in hand with durability. A design made from high-quality materials will likely cost more but will be more durable and last longer than those made from lower-quality materials. For the purposes of this buying guide, we researched each product in-depth to ensure that they were made using high-quality materials so that you can get the most out of them.
Waterproofing
Leather is unique in that, unlike textiles such as cotton and synthetics such as polyester, it is naturally water-resistant. This makes this material a good choice for those who plan on being outdoors or in wet environments, as well as those who work in food service or custodial positions. For this reason, it's important for high-quality ones to have strong waterproofing qualities. Some companies will even go as far as adding an additional waterproofing treatment on top of the material for extra protection.
Malleability
While footwear comes in a variety of shapes and sizes, it will require some breaking in, in order to fully form to the Unique shape of your feet. This takes longer to break in than other materials, and good-quality materials will be made in such a way that it can do so within a reasonable amount of time. It will also balance this malleability with overall strength so that once the shoes are broken in, they will stay in good shape for a long time.
Durability
With good construction and proper care and maintenance, your leather footwear can easily last you years.
When it comes to durability and this type of material, you have little to worry about. This has long been considered one of the most durable materials for making just about anything footwear and apparel related - it's no secret that it's been used for literally thousands of years for this purpose.
The reason for this is that animal skin, by design, is durable. It's supposed to protect the animal from the elements, from changes in temperature, from injury, wind, sand, water, snow, you name it.
How resilient your pair of shoes will depend on how thickly it is layered in the product. Typically, for footwear, it's not as thick as it would be for furniture, for example. But with proper care and maintenance, there is no reason why genuine footwear shouldn't last you even years.
This is dramatically increased if you choose designs with good construction as well. Look for those made using the Goodyear welt technique, which enables the design to be resoled without damaging it. Goodyear welt footwear is known to last for decades.
The final point of this section would be the care and maintenance of the material we mentioned above. Yes, it is durable, yes it pays off in the long run, yes you will have footwear that not only looks elegant and is comfortable but also lasts long. However, you also have to put in a little effort to keep it nourished and healthy.
To prevent it from drying out and cracking, from losing its shine and suppleness, you need to properly clean it and condition it. You will need special leather conditioners for this purpose.
That being said, we assure you that this process is short and should be done no more often than once a month to ensure that your shoes are the best they can possibly be, season after season.
Comfort
When looking for high levels of comfort, consider the footbed, the fit and whether or not the design is adjustable.
As we briefly touched upon in our Comfort section, this material is exceptionally comfortable to wear. The main reason for this is that this material is malleable, meaning that it has the ability to change shape over time. It will mold to your foot the more you wear your shoes and provide you with a type of comfort that fits only you and no one else.
But, of course, there are more elements that go into determining whether or not a design is comfortable. Let's take a look at what they are.
Footbed
The footbed is one of the main aspects of footwear when it comes to comfort, largely because it comes in direct contact with your foot. A good footbed should be cushioned to absorb shock, and it can also be contoured. Contoured or molded footbeds are great at providing arch support, which is essential in reducing foot fatigue and helping you stay on your feet for long periods of time.
Fit
Here, we're not talking about size. Size is one thing, but how design fits you within your correct size is another. Look for footwear that has plenty of room in the front so that your toes don't feel cramped or squished. Make sure that the width works for you, and that the design isn't squeezing you in any which way. The heel should be snug and comfy, not too constricting, but also not so loose that the shoe is slipping off. Try to find a good balance between all of these, and always trust your feeling.
Closures
In any type of footwear, adjustability is more than welcome. Buckles, hook-and-loop straps and laces are a great way to adjust the fit of your new footwear, either by loosening it or tightening it up to make sure you're the most comfortable. Elastic goring is not a closure but is a good feature that enables your footwear to have some give and accommodate many different foot shapes.
Value
Value is an important thing to consider if you have a limited budget.
For our last - but certainly not the least - criterion, we have Value. This is not merely the price of the design you're looking at; value is determined by its quality, its function, and its ability to provide you with long-term satisfaction. In other words, it answers the question of whether or not it was worth buying that particular pair of shoes.
This can be quite expensive, especially the more exotic options such as snake, crocodile or the like. It stands to reason that an average person with an average budget will take a moment to consider all aspects of buying this type of footwear before springing for it.
We are here to tell you that, in general, it is always worth the extra bucks, compared to other types of material. You simply cannot find the same levels of comfort, elegance, element-resistance, and durability with faux material or fabrics.
Of course, you know best how much money you're willing to spend on a pair of shoes, and if you decide that a pair isn't worth it for any reason, you're probably right.
To make it easier for you to find a design with the most value to it, we've ranked all our options by this criterion. You can simply sort them at the top and choose off the top of the list for the ones which really pay off. Enjoy!
10 Best Leather Shoes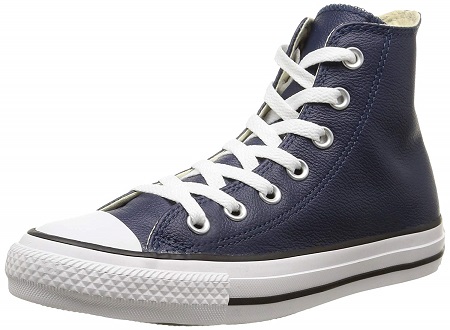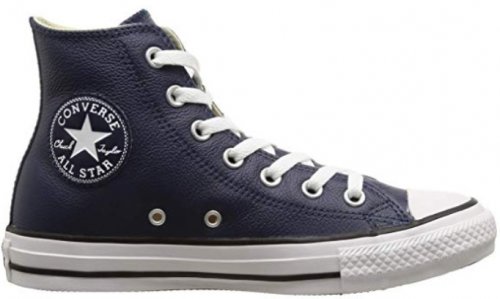 Converse footwear is known for its iconic look - the rubber toe cap and the canvas upper. However, the All-Star also comes in a leather version. This design offers a great look and excellent comfort. The insole will form to your feet, making it feel quite customized. The rubber outsole is durable and provides traction and grip on a variety of surfaces. Overall this is an amazing option and an excellent fit for any footwear collection.
Newly added to its design is the Ortholite Insole. What does this mean for you? Better shock absorption and distribution alongside improved comfort. This type of insole forms to your foot and make your footwear feel like it was made just for you. Converse adds small eyelets to the side of this option. This increases the overall airflow of the design. This is not the most breathable material and can lead to hot, sweaty feet. The addition of medial eyelets will keep the airflow going to help ensure your feet stay cool and comfortable.
For an all-leather model, this one is quite affordable and will fit into most budgets fairly easily. With the genuine design, you know the All-Star is built to last. In addition, it is very comfortable and will go with any outfit you please.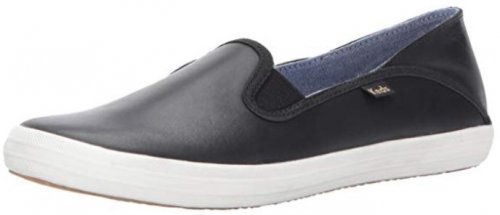 When you take one look at the Keds Crashback, you immediately understand why this model is the brand's best-selling pair of shoes. It is a simple slip-on sneaker with an upper made from this material, and its clean, sleek look goes with absolutely anything. Meant for nice, warmer weather, the Crashback is great to pair with both jeans and shorts and skirts and dresses for a multitude of combinations.
The lining of the Crashback is soft, reducing the chances of blisters or abrasions, and it is also breathable so that your feet are cool and dry throughout the day. This design sports an Ortholite footbed, which is a champion in cushioning, shock-absorption and moisture-wicking. This all means that you will be supported, comfortable and sweat-free for hours on end.
The Crashback from Keds is a simple silhouette, a design that we all need in our wardrobe. It is high in quality, with exceptional comfort levels and simplistic design. Your feet will be light and carefree, and you will be able to focus on the things that matter without worrying whether or not you will be comfortable during your day.

Paul Sperry happens to be one of the oldest footwear-making companies which focus on making boat shoes. These can be worn in literally all occasions and should be a part of every man's footwear collection. They have been known to act as a quick replacement to loafers and sneakers, while some have even preferred them to normal dress footwear. The Sperry boat shoes have grown in popularity among both ladies and gentlemen.
The upper section has been designed to keep the feet dry by repelling water. The heel cup helps in absorbing any shock generated when walking or bumping into something. When it comes to a comfortable fit, you can decide to either wear the Billfish with or without socks, though you will find many people going sockless when they wear boat shoes. Those who have sweaty feet can opt for cotton inserts. The 360 degrees lacing construction guarantees a great fit.
The Sperry Billfish offers exceptional durability and a style that goes with almost anything. The overall quality helps the value and if you decide to go with them, your feet will be comfortable and supported through long hours of wear.
4

. Skechers Citywalk Malton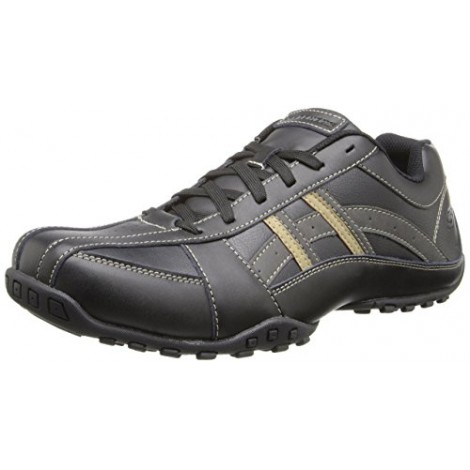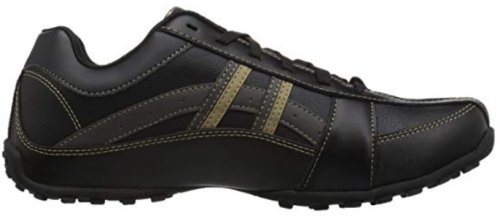 Skechers is a well-trusted brand that has been making quality footwear for generations, and the Citywalk Malton is a good example of those values in action. With a memory foam insole and flexible rubber outsole, they are very comfortable. In addition, the attention to detail seen in the stitching and the overall look is amazing. If you need a versatile design for everyday wear, this may be the model you have been looking for.
The comfort of a sneaker with the look of an oxford is one of the reasons we love this option. When you are on your feet all day but need something that looks professional and polished, this is an excellent choice. They are easy to dress up or down and will keep you pain-free for hours.
Rubber does an excellent job of providing traction and grip on a variety of surfaces. Add to that the lungs and what you have are a design that you can wear just about anywhere. This type of outsole on the Malton will grip slippery or wet surfaces with ease. Whether you want to wear them to the office or out on a trail, they won't let you down.
These are durable and exceptionally good looking and comfortable. Most budgets will be able to take their cost easily and after many years, you will see this model basically pays for itself in terms of durability and comfort.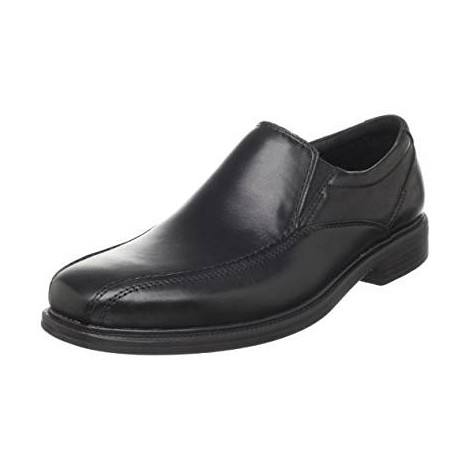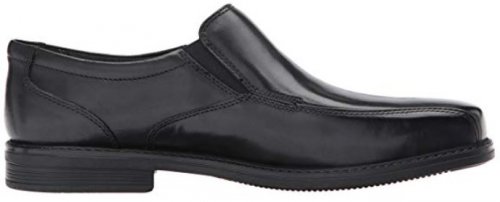 These dress shoes are made with a sleek and stylish design that looks good in a variety of situations, from work to play. The Bolton Free from Bostonian is handsome and adds a classy touch that is also great for casual wear. The shoe's profile is polished and has a ride that is similar to that of a sneaker. The slip-on design is easy to put on and to remove, making it quite versatile.
The upper section has been constructed with full-grain combined with articulate stitching. The stitching on this design is double needled for durability and a classy look. It is very versatile, whether you're wearing them for work or a casual event. The lightweight sole is very flexible, which is something most like to look for in a pair of shoes. The manmade sole is designed to provide comfort and stability on most kinds of flat terrain. This means that this design will make sure that you enjoy many different types of activities.
The Bolton Free is high-quality and versatile to wear for most occasions. With proper care, you can ensure that they last you a long time so you get the most out of your investment.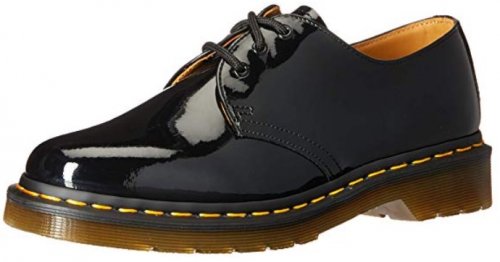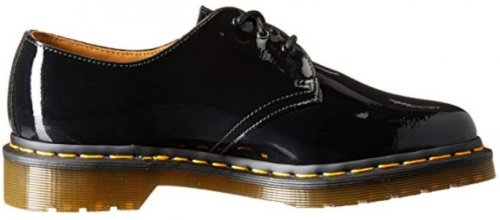 It's time for something a little out of the box, a little different. The 1461 pair of menswear-inspired shoes from Dr. Martens is truly a sight to behold, from its patent glossy shine to the classic Dr. Martens thick sole with yellow stitching. If you're looking for those perfect oxfords to pair either with your suit or your dress if you're feeling playful, you've definitely found them.
1461 is not only constructed from fine patent materials that are polished to shine, but it is also made using the Goodyear welt technique. This means that it will last for a ridiculously long time, as it is possible to re-sole the design without damaging it. In terms of comfort, there is the iconic air-cushioned Doc Martens sole which absorbs shock and makes sure you can easily walk for as long as you want to.
While we chose the black version for our picture, 1461 can actually be found in a myriad of other color options, and even some fun and whimsy prints! Combinations are bountiful when it comes to this design, and if you're craving something elegant yet cool and trendy at the same time, 1461 is the perfect solution.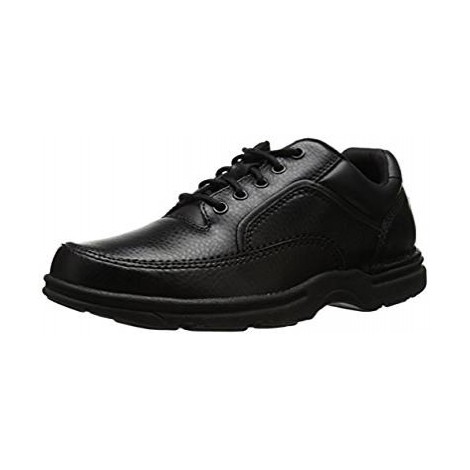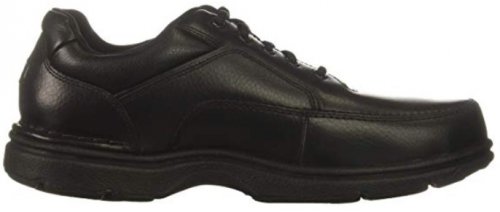 The Eureka is among the best walking sneakers from Rockport. It is not only affordable but it also has great features that a lot of walking footwear tends to miss out on. With great shock absorption and a variety of comfort features, you are sure to love this choice by Rockport. They are the best casual shoes and will give you an appearance that is casual yet polished.
The breathability of the Eureka has been enhanced by a mesh lining which also helps in sweat absorption. The mesh ensures that your feet stay dry and cool. Wearing these to an outdoor event or to the office will be perfectly fine. With the rubber sole, you gain good traction on a variety of surfaces. In addition, the rubber is exceptionally durable. This will allow you extended and comfortable wear for years to come.
The Rockport Eureka has great comfort and support. It is fairly costly, but when you look at the features that it has, you will notice that it offers so much for the price tag. They are the best choice for walking and you are bound to love them because of the comfort features they have.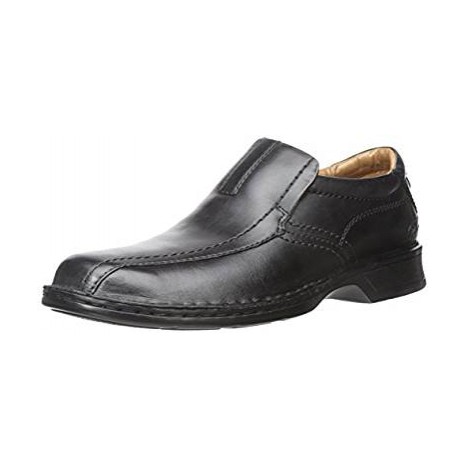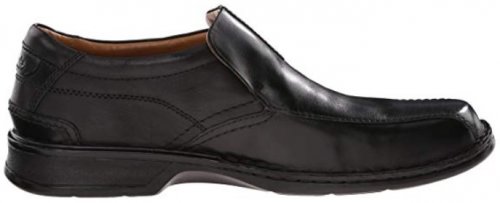 Clarks have been known to produce some of the best footwear on the market. Just like their other models, the Escalade meets the standards of first-class footwear. These Clark loafers are not only comfortable but also trendy. They are the type of shoes that can never go out of style or season. They are comfortable, casual footwear. The slip-on design means ease when putting them on and taking them off.
The insole of the Escalade is removable and is also made of these materials combined with Ortholite technology. This combination allows the sole to form to your foot which gives it a customized feel. In addition, Ortholite is excellent at absorbing shock and distributing it. This helps keep your feet, legs, and back feeling great no matter how many hours you spend on your feet. The fine stitching sets the Escalade a notch above others in its class. They will dress up easily but also look great with a pair of jeans. The goring makes them easy to put on but also gives a nice look to the overall design.
These loafers give you a classy and dressy look at an affordable price. With their perfect sizing and lightweight nature, they are definitely worth the cost.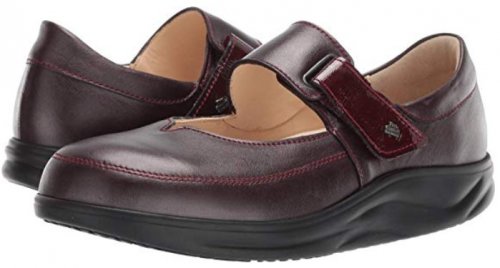 This classic style Mary Jane gives you a look that is versatile and has been loved for generations. The upper is soft and flexible. The outsole provides good traction and is quite durable, and there is a slight heel which will visually elongate the leg.
The cushioning found throughout this design supports every area of your feet. It also offers great support to your arch which helps you when you are on your feet for long hours. A Mary Jane style can be paired with casual as well as dressy outfits. When looking for real comfort and versatility, you can't go wrong with this style. Regardless of where you decide to wear them, they will give you comfort and support.
The Finn Comfort Nagasaki is quite affordable and falls toward the low end of our price points. They are great to wear during a variety of seasons and occasions which adds to the overall value. Most budgets can handle the cost fairly easily and you are sure to be satisfied with your purchase.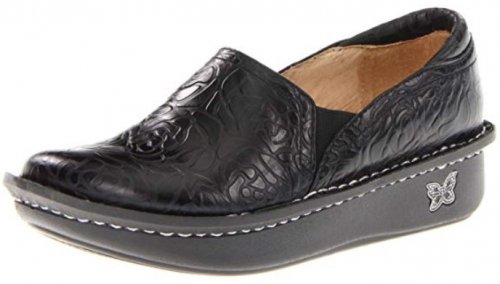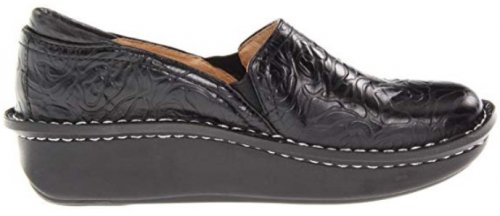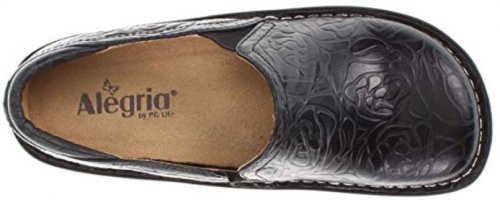 Alegria is a favorite for a vast number of people. They provide excellent comfort and awesome style. With a variety to choose from, you will be able to find the perfect fit for your footwear needs. The Debra is roomy and exceptionally comfortable and the elastic goring makes it easy to slip on and take off. In addition, this will allow you a bit of stretch for those days your feet decide to swell.
The toe box of the Debra offers enough room for your feet to move naturally and will help you avoid ingrown toenails and toe pain. On top of that, they have a memory foam insole and a rocker bottom that allows your feet to move naturally. The insole that is used in this option is amazingly comfortable and you may decide to stick with it. However, if you wear a custom orthotic, the ability to remove the insole and easily slip yours in is imperative to your overall comfort. In addition, because these are so durable, you may find you want to replace the insole with a new set as the insoles break down over time.
Alegria is known for their exceptional comfort and top quality materials. You may have to make an adjustment in your budget to afford the Debra but if you do, you won't be disappointed. These will be with you for the long haul and will keep your feet, ankles, and back feeling great.

Subscribe to our Newsletter