Best Shoe Shine Kits Reviewed For Optimal Leather Care
In a Hurry? Editors choice: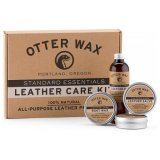 Test Winner: Otter Wax Standard Essentials

Every man needs a pair of leather shoes or boots. Not only are they the best and most suitable
footwear for formal occasions
, they just have a handsome and luxurious look that isn't achievable with any other kind of shoes. That's what makes them perfect for professional settings and formal events like graduations, weddings, dinners, and much more. But looking good when you're out in public comes at a cost – you also have to take the time, effort, and care to preserve and polish the material. Though it may seem time-consuming, it's guaranteed to be worthwhile. On the list,
we have ten of the best shoe shine kits
, including those from the renown brands KIWI and Bickmore, that are guaranteed to keep you looking your best.
Standout Picks
Criteria Used for Evaluation
Features
The most important feature of a shoe shine kit is, of course, whether or not all the necessary products and materials are included, to begin with. Though some brands may choose to include more variety and products than others, there are a few essentials that you should get to know before purchasing a set.
Polish – Shoe polish is used to polish, shine, and provide waterproofing to shoes and boots, resulting in an attractive look as well as a longer lifespan of the material. It is a waxy substance that often resembles a paste, though it may also be a cream or a liquid. The paste type is composed of 20-40% natural or synthetic waxes, around 70% organic solvents, and 2-3% dyes. Thanks to their consistency and formula, it hardens after application while still retaining their gloss. However, those of low quality may suffer from blooming, meaning a white coating of stearin will appear on the surface of the polish.
Conditioner – The effects of leather conditioners are not as obvious or apparent as that of shoe polish, but it is equally, if not more, important. Leather conditioners do the bulk of the work when it comes to maintaining and protecting the material. Because it cannot take care of and moisturize itself, unlike your own skin, it relies on the nourishment you provide for it. Otherwise, it could over-absorb water, dry out, or be damaged in some other way. A good conditioner serves to preserve the flexibility in the fibers. Especially when worn in cold or wet weather, regular conditioning keeps the leather moisturized and supple so that cracking is prevented. The downside is that conditioner may cause the color of the leather to darken, which for most is undesirable, but it's not a big consequence compared to ruining your expensive shoes or boots.
Daubers – Daubers are used to apply the polish. They resemble little round brushes and are generally of a small size so that dipping into the jar and spreading the product evenly onto the footwear is made easy. Though cloths and applicator brushes can also be used for this purpose, daubers are the best options because the small bristles allow them to penetrate small perforations in the uppers. It also helps you get into all the crevices of your shoe so that no area is missed.
Brushes – After applying the polish, buffing with a brush is necessary to increase the shine. A good quality brush will shed minimally and provide maximum shine. Horsehair brushes are the best choice since they have exactly those features. Brushes can also be made from pig or goat hair, though this is not common and the result is not as great as the job done with a horsehair brush. Also ensure that the handle of the brush is smooth and large enough to hold comfortably while you're using it, especially if the kit is travel-sized (when making the contents as compact as possible, sometimes the handle ends up being too short or small to be practical).
Cloths – Nearly all kids come with soft cloths for polishing. This is because, after buffing, you can choose to apply another layer of polish and buff against with a soft cloth for an extra glossy look. As well, you've got to ensure that there is no leftover dirt or dust on the shoes before applying your polish, and the cloths are perfect for wiping that off.
Box – Ideally, the set should come with its own container. Many have their own wooden box where all the products can be stored and prevented from drying out. Some boxes even come with a footrest on their lid so that the polishing process is made easier and more comfortable for you, but the con is that it makes the box more bulky and inconvenient.
Size
While scrolling through the list, you would have noticed that quite a few options are travel-size kits. There are both pros and cons to this type of set, and what you'll want to buy will depend on your conditions and priorities.
Travel-size products are, of course, great for traveling. They are made super compact and convenient so that they can easily be fitted into luggage without taking up too much precious space. As well, the products come in smaller containers compared to regular kits, meaning a small amount of each product. As a result, they're great as starter kits, since you get to try the product without having a huge amount left in your hands in case it is not satisfactory.
The downside, however, is that the brushes and daubers that come with travel-size kits are often very small. With small handles, it's much harder to buff and apply polish. Your hands may even start hurting after a while. When you're traveling, you've got to make do, but if you're just a beginner, consider buying a separate set of brushes and daubers.
Ease of Use
Another key factor that we took into consideration when evaluating our items is their ease of application. Polishing footwear can be a long and arduous process if the products you are using have a complicated method of application, if you are not clear what type of brushes or cloths you are supposed to use, or - worst of all - if they tend to spill and run all over your hands and the floor, causing a mess.
Some options in this guide make your life easier by coming with an applicator of their own, which help you apply the product quickly and efficiently and spare your fingers from greasy stains. Those which do not usually come with a set of clear instructions on how to best apply them for maximum effect and minimum damage to your surroundings.
Effectiveness
A great benefit of shining your footwear - and again, one of the main reasons it should be done on a regular basis - is that this process keeps the leather soft, supple, and shiny. That's right - it isn't only about the rugged aspects, about protecting your outdoor footwear, but it is also for keeping your it as good as new, for restoring its original glow and for making it comfortable again.
That is not to say that all hope is lost for footwear which has lost its shine, is dull and cracking, grown stiff over the years. If your first thoughts were to throw it away - don't! There is still hope for these poor neglected things, even if they haven't been cared for in a long, long time. Thoroughly cleaning and conditioning with proper products can breathe new life into your shoes, and you will find yourself with a near-mint pair of shoes which you can continue wearing for even longer.
Value
Cost and value are always one of the determining factors when it comes to many of our products. The reason being is that we want to share the best value products for the price. Other than that, we wanted to widen the spectrum of the different costs that an individual can expect.
As you'll see on our list, each kit comes equipt with different items. The goal is to look for a lower priced product that will also have as much in the kit as you'll need. It's hard to say what product would be best for you as you'll need to take into consideration how often you shine your shoes, the type of shoes you have, and what accessories will be necessary to get the job done.
10 Best Shoe Shine Kits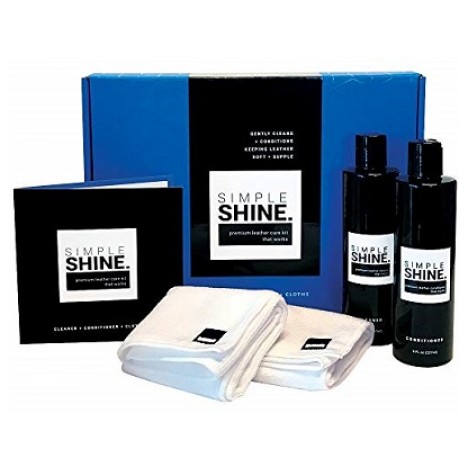 If you're a minimalist, you'll love this cleaner and conditioner kit by Simple Shine. Like the name of the brand implies, things are kept simple with this kit. It includes two shoe shine cloths, one cleaner, and one conditioner. Both the cleaner and conditioner are made to preserve the leather, keeping it moisturized, nourished, and soft while also bringing them some shine. It is gentle and dye-free, so it is safe to use it with all kinds of finished leathers, like in fine gloves or lambskin. You can even use it with patent leather The cloth can be used damp or dry to remove surface dirt. Though it does not come with a compact box, nor does it come with brushes, it includes the three key things you need for a good polish.
Protect and Shine
A good shoe shine is not meant just to make your leather look good - it's meant to protect and preserve it, too. This kit does just that. The formula is guaranteed to clean and remove harmful pollutants that cause cracking and drying, extending the life of your leather goods, all while adding a beautiful luster for a rich look.
Microfibre Cloths
The clothes can't just be any random rag. For a high-quality clean and polish, you need a high-quality cloth. The ones included here are made of an 80% poly and 20& polyamide blend, resulting in a scratch-free, lint-free, highly-absorbent, quick-dry, and ultra-soft feel.
Cost and Value
Floating in the middle of the price range, they're a great pick for all. Purchase them as a gift for a loved one, or pair with a brush set by the same brand.

2

. Otter Wax Standard Essentials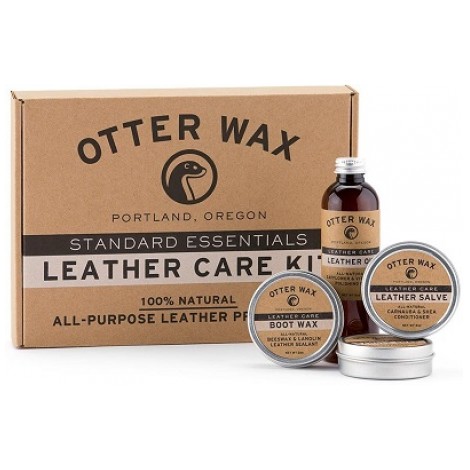 Simple and sweet, this kit contains four items for the four steps to leather that's soft, waterproof, and beautiful. They've got saddle soap to clean, leather salve for conditioning, leather oil for shine, and boot wax for protection, all packed in a simple cardboard packaging. On top of that, a flannel buffing and applicator cloth are included to help you apply the products. It can be used on all leather products, including wallets, belts, and even jackets. They are most suitable for those with experience taking care of their leather products, as there are minimal instructions of application given, so it would likely cause a newbie quite some grief in trying to use it.
Natural
There's nothing that'll ruin your favorite pair of leather shoes like a polish that's full of chemicals. Thankfully, we can proudly say that this kit is 100% made from natural ingredients that can provide all the shine and care that your shoes need.
Balance
Featuring a balance of products to help you achieve all the desirable features in your pair of shoes, just a single kit can be used to clean, condition, shine and protect the leather. Quite a spa time for your dress shoes!
Cost and Value
Though they fall on the slightly higher end of the price range compared to other items on the list, it is easily justifiable. Natural ingredients are, after all, more expensive than chemicals and man-made ingredients, and you can't exactly expect high-quality leather care without paying the price.

3

. FootFitter Valet Refill Set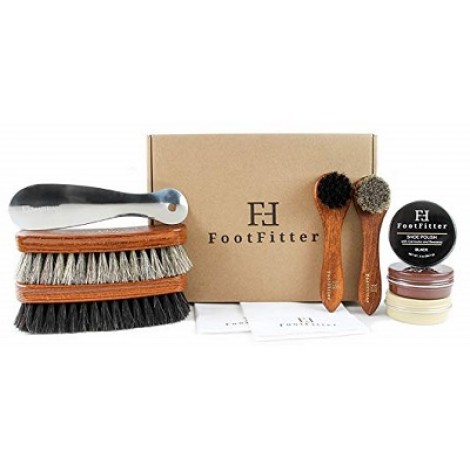 Those who are picky and who are looking for something more extravagant will love the Valet Refill Set by FootFitter. Convenience and simplicity may be good features, but when it comes to shoe shining, sometimes you just need to go all-out for the look and care you want, and this refill set gives you everything you might need or are missing. Including three polishes, four horsehair brushes, one shoehorn, and two shine cloths, you've got everything you need right in this box. The polishes include one that is black, another that is brown, and a third which is neutral, meaning you've got one for whatever shoes you need to use them for. Because they are a refill set, they don't have a wooden box or convenient bag, but the products themselves are what matter most.
Brushes
There are not one, not two, but four brushes included in the set. All are part of the Signature series of horsehair shoe shine brushes by FootFitter, and the wide range of brushes means the perfect kind is provided for each step of the polishing process, allowing for maximum results.
Shoe Horn
While cleaning and polishing the shoes, it's not uncommon to accidentally damage or squish the structure of the shoe - though the surface is nice and gleaming, they won't have the look you want. Thankfully, this brand has thought of it all and has included a steel shoe horn to prevent any mishaps when you're working away at their surface.
Cost and Value
This set is one of the more expensive ones compared to the others, and if you took a look at it, you'd guess so, too. The brushes are all of excellent quality and engraved with the Footfitter logo; the shoe polishes small and convenient, the whole set complete with all the essentials. We say they're worth the money and will provide a high-quality polish.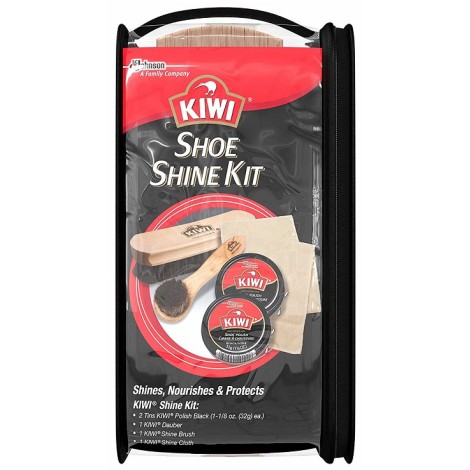 Kiwi is one of the most well-known and loved brands that sell shoe polishing and shining products, so it's only natural that they are our number one on the list as well. The whole kit comes with one small brush for applying polish, a larger one for polishing, a soft cloth for shining, two cans of shoe polish, and a zipper bag. Made for military personnel, they offer only the best and are perfect for service boots as well as Oxfords and other leather dress shoes. Do keep in mind, though, that applying this polish requires some patience and time. Their application is not super quick or easy, but this is only because they are not chemically based, and as a result, it takes longer to apply, albeit it is also much better for leather.
Durable Bristles
No matter how high quality the brush is, it can't be of much use if the bristles start falling off with use. Thankfully, that will not happen with these, as there is only minimal shedding if any.
Water Resistant
Not only will the extra shine make you look sleek and handsome, but it can also be practical and keep your feet dry in wet weather. That doesn't mean your Oxfords can replace your rain boots, of course, but it does improve the situation when you leave work just to find it drizzling outside.
Cost and Value
Surprisingly, despite being designed for heavy-duty work boots, this is the second to least expensive set on the list. It's a bargain you just can't miss!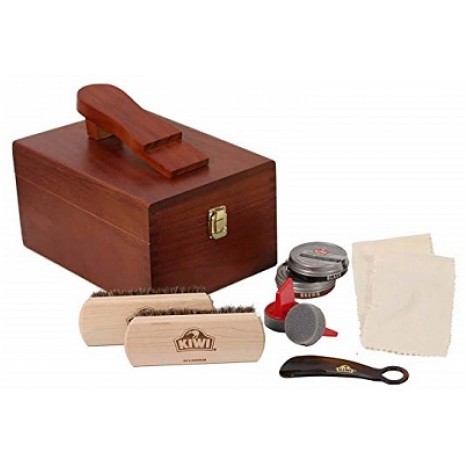 Another kit by the brand KIWI, these have everything you need for a beautiful polish. Unlike the last one by KIWI, this is easier to use and is a better pick for those who clean their shoes often and don't want to sit down and spend ages to do it every single time. Everything you need is contained in a gorgeous box made of sleek wood that includes a built-in footrest and that not only looks handsome and luxurious but is also better at keeping the products inside from drying out and becoming a mess. Buy this kit for yourself if you like to keep your shoes looking good, or for a friend of a family member as a gift.
Box and Footrest
Most kits have a box or a bag to store everything it includes... but when the time comes to actually start polishing, it's up to yourself to find a footrest. But that's not the case with this set - not only is the wooden box sleek and convenient, the stand at the top allows you to rest your foot comfortable while you work away.
Contents
They really do go all out with the contents. Inside the wooden box are two Premium Select Wax Shoe Polishes in both Black and Brown, two shoe shine cloths, two sponge daubers, two horsehair brushes, and black plastic shoe horn. What more could you need?
Cost and Value
This is the most expensive item on the list. It makes sense when you think about all the products it includes, and how it can facilitate your whole polishing experience without sacrificing the quality of the result. Unless you're just trying stuff out and are not sure they'll be suitable for your needs, we believe they are a worthy investment.

6

. Bickmore Premium Travel Kit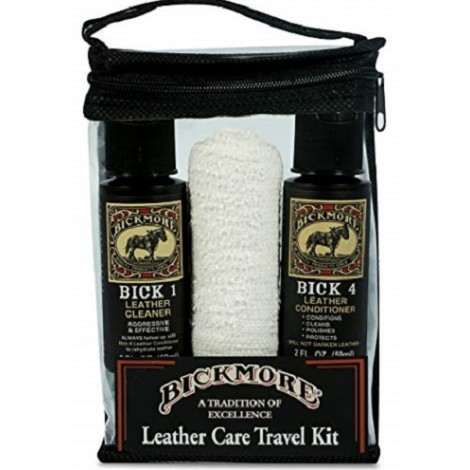 Keeping up with the theme, our number six is also a travel kit and is sure to take up little space in your luggage. However, it is also excellent as a starter kit, as it includes all the essentials in smaller amounts so that you can get a feel for Bickmore's products without worrying about not liking them - not that that's likely, of course. The set includes one Bickmore cream polish, one leather cleaner for cleaning, one leather conditioner for shine and protection, and a cleaning cloth. All of these are packaged in a convenient and reusable vinyl carrying case. Stay busy, but stay looking good at the same time!
Clear Instructions
If you're buying this as a starter kit, you'll love the fact that it comes with a leather care brochure. Taking care of shoes is not easy, and you've got to have the proper instructions and knowledge in order to do a good job. No need to browse internet forums for an answer!
Versatile
The leather cleaner and conditioner are suitable not only for shoes, but also for other leather products like furniture, bags, purses, jackets, and much more. So long as you are using them properly, they should clean and protect the material and keep it looking good for months to come.
Cost and Value
This is the cheapest one of all ten items we've picked out. Combined with the small size of the products, they're the perfect pick for newbies. As well, their multi-purpose nature means one set can take care of your shoes, boots, as well as all the leather products you've got in the house.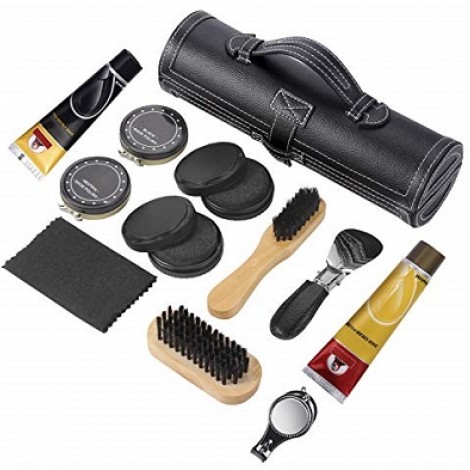 Kits made by Sethjcsy are practical and of high quality. This particular one includes 12 items - two of each product so that you have a backup - but still manages to be super compact and useful for those on the road, or who just don't want too much clutter in the house. The brushes are nice and durable, and a little goes a long way with the polishes. Again living up to their "travel-friendly" claim, they're quick and easy to use. Say goodbye to ugly scuff marks and stains that mar your footwear, and walk out there with confidence.
Convenient
They are labeled as travel-size, after all, so they've got to be practical enough to fit the label. All the brushes, polishes, and other items are packed up in a space-conserving way so that you have zero extra bulk. Lightweight and small, they're perfect for going away for work when you'll need to look sharp but reduce bulk in your luggage, too.
Brushes
There's nothing more annoying than shedding brushes, which spoil the perfect luster of your shoes with their loose bristles. Though shedding can happen in the beginning of using them, these won't shed much through time.
Cost and Value
Considering their superb practicality and amazingly attractive yet convenient case, you'd expect them to cost a fortune to counterbalance all the clever features. However, they are fairly cheap. Consider purchasing one for yourself and as a gift for a friend as well, as they have an expensive look without coming with the cost.

8

. FootMatters Professional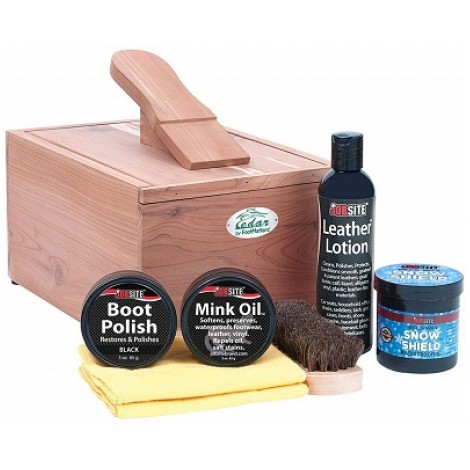 Coming up at number seven is a kit by FootMatters. It includes a wooden horsehair shoe shine brush, a boot polish, a mink oil, a leather lotion, a beeswax waterproof paste, and two shoe shine cloths. Each product does a different job: the polish can restore and shine a material, the mink oil softens and protects the material from oil, salt, and water, and the lotion conditions and cleans all kinds of leather (including snakeskin and patent leather!). With the waterproof paste, you can also ensure you've got extra protection during the rainy season, making it ideal for leather boots. Look sleek and stay clean - that'll be your motto with one of these kits!
Box
The Red Cedar box ensures you can keep everything in one place, minimizing any hassle and saving you the time and effort to go look for your own bag or box in which to store all the products. As well, like one of our previous choices, a footrest comes along with it, ensuring you get the best polishing experience.
Versatile
Not only is the set ideal for cleaning, maintaining, and shining leather footwear, they can also be used with vinyl and canvas ones, as well as with jackets, belts, and purses. Do keep in mind that it might lighten or darker soft leathers and that it cannot be used with suede or nubuck.
Cost and Value
Sadly, this is the most expensive item on the list. You might need to save up a bit, and it's not the best choice for a starter kit. However, satisfaction is nearly guaranteed once you do make the purchase.

9

. Moneysworth & Best Military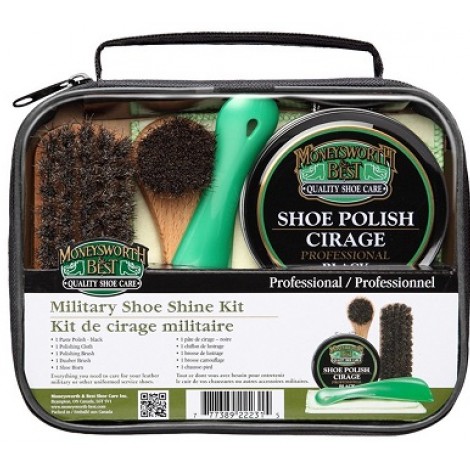 Our final item on the list is one by Moneysworth and Best Shoe Care INC. It includes a black paste polish, a polishing cloth, a polishing brush, a dauber brush, and a shoe horn. Both brushes are small yet still easy to use. They may shed a bit at first, but that's to be expected and forgiven, and overall they shed only minimally. The polish is quite soft and may not stay on for long periods of time, but there is plenty for long-term use. Their budget-friendly price is just another advantage.
Shoe Horn Included
While cleaning and shining, you have to make sure you don't accidentally damage the shape of the shoe. The shoe horn helps you do just that by helping the shoe retain its shape while you're working away at it.
Convenient Bag
Everything in the set is put into a convenient see-through plastic bag with a handle. You'll be able to keep everything in one place, no matter if it's in the drawers in the bathroom or in your luggage when out traveling.
Cost and Value
This is yet another money-saving pick. Though it's fairly small and compact, there is plenty of polish to last for plenty of cleaning and shining, and the brushes shed only minimally. Therefore, you can be sure that the kit can serve you well for a long time.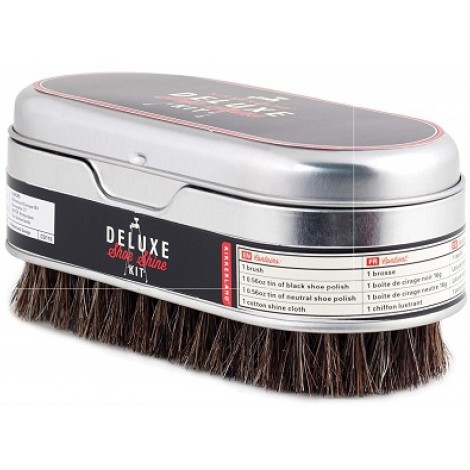 The Kikkerland CD115 has all the essentials in a practical, convenient, and attractive container. Including a natural horsehair brush, one black and one neutral shoe polish, and a polish cloth, things are kept simple. Pop it into your suitcase when going away for work, and use it whenever and wherever you need to. They don't take up much space but provides the care and maintenance needed for scuffs and stains on the go. You can't expect a blinding shine from this set, but they get the job done well enough. On top of that, they are inexpensive.
Super Convenient
When you're always on the go or need to avoid clutter in the house, you need something that gets the job done while staying compact and convenient. The carrying tin is perfect for this. It's got an amazingly simple and handsome look, and you simply have to pop it open to use it wherever you are.
Polish Color
You can't just use whatever polish you can find, you've got to make sure the color of the polish matches that of the leather you're working with. This comes with the product in both black and neutral, the latter of which is meant to be suitable for leather of all colors.
Cost and Value
The low cost is just another point to add to their list of pros. Cheap, compact, and practical, they're as ideal a purchase as any travel kit could be. They may not provide premium care, but for their price, they're quite good.

Subscribe to our Newsletter