Best Formal Shoes for Women and Men Reviewed
In a
Hurry? Editors choice: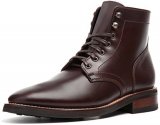 Test Winner: Thursday Boot Company President

When going to a significant event or fancy affair, a regular shoe just won't cut it. You will need a pair of formal shoes to match the event's style. Besides being different in looks, formal shoes will often be made with more
luxurious materials
. In addition to style, you will want your formal footwear to be comfortable. While comfort may not be the first thing that comes to mind when someone thinks of pumps or
Oxford shoes
, it is essential to consider that you may be spending prolonged periods wearing them and that doing damage to the
health of your feet
is not worth looking good.
Standout Picks
Criteria Used for Evaluation
Style
Your shoes give away much more about you than you would think. The footwear you put on can give away information such as your social and financial status, and can say a lot about your character in terms of how well you care for yourself and your possessions. A grubby old pair of sneakers, worn with the most expensive suit will send the message that you don't belong, while a polished oxford or pump will make even the most basic pair of jeans look more expensive and sophisticated.
If you're new to formal attire, your best bet is definitely to purchase something simple and classic. These will be elegant enough for formal occasions, but versatile enough to encourage you to wear them more often, allowing you to make good of your investment. On the other hand, if you already own several pairs of fancy shoes, you may want to spice things up, and choose a model that'll make a statement, and that will stand out from the crowd.
No matter which you opt for - the classic or the out-there style, it's quite important to understand how each option should be worn.
Men's Styles:
Oxford: this is the simplest and most versatile pair of shoes you can purchase, especially if you want something you can wear with a suit. Oxfords come with a closed lace up closure, and the shoe is constructed so that all the stitching is done on the bottom. You can get Oxfords with a plain toe, a cap toe, or even some broguing, depending on your stylistic preferences.
Derby: another versatile pair of dress shoes, slightly less formal than Oxfords. They're made with an open lace up closure, where part of the shoe's tongue is visible, while the construction is done so that the stitching is done on the vamp of the shoe. Just like Oxfords, these can be bought in a variety of toe styles, and in different embellishments.
Loafers: popularized in the 1960s, these shoes are a slip on style that can be worn with both a suit or with a more casual outfit. They're often worn by businessmen, and come with different features, including buckles, straps and even tassels.
Monk Strap: less formal than all other shoes on this list, monk shoes come with a strap that is fastened with either a single or double buckle closure. These are a stylish option appropriate for smart business attire, however, may not be suitable to wear with a formal suit. Nonetheless, they can be an excellent fashion statement.
Chelsea Boots: made popular in the Victorian era, these boots were worn both by men and women. They are a slip on style with elastic gores on the side, and depending on the outsole and detailing can go from formal to completely casual.
Dress Boots: made just like Oxfords or derby shoes, but with a higher vamp, dress boots are a good option for cold weather wear when you need more protection. Do note that they are harder to fit due to the larger amount of material present, so purchasing a comfortable pair is crucial if you go with this style.
Women's Styles:
Pumps: also called court shoes, pumps are the most classic and elegant type of formal footwear for women. Made with a heel that's higher than 2 inches, they come in a variety of toe shapes (round, pointed or peep toe), and upper materials (leather, suede, velvet, satin, etc.). A good pair of pumps will compliment most outfits, from the most formal evening gown to a pair of stylish jeans for casual wear.
Slingbacks: similar to pumps, these can also have a rounded or pointed toe, but the difference is that these shoes don't wrap around the heel, rather they have a narrow strap closure at the back of the foot.
Flats: available in a wide variety of styles, these are usually inspired by menswear. They include Oxfords, loafers and even monk shoes, and are a great option to pair with a pant suit or even a dress for a semi-formal look.
Ballet Flats: simple and elegant, these flat shoes are more feminine than the option above, but are also considered less formal. Paired with the right outfit, however, they can look quite sophisticated.
Sandals: if choosing to wear sandals to a formal event, it is very important to go with a style that is more dressy, and less sporty. Heeled sandals can look quite good, especially if they have thin or multiple straps, or embellishments such as rhinestones or a shiny finish.
Ankle Boots: like men's dress boots, ankle boots are a good option for the colder months. They can be flat or feature a heel, and depending on what you pair them with, they can pass as a semi-formal or even formal footwear option.
Color
When pairing dress shoes, it is very important that you are aware of the basic rules. A pair of black dress shoes will go with almost any outfit and will look good both on dressy and more casual occasions. Shades of brown, however, should never be paired with a black suit, and won't work for black tie events. But other than these simple rules, you can easily make your own, building your style so that it shows off your tastes. Today, most shoes come in a variety of colors, and some can even be customized. Fashion forward options can include various embellishments and details that will bring attention to your footwear, without making it inappropriate for an occasion.
If you are looking for ways to let your personality sow in your footwear, you can consider some of the following options. However, note that a classic pair of shoes will be more versatile and appropriate on a variety of occasions than a statement one.
Color Contrasting – instead of selecting a shoe with a solid, single color, a shoe that has a bold contrast of color or hue steps up the eye-grabbing attention your style deserves. Pair a dark black with a tan or rust color leather in your shoe and pair with light gray slacks. White pants or dresses act as a blank canvas, and your accessories act as your palette to paint. Add a bright color shoe, or play with the shoe texture, mixing a cotton attire with a shiny patent leather.
Stitching – contrast stitching usually has a different color than the shoe itself. This creates a visually appealing detail, subtle yet distinct.
Rhinestones – who doesn't love a little glitter and sparkle? Rhinestones added to adorn strappy shoes give an elevated air to your style and can dress up the most commonplace clothing. Depending on your unique style, you can have a simple design of sparkle, lining the shoe, or go all out with a fully encrusted shoe. In either case, you can always pair with jeans or leggings for a night out in comfort!
Hidden Eyelets – sometimes a sleek look requires simplicity, and hidden eyelets accomplish this by removing the usual grommet that is seen on the tongue of the shoe for lacing up. Instead, a small hole is all that is seen on the outside, creating a clean, sharp look. Many times, the grommet can be found on the inside of the tongue on the back of the lace hole.
Cut Out Design – cut out designs are usually done with machinery that utilizes a laser to cut a pattern or design into the shoe. With no limit to the number of designs imaginable, this can dress up any bootie to the next level of style.
Brogueing – found mostly in formal men's footwear, brogueing is the decorative perforations seen along the edges of the uppers, toe caps, wingtips, or other areas of the shoe. It gives an added element of sophistication and flair to a regular oxford style shoe. This kind of shoe is meant to be seen, so pair with ankle length slacks. Anything too long will cover the detail.
Wingtip – wingtips are a decorative design of construction where the toe has backward curving sides extending to a point which looks similar to the shape of a wing. Pair these with ankle length slacks or pants so as not to hide the decor!
Toe Box Design – from pointed to round to square, or tapered toe boxes, this can add some sophistication to your style. A pointed toe shoe will pair well with long slacks, skirts, or dresses while a rounder or tapered toe can go great with just about every kind of clothing.
Combine your favorite shoe style with options for high fashion statements, and you'll be turning heads at distinguished events. The best part is that once you find that great combination of shoe that suits your individuality, you can always tone it down by pairing with something more casual such as jeans, leggings, shorts, or casual skirts and dresses. There's no going wrong by investing in a formal pair of shoes!
Materials
Most formal shoes should have decent construction, that will let them survive wear and tear. Fashion continues to blur the boundaries between what looks casual versus something formal, and many times different shoes can be paired with both. Those shoes should be constructed keeping in mind the fact the wearer will be using them for more than just one evening. You can always check for a decently constructed shoe by the following tips.
Leather Quality:
Knowing good leather when you see it is an art in itself. Full grain leather has the least amount of flaws or blemishes with color that is consistent. Top leather is also of great quality but may require some sanding or buffing to correct marks and flaws. Less desirable are belly or bonded leathers which tend to be wrinkled and hold less shape over time, or have been pieced together from other scraps.
How To Spot Good Leather:
Look for a minimal sheen. High sheen suggests the leather had been chemically treated to remove excess blemishes or flaws.
Stiffness can also be an indicator of excessive treatment.
Color consistency can likely tell you if the shoe came from one section versus several pieced together areas, however, if a pattern is seen in the leather, consistency in color may not be the best indicator.
While wearing a good leather shoe, creases will form due to movement in walking, and flexing the shoe mold. However, should cracking begin or appear in these creases, it's likely the shoe was not made from quality leather.
Features
Craftsmanship:
How a formal shoe is crafted can clue you into how durable the shoe will be. Goodyear welt construction is the best shoe assembly for a formal shoe but can come at a premium. Usually, a thin strip of rubber, leather, or plastic is stitched around the shoe perimeter. The insole, adhered to a gemming, along with the sole and uppers to creating a stiffness to the shoe that prevents wear and tear, and brings weatherproofing to the shoe. This kind of constructed shoe can also be resoled quite easily.
How To Spot Good Shoe Craftsmanship:
Goodyear constructed shoes tend to be stiff, with outsole stitching visible. The uppers are stitched to the outsole, no glue should be seen.
Blake constructed shoes differ slightly from Goodyear constructed shoes, where the insole and outer sole are directly stitched together, allowing flexibility, and less weighty feel. Blake constructed shoes may lean towards less water resistance but can be more comfortable.
Hand-welted construction is similar to Goodyear welting, but lacks gemming and are usually hand stitching instead of using machine assistance.
Rapid-blake constructed shoes offer a similar result as Goodyear welt constructed shoes, contributing to a durable, weather resistant shoe. Whereas the blake constructed shoes stitch the insole and outer sole together, rapid-blake construction adds a midsole for further comfort, weather-resistance, and stability.
Attention To Detail:
Take time to inspect the shoe for small details that clue you into the craftsmanship of the shoe.
Check for frayed stitching.
Are there missing rhinestones or buckles?
Most well-constructed shoes keep comfort in mind as well, so check for padded insoles and heels.
Are the eyelets intact, without cuts or signs of wear?
Do you feel an area inside the shoe which could cause blistering or discomfort?
Comfort
You wouldn't buy a pair of shoes you can't wear for an hour, would you? Well made formal shoes need to be just as comfortable as they are stylish. A bad fit can be much more serious than just having sore feet at the end of the day, and can lead to serious foot health issues over a longer period. Always make sure that you are purchasing shoes in the correct size and width for your foot shape, and stay away from models which have features that don't agree with your anatomy – your health is not worth sacrificing for being able to wear the latest style.
Today, there is an abundance of available technologies which brands can use when constructing their footwear. From supportive and shock absorbing midsoles to memory foam insoles that adapt to your foot shape, and even to elastic materials in the upper that can conform to the shape of your foot. Moisture-wicking properties are no longer only reserved for athletic footwear, and you'll find plenty of formal lace-ups with odor control and antimicrobial treatments.
In addition to the above, well-known brands and designers usually, make a quality shoe. Doing a little bit of research here can help you find what a well constructed formal shoe would look like, and help you make an educated selection if dealing with less-popular or known brand names. Check designers such as Cole Haan, Calvin Klein, Jimmy Choo and Givenchy.
Now, not all quality constructed shoes need be designer shoes. There are a number of boutique designers and shoe cobblers that will construct a well made formal shoe. If you're looking to purchase a brand that you've not heard of yet, just be sure to check any reviews, or ask your local shoe cobbler for their opinion. With so many options available in terms of purchasing these days, you're sure to find a formal shoe that's well made, and can suit your budget!
10 Top Formal Shoe Brands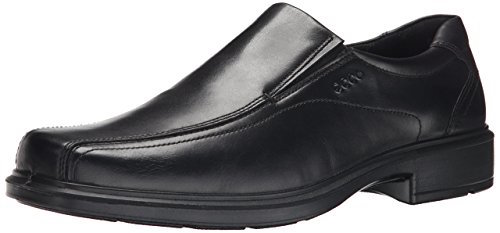 ECCO is well known for making supportive and comfortably styled shoes, but now you can enjoy ECCO for dress occasions as well. The Helsinki slip-on shoe has a soft square toe and bicycle stitching, making these the best pair for business or pleasure. It features all of the brand's technology when it comes to keeping your foot healthy and protected, and is easy to wear - you won't have to bother with laces, just slip the Helsinki on, and you'll be out the door in no time.
The Helsinki is comprised of a leather upper, with classic stitching along the side panels and toe. The distressed leather finish gives a sophisticated elevation to the rugged make of the shoe, demonstrating elegance and function.
Believe it or not, the Helsinki from ECCO could even be used for a gentle hike or walk. The functionally built toe box allows for the feet to spread in comfort when walking, without restriction or pain. Built to last, the polyurethane soles can take a beating from dancing, hiking, or racing for a cab at the end of your evening. With their patented Comfort Fibre System, the ECCO allows for a cushion of air to circulate through the shoe, cutting down on odor and heat while providing a cushioned sole. If looking for something you won't need to replace for a while, these are the best for you. The ECCO Helsinki may be a slip on, but the brand prides itself on the construction of durable, lasting footwear. A bit on the expensive side for our list, but still the average price of most similar styles, you can rest assured to invest in a pair of these for the long haul!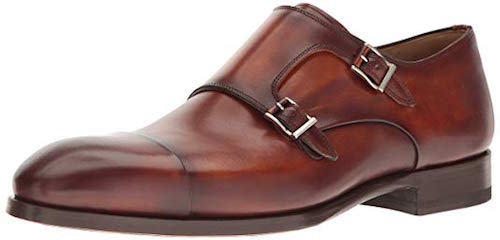 A classic double monk style, the Magnanni Louie is the ideal pair of footwear for those looking for a dress style that has character, and which can easily be dressed down for more casual occasions. It is only available in one color choice - cognac, which is perfect to wear with a navy or light grey suit, but which won't look out of place even with a pair of jeans.
Handcrafted in Spain from beautifully tanned full grain leather, it uses the Bologna construction which is known for its comfort, and the cushioned feel it gives with every step. The Louie is lined with soft leather, offering a breathable environment for the foot, but one that doesn't deteriorate with wear and that gets more comfortable with time.
The closures on the upper are made with quality hardware, allowing you to get a personalized fit over the instep. An almond shaped toe will allow for sufficient wiggle room at the front, while those with larger volume feet may find the wide option more suited to them. The sole is leather, with a rubber section on the heel that will help prevent signs of wear and deterioration. As for the price, it's one of the highest on this list, so consider this pair of footwear to be an investment.

3

. Thursday Boot Company President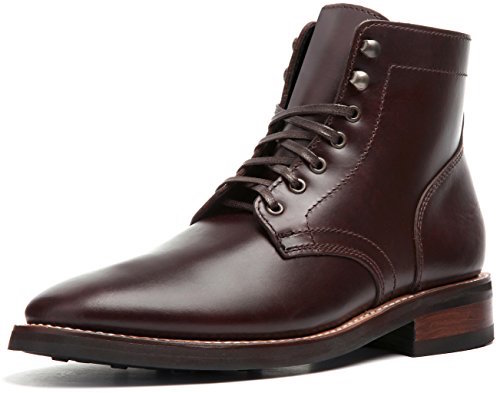 The Thursday Boot Company is no stranger to creating a classy boot, made for longevity and function, but also a classic dressed up styling, reflected in the President. They are the best model for cold and rainy weather as they will protect you from the elements while still providing a look that's elegant and classy. Made of leather, a studded sole, and speed hook eyelets, it's well worth the investment as it's sure to last you a lifetime.
Well made footwear can sometimes be hard to find, but the President delivers on all accounts for a boot. The rubber studded sole gives added grip, and weather resistant treatment lets you step out without worrying about wet feet or ruined leather. An added bonus is that the boot is resoleable, should you wear them down as your new favorite boot!
An EVA strip and cork footbed give additional cushioning to each step, allowing you to stay out for the duration of the evening in comfort. As an ankle boot, lacing up gives added structure and stability to your foot and ankle, and flat wax laces keep you tied up for the evening. The President comes in on the more expensive side, but compared to other models of boots, is around an average price. Considering the styling and durability of the President, it's still a great buy if you're looking for a long-term investment.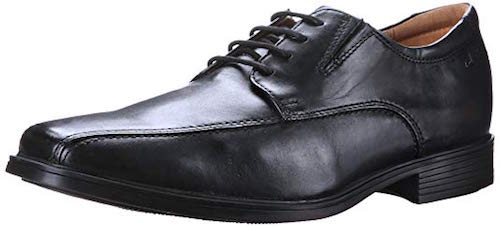 The Clarks Tilden Oxford is another classic pair for men, but big on comfort. For those new to wearing this kind of shoe, Clarks is well known for designing functional comfort in footwear. With a built-in insole and TPR sole, the Tilden will easily become your go-to shoe for work, fancy dinners and even casual occasions when a leather lace-up is not out of place.
Clarks has been designing stylish comfortable footwear since 1825. Throughout the years, they've employed innovative cushioning, 3D printing technology, and pride their brand on comfort through biomechanical assessments of the foot. Their oxford style shoe is no exception to this, boasting cushioned Ortholite insoles to keep your feet comfortable and dry.
Typical of an oxford style of shoe, Clarks has given their best selling model a rich leather look, with a cap toe to finish. Detail can be found in the stitching along the panels of the uppers and around the toe. With a great classical design, it's a staple in anyone's closet. The Clarks Tilden Oxford comes in at a moderate cost, but average when compared to other Oxford styles. However, knowing that you're buying a product built for comfort may sway you to wear these out for that weekend wedding, to work, or even for just a night on the town.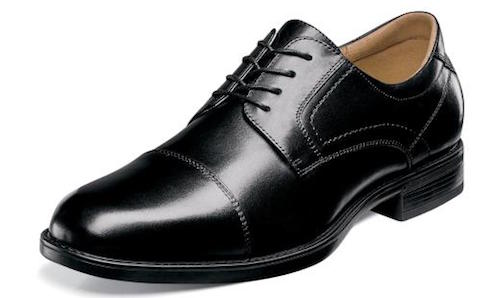 Florsheim footwear is excellent formal occasions, no matter which of their models you opt for. Nonetheless, one of our favorites is the Midtown, a range of models that come in as many variations as you can wish for. Whether you prefer a simple, plain toe Oxford, a cap toe, wingtip or even bike toe, it's available. Even more, it even comes in a boot, chukka, and slip-on version. This means that the Midtown is one of the most versatile pairs of footwear currently available for purchase, and the best part is that it hits the sweet spot in terms of quality to price ratio.
The Midtown is a pair that will fit almost anyone, seeing that it combines smart sizing with a genuine leather upper. It comes in medium, wide and extra wide, which is great news for those who need a bit more space, while the upper is a natural material that breathes, flexes and adapts to the foot, especially once it's broken in. To ensure your shoe retains its suppleness, make sure to take good care of it with a quality leather conditioner in the appropriate color.
There's more to the fit of a pair than just the shape of the upper. How it will feel on your feet is highly dependent on the materials used in the sole as well, and this is where the Midtown shines. With a non-slip rubber outsole, it'll keep you safe no matter the weather conditions, and the midsole features a good amount of OrthoLite cushioning that will absorb shock from standing and walking. With a price that's average, and even low when compared to footwear of similar quality, the Florsheim Midtown is a definite top choice. It's got everything going for it - looks, versatility, size options as well as technological innovation. It's available in several colors and toe options, so you can easily find the perfect pair (or pairs) for you.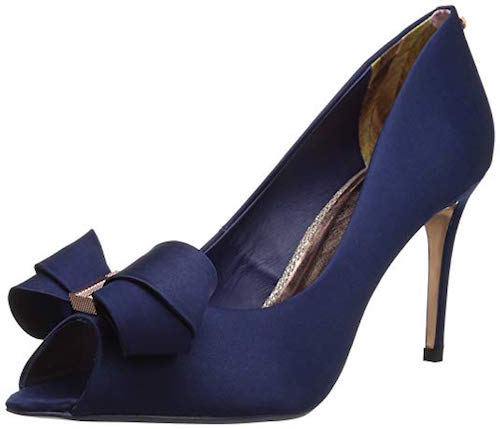 A court pump with a peep toe and decorative bow, the Vylett by Ted Baker is an elegant option for special events when you want to look your absolute best, top to bottom. It comes in a rich navy shade which goes well with a number of dress options, from light and flirty, to more serious darker shades. The 10 cm stiletto heel lengthens the leg, making this the ultimate feminine pair of pumps.
The upper of the Vylett is made with a satin material that looks luxe, and is the perfect choice for dressing up an ensemble. The large bow gives a pop of excitement, while the metal hardware (that matches the insole) provides a much needed contrast, that draws the eye to this part of the shoe.
Other things to keep in mind about this model is that the lining uses soft leather which is comfortable to wear even without hosiery, as well as the fact that the outsole is 100% resin which is more durable than traditional leather soles, and does much better with uneven and abrasive surfaces. As for keeping good care of this pair, all you will have to do to keep it clean is give it the occasional dab with a damp cloth. The cost association makes it a good investment, seeing that it ranks below average in price, but provides you with a comfortable, quality product.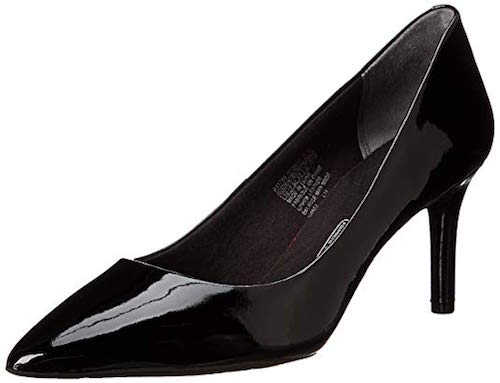 When it comes to options for women, it is usually very hard to find something that looks appropriate, but that is not a pair of feet-killing high heels that will leave you in pain after just a couple of hours. If you need something elegant to wear to a wedding, a business meeting, or just a night out, you will want something that both looks good and shows off your leg, without doing any actual damage to your health. The Rockport Total Motion pointed toe pump is one of the rare heels that can do that. With a 3 inch heel, a variety of upper material and design options, and a good number of comfort technologies, it's the perfect choice for fancy occasions.
The Total Motion comes in a number of options when it comes to color and upper material. Whether you prefer to go with a classic black, suede, leather or patent leather, or wish for something a bit more fashion forward such as leopard print canvas or studs, this heel by Rockport can give it to you. No matter which version you go with, you're sure to be satisfied with the fit, looks, and ease of maintenance.
As any other pair of Rockport footwear, the Total Motion features many innovations that are meant to make it your go-to pair. From the truTECH® cushioning in the forefoot and heel which allow for excellent levels of shock absorption, to the high retention foam footbed that molds to your feet and provides great levels of lasting support, and even to the safety-oriented outsole that is stable and slip resistant. These have got it all. Fancy high heels can be crazy expensive, and if they're cheap, it's probably for a reason. However, the Rockport Total Motion heels surprise when it comes to price, which is not only affordable, it's the cheapest out of all the items on this list! This is quite an achievement, considering that this is a genuine leather pair, made with excellent cushioning and comfort features.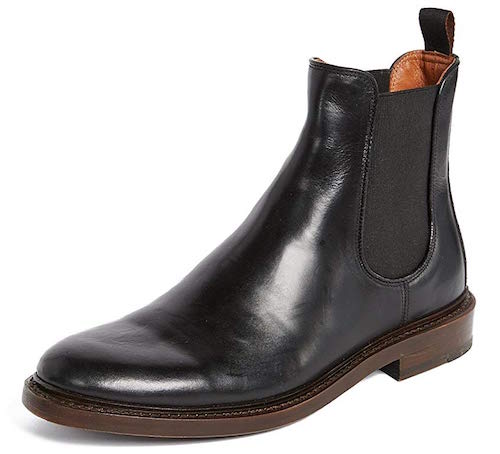 Founded in 1863, Frye is a brand known for their high-quality footwear that's made with the most carefully selected leathers. The Jones is a pair of Chelsea boots that'll work wonderfully both for casual and formal wear, thanks to its simple yet elegant design. You can get it in two color options, brown and black, and if you take care of it, it will last you a lifetime. The leather used is from premium tanneries in France and Holland, and it will develop a beautiful patina over time that simply cannot be recreated.
In addition to the leather upper that will only get better with wear, the Jones features a leather lining and a leather outsole. This means that this is a high-end pair of boots, made to comfort and mold to your feet, and to serve you for years to come. You'll find that these boots require a bit more love - you will need to condition the upper, let them dry thoroughly between wears, and have them resoled when the outsole wears out, but you'll find yourself reaching for them time and time again.
The best footwear is constructed using the Goodyear welt method, which not only gives a great level of durability but also ensures that your shoes can stand up to more aggressive wear and that they can be easily resoled should the need arise. Do note, however, that due to having a leather outsole, the Jones shouldn't be worn in wet weather, as this can damage the shoe. The Frye Jones is the most expensive pair of footwear on this list, costing a small fortune. This means that it may not be an option for most people, but those looking for something extremely high quality, that will work both with a suit and jeans, should consider getting these boots. They'll serve you well, and for years, and they're sure to turn some heads in the process.

9

. Cole Haan Tucker Venetian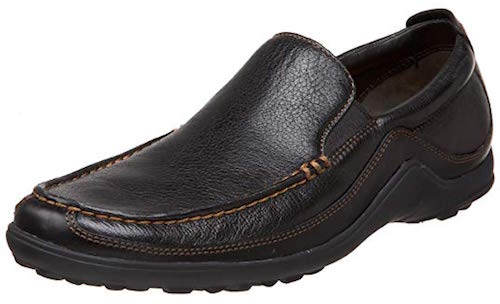 Another well-loved brand name in fashion, Cole Haan, delivers a loafer styled driving shoe that combines style and comfort in a sleek soft leather look. With a moc-stitched toe and wax leather look, this combination of sporty and elegant is going to be the perfect choice for summer formal wear or boat attire. What's best about the Tucker Venetian is definitely its flexibility - allowing you to step in style and comfort, without having to endure a stiff pair of shoes for hours on end.
This Venetian style loafer proudly gives an aristocratic feel to comfort. Vintage inspired leather designing mixes with comfortable sporty construction, giving flexibility to this slip-on shoe. A textured Vibram rubber sole allows for traction, perfect for boat attire or an afternoon on the docks. Plus, it'll keep you safe on the dance floor too!
Cole Haan is known for its artisan quality of styling, bringing back a love for the 1920s generation gentleman. Since 1928, they've been bringing timeless formalwear to the masses, and their sporty Loafer is a classic for anyone's footwear collection. Crafted with soft leather, moc-toe, and contrast stitching, it's clear the classic details of a formal shoe were kept in this sportier option loafer. For a designer brand shoe, this hits the average mark on the price list. When comparing to other non-designer brand name shoes it may appear more expensive. However, the simple sporty design mixed with a formal sophistication makes this a good buy, especially as it can easily be dressed up or down.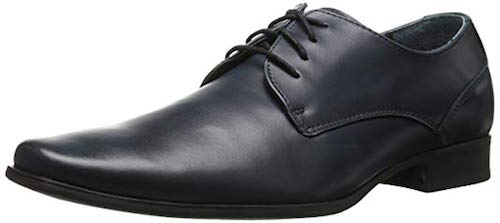 If you're looking for something simple yet elegant, the Calvin Klein Brodie is a good option to consider. A leather shoe with a classic design, it's a great choice for both business and casual wear. Plus, you can choose from some uppers, from patent leather to burnished calf leather, to epi leather, as well as some color choices so that you can pair these either with charcoal, black, gray or navy suit. The footbed is padded for comfort, making the Brodie a great option for all-day wear.
Nothing is as elegant as a beautifully cared for leather shoe, and the Calvin Klein Brodie can do just that. Available in a number of leather types and colors, it's an incredibly versatile shoe that will work with anything, from a suit, to a pair of chinos, and even with dressed up jeans. The lace-up closure allows for some fit customization, and the reinforced eyelets prevent wear and tear from lacing.
The padded footbed featured in the Calvin Klein Brodie helps to give you a softer feel on your feet that will make standing and walking more comfortable, even when they've been on your feet for hours. Expect to be out all evening without skipping a step in these shoes, but with a box toe, be sure to size correctly to suit your foot width. For a Designer brand name, The Calvin Klein Brodie is quite reasonably priced, coming in at just under average cost for a formal shoe. But if you're looking to impress with Designer shoes, CK's Brodie will not disappoint. The unique leather texture gives an added value to the shoe, different than other similar styles available on the market.

Subscribe to our Newsletter