Best Shoe Cleaners and Sneaker Cleaners Reviewed & Rated
In a Hurry? Editors choice: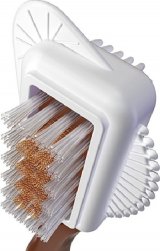 Test Winner: Shacke Suede & Nubuck

Finding the right cleaner for shoes can be tricky, and we have to stop and ask ourselves some questions when deciding what is best. We offer a closer look at the best shoe cleaners and give an inside view at what earns them a ranking in the top 10. If you are a shoe enthusiast or just someone who is always looking to keep their footwear in top condition, take some time to look at this guide. Making an informed decision will guarantee the footwear you love the most will continue to impress you, your friends, and your feet.
Standout Picks
Criteria Used for Evaluation
Effectiveness
Different materials need different cleaners to ensure a long life. When looking into what is the best shoe cleaner, we took the time to look at the cleaner's ability to give an old shoe the premium treatment; making it look new again. This didn't only go for what you see but, also, how it affects the material of your shoes. There is such a variety of footwear in our closets that we wanted to make sure we were able to find the cleaner that was suitable for the most important jobs. While not every cleaner that we have listed is made for every material, we picked the top of their perspective classes and made sure to offer something for everyone and every shoe.
Leather Cleaners
There are many types of leather. The leather is a typical upper that requires proper cleaning and conditioning to avoid those pesky creases and unsightly scuffs. For instance, the Saphir Renovator is made for all types of leather, and it promotes hydration and shine. ShoeAnew is, also, great for all of your leather products; restoring your old leather to make it appear brand new again!
Suede and Nubuck require a different type of leather cleaner. This material is more susceptible to staining and needs to be cared for gently. Making sure to buy a cleaner specially made for these types of leather will ensure you don't ruin your footwear and that it continues to look great.
Vinyl and Fabric Uppers
These need a more multi-purpose cleaner designed to lift dirt and grime without staining or changing the color of your shoes. SofSol gives excellent looking kicks to all shoe types, and Pink Miracle can, also, help handle the dirtiest of messes on a variety of materials, as well.
Safety Hazards
Toxic chemicals are, unfortunately, a part of our everyday lives. Keeping yourself and your family healthy is always a number one priority and this is one of the reasons we took the time to make sure the chemicals that are being used in these products are safe for you and the environment. The use of all-natural products gives peace of mind when purchasing a product.
The use of natural oils for leather is essential. It not only keeps it hydrated but it, also, helps protect against water. Natural waxes promote shine and more extended wear. If we can use products that are free from harmful chemicals, like Simple Shine that is a family-owned business and cares about keeping you happy and healthy, then we can feel better about our choice; especially, when we end up with a clean pair of shoes.
Ease of Use
Shoe cleaning can be a tedious, time-consuming task. The more accessible something is to use, the more time we save, and the more time we save, the more time we have to enjoy some of life's more pleasurable tasks. This is why we decided ease of use is crucial. Whether a seasoned, shoe-cleaning expert is using these products; or a first time, teenage sneaker-head is, we want everyone to be satisfied with the ability to use a cleaner that saves them time and doesn't involve 15 steps to be completed correctly.
All-in-one and cleaner/conditioner combos are a great way to save time and money when you are purchasing a footwear cleaner. These one or two-step cleaners are efficient and leave your shoes looking great. They can add the right amount of shine and moisture and can, also, clean and prep your footwear for a much-needed painting, as well.
Use
Vigilance is one of the most important aspects of footwear care. If you wait until you have two inches of caked-on mud and after 3 months of wear, then your potential minutes of cleaning can be easily turned into a nightmarish torment consisting of hours of work. Remaining vigilant in your footwear's upkeep can make life so much simpler in the long-run and, furthermore, increase the longevity and durability of your favorite boots/shoes.
The best solution is to utilize multiple cleaning methods. A daily brushing works wonders, and there are cleaning brushes available on this list. I, myself, prefer the easiest way; something automatic with little hand action involved. But for others, they like to sit there and manually brush. As previously mentioned, horsehair brushes or a soft-bristled toothbrush works excellent in this situation.
Next, depending on the type of material and situation, thereof; you will want a cleaner solution that is made specific to the task at hand. But always remember, you don't need to lather your shoes every single day. There are a few situations which could even be considered for this type of scenario. More times than not, a simple brush-away technique is just fine. If there is a lot of active wear-and-tear, per se; then, once per week should suffice under normal conditions. The best rule of thumb, however, is to remain vigilant and utilize your best judgment on when a cleaning solution needs to be deployed.
Brand
A product is a promise made, but a brand is a promise kept. A brand name is often a signal of quality and consistency in effectiveness and ease-of-use from product to product. Although there are always exceptions to this rule, quite often brands that perform continue to perform.
We scored quality brands higher on this metric than ones with a less-proven track record. We strongly believe that paying a little bit extra for a brand name can avoid waste of product, waste of time, damaging your shoes and countless hours of frustration.
The main reason for this is that the leading brands in the cleaning product industry are focused on this task alone - they make and develop products that will be both effective and easy to use in home conditions, and that will allow consumers to get a good value for their investment. Of course, you can also choose to purchase cleaning products by the same brand who made your footwear, and this will often be a good choice.
Red Wing, UGG, Timberland and a number of other manufacturers sell their own cleaning products that you won't have to worry about when it comes to damaging your footwear. These are also less likely to cause discoloration, but it's important to note that they won't always be the most effective option for tough stains.
If you have a problematic pair of footwear, your best bet would be to take it to a professional cobbler who will have all the necessary tools to make it clean and look new again. If, however, you're after some daily maintenance, most products listed above should work just fine (provided they are safe to use on the materials that make up your footwear).
Top 10 Picks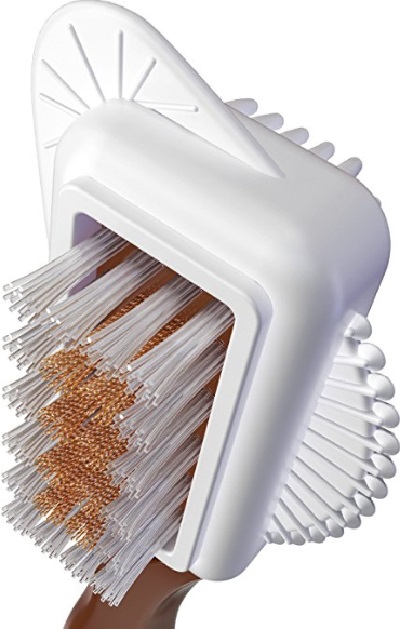 There are four cleaning options in one easy-to-use brush. Now, this is what we find to be an exciting cleaner! We are used to seeing sprays, creams, polishes, and a variety of other cleaning agents. What is needed more often than not, even with a cleaning agent, is a superior brush. This versatile brush will help you remove debris and pairs well with all types of cleaning kits.
A variety of cleaning options saves not only time but, also, space and money. The Shacke Suede and Nubuck 4-way Leather Brush Cleaner is easy to use and can handle several different situations.
I know we are here to talk about footwear cleaners, but who doesn't want a little extra bang for their buck? The Shacke Suede & Nubuck 4-Way Leather Shoe Cleaner is not only great for keeping your favorite shoes clean and looking great, but it can, also, take care of your other leather goods, as well.
With a very minimal investment, this four-option shoe cleaner can be yours. A great brush is needed in all shoe cleaning ventures. Using a rag to spot clean on occasion is acceptable, but if you want a deep down clean, you need a brush and this one does not disappoint.

2

. Dr. Martens Wonder Balsam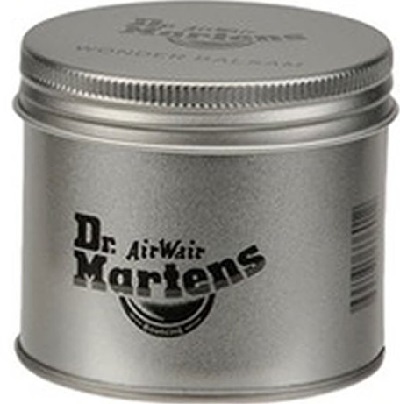 A unique, individual style is what Dr. Martens brand is known for. Starting out in the world of top-quality work boots, they have now expanded to create and innovate in all things shoe related. Their Wonder balsam shoe polish will clean and condition your leather with ease. It is made of all-natural ingredients and this cleaner will help protect your footwear from water and salt marks.
Made with Coconut Oil, Lanolin, and Beeswax, this cleaner will clean and condition your leather without synthetic materials that may harm rather than help. Not only will it keep the outside of your footwear protected from water and other liquids, but it can, also, be rubbed on the inside of your all-leather shoes to help soften, as well.
Whether you just don't have the time, don't know how, or simply just don't want to, polishing can be a real hassle. Giving your footwear a protective layer; plus, a soft shine, your shoes will not only look great, but you will have to do very little work to make it happen.
Priced to please and available in different quantities, Dr. Martens Wonder Balsam Shoe Cleaner is bound to please. All-natural ingredients, paired with ease of use, comes a brand that knows the right way to take care of boots for a low price.

3

. Huberd's Original Shoe Grease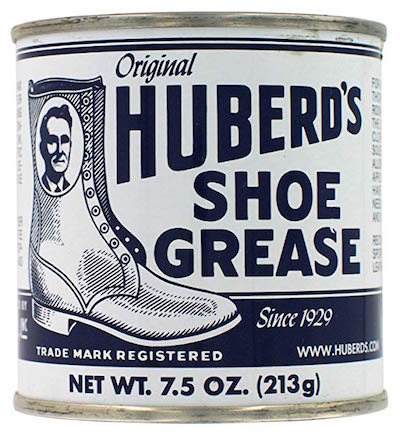 Originally developed for loggers who needed to take good care of their boots in order to prolong their lifespan, the Original Shoe Grease by Huberd's isn't exactly a cleaning product, but actually one that you can use for multiple purposes. First and foremost, it will waterproof your leather goods (so it's not only limited to use on footwear), but it will also do a great job at conditioning your favorite boots.
What's great about Huberd's is that it contains no animal fats or oils that could turn rancid and cause an unpleasant odor while using. It will also not damage the leather on your footwear, even if it's made with more sensitive materials, plus, it won't compromise the adhesives used in the construction process.
Huberd's is a great product to use if you want to be able to break in your footwear more easily, as it will nourish the leather, making it softer and supler, thus more flexible. It comes in 7.5 oz, pint and quart cans, you can go with the packaging that works best for you. Plus, the price is affordable, while the results are great.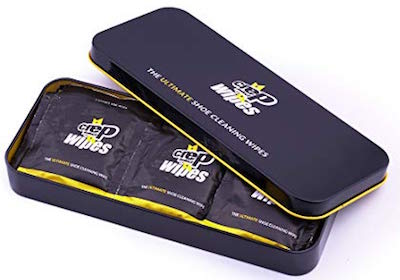 The shoe protector product brand of any sneakerhead out there, Crep knows a thing or two about keeping your priceless kicks looking fresh, without too much hassle. The Crep Protect Wipes were developed as a response to the need for an easy to pack, functional product that would allow users to get rid of stains as soon as they happen, without having to carry bulky products around.
These wipes are two sided, and can be used for all types of stains. The rough side will take care of tougher stains such as grass and dirt, while the smoother side does well at removing general stains that come from daily use. They're suitable for use on leather, canvas, nylon, vinyl and other materials, but do make sure your footwear doesn't require any special products before going at it with these.
The wipes are packaged in twelve individual sachets you can easily keep on you, no matter where you go, while the metal packaging box gives you a good at-home storage solution, so you'll always have these on the ready. The price is quite high, considering you can only use each of these once, and that you get 12 pieces in the pack, but you'll find that this is a great solution to on-the-go shoe cleaning.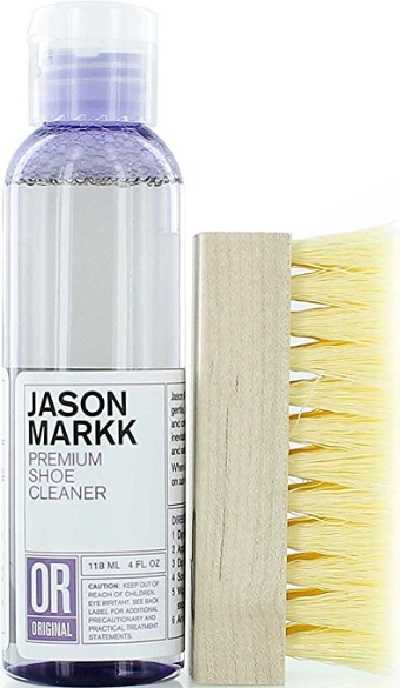 Made in the U.S.A., Jason Markk Premium Shoe Cleaner is a non-abrasive, completely biodegradable, cleaner that will make your sneakers look new again. This excellent cleaner helps remove yellowing from previous stains and can be used on many different materials when using the correct brush. One of the world's most-trusted footwear care companies, Jason Markk Premium Shoe Cleaner, is one of the most-popular cleaners in our guide.
Shoe care is always aimed at making your old footwear look new. Some cleaners use chemicals that change the color of your shoes. The natural biodegradable footwear cleaner, however, is safe for all colors and materials.
Active people that love white footwear know how quickly those brilliant shoes become dingy yellow. You have probably tried everything but still find a yellow ring here or there. Jason Markk Premium Shoe Cleaner reduces yellowing that has already set in.
The versatility of this product, paired with an excellent price, is sure to meet your expectations and help ensure your footwear continues to look new. Jason Markk offers a premium product at a reasonable price to ensure everyone can enjoy great looking shoes in all the adventures of the day.

6

. Red Wing Heritage Brush U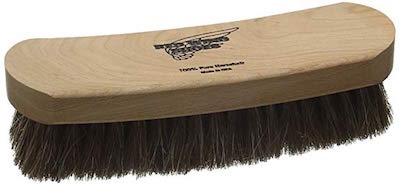 If you are the proud owner of a high quality of leather boots, you know how much care it can take to keep them looking new, as well as comfortable. Good leather can be incredibly durable (you can expect some boots to last you for years), but it will definitely require a good amount of care and conditioning. One of the things you can easily do, and that won't take up too much of your time is brushing away dirt and dust with a brush that was made for this purpose.
The Red Wing Heritage brush is made with 100% horsehair that's suitable for use on the type of leather they use in their products. It will remove surface dirt (which you should do after every couple of wears), and can even be used to buff your footwear after having applied a conditioner. Do keep in mind that you should have separate brushes - one that you will use to apply care products, and one that will be used for removing dirt.
The product is made in the USA, and is 6 ¾ inches long which is a good size for at home use. It may, however, be a bit too large to pack in your suitcase when you're traveling. As for the cost association, it isn't exactly expensive, but you could find a shoe brush for less money. If, however, you are after the highest quality care for your favorite boots, it's highly recommended.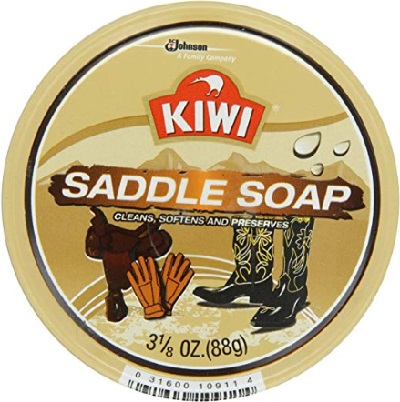 Kiwi Saddle Soap has been trusted for generations in cleaning leather. Great for all types of leather, excluding suede, this shoe cleaner gets rid of dirt and grime; as well as, unsightly salt stains. The excellent lathering ability does an excellent job of cleaning and you only need to wipe it away. In addition to being easy to use, it is available in different quantities, ensuring you have what you need when you need it.
Leather needs a good lather once in a while to make sure the oil, conditioner, and wax penetrate and deeply cleans your shoes. With a damp rag and a bit of Kiwi Saddle Soap, you will be able to produce a rich lather that will clean.
The ability to choose one, three, or ten, ensures you will have the appropriate amount of cleaner for the task at hand. Options are always good, and we feel this is a great feature not often seen in footwear cleaners.
The cost of this trusted cleaner depends on how many you order. All of the options are affordable and will keep your feet looking great. Easy to use and proven by generations of use, Kiwi Saddle Soap does a superior job of cleaning. If in a situation where your bank account is happy with you for the week, stock up and make sure you have it for when the time comes.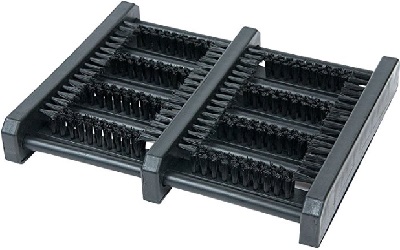 Working outside can create an immense amount of dirt and grime on your favorite work boots. Spending the time to brush them for cleaning is unrealistic, considering you are going to wear them again tomorrow and the exact same thing is going to happen. Thankfully, the JobSite Boot Scrubber Brush Mat fits wonderfully by any door and doesn't need to be bolted down.
Severely dirty footwear requires a durable cleaner that will stand up to the job. The JobSite Boot Scrubber Brush Mat will hold up to the toughest jobs while offering a great clean; as the high-density, molded plastic is super tough and will hold up through years of use.
Farmers probably know better than anyone how difficult it can be to remove dried mud, manure, and who knows what off of work boots. The brushes on this cleaner will get all the grime off of your shoes, no matter how deeply packed into the tread it is.
Deep cleaning and durable, this footwear cleaner is easily afforded on any budget. Most things in life are not simple and shoe cleaning, usually, falls into that category. With the JobSite Boot Scrubber, however, you will get the ease of use paired with superior cleaning ability and durability for those tough jobs.

9

. Scrusher Original Scrusher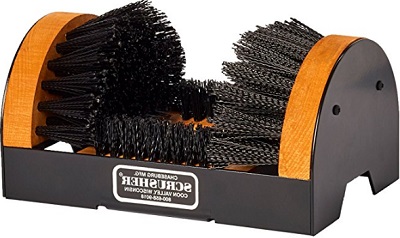 Compiling the top ten of any product is always a difficult task, and during the research for the best shoe cleaners, we came across this gem of a cleaning tool. The Scrusher was originally made for golf shoes and then transitioned into everyday footwear. A Wisconsin wife was fed up with always reminding her husband to take his boots off at the door and decided to take action against the dirt and grime that always worked its way in. Long story short, when needing a high-quality, original option for cleaning your footwear, the Scrusher will exceed your expectations.
The Scrusher is built tough. If you are someone who works hard and plays even harder, the Scrusher will save clean-up time and get you to bed, so you can wake up early and head out for life's next big adventure.
The efficient bristles are strategically placed to help ensure there is no dirt, mud, slush, or grime coming into your house. You can use the Scrusher on any type of footwear and will end with a clean, shiny shoe.
This very unique footwear cleaner is at the higher end of our price range. It offers a completely different type of shoe cleaning. Those who come in and out of the house, dragging dirt with them, but not having the time to take your shoes off before running back out the door, this cleaner may be perfect for you.

10

. ShoeAnew Shoe Cleaner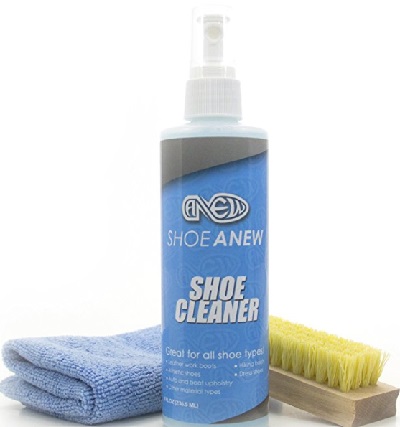 Today's moms swear by ShoeAnew Shoe Cleaner. This non-toxic, natural, and biodegradable cleaner works hard without harming you, your children, or the environment. This is the perfect cleaner, with a 30-day money back guarantee. All of your footwear will continue to look their best. From sneakers to dress shoes to those greatly worn leather boots, ShoeAnew can handle the job.
This cleaner gives you a deep clean that kills 99% of germs and is not harmful to our environment inside and outside of our homes. The amazing cleaner, also, helps reduce the foul odors that tend to linger in your most worn shoes.
An easy, 30-day satisfaction guarantee ensures that you are using a product that you love or it is no cost to you. This shoe cleaner works hard, so you don't have to.
ShoeAnew won't cost you an arm and a leg, as this affordable cleaner offers a lot and can help get your footwear really clean. Priced to save the busy mom time and money, this is a shoe cleaner that will not let you down. A clean-looking, clean-smelling shoe is what you will get when you try this product.

Subscribe to our Newsletter