Best Golf Shoes and Sneakers Reviewed in 2022
In a Hurry? Editors choice: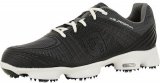 Test Winner: FootJoy Hyperflex II

Athletic footwear
is designed to fit the distinctive needs of a specific sport. Golf shoes, for example, are designed explicitly to support an individual's feet while playing golf. This kind of footwear offers several different benefits including stability, comfort, versatility, flexibility, and breathability; while also offering extra padding to give golfer's feet much-needed support when driving the ball. This footwear is also designed with materials to absorb moisture, in order to keep a golfer's feet cool and sweat-free. This specific type of shoe provides the support and comfort needed to enjoy a day out on the course without having to worry about coming home with sore and aching feet. In fact, the only thing you have to worry about is deciding what type of footwear you want to wear. Fortunately, we covered 10 best golf shoes to choose from.
Standout Picks
Criteria Used for Evaluation
Style
From the very beginning, this type of footwear has been designed in a very simple design which was known as the 'traditional' design. Nevertheless, in recent years, many innovations have been made with plenty of style options being introduced into the market. These innovations have been embraced, so there are two different types of now when it comes to style:
The Traditional Design
They are known to have a look that is very classic. Their construction and design use leather fabric; therefore, these golf shoes are sturdy and very durable. Their leather construction is waterproof and guarantees the golfer maximum comfortability during the game. In case you want to confirm the degree of waterproofing, you should look at the description of the model. Their major challenge is that they are not breathable enough.
The Athletic Design
These golf sneakers and shoes are best for golfers who want maximum air circulation. Since they have an athletic look, they can be confused with normal cross-training sneakers. Their look is very different compared to traditional ones. Picking them out is very easy, because of their look. They are breathable and very flexible. They are, also, lightweight, just like the other normal athletic footwear. They have a comfortable sole that can suit many outdoor conditions. They have waterproof features and come in plenty of styles and variety of color for golfers to pick from.
Fit
It's good to be sure that the pair of golf shoes you buy fits you properly. This is because you will not only have long-distance walks when playing, but you will, also, find yourself standing for approximately 4 to 5 hours. Either walking, standing, or just hitting the ball, making sure your sneakers fit properly is absolutely essential. Having this in mind, there are some things that every golfer should consider when thinking about getting a good fit for their footwear.
Measure your feet before picking any size of footwear. In case, you notice a difference in size with your feet, it's recommended that you opt for a size that fits your larger foot.
After you have narrowed down to your preferred pair of golf sneakers and have the size you want, it's good you try them on with the socks you will be wearing during the game. This is to make sure the fit is snug but not tight. This gives your feet an accurate fit while on the course.
Compression
There are two major different types of lacing systems used with golf shoes. These types are:
The Traditional method of Lacing:
Despite the many recent new innovations and inventions in technology, shoelaces have remained one aspect of any footwear that has stood the test of time. They offer a good snug grip by wrapping the feet in a manner that is sturdy; hence, enhancing a good fit. This means the wearer is guaranteed a comfortable fit.
The Velcro method of Lacing:
Considering crossover footwear, the developers have introduced a new approach to fastening known as Velcro. As street shoes are all about ease, such type of lacing system, actually, facilitates the process.
As a street and spikeless shoes have gained more popularity among golfers, companies have started incorporating more casual fastening systems such as hook and loop closures. So if you are thinking between buying spiked or spikeless golf shoes, remember that it is more about style than performance. Although, these make the removal and securing of footwear easier. Some companies, also, have gone several steps ahead to introduce lacing systems that are proprietary using the same lacing systems as ski boots. These lacing systems are more mechanical and offer very consistent stability; preventing any form of loosening that might occur when walking. This means that these options come at a cost and that's why they are more expensive.
Traction
Spikes have been known to be in existence for a very long time when talking about golf shoes. They are features that most golfers have come to learn to appreciate and utilize to their own advantage. The spikes help the golfer enjoys good traction, which is very important in making sure that the golfer's swing is strong. This means the footwear needs to have a firm anchor on the ground. There are different types of spikes used:
Plastic or Soft Spikes:
Plastic spikes (also known as soft spikes) are the most popular variety of sole spikes; used in making most modern-based footwear. They are very lightweight and have less tendency to tearing up green when compared to their metal counterparts. They have a wide size and can effectively spread the player's weight upon a wider surface area. They are perfect for tough summer conditions, and the technology of the plastic spike design has, also, been advanced. This means the spikes are able to provide equal or higher levels of traction compared to metal spikes. They have amazing comfortability; especially, when walking on harder surfaces. They can, also, be easily changed and replaced. This is because the replacement spikes can be easily found in many sporting retail stores.
Traditional Metal Spikes:
These types of spikes have been used for a very, long time; albeit, recently, they have started to become less popular. Nevertheless, they are still being found useful in most tour pros. These spikes are longer and much sharper; and when compared to most plastic spikes, they are able to offer a very high degree of traction. Their major disadvantage is that they have a high tendency of tearing up the fairways and the greens compared to the softer spikes.
Among the many rules in this sport, golfers are not allowed to repair the spike marks on the greens, and that's why many club players opt for the plastic spikes. The metal spikes are very uncomfortable when you walk with them on harder surfaces causing plenty of discomforts. So far, it has been a common trend of courses banning their golfers from using metal spikes. As such, it's good to check if the course you will be playing at will allow metal spikes or not. But then again, to be on the safe side, it's good to opt for the soft spikes.
Fitting New Spikes:
It's good to note each model has a unique fastening system that is used when the spikes are being swiped, and that's why it's important you have the correct type of spikes that you will be used as the replacement spikes. Many brands in the market have their own wear indicators which guide golfers at the correct time of replacing the spikes. The good thing about replacing spikes is they can make your old sneakers feel as though they are somewhat new.
Materials
During the past few years, the materials used in all types of footwear have greatly developed, with many manufacturers now using man-made materials and fabrics. These products have been utilized in the construction of the upper and the outsole. This great combination provides the golfer with stability, waterproofing ability, and most importantly, great comfort. Some of the materials that are used are:
Leather:
So far, leather has been considered to be one of the most preferred choices when looking for materials to be used in making footwear for golfers. What happens is that the leather is, usually, processed; then, it's added to the external or exterior part of the sneaker. This results in footwear that is tight-fitting, and at the same time, stretch-free.
Footwear made from leather tends to have a saddle design; so, they can offer extra stability. They are the best to wear at a summer tournament, and this is because they have amazing breathability compared to other materials. Most top manufacturers have a waterproof guarantee that can last one year or two years. Remember, however, that the cost of the leather used and the name of the manufacturer normally reflects on the price tag. High-quality generally means more expensive footwear.
Waterproof Lining:
When looking for the best material that has the most efficient waterproofing ability, many top manufacturers opt for Gore-Tex, though there are some manufacturers who have come up with their own customized versions of it. This fabric is very thick with great water-resistant ability. It's the popular choice of fabric used in making sporting gear for winter sporting activities. The fabric is fully waterproof and is, also, breathable. Compared to leather, Gore-Tex is much warmer. This means if you are to take part in an event in a cold climate, then you should definitely have these as your sporting footwear. Having waterproof golf shoes is essential for a good game.
Synthetic Fabrics:
This type of fabric is considered to be the cheapest option. The upper is covered with a man-made fabric made of nonporous polyester. The polyester fabric covers the entire upper; offering protection to the shoe's outer shell. The lining is lightweight and very thin. This means they have limited breathability; albeit, they might be very affordable. These types are very common; since, they allow the manufacturers to offer more affordable footwear using cheap man-made materials while, simultaneously, offering breathability and comfort.
Top 10 Golf Shoes Reviews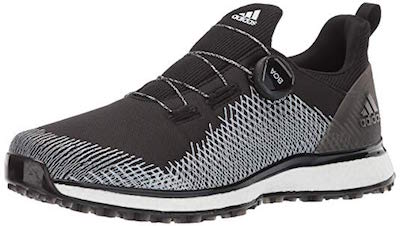 The upper of the newly released Adidas Forgefiber Boa is completely unique, using new technology to provide you with one of the most comfortable and best golf shoes you can get. The yarns that make up the material are coated with TPU, then heated up in order for the plastic to melt into them, giving you a durable pair of footwear that will also protect from moisture, while providing exceptional traction, cushioning, and easy adjustability through the Boa system.
These lightweight golf shoes are equipped with the brand's Climastorm weather-proofing system which is breathable and water-repellent. The Boa closure allows for easy micro-adjustments and is commonly used in professional cycling equipment for those who need to get a better fit without spending too much time on it.
As for the comfort provided by this model, you will benefit from the Boost cushioning unit, Adidas' best shock absorption system so far which gives a response based on the force you put on it. If you want to protect your muscles and joints from fatigue, it's definitely a prime choice. As for the outsole, it offers excellent traction on the green, but is one of the more comfortable pairs of footwear off it, so if you're after a spikeless model, this is one of the better ones. The price is high, in line with ECCO's and UA's flagship models, but if you're ready to make an investment, definitely check these golf sneakers out.

2

. ECCO Biom Hybrid 3 GTX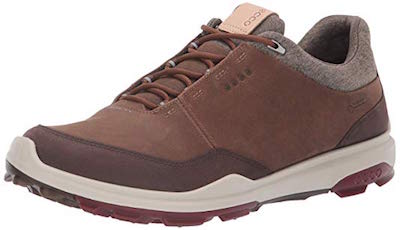 This is a sneaker for all of those who need a spikeless shoe with exceptional comfort for all-day wear. A premium model aimed at those who want both a supportive feel as well as a waterproof upper, the third edition of ECCO's Biom Hybrid features high-quality materials and construction, with seven color choices, so you can easily go with the look that feels best for you. Those who have wide feet and need a wider model should be happy to know that this golf shoe features an antimicrobial Ortholite insole that is removable for extra width.
The upper of the Hybrid 3 is made with premium yak leather tanned in the company's own tanneries, and it's a soft material that breaks in easily, yet boasts exceptional durability. It's breathable, but the Gore-Tex barrier prevents moisture from getting into the shoe, giving you the protection you need in wet weather. The collar and lining are made with stretchable neoprene that's been generously padded for one of the most comfortable golf shoes in the market.
As for the tech included in the Hybrid 3, you'll benefit from an anatomically constructed last for exceptional stability, and the BIOM NATURAL MOTION design allows plenty of flexibility. The outsole is made with three zones, each of which has a different purpose, so you'll benefit from increased lateral stability, rotational support as well as walking comfort. The price of these golf shoes is towards the higher end of the spectrum, but this is to be expected from ECCO men footwear, so if you're after an investment piece of equipment, then this is definitely a model to consider.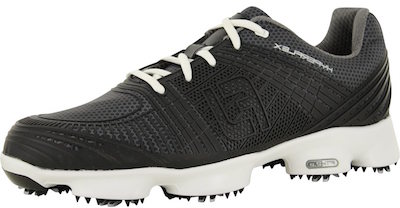 This model is one of the most popular and best golf shoes available, as it provides an excellent combination of stability and traction you get from spiked models, with the comfort of spikeless golf shoes. FootJoy men shoes feature updates in the upper, as well as in the sole, and the golf shoe comes in a few simple color options that aren't too flashy, but still look great.
The upper is made with a newly developed FlexGrid 3.0 which is waterproof but combined with athletic mesh, it gives the user a flexible, breathable fit. A classic lacing system ensures lock-in, and the removable Ortholite insole allows you to get a customized level of support by substituting it with your own orthotics.
The sole features soft Fine-Tune Foam 2.0 for cushioning, and traction pods that protrude from the sole, and feature 9 Tornado Cleats by Softspikes, each of which is surrounded by molded sole spikes which make walking on harder surfaces that much easier and comfortable. Depending on the color you go with, these golf shoes will cost you either average, or below average, so if you want something that's of high quality, features spikes, and is affordable, the Hyperflex II may be your best choice.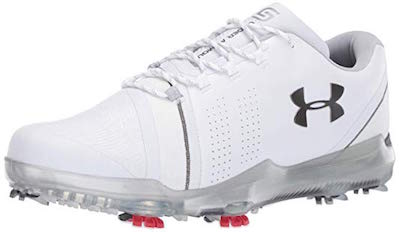 After the success of the first two versions, Under Armour released the third edition of the Spieth in February 2019. With input from Jordan Spieth, this is the best version yet, with improvements in terms of stability and balance that will definitely be reflected in your results. The golf shoes come in two very simple color choices - white and black and can be purchased in medium and wide widths, allowing all players to get the best possible fit.
In terms of construction, the upper of the Spieth 3 is made with a thin Clarino microfiber leather upper that's breathable but has a membrane that prevents moisture from getting in. This means higher comfort even in less than perfect conditions. The forefoot and heel have been biomechanically designed for better support, which results in better balance, longer ground contact, and thus a more powerful swing.
In terms of traction, this spiked golf shoe with RTS2.0 cleats that are soft, evenly spreading into the ground and providing you with more comfort, and exceptional traction. The cushioning has been strategically placed throughout the footbed, and the upper features plentiful padding as well, so you can easily wear these all day. The price of the UA Spieth 3 is quite high, which you can expect from a flagship model for any sport, but if you're after the best, then the investment is definitely worth it - especially considering the 2-year waterproof protection warranty.

5

. Skechers GO Golf Elite v.3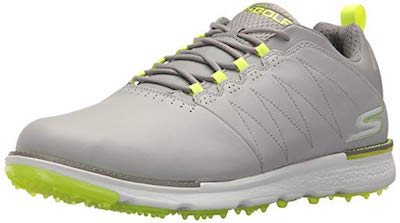 Anyone looking for value should check out the third version of the Skechers GO Golf Elite which is an extremely comfortable spikeless shoe made for long days on the green similar to their popular model Go Golf Drive. It's one of the rare models which will serve you well off the golf course as well. The design is similar to that of the brand's lifestyle sneakers, which means a simple look that comes in several color options for a stylish look. It's a golf shoe that's easily kept clean, which is a definite plus in soggy weather.
The GO Golf Elite v.3 uses an H2GO Shield waterproofing system to keep you dry, but the mesh lining and tongue provide great airflow and moisture management, so you won't have to worry about overheating and bad odors. The 5GEN cushioning found in these great golf shoes is the same one you'd get with some of the brand's best running sneakers, and it absorbs shock while supporting your foot, preventing fatigue even with lots of standing and walking.
The outsole is spikeless with a low drop so you can get a better feel of the course, but offers excellent traction, as well as good off-course comfort. The perfect fit can easily be found with the classic lacing system, and a pull tab at the heel makes on and off easier than most models listed. In terms of cost, this model will set you back half as much as some of the more expensive models, while providing you with great quality, so it's definitely highly recommended to those who are on a budget.

6

. Adidas Tour 360 Boost 2.0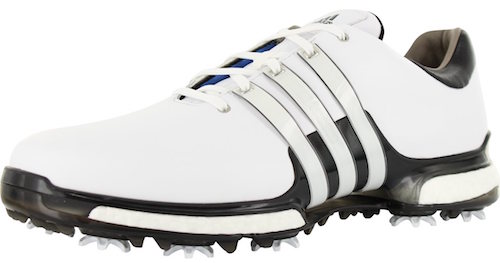 Blending premium leather with more technologically advanced synthetic materials, the adidas Tour 360 Boost 2.0 is a great weatherproof choice for golfers looking for reliable and comfortable golf shoes. It features 10 low-profile spikes to keep you sure footed on the green, while still allowing for plenty of flexibility to maximize your performance. It comes in a 9 different color variations, all of which look excellent with a mixture of classic and modern aesthetics.
Primarily used in Adidas running shoe, the Tour 360 Boost 2.0 features BOOST which does great at absorbing shock and offering plenty of energy return so as to minimize the fatigue you feel at the end of a long day of walking.
These golf shoes are a great choice for those who may find themselves playing in rain, wind or snow. With a premium leather upper which has been treated to ward off the elements, you'll find that water will bead off them, keeping you protected and dry. Considering the fact that the Adidas Tour 360 Boost 2.0 is a pair of premium golfing footwear, it comes as no surprise that the cost is towards the higher end on this list. Nonetheless, these are golf sneakers which are an excellent investment as they will provide you with all the features you may need, all wrapped up in a good looking package.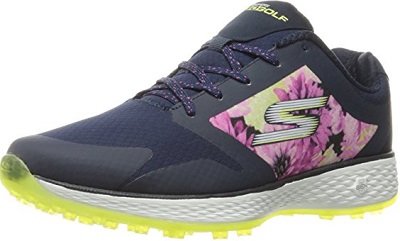 With these golf shoes, you will be immersed in a world of comfortability, breathability, and stylistic choice. Through the Goga Max insole and 5gen cushioning system, your feet will reap the pleasures of what it means to be comfortable. In addition, the upper mesh allows your feet to remain within a breathable environment; thus allowing you to stay cool under pressure. Lastly, the vast array of color choices is impressive.
The outsole on these golf sneakers is built to last. Made from TPU, you are certain to notice a difference in traction while heading over to the next tee. Moreover, this pair of golf shoes is friendly to the course.
With 5gen cushioning, your feet will benefit from the luxury of having access to great technology. In essence, after a day out on the course, your feet will have been in an environment conducive to lower pain levels, as comfortability factors have remained high. These are budget-friendly. Moreover, they are made to be course-friendly, comfort-friendly, and stability-friendly. Add in the wide range of colors to choose from, and this pair of golf footwear is an ideal choice for pros and beginners, alike.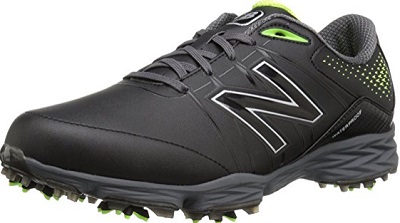 These golf sneakers are built to give you great traction while, also, maintaining course integrity. The TPU outsole promotes a firmer stance; thereby, allowing you to dig in while remaining course-friendly. In addition, the midsole offers a low 10-millimeter drop; thus, helping you to stay closer to the ground; a more-natural feel. Moreover, the New Balance NBG2004 are ready for action.
For those who are used to wearing minimalist golf shoes or are wanting to try them out, this midsole provides a low 10-millimeter drop. In addition, this midsole (originally, designed for runners) gives great cushioning, for that nice day out on the course.
The outsole provides great traction without tearing up the course in the process. In other words, this outsole is designed to be both course-friendly and to provide you with the traction you need; whether, in your swing stance or on your way to the next amazing hole. The price for this pair is fairly ranged within the concept of quality versus cost. They do range from mid-to-upper but are built well enough to justify the purchase price. As such, this pair of golfing footwear is definitely worth the investment.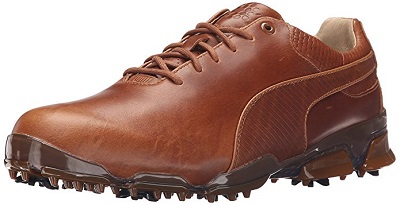 Golfing enthusiasts consider the PUMA Ignite to be one of the best golf shoes on the market. Thanks to the Ignite foam and the PWRFrame, the TitanTour offers nearly everything you could want in a shoe; including stability, comfort, breathability, and moisture-resistance. These golf shoes come about as close as a shoe can come to having the perfect balance between being soft and firm.
Thanks to the PWR Cool insole, the TitanTour Ignite never gets too hot or too cold. The insole was designed to keep the golfer's foot comfortable while regulating the temperature inside of the shoe. Only premium materials, such as full-grain leather, were used to construct the PUMA TitanTour Ignite. The premium materials guarantee the quality and durability, as well as its aesthetic appeal.
PUMA golf shoes always tend to be reasonably priced. When you purchase the Puma Ignite, you are paying for the PWR Cool insole, the premium materials, and the PWRFrame. The comfort and durability of the PUMA TitanTour Ignite are worth every penny spent on it.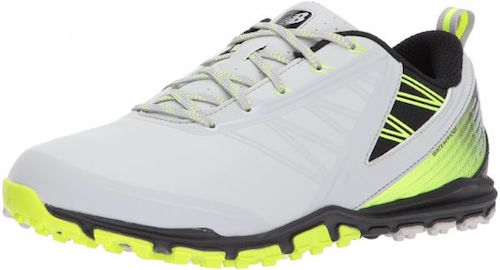 The New Balance Minimus is a pair of specialized golf shoes made with a lower drop that enables you to feel more connected to the ground. Available in a Tour and an SL (spikeless) version, it allows you to choose the option that fits your needs to a tee. Both versions feature exceptional comfort through an OrthoLite insole and a responsive but cushioned midsole.
Using an innovative foam compound in the midsole of the Minimus, New Balance gives you excellent cushioning in a golf shoe that is 30% lighter than models using traditional foams. In addition to being lightweight, these sneakers are also more flexible and will need less breaking in.
The SL version of the Minimus features no spikes, and is build on an NDurance outsole that features nubs which will connect you with the ground. An additional benefit is that you can wear them off the course, and won't look or feel awkward as you would with spiked footwear.
The New Balance Minimus models rank below average when it comes to cost, especially compared to the much more expensive models featured on this list. Nonetheless, the Minimus provides excellent quality and is a good investment for anyone looking for the best golf shoe that will work just as well off the course.

Subscribe to our Newsletter