Best Spikeless Golf Shoes Reviewed & Rated
In a Hurry? Editors choice: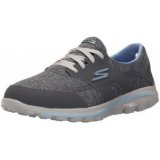 Test Winner: Skechers Go Walk 2 Backswing

You may or may not be aware of the usefulness of spikeless golf shoes. The reason to go spikeless may differ between golfers, but one significant benefit is to not have to worry about changing
your footwear
between holes due to changing terrain. While they don't offer as much traction as cleated designs, they allow much more versatility on the green. Another reason they've grown in popularity is for their ease of use off the green as well. A great spikeless golf shoe can be versatile enough to wear to lunch and on the street after 18 holes.
Standout Picks
Criteria Used for Evaluation
Terrain
We all know that spikes are great for traction on the golf green. Walking on grass or soft dirt is much easier when you have them to dig into the ground while you walk. The issue with spiked shoes, or cleats as they are also known as is that you cannot walk on hard ground so easily. Because of this issue, golfers who wear cleats onto the field will need to change them at one point or another or as the turf changes, or they wrap up the game. Spikeless golf shoes provide an easy solution for that problem. They typically come with an outsole tread profile that is sufficient or most grassy areas, but not too large to hinder your ability to walk on the hard ground. This makes them more diverse than their cousin, and much more preferable for those who don't want to waste time changing out of their shoes after play.
Comfort comes into play as well between traditional spiked vs. spikeless shoes. Yes, spiked golf shoes provide much better stability on dirt. They have hard cleats that effectively grab the ground beneath your feet. The drawback is that you're constantly aware of the hard material under your feet. To some, this can be unacceptable, especially those with foot problems or known to experience pain in the foot area.
Why? Because the stiffness of cleats will amplify any pain that is already there. Conversely, spikeless golf shoes are void of this hard material and spikes are replaced by a softer sole with lugs placed throughout for traction, but still allow more comfort when walking.
However, not all spikeless golf shoes are created equal. Each can vary in the lug design and construction, and depending on your particular needs in terms of comfort vs. traction; you may find one brand or build more suitable than others.
Materials
With each brand having a unique technology to beef up its shoe design and performance, this can vary based on brands. Most materials are made from a softer composite rubber that the regular spiked golf shoe, which creates more overall comfort when walking.
Based on preference, the patterning of the lugs positioned on the sole may help performance but could be potentially irritating based on the individual's foot sensitivity. Key points where lugs should be found are the toe and heel areas. Some shoes offer an option to have lugs place in the middle or arch region of the sole, but depending on the player's style, these may not be required for a solid performance.
You'll notice that some spikeless shoes will have larger lugs combined with smaller ones, or have a uniform lug design across the shoe. Those players who find themselves on varying terrain will appreciate lugs which can adapt to multidirectional torsion and pressure off the foot, making it a more versatile shoe for play. If looking just for a driving range shoe, the size and variety of lug may not be needed as much, and a more uniform size could be preferred. Think about where you plan to use your spikeless shoes before your selection!
Upper
A quality built upper with quality material is critical in any shoe, including spikeless golf shoes. With golf shoes, you also want to take into account that you may be outside when it's starting to rain, or you may be stepping through damp grass or bunkers. Depending on where you find yourself playing, you may opt for something that is weather resistant with less breathability, or maximal breathability and heat dissipation away from the foot. Despite the material, you want to make sure the upper is put together well, and properly joined to the sole.
Dry, Warm Climate Considerations
Go with a synthetic material of breathability on hot days, and a shoe which has some sort of moisture wicking ability to prevent overly damp feet. This allows cooling of the foot during play, but also can prevent a build-up of bacteria over time in the shoe, helping to cut down on unwanted odor.
Wet or Cooler Climate Considerations
Go with a fine leather for cool weather and water protection. Shoes that have additional insulation technology to help keep feet warmer with a padded insole or synthetic upper can all help keep you toasty during play. Synthetic or treated leather uppers also have a weather resistant attribute that makes playing in messier conditions easier. Cleaning the shoe afterward is easier as well, just use a damp cloth to clean off any grass or mud, and let them air dry.
Stability
Being lower to the ground with more surface to surface action, you'll feel much more secure, especially on more challenging terrain. Many spike wearers are often plagued by the uneasy feeling of wearing spikes throughout varying terrain conditions on the course. Spikes were designed to be stiff, so their presence is noticeable to the wearer. You can go all day with spikeless as their flat design hugs the floor nicely, keeping your sense of balance on point, and your game top-notch. Many spikeless shoes have dropped the distance of the foot to the ground, such as the ECCO Biom Hybrid demonstrates, keeping you closer and more balanced during play.
Shoes which have a solid heel base and thick heel sole can also give additional support and stability during the swing or a putt, and most of the spikeless shoes out there deliver this quality in their construction. A well-balanced shoe is also essential, as the physics of your swing performance depends on your base, and the ability to transfer energy, pivot, and follow through while minimizing slippage.
Slippage can happen between the shoe and the surface, but also between your foot and the inside of the shoe, both of which can throw off your game. A well-balanced shoe will allow for a snug fit across the heel and toe to prevent inner shoe slippage, as well as have enough traction to keep you firmly planted to the ground.
Comfort
Depending on the stiffness of the lug, the positioning of the pattern, and the variety of sizes used, you may need to determine how much comfort varies depending on these details. Guaranteed to be more comfortable than a spike shoe, spikeless shoes will be a step up in cushioning if you're used to playing in spikes.
However, those with sensitive feet, or foot conditions such as bunions, hammer toe, or heel spurs may want to consider the combination of the above when selecting the most comfortable spikeless shoe for their needs.
10 Best Spikeless Gofl Shoes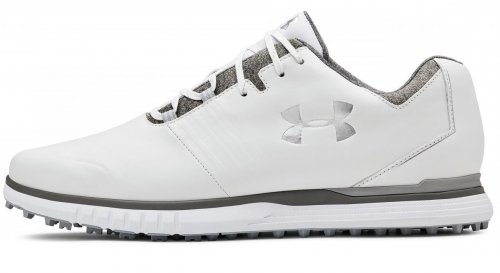 Yes, you will find other good Under Armour spikeless golf shoes out there, but none that compare to the Showdown. Although UA offers several other great spikeless golf shoes, they hit the mark with the Showdown. Attention to detail, combined with performance functionality and style, makes this shoe perfect for tee time and post green activities.
Under Armour has been known to have some unique looking shoes over the years, in all categories, and this is their latest in golfing. The look is what you would see on an original UA. They have a trendy incorporation with what some would call their signature style and contrasting colors. Their sleek look is perfect for nights out after a day on the green.
The Showdown is made on a platform made of a rebound foam that is both responsive and shock absorbent. Much more energy is also returned throughout each step, keeping a spring in your stride. This means walking around the course won't be anything more than a good time golfing. Depending on which size and color are selected, this shoe can range in averagely priced to slightly more expensive. Those with style in the forefront of their purchase decision for a spikeless golf shoe would choose well with UA's Showdown, with its clean lines, color options, and subtle stitching.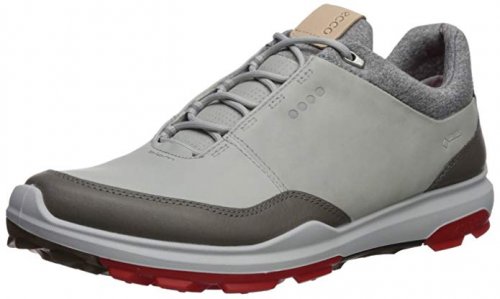 The Ecco Biom Hybrid 3 builds upon the design and popularity that its predecessor enjoyed. The hybrid design takes the best features from both spikeless and cleated shoes, such as superior traction regardless of terrain. This, along with the weather-resistant design and Anatomical Last Shape technology, make this one of the best to use on the green.
Ecco used a specially treated leather for the upper in the Biom Hybrid 3 to provide the best in water and stain-resistance. Yak leather is naturally water-resistant, and the HYDROMAX coating on it further seals it from both moisture and stains, making maintenance and cleaning easier.
Comfort is an important factor in any shoe, not just those for golf. Ecco's Anatomical Last Shape technology was created by scanning the feet of over 2,500 golfers, to ensure a solid fit, especially around the heel and midsection. This also provides the right amount of support you need for golfing. The Ecco Biom Hybrid 3 is a slightly more expensive option, but the durability and technical features make it well worth the investment. This is a great option for pros, or those willing to spend a little more money on a high-quality product.

3

. Skechers Go Walk 2 Backswing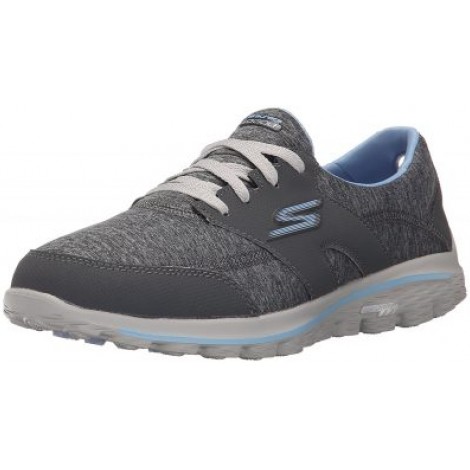 Skechers began exploring the development of sport and golf shoes not too long ago, and have made strides with their technology to bring a solid performance shoe to the market in terms of spikeless golf shoes. You'll see several on our list, but this one tops the charts for its combination of price, comfort, functionality, and style. Bonus feature—you can even go sockless with this model as it has an antimicrobial integrated sockliner!
In terms of a spikeless golf shoe, grip on the green can be found in the cleat panels, located on the outsole, and help control slippage. Side panels help give stabilization and lateral foot support. Laces help keep you firmly in place, and with a weight of fewer than 7 ounces per shoe, you'll be able to go the extra round without fatigue.
Don't want to wear socks? No problem! The Go Walk 2 Backswing has antimicrobial sock lining built into the shoe to prevent bacterial growth, even on hot days where you may perspire a bit more. Breathable jersey and synthetic uppers keep you cool, and with their patented Resalyte midsole to give a molded comfort to your step, these cushion your feet unlike any other brand. A thicker outsole along the heel provides further stabilization for solid swings. For a spikeless golf shoe, these come in less expensive than many performance brands, which is why it takes our number one spot on the list. With a variety of color combinations and the option for wide width fit, it's the intuitively smart purchase. Comfort and function are combined in the perfect design with the Go Walk 2 Backswing.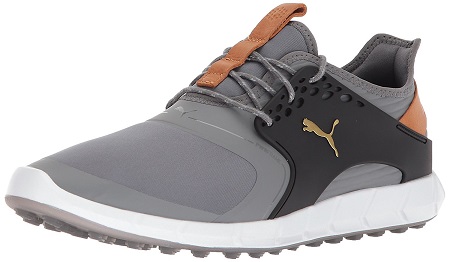 Featuring a breathable mesh inner and PWRCAGE support systems, the Puma Ignite Pwrsport perfectly balances stability and weather resistance with a light-as-air fit and a style that looks great both on and off the green.
Using a combination of 39 strategically placed hexagons and 24 chevron shaped lugs, the Puma Ignite Pwrsport are made to provide the best in multi-directional traction where it counts the most. This, along with the water-resistant construction, make these great for wet terrain and rainy conditions.
PWRCAGE Technology
Comfort and support is the name of the game with the Puma Ignite Pwrsport; namely the performance mesh, PWRCAGE support technology, and PWRFRAME reinforcement. The mesh works to provide sufficient airflow and keep your feet comfortable and dry even on humid days. PWRCAGE is an ultra-thin TPU support system that supports each section of your foot and provides a secure fit. The PWRFRAME support further adds reinforcement in high-stress areas in the shoe, enhancing durability no matter how hard you play.
Puma often fetches a premium on their product, but given the features that come in the Ignite Pwrsport, it is a worthy investment that will give you what you need to be on top of your game all the time.

5

. Skechers Go Golf Birdie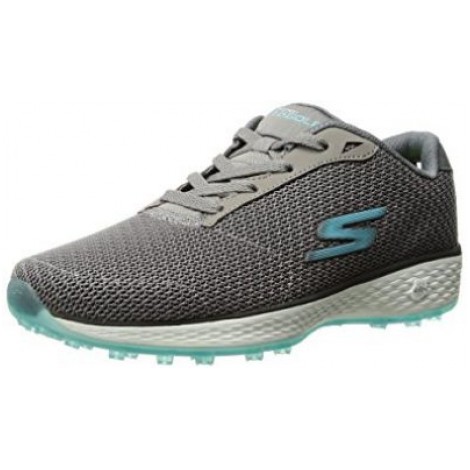 Slightly different from other Skechers models, the Go Golf Birdie has a unique split heel sole, giving balanced stability during your swing. Grippy traction studs are combined with a TPU outsole, and the mesh uppers will keep you cool and dry during warm days on the green.
Different elements you encounter on the course require that your shoe adapts to varying conditions. With the split sole heel design of the Go Golf Birdie, you'll have added stability in the heel on the uneven ground. Tractional soft spike studs keep you planted during play, and the thick TPU outsole is made to be durable as well as comfortable.
The Go Golf Birdie comes in a myriad of color choices, great for golfers who want style accompanying their game. The unique Goga matrix cushions the outsole design to keep your steps feeling plush and cushioned, and with a lightweight mesh upper, your feet will be cool from all around airflow during wear. The lace-up design keeps you snug into your shoe, and ready for tee off. Similar in price to other Skecher spikeless golf shoes, this is slightly more budget-friendly than other brands or models. Note if you are playing in messy conditions, this may not be suitable for wet games with it's mesh upper. Still a great purchase for those golfers looking to go spikeless, and intend to wear on those perfect sunny days.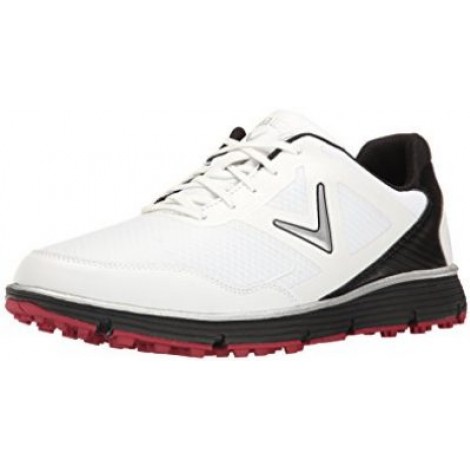 Callaway has created the Balboa Vent with a multi-directional studded sole to make sure traction comes first in this spikeless shoe. Having been in the golf business selling clubs and accessories for quite some time, the Balboa Vent is one of their great spikeless shoe options to consider. Made to be weather resistant yet breathable, you'll be able to last all day, and into the evening for post-game festivities with this shoe.
Technology has been coupled with comfort in this spikeless design shoe. Lightweight construction prevents fatigue if you choose to walk through all 18 holes, see in the Dura-weave mesh, which allows breathability as well. The mesh is surrounded by a 3D cage, to help keep you stable and supported during play. Their Opti-vent liner helps manage heat to dissipate it away from the foot to keep you cool.
The outsole of the Balboa Vent was made with durable rubber, giving cushion and support when walking or during play. The unique multi-directional lug design of the spikeless shoe gives you traction during pivots, uneven ground, or those awkward stances sometimes needed to chip a ball out of the bunker. Similar in price to our other budget-friendly options, the Callaway Balboa Vent is perfect for those intending to perform well without breaking the bank. The lug design of this spikeless shoe will keep you grounded, even playing through odd angles or chips. And with a minimal break-in period for these shoes, you can purchase, wear, and play without discomfort.

7

. Skechers Go Golf Elite 3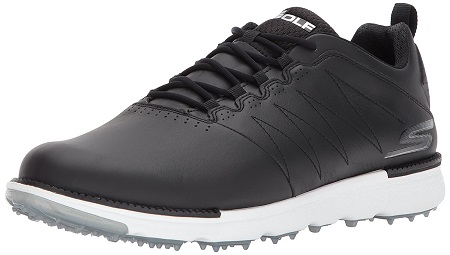 Skechers may sometimes get a bit of flack from sports enthusiasts, but if professional golfer Matt Kuchar can win an Olympic gold medal in them, they're definitely a good shoe. The Go Golf Elite 3 builds on the features of its predecessor, adding waterproofing and two different kinds of tread on the outsole for extra traction. While you may not win a gold medal in these shoes, they will definitely keep you on your game.
The outsole uses two methods to reinforce traction; narrow diameter nubs down the sides, and pointy triangles in the center of the outsole. The nubs along the sides are made to provide a solid grip on both flat land and varied terrain, and the triangles down the center look like miniature meat tenderizers to ensure a strong grip during forceful swings. This ensures that you will have a stable footing during your game, which can work to improve your overall performance.
The leather deco-stitched upper is made to be both durable and waterproof. Golf doesn't yield to rainy conditions or wet terrain, and these shoes work hard to keep your feet dry and comfortable. They also come with a two-year warranty, so in the event, the waterproofing fails, and your feet do get wet, contact Skechers for a replacement. Skechers is well known for offering high-quality products at affordable prices. Whether you're a beginner or a pro, the Go Golf Elite 3's traction and waterproofing features, along with the Resmax Cushioned Insole, will make them well worth the investment.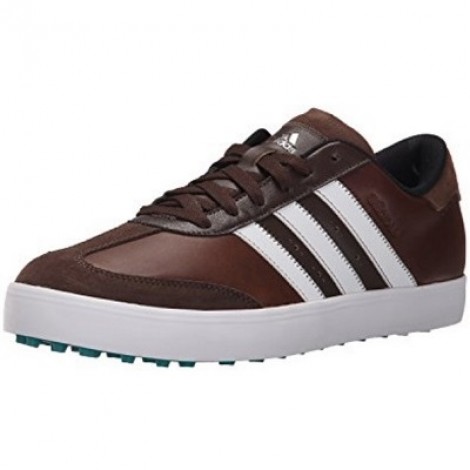 The Adicross V's flat outsole design with extra small lugs allows for firmly planting your feet in the correct position with complete support. A great supportive platform allows for a much more accurate swing and ball strike. Although these do not have spikes, they do well on soft turf for traction control. The small studs also allow for walking harder surfaces, perfect for when you're finished all 18 holes.
When you're out in a sprinkle or stepping through mud, the Adicross V won't hinder the ability to perform. The upper is made of leather, which is naturally durable and water resistant. If it's cold out, their comfort system (climastorm) will keep your feet insulated and warm. Great for those in climates where the weather can turn in the blink of an eye!
The Adicross V was created with leather uppers but still maintains a lightweight feel, so fatigue can take a seat while you play through. The traction lugs on the sole will keep you firmly planted through variable conditions in weather and green, and a lightweight cloudfoam sockliner will allow comfort for all-day wear. The thick rubber sole allows for added cushioning for continued play. While these can be slightly more expensive based on color options, they are a solid purchase for a spikeless shoe. Those who love Adidas will appreciate the bold logo contrast in styling. Made to be comfortable, durable, and stylish, they are a smart investment for those looking for a shoe that can be worn on and off the green.

9

. Adidas Tech Response 4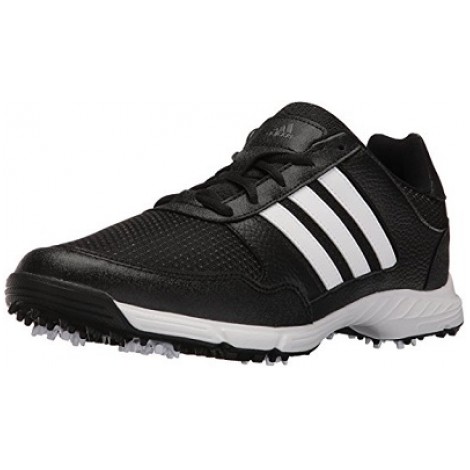 The Tech Response 4 is no stranger to the unique needs of the sport of golf. Knowing that the swing is one of the most important aspects that require stability and traction, Adidas has made a six-spike cleat to enable the best traction you can get. An EVA sockliner provides comfort throughout play, and durability is seen with the Adiwear outsole, creating a long-lasting spikeless shoe.
Packed full of Adidas technology, the Tech Response 4 was created with performance in mind. The Adiwear outsole is abrasion resistant and allows traction in wet or muddy conditions. The EXP cleats and patent Traxion lugs will help keep you stable, across all kinds of weather or green conditions.
A combination of textile and microfiber leather can be found in the design of the uppers, which gives the shoe a lightweight construction, and maximal airflow throughout the shoe to keep you cool. Available in several color and style options, it's a great street shoe as well as playing shoe. Similar to the PUMA, the Tech Response can vary depending on size and color option in pricing, but ranges from average to slightly more expensive on the list. With all the Adidas technology packed into this shoe, it's a smart investment for those wanting to step up their game in a pair of spikeless shoes. Traction control and stability on point, this shoe will have you swinging away in confidence.

10

. Skechers Go Golf Drive 4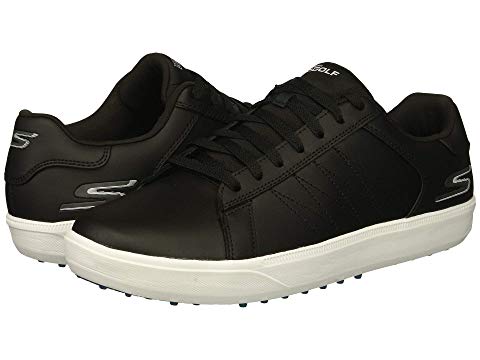 Sporting similar features to its predecessor, the Skechers Go Golf Drive 4 strives to build upon already established quality as opposed to adding new features. They feature the same water resistance as the Go Golf Drive 3, adding a Resalyte midsole for durable and comfortable support.
While not as water resistant as leather, the synthetic material used in the Skechers Ho Golf Drive 4 is made to withstand wet grass and light rain with ease. This will improve your performance and make wet feet a thing of the past. While they will slip more on wet grass than cleated shoes, the outsole is made to allow the traction and stiffness to avoid slipping when you swing. Sporting a lightweight Resalyte midsole and cushioned foam insole, the Skechers Ho Golf Drive 4 offers the best in comfort and support without negatively impacting weight or stability. This will keep you comfortable throughout the game, and the lightweight design allows for the freedom of movement you need to follow through with your swings.
Skechers are well-known for being affordable shoes, and these are no different. Coming in under $100, the waterproofing and support features make these a great investment for beginners or those who are budget-conscious.

Subscribe to our Newsletter