Best Shoes with Traction – 2021 REVIEWS
In a
Hurry? Editors choice: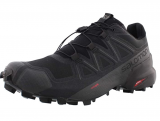 Test Winner: Salomon SpeedCross 5

Whether you're camping, hiking, running, or more, it's always a good idea to have a pair of shoes with excellent traction for maximized versatility as well as safety to prevent any slipping and sliding.

To select the shoe that's best for you, it's recommended you choose according to what type of terrain you'll be running on. Types include hard surfaces, soft surfaces, and the road to trail.

Additionally, we've featured plenty of all-terrain options if you plan on doing a bit of everything!
Standout Picks
Criteria Used for Evaluation
Materials
To create an efficient running shoe, the entirety of the shoe has to be high quality.
This is circular logic because one part of a shoe can't be composed of quality materials while others aren't. The shoe as a whole would suffer if this was such. Below are the parts of each running shoe and the materials utilized for each one:
Outsole:
In terms of this particular buying guide, the outer sole is the real meat of the shoes we'll be looking at. The modern running shoes in pretension to the bottom soles feature treads for traction and flex for protection from trails and road debris.
Blown Rubber: Cushioned, light, and flexible
Carbon Rubber: More durable than blown rubber and a combination of both materials are used in the outer sole.
Upper:
The uppers of the running shoe hold the foot in place while providing stability and protection from rocks and other debris. Usually composed of leathers, reflective materials, and mesh.
Midsole:
The midsole is considered by many the most important part of the shoe and is composed of three different sub-materials that each has its own function.
EVA: You may notice this material many times when browsing different shoes (not just running shoes) on Amazon. EVA stands for Ethylene Vinyl Acetate and it is essentially a foam type material used as a cushion.
Dual-Density EVA: When more density is added to a material, it obviously gets much stronger. Dual-Density EVA soles are made to help keep the foot in place and are considered the heart of the modern running shoe.
Polyurethane: Polyurethane is another material you may see used in many running shoes as well. The material itself is used for cushioning and is more durable than many of its counterparts but at the disadvantage of increased weight.
Style
The tread on the bottom of different running shoes is normally tailored to do different jobs.
A wide variety of shoes with good traction gives the buyer lots of options to choose from depending on what they're going to use the shoe for.
Road Shoes:
Road shoes are your city running shoes, which you'll use when roaming the streets. A typical road shoe will be well cushioned and will include treads that support the foot as running on asphalt is quite stressful. Examples include the Men's Sense Pro by Salomon and the Gel Venture 8's by ASICS.
Trail Shoes:
Trailing shoes are for mountain running and other such nature-type terrains. Typically trailing shoes will include added protection such as some sort of rock plate, and treads suitable for dirt, mud, grass, rocks, etc. Examples include the Peregrine 11 by Saucony, the X-Talon 210 by Inov-8, and the Wildcat by La Sportiva.
Obstacle Shoes:
Obstacle running has risen in popularity recently due to Spartan races becoming more and more prominent in the world of athletics. Obstacle courses typically include a mud run, rope course, and other various obstacles usually constructed from wood. Shoes suitable for this type of running have to fit tightly and have enough traction to support a multitude of different obstacles. Examples include the X-Talon 210 by Inov-8 and the Peregrine 11 by Saucony.
Traction
A really important feature you want in a running shoe is traction; the ability to grip the surface we're running on.
The driest, warmest, most supportive shoe won't ultimately help you run in winter or slippery conditions if it isn't able to stand up to harsh, often slick terrain. So, before you look for any other features in the running shoe, make sure the shoe you're buying has good traction.
Because you'll be running in grippy shoes, you don't need to consider buying crampons or shoe spikes and attaching them to your regular running shoes.
You'll usually be running on sidewalks or roads, so you won't need to look for shoes with spikes or cleats either. A shoe with soles that have ample grip will be sufficient for giving you the control you need when you're running on a cold or icy surface.
Breathability
This applies to train and boot camp, but it can also be applied to all other types of workouts, physical activity, or sports.
The right pair of footwear must provide sufficient ventilation for your feet to breathe.
The most obvious benefit is the reduction in unpleasant odor (we all know that moment when you come home from a long day, slip them off, and catch a whiff… mhm, home sweet home.). But apart from that, there's also the decrease in moisture and the reduced risk of harmful bacteria growing on the nice comfortable insole of your shoes.
The best material to provide breathability is mesh. Mesh is a type of synthetic material that is very light and flexible. Air can flow through it freely so that when it is found in the uppers of athletic shoes, the moisture from perspiration and any unpleasant odor is quickly filtered out to evaporate into the air.
Value
If there is one part of purchasing a product that consumers care about the most, it's the price tag.
While we all want to purchase the most valuable product, we don't want to be spending an entire paycheck to do it. With that being said, as we created this buying guide today, we carefully used the price tag as a means to measure the best products.
What we mean is: we noted what products were higher priced and lower priced. If they carried the value to match it, we included it on our list. We always wanted to make sure that, no matter what product you decided on purchasing (1-10), the value and price were matching.
9 Best Shoes With Traction Reviews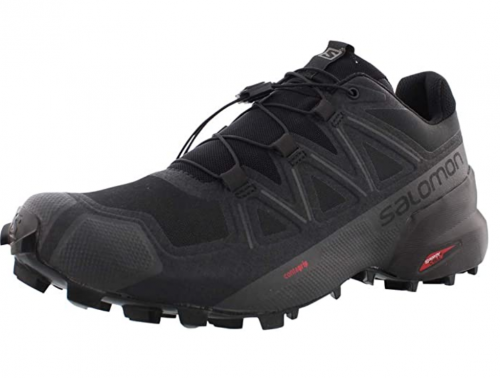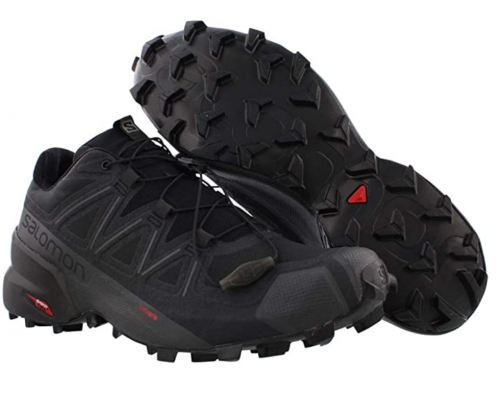 Salomon makes a wide variety of shoes, from tanky hiking boots to lightweight running sneakers. The SpeedCross 5 falls somewhere in between these two sides of the spectrum.
They feature a rugged outsole with aggressive treading, without it negatively impacting the overall weight of the shoe.
Contragrip is a material unique to Salomon and makes up a good portion of the traction on the outsole. This traction system is made with soft ground in mind, sporting arrow-shaped lugs that are evenly spaced out from one another.
This traction system gives you the upper hand on any kind of terrain, as these aggressive lugs are designed to penetrate and hold onto soft terrain.

The new and improved Venture 8 comes with a midsole and upper that has been completely redesigned. With comfort that absorbs shock, you can complete any trail with confidence. The outsole is rugged with multi-directional lugs for traction that'll boost any run you partake in. Also, the toe bumper is stitched down for a smart fit and the durable materials (synthetic) provide protection and comfort.
The cushioning system of the Venture 8 is constructed with a gel and is placed in the rear foot. This helps to reduce and evenly spread any shock received from an impact. You will have a transition to midstance that is smooth.
The sockliner is in place to give you a soft fit that conforms to your feet. However, you may need a little more. Therefore, the liner is removable allowing you to use any line of your choosing. Medical orthotics are great to use in the Venture 8 running shoes with grip.
To top it off, it falls on the lower end of pricing which is great for runners on a budget or beginning runners. The features, while very basic, are not low in quality and will give you what you need for a great traction run.
Not all grippy shoes need to be trail runners or hiking shoes. The Scarpa Mojito is a prime example of engineering at its best to keep you firmly planted on the ground, but with a better casual appeal to design. With its support technology and Vibram quality sole, this sneaker style shoe will have you stepping out to tackle urban and outdoor terrain alike.
Inspired by outdoor design elements, the uppers of the Mojito are softer leather, durable, and rich-looking in appeal. What we really like about this design is how the lace-up vamp goes from the toes instead of mid-foot, all the way to the collar by the ankle.
Inside the Mojito is a reinforced arch to help support and absorb shock, along with a foam cushioning created from dual-density EVA. Each step will be supported, cushioned, and easy. The base of the shoe sports a Vibram Spyder sole, and a lugged pattern sole for gravel or slippery surfaces.
Quality stitching holds it all together along with Italian craftsmanship from a long history of top shoemakers. Top it off with a padded tongue and collar for comfort, and this pair is ready for your next adventure!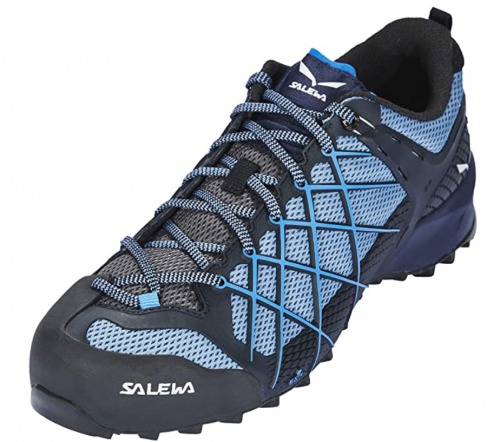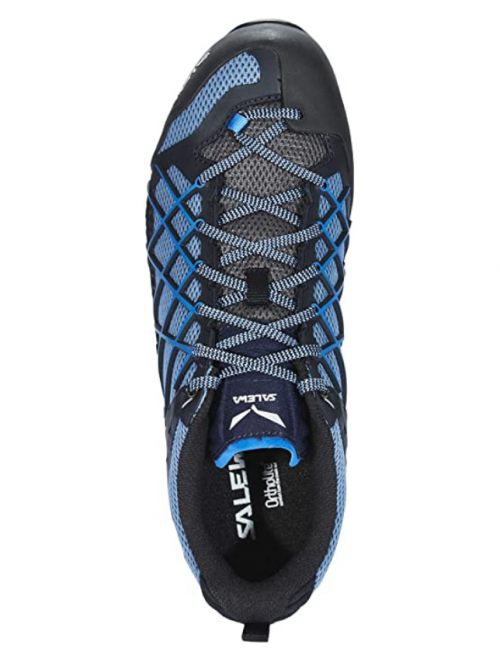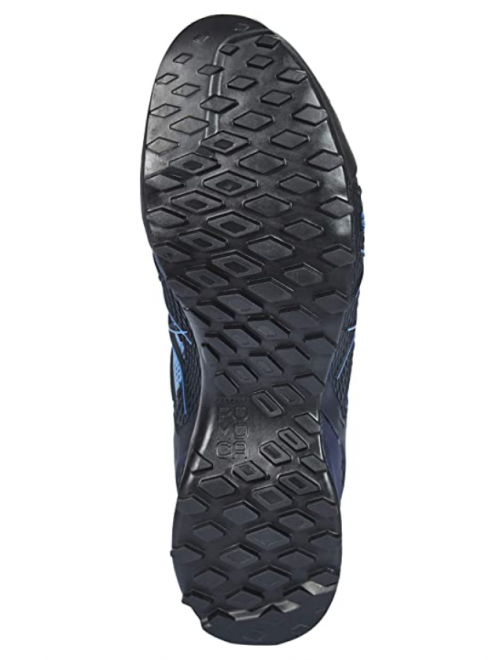 This hiking boot has a few quirky and functional design elements that not only make it rugged for an outdoor adventure but also keep you upright on steep slopes or slippery terrain. Packed full of Salewa technology, this boot can take a beating from terrain that threatens to slow you down. And if support or stability were a past issue for your boots, the Wildfire has EXA Shell technology to better support lateral stability and keep you secure and safe!
Built for the adventurer in mind, the Wildfire has superior technology to harness the elements encountered in nature. The outsole not only encompasses the boot but extends to the toe for superior grip against scrambles and climbing you encounter along the way. The sole also has a lug pattern tread for gripping terrain in wet or rocky conditions. With this pair of boots, no obstacle is insurmountable!
The uppers of the Wildfire utilize a mesh and EXA Shell that make it breathable but with firm support, sure to keep you going when fatigue sets in. An Ortholite footbed allows for cushioned comfort and support during your adventures, and patented 3F System allows for flexibility where you need it most.
For the adventurers out there, this is a boot you need to consider for your next pair when hitting trekking in more remote locations of the world!

The Peregrine 11 always pops up on our lists because it's one of the top shoes available. Constructed with traction in mind, the outsole is a PWRTRAC for traction that is dialed in allowing you to conquer all kinds of terrain available. Also, the EVERUN topsole gives you non-stop cushioning, supreme comfort, and top energy return with every step in your run. Traction plus comfort? Your run will never be the same again.
These good grip shoes are all about power and the PWRFOAM is a full-length midsole to give you a smoother ride with an additional rebound. In reality, the midsole is nothing more than a specialized EVA foam that is high quality. You'll have awesome durability too.
The PWRTRAC is made for you to grip all kinds of surfaces. From smooth and flat to rough and uneven. Even just taking a look at the traction on the outsole shows that the Peregrine 11 means business when it comes to grip.
The price is just right for the serious runner in you, not too low, nor too expensive. Due to the intense focus the Peregrine 11 has when it comes to traction, you might be disappointed in purchasing any other shoe based on price alone.
Inov-8 is a British company based in "England's Last Wilderness" that strives to create light and flexible shoes in order to create the best running experience possible. The X-Talon 210's are a staple in the running world as they are a popular choice among those in Spartan Races due to their unmatched traction and fantastic build, weighing in at just 7 Ounces.
As mentioned in the introduction, the traction on the X-Talon 210's is quite good. This is due to the 8mm sticky rubber studs that claw through soft terrain and hold firmly onto the harder ground, making this a perfect choice for all-terrain running.
The low weight of the X-Talon's compliments the natural movement of the foot, as well as prevents excessive fatigue when exercising for long periods of time, a great feature adding to the overall versatility of the shoe.
Although the X-Talon 210's are a bit more on the expensive side, it's no question why they're so popular among those participating in triathlons due to their fantastic traction and lightweight build. If you need something reliable that works fantastic on off-trail running, mountain running, or obstacle racing, these traction shoes are a great choice.
The latest iteration in one of Icebug's best-selling product lines, the Pytho5 features their signature BUGrip tread to ensure maximum traction. The ripstop nylon has been treated to be resistant to water, while the toe and heels sections are reinforced for extra durability and safety.
The BUGrip tread is probably one of the most well-known things about Icebug shoes. This specialized tread is made up of a series of either metal or rubber spikes spread strategically over the outsole's lugs. In the case of the Phyto3, rubber was used for these spikes. This tread system is designed to give you maximum traction on even some of the more technical trails, without compromising the flexibility you expect out of a running shoe.
Whether it's compression in the sole or damage to the upper, wear and tear is just a fact of life when it comes to shoes. While every shoe is going to break down eventually, some products have certain features to slow the process of them wearing down.
The heel counter and toe section on the Pytho3 high traction shoes have been reinforced with polyurethane, which is a rubberized material that is also often used in the outsole of a shoe. This can significantly improve the overall durability of the shoe.
Yet another Salomon product on our list, the X Ultra 4 takes the best features from their signature tanky hiking boots and their lightweight sneakers and puts them into a durable and supportive hiking shoe. The Contragip traction that is present in many Salomon shoes provides the traction you need for even the more technical trails, while the Sensifit technology ensures a secure and customized fit.
Contragrip is a technology that is present in a lot of Salomon shoes. This isn't a surprise, considering how well it performs. Contragrip is made up of multidirectional and geometrically-shaped lugs that "bite" into the ground beneath you, giving you stable footing.
Sometimes you want a hiking shoe that doesn't necessarily scream "Hey! Look at me! I'm a hiking shoe!" While function is more important than form in the case of traction, the form is still something that should be considered.
The X Ultra 4 features a more sneaker-like style, giving these trainers with good grip a clean look. After all, you're far less likely to wear a shoe if you don't like how it looks.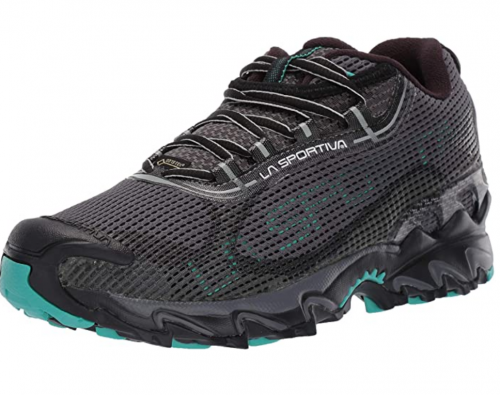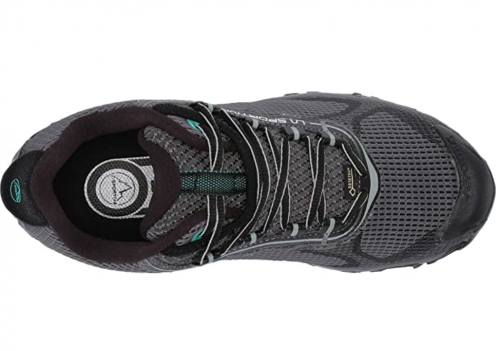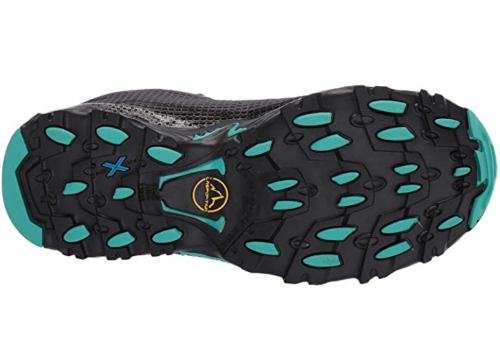 La Sportiva shoes are known to be fantastic trailing shoes and the Wildcat's are no exception. With the inclusion of well-cushioned inner soles, great ankle support, and vented mesh, it's no question why the Wildcat's are so popular among avid trailers.
The soles of the La Sportiva Wildcat's feature Grippy FriXion Technology that provides fantastic traction on uneven terrain. Additionally, the outsole bites into the trail and allows you to trek through areas which you wouldn't normally be able to with regular shoes.
In addition, the mesh uppers work to keep your feet cool as well as wick moisture while out on the trails. The mesh also works to prevent blisters without adding extra weight, overall keeping the entirety of these grippy shoes nice and light.
La Sportiva shoes are most likely going to be some of the more expensive shoes available on the market, but that isn't necessarily a bad thing. Quality materials are utilized in the Wildcat's making them a great long-term investment if you ever wanna do some serious trailing.
Subscribe to our Newsletter