Best Salomon Running Shoes for Road and Trail Reviewed
In a
Hurry? Editors choice: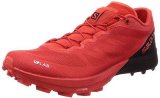 Test Winner: S/LAB Sense 7

Salomon is known among outdoor sports enthusiasts as one of the best brands when it comes to equipment, including shoes, clothing, accessories, and skiing and snowboarding items. Over the years they have built a great reputation by delivering only the best. Salomon running shoes are no different, and they have been worn by trail runners and hikers for decades. The reason they are so trusted across the globe comes from the fact that they are made with great attention to detail and are regularly updated to make use of the latest technologies when it comes to running equipment.
Standout Picks
Criteria Used for Evaluation
Terrain
Because trail running involves elements that are absent from being on road, including rocks, uneven terrain, sharp objects, or wildlife, it is only expected that footwear for the trail differs greatly from those made for the road.
Trail
Trail shoes will usually be made to be more protective, in order to help deal with any challenges you may be faced within nature. This may include more overlays for protection or less mesh to minimize the amount of water that can enter your shoes. Because dirt and concrete affect your shoes differently, the outsole and profile of the shoe will focus on different things. Additionally, you may find that your trail runners include Gore-Tex or waterproof liners which increase weight and would be unnecessary on the pavement. Overall, trails are much less forgiving and typically much rougher than on a road, and your shoe will need to compensate for that to give you the best experience possible.
Road
Road running provides less need for extra protection so shoes can be made with large portions of mesh on the uppers. Another factor that comes into play is the actual surface you are running on. You need as much airflow as possible for your feet when moving especially when on a hot road in the summer. Furthermore, the grip you need on the pavement is quite different from that you will require in dirt or mud, which means that the outsole of your road runners will be made quite differently, with rubber that is more resistant to abrasion and with less pronounced lugs. See below.
Traction for Dirt or Multi-Terrain
To be able to take on the trails when it gets rough, Salomon uses lugged outsole profiles on their shoes that are perfect for grabbing traction and biting the ground on dirt, mud, or snow. Some have a much more aggressive outsole profile than others, but all will share the same general purpose, which is to grip the ground. You will also see the multi-terrain shoes on which the outsole lugs are shaved off, or are less pronounced to allow for a blended transition between street and off-road terrain.
Protection
When out on the trail, you will run into a variety of items that may try to work their way into your shoe. This does not only mean that you will need water protection but you also need to watch out for:
Dirt
Dust
Mud
Leaves
Twigs
Bugs
Thankfully, Salomon features some of the best debris resistant features of all trail shoes. They also feature the slickest and most highly effective waterproofing systems in modern footwear, including Gore-Tex. To further seal off the inner side of your shoes, Salomon also includes built-in gaiters in some of their shoes, such as the Snowcross and S/Lab X/A Alpine models. Be aware that these features render any normal weather running or sunny day sessions out of the question.
Other protective tech included in the brand's footwear includes the ProFeel Film that prevents your foot from being injured when stepping onto sharp rocks, as well as different types of toe and mudguards.
Features
Another thing to keep in mind is that waterproofing and sealing a shoe greatly hinders its ability to regulate inside temperatures. The lack of airflow will lead to higher temperatures, which then leads to excessive sweating. Sweat will not be able to escape as easily and may lead to blistering and a build-up of germs. To avoid this type of problem, make sure that you wear shoes appropriate for the weather conditions you will be training in – not only will this make you feel better, but it will also prolong the lifespan of your favorite pair of runners.
Extra Protection & Durability
Proper protection for the trail may come in many forms. You will typically see shoes with toe bumpers, and thick overlays in order to protect from any obstructions. Because trail runners are beaten up much more than road shoes, to last as long they need to be built up with more layers or thicker, stronger materials. This means you will also have heavier shoes. There are some minimalist type trail shoes, but they are more for city parks or highly maintained trails. If you take not the not-so-beaten path, don't skimp on protection. Chances are you will fair much better out there with a little bit more weight.
Shock Protection & Cushioning
Inside the shoe, you will need more padding and should have an insole that is both supportive and cushioned. The midsole should also lend its hand in the comfort department. Some trail shoes will have midsoles made with EVA foam which is very cushion-like and absorbs shock very well. This means that the shock from the impact your feet make with the ground won't have as much of a toll on your tendons, muscles, joints, and bones (which ultimately means less fatigue and pain).
Midsole
The midsole is designed to provide cushioning and shock absorption to the shoe, nestling the foot in comfort. Whereas running shoes tend to have thick midsoles, flats and thinner shoes not designed for high-impact activities often have thinner midsoles.
The reason for this is simple: you need more shock absorption and vibration dampening during high-intensity movements or activities to maintain comfort and prevent foot injury than you otherwise would with a regular shoe, flat or sandal. Midsoles are often made from EVA (ethyl vinyl acetate), a synthetic plastic also used to make insertable orthotics. A firmer type of EVA for the midsole will make the shoe heavier, but more durable; whereas a softer type of EVA, like those found in running shoes, improve shock absorption, but wear much quickly.
Podiatrists tend to prefer firmer midsoles for those suffering from orthopedic conditions, such as plantar fasciitis. A higher score on the "midsole" criteria means that the midsole is of a firmer nature. Whether or not this is beneficial for you depends on your foot type and orthopedic issues!
Outsole
The outsole, or more simply, the sole of the shoe, makes direct contact with the ground and therefore supports the entire foot and body when in motion. Needless to say, a poorly-constructed outsole will lead to discomfort, slipping, and foot or other bodily injuries. For this reason, many manufacturers use materials that are water-, weather-, heat-, and impact-resistant.
Depending on the type of footwear, one will often see outsoles made from natural or synthetic materials, such as PVC, EVA, rubber, and leather. Each of these has its advantages, depending on the shoe's purpose; however, as a general rule, they each are resistant to the aforementioned factors. They are also flexible enough to support a proper foot cycle when in motion, but they are not so flexible that they feel like a pair of socks.
A sole made of the materials above tends to score higher on our product evaluations, as they are not only comfortable but also supportive.
Top 10 Salomon Running Shoes Reviews
Perhaps one of the most lightweight trail runners you can get, the S/LAB Sense 7 is a neutral shoe with great grip on all types of terrain. With a weight that is around 200g, it's ideal for long races, where you need both protection and breathability. Again, it favors a forefoot strike and has a minimal heel to toe drop of 4mm, with around 20mm of stacking height, great for most users.
A snug fit is provided in the upper, combining a single layer mesh which is highly breathable, with thin Sensifit overlays that connect the midsole to the Quicklace closure on the top of the foot. The internal Endofit sleeve is smooth, so you don't have to worry about badly placed seams, and it stretches to accommodate the shape of the foot, allowing for a customized fit. The collar features padding to protect the Achilles area, and a rubber toe cap protects the front of the feet.
The midsole of the Sense 7 is made with EnergyCell+ foam which is highly cushioned and responsive, while an additional layer is placed between the midsole and outsole in the form of a ProFeel film that protects from uneven terrain. The rubber on the bottom is Wet Traction Contagrip with aggressive, multi-directional lugs. In terms of price, this is another model that'll cost more than average. If you are looking for the best Salomon trail running shoes these are the model we recommend.
For a couple of years, the Speedcross 4 was one of the highest-rated pairs of trail runners you could buy, so it really comes as no surprise that the updated, 5th edition is a shoe worth checking out. Released in February 2019, this model has already managed to earn numerous positive reviews, mainly due to the fact that it keeps what worked best on previous versions, and updating the outsole for improved grip, as well as the upper for a fit that will work for a larger number of people.
The look of the Speedcross 5 is extremely sleek, and not something you would expect out of a trail runner. It's built out of a tightly woven nylon mesh that allows airflow but prevents debris from getting inside the shoe. Welded overlays ensure a supportive shoe that's durable and ready for rough use. As for the tongue and collar, they're padded for your comfort, while the already established Quicklace system allows for easy on and off, with a lace pocket that keeps the fit secure.
In the sole section, the Speedcross 5 makes use of Salomon's EnergyCell+ midsole which is a full-length foam unit with a good amount of shock absorption and excellent energy return. The biggest update is applied to the outsole in the form of Contagrip TA rubber that will work best on soft and loose terrain, giving you great traction through the sharp lugs. The insole is made by Ortholite and is removable, but it also gives you the industry standard in foot comfortability. As for the price, it's around what you'd pay for any other performance trail runner, making this a good deal on the whole.
A model ready for competition, but just as suited for everyday use as well, the Speed 2 is a pair of neutral trail runners ideal for those who want a performance fit with increased durability and a grip ready for muddy conditions. It's lightweight, being 260g, which isn't something you'll often find in this type of shoe. The minimal, 4mm drop favors a forefoot strike that allows runners to go faster.
The upper of the S/LAB Speed 2 uses the brand's Sensifit technology which aims at providing a highly customized feel all around the foot. The Material used is anti-debris mesh which gives a good amount of protection in less than ideal conditions, while the Feather construction extends the upper material to cover the midsole, giving a more snug fit than traditional shoes.
The midsole unit is made with compressed EVA which does a good job of preventing shock from traveling up the leg. Being compressed, it's less likely to pack than traditional EVA, is sturdy, and gives users a great deal of durability. The outsole is aggressive with long, sharp lugs that'll do well on wet, muddy terrain. In terms of associated cost, this is a model that'll require a higher investment, which is why it's best suited for frequent runners and those who compete.
If you're looking at running in unpredictable conditions, you may want to check out the latest edition of the S/LAB XA Amphib which is made for trail conditions that may take you through mud or even creeks but works well on dry terrain as well. Featuring some of the brand's most advanced tech, this is a truly unique model that is excellent for both competition and daily training.
The upper of this model was made with maximum breathability in mind, with a single layer mesh upper that will both let plenty of fresh air into the shoe but will also dry quickly after it's gotten wet. Covered by Sensifit overlays that are placed over the entire area of the shoe, you get a supported ride that doesn't stretch with use, but that doesn't retain moisture either. Made even better with the Quicklace system that allows easy on and off, as well as the convenience lace pocket, this is a great pair of footwear to have in your trail arsenal.
In the sole section, it features a dual-density midsole that's durable but provides the right amount of cushioning for varied terrain, while the ProFeel film protects from sharp rocks and other obstacles you may encounter on your run. The Contagrip outsole has sharp lugs that make this a versatile shoe, great for challenging terrain. In terms of price, this is another model that ranks high on this list, but it's a great choice for those competing in triathlon races.
The X-Mission 3 is made for runners who require a shoe that was made for multi-terrain use, namely for urban trails or road-to-trail changes. It's made with neutral arch support and a variety of materials that are all focused on providing a protective and comfortable fit. It'll work great for use in warm weather and in dry conditions (mostly dry terrain, no mud) thanks to the breathable mesh upper that provides a good level of airflow. Nonetheless, if you're caught off guard wearing the X-Mission 3 in the rain, the Contagrip outsole will ensure plenty of traction and grip on a variety of surfaces.
One of the best features of the X-Mission 3 is the way in which it fits the wearer's foot. With a Sensifit™ construction, it wraps up from midfoot to the laces, giving a snug and completely personalized locked-in feel, without being too constraining. The upper is made with a breathable open mesh that promotes a dry foot environment, while the Sensiflex™ stretch panels ensure that you can move freely, especially in the forefoot. Additional comfort features include an EVA shaped footbed that gives just the right amount of cushioning and support where you need it.
What differentiates the X-Mission 3 from similar-looking sneakers is the fact that it will perform well on a multitude of surfaces, and is perfect for those runs when you will have to transition from road to well-maintained trail. The outsole features Contagrip rubber that is placed in high wear areas and being a high abrasion material, it will look completely new even after a few runs. While the lugs may not be enough on technical trails, they will prove to be adequate even in wet conditions. The Salomon X-Mission 3 is the cheapest running shoes on this list and one that is highly versatile. This means that if you're looking at purchasing just one pair of sneakers, this could be your perfect choice. It'll work well both on-road and light trail, is durable, comfortable in the upper, and gives you the benefits of some pretty nifty tech features such as the Quicklace closure system.
The previous version in the Sonic RA Max line was lauded one of Salomon's absolute best pairs of running shoes, so expectations are definitely high for the second iteration. A stability road runner, this is a highly cushioned pair of footwear that is 100% focused on providing runners with a great deal of shock absorption, all while ensuring they get the responsiveness they require.
The surprising fact about the RA Max 2 is the fact that it's very lightweight, at around 280g (in the men's version), which is not something you often get out of stability shoes. Ideal for those with a low or flat arch, it helps support the arch through the molded Ortholite insole, stabilizing the foot and preventing issues such as Plantar Fasciitis. The entire base of the shoe is wide, and the EnergyCell+ midsole does a good job of preventing force from traveling up the leg.
As for the upper, it's made with a soft, lightweight mesh that allows for breathability, and welded overlays that ensure the structural integrity of the shoe, and help the lacing system in providing adequate stability in-shoe. A padded tongue and collar increase comfortability, while the outsole combines blown rubber in the forefoot with Contagrip FA in high wear areas for a great amount of traction and added shock absorption. Geometric Decoupling on the sole allows the smooth heel to toe transitions and is a great guidance system overall. As for price, this is another average product that is great for those who want maximum cushioning without the loss of response.
Made for higher altitudes, the Salomon XA Elevate GTX features plenty of protection that will keep you safe both from the cold as well as from rainy and muddy conditions. Made with Gore-Tex, the XA Elevate meets the industry standard in waterproofing, and will even be a great choice for those runs when you're not high up in the mountains, but want something to protect you from the rain. Available in three color options, it won't provide much in terms of style, but who wants that if you can have this level of protection and comfortability in a shoe that's just 11 oz.
Placed between the outsole and midsole of the shoe, the Advanced Chassis™ works to control your motion, ensuring a proper gait cycle, plenty of energy return and a better push-off phase, without sacrificing ground feedback that you need to perform your best. Coupled with the Profeel Film, it will give you a more stable shoe in the midfoot with excellent energy return properties that'll have you going for longer, with less fatigue.
Using the Gore-Tex Insulated Comfort Footwear technology, the XA Elevate GTX proves to be perfect for cold winter conditions where you may be working through snow and ice. It's a durable waterproofing system that will allow moisture generated from sweating to escape the shoe. However, do note that if you're going to be moving in deep snow, the use of gaiters is recommended to prevent it from entering your shoe from above. With a price that's high compared to most other items on this list, the XA Elevate GTX is not an investment everyone will need to make. Geared primarily towards those who run in elevated conditions, or during snow and ice, it features all necessary features to make the most of the cold weather. The outsole will perform great on a number of surfaces, ensuring a secure footing, and the weather-resistant cushioning will keep your feet healthy despite the low temperatures.
Equally loved by runners and hikers, the Salomon XA Pro 3D GTX is a versatile trail running shoe with solid waterproof construction and a protective upper. A stability shoe made for those with low arches, it provides ample support and helps prevent fatigue, allowing you to go further without experiencing any discomfort. It's a durable pair of sneakers that will work well in wet conditions and on wet surfaces, but note that it may not be suited for daily activity due to being a bit on the heavy side.
There are a few noteworthy features in the upper of the XA Pro 3D GTX. First and foremost, the shoe is made with Salomon Sensifit™ technology that provides a secure and supportive fit. The Gore-Tex membrane is flexible enough so that it doesn't hold you back, while the inner boasts many features aimed towards making your ride more comfortable. From a moisture-wicking OrthoLite sock liner, a molded EVA footbed and anatomically designed arch support. Furthermore, you will reap the benefits of an asymmetrical Quicklace system, as well as a protective rubber toe cap.
The XA Pro 3D features a dual-density outsole, making use of Salomon's EnergyCell technology and an injected EVA component. It's both cushioning lightweight and gives a good level of shock absorption and energy rebound. This shoe also features a 3D Advanced Chassis™ that's placed between the midsole and outsole and that gives a motion control component to an already stable shoe. This means that if you tend to overpronate, you will be encouraged towards a more neutral stance, saving your joints and back from the pain that comes from misalignment. Ranking below average for Salomon footwear, the XA Pro 3D GTX is actually more affordable than similarly performing stability running shoes with Gore-Tex waterproofing. It's a great investment if you need something with deep lugs that'll work on wet and muddy terrain. Plus, if you're into hiking, these shoes can be worn for that purpose as well, further making use of a good investment.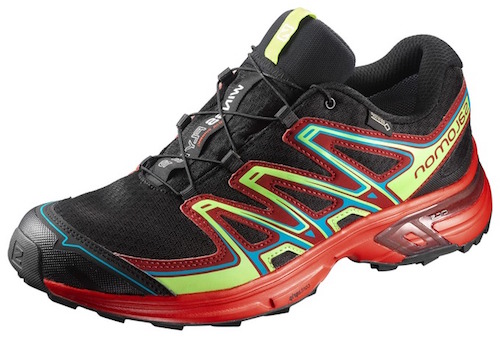 The second generation of the Wings Flyte GTX has so far proven to be a very reliable shoe for those looking at technical trails where they need a good combination of protection and flexibility. It's a waterproof sneaker that features Gore-Tex elements in order to prevent water from entering the shoe, but that still manages to be breathable enough to ensure a dry and healthy foot environment. The shoe has an improved grip compared to the first version while the quick lacing system permits the runner to adjust the fit quickly and hassle-free. The arch support has also been improved with unbeatable ground feel, while the Sensifit™ overlays provide the required stability and support for difficult terrain. Further, featuring an enhanced drainage system, the Flyte 2 is a trail champion fit for the most intense outdoor runs.
Featuring some neutral arch support, the Salomon Wings Flyte 2 makes use of an injected EVA midsole that absorbs shock upon impact, but that's not bulky or heavy. An Agile Chassis™ System adds additional support and stability, especially during descent, which means that you can run without having to worry about injuries caused by missing your footing. It's worth mentioning that this shoe also makes use of an OrthoLite sock liner that's cushioned throughout, and gives the perfect level of moisture management.
While the midfoot may be snug, the toe box, on the other hand, allows for a good amount of space for your toes to naturally splay, which makes the toe-off phase of your gait cycle so much more effective. Additionally, this will prevent any bruising, chafing or rubbing, and will provide for a higher level of airflow in the forefoot. You'll also be happy to know that the Wings Flyte 2 features a synthetic protective toe cap that will keep you safe from any rocks you may encounter during your trail run. Compared to other models by Salomon, the Wings Flyte 2 GTX ranks average, but it's definitely not cheap when compared to other footwear. Nonetheless, it's one of the best pairs of trail shoes you can invest in, especially if you need a waterproof design, and it will work even on more difficult, technical trails where most competing models fall flat.

A neutral trail shoe, the Sense Ride is one of the most lightweight models on this list. It's a superior pair of footwear that is completely focused on protecting you from the harmful shock that happens during impact, while still giving you a good level of traction mostly dry terrain and mixed weather conditions. In addition to the innovative cushioning system found in the midsole, it also works on the inside to give you the best possible fit, which you will easily customize thanks to the Quicklace system paired with the friction-free lace eyelets.
Finding a shoe that feels like it has been customized to your foot can be a difficult thing with all the variety of shapes and sizes. The endoFIT™ system wraps your foot in a sock-like sleeve that offers support in the areas that need it the most, namely over the upper of the foot. Paired with the Sensifit™ overlays, it'll ensure that your foot is securely held in place, without ever constricting it too much. The Toe box allows for enough room for your toes to splay, which contributes to the overall experience.
The thing that makes the Salomon Sense Ride such a popular choice is the type of cushioning used to absorb shock and give rebound. It features a midsole made with compressed EVA foam, EnergyCell+, a compound that aims at energy return, as well as Opal, a compound that is inserted into the midsole to provide cushioning that works in extreme weather conditions. Another notable feature is the Profeel Film chassis that supports the foot in the toe-off phase, giving you a more stable shoe to train in. The best thing about the Sense Ride is the fact that it's an affordable trail shoe with the performance aspects of its more high-end cousin, the S/LAB Ultra, but with a price that leaves $60 in your pocket. It's a great option for anyone looking for a versatile style, as well as those who want good trail performance, without all the bulk.
Subscribe to our Newsletter