Best Shoes for Standing and Walking on Concrete All Day Reviewed
In a Hurry? Editors choice: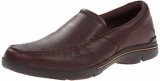 Test Winner: Rockport Eberdon

Are you the type of person that is constantly working around hard surfaces? Or, perhaps you're just a fan of urban exploring and roaming the city streets. If either description applies, chances are you are not a stranger to pains and aches in your feet, ankles, heel, and maybe even your lower back, which can come from walking on concrete a good bit of the day. What many people do not know is that the design that you wear can either support or hinder your everyday life. There are specifically crafted shoes for walking or standing on concrete! These styles can vastly improve your quality of life overall by reducing inflammation throughout your body that is a result of poor foot support.

Below we have our top picks for shoe best for walking on concrete or other hard surfaces. Take a look, and find one right for you!
Standout Picks
Criteria Used for Evaluation
Midsole
The key thing you will want to look at when shopping for shoes for walking on concrete is the midsole unit. As every pair of footwear is comprised of three parts: an upper, an outsole, and a midsole, you'll find that each of these parts plays a key role in providing comfort and protection.
The midsole is found in the middle of each shoe - more precisely, it is the area between the inside of the shoe that touches the bottom of your foot and the outside of the shoe which touches the ground. It is this area that houses shock-absorbing, cushioning, and supportive technologies, and can make or break your wearing experience.
When looking to purchase shoes for walking on concrete, you will want to invest in footwear made with a high-quality, shock-absorbing midsole. Your best bet would be to go with a pair of cushioned running or athletic sneakers, as these utilize lightweight, highly efficient materials, but you'll find great cushioning in traditional shoes as well.
Most manufacturers will use some form of foam for cushioning, whether it's classic EVA or a more advanced compound such as that found in ASICS GEL footwear. You'll also find that a rubber outsole or a foam insole can contribute to the cushioning effect of your midsole, so don't forget about those either when shopping.
In order to ensure the highest level of protection, you will want to keep a close eye on your midsole. Once it flattens or simply isn't as springy as it was when your shoes were new, it is likely time to purchase new footwear. Remember, a flattened outsole won't be able to absorb and disperse shock, which means that walking on hard surfaces will directly impact your bones and muscles, causing joint pain, fatigue, and even muscle or tendon injury.
Comfort
If you're after a great pair of shoes for walking on concrete, you will want to purchase the most comfortable design possible. While getting a great pair may seem easy, experience has shown time and again that a lot of things need to be considered before you actually find that one perfect pair. Here are our suggestions for things to look out for:
Insole: While the midsole of your footwear takes care of the greatest portion of shock-absorption, a soft insole can go a long way in providing additional comfort. The great thing about insoles is that they're inexpensive, and can be easily removed and washed. You can also prolong the lifespan of your footwear by replacing the insole every 3 months.
Breathability: If you're going to be a lot of walking, your feet are definitely going to sweat. This is why breathability is key in this type of footwear. If you know that you tend to get warm, or if you're looking for summer footwear, get something with mesh panels or breathability perforations that will allow cool air to reach your feet, keeping you at a pleasant temperature all day long.
Moisture management: Sweaty feet do not only lead to bad odors but can also be the cause of blisters and skin irritation. Ideally, you will invest in a pair of shoes with a moisture-wicking lining and wear them with some great socks such as the Rockay Accelerate.
Fit: Don't forget to check the fit of your footwear before purchasing. You want something that will leave room for your toes to wiggle a bit, but that will lock you in in the heel area to prevent in-shoe movement. For the best fit, it is recommended that you try the footwear on before buying.
Outsole
A great problem with shoes for walking on concrete is that they tend to get ruined quickly. Concrete is a highly abrasive material, and due to its level of hardness, it can wreak havoc on most foam and leather outsoles.
This is why we would recommend investing in footwear that features an abrasion-resistant outsole. Most of the shoes listed above have such an outsole, so you won't have to worry about them becoming unusable too quickly. Some manufacturers even have their own specially made compounds that prevent deterioration, such as the ASICS High Abrasion Rubber, Continental rubber used by Adidas, or even Vibram outsoles which are vastly popular with manufacturers of hiking and work boots.
Another thing you will want from your outsole is a good grip of the surface underfoot. This will be best achieved through the use of an effective traction pattern. Look for patterns that aren't too deep, but that has a number of grooves to provide plenty of traction. Some of the running shoes on our list, such as the Brooks Glycerin, feature flex grooves that serve a dual purpose - they allow the sneaker to better grip the pavement, but they also increase the range of movement you get while you wear them.
Support
While most people tend to focus on cushioning when it comes to shoes for walking on concrete, there's actually another factor that is crucial for ensuring foot health, and that is support. Under normal circumstances, the part of your foot which is in charge of absorbing shock is the tendon that connects your heel with the toes, the plantar fascia. When you walk on extremely hard surfaces, however, this tendon is often made to work overtime, which can cause tightness, inflammation and even injury.
One of the things that can prevent these issues is properly supportive footwear. Supportive shoes will hug the arch from beneath, giving it a surface to rest on, and preventing the plantar fascia from becoming overly stretched or tightened.
You can purchase shoes that already offer a certain level of support, but you can also make them work specifically for your needs by adding an insole made for your type of arches, or even custom orthotics.
This is especially important if you have flat feet, or suffer from plantar fasciitis, as it will prevent further injury and will keep you pain-free. Proper support can also help align your joints, which can help with knee or back pain.
Value
When shopping for footwear, most people will prioritize price. Which is completely understandable, seeing that we're talking about a product that cannot be expected to last forever. Shoes for walking on concrete will tend to be more expensive than regular footwear, and this has much to do with the materials they require. On the whole, shock-absorbing midsoles, as well as abrasion-resistant outsoles require your footwear to be made with higher quality materials than regular footwear, which is going to drive the cost up. Nonetheless, you can still get a great product if you try to shop for sales.
If you invest in higher quality footwear, you will find it will last longer than cheaper models. This means you will get more use out of it, which may even come down to a lower price per wear. For example, great work boots such as those made by Red Wing can last you for years, so even if you made an initial investment of $300, over a course of 5 years, this comes down to just $60 per year.
You should also consider the versatility of your footwear. If you can wear a pair of shoes on more than one occasion, you will get more value out of your money. Models by Rockport, Clarks, and Ecco are especially great, seeing that they can be worn both in professional and casual settings, allowing you to get away with fewer pairs of footwear in your closet.
Last but not least, pay close attention to the brand you're shopping from. In addition to fit and stylistic variations, certain brands will tend to be more durable, as well as to have better customer service and return policies than others. This way, you can make worry-free purchases you won't regret.
10 Best Shoes for Walking On Concrete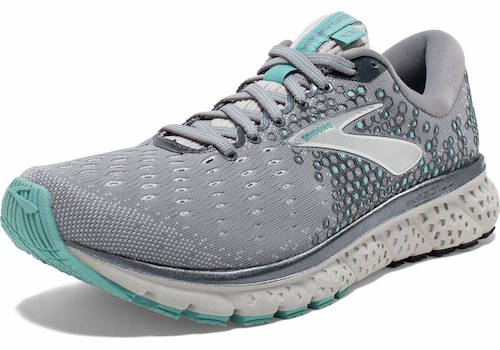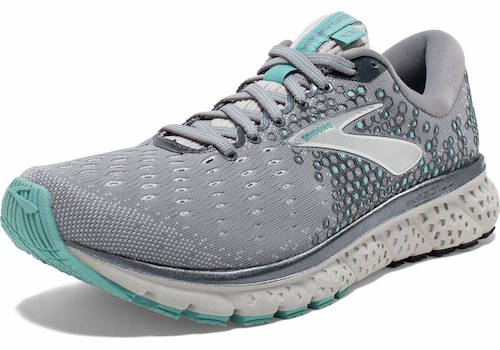 These running shoes are one of Brooks' most cushioned pairs of footwear made for those who want maximum protection for their muscles and joints. You can easily wear these every time you go for a jog, but may even be tempted to choose them as your go-to everyday sneakers. In true Brooks fashion, they come in a wide range of sizes, with normal and wide widths available. They can also be purchased in several color options, allowing you to get the most stylish look.
These neutral running shoes utilize a cushioning technology called DNA Loft which comprises the full-length shock-absorbing midsole. The heel is considerably thicker than the toe, offering greater impact protection in this sensitive area, and you'll find that the sneakers are lightweight and responsive, without losing flexibility. The outsole is made with a rubber compound that won't wear down on concrete, and it features flex grooves to maximize your range of motion. The inside features a removable OrthoLite sockliner which increases shock protection, but which you can also replace with custom orthotics if you find that you need higher levels of arch support.
The upper of the Brooks Glycerin 17 is made with a double jacquard mesh which was developed in order to offer runners the perfect snug-yet-comfortable fit. It will mold to the exact shape of your foot, seeing that the internal bootie is made with stretch materials, and it will provide support through external 3D prints that improve stability and durability. The tongue and collar feature some generous cushioning for a comfortable wearing experience, and the classic lacing system allows for standard fit adjustments.
The cost of the Brooks Glycerin 17 is quite high compared to the majority of footwear listed, however, it is important to keep in mind that this is a pair of athletic shoes made for people serious about their performance and their musculoskeletal health. It's highly recommended to anyone with a normal to high arch, as well as those who want something casual they can put on every day to choose these best sneakers for walking on concrete.

2

. Saucony ProGrid Integrity ST2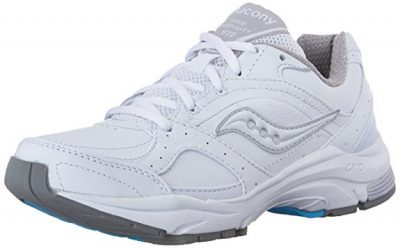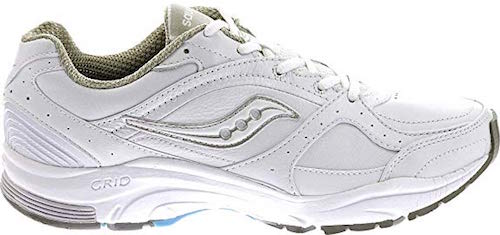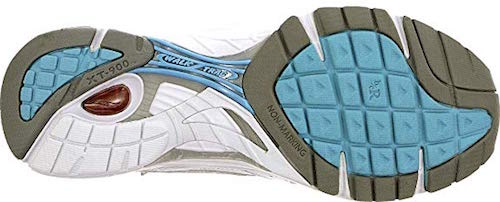 If there are shoes for walking on concrete all day that can challenge the number one spot and take the throne, it's the Saucony ProGrid Integrity ST2. To say the least, this product is outstanding. This piece of footwear features many different innovations that make Saucony the brand it is today. It is definitely on our list as the best women's athletic shoes for walking on concrete.
If there is one part about these shoes for standing on concrete that really deserves attention, it's the outsole. This brand carefully constructed the bottom part of the shoe, including a high-quality innovation known as XT-900. For those who are not familiar with the brand, this is their way to combat wear-and-tear and promote more durability. This significantly helps to extend the overall expectancy of this product.
In addition to the quality outsole, this brand also carefully designed these shoes for working on concrete from better-than-normal materials. The exterior portion of the shoe is made from full-grain leather, which is typically only used by only the best brands in the industry. Additionally, the outsole is made from the very best of rubber materials, alongside other patented innovations. The interior part of the shoe is padded and made from comfortable and soft materials to promote the very best experience when walking on concrete all day.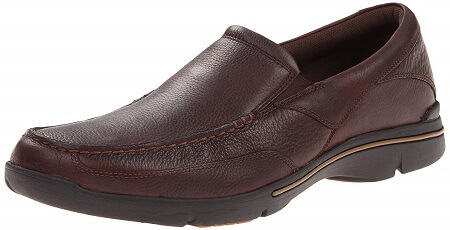 Based out on New England since its inception in 1971, Rockport knows a thing or two about making high-quality shoes, especially for walking on concrete all day. The Eberdon is a comfortable and stylish loafer that comes in a surprisingly wide range of sizes and width options, making them appealing to more people. They also feature a beautiful and durable leather exterior that never goes out of style.
We love shoes like the Eberdon that come in a wide range of sizes. While a 10 is the average shoe size for an American man, there are a lot of people who don't fit the average. This is where a wide range of sizes comes into play. The Eberdon ranges from 6.5 all the way up to 14, including half sizes and a few width options. Do note, however, that these run slightly small, so it's advised to order at least a half size up for the best fit if this is a concern for you.
Leather has been used in the making of shoes for thousands of years. In 2008 a well-preserved leather shoe was found in what is now Armenia and is estimated to be over 5,000 years old- older than Stonehenge! While leather shoes nowadays aren't likely to see five millennia, leather is still one of the most durable and sought-after materials for shoes for walking on concrete. Leather also boasts a certain degree of native water and stain resistance, and with the proper care, a pair of high-quality leather shoes will likely outlive the wearer.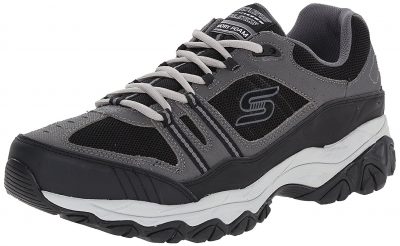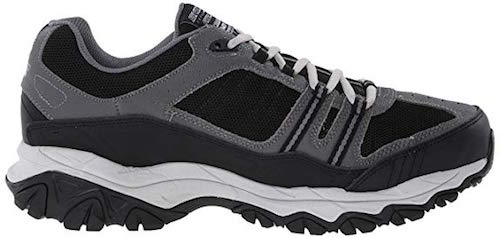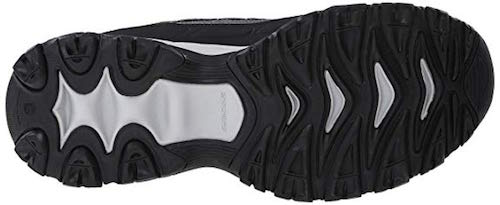 At the pinnacle of the footwear market for walking on concrete, it goes without question that the king-pin of shoes for walking on concrete would be at the top. Skechers has built a reputation and a knowingness among consumers that they understand walking. So, it should be no surprise that the Afterburn Memory-Foam shoe is the go-to choice and an exceptional pick for walking on concrete. Here are two highlights and what you can expect, should you get these shoes for standing on concrete.
Let's first talk about support. When walking on concrete, consumers need constant support; otherwise, their feet and lower backs will begin to ache. This specific model was designed with an insole made of the widely popular, memory foam material. This padding is known to provide an extensive layer of padding for the individual. If that's not enough, there is even extra padding in the upper!
Whether you are working on concrete or walking around, heat can build-up in the shoe, causing the foot sweat, moisture to develop, and an odor. To avoid any of these three circumstances of occurring, this brand designed the shoe to be breathable. We can see this by the mesh materials used in the upper, alongside the ventilated or perforated materials in that region as well. What makes this brand such a popular choice among consumers is the fact that, oftentimes, these shoes for working on concrete are quite inexpensive. In fact, when it comes to today's list, this product is considered one of the most cost-friendly choices, which is great news for many readers. No wonder these sneakers got on our list of best shoes for walking on concrete all day.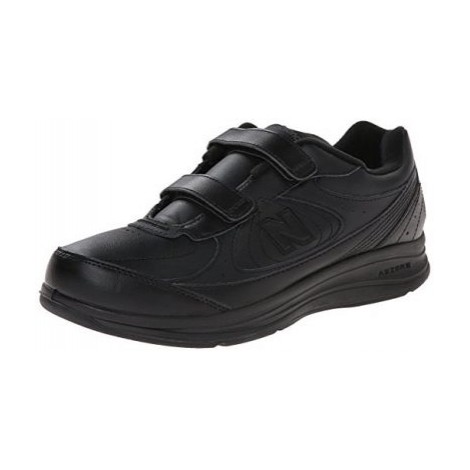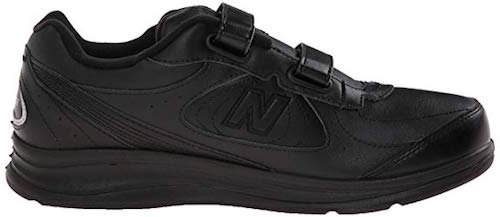 In the market today, one of the most popular and trendy footwear choices is the New Balance MW577 shoes for walking on concrete all day... but they are also your but everyday wear. In truth, any product made from New Balance typically becomes a trendy shoe thanks to the quality and unique innovations. This product captured the attention and hearts of consumers because of its unique outsole, which was designed for a walker, and the ample cushioning and padding to make daily walking more enjoyable.
As we said above, there is a lot of padding and cushioning in these shoes for standing on concrete all day. The collar and the tongue are specially designed to provide the individual with more support and comfort, while also keeping the top part of the foot in place and firm. Additionally, the midsole has something known as ABZORB. This is meant to help an individual when walking on concrete. Match these with the polyurethane materials used in the midsole region and you have one impressive New Balance shoes.
What really helps a shoe last for many years is the way the outsole is created. This brand carefully constructed the bottom of these shoes for walking on concrete all day. This can be seen based solely on the Walking Strike Path, which is a notable feature of the outsole. This is simply the brand's way of assuring consumers that these shoes for working on concrete all day can withstand daily walking on concrete and will not show signs to wear and tear or lose traction along the journey.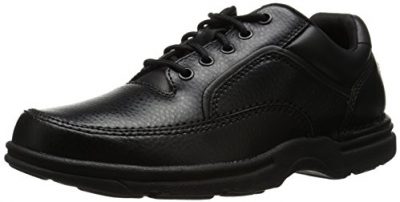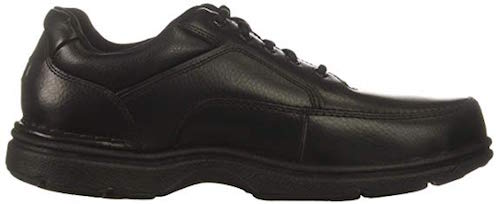 In the outdoor industry, Rockport is easily one of the most recognizable and infamous brands, known for quality, durability, and consistency. The Rockport Eureka walking shoes are just a testament to this reputation. Here, it's evident that these are good shoes for walking on concrete – and that can be seen just by looking at the materials and design of the shoe. Here, let's explore two specific facets regarding this product.
The first feature that we want to share with you is all about the padding and foam embedded into the product. If you have never worn a pair of this brand's shoes before, you will be captivated by the plush and padded tongue, which keeps your foot still and comfortable while walking on concrete. The inside part of the shoe also had a latex foam on the bottom to help provide walkers with even more cushioning, especially when walking on concrete.
What really captured our attention was the unique style and flair of this shoe. Typically, walking shoes have the same sort of look and design; however, this brand took a brand-new direction with their model. The company refers to this style as the San Crispino design, which promotes both comfortability, stability, and flexibility.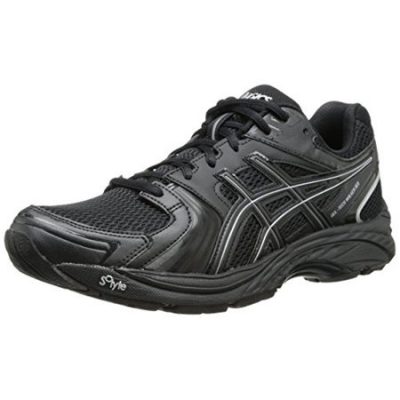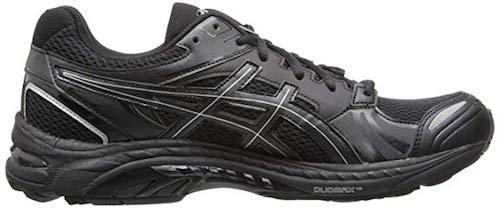 Walking on concrete or hard surfaces can really cause some pain and damage to one's feet, ankles, and even lower back. This is where the ASICS Gel-Tech Neo 4 come into the picture. These shoes for walking on concrete all day are, without question, one of the best pieces of footwear in the game today. While they are not the most ascetically pleasing shoes – they are packed with value and great for walking on concrete.
Let's talk about breathability for a minute. When walking on concrete or pavement, it can cause stress and tension on your feet, and a build-up of moisture and heat. In efforts to keep your feet dry and cool, this brand infused mesh lining into the exterior portion of the shoe. Additionally, this area is also padded and lined with more mesh material to help further improve the ventilation in the area.
One of the most important parts of a shoe is the midsole. This is meant to provide the cushioning and support that an individual needs on a day-to-day basis. This brand designed its midsole with something known as SoLyte. This is a lightweight innovation that provides the walker with enough cushioning and padding to walk the entire day with minimal discomfort, especially walking on concrete. So if you are searching for the best tennis shoes for walking on concrete these might be your perfect choice.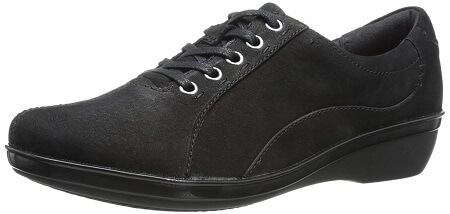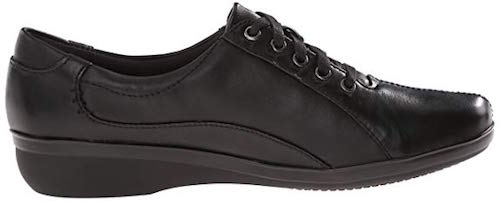 This oxford from Clarks shoes for working on concrete all day features an athletic-inspired silhouette with a modest heel for a little extra lift. While they're only offered in one color option, you can choose between nubuck and traditional leather if you have a preference. They're also outfitted with an Ortholite insole, which is one of the most sought-after technologies used in regards to comfort, critical for walking on concrete all day.
What is Ortholite, anyways? Ortholite is an open-cell foam that is somewhat similar to EVA but is used for the insole rather than the midsole. This open-cell design allows them to properly manage airflow and wick moisture to keep your feet dry. Ortholite is also eco-friendly, containing 5% recycled rubber. Unlike traditional insoles, Ortholite has a long-term compression rate of less than 5%, meaning they will last longer than traditional insoles. You'll be walking on concrete, pavement, roads, and trails till your heart is content!
The insole of these best women's shoes for walking on concrete isn't the only part of the interior you should look at. The lining can make a big difference in the performance and comfort of a shoe. These oxfords sport a soft fabric lining that works with the Ortholite insole to keep your feet cool while offering you the comfort to go all day. This is why these are on our list of 10 best shoes for walking on pavement or concrete.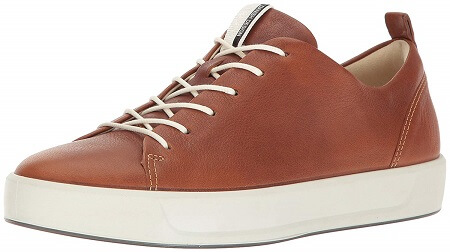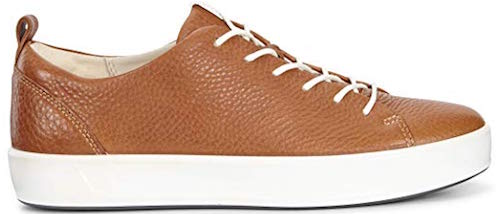 Sometimes simplicity is the ultimate sophistication, and that is the case in the Ecco Soft 8 sneakers. With a wide range of colors and a contrasting rubber outsole, these shoes for standing on concrete are made for concrete with a classic and minimalist style. Of course, the aesthetics aren't the only strong point of these shoes. They boast a durable and stylish leather upper, a two-component outsole, and just the right amount of flexibility.
The outsole is the foundation of the shoe. It is a large factor in shock absorption, flexibility, and overall durability if you find yourself walking on concrete the greater part of the day. The ideal outsole is going to offer enough flexibility to move with your feet and support them properly while being rigid enough to protect your feet from rocks and other sharp objects without excessive wear.
We talk a lot about the performance of a shoe, but the style of it still plays a big role in how appealing they are. The Ecco Soft 8 is available in six color options, from basic black and white to soft pink and metallic silver. This wide range of colors will appeal to any style and go well with any outfit.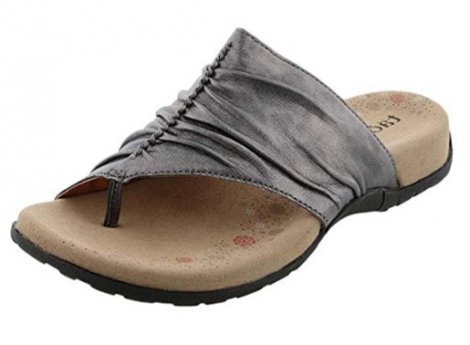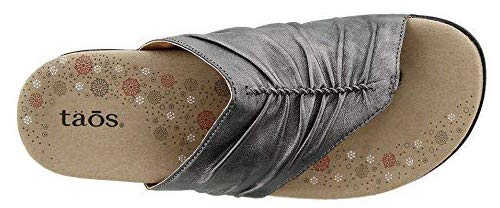 Now, while this particular shoe isn't typical of many others you see on our list of the best shoes for walking on concrete, it has all the comfort design features to make even hard surfaces feel pillow-soft. The Taos Gift 2 is a sandal, which allows for a breathable and lighter weight option for walking on concrete or other hard surfaces. It has support features to help absorb shock and provide a cushioned ride, with solid traction at the sole to keep you upright. If you're in search of an option that is perfect for summer months, check this pair out!
Uppers of the Taos Gift 2 are soft leather, which gives it a wonderful on-foot feel against the skin. They wrap around the entirety of the top of the foot, so you'll have minimum flopping from the sandal when you walk. A rubber outsole gives some cushion to your steps while walking on concrete, and the sole has a patterned base to provide traction on more slippery or wet surfaces. Soft microfiber lines the sandal so your feet stay happy.
This pair was made to walk on concrete or other hard surfaces! Metatarsal and arch supports have been built into the design to give added stability and cushion. This helps to align your foot properly and provide some shock absorption. The footbed has Silvadur antimicrobial treatment, so you won't find this pair harboring nasty bacteria from wearing in humid conditions. With its thick padded and cushioned footbed, the Taos Gift 2 is an alternative option for shoes for standing on concrete.

Subscribe to our Newsletter