Best Shoes for Tennis Reviewed & Rated
In a Hurry? Editors choice: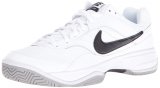 Test Winner: Nike Men's Court Lite

Tennis is a sport which is about control and performance. The correct footwear in a sport like tennis will not just mean looking the part, but even more, tennis shoes have the function of protecting you from injury and allowing you to perform at your maximum. With a lower profile than most athletic shoes, the soles on tennis footwear are made to provide good traction on outside courts. A good pair of best tennis shoes will provide you with enough cushioning and shock absorption so that you don't feel any discomfort or pain in the feet or joints, and they will be durable both in the upper as well as on the sole area.
Standout Picks
Criteria Used for Evaluation
Outsole
Tennis is a sport which requires fast thinking and lightning fast reflexes. Quickly starting and stopping, moving at a high speed in one direction only to change that direction in a millisecond requires you to have an outsole which is sturdy and provides you with a good grip of the surface underfoot. It is the soles of your shoes which can protect you from injuries such as sprained ankles or Achilles tendon injuries, so this is the aspect of the shoe you will need to consider the most before making your purchase.
Tennis shoes will have hard rubber outsoles with a wide footprint in order to provide a stable and secure grip, while the traction is usually given by the tread pattern. You will see that most tennis shoes have a herringbone tread pattern as it performs excellently on all types of surface, both concrete, and clay.
Second, you need to look at the type of rubber used on your tennis shoes, as harder surfaces will take a bigger toll on the outsole. Some manufacturers such as ASICS and Adidas use high abrasion rubber which is supposed to last longer and be able to take more of a beating, ultimately providing you with a long time of wear. Other manufacturers will use their own rubber compounds which are just as effective in giving you the required traction and durability.
Some manufacturers take into consideration the parts of the shoe which deteriorate the fastest and add stronger elements in order to ensure an even wear on the whole of the shoe. Toe guards are such a feature and are inserted into the shoe in order to prevent the uneven wear which happens when players drag their toes during serves and volleys.
Overall, you can expect a pair of tennis shoes to last you about 60 hours of play, after which you will start seeing signs of wear, flattening of the tread and a decrease in the level of grip you get from your shoes. Once these signs of wear start to show, it's important that you replace your shoes. Playing with worn out soles is not just going to make your play less effective, it can lead to serious injury which could prevent you from playing for weeks or even months.
Comfort
The midsole of your shoes is the part which ensures that you get the required stability, support and cushioning that allows you to play at the top of your game.
What to look for:
A good pair of tennis or court shoes will have plenty of shock absorption to help when landing with lots of impact prevention, helping to keep you from putting too much stress on your ankles and knees.
You can look for shoes with EVA foam midsoles, as this is a material which is lightweight and excellent at shock absorbing and is most often used in all types of athletic footwear. Additionally, EVA won't weigh you down, which will allow you to develop greater speed without developing fatigue due to a bulky shoe.
You want to protect certain parts of your feet, adding cushioning which can not only improve your comfort levels but can help your spring and even prevent injuries to specific parts of your foot. Depending on what you like to have in your shoes, there are plenty of options to choose from. From ASICS' GEL cushions which are located in the forefoot and rearfoot to the Nike Air Zoom heel insert or the Adidas Adiprene insole.
One more thing you may want to look into before purchasing a pair of shoes is the type of arch support they provide. A player with low or weaker arches or those who suffer from plantar fasciitis will need shoes that can give them better support features, or have removable insoles so they can insert their custom orthotics. The ASICS GEL-Resolution 7 or New Balance 806 will both do great when it comes to arch support, and are worn by players who need to ensure they don't put too much pressure on the tendons on the bottom of their feet if they want to avoid pain at the end of the day.
Other places where you might want to have cushioning, are the tongue and collar of your tennis shoes, which can ensure that you don't injure your Achilles, don't experience any rubbing around the ankle, and can tighten the laces on your shoes without experiencing any discomfort.
Materials
The upper material of a tennis shoe needs to be both supportive and flexible, to allow you to move freely, without letting your foot slide around, especially during fast cuts. Tennis shoe manufacturers are aware of the demands of the game and have taken up the task of creating uppers which are both strong and supportive, keeping the foot steadily in place, but also soft and flexible to prevent any rubbing or discomfort inside the shoe. Also, with difficult physical activity comes perspiration, so it is important that your chosen tennis shoes can breathe well without making your feet feel like they're in a pot of boiling water.
Sports shoes today will usually feature perforated uppers, and this is the case for most of the items on this list. You may also look into the lining material of the shoe, as you will want a mesh-like textile or synthetic which will wick away moisture and feel soft to the touch. Some of the shoes on this list have linings which have been treated to prevent the development of odors, which is a great addition to have in your next pair of athletic footwear.
Materials to look for:
Mesh
Knits
Denier
Perforated Leather
Perforated Synthetic Leather
Also, you want to pay attention to what type of socks you are wearing. Sweaty feet from hard practices lead to a plethora of problems for your feet. From itching and burning athlete's foot to that awful odor that always seems to creep in. Merino Wool is one of the best moisture wicking materials for socks, and it does an excellent job of keeping your feet nice and dry.
Use
When selecting Tennis footwear, you also need to consider the sole material. Different courts require different shoes. You may only play on hard courts, such as concrete, but if you're going to be making your way across grass and clay as well, then you'll most likely need a couple of pairs of shoes.
Dirt or Clay: This type of court requires a lot of traction. This is because what you are on is soft and shifts under your shoes. Slick bottoms can lead to injury on this type of surface. Also, you want a shoe that offers lateral support when playing on a soft surface. You want to look for a zig-zag tread. This pattern doesn't allow build up in your shoes which in turn helps you to move easier throughout your games or practice.
Grass: Grass courts are not as common as the other types. Therefore, you don't find as many options for this type of shoe. Like most sports played on grass you need a cleat type shoe that will dig in for fast movements. Grass courses play very quickly which means you will need to react quickly and make quick turns and movements without slipping. While it is possible to use a hard court shoe for a soft court, when it comes to the shoes you wear on a grass field you are not going to be able to transition them onto another surface.
Concrete: Concrete surfaces are most commonly seen in the world of Tennis. There are different feelings when it comes to hard surfaces. Some may be rough and play a bit slower others may be quite smooth, fast, and slick. Shoes built for concrete or hard surface will have more cushioning in them to absorb shock and keep your ankles, feet, and legs feeling great. You will also find that these shoes have a sturdy toe area as hard surfaces tear shoes up. You need durability within a hard surface shoe. There are two main types of hard surface shoes, one is for speed, and the other is focused a bit more on durability and comfort. Concrete shoes are also the most versatile and can be worn on clay surfaces quite easily.
Value
The price of a shoe can sometimes be a deal-breaker. That's part of the reason why footwear manufacturers invest time and energy into creating cost-effective technologies to incorporate into their shoes to make them durable, long-lived, versatile, and inexpensive.
Durability & Longevity
Footwear, usually, lasts more than a few months, because shoes that are going to fall apart after a few months of use aren't worth the investment of more than a few dollars. Leather and synthetic overlays can be used to make the shoes more durable without sacrificing flexibility. Firm leather or synthetic uppers provide durability and support.
Versatility
Great footwear can be used for more than one activity. Walking and running shoes, for example, can be used in some casual sports. Stylish athletic footwear could be used in informal work environments. Sandals can be used in casual and semi-formal settings. The more situations you can use the shoe in, the more value it offers for the price.
Maintenance
Good footwear is easy to maintain and clean. They don't require a lot of expensive shoe treatments or time-consuming upkeep. Shoes that need a lot of effort, time and money to maintain, don't sell as well as shoes which are easier and cost less to keep.
Removable inserts
As mentioned earlier, removable inserts in footwear make it customizable, but that's not the only bonus to removable inserts. Removable inserts increase the longevity of the shoe, which is why some come with removable inserts.
Cost
A hefty price tag can be a deal-breaker for people on a budget. That's why many can be found in the low-to-middle price range. They're affordable, and if they are priced a little higher than others, then they offer many features to make the footwear worth the extra investment.
10 Best Tennis Sneakers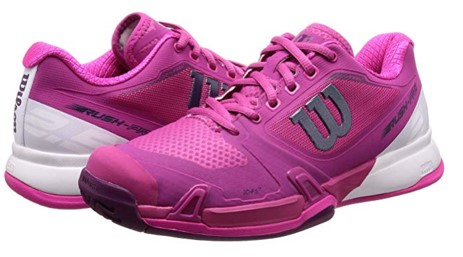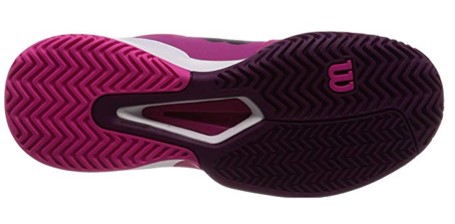 For those who play an explosive and fast style, the Wilson Rush Pro 2.5 is a natural choice. Updated in terms of color to follow the latest trends, this shoe gives you everything you would expect from a name that goes hand in hand with tennis. With the brand's successful Sensifeel technology, the Rush Pro 2.5 combines comfort with stability for the best possible results. At 13 oz it's a lightweight shoe that'll feel like an extension rather than a weight at the end of your training sessions, making it a great choice for those who like to play long and full out.
The Rush Pro 2.5 gives you great responsiveness so that your feet can naturally adapt to any step. Additionally, you'll find that the 6 mm drop is the perfect amount for when you want to build speed, providing more effective acceleration than most other models on this list.
Using specially developed technology that provides stability from the arch, the Rush Pro 2.5 gives you torsion control so that you can remain certain that even during fast lateral movements, your feet will remain supported.

2

. Adidas Ubersonic 3 Clay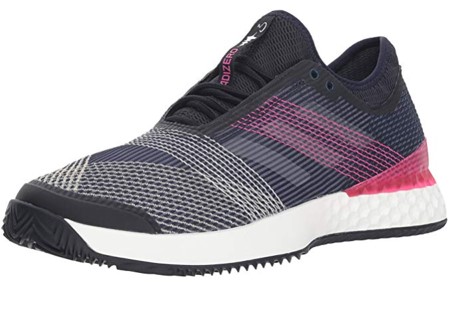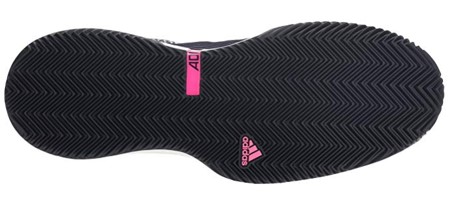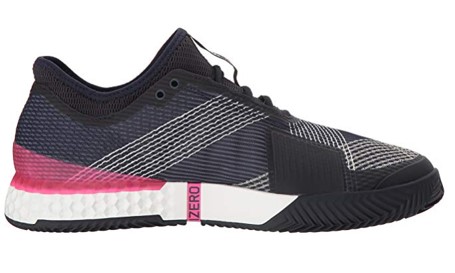 Specifically designed for court play on clay, the Ubersonic 3 is packed full of Adidas technology to help you feel supported during matches, to perform your best. With an upper that's textile and synthetic, this tennis shoe keeps a lighter weight, helping to reduce foot fatigue. It also has structural elements in the upper woven in strategically to provide support for lateral and linear movements. With it's grippy textured rubber sole, you'll have great grip and traction on the court, all in the comfort of Adidas cushioning and comfort.
Uppers are unique on the Ubersonic 3, consisting of Dyneema yarn which has been strategically woven together in a pattern that helps the shoe's structural form. Support is found with this system,, helping to keep the shoe flexible during movements, but supported during stress or high force. Inside, you'll find a molded sockliner that helps add a comfortable in-shoe feel and a lightly padded tongue. With a weight of only 13 ounces, you'll help keep foot fatigue at bay with this lighter weight tennis shoe and keep energy up for the next bout.
Support can be found with the PU midsole that runs the full length of the sneaker, while the lace-up vamp helps provide a custom, secure fit. Adiwear 6 outsole provides extremely durable protection from wear and tear on and off the court, while the textured sole secures grip and traction during play. This pair should absolutely be on your list of contenders for a new pair of best tennis shoes for women!

3

. ASICS GEL-Solution Speed 3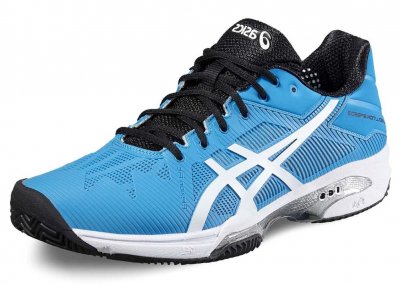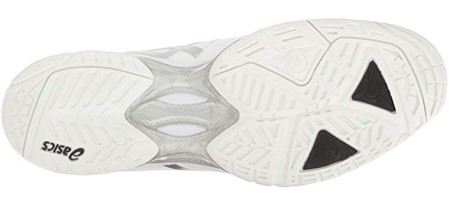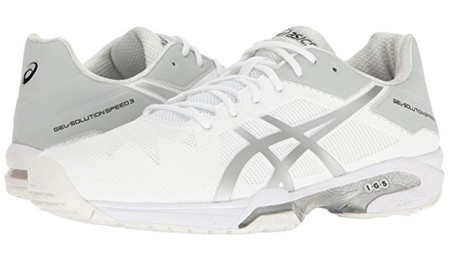 These performance-oriented Tennis shoes are an improvement on one of the most popular models of tennis footwear, chosen by professional and advanced players, as well as those who want to have the best possible features when on the court. Featuring plenty of cushioning and ASICS' specially developed technologies focused on providing good support and a comfortable fit, these shoes are a great, lightweight Tennis shoe that will take your game to the next level.
Much like the GEL-Resolution 7, the GEL-Solution Speed 3 also features a FLEXION FIT upper for a flexible but stable fit around the entire foot. The Personal Heel Fit collar is another great addition for maximizing comfort and support throughout the upper, while locking the heel, thus preventing any slippage and lowering the chance for injuries or painful slips.
The outsole of the GEL-Solution Speed 3 features a High Abrasion Rubber outsole with a herringbone tread pattern made for excellent traction on all types of courts, while the PGUARD toe protector reduces the wear in the toe area which is a great feature if you are a player who tends to drag their toes while playing.

4

. Adidas Courtjam Bounce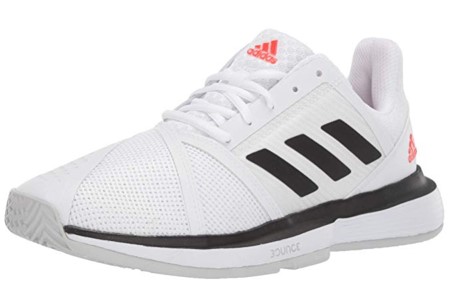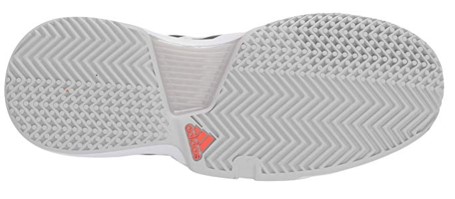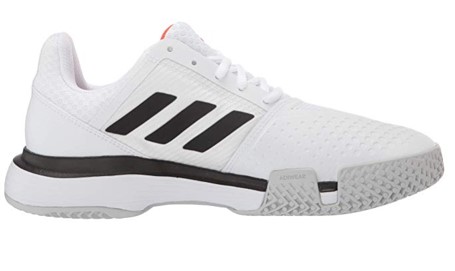 The Courtjam from Adidas is the next step in evolution from the Adidas Barricade, but upgraded with Bounce technology for better cushion and comfort. The structural design that has gone into the sneaker allows for lateral support while maintaining a lightweight feel, with toe protection in the front for those hard shuffles and stops. Low cut around the ankle joint, it allows for maximal mobility in the ankle to get around proficiently on the court. If you've been a fan of the Barricade, you should consider the Courtjam as the next step in your tennis shoe evolution.
Uppers on the Courtjam Bounce are a combination of textile and synthetics, allowing for a lightweight feel and breathable comfort. Mesh uppers provide airflow into and out of the sneaker so feet stay cool and dry in the heat of the match. Synthetic material helps give structure to the upper, wrapping along the outside and across the foot and toe, allowing for lateral support. A tall heel is padded for comfort and Achilles tendon protection and support, while the ankle joint can freely lmove without hinderance from the sneaker.
A think rubber sole provides the ultimate in traction, while lace up vamp locks you inside for a secure fit. The toe has added Adituff protection, helping to prevent abrasions and scuffs from hard stops or shuffles. Adiwear outsole helps keep the shoe intact and durable, even after long hours on the court during tough competitions. Top it all off with Adidas' Bounce technology, and this tennis shoe not only performs exceptional, but also keeps your feet cushioned and comforted.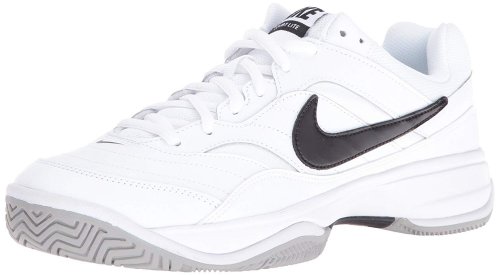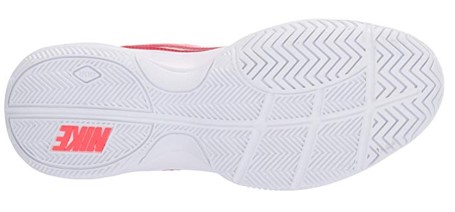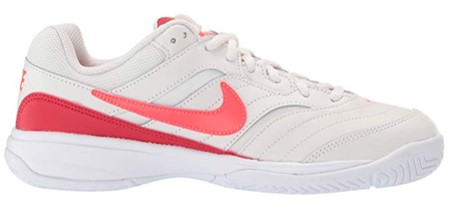 Named after the winged Greek goddess that leads soldiers to victory, Nike is heavily invested in creating top-notch products for athletes and casual folks alike. As the name implies, The Court Lite sneaker is designed with a full-length Phylon midsole, which properly supports your feet without adding extra weight to the shoe. A mesh tongue reinforces breathability, while the full synthetic upper provides the right balance of comfort and durability, no matter how hard you play.
With any sport, your shoes are bound to take a beating. So, it's important for them to be durable. A durable shoe will last you far longer, allowing you to get more value out of them. The Court Lite is made with 100% synthetic materials that are designed with durability in mind. There is also an added layer of material covering the toe section to reinforce abrasion resistance. These are one of the most durable tennis shoes on the market.
We mentioned the Phylon midsole before the jump, but what is it really? The Phylon midsole is a technology unique to Nike shoes, and the manufacturing process involves heating up compressed EVA foam and then allowing it to cool in a mold. Because these lightweight and low-profile midsoles are molded, they can be made into a variety of shapes to support any foot. If you are thinking of purchasing the best Nike shoes for tennis this is the model that our experts recommend the most.

6

. ASICS GEL-Resolution 7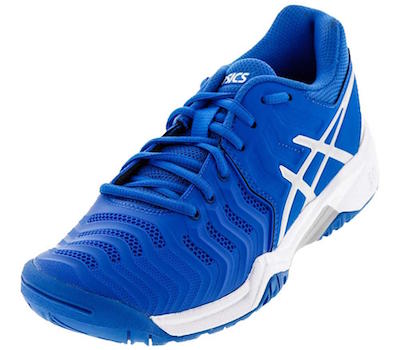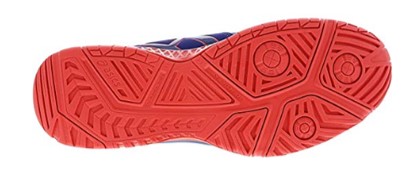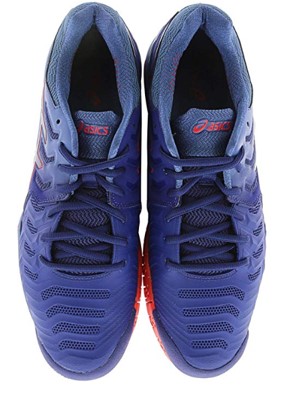 The successor to the already amazing ASICS GEL-Resolution 6, the next version takes all the features that make the six such a popular option among professional athletes to a whole new level. This shoe gives you excellent flexibility; this means that athletes will no longer have to sacrifice stability or support. In the front of the shoe, the toe protector has a high abrasion rubber sole which ensures long use. This product is even covered by a six-month warranty for excessive use.
One of the things that distinguish ASICS athletic footwear from other brands is the gender-specific forefoot and rearfoot GEL cushioning that is there to absorb shock from forceful impact and to allow the best possible for your foot to move over multiple panes all throughout the gait cycle. All this comes with the added benefits of a SOLYTE midsole which is supportive, but lighter than EVA and SpEVA foam midsoles.
The 7th edition of the ASICS GEL-Resolution saw most of its improvements in the way the upper fits your foot. The upper is updated to include the FLEXION FIT UPPER which provides form-fitting comfort and gives a good amount of support throughout the entire foot. The heel is fitted with 2 layers of memory foam which line the collar in order to provide a fully customized heel fit that molds to your foot. These are without a doubt one of the best tennis shoes for men on the market today.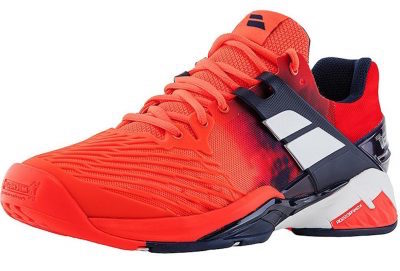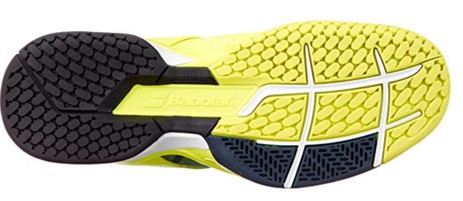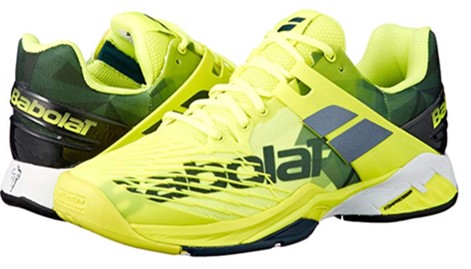 The Babolat Propulse Fury is a pair of tennis shoes that completely focus on providing the highest possible level of comfort through an innovative upper that wraps around the foot and offers excellent support and stability throughout your practice sessions. Offering a natural fit and a good amount of cushioning underfoot, these are good shoes for aggressive players who need a pair of footwear that will accommodate their style of play. These shoes are available in an all court and a clay version.
One of the best features of these shoes is the Ortholite insole which provides excellent cushioning underfoot, and good arch support, best suited for players with medium and low arches. The upper breaks in fast, making these shoes flexible and very comfortable for wear, even for players who have a wider foot and need more room in the toe area. The higher shoe collar improves lateral support.
This pair of shoes will have you riding low to the ground, enabling to get a better feel of the court while maintaining a high level of stability through the TPU cage which wraps up around your foot. This is especially important for aggressive and fast changes of direction when you need your shoes to securely hold your feet to prevent any slippage or even injury.

8

. Asics Mens Gel-Dedicate 5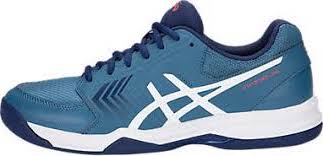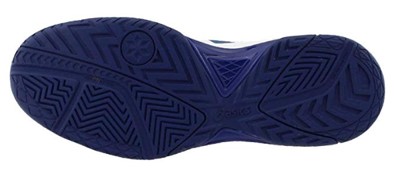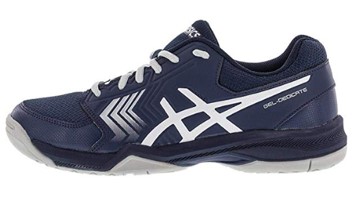 This is one of those court shoes you want in your arsenal during cooler days. The synthetic, flexible upper does not allow for great airflow; a desirable component in cool weather. There is good traction and the shoe is built to handle abrupt changes in movement. Furthermore, the gel cushioning system promotes better shock attenuation during propulsion.
This system is in place to reduce the overall weight of the outsole without reducing the overall integrity of the design. Furthermore, the structure remains solid enough to make these shoes last through the season. Flexibility is a must-have feature when evaluating the sudden stops and starts found in pickleball/court play. The upper does not disappoint, in this regard. It is not, however, a shoe for summer, as there is little ventilation. On the other hand, it is perfect for cool weather play.
 
These shoes are great for cool weather play; but more importantly, this is a pair of shoes which is budget-friendly. As such, you cannot go wrong with this pair of pickleball and court shoes.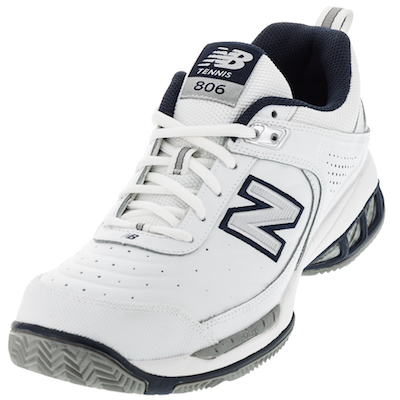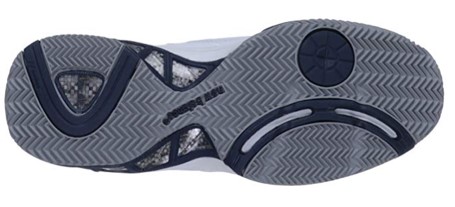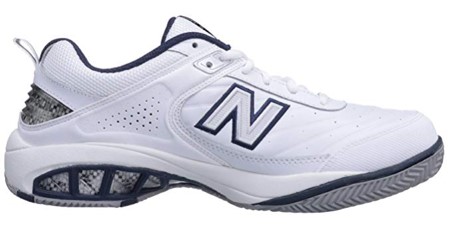 "We don't make our shoes to fit an image. We make them fit." That's the philosophy New Balance lives by, using their money for research instead of endorsements from professional athletes. And it seems like their research has paid off. The MC806 is a pair of tennis shoes that are solely focused on stability and support and is perfect for playing on hard courts. With plenty of cushioning and shock absorption, these shoes are made to bring your game to the max without having to worry about slipping or rolling an ankle.
These shoes are made to cushion each of your landings, minimizing the force of impact your ankles and knees would otherwise take from the hard concrete court. ABZORB cushions made of foam and rubber can be found at the front and back of the MC806, while the compression molded EVA C-CAP midsole offers support that some people love so much they even wear these shoes like a pair of casual sneakers.
These New Balance tennis shoes feature the specially developed ROLLBAR, a posting system found at the outsoles on the back of the shoes to help minimize movement of the heel. This helps maximize control of your feet and minimizes the chances of rolling your ankles. Also, the NDURANCE rubber outsole gives excellent traction and wear time on all surfaces.

10

. K-Swiss Hypercourt Express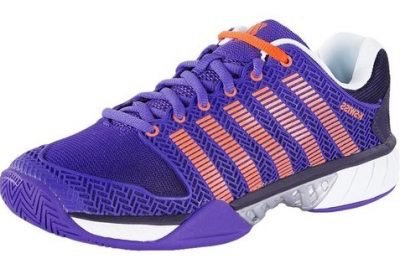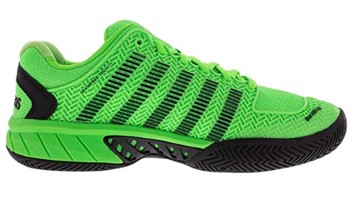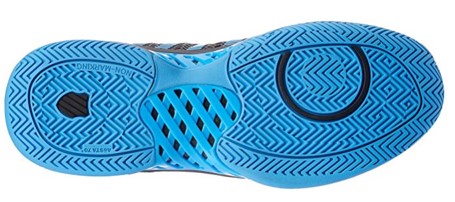 The Hypercourt Express by K-Swiss is a lightweight tennis shoe, featuring a specially designed upper that is meant to offer performance and comfort without creating too much bulk. Perfect for players with wide feet looking for a shoe that enables sleek and fast play, the Hypercourt Express by K-Swiss is an excellent choice for those who want good ventilation and comfort while being ready to sacrifice durability for a little less weight.
The best feature of these shoes is the upper which was constructed with K-Swiss specially developed Seamfree technology which bonds layers of a TPU cage on a breathable mesh, creating a completely seamless, lightweight and breathable upper that will perfectly wrap around the foot, providing a flexible, but very stable fit. The ankle collar and tongue provide plenty of padding, eliminating any pressure points or hotspots that might appear with other shoes.
The die-cut EVA foam sock liner found in the Hypercourt Express provides the perfect combination of cushioning and arch support and is a good choice for players who wear custom orthotics, seeing that when the insole is removed, plenty of space will still be left for their own inserts. The heel is lined with a non-slip material, preventing any heel slippage inside the shoe.

Subscribe to our Newsletter