Best Crocs Shoes Reviewed & Rated
In a Hurry? Editors choice: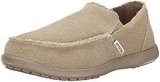 Test Winner: Santa Cruz

The first thing that comes to mind when someone mentions Crocs shoes is the incredible comfort their Classic Clog offers. However, the brand is so much more than its most popular product. They offer a huge variety of footwear made for different types of use, from water sandals, professional clogs, athletic models, and even those made for everyday wear and casual occasions.

Crocs shoes are easy to slip on, are highly versatile, and offer a number of health benefits. From superior shock-absorption to arch and heel support, antibacterial coatings and adjustable straps, Crocs footwear is a great investment for anyone, especially considering its affordable prices.

The list below looks at the highest-rated options by the brand, including clogs, flip flops, slides, sandals and even sneakers you can wear on any occasion, or when you're looking for superior comfort.
Standout Picks
Criteria Used for Evaluation
Comfort
The best Crocs shoes are supposed to give your feet great comfort and foot support. When we think of comfort, we generally think of something soft to put on or rest in. It's much the same with our feet in wanting something to soften the weight that we put on them, particularly if we're having to stand or walk for long periods. This helps to not only make our steps easier but also helps alleviate excess foot pain during the day and lessens the potential for injury to the foot. The following features maximize the level of comfort and enhance the overall experience you have while wearing your Crocs footwear, these are good features to look out for in Croc's shoes:
Ones that massage your feet, like tiny nubs or a bumpy footbed
Designed to mold to the shape of your feet for added comfort
Ergonomic footbed
Enhanced arch support
Backstrap to prevent flopping
Cushioned Footbed
Built-in odor control
An outsole with good grip
Part of what makes a shoe casual to wear is that it does not require much effort to put them on. You may have places you need to get to quickly and don't want the hassle of having to tie on a shoe. Crocs footwear can be slipped on in seconds in varying degrees of simplicity to help you save time in your day. If you really just want to quickly get in and get out of them using your feet, it's best to look for Crocs sandals, flip-flops, and loafers which generally allow you to do that. If you don't mind using your hands because you want to make sure your feet have a little more security, there are velcro straps that can be fastened on quickly.
Wearing a pair of Crocs that has a backstrap is a good choice if you are planning on being mobile for long periods of time. A slip-on shoe without a strap requires constant gripping of the toes, which can eventually lead to problems like tendinitis, which is why we have included several options on our list that have straps.
Breathability
Another part of what makes a shoe casual and comfortable is how it allows your feet to stay cool and comfortable, similar to how t-shirts and shorts help you to feel cool on warm days. A good pair of Crocs footwear can give you that option in as little or as much as you desire to have it. In having it to the maximum, Crocs sandals and flip-flops would be the best breathability option since they are open-toed shoes. If you prefer to have more shoe security with the upper and the sides of your shoe more enclosed, the Crocs clogs can also provide breathability with its ventilation ports. They allow for air to flow in on your feet and maintain coolness throughout the day.
Traction
While less of a factor if you're mainly going to use Crocs shoes for casual outings, slip resistance and traction is very important if you plan to use these in a physical work setting or going for a nature walk. Choosing a Crocs shoe that does not have much traction or slip resistance could result in a fall and a potentially painful injury. The rubber sole on some Crocs footwear provides the necessary traction for stable steps, while the Lock Tread in other Crocs meets the slip resistance standards of the food industry, which is an industry that can often entail working in slippery conditions. These features will help to ensure your safety standing and walking.
Protection
Sometimes a part of getting that important comfort in your Crocs is having protection to help prevent any discomfort on your feet. If you're walking amongst a crowded environment, you don't want to feel more pain on the top of your feet because of more exposure to hazards because of not having much upper covering with your shoe. Finding a Crocs shoe that has an extra dense vamp will give you the added protection from steps or spills, along with other hazards we face when walking about. A Crocs shoe that has a thicker metatarsal area is another option that can provide this kind of prevention from an upper foot injury as well.
Value
The last criteria that we would like to share are regarding the price. Primarily, we really wanted to focus on sharing brands and products that offered a blend of a good price tag with great value. To do this, we actually started off the buying guide by scanning through a couple dozen different types of footwear. We looked at the price range and came up with an average or an estimated market value. This number was then used in choosing the best products.
No matter the type of good you are planning on purchasing, you need to look at the overall value of the product in accordance with the other criteria we've mentioned.
10 Best Crocs Shoes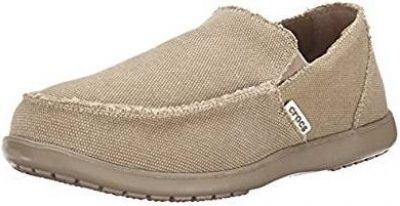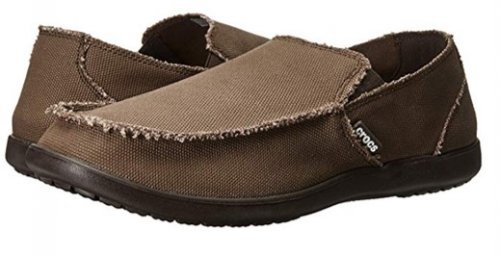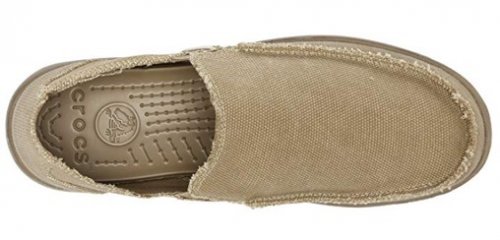 The Santa Cruz is different from what you may expect from the Crocs line and stands out nicely compared to its counterparts. Both stylish and comfortable, the Santa Cruz features a canvas upper with elastic goring on the sides and a soft synthetic sole that provides excellent grip on any surface. A Croslite™ foam midsole and tiny massaging nubs on the footbed make this a smooth riding shoe.
There are several advantages to the fact that the Crocs Santa Cruz features a canvas upper. First and foremost, it is a lightweight material that easily molds to the foot, providing it with adequate airflow even during the hot summer months. Second, it is a stylish alternative to the synthetic that is mostly associated with the brand, making it more suitable for everyday wear that isn't completely casual.
The tiny nubs on the footbed of the Santa Cruz are designed to give the foot a massage-like feel while helping to ensure maximum comfort while you're wearing these shoes. This means that your circulation will be better when walking in these shoes, and you will also feel relief if you suffer from discomfort due to any existing foot problems.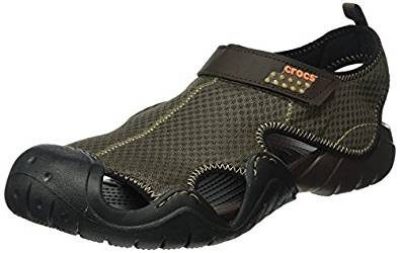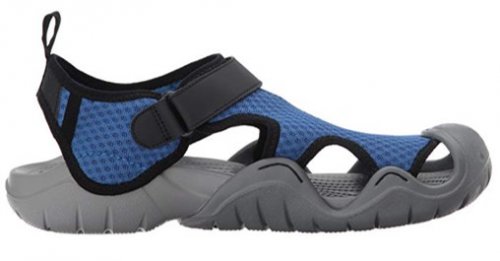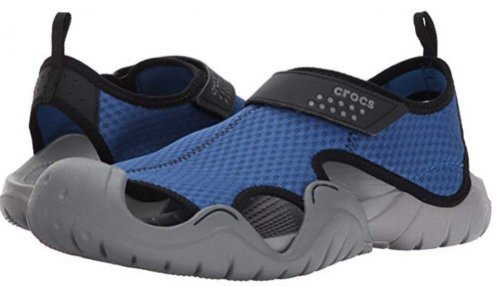 Just as the name of this shoe indicates, if you're looking for a Crocs model that's great in any scenario involving water, the Crocs Swiftwater would be the right shoe. It's perfect for beach use and comes in both adult and child sizes so that anyone can enjoy its multiple benefits. Among the features of this shoe, it has a water-friendly mesh, leather hook-and-loop strap, and a protective toe cap. It also has a very good looking textile on the outside.
The Crocs Swiftwater features water-friendly mesh which, in combination with the leather design of the shoe, helps to protect your feet from any bodies of water from rivers, lakes, to even oceans. Furthermore, this is a material which will breathe well and dry quickly, so you never have to spend prolonged periods in wet footwear.
In any body of water, you never know what sharp objects your toes might step in or get caught in. The toe coverage provides extra protection to prevent unnecessary toe injuries. Additionally, it makes the Crocs Swiftwater a good option for summer walks as well, as it can protect you against any obstacle on dry land as well.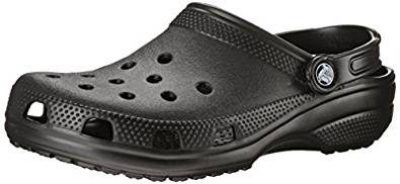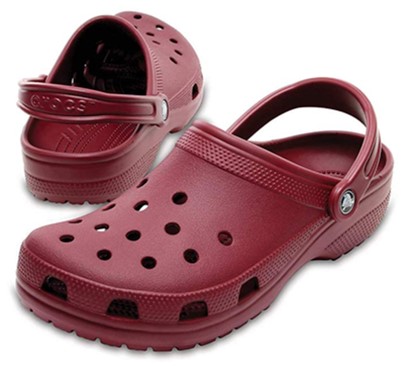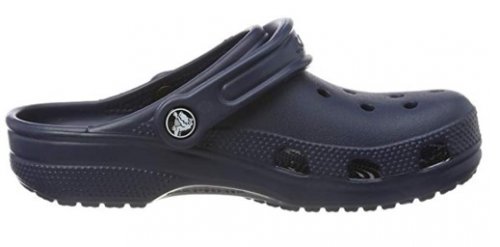 The Crocs Classic is easy to slide your feet right into whenever you're ready to take a walk outside. They come in just about every color in the rainbow and will go great with all of your favorite outfits. They're a versatile clog that goes with a wide variety of casual styles and are perfect for wearing both on pavement, grass and around water. They feature a removable backstrap and synthetic sole for a snug, non-slip fit, while built-in ventilation ports keep your feet cool and dry. The Classic is a roomy shoe that fits most foot sizes with ease, even if you have very wide feet.
The ventilation ports in the Crocs Classic allow for adequate air flow that increases your comfort levels by preventing excessive sweating even during the hottest weather conditions. The ports also allow for water to be drained out of your shoe for when you're walking in rain or bodies of water, which means that these will work especially well for pool and beach use.
If you prefer your shoe to be more secure for you, you can fasten your feet using the removable backstrap, which does a good job at giving you a fit that's secure but not constricting. If you prefer your shoe to be more easily slipped on and off, you can remove the strap completely.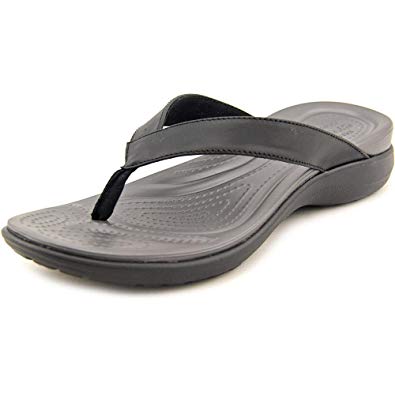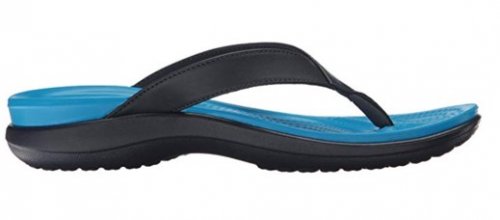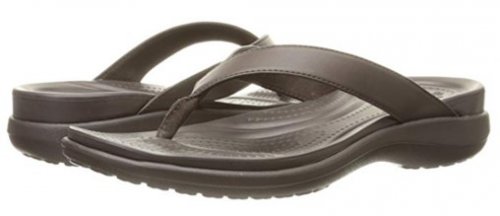 The Crocs Capri V is another very stylish style on this list that can get the attention of friends and family alike. It features a leather upper with a soft microfiber lining on the straps. The footbed shapes to your feet to give you the ultimate comfort to keep you on your feet for a long time.
These stylish sandals will surprise many people when you tell them they're Crocs. Not many will believe Crocs would come up with something so great. With a few different color options, you have even more choices of stylish designs.
The leather uppers are lined with microfiber to comfort your feet while the synthetic soles are made for durability. The footbed also fits your feet so you will feet comfortable all day long.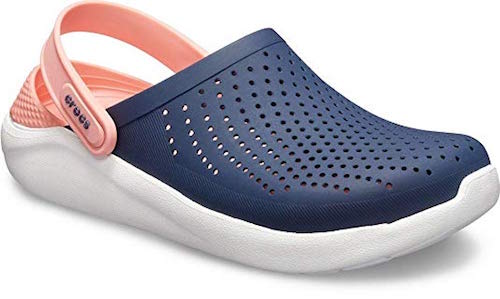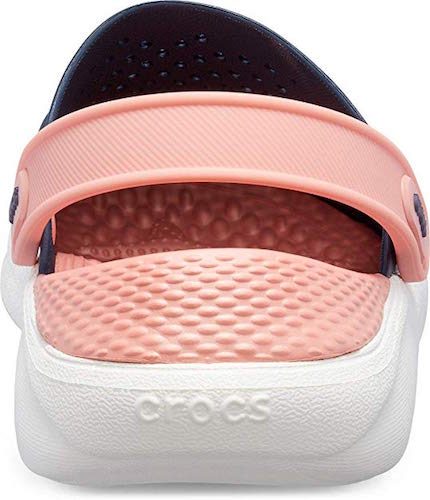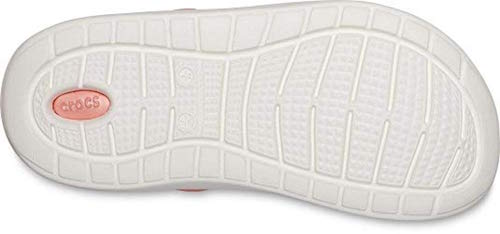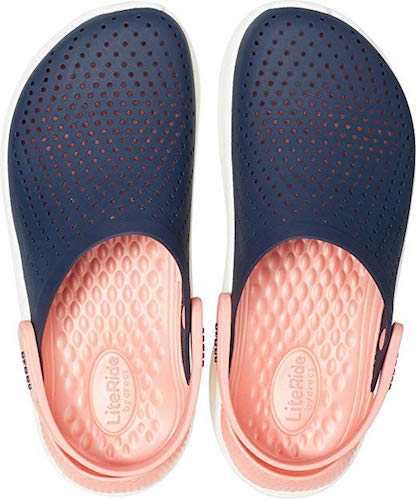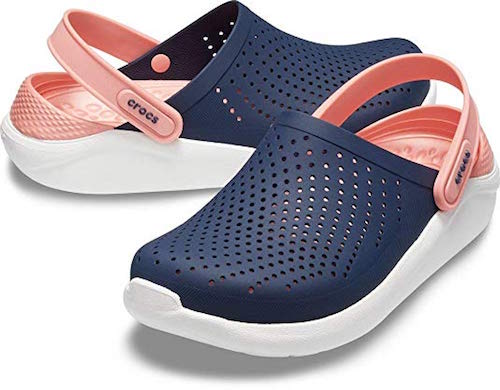 With its dedication to providing comfort and functionality in relaxed, casual footwear, it comes as no surprise that the brand developed even better materials than the already awesome Croslite. The newest addition to their line of products is footwear options made with LiteRide, a brand new material that brings innovation to everyday comfort. The line includes a variety of styles, from slides to sandals, to mules and sneakers, but the highest-rated product definitely has to be the LiteRide Clog which has already gained numerous fans.
This footwear option by Crocs is ideal for casual wear but is geared towards athletes and active individuals as well. Because of the superior cushioning it provides, it can be used as a recovery shoe, the perfect choice for wearing after a long day of walking, or even training for a marathon.
The midsole and insole of this clog are made with the already mentioned newly developed material which is a softer type of foam that provides a sink-in feeling when worn. It is highly resilient, extremely lightweight, and offers the same massaging nubs you're used to getting from footwear by this brand. The outsole utilizes Croslite for slip-resistant traction and durability.
The upper is also made with a brand new material, a Matlite perforated portion which has as its main advantage the benefit of feeling broken in from day one. It features plenty of perforations for breathability and is cut in a relaxed fit for plenty of toe space. It comes in a variety of color options, including some multi-color models that are sure to be a hit among those who wish to stand out.
The price point of the LiteRide clog is considerably higher than average sandals from the brand, but that usually is the case with newly released models. If you're not on a tight budget and want to try something new that will be perfect for adventures in dry weather, this model may just be a perfect choice.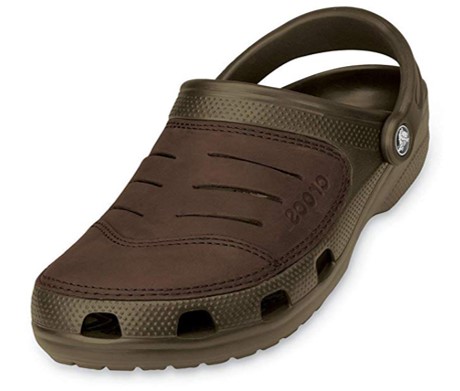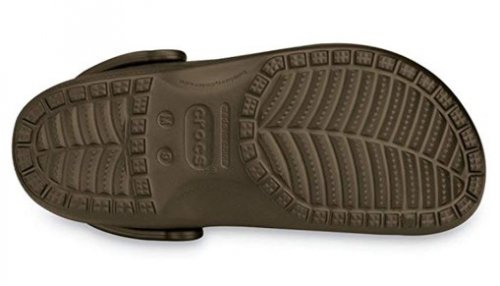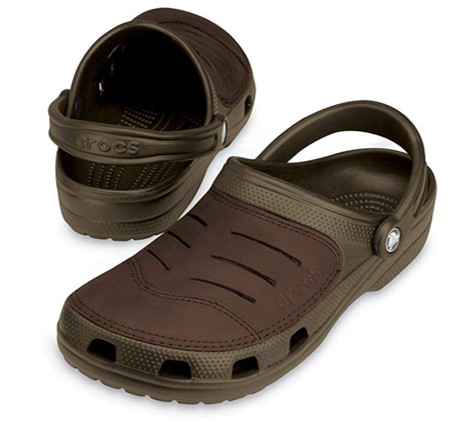 This posh looking pair of clogs from Crocs has increased stylish material that give it an upscale look to its rubber or synthetic counterparts. The Bogota Clog is constructed with durable leather uppers, softer to the feel, and luxe in appeal. Similar to other Crocs clogs, it has a heel strap you can use for a non-slip fit, securing you inside the shoe. With its roomy toe box, it's ideal for those with wider feet, or those who just prefer the uninhibited feel of a comfortable pair of shoes.
Uppers are crafted with genuine leather, which makes this pair a bit more durable for long term wear. As such, it's best to use a leather or suede protector so that they won't pick up any water stains from rainy weather or wet streets. Synthetic material finishes off the uppers with perforated toe box, so the inside of the clog remains breathable and ventilated for those warmer days of wear.
At the base of the Bogota Clog is a synthetic, thicker sole, providing a cushioned comfort to your steps. Traction is found in the pattern tread, helping to keep you stable even on wet or slippery surfaces. Designed with the anatomical footbed we know and love about the brand, you'll feel supported and the heel cup will help keep you from slipping around in the shoe when walking. Croslite foam helps them weight wise, keeping them lighter, as well as providing a cushion to your steps.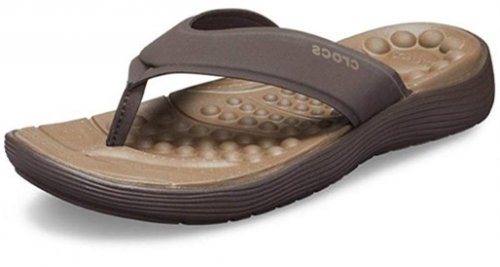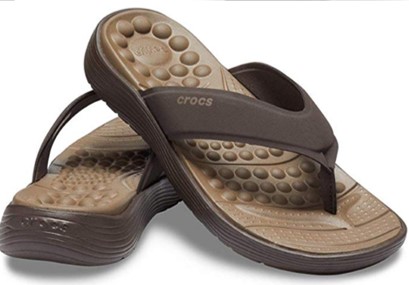 During summertime, we find ourselves headed to warm beaches, or simply shedding layers to stay cool. The Reviva Flip Flop is one for street wear and the beach, with several great features to keep your feet comfortable and supported. And while the footbed on this interesting pair of Crocs may appear unique, it's worth a try as it can help massage tired feet. One of Crocs newer options, it has a thicker band for comfort, and a soft, posh look from the ordinary flip flop style.
The Reviva was constructed so that the footbed is mapped to the shape of your feet. Along the top of the footbed are specifically placed air bubbles, which create a plush soft massage with each step for your feet, helping to relive tension or aches. Croslite helps make them lighter in weight, reducing foot fatigue.
Synthetic bands along the top of the flip flop are wider, allowing for a better fit and also better comfort during wear. Soft to the touch, the toe post in the flip flop won't cause irritations either if you're out all day in them. The synthetic sole is bouncy and thicker than other flip flop designs, providing a cushion for walking, and a patterned tread to help with traction. For a summertime option of Crocs, the Reviva is something new to consider adding to your collection of footwear.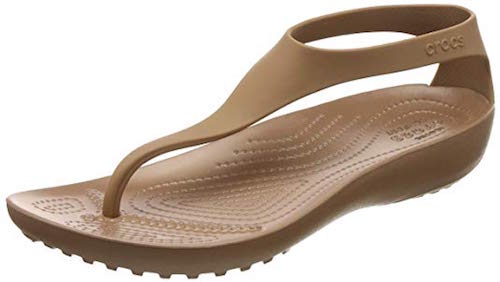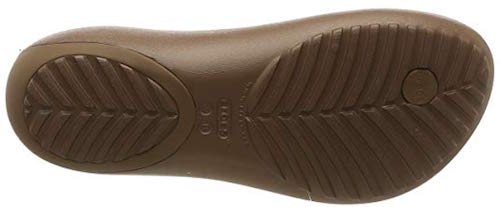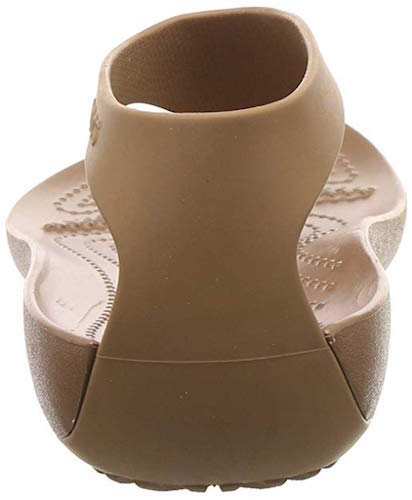 The Serena line by this brand is suited to users who want to combine practicality with sleek, feminine looks. These sandals are ideal for a number of occasions, including everyday or beachwear, and can even be dressed up with a summer dress for a fancy look. While it doesn't come in a wide variety of color options, all versions are stylish and easy to match, especially if you decide to go with the black, oyster or bronze versions which will look great with anything.
The upper of this model is made with Matlite material which is incredibly soft to the touch (you won't have to worry about rubbing between your toes) and is flexible enough to provide a broken-in experience. There is no closure system, which may present a problem for users with wider feet or higher insteps, but it does provide enough flexibility for most foot types.
The sole of this sandal utilizes Croslite, with a light massaging footbed, excellent shock-absorption and a good amount of arch and heel support. The outsole is highly resistant to slips, which is a great feature for slippery floors. The fit is true to size, even though it isn't offered in half sizes. The fit is standard, which means that these shouldn't pose the problem of being too wide, as a number of other Crocs do.
The price of the Serena Flip is quite affordable, especially considering its versatility. It can be worn for a number of different occasions, which means that with one averagely priced pair of footwear, you'll get the possibility of numerous looks, none of which will look out of place.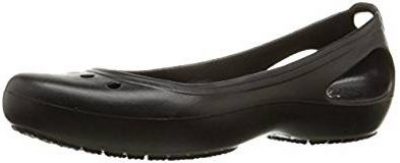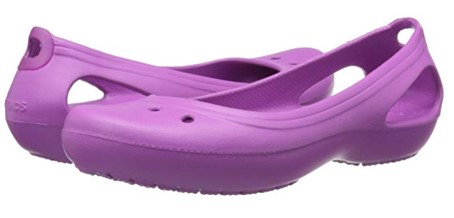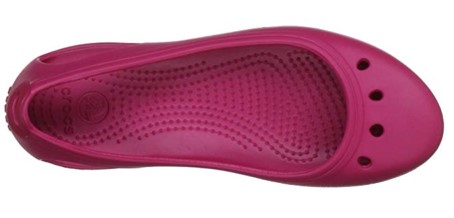 The Kadee model by Crocs is an excellent choice if you're looking for something that is both comfortable and stylish, and offers all the benefits you get from the brand's more classic styles. It's a ballet flat, made out of the same Croslite material that is used to build the Classic clog, and features ventilation openings as well as the well-loved footbed that Crocs fans have fallen in love with. It's a fashionable pair of footwear that you'll just as easily wear to the beach or the park, as you will to the office on a rainy summer day.
The Kadee features a low cut vamp that is very flattering on a wide variety of foot shapes. It also contributes to the breathability provided by the shoe, as it allows excess hot air and moisture to escape more easily than most similar flats. The biggest upside? This is a model that is 100% water friendly, so you can wear it anywhere.
Made entirely out of Croslite, the Kadee features a bumpy footbed that massages the foot with every step you take. It will also provide a good level of arch support, is flexible enough not to hinder any movement and absorbs shock, which makes it a good choice if you stand or walk for prolonged periods of time.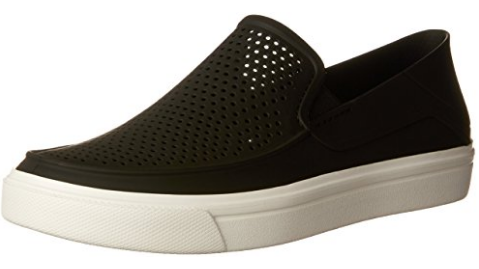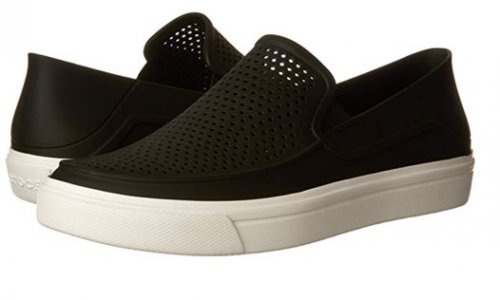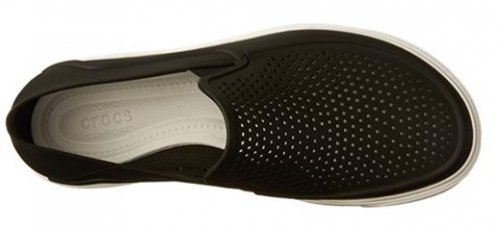 The Crocs Citilane Roka is a vintage-inspired slip-on that features a cup sole design and stylish shape. It was designed with perforated Matlite™ foam uppers and twin gore stretchy panels for easy on and off wear. These Crocs are ultra-comfortable and feature the Iconic Crocs comfort™ and original Croslite™ foam cushioning. You won't need to worry about your feet feeling sore in these pillow-like prowlers.
There is no extra room to slide around in with the Citilane Rokas standard fit design. It fits perfectly snug, but never too tight. The upper is soft enough to allow superior comfort to your feet, and the perforations make it a breathable summer style.
These classically cool vintage style sneakers bring the sneaker look together with Crocs famous comfort and the results are fabulous. You'll look amazing wearing these, whether you do it with jeans or a skirt - they'll look great with anything.

Subscribe to our Newsletter