Best Slip On Work Boots Reviewed & Rated
In a
Hurry? Editors choice: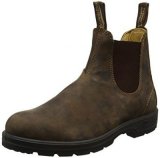 Test Winner: Blundstone Super 550

Regardless of whether you work in construction, around heavy machinery, on a farm or even in more extreme conditions, you need a pair of work footwear that will keep you safe but comfortable. While steel toes and waterproof uppers are crucial, so are cushioned insoles that prevent back pain, and supportive arches that don't allow you to develop serious foot health issues down the road. Shopping for footwear can often be a pain, with a huge variety of products to choose from. This list gives you the top options when it comes to slip on work boots, taking into consideration the quality of materials and construction, as well as their value and durability.
Standout Picks
Criteria Used for Evaluation
Top 10 Pull on Work Boots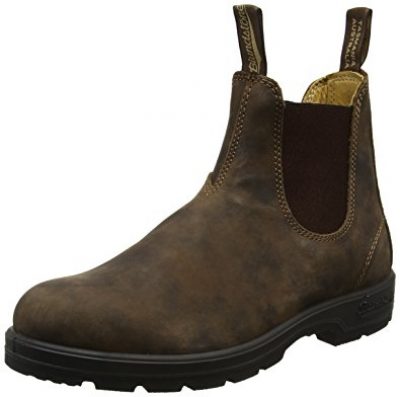 Hitting our top seed on the best of the list, The Blundstone Super 550 boasts of a rugged build in a shorter style boot, packing all the quality and technology you'd want to find in a work boot while maintaining versatility to wear at the office. Stability, support, traction, and comfort can all be found in this leather boot, and with its easy slip-on style.
Made from leather uppers mixed with stretchable textile to help slip your foot into this plush worker boot, durability can be found from top to sole. A rugged synthetic TPU sole provide lugged traction and grip, and the steel shank helps maintain the boot's integrity as well as support you.
The Blundstone Super 550 isn't just rugged enough for worksite attire, but it's stylish enough to cross over into the office should you need that versatility. Designed with several colors in mind, comfort can be found in the Poron XRD shock protection to minimize the impact on the heel, and the PU midsole for longer all-day wear. With its removable insole, you'll be able to place custom orthotics if required without hassle. Averagely priced for a work boot, the Blundstone Super 550 gives you two slip on work boots in one with its rugged durability mixed with stylish ankle fashion. Perfect for those who travel on worksites and to the office who need sturdy protection, without the cost that comes with more technical work pull on work boots.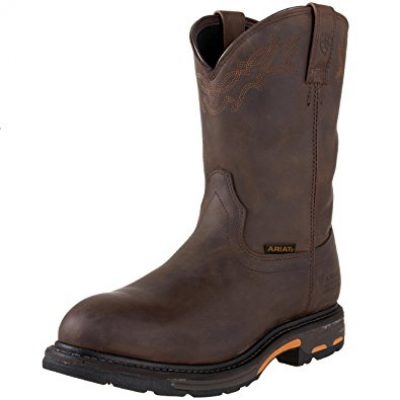 Bumping up the protection is the Ariat Workhog Waterproof, designed to function on worksites, but designed with a western boot flair. Support, comfort, stability, and traction all wrap up in a leather western boot and topped off with a waterproof property to help weather any messy conditions. Its round toe shape gives extra room for those with wider feet to help keep you going all day long.
Ariat patented their U-Turn Entry System, which helps to flex and give space for those with wider feet or high arches when putting on the boot. While most western style boots are quite snug for a fit to get into, these aren't a fashion boot but designed to help you tough out the day. You can start your day without struggling to get into these, and save your energy for where you need it most - at work. Comfort can be found in several areas of the boot. From the footbed, padded with a gel cushion, and wicking properties to keep you dry, to the EVA midsole. Stability starts within the rear of the shoe with heel stabilizers all the way forefoot, and the wide shank braces you with support. Duratread in the outsole helps to prevent slippage on all messy surfaces you can encounter at the worksite but is still flexible to promote proper walking gait. Add in that this boot is waterproof, and you're good to go in any condition.
Slightly on the pricier side of our list, the Ariat WorkHog Waterproof is a solid investment for those that deal with changing weather or messy worksite conditions. With all the support, comfort, stability, and durability you need from a work boot, plus a western-style design, it's worth what you spend.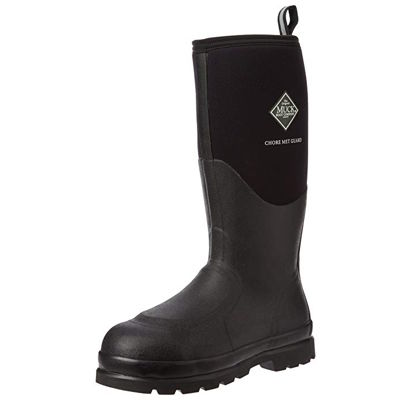 Made for those in search of quality footwear to wear while tackling all the day's tasks, the MuckBoots Chore are wellington slip on work boots that are perfect for wet and dirty conditions, where you need something fully waterproof, with a good traction pattern and a comfortable upper. The Chore is an entire line of wellies, with low, mid and high options, including those with added insulation, and steel toe protection.
The biggest problem with pull-on boots is often the width of the calf, which is simply not always large enough to fit those with more muscular legs. The Chore solves this problem with a stretch fit topline that's not too constricting but still fits snugly to keep the cold out.
This Wellington boot features a 5mm neoprene bootie that's been put there to keep you both cushioned, as well as warm. It's perfect for the colder months. However, it won't get too hot if you happen to build up a sweat. With a price that's slightly above average, this is a good investment for those who work around liquids and muck, and who need a good traction pattern that won't get packed and start slipping in mud or snow. The steel toe is a great addition, offering some extra protection from falling objects.

4

. Justin Original Stampede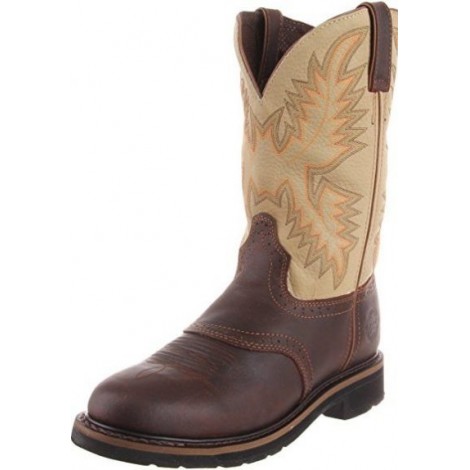 Need a work boot that gets the job done? These slip-on Justin Stampede Work Boots are the right fit for tough work. High quality and durable, non-slip grip with excellent rubber traction and ankle support will keep comfort all day long. Justin Stampede Work Boot is a slip-on style that allows for easy on and off for the heavy worker.
The J-Flex Comfort System inside these footbed of the slip on work boots offers long day comfort and support for feet. The comfort system is the most comfortable boot you'll ever own, even your feet will be surprised.
Durable and breathable, the uppers of this boot will maintain stability and style for your feet and ankles. Breathability allows your feet to remain dry and comfortable throughout the duration of your working day. The Stampede Justin Work Boot has been an overall favorite because of its high quality and handcrafted design, for several years. Comfortable insoles will provide you support all day long. This makes it the most popular favorite with each boot designed with your feet in mind.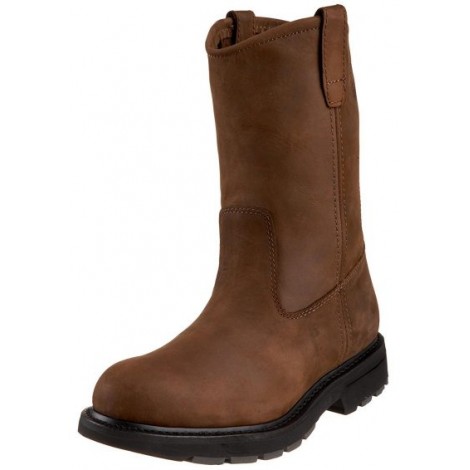 This is your classic country styled boot with all the modern day features for heavy duty work. Created with 100% leather, Goodyear welt construction, and rubber soles, the outside materials of these slip-on boots will last through the roughest terrain and dirtiest jobs. This fully unlined boot also comes with removable foam footbeds to add comfort and create an easy way to keep your boots fresh.
Most tough work boots don't provide much in the way of comfort. Not only do these slip on work boots come equipped with comfortable foam inserts, but they can also be removed for easy cleaning. This is a feature that extends the life of your boot and will prevent odors and sweat from building up.
From the inside to the outside, these slip-on work boots were made to stay strong and protect your feet. The full coverage of authentic leather protects your feet from outside contact while the inside foam footbeds keep your feet at ease. From these features to the heavy-duty outsoles, these boots were truly made for extreme durability. These boots are still priced on the higher side due to their high-quality materials and durable construction. Although, compared to other similar boots, you'll find that these offer a similar amount of protection but at a cost that's slightly less. Overall, the durability of these pull on work boots is completely worth the cost.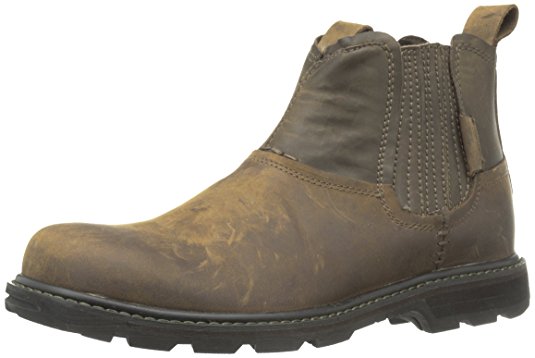 Fashionable with the ability to match almost any pant, this boot offers quality, safety, comfort, and, style. This boot features a round toe, ankle support, and beautiful smooth oiled finish. This boot also offers a durable rubber sole, safety comes first, with you in mind.
Offering memory foam to support comfort and stability all workday, as well as excellent support in the ankle, this boot is a good fit for comfort. The deep-tread rubber sole offers long-lasting wear and tear on both the heel and the tread of the boot. With this deep-tread, it also offers excellent traction on any surface.
The stylish slip-on, smooth oiled leather offers a lot for your feet. Comfort and style packed into one boot will determine your purchase. With the non-slip on the bottom of the boot, this style also provides stability for your ankles.



Looking for a boot that has every quality? Look no further! This boot has so much to offer a hard working individual. Maximum comfort, durability, and a waterproofing system will be sure to get any job done.
Winter, spring, summer, or fall, doesn't matter. These boots have been designed with a Thinsulate system to block all elements. Topped with full grain leather to vanish water, these boots will keep your feet warm, dry, and cool all seasons!
Wolverine Marauder offers a welt contour construction. The construction is designed to keep on-going comfort on and off the worksite. Designed to work as a boot, but fit like a shoe, this boot will move with you. The Wolverine Marauder W02165 Waterproof Work Boot has so much to offer the laborer. Full grain leather, dual working outsoles, and a waterproofing system will work hard to keep you safe and comfortable wherever you go.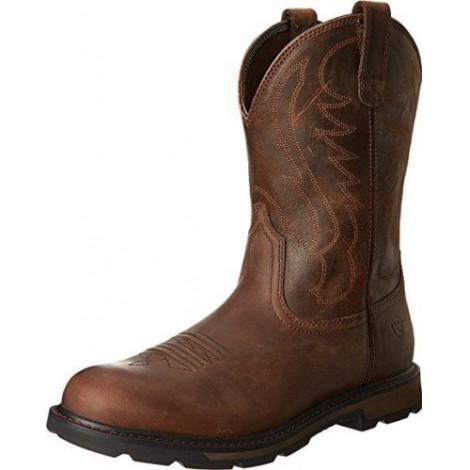 Built with comfort in mind, the Ariat Groundbreaker has been handcrafted for the hard working. This boot features a solid and durable platform to get any job finished. Western style with a steel toe, this boot is fit for anyone.
The Groundbreaker offers a mesh lining to help wick moisture and keep your feet dry for any occasion, while the full grain leather prevents moisture from entering the boot.
With life in mind, these pull on work boots are made to last. The Ariat Groundbreaker serves as a durable boot made with a Duratread outsole to extend maximum comfort and durability. The Duratread sole also doubles as an anti-slip resistant rubber sole. With a western feel, these slip on work boots were built for long-lasting comfort. Double stitching on the leather uppers keeps the boots in solid condition while the Duratread soles keep maximum comfort and durability.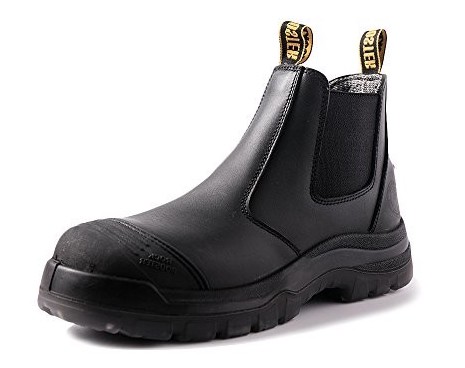 The Rockrooster Work boot provides comfort and durability to ensure any job is done right. Made with the finest leather material and a crush-proof steel toe, the boot will prove it is essential to perform.
Midsole and outsole are injected with polyurethane to absorb any sort of shock this boot may cause, making to the perfect comfort for the hard working.
The outsole is slip resistant to most materials and is made tough to prevent any electrical hazards that may come your way on the job. The Rockrooster Work provides a leather upper with stretchable material made to last, for easy on and off access. Made tough with injectable outsoles to keep comfortable all day long.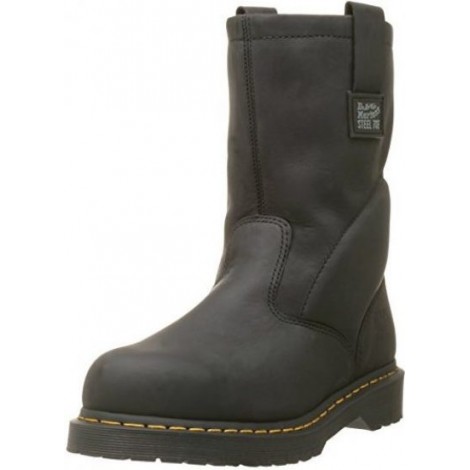 Heavy-duty and durable describe the Dr. Marten's Icon Industrial Steel Toe Boot! With maximum comfort and fashionable support, these slip on work boots will get any job done. Seasons changing? This boot is made to last through every season without a single slip. High-quality rubber soles allow any walking conditions with safety in mind. Feet conditions will remain healthy, dry and, pain-free with this boot.
Moisture is one thing that will not be in this boot. Dr. Marten's Icon Industrial Steel Toe Boot offers plenty of barriers to block moisture from entering. The upper portion of the boot has been created with water-resistant leather while the inside provides a moisture wicking lining, which is guaranteed to keep your feet dry all day.
Dr. Marten's air-cushioned sole provides a no-slip grip that is resistant to several slippery substances, including, Oil, Fat, Petrol, and Alkali. What this means is that this boot was made for your safety in mind. The sole not only offers a no-slip grip but also gives you an air ride feel. The Dr. Marten's Icon Industrial Strength Steel Toe offers a lot to the hard working individual. Made with steel plates for any approved work, this boot also offers a dry climate and an anti-bacterial footbed for extra protection for your feet. You can't say no to these boots when every step is a step of comfort.

Subscribe to our Newsletter