Best Cowboy Boot Brands Reviewed & Rated
In a Hurry? Editors choice: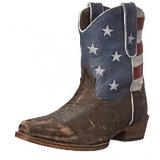 Test Winner: Roper American Beauty

The cowboy boot is a piece of United States history, designed for the purpose of guiding – and riding – horses. Though most cowboy boot fans probably aren't galloping down a dusty stretch of land on horseback, wrangling cattle, this style of footwear is still developed for the ultimate purpose of protection. Rugged, tough and built to last through extreme environmental conditions and endure multiple workplace hazards, these are a great choice for a variety of professions. Many jobs today still benefit from a
sturdy pair
of such shoes. If you work with horses, on a ranch or farm, or just find yourself involved in hard outdoor work, this can be a great addition to your shoe collection.  Even if you just love the vintage style or a cowboy look, you'll definitely love the choices listed below.
Standout Picks
Criteria Used for Evaluation
Materials
As with any other type of footwear, the way in which you care for your cowboy boots will determine not only how good they look, but also how long they last and how they perform the tasks you need them to do. A well cared for pair of shoes will always be more comfortable to wear, will avoid retaining odors, and will protect your feet. But caring for your boots needs a bit of extra knowledge and extra time. Make sure to perform your routine regularly, and it will be shorter, while your boots will be in many conditions, regardless of how hard you make them work.
Most commonly seen in the way of material for cowboys boots is Leather. This can be 100% genuine Cowhide Leather as well as a variety of other animal skins. Each option will require a different type of care. While each has benefits that are unique they also may require intensive care to keep them in top condition.
Keeping your boots in great condition will add to the overall life and feel of your shoes. If you are wearing them for work you certainly don't want them to crack and allow moisture and debris inside the boot. In addition, a broken heel can be very detrimental to the tough work you put your boots through.
Wearing your boots for purposes that aren't work-related still requires exceptional care of your material. Often this type of shoe is quite expensive and you want them to continue looking great so you get the best bang for your buck. Take some time and think about how much effort you want to put in and the pros and cons of each type of outer material.
Alligator: Alligator hide is exceptionally tough.  Hence, one of the reasons it is a loved material for hard-working boots. Caring for this type of material is very similar to taking care of Cowhide Leather.
You will wipe away any loose debris or dirt.
You can use saddle soap if it is your preferred cleaner but be careful. You don't want it to dry completely on your Alligator boots as it will make them more susceptible to cracking.
You will then want to condition them with Reptile specific conditioner. This is specially made to treat the material correctly, ensuring your favorite footwear continues to look and feel great.
You may also consider a non-silicone weather protectant to keep your boots safe from rain and other watery situations.
Snakeskin: Snakeskin boots require more care and a skilled hand to be well maintained. While they look absolutely awesome they are exceptionally delicate. To care for these you will want to use a soft cotton cloth and only dampen it slightly. If there is visible dirt you can remove it with a soft brush.  When conditioning this type of boot you want to use a conditioner that is specifically made for Snakeskin. Using Cowhide Leather conditioner can actually damage the fragile snakeskin. If you're unsure of what to do, it is best to look for advice from a knowledgable source - either the retailer, your trusted cobbler, or even articles and how-to videos online. Just remember to be gentle!
Cowhide: Most of us are used to seeing 100% Genuine Cowhide Leather when we go to purchase a new pair of work boots. Known for its excellent durability and relatively easy care, most can see why it is such a good option. Knocking away debris and cleaning them with a good coat of saddle soap is pretty easy and you can shine them to any gloss you prefer. You will also want to use a good leather conditioner to make sure the material stays supple and doesn't crack. It will also be easier to find weather protecting sprays or creams for this type of material than alligator or snakeskin. Taking care of this type of leather will ensure your boots always look and feel great. In addition, you will get years of wear out of them.
There are certainly other materials you may come in contact with when buying new shoes and each one of course has it's benefits. Choosing what is right for you will come with experience in wearing this type of shoe. If you are buying your first pair, sticking to Cowhide will ensure you can take proper care of your boots with ease. As you grow more comfortable with maintaining shoes you can venture into different types and styles that may require a bit more elbow grease.
Features
Spurs are predominately used for horseback riding, as a way to control where the horse goes. The small, metal tool is attached to the heel of the cowboy boot, locking in place. Spurs are not harmful to the horses - their spiked wheels aren't sharp or dangerous. They're simply used as a means of directing the horse into the direction they're meant to go. Commonly horses respond to foot and leg pressure. As you train your horse, spurs can actually be used as a type of reward system. Thanking them for responding so well to your command.
Spurs have three main pieces:
Yoke: This is the part of the spur that wraps around the cowboy boots and secures it in place. It is important to note that some spurs offer a strap that ties around the boot to help keep it in place others just rely on the tightness of the yoke.
Shank:  The shank sticks off of the yoke and is the piece of the spur that comes into contact with the horse.
Rowel:  A rowel may or may not be found on a set of spurs. This is the round gear-like wheel that is sometimes attached to the shank. These can be used for quicker responses but should be used with caution on sensitive horses.
There are also many types of attachable spurs available in today's market. They are typically meant for a specific purpose.  Some are intended for lighter use and others are more hardcore. You must take the time to understand that just because you are wearing spurs does not mean your horse needs you to use them. Using the wrong spurs could cause harm or lead you to injury due to an unhappy horse. Let's take a minute and look at the different types of spurs and their intended uses.
Western Spurs: Western Spurs are typically used for the flashy wow factor. They are seen in silver and gold and while not needed often make a lot of noise. This type of spur may be part of an outfit but a trained horse will not need to be urged with them, they really are for show.
Dressage Spurs: This type of spur is mandatory in advanced level riding competitions and have also been found to be a useful tool for young riders with short legs. The spur is typically a bit longer and will help short legs reach the sides of the horse. They will typically have a wheel with blunt edges. This is why these are most often recommended for advanced riders. Keep in mind the use of spurs is to help your horse fully understand what you are asking, not to cause harm or force them into doing something.
Hunting/Jumping Spurs: This type of spur is used to cause the horse to have the urge to jump. These are typically quite flat and very blunt. When participating in this type of event it's imperative that you practice and know what you are doing. Jumping your horse can be dangerous for both of you. The proper use of this type of spur will help you both to maintain your safety.
Comfort
When shopping for boots that you're going to be wearing for prolonged periods of time, especially if it's for work in less than perfect conditions, you need to consider the factors that go into the comfortability level of said shoe. Not only does it have to serve a purpose, but it should also feel good on your feet, without any hot spots that would cause pain, rubbing or blistering. To ensure that a pair of footwear is the right choice for you, there are several things you should consider before investing your money:
Support: Definitely the most important factor when it comes to foot health. Your feet take quite a beating on any given day. Not only does they support your entire body weight, but the muscles, tendons, and bones take the brunt force of any movement you make, including walking and running. If you're expected to do a lot of these, or even if you just stand for long hours, you should ensure that your footwear is supportive - mainly in the arch and heel area. If you suffer from issues such as flat feet, plantar fasciitis or even back and knee pain, look into more supportive footwear that would help with these issues, vastly improving your quality of life. You should be prepared for the fact that most cowboy boots won't have specifically high levels of support, so the use of custom orthotics or inserts is recommended for those with foot issues.
Cushioning: To prevent fatigue and joint pain, look for footwear that features either a shock-absorbing midsole or a cushioning insole. Nowadays, most manufacturers will include these in their footwear, so you can opt for models that use materials such as EVA, cork, latex or memory foam. Like with support, you can improve the cushioning abilities of your boots with a good insole, which is an affordable and simple option.
Lining: Depending on the weather conditions, you need to consider the inside of your shoes as well. If you'll be wearing them in the summer, you may want to go with unlined shoes that'll allow the leather upper to make the most of its breathability, while you may also opt for a mesh or moisture-wicking lining that'll move sweat away from the foot, preventing bad odors and bacterial overgrowth. However, if you're after something that's more suited for winter conditions, you definitely need some insulation (at least 200g), and possibly even some water protection (which can be partially achieved with the use of conditioners and sprays).
Adjustability: All cowboys boots are slip-on styles which means that they won't have any laces or buckles that would help tighten or loosen the fit to ensure a comfortable wearing experience. Some fashion-oriented models may have a zipper closure to make putting them on and off easier, but overall you won't find much adjustability features. That's why quality and well-cared for leather upper is crucial. Good uppers will break in and stretch slightly, accommodating the unique shape of your foot, making the boots fit you like a glove. The entire breaking-in-process may take several days, but a good pair of footwear is definitely worth the trouble, especially seeing that you'll be wearing it for years to come.
Outsole
Traditionally, cowboy boots were made with leather soles that were comfortable, easy to break in, protective enough in tough conditions and relatively durable if properly taken care of. Nowadays, however, you'll find that most manufacturers have moved on to rubber and synthetic compounds that provide better properties in terms of durability, protection and flexibility. There are several things you'll want out of a good outsole, and these include the following:
Traction: Like with any other type of footwear, how it performs on various surfaces is going to determine whether it's the pair for you. Ideally, you'll purchase a pair of shoes that will do just as well on wet surfaces as they do in dry dirt. To ensure this, go with a rubber outsole with a grippy tread pattern that'll allow you to grip the surface underfoot, preventing you from losing your footing and injuring yourself.
Chemical Resistance: If you're planning on being around animals, on a farm, or in an industrial setting, you will need an outsole that's chemical resistant and won't start to disintegrate when in contact with oils or manure. While some of the models listed above features such outsoles, they're less often included in fashion oriented styles, so make sure you've chosen the right one.
Durability: If you're going to be walking on concrete floors or in rough conditions, you need to ensure that your boots can stand up to the demands of such surfaces. Some rubber compounds are softer than others and may start to lose their shape and traction more quickly. This is also influenced by your weight and pronation, so opting for the right sole is crucial when searching for durable footwear. Several models listed above can be resoled, which is a great option for those who prefer the comfort and aesthetic appeal of a worn-in boot.
Value
Ideally, you will manage to find a pair of footwear that's cheap, looks amazing, is versatile in the way it can be worn, and offers all the comfort and protection features you require. Realistically, this is almost impossible to find, so getting a product that's worth the investment will require some research at least.
A number of the models listed above feature higher prices that are often too expensive for some. However, depending on their versatility, durability and performance features, they may actually be worth the investment, as they may prove to last you two or three years, ending up being cheaper than buying a new pair every six months.
To ensure that a pair of shoes is truly worth the asking price, you need to consider the following aspects:
Quality of materials used
Construction quality
Versatility
Design & style
Brand Reputation
Customer reviews 
Don't be lazy to do a bit of research on a pair that's caught your eye. You'll often find all the info you need by reading a review of the shoe or just looking at customer feedback. If there are any issues, these will be addressed, and you'll know whether it's the right shoe for you. Online reviews can also be a great place to look if you're unsure about sizing, as they'll almost always state if a shoe runs small, big, wide or narrow.
Cowboy Boot Reviews
1

. Dan Post Milwaukee Western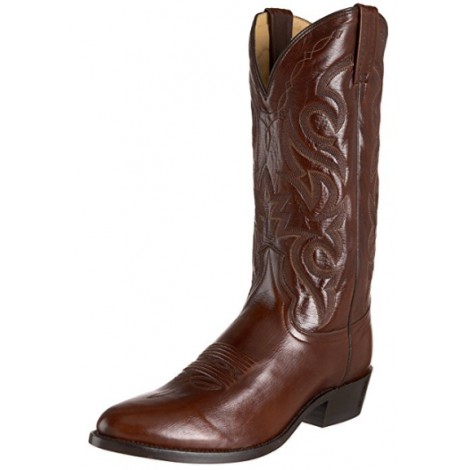 The Dan Post Milwaukee Western is a boot made both for city and country use, with quality materials and comfort technologies. These cowboy boots will be pleasant to wear even for hours on end, and you'll find that putting them on is much easier than similar high styles, thanks to the pull tabs. With a distinctive stitched design, these are sure to show off your unique style, and you can get them in 9 different colors, which means you'll easily find just the right shade for your wardrobe.
Dan Post takes the ordinary cowboy boots and adds tiny details that all lend to the final masterpiece. This leather boot has more than elaborate stitching, the shaft is supportive, trimmed with a scalloped topline. This boots also offers dual pull-tabs for the ultimate inconvenience. Elaborate stitching brings noble western glamour and a stacked heel screams Western boot.
These are slightly more expensive than average and is one of the higher-priced boots on the Best Cowboy boot list. These are attractive and decoratively stitched, the cost is slightly higher because of the finesse used in producing these boots.



Completely different than anything else you'll find on this list, the Ariat Gold Rush is a pair of western cowboys boots geared towards those who want to show off their bold style. As all Ariat boots, these are made to perform well and feature a number of comfort features you'd pay huge amounts of money for from any other manufacturer.
The added suede fringe emphasizes how stylish and fun these boots look. They're perfect for wearing when you're out-and-about, or for when you're working. The fringe goes all around the boot, falling in a pretty waterfall pattern.
These boots contain a forked shank, which helps stability. The sole is rubber and is resistant against any liquids such as oils or acids. These features lengthen the wearability of the boots and protect them for longer. The Ariat Gold Rush boots are on the cheaper side. With the way they're produced and manufactured, these boots are sold for less than what they're worth. Made of leather and sporting the fringe, these cowboy boots are easily worth the paycheck.

3

. Corral Heart Angel Wing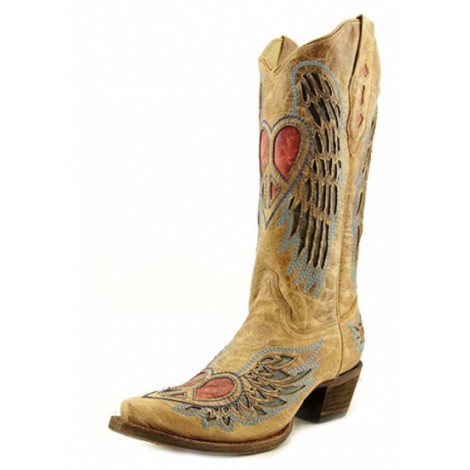 These boots are distinctive from traditional cowboy boots, not as wide, much longer and flooded with striking graphics and colors. With a beautiful and unique look and quality craftsmanship, Corral Heart Angel Wing boots have amassed a huge fan following, garnering exceptionally positive and happy customer reviews.
You'll have trouble finding a pair of footwear as intricately designed as the Corral Heart Angel Wing. This boot will surely set you apart from a crowd, bringing you plenty of compliments, giving you cowboys boots that you'll love wearing any chance you get.
These are all-around sleek, the skinny cousins of a traditional heft cowboy boot. Bringing function as well as form, they hold up well considering they are also constructed with care. The cost is towards the highest on the list, the MSRP is firmly between the 200's to 300's - this boot represents a mid to higher cost cowboy boot item. The value depends on the consumer needs, if the shopper loves the motif then it is an excellent value.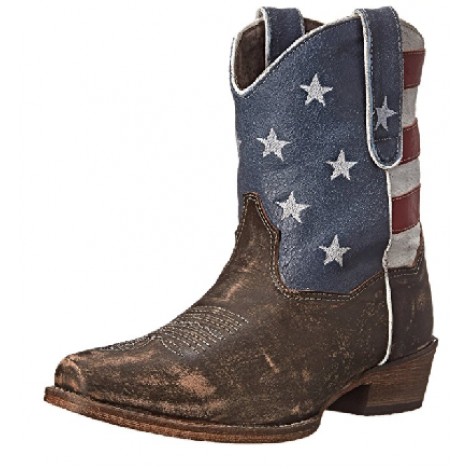 These patriotic cowboy boots are a fan fave, and masterfully combine old west sensibility with a splash of United States History – complete with an American flag theme of red, white and blue. These are defined by the company as all-leather and All-American, and will work great with a number of fun outfits. Plus, you'll find that in addition to amazing style, these offer sturdy protection, and can last quite a while with heavy wear.
These boots feature a cemented sole, with a 7' shaft. The all-leather construction guarantees that these will stand up to the harshest of elements. This is what these boots are famous for, besides a distressed and intentionally weathered appearance, the front of the cowboys boots has blue and white stars, the rear is adorned lovingly with the red and white stripes of the US flag.
The average cost is lower-end, this is an entirely reasonable price. Especially if you take into account the distinctive flag design. This will appeal to a certain percentage of shoppers looking for patriotic-themed merchandise.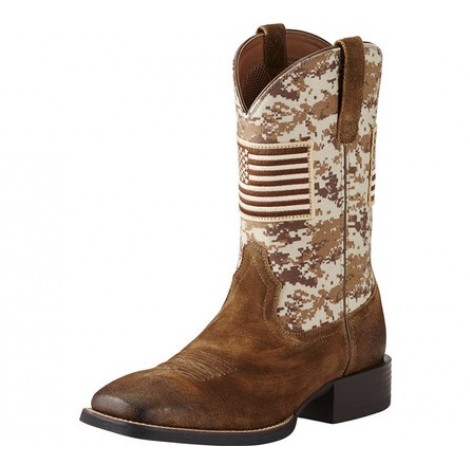 For those who are looking for a high-quality riding boot, the Ariat Sport Patriot is an excellent choice. These square toe shoes have a unique pattern as well as being made from suede and leather. They're made to fit around any calf, the boot opening being around 20", and you'll be happy to hear that they are some of the easiest boots to fit available for purchase.
These Sport Patriot cowboy boots hold a unique pattern on the front of them. A camouflage pattern circles the top of the boot, covering the front and back. In the center is an American flag, all in shades of brown. These boots have the finest comfort technology included in them. With a rubber sole to prevent accidental slipping to a full-grain leather foot, these boots will last long.
These cowboys boots are priced within a practical price range. They are imported and hold a rubber sole. Adding the flag and camouflage details, they're priced accordingly.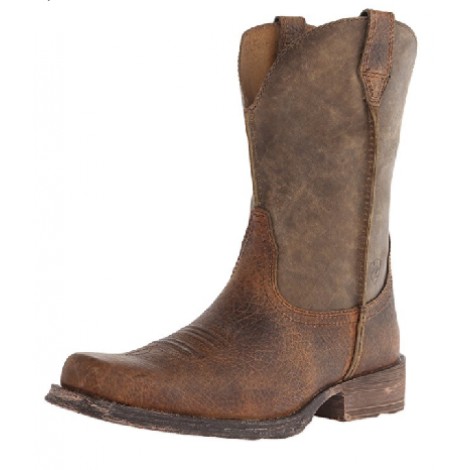 The Rambler lands the number one spot on the list, and is a stylish choice of western boots thanks to the distressed leather upper and square toe. Made by a company who pride themselves on footwear for "rodeo and ranching," this Ariat boot is sure to make you one happy cowboy. Choose it for riding or casual wear, you'll find that it performs exceptionally.
This square-toe full-grain leather boot sports a thick outsole that is tough and flexible. Known as the Duratread outsole, this Ariat boot also offers ATS Technology composite fiber and removable, gel-cushioned insole.
No swirls or paisley on this unpretentious boot, all leather with an 11" high shaft, the Rambler also features Advanced Torque Stability with a composite forked shank. At a fair price point for any leather boot, cowboy boots, in particular, these cowboy boots are a great value. While it is possible to find lower-priced options, you will be sacrificing comfort and quality. For any well-designed leather shoe product, be prepared to spend quite a bit. For tough cowboy boots, expect to pay more – the retail price of the Ariat Rambler is comfortable and at a reasonable price point, making these an excellent value.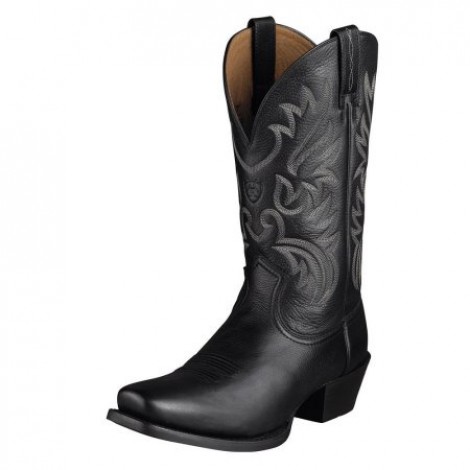 Ariat's Legend Phoenix boots are primarily riding cowboys boots. They come in a variety of three colors and have a 2" heel. They're square-toed and have a four-row stitch pattern that are as stylish as they are functional. The Ariat company is known for making equestrian riding boots that are practical as well as wearable to places that aren't a stable.
The four-row stitching gives these boots a classy and twist to normal cowboy boots. They can be worn with anything - overalls, jeans, dress pants, and even a tux if you're feeling up to it. They're comfortable - the forked shank and square-toe adding to the style as well as the wearability of them.
The material that will touch your feet with the Legend Phoenix is soft leather that works great not just to cradle your foot, but also to protect from excess moisture retention that can lead to blisters or odors - things you definitely don't want while you're working hard. The Legend Phoenix's are a lower, more feasible price. They are imported, but their price wouldn't suggest so. The boots are presented as chic, sleek riding boots that look as good as they seem.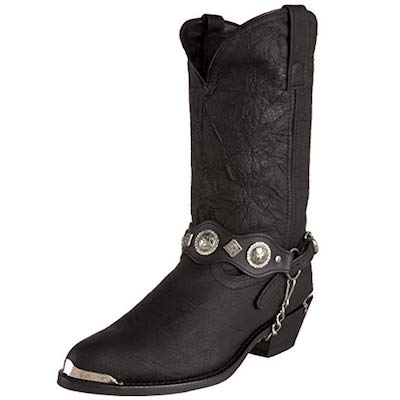 The Dingo Concho Strap is a simple choice for those who want some added accents and embellishments, without going too crazy in material choice. They are available in black pigskin, which makes them quite soft once broken in, and are a functional and comfortable option for a rustic pair of cowboy boots.
The concho harness adds a flare to these western-styled boots. They have added silver accents to the toe and heels, giving an overall classy look, making these just as suitable for day wear as they are to going out and use on special occasions.
These boots are available in a large variety of sizes and even come in several widths to accommodate all foot types. From narrow to extra wide, you'll easily find the perfect fit. However, do keep in mind that they run slightly small. These cowboys boots run on the more affordable side of the price spectrum. The reason for this is the pigskin upper and the fact that they're imported, but you shouldn't worry about their quality - they are a well-made boot that's got a lot to offer in terms of comfort and style.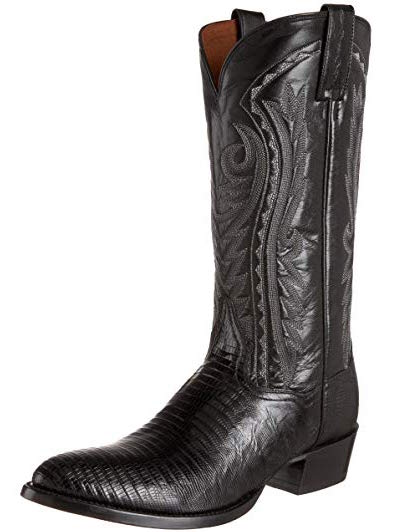 Dan Post boots are crafted with exotic leathers - these happen to be made with lizard leathers. They have unique patterns imprinted on them and come in a variety of five colors, ranging from 'black cherry' to 'antique tan'. The boots hold a heel that measures to 1.5". With a varying array of sizes, they're ideal for work or play.
Lizard skin is durable and makes the boot built to last. The entire foot is made of genuine lizard leather, the pattern on the front showcasing exactly that. These boots are stylish and look like they just came from an old western movie.
These boots have a high selection of sizes. Narrow, medium, wide - all of these are available in a selection of colors. With a 14" opening, these boots are quick to sell. In addition, they will help those that struggle with wide calves and can never find a pair of boots to fit. Being imported and made from exotic leathers, these boots aren't on the cheap side. The genuine lizard leather and leather sole add up, but it's not a shock that these boots are worth it.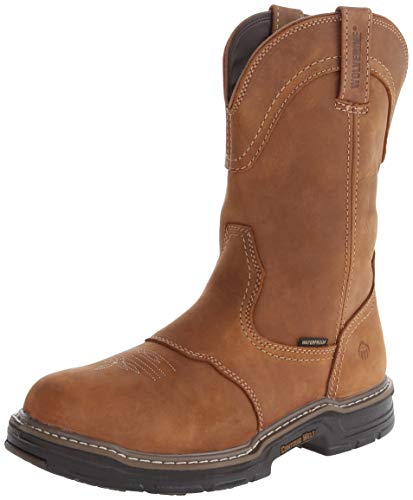 The Wolverine Anthem is a western inspired wellington boot that was made for ranchers who need a combination of protection and all-day comfort for working in tough conditions. You'll definitely appreciate the addition of a steel toe, especially if you're shopping for work footwear. You'll also be happy to hear that this is an item constructed with quality materials and attention to detail that we've all come to expect from a brand such as Wolverine. You'll definitely benefit from the comfort of a full grain leather upper, as well as a moisture-wicking mesh lining that won't leave you feeling swamped and sweaty after a hard day's work.
Because it's made for the workplace, this boot takes special care to provide you with a comfortable wearing experience. First and foremost, you'll find that the compression-molded EVA midsole is both cushioning and supportive, while an OrthoLite footbed ensures a pleasant feel under the foot, preventing fatigue or pain.
This is definitely one of the best types of construction that you can get in any shoe. Not only is it flexible and less likely to leave you with soggy feet in the rain, but it's also completely replaceable, meaning that these cowboy boots can be resoled should you find that they don't offer the same level of comfort they did when they were brand new.

Subscribe to our Newsletter