Best Tactical Boots for Men Reviewed & Compared
last updated:
Sep 18, 2019
Depending on the kind of job or work you frequently take part in, you'll be required to wear some sort of safety clothing or other materials in order to keep your body as safe and comfortable as possible when tending to the task at hand. These working situations and conditions often take place in areas that often pose potential safety hazards. Whatever the case may be, these conditions require that you'll need to ensure that you're wearing the proper safety gear to stay as safe as you possibly can.
We've reviewed a number of the best tactical boots on the market to bring the top ten we've found for your needs. From those in the field, on duty, or simply desiring extra protection, this comprehensive list below should have something to cover your needs.
This is the best product on our list that is currently in stock: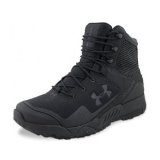 Under Armour UA Valsetz RTS
Why is it better?
Unparalleled support for the ankle
Very comfortable
Stable
In a
Hurry? Editors choice: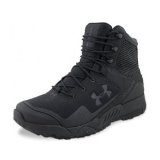 Test Winner: Under Armour UA Valsetz RTS

12
Researched Sources
580
Reviews Considered
14
Hours Researching
10
Products Evaluated
Durability
Comfort
Weather Resistance
Weight
Fit
By Default
Top 10 Picks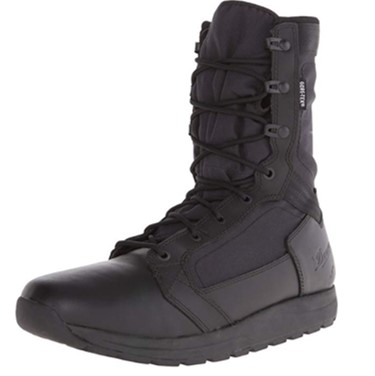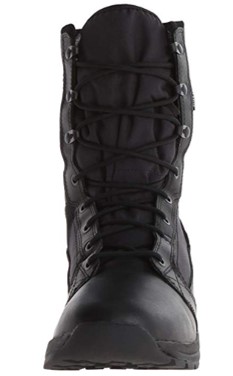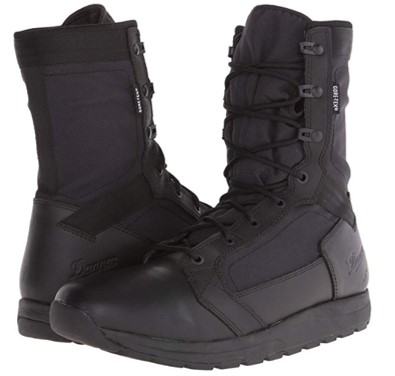 Leather
500 Denier Nylon
PU Footbed
GTX Lining
Danner has been in the business of making tactical, uniform, and work boots for decades, and the Tachyon GTX is one of the more aggressive and functional models. With a durable upper and 8 inch shaft height for ankle support, this pair will last you the longer missions and days in comfort, protection, and support. Add into the mix the Gore-Tex liner to keep feet dry, and this tactical boot is ready for anything. This particular model from Danner also comes in a variety of styles, from those suited for hot weather, to those with a toe polish for uniform wear, you'll find one suited for your need.
Uppers of the Tachyon are constructed from both a 500 Denier Nylon and 100% leather, giving them a lighter weight than some other brands and models, as well as superior durability. A speed lacing system allows for a quick tug and fit when you're on the go and can't waste any time. And to help keep the boot more breathable, an added layer on the footbed has open cell construction to better let air circulate around and inside the boot during wear.
To help keep you supported, a PU footbed allows for proper alignment of the foot and stability. At the base of the Tachyon is a quality rubber outsole, helping to make movements more flexible when kneeling or steep inclines. A lugged pattern sole helps give added grip and traction for whatever you may encounter on the field. This pair of tactical boots from Danner is one that's not to be overlooked, and with options for a polishable toe, it can be versatile for formal occasions if needed.
2

. Under Armour UA Valsetz RTS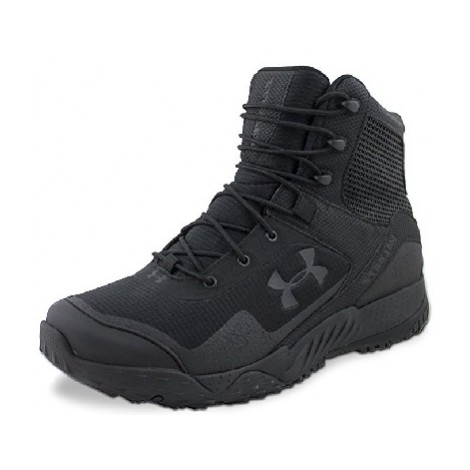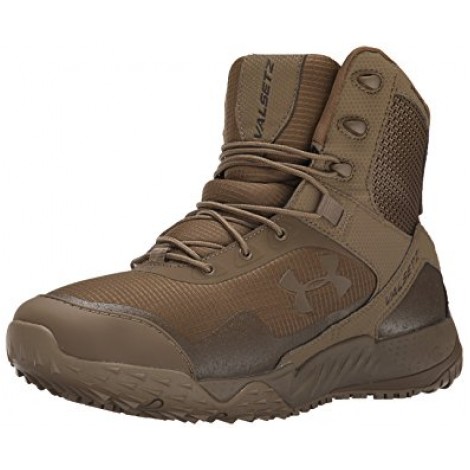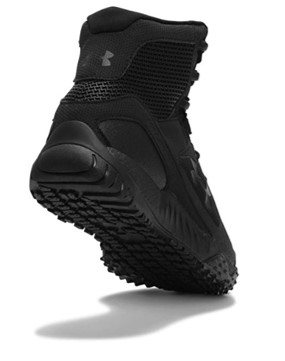 Unparalleled support for the ankle
Very comfortable
Stable
A tendency to wear away rather quickly
Under Armour is one of the most well-known brands when it comes to sports-related gear, but the company has also created their fair share of tactical footwear that has been quite well-received by their customers. One of their most popular and successful tactical foot apparel is the UA Valsetz RTS, and it's a tactical boot that packs a rather surprising punch.
Right off the bat, we're looking at tactical footwear that's made mostly out of a synthetic material. There's no leather to be found here, and while that's a preferable material for a lot of folks out there, there's still a market of people who like the breathability and lightness of synthetics over hard leather. In addition to the synthetic material being used, Under Armour has also added a film around the entire perimeter of the shoe that allows it to be incredibly abrasion-resistant.
However, the features don't stop there. Under Armour has added their iconic ClutchFit technology that allows the Valsetz RTS to wrap tightly around your ankle and provide it with unparalleled support. This technology essentially acts as a sort of "second skin" for your ankle, and both feels incredible and is a great safety measure as well. On top of this, Under Armour also added their Micro G foam into the sole of this duty footwear, meaning that your feet will not only stay extra comfy but also have a great deal of padding underneath them whenever you have to make a landing or take off rather quickly.
While the majority of reviews for the Under Armour Men's UA Valsetz RTS Tactical Boot are quite positive, there are a handful of owners saying that their particular boots had a tendency to wear away rather quickly when put under a great deal of use. This is an issue that seems to only be a problem for a minority of users, but it's still definitely something that's worth keeping in mind.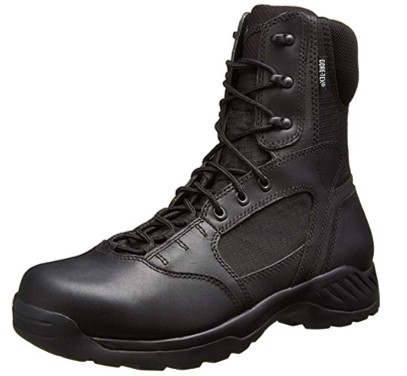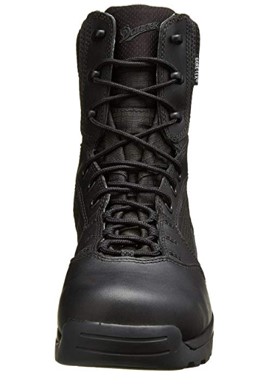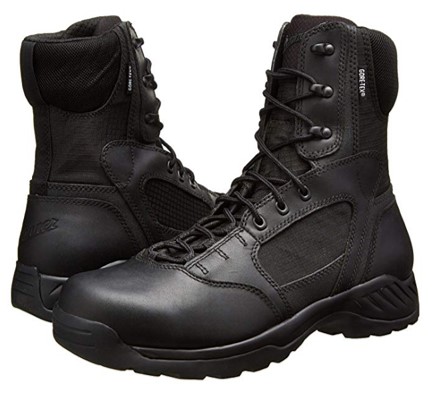 Leather & Ripstop Ballistic Nylon
Lugged Pattern Sole
GTX Lining
Nylon Shank
Polishable Toe
This particular model from Danner was designed for uniform wear, but can also be worn elsewhere. With its speed lacing system, waterproof lining, and rugged traction sole, this pair will keep you protected and ready for anything. An 8 inch shaft helps provide the ankle stability needed for field work, while the durable leather and nylon uppers were design not just to protect, but to last. Inside, you'll find all the quality construction for support and cushion to keep you going those longer days as well. It's a great option for consideration!
Uppers of the Kinetic GTX are made from a combination of both 100% leather and ripstop ballistic nylon, which make these great for those on looking for added protection. Both these materials give the Kinetic GTX a durability unlike any other, and if you need the extra shine, they are polishable should you so choose to shine them up. The speed lacing system allows for a quick tug to fit them snuggly on the foot and ready for action.
Inside the Kinetic GTX is a PU footbed, cushioned for added comfort, and a PU midsole for support. A nylon shank provides further stability and support for longer hours of wear, helping to reduce foot fatigue. Outsoles of the boot are a grippy slip-resistant rubber, with lugged pattern traction to keep you going in any kind of environment. It's a tactical boot made to protect you while you protect others.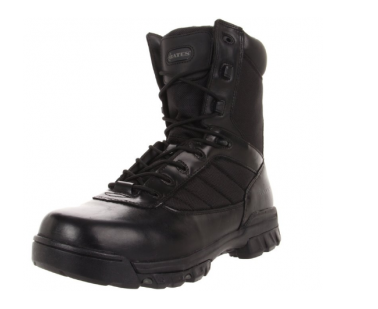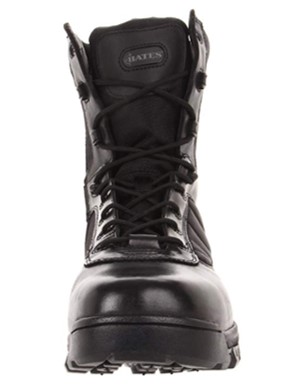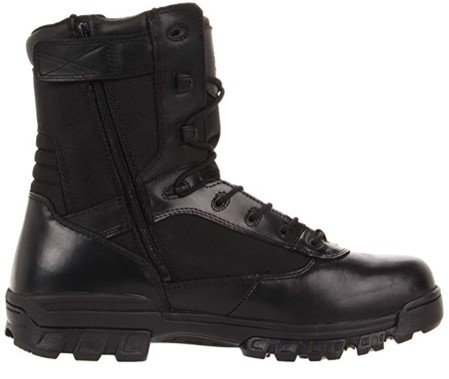 Features a removable cushioned insert
Lightweight build
Durable and slip resistant outsole
During your search for your next pair of tactical footwear, one of the things you might not think about taking into consideration is the overall look of the boot. However, for some people out there, their job requires that their foot apparel look professional. This can sometimes be difficult when shopping around for swat boots, but thankfully with the Bates Men's Ultra-Lites, that's not an area of concern whatsoever. They are constructed out of a combination between both genuine leather and high-quality fabric, so you can rest assured knowing that you're getting two of the best materials out on the market. In addition to this, the Ultra-Lites come in two color options (black and sage) and feature a side-zipper design for easy removable.
If you thought we were done, you've got another thing coming at you! Bates has also packed in a rubber sole for added traction no matter what kind of environments you find yourself encountering, as well as a breathable lining throughout the entire shoe. So, no matter how intense or serious your workload gets, you can ensure that your feet will stay as cool and dry as possible. Oh, and did we mention that this duty footwear also features a cushioned insert that's removable, a lightweight build, and an outsole that's both durable and slip-resistant?
Overall, reviews for the Bates Men's Ultra-Lites 8 Inches Tactical Support Side-Zip are quite positive. The majority of owners have been incredibly pleased with the overall comfort and durability of these boots, but there are a handful of folks that have complained about the boots falling apart on them after just weeks of use. These cases appear to occur when purchasing the footwear from a third-party seller, so when buying these, ensure that you're ordering from a reputable seller. Other than that, these definitely deserve a spot as some of the best tactical footwear out there.
5

. Original S.W.A.T. Metro Air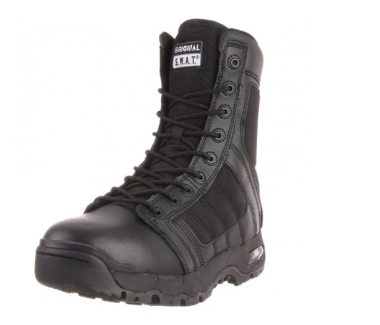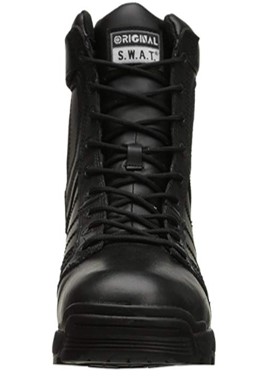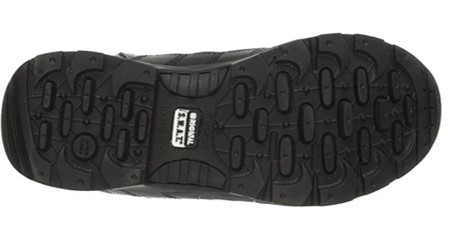 Leather construction
Air cell heel
Comfortable
Absorbs direct impacts
Finding a solid pair of tactical footwear without having to spend an arm and a leg can sometimes prove to be a bit of a difficult task. While you definitely don't want to skimp out on important features and additions with your next pair of tactical foot apparel, you also probably want to try and save money wherever you can. While there's nothing wrong at all with trying to save your cash, you will probably find that this will greatly limit the options that are available to you when looking for a tactical boot that's worth your hard-earned money. If this sounds like a situation you're currently in, we'd recommend taking a close look at the Original S.W.A.T. Men's Metro Air 9-Inch Side-Zip.
Despite the Metro Air's lower price tag, we're still looking at a shoe with a leather build. This is a feature that's not all that common when looking at tactical footwear that is on the more affordable side of the spectrum, so it's a very nice and welcome addition to see that Original S.W.A.T. has included it here with the Metro Air. And, on top of the leather construction, we're also looking at a heel with an air cell that helps to not only make them more comfortable, but also to absorb any direct impacts that the shoe makes throughout your day.
Original S.W.A.T. decided that an affordable tactical footwear deserved more than just this though, so they decided to go ahead and go the extra mile or two. Along with all these features that we've already outlined, the Metro Air also houses an upper area that's double-stitched with a 3-ply bonded nylon thread for extreme durability against all of the elements, a leather toe that can be polished without any sort of undesirable effects, and a nylon shank that helps to make the Metro Air to feature a lightweight design and to keep away as much fatigue from your feet and ankles as possible. A lot of thought and hard-work really did go into the making of this boot, and it's quite evident even when just reading a product description for it online. The footwear has a lot of features that have been added to enhance the boot's overall comfort and functionality, and when reading through what past owners have had to say, it looks like the care and effort that went into making these boots paid off.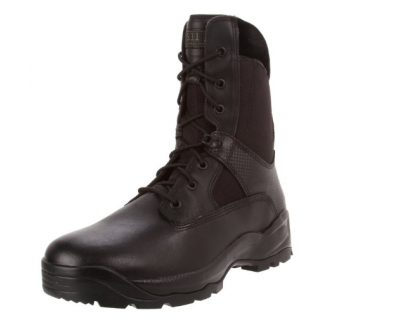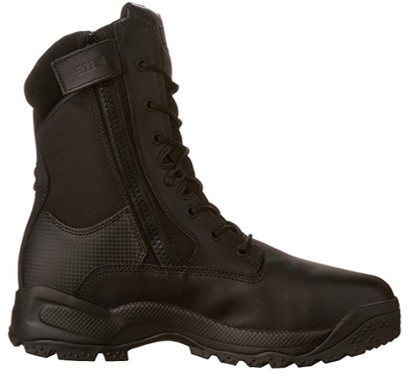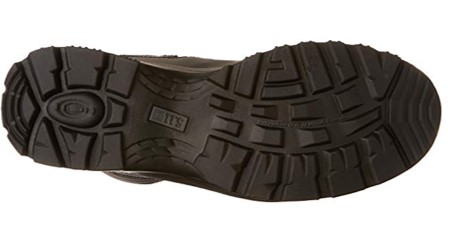 A combination between full grain leather and fabric
Incredibly rigid and durable
Antibacterial and moisture build 
When you go out to purchase tactical footwear, you want your investment to be worthwhile. Because of their ultra-rugged and durable nature, tactical footwear has a bit of a tendency to cost a pretty. That's all fine and dandy if you're spending that cash on foot apparel that's actually going to last you as long as you need it to, but finding a duty boot that will be able to properly withstand everything you throw at it can sometimes prove to be a bit of a challenge. If you're facing this issue, we'd strongly recommend checking out the 5.11 ATAC 8 Inches Men's Boot.
Although 5.11's ATAC might not have the prettiest name, it absolutely makes up for it when we take a look at the feature set that this thing is packing with it. Right off the bat, we can see that the ATAC is made up of a combination between both full grain leather and fabric. The leather portion of the boot allows it to be incredibly rigid and durable, whereas the fabric (rugged nylon) allows the tactical footwear to provide an antibacterial and moisture wicking lining all along the inside of the shoe.
In addition to all of this, we're also looking at 5.11's trusty Shock Mitigation System. That might sound like a mouthful, but what it essentially translates to is the fact that this put is a solid performer for evenly distributing any impact or stress that it endures. Combine all of this with the tactical foot apparel's hypertext lasting board, an insole with an ample amount of cushioning for maximum comfort, and a healthy amount of open cell foam, and you're looking at a pair of some of the best tactical boots that money can buy.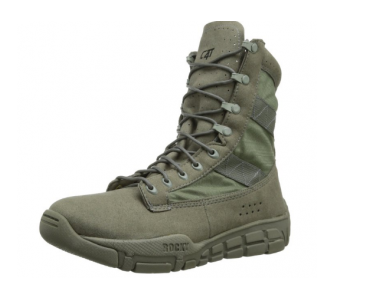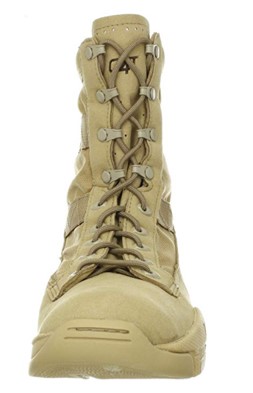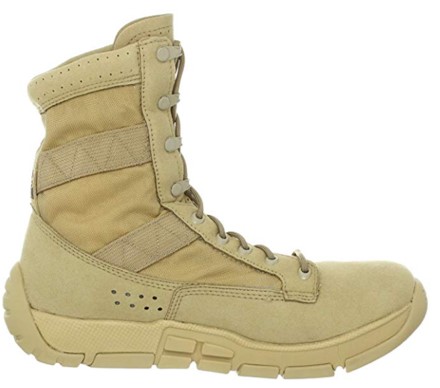 Stable
Waterproof
EVA and rubber sole 
While synthetic tactical boots might be an ideal choice for some people, there's no denying how great and practical the added durability is that you get with a duty foot apparel made out of real and genuine leather. The people over at Rocky are well aware of this fact as well, and that's why their C4T Tactical footwear features a unique blend of both leather and fabric materials. The leather does a great job for making the C4T especially durable, and the fabric portion allows the shoe to remain flexible and breathable. The shaft of this tactical boot measures in at around 7-inches from the arch and the heel comes in at a measurement of just about 1.5-inches.
If you find yourself in a situation in which you're going to have to get your feet wet, you'll be happy to hear that Rocky's has created their Men's C4T to be not only waterproof, but also fast at drying! So, not only will this tactical boot be able to keep up with you through rivers and streams, but it will also dry considerably faster than its competitors – ensuring that your feet don't stay wetter than they need to be.
The laces used with the C4T Tactical Boot are made up entirely out of 550 Paracord, so you can ensure that the laces will be just as durable as the rest of the shoe. And, as if that wasn't enough, Rocky has also included a molded EVA and rubber sole on the bottom of the shoe to maximize the overall stability and grip you have when maneuvering various terrains that you come into contact with. Although these aren't the biggest or most durable tactical foot apparel you'll find on this list, they should make for perfect companions for any light to medium tasks you find yourself involved with.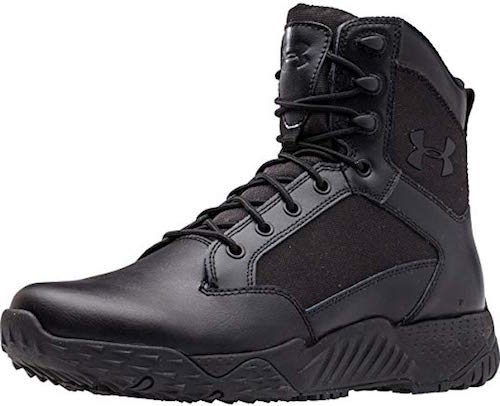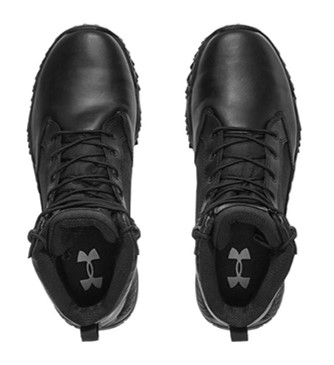 Polishable toe
Quick-drying technology to keep your shoes comfy
Molded EVA midsole with a TPU shank 
Great traction
While tactical boots are certainly some of the most efficient and effective accessories to have with you when you're hard at work, they often have a tendency to come in designs that are a bit gaudy and high-profile. Whether it be because of their design language or ultra-high shafts, it's a fairly common trend that can sometimes be difficult to get around. If you want your next tactical footwear to be as low-profile and inconspicuous as possible, you might have some difficulty locating one that will be minimal and still offer the features you need at the same time. The folks over at Under Armour were well aware of the situation at hand, and that led them to create the Men's UA Stellar Tactical Boots.
Right off the bat, you'll notice that the Stellar Tactical Boot are much shorter than what you'd find on traditional duty footwear. This might be a turn off for some, but for others, this is exactly the kind of design they've been looking for. Despite its smaller size though, Under Armour didn't make any compromises at all with the overall feature set of the Stellar Tactical Boots. The overall build for the footwear uses synthetic materials, and the DWR finish that's found all along the foot apparel allows them to be able to both repel water and maintain excellent breathability throughout the day.
On top of all this, Under Armour has also included a toe that's polishable, quick-drying technology to keep your shoes comfy even when they do get wet, a molded EVA midsole with a TPU shank that's been reinforced for maximum protection, and rubber lugs on the sole of the show that will provide you with the best possible traction no matter what kind of surfaces you come into contact to. The boots have been rated as some of the most comfortable ones out there, and Under Armour has even allowed them to come in at a pretty affordable price tag. So, if you've been looking for a low-profile pair of tactical footwear, these just might be the ones that you've been looking for.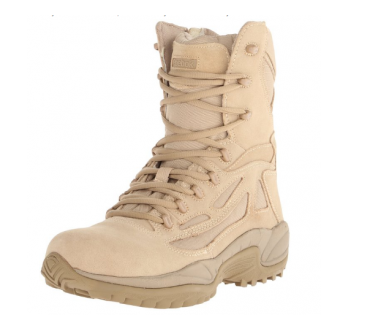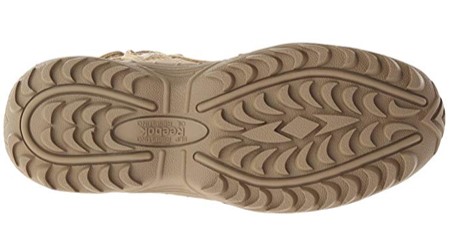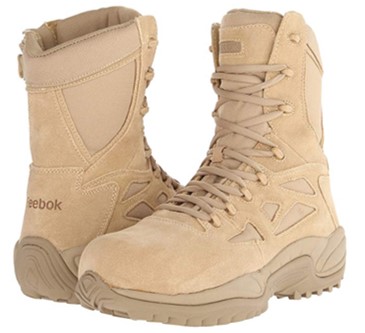 Leather construction
Durable
Sturdy
Comfortable
When you think of popular shoe brands, what comes to mind first? For a lot of people, names like Nike, Reebok, and Adidas are the first ones that come to memory. However, would you expect any of these brands to be the manufacturer of a quality tactical boot? If you said no, you're in for a bit of a surprise, as Reebok's Duty Men's Rapid Response RB8895 8" Tactical Boot is one heck of a product that should be able to keep up with you no matter what kind of work or stress you put it under.
Just what makes these shoe so fantastic though? Right off the bat, we're looking at tactical footwear that is constructed out of leather. This allows the foot apparel to not only offer great durability but also keeps it looking professional and high-end as well. We've got a shaft that measures in right around 9.25-inches from the arch of the boot, and the 8-inch high tactical boot also comes equipped with a side-zipper for easy removal.
The Reebok Duty Men's Rapid Response feature the Foot Force F2A removable insert that's made up out of polyurethane. This insert is designed to keep your foot as comfortable as possible throughout all of your hard work, and it's definitely a really great addition to have. Reebok has moved any metal parts from the Rapid Response to ensure that they're 100% airport friendly, and they've even been tested to meet the ASTM F2892 standards. Basically, this is an incredibly tough boot that should be able to withstand even the most intense work situations.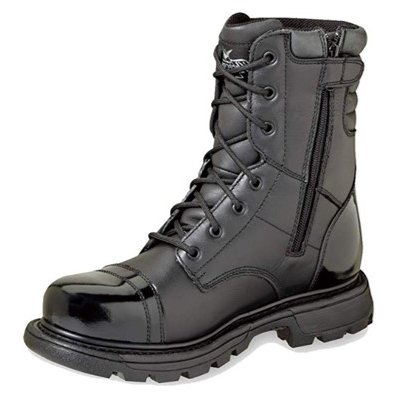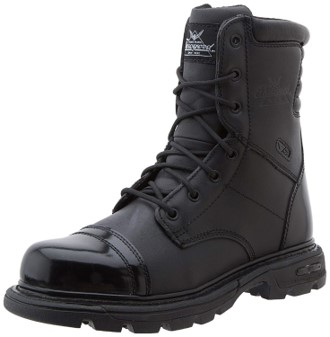 Leather Upper
PU Footbed
Side Zip
Polished Heel Counter & Toe Cap
This pair of tactical boots from Thorogood not only have a polished clean look to them but have impeccable construction, durability and technology backing up the design. With the shaft measuring 8 inches for solid ankle support, it has an easy side zip for ease of access once you've found that perfect fit. A thick lugged pattern sole provides great traction on any type of terrain, so you can keep going no matter what comes your way.
Uppers on the Jump are 100% leather, made to stand up to the test of time in the field. A heel counter and toe cap with added polished shine make this pair suitable for uniform attire. Padded tongue and collar provide some cushion against irritations and rubbing, while Good Year storm welt construction pulls together the uppers and outsole for durability and longevity of the boot. The aggressively designed sole is one inch in height for a slight boost, and lugged pattern for traction on slippery or icy conditions.
Inside this tactical boot is a PU footbed that's removable should you need custom orthotics, and has EVA cushion for some stability and comfort for longer days on the job. Your feet won't overheat in this pair with the mesh lining to help make them breathable, and the midsole is comprised of molded EVA with a heel insert consisting of 300g gel. It's a great option for those on their feet all day or who need something a little more formal looking for uniform wear!
Criteria Used for Evaluation
Expert Interviews & Opinions
Most Important Criteria
(According to our experts opinion)
Experts Opinion
Editors Opinion
Users Opinion
By Default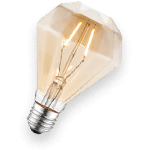 Caring For Leather
Most tacitcal boots do have some weather proofing technology in the leather to help protect against water, but using a leather protectant spray can go a long way to preserving them further.
Speed Lacing Systems
While many tactical boots have lace up vamps, many now have a speed lacing system that makes it easier to fit and wear. With a simple pull of the top laces, the boot can be easily cinched together for a proper fit.
Other Factors to Consider

Bottom Line
As you can see, the world of tactical boots might be a bit bigger and expansive than you may have initially anticipated. They are some of the most powerful and durable shoes out there, and as a result of this, there are a lot of different things that need to be taken into consideration before you make your final decision in regards to which specific model you want to go with.
When making your decision, one of the most important things to keep in mind is the overall durability and ruggedness of the boot that you're getting. Tactical footwear is made first and foremost to offer as much protection against the outdoor elements as possible, so if you have a pair that is frail and fragile, they ultimately fail as being a good tactical boot.
However, perhaps even more important than this, you need to make sure that the boot you're buying is going to be comfortable for you to wear for long periods of time at once. Having super durable tactical foot apparel is great, but if you hate wearing the boot because it doesn't feel good at all on your foot, the entire purpose is kind of lost. Keep these two main points in mind at all times, and your purchasing process should be relatively pain-free.
In order to be certain that you're getting the best possible tactical boot for your needs, take into consideration the environments they'll be exposed to, how long you'll be wearing them at once, and what kind of elements they'll have to be resistant to. From here, start your research by seeing which footwear is able to meet all of the needs on your list.
Tactical boots are some of the most interesting products out there in the shoe world, and hopefully you now have a better understanding and grasp on the market than you ever had before. When you set out to get your next pair of the best tactical boots, keep a steady head, make sure you're aware of your priorities, and have fun!
Frequently Asked Questions
q:

Are tactical boots usually steel or soft toed?

a:

When looking to buy a new pair of tactical boots, one of the things that can sometimes be hard to determine is whether or not the majority of tactical footwear feature steel or soft-toe designs. While there are certainly some models out there that feature steel-toes, soft-toed designs are usually the most common thing that you'll see when looking at this type of foot apparel. The soft-toe design allows tactical boots to be more flexible and lightweight than a steel-toed boot, but you certainly still do have options for steel-toed tactical footwear if you like the added durability and ruggedness that you get with a steel-toe form factor.
q:

What's the most common height for a tactical boot?

a:

Although tactical footwear comes in a wide variety of different sizes nowadays, the most common and frequent size you'll see is that of the 8-inch variant. The 8-inch height provides for a nice balance between a comfortable form factor and allows it to provide an ample amount of protection. However, there's plenty of other foot apparel out there that go both below and above the 8-inch size. One of these isn't necessarily better than the other, as deciding between which size you want to get will ultimately come down to a matter of personal preference.
q:

Are all tactical boots waterproof?

a:

Generally, the majority of men's tactical boots that you'll look at are waterproof to some extent. However, we still recommend ensuring that the company clearly outlines that they are waterproof before testing it out for yourself. There are still some models out there that lack this feature for whatever reason, and there are also boots that take this waterproofness to the next level by being resistance to things like lubricants, petroleum, and even oil.
q:

Do all tactical boots feature a lace up design?

a:

While the majority feature that of a lace-up design, not every single one out there does. If laces really aren't your thing, there's a specific type of tactical footwear called a tanker boot. Rather than laces, they feature straps that are used to secure the boot on your foot, as they were initially created to be more efficient and easy for soldiers in tanks to wear. Tactical foot apparel with lace-up designs are definitely the most common type out there, but with a bit of searching, it's very possible to find a tactical boot that doesn't uses any laces at all.
Subscribe to our Newsletter