Best Construction Shoes Reviewed & Rated
In a Hurry? Editors choice: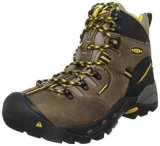 Test Winner: KEEN Utility Pittsburgh

It can be overwhelming searching for the right pair of boots, especially when they're so vital to your safety while on the job. There are countless brands all claiming to offer the best construction boots on the market, but how can you tell which ones are being truthful and which are simply scamming? That's why we have written this list, after careful research and review, to bring you a clear and simple list of the best boots for construction work and make your selection process a simpler one.
Standout Picks
Criteria Used for Evaluation
Weather Resistance
A good pair of construction work boots must be durable to handle your activities day in and day out while also resistant to the elements and weather. Most of the shoes on our list feature some resistance to the outside world. Here's a quick break down of the type of resistances features and what they mean for your construction boots.
Water Resistance: Water resistance, the most common treatment for construction shoes and outdoor shoes, treats the exterior of the boot to be hydrophobic, this means the boot won't get soaked through with water or moisture, even if you work in a very wet environment. Typically, water resistance is only a treatment for the outside of the shoe. So if water gets inside the interior, then problems may occur.
Snow Resistance: 'Snow Resistance' is a broad term for construction work boots that have been treated to withstand freezing temperatures, sleet, and are strong enough to trudge through multiple inches of snow. This type of resistance is terrific if you work in freezing temperatures, whether inside or outside. Storm resistant shoes are insulated most of the time, so your feet stay pleasantly warm even in the dead of winter.
Heat Resistance: Heat resistance is another broad term for boots that have been treated to solve some issues. Typically, heat-resistant shoes are designed to withstand high temperatures and are flame retardant. Welders, smelters or anyone working with hot liquids or metals would purchase heat-resistant shoes.
Stability
Stability is a feature of construct boots which deals with the traction, grip, and balance of a particular shoe. In construction especially, stable shoes that are resistant to slipping and provide excellent stability for the wearer is a must.
Fiberglass and Steel Shanks: Stability shanks are flat pieces of material, usually composed of steel or fiberglass, located within the sole of the shoe. These shanks give more support to the arch and keep the wearer upright and comfortable for long hours on end. Most boots come equipped with stability shanks for both stability and as added protection from sharp objects.
Slip Resistance: Construction work boots are typically slip-resistant. Slip resistance can either come from the material of the sole or a grooved pattern etched into the sole of the shoe. Of all the features discussed, slip resistance is a top priority on this list because slipping at any job site can prove fatal.
Multi-directional lug patterns: Traction is another essential feature of a construction boot. Multi-directional lug patterns are excellent for traction and grip, creating an incredibly stable and safe boot for labor-intensive work. Usually, you'll want the bottom of your boot's sole to have thick, deep grooves so that they can grip onto any floor surface.
Protection
Accidents always occur, no matter where you are or how prepared you might feel. That's why a good pair of construction boots needs to be ultra protective of your feet. For this list, we consider the following features paramount to safety.
Steel toe: A steel toe within a construction boot means a steel plate protects the toe box either outside the exterior or in between the interior and exterior of the shoe. Steel toes ensure that if anything substantial falls on your foot or anything sharp comes into contact with your construction boot, the steel plate has you covered. If you work in areas of high risk, a steel toe is a must for your safety and protection.
Insulated: Insulation or an insulated construction boot keeps your foot at a pleasant temperature while working, this promotes air circulation and lessens your chances of athlete's foot. It's also a great feature to have if your area's weather is particularly unpredictable (lookin' at you, Texas).
Shock Absorption: Shock absorption comes from an excellent outsole and footbed. If you're on your feet all day, or if your activities take place on unforgiving materials like concrete, shock absorption will save you. All the shoes on this list come equipped with thick outsoles that even distribute force all along the bottom of your shoe and protect your arches, heels, and metatarsals for all-day comfort and prevents further damage to your feet after repeated activity.
Comfort
Your construction boots can be the safest, most durable boots on the planet, but if they aren't comfortable, then what's the point? For the sake of comfort, we considered all the following features as critical contributors to a boot's overall comfortability.
Padded interior: An ultra plush, padded interior means happy feet all day long. All of our chosen construction shoes feature padded uppers, inner lips, toe boxes, and heels to cushion your feet while at the job. A well-padded interior should leave your feet feeling pleasantly snug and not overheated, hence why many padded boots come with moisture-wicking technology.
Removable Footbeds: Sometimes manufacturer designed footbeds don't work for us. That's why we gave special consideration to work boots with removable insoles. If you have specific orthopedic issues that call for individual assistance, just remove the factory footbed for your own. That gives the perfect durable and resistant shoe with your comfort in mind.
Moisture Wicking Mesh: A well-developed moisture-wicking mesh goes hand in hand with plushness and coziness. While a shoe should be pleasantly snug and cushiony, your feet should never sweat out. Moisture-wicking mesh combats the uncomfortableness of sweat while also maintaining a plush interior.
Fit
We all know how hard it can be sometimes to find the perfect pair of shoes that we not only love, but that also fit snugly and comfortably. With so many styles, brands, colors and models, how can one compare hundreds of supposed "size 10s"?
To assess for trueness-to-size, we considered the opinions of thousands of wearers from across the globe to find out the answer to the ultimate question: do these 10s fit like a 10? While some things can give you a hint as to whether they will fit true, small or large; like brand name, shoe type and year of make; we believe that the opinion of buyers cannot be wrong. If they say the shoe doesn't fit the way it's supposed to, then you won't find it in our 10-best list.
You will find that a pair of boots that score high on this metric tend to experience a trueness-to-size that was verified by our large community of sampled buyers. Just don't forget to take into account the factors above to also make sure your favorite pair will fit you perfectly.
Top 10 Construction Work Boots
1

. KEEN Utility Pittsburgh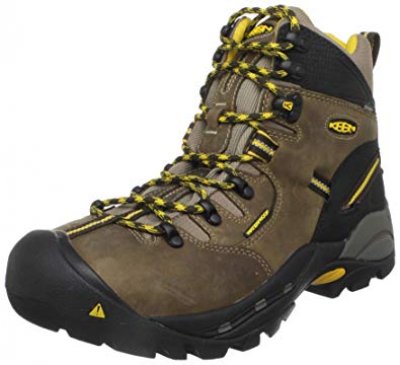 One of KEEN's most reliable and rugged pair of construction boots is their Pittsburgh. Quality nubuck leather makes the uppers, keeping a durable yet flexible feel to the design, while steel toe keeps you protected on site. Add to all of this KEEN's well known and loved cushion and hiking style, and you've got a medium duty option that will go the extra effort when you do.
Within the Pittsburgh is a removable EVA footbed, helping to keep you stable and cushioned. However, it's easy to remove and replace with custom orthotics or an insole if you prefer. A contoured heel lock keeps you snuggly in place, minimizing heel slip during wear. Most worksites will have you walking or on your feet most days, so having a boot that acts as a hiking shoe is a win! Along with a solid steel toe to beef up the toe cap, the Pittsburgh is ASTM F2412-11 and F2413-11 certified and meets the I/75 and C/75 standards as well. Reflective webbing also keeps you safe in low light situations, and the slip-resistant sole keeps you going even in nasty weather or wet conditions. Add nubuck leather for waterproof quality, and the Pittsburgh proves to be an all-around design ready for anything.

As with many of KEEN's hiking boots, quality and comfort do come at a premium price, but it's well worth the investment as they tend to last years, even with daily wear and tear. The KEEN Utility Pittsburgh is a great medium duty design to consider for your next new pair.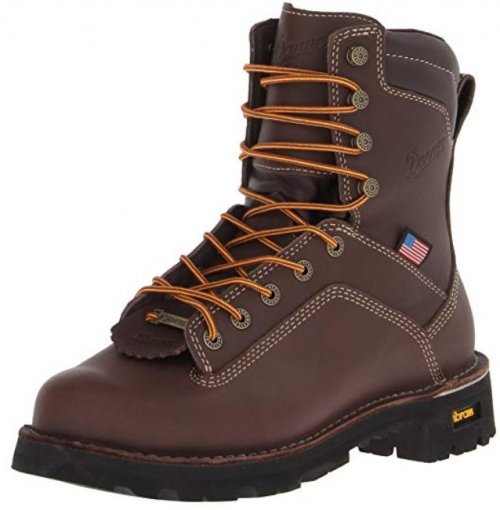 Hold onto your hats, here comes one of the sturdiest, most badass construction shoes we have in our arsenal! The Danner Quarry is built to withstand the toughest of conditions, with a leather upper that goes through nine different tests for durability, a triple-stitched construction, and even electrical hazard protection! In the Quarry, you can easily focus on your work, as you can rest assured that you are safe and sound in all types of situations.
The Quarry has a full-grain leather upper, as we mentioned, as well as a GORE-TEX lining that is completely waterproof and breathable at the same time so that your feet don't sweat in the design. There is a choice between a normal toe and an alloy toe for even more protection, and the outsole is of the Vibram quality. It is oil and slip resistant, and it also has a lug pattern that provides outstanding traction and doesn't get debris stuck in it.

The Danner Quarry is designed to fit snugly at the heel while providing ample room for the toes, and it is meant to be worn by all foot shapes and sizes. In this amazing boot, you don't have to worry about any mechanical, electrical or other types of injuries, as your footwear will make sure you get through the workday without a scratch! What an amazing deal!

3

. Caterpillar Second Shift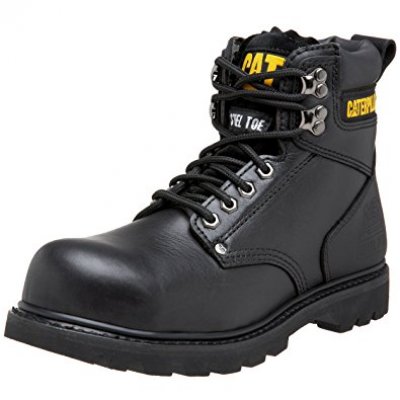 Caterpillar is well known in the workforce, not just for their heavy-duty construction equipment, but for solid quality constructed construction boots that will get the job done as well. The Second Shift steel toe is a 6-inch option that will keep safety at the forefront, but that also has the rugged sole and uppers to keep at it for longer days on site. Steel toe protects you, while other features keep you comfortable and cushioned during wear.
The Second Shift comes with a steel toe reinforcement to give you maximal protection against accidents, stubbing your toes, or other worksite related hazards. Top it off with an electrical hazard approval, and you're set for anything thrown your way! On top of full-grain leather uppers that provide durability and give flex to the design, nylon mesh lines the inside for breathability. A removable sock liner adds more comfort, and a Climasphere insole cushions each step. A T3 rubber outsole delivers slip resistance to a deeply lugged sole, and a steel shank provides reinforced support and stability all day long.

With a steel toe to protect from the occasional unforeseen accidents, an electrical hazard rating, and cushioning and support found within the design, this option is definitely worth a look. Great for those on-site all day doing the heavy work, or just visiting site to site, the Caterpillar Second Shift will keep you protected and ready for anything.

4

. Wolverine DuraShocks SR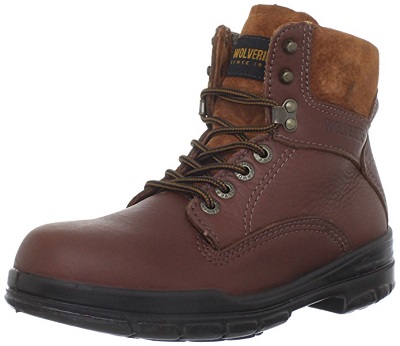 Wolverine DuraShocks SR is a handsome design that comes in the single color of reddish brown. It has a leather upper, a removable footbed, and a synthetic sole. Something that differentiates this option from the others is the shock-absorbing feature that comes in handy when carrying more substantial things that will apply pressure to your feet. With added factors like these, the DuraShocks SR construction boots ensures that your feet will be comfortable and far from pained.
The permanent direct-attach molding on the DuraShocks seals out water. Its special lining rids your shoes of sweat and keeps your skin dry and comfortable. The fiberglass shank inside the design helps stabilize your feet, and it weighs 75% less than steel which makes these especially unique because steel is a common feature on construction boots. This feature also helps by reducing fatigue that occurs when working.

The Wolverine DuraSchoks SR is on the expensive side of the list, but its price is high for a reason. The special technology and features it offers make them worth their hefty cost.

5

. Thorogood American Heritage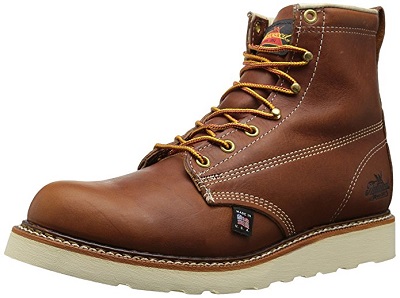 Thorogood's American Heritage is an excellent choice for someone who wants to incorporate a sleek fashionable style into their everyday work. Although the shoes look thin, don't be fooled by their outside appearance. They may have an exterior of a nice leather but are made to be completely slip-resistant. And on the inside, they are made with dual density and shock absorption.
The American Heritage is made to be completely slip-resistant which is good for when working with liquids or on slippery surfaces. This also makes sure the shoes are good when walking on all surfaces and reduces the chance of having any accidents when slipping because of frictionless soles. The American Heritage also has an added factor of shock absorption. This makes it easier to carry heavier things and it will make sure you are able to stay on your feet for long periods of time.

If you're looking for footwear that can give you everything a good, sturdy design has to offer but which also has a sleek frame and fashionable look, then the Thorogood American Heritage is the right one for you.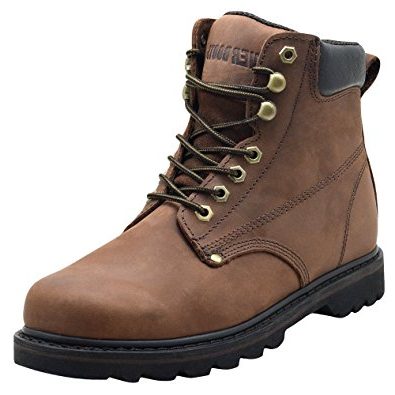 The Ever Boots Tank is made from leather and features a grippy rubber outsole. It's manufactured using the Goodyear welt construction and approved for work with concrete and construction. The Tank has a cushioned insole and quick hook and loop fasteners for easy on and off wearability. Complete with a three-month manufacturers warranty, these are guaranteed to work as hard as you.
Made with Goodyear welt construction and a 100% leather upper, the Tank is a well-built work option. It's approved for work with concrete and construction and features a grippy rubber outsole for superior traction on any surface. The Tank also features a cushioned insole and easy hook and loop fasteners for a no-hassle wearing experience. Its solid rubber outsole and leather upper make for a breathable design that will keep your feet comfortable all day while you're at work.

One of the least expensive options on this list, the Tank is an exceptional value for its price. Walk securely in these comfortable shoes that are approved tough, demanding physical jobs.

7

. Timberland Pro Boondock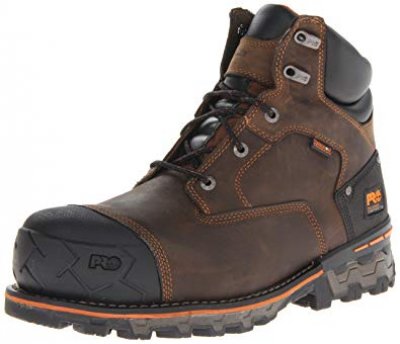 Timberland hits our list with their Pro Boondock design; with its rugged appeal and protective elements, it keeps the brand name quality we expect and love. And for those who prefer a lighter weight toe protection, the Pro Boondock has a composite safety toe instead of steel. Waterproof leather keeps you dry and makes the Boondock a great option if you find yourself withstanding the elements more days than not.
Leather uppers are in the Boondock, giving it durability needed for daily wear and tear. They've been specially treated, however, so that if they get wet, water will bead up on the surface and roll off the design. The waterproof membrane also helps them with resisting abrasion. In addition, the outsole is oil-resistant, giving you traction not just in wet weather, but also when you need it most on the worksite.

As with many of Timberland's Pro line of footwear, the Boondock has a rubber toe protector to give added durability, and help against abrasions, wear, and tear. Composite safety toe protects the toe box and a padded collar keeps irritation from occurring around the ankle. Anti-fatigue and shock-absorbing technology line the Boondock, so you can go hard and go long if the job requires it. A lace-up vamp allows for you to adjust the fit and security, and there are hooks at the top for added ankle support.

When compared to other models of Timberlands, the Boondock is quite similar in price. Compared to others here on this list, it runs slightly more expensive than average but is well worth the investment with its brand name construction, waterproof tech, comfort, and composite toe. Great for those who work in the elements, or find themselves dealing with wet or messy conditions daily.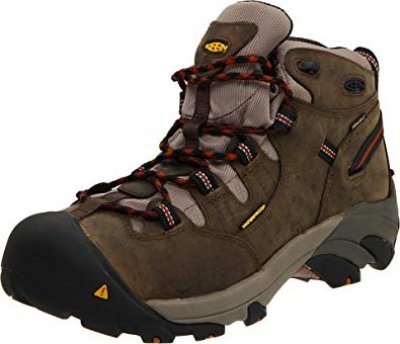 KEEN makes another appearance on our list with the Detroit, an ankle-high steel toe design packed with breathable comfort and protection. Similar to the Pittsburgh, the Detroit pulls in a few more comfort technologies to keep you dry and cozy during wear, knowing you'll be putting in a solid effort for the day. Nubuck waterproof leather uppers and other waterproof tech make this option ideal for those braving the elements day in and day out.
The Detroit is constructed from waterproof nubuck leather, with a Keen Dry Waterproof membrane, which allows breathability as well keeps your feet dry, and blisters at bay. The Dry-lex lining adds a bit of comfort, but its two-zone hydrophobic/ hydrophilic comfort technology is key to alleviate any wetness in the design. Add to this the CleanSport NXT treatment to fight bad odor, and you've got an option to seriously work hard without leaving you damp after long days.

In addition to its waterproofing technology, the Detroit has a steel toe to reinforce the toe box and protect you on site. Reflective webbing gives low light safety and visibility for night work or early morning wrap-ups, and the outsole is oil and slip resistant. A TSS supports the midfoot for stabilization, while a dual density EVA footbed gives cushioned comfort.

Slightly less expensive than some of the other KEEN footwear and hiking options, the Detroit is a great budget-friendly choice if you're in search of a new pair of boots. With steel toe protection, oil and slip resistant sole, and waterproof technology that packs to the collar, the KEEN Utility Detroit is a great purchase for those braving the elements.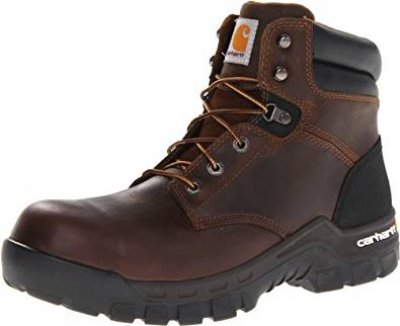 With their first appearance on our top ten list, Carhartt brings a composite toe safety boot combined with flexible comfort in their CMF6366. Whether you find yourself inside or outside for the days' work, the CMF6366 will help you finish the job. The rugged rubber sole, flex technology, leather uppers, and plenty of approved requirements, they make a great pair of boots for work, or for just walking about town on the weekend.
The CMF6366 has several approved requirements, including the ASTM 2413-11, the oil and slip resistant sole, and the chemical resistance. Great for those who work in semi-hazardous conditions such as a laboratory construction or chemical plants. A composite safety toe helps to make these lighter than steel toe protected designs but still gives a piece of mind knowing your toes are covered. Rugged Flex technology is designed to stretch and move with your natural movements. The cement constructed Carhartt Rugged Flex outsole brings durability, but also lets you take this option out on the town with its ability to act similar to hiking boots in terms of mobility and flex. The EVA midsole, and an OrthoLite insole cushion and comfort your feet, while weather-resistant full-grain leather uppers give structure to support the ankles.

The Carhartt CMF6366 is a great composite toe option for those looking for more comfort, and who don't require rigid construction of steel toes. Ideal for those who want a design that's versatile enough to wear inside or out for the day's work, and then step out on the town in the evening.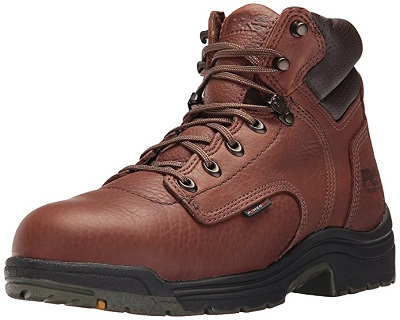 Timberland Pro Titan is the perfect choice for all of your construction escapades. These are made of a thick material that ensures safety and prevents injury from accidents. With the durable laces and build, they will last you for quite some time. The Titan comes in an array of different durable leather materials that are perfect for the outdoors or indoors.
What makes the Titan a good investment is the firm rubber sole it offers. When working in various circumstances, it's important to have footwear that is approved to be oil resistant thus completely slip resistant, which will help in many hazardous situations. The Titan is made from special premium leather that ensures a first-class experience. This also allows you to incorporate a little bit of style into your everyday life with the leather.

Compared to the other options on this list, the Timberland Pro Titan could be considered slightly on the expensive side, but for the quality of the design, they are definitely worth it.

Subscribe to our Newsletter