Best Caterpillar Shoes Reviewed & Rated
In a Hurry? Editors choice: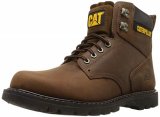 Test Winner: Second Shift

Since its early days, the Caterpillar shoes and footwear along with their apparel line have grown exponentially - they now include not only work gear, but also casual designs for everyday wear - cute autumn ankle boots and fashionable oxfords and even stylish sandals.

If you are in love with this brand on the same level as many others, we are sure that you will find something that matches your personal style on this list of Caterpillar shoes. The Caterpillar brand has resolved to follow the latest fashion trends, while at the same time not letting go of what made them so popular - their penchant for innovation, and unparalleled durability and comfort of their products.
Standout Picks
Criteria Used for Evaluation
Protection
Given how the Caterpillar shoes venture into the world first began with work boots and shoes, it isn't surprising that to this day the Caterpillar shoe brand is famous for the extraordinary protection and safety features of its products.
It has invested an unbelievable amount of time and effort into creating only the most secure footwear which you can wear absolutely anywhere - during gardening landscaping, construction, even mining and similar heavy-duty, hazardous jobs.

These protection features are greatly varied in Caterpillar shoes. They come in the form of grooved outsoles, such as the SRX, which exceeds industry standards when it comes to slip-resistance and keeps you on your feet at all times, even in wet and oily conditions.
They can also include technologies in Caterpillar shoes like the Nano Toe, which is a composite toe design that is lighter and thinner than usual, and yet which exceeds all ASTM (American Society for Testing and Materials) standards. The ERGOlite technology is important as well because it comes with an exoskeleton created for protection, structure, and support.

Finally, if all else fails, there is always the Caterpillar Ultraduty system. This type of Caterpillar shoe is designed for the toughest of jobs. It is tested to overperform, and the technology mostly focuses on the qualities of the sole. There is a comfort footbed which keeps you cushioned even in a hard environment, a reinforced midsole for extra protection, and a heavy-duty outsole that can take on virtually any type of terrain. If you are looking for outstanding security, then Ultraduty is definitely it. One of the reasons Caterpillar shoes are recognized for their hearty durability and protection.
Insulation
From the simplest of insulation features, such as a microfleece lining, to more complicated ones, such as the Thinsulate heat-preserving technology, Caterpillar shoes makes sure that your feet are nice and toasty no matter how low the temperature outside drops. This is a quality which Caterpillar shoes provide not only in their work footwear, but also in fashion footwear, so you can wear all of your favorite fall designs whenever you want.

However, we feel obligated to mention a special type of technology that is unique to Caterpillar shoes, and that is the Arctic Grip system.

Caterpillar shoes created this an answer to mother nature's love of all things freezing and icy, and it has two versions: the regular one, Arctic Grip, and the Arctic Grip Pro.

The regular Arctic Grip footwear is waterproof, and has specially treaded soles which have superior grip - and we're talking really superior, here - that stop you from slipping entirely. It also has a temperature reactive outsole, with a neat little indicator at the bottom which turns blue when the temperature drops to 0C or 32F.

Arctic Grip Pro, on the other hand, has all the features that are characteristic of the Arctic Grip, but also more: these shoes are oil resistant - even greasy surfaces don't pose a threat to your balance. They also have a special ultraduty outsole which is highly abrasion resistant, and are not only waterproof but also provide thermal insulation for your Caterpillar shoes.

Surviving the harshest winter months has never been as easy as with the Arctic Grip and Arctic Grip Pro that Caterpillar shoes have!
Comfort
Regardless of if you're choosing Caterpillar shoes for casual strolls through the city and shopping trips at the mall or if you're looking for the next Caterpillar shoe which will keep your toes safe from dust and debris of your workplace, Caterpillar shoes have truly outdone their selves when it comes to the comfort of all of their designs.
 
There are several technologies we will mention here, each one with its own unique set of features and characteristics created to ensure your utmost comfort.
 
Let's start with the Caterpillar shoe Ease technology, which is, as its very name suggests, easy to understand. Its focus is comfort and shock-absorbing, first and foremost.
Caterpillar shoes that are outfitted with the Ease system have soles comprised of three layers: the extra cushioning insole which softens your steps and makes you feel like you are walking on air; the shock absorbing midsole which spreads the force of the impact evenly throughout the shoe and lessens the strain put on your heel; and the super durable outsole which, obviously, lasts long, but is also slip and skid resistant.
Overall, Caterpillar shoes with the Ease technology are 30% more shock absorbing, 15% lighter and 15% more durable than those which have standard EVA cushioning. Talk about true bold comfort.
 
We have already mentioned the ERGOlite technology in our Protection section. This system offers all the lightness and the sporty design of a sneaker, but all the protection and the safety of a work shoe.
Products in the ERGOlite Caterpillar shoe line have a contoured footbed, which is breathable and shock absorbent. They come with the option of choosing soft toe, comp or steel toe versions. The Caterpillar shoe design is sculpted to provide arch support, heel cushioning and all the necessary comfort, and they come with an exoskeleton for protection. Lastly, ERGOlite offers a foam collar, padded for extra cushioning during motion.
 
There is also the Caterpillar shoe Flexfwd technology. This is somewhat more complex than the Ease technology, as it is "geared to respond to the twists and turns of fast-paced urban lifestyles." Indeed, everything about this system is there to ensure that your way through the city in your Caterpillar shoes is smooth and comfortable.
Flexfwd offers a footbed made from a cork blend and 4mm thick foam. This provides all the necessary padding you need to stave off foot fatigue. Furthermore, it is covered with a microfiber layer enriched with an organic natural enzyme which keeps away bad odors and bacterial infections. This type of footbed is about 40% lighter than rubber.
With the Flexfwd, the outsole itself is 50% more abrasion-resistant than rubber, which is essential when you're taking on the unforgiving asphalt of the city streets in your Caterpillar shoes. Additionally, there are flex grooves on the bottom, which provide flexibility and rebound to reduce pressure on the heel, arch, and toes.
Durability
In order for your footwear to endure the impact of a hard-hitting environment, it has to be pretty damn durable. And the Caterpillar shoe brand doesn't disappoint here, either, as it constructs all of its key designs utilizing the legendary Goodyear welt construction technique.

This involves using a strip of leather, linen or synthetic - known as a 'welt' - and sewing it to the inner and the upper sole. The welt forms an empty space which is filled with a porous, breathable material, such as cork. Lastly, the sole of the design is attached to the welt by using a combination of stitching and a strong adhesive such as contact glue or cement. Making your Caterpillar shoes durable for the long haul.

This method is considered one of the best - if not the best - for constructing footwear. The reason for this is that designs made using the Goodyear welt are incredibly long-lasting.
The construction method allows the owner to resole their footwear as need be, without damaging the shoe. Thus, with proper care and regular resoling, you are looking at a design in your Caterpillar shoes which can easily last you decades!
Style
As you must have noticed in our list, the Caterpillar shoe brand no longer focuses only on practical, functional work gear. Rather, Caterpillar shoes have expanded their horizons, and now their footwear collections also include more stylish, fashionable designs, which can easily be worn on an everyday basis.

While we admit that some of the work boots aren't the trendiest, we also looked at Caterpillar shoe designs which are currently in style, as well as those which have timeless silhouettes to them; which defy the current fashion crazes and will seamlessly fit into your wardrobe for years to come.

That way, you can find anything you like from Caterpillar shoes, from cute ankle booties to elevate your height and your fall outfits, to dashing designs which are a cross between dress and winter wear that will earn you a world of compliments on your rugged aesthetic.

If you're interested in the most stylish options our Caterpillar shoe list has to offer, definitely sort the products by this criterion and choose off the top!
Our Favorites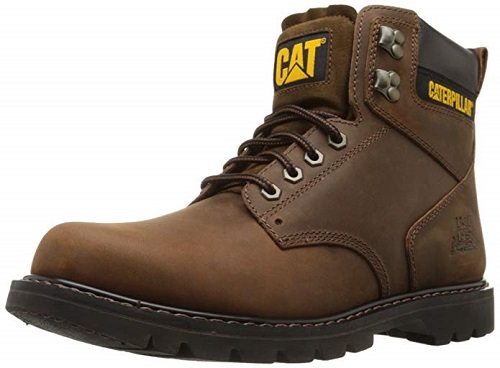 The one, the only, the most popular design currently available for purchase. And with good reason. The Second Shift boot is everything you could ever dream of in terms of security and protection while looking unabashedly cool at the same time. This design has a nubuck upper, a nylon mesh lining as well as a Climasphere insole for breathability and comfort. There is a steel shank for added stability and a rubber outsole which provides exceptional slip resistance on low traction surfaces. As if all of that wasn't enough, the Second Shift also comes with a Goodyear welt construction and certified electrical hazard protection.
The Climasphere insole has been specially designed to provide comfort when you're on your feet for extended periods of time. Additionally, it promotes proper air flow through the boot, preventing your feet from sweating and developing any unpleasant odors.
 
We will admit that not many of us find ourselves faced with the imminent danger of electric shock. However, it is comforting to know that the Second Shift boot can protect us even against open circuits up to 600 volts in dry conditions, should such a situation arise. One of the best Caterpillar shoe options out there!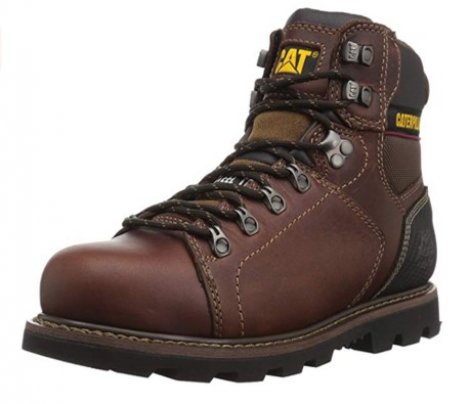 In search of heavy duty footwear for hazardous work sites? The Caterpillar Alaska 2.0 ST is an upgraded model from their Originals, but now made to have a bit more appeal, with added comfort. Rated for several work hazards, this steel toe boot will keep you protected on and off the work site. An added cushioned footbed helps to keep you going long on the job, and into the evening social events.
Rated for electrical hazard and with steel toe reinforcement, the Alaska is perfect for construction sites. A slip resistant rubber sole bases the boot and will keep you from sliding around in messier conditions due to rain or wetness. Goodyear Welt Construction hold the boot firmly together, even when put through the toughest of days.
The uppers are constructed from full grain leather, and close with a 6" lace up with hook closures for a better, yet adjustable fit. Quality stitching tops off the boot's make, with Caterpillar shoe logo along the side. It's a perfect boot for on and off work sites, with enough style to wear our with friends for a casual evening.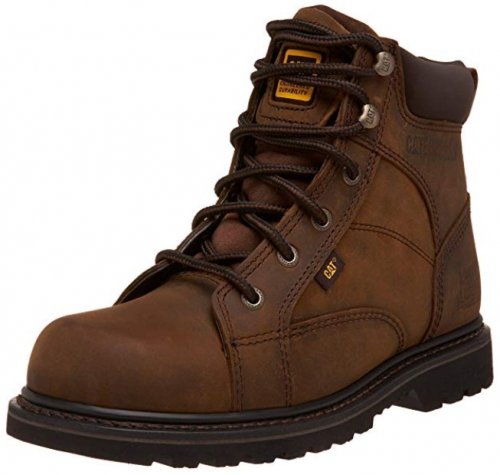 The Whiston is everything you need out of a great work boot. It has a full-grain leather upper and a lace closure for maximum adjustability, as well as a durable and protective outsole. It provides slip resistance on all types of surfaces, including ones that are covered in oil. With the Whiston you will be safe against water, discomfort, slips, and falls, and even electrical hazards! If you're looking for a durable soft toe option from your Caterpillar shoe, the Whiston is definitely your design.
The leather upper of this boot is durable and protective, while the inside is lined with nylon mesh for ventilation and a chafe-free ride. The Nylex sockliner moves moisture away from the foot to keep you comfy and dry. In terms of comfort, in the Whiston you will find a molded footbed and a shock-absorbing midsole, as well as a steel shank for stability and support. The outsole of this sturdy design is resistant against oil, water, and abrasions.

If your workplace doesn't require reinforced toe areas, and if you would like something that is protective but lightweight at the same time, then the Whiston is a prime candidate. This Caterpillar shoe can take quite a beating while still keeping you safe in all the right areas.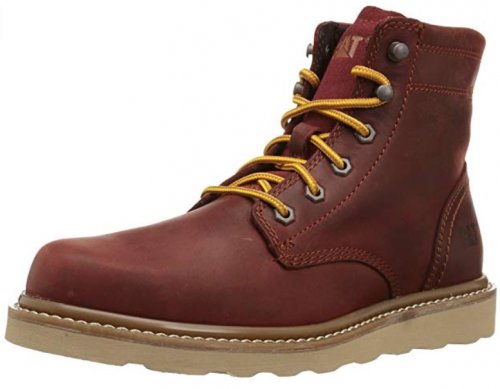 In our wide selection of protective footwear, there are a few choice designs that are here solely for their fashion appeal. The Chronicle is definitely one of them - a boot that you can wear with practically anything - though we prefer cuffed jeans - and look ruggedly handsome. It is made from premium leather and comes in several different color versions, out of which we singled out this gorgeous deep red.
The Chronicle has a full-grain leather upper for durability and style, as well as that personalized comfort that only leather can provide. It features a mesh lining for gentleness on the skin as well as breathability, and a Poliyou footbed for comfort. The midsole of this option is durable and made from shock-absorbing PVC, and the outsole provides decent traction, despite this being a fashion choice for Caterpillar shoes.

The Chronicle is what you wear to impress. For a polished yet still outdoorsy style, you can pair this design with any fall to winter outfit and turn heads by merely walking the streets. In a blink of an eye, this boot will become a staple in your wardrobe!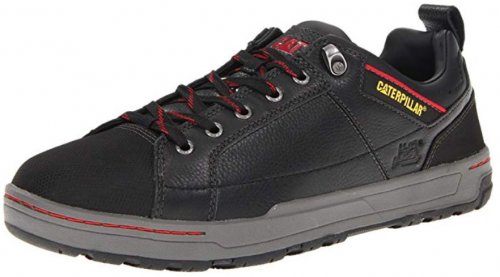 It may look just like a regular, stylish trainer on the outside, but the Brode is so much more than that. This design actually has a steel toe for impact protection on hazardous jobs and is classified as a work shoe. It delivers electrical hazard protection as well and is made using the Strobel construction method, for outstanding flexibility and light weight.
The Brode has a suede upper for durability, and a Nylex sockliner for a dry, sweat-free ride. The footbed is made from dual density EVA for maximum impact absorption. Inside the design, you will find a special nylon shank that provides stability and keeps you on your feet no matter what. The outsole of the Brode has traction against oily and wet surfaces and is abrasion resistant.

Now you can combine the best of both worlds in this Caterpillar shoe! This sporty sneaker has everything you need in a work shoe that is still undeniably sleek and stylish. Take it from the construction site to an office meeting without changing your footwear, and be protected and fashionable throughout!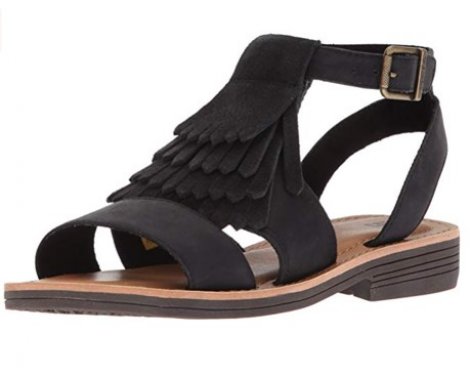 A different take to Caterpillar shoes, this one's for those evenings where you'd like a little relaxed sassy style to go with your ensemble. The Arabella puts a sophisticated spin on sandals, with open heel and T-strap closure, perfect for an evening out!
A slight lift to the sandal along with rubber sole makes the Arabella comfortable for wearing extended time frames. And, for summer heat, it's sandal style, and antimicrobial lining will keep you cool, calm, and comfortable. An open heel adds to comfort and less blisters should you choose to wear them along the board walk for the evening.
Leather uppers strap across the toes and midfoot, and end in a T-strap design with buckled ankle closure. Fringed leather adorns the top of the sandal, creating a fun boho style appeal and feel. Perfect for summer wear, the Arabella is a great alternative Caterpillar has designed for off work sites!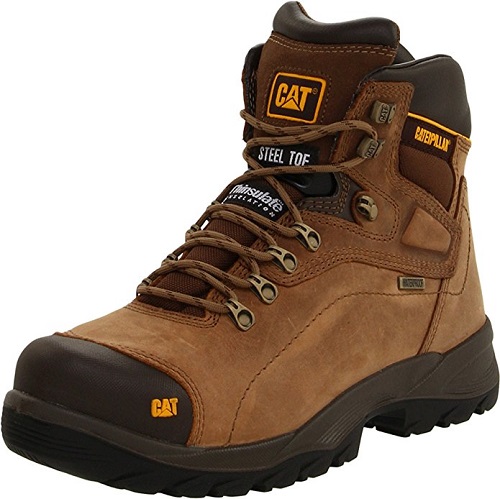 It's hard to find a better work boot than the Diagnostic. Believe us, we've tried. Not only does it look all manners of sturdy and functional, but it actually really is, on the inside. The upper of the Diagnostic is made from waterproof leather, the lining is mesh nylon, and there is extra cushioning and support in the form of dual-density EVA, as well as a PU midsole for shock absorption. The Diagnostic guarantees protection from electrical hazards, has a special T870 SRX slip-resistant outsole, and is insulated with 200 grams of Thinsulate, a special type of heat-preserving technology. This boot ensures that you stay dry, warm, comfortable and completely protected as you work.
Thinsulate is a special product, a type of thermal technology, which insulates against freezing temperatures. It provides warmth and comfort in extreme weather conditions, keeping your feet toasty and dry no matter what the temperature is outside.
 
When it comes to the T870 SRX outsole, the T870 means that the outsole of the Diagnostic is oil and water resistant, as well as heat and abrasion resistant. The SRX part means that its slip resistance is actually so good, that this type of outsole is considered top of its class in the category of work boots.
 
We are left speechless in the face of all that the Diagnostic has to offer. It is a boot damn near built to survive a nuclear war, and you certainly won't regret purchasing it. A highly rated and durable Caterpillar shoe option!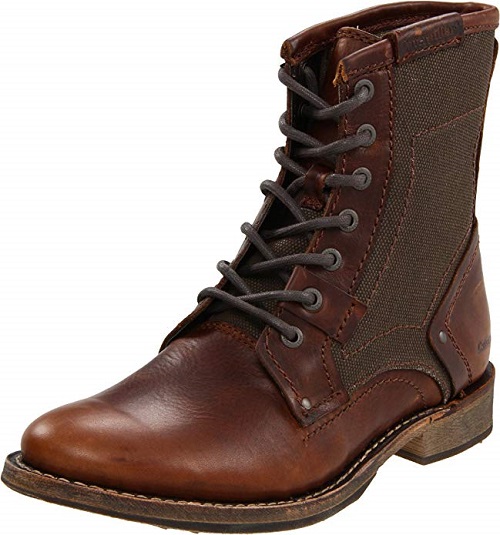 Between all of these bulky work boots and tough lifestyle designs, it is actually refreshing to encounter a design which is more of an old soul. Made for a true gentleman, the Abe boot stands out in terms of style and fashion sense. It has an upper that is made out of part leather and part twill, a soft, breathable canvas lining, and an antimicrobial microfiber sock liner. The footbed is outfitted with the brand's Ease Comfort technology, and there is a lightweight, durable PVC midsole. The bottom of the Abe has a rubber outsole to provide good traction, as always. We are absolutely in love with the two-toned design of this fashionable boot.
Microbes - bacteria and fungi - are the main reason why sometimes our feet and shoes start to smell, and why we run the risk of developing a foot infection. With the Abe, this isn't a problem, as its microfiber sock liner is infused with an antimicrobial agent which nips the development of these microorganisms in the bud.
 
The canvas lining of the Abe provides your feet with much-needed breathability. Canvas is a lightweight material which allows the air to pass through without any restrictions, meaning that it keeps your feet cool and sweat-free.
 
The Abe still comes with Caterpillar shoe's signature comfort technology, one that ensures that you are well-cushioned and supported while looking effortlessly dashing at the same time. We can't think of a better marriage between comfort and style.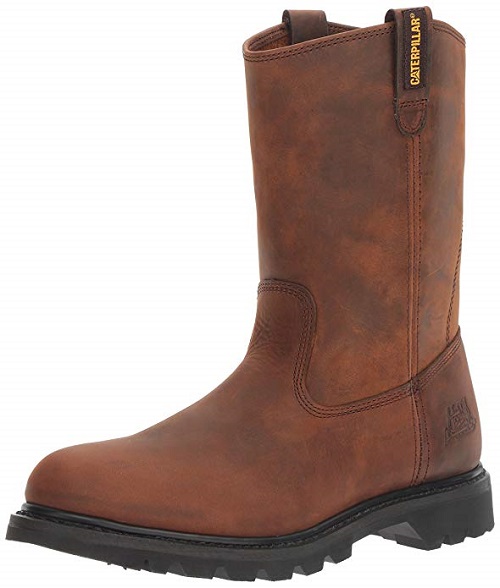 While it is not the most revolutionary in terms of design, the Revolver boot didn't come here to look pretty. Rather, this is a work boot, created to ensure all-day endurance, quality, and comfort. It is made out of full-grain leather for the upper, nylon mesh lining on the inside, and a taibrelle PU sock liner. There is a PVC midsole for added sturdiness, and a T3 rubber outsole. Like most of Cat's footwear, the Revolver is made using the Goodyear welt construction as well. You can choose whether you'd like to go with the soft-toe or the steel-toe option. This boot is not one to be taken lightly, as it will provide you with the ultimate protection during your workday.
The outsole of the Revolver is made from a special rubber blend which ensures maximum slip-resistance. In this boot, you will be able to tread on any type of terrain, be it wet or oily or dry, without worrying about losing your balance and injuring yourself.
 
The Revolver is not only badass when it comes to customer safety, but it is also ridiculously easy to put on! Thanks to its wide shaft and easy pull-on construction, you simply slide your foot inside this boot, and you're already on your way.
 
This is a fine work boot, one that comes with special features to ensure your safety from any dangers that might befall you, including that of electric shock. It is easy to wear, sturdy, and will serve its purpose for a long time to come.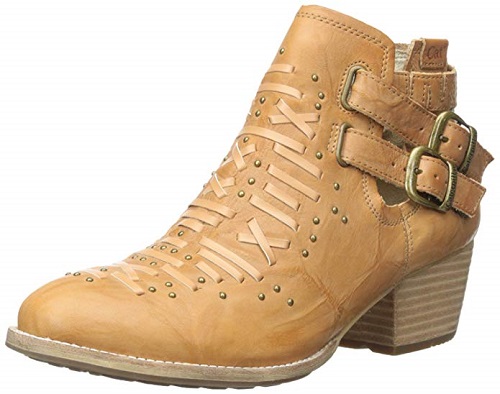 While technically categorized as a summer bootie, the Cheyenne works perfectly for that time of the year when seasons change, for a transition period between sandals and flip-flops and heavy duty winter footwear. The Cheyenne is an ankle bootie made out of full-grain leather material, with a microfiber lining. It has a rubber outsole and a heel of two inches in height. A point of interest on the design are the studs and criss-cross leather details on the front, as well as a double buckle closure in the side. This cute autumn Caterpillar shoe is fashionable, versatile, and it will seamlessly fit into your fall wardrobe.
While the cut of the Cheyenne is pretty low, even for an ankle boot, it is still comforting to know that you can adjust the width of the opening with two buckles at the side. Thanks to them, you will have no problems getting in and out of this stylish design.
 
The beauty of a neutral color and a classic silhouette like this is that the Cheyenne goes well with any outfit combination! You can combine it with skinny jeans or denim shorts for a relaxed, worldly look, or you can even go a step further and experiment with a fun dress and sunglasses for a chic, festival vibe.

Subscribe to our Newsletter