Best Men's Dress Boots For Lookin' Good And Laid Back Reviewed
In a Hurry? Editors choice: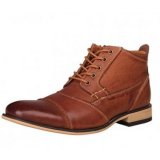 Test Winner: Kunsto Oxford

We can all agree that when it comes to formal
occasions
, having the right type of
formal footwear
could mean the difference between verbal approval from family and friends, or being roasted as the party's clown. This is why it's so very important to take the time when picking out the perfect dress footwear. While Converses may be comfortable, to some degree, they lack a certain essence that formal occasions or dress-up occasions call for. If you have an upcoming event, don't plunder into anxiety or fear, we have you covered!
Standout Picks
Criteria Used for Evaluation
Comfort
When attending a formal event, whether it's a date or a holiday party, aside from your outfit, it's important to make sure your feet are comfortable. Now, there is an assortment of different ways that manufacturers can make their footwear comfortable. So, for the purpose of this criteria, we actually looked for some of the following:
Midsole/Insole: Are they padded or cushioned? Do they provide arch support? What type for foam or cushioning do they use?
Upper: Is it ventilated or perforated for breathability? Is it made from flexible materials to form to the forefront of the user's foot?
Outsole: Is it designed with stability or control features? Is there an added layer of foam to absorb shocks when walking?
Now, we often did not just look at this. We even went as far as to consult with previous consumers in their reviews. We wanted to know, for sure, that other consumers were praising and touting the item's comfort. Now, given that typically 5-star reviews are biased, we actually considered 2, 3, and 4-star reviews. We scanned to see how consumers were perceiving their experiences and what was positive or negative.
Durability
Aside from the materials and the comfortability, the third most crucial aspect that we looked at was durability. We did not want to feature any product that would wear and tear quickly or break after one use.
Now, given that we know shoes pretty well, the outsole is one of the aspects of a shoe that really can help provide some insight regarding durability. The outsole is sort-of the metaphorical glue that holds everything else in place. So, we carefully studied the way that each outsole was created, whether it glued, sewn, or whether it came with additional properties or features.
Additionally, we looked at consumer reviews to see what people said about their experience. If we found that many people were complaining about the durability or wear and tear, we often removed the product from contention.
The last thing that we kept our eyes out for was guarantees or warranties. Typically, brands that offer this degree of assurance have designed a decent product. It speaks more about a company that has a quality guarantee for their product than one that doesn't.
Materials
We could talk about materials all day! The is the single most important criteria that we are going to talk about today. If you have ever purchased footwear that broke down after a few uses, chances are, they lacked quality materials. Now, in efforts to ensure that each product that we shared today was the pinnacle of this market, we took the time to look closely at the different materials used in the entire product.
Now, if you are new and unsure as to what are some good materials to construct a shoe, we have made a list for you:
Leather
High-impact rubber
Suede
Polyester
Canvas
EVA Foam
In this market, many brands can make their products look visually appealing and formal; however, they lack the materials to be durable or comfortable enough. Typically, those products are made from:
Synthetic/manmade
Plastic
In addition to this, it's important to pay close attention to any additional features that a brand may include in their product. For example, Columbia footwear comes with a specialized waterproof feature called OmniTech. Now, given that we know a wealth about the brand and their technology, we know that this feature is not a gimmick. If you are curious as to whether or not special features or innovations are real and valuable, doing some extra research can help highlight the truth. Don't worry though – the above products exceed all expectations!
Style
It goes without saying that design and appeal are an essential criterion when picking out formal footwear. When it came to choosing different brands and products for our list, we focused a lot on the appeal and how it catered to the times and trends of today's fashion industry. We did understand that design and appeal can be objective. In efforts to show some degree of balance, we ensured that, whatever product we shared, previous consumers, in the majority, praised the overall appeal of the product.
Value
The last criteria that we would like to share are regarding the price tag. Here's the deal, no consumer wants to spend above their budget on a good. So, when we were evaluating items, we really took into consideration a few different things when it comes to price. Primarily, we really wanted to focus on sharing brands and products that offered a blend of a good price tag with great value.
To do this, we actually started off the buying guide by scanning through a couple dozen different types of footwear. We looked at the price range and came up with an average or an estimated market value. This number was then used in choosing the best products. For example, we would look at a product and ask ourselves:
How is this priced in comparison to the estimated market price?
Does this product offer value equal to or greater than its price tag?
How does this compare to the other products we have selected?
Does the consumer receive more or less value from this than another brand?
No matter the type of good you are planning on purchasing, by asking questions like above, it can really help to ensure you are receiving your money's worth for a purchase.
Top 10 Picks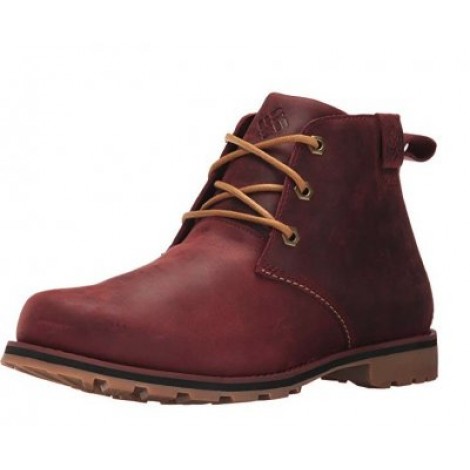 We have all heard of the Columbia brand before, right? This company has reached immense heights in the outdoor industry, creating a wealth of gear and products, earning them a wealth of accolades and awards. With the introduction of the Chinook Chukka Uniform, this brand is also taking a chance at taking over this industry as well.
Omni-TECH Protection
The single most impressive feature that we have explored today is this: Omni-TECH protection. For those who are unaware, this simply is the company's way of ensuring that their footwear is 100% waterproof. So, whether it's raining, snowing, or hailing, these will not only look classy but keep your feet dry!
Quality Outsole
The bottom of this product is incredible! Consumers will find an impressive non-marking technology so that, when walking around, there will be no marks on the floor. Additionally, the outsole is very durable and promotes a comfortable and stable walking experience.
Cost and Value
Consumers can most certainly anticipate that a brand as popular and impressive as Columbia, charges a higher price tag. In fact, this specific item is the second most expensive footwear that we are going to share today. This is not for the consumer seeking for a quick dress-up boot. This is purely an investment in high-quality shoe design and technology.

2

. Thursday Boot Company Captain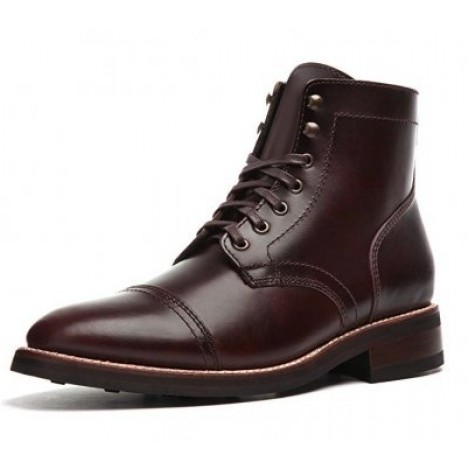 If there was one product that really surprised us, captured our attention, and even motivated us to try their product, it's the Thursday Boot Company. The Captain is a fascinating footwear, designed with arguably some of the coolest and most unique shoe features on today's list. If you have the opportunity to purchase this product, even at its high price tag, it's most certainly worth it!
Quality Construction
What impressed us the most with this product is really how it was designed and constructed. The company used Goodyear welt, which is one of the strongest and most durable materials in the game. This material can also provide consumers with an added level of support and even prevent potential water from seeping through.
Comfortable
If you are looking for a comfortable pair of footwear for dressing-up occasions, there is no better choice than this one. The footbed of this product was crafted from a blend of cork materials and EVA foam. By combining both of these materials, the company can assure consumers that this product is comfortable for all-day use.
Cost and Value
In the third position in our buying guide, we have the single most expensive product we are going to share today. Priced significantly higher than the rest of the competition, some consumers might be a bit apprehensive to spend a large sum of money on footwear. However, this price tag is most certainly justified once you consider the value infused into the product. In fact, this footwear is constructed from the strongest and most durable materials today – and features impressive comfort technology.

3

. Giorgio Brutini Chelsea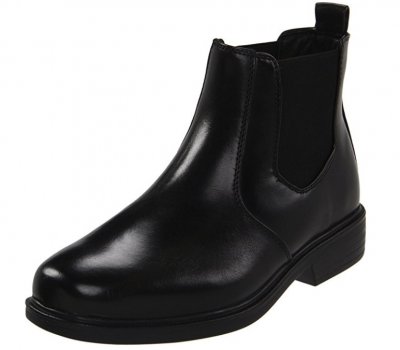 When it comes to style, flair, and dressing up, there is no better statement piece than the Giorgio Brutini Chelsea. Today, this brand is easily one of the most popular companies and product. These dress-up boots embody most of what consumers are looking for including comfort and durability. Let's explore two of the most impressive facets of this product.
Waxed Leather
If you look at the design appeal of this product, it's sleek and quite fancy. Now, this appeal can be attributed to the waxed leather used to construct the actual boot. We were quite impressed by this material choice as it's great for comfortability, durability, and stability.
Pull-On
If you are a frequent wearer of boots, you can attest that sometimes, laces can be quite obnoxious. There is nothing more frustrating with footwear than trying to tie the laces, especially in the cold weather, or if they have frayed. In efforts to alleviate any frustrations, this brand constructed their product to be 100% pull-on.
Cost and Value
For the number one product on our list, this item is priced quite relative to what other brands are charging for their footwear. Now, we will say, it's definitely not the cheapest product on our list; however, it's not on the other end of the spectrum as well. This product really is for the consumer seeking an overall high-quality boot that is a blend of style and comfortability – without having to spend a couple hundred dollars.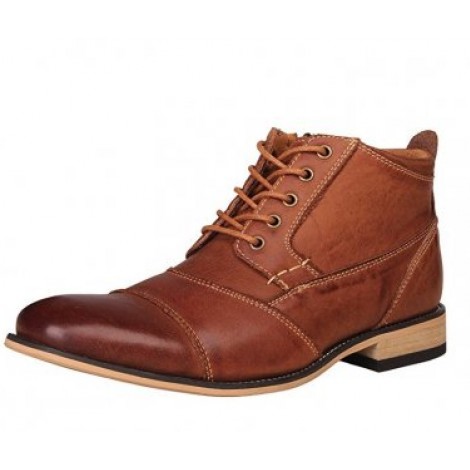 Does this brand name sound familiar? That's right, another Kunsto product – but this time, vastly different. Consumers can expect a completely different design, different materials, and some unique features unseen in any other product that we have talked about today. Let's explore what this has in store for you.
Fashionable and Stylish
Dress boots need to possess a higher degree of fashion and style for them to compete in this market. This is why this brand designed this product in such a classic way. In fact, for some, when you think of the word "dress boots" an image such as this product may populate in the mind.
100% Genuine Leather
One of the main reasons why this product is on our list comes down to the material used in construction. This item is crafted from strong, 100% genuine leather materials. Genuine leather is both soft and comfortable yet also strong and durable, making it a great material for this type of product.
Cost and Value
Like that of the other product from this brand, this is actually priced quite fair and relative to the majority of other brands and products. What really pushes this product ahead of some competitors is its unique design, wood heel, and 100% genuine leather materials. This really has a classic appeal – and is suiting for such a consumer.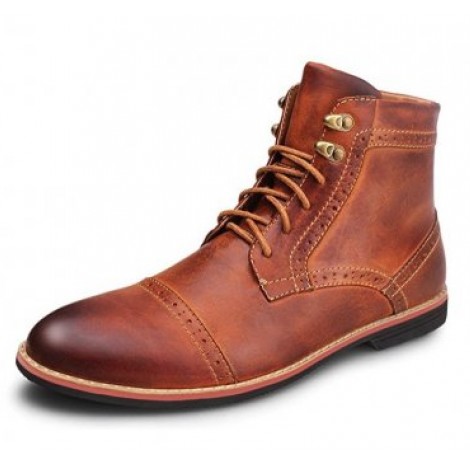 Are you looking for a pair that is a blend of quality leather materials and designed to mirror traditional western style? If that sounds like you, the Kunsto Classic Brogue is the product for you. Known by consumers as a trendy and fashionable choice, let's explore what makes this product a top-10 contender.
Top Grain Leather
Consumers love that this product was designed from top grain leather. For those who are new, this is a higher grade of leather that is a bit more durable, flexible, and comfortable than other grades of leather. Now, this type of leather is really used mainly in the upper region of the footwear. The majority of the product is made from a blend of fabric and traditional leather materials.
Padded Collar
Have you ever worn a pair of footwear that made the top part of your foot uncomfortable? Chances are, the collar was poorly designed. Here, this brand spent some time to pad and cushion the collar to ensure the most comfortable walking experience.
Cost and Value
Let's take a minute and talk about the price tag for just a minute. This fashionable footwear is offered at a quite reasonable cost – considering what other brands are charging and the value of this item. With three different color choices to pick from and designed from some of the best leather materials that manufacturers can use, this is an investment in quality and durability.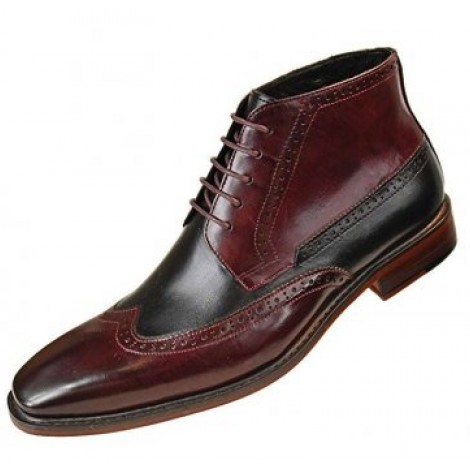 If there is one product on our list that we were excited to share, it was these Asher Greens. This two-tone oxford high-top is easily the most fashionable choice – and different, on our list today. If you are looking for timeless, style, flair, and to impress – this is the product that can accomplish that.
Timeless Designs
The simple reason behind why consumers are purchasing this product is because of its design. It's timeless, it's fashionable, and it's classy. This manufacturer sought to create the epitome of a class A dress shoe, whether it's for a date, work, or a big event, like a wedding. Whatever the need may be, this high-quality product will rise to the occasion.
Impressive Leather
Are you ready for this? This product was crafted from some of the most unique materials that we have come across. Rather than using traditional leather, this company utilized a buffalo cow leather, which is known to offer a richer amount of durability, comfortability, and appeal.
Cost and Value
By the appeal alone of this product, it's worth every dollar spent. Now, we will say, this is a bit more expensive than the vast majority of footwear we discussed; however, it significantly outweighs the list in design, brand-quality, and design. If you have the opportunity to invest in a dress-boot, this should be in the top of contention.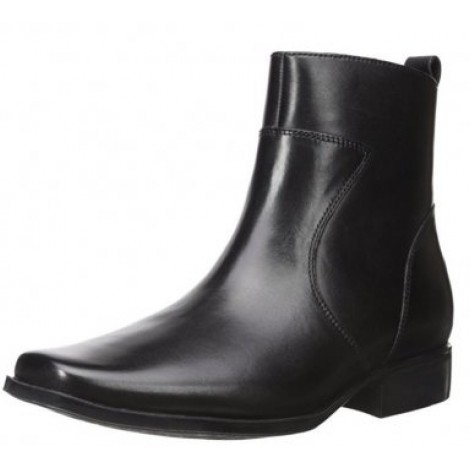 The next product on our list is the Rockport Toloni. Now, if you have never heard of Rockport before, then it's vital to at least try on a pair of their footwear. This company has established a reputation in the shoe industry for the comfortable and durable designs – alongside some of the most classic and traditional appeals. If that sounds like something you are looking for, check this out!
Great Footbed
Let's talk about footbeds. This product comes with an Ortholite footbed, which is known to offer extensive comfortability. In addition to this, the heel cup is padded with EVA foam. If you are looking for comfort, this product has it. Oh, it's also removable! So, if you choose to remove it, you could!
TR Outsole
Some of the better brands – or more notable, we should say, tend to focus on infusing added technology and innovation into the bottom part of their product. Here, we find a TR outsole, which is essentially a higher grade of rubber. For beginners, it's actually thermoplastic rubber and they are known to offer incredible value, durability, and traction.
Cost and Value
When it comes to the footwear industry, typically, the bigger the footwear and the more materials used, the more expensive the product will be. This could be the reason behind why this choice is in the top three of the costliest products. Now, we will say, after evaluating the value of this product, the price is clearly justified. This is an expert piece of craftsmanship and will be appreciated by the consumer.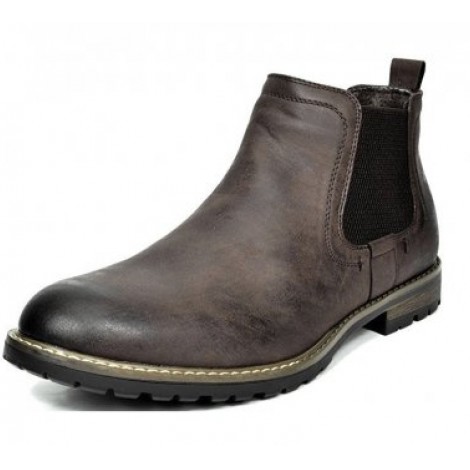 If you are in tune with the fashion industry, chances are, you are aware of the Bruno Marc New York brand. This company is known and has established a reputation based on quality designs and fashionable footwear. With the introduction of their own Chelsea style footwear, this company captured the industry and consumers – anchoring them in the number 2 position.
10 Different Styles
In comparison to many other products on our list, we can say, without ruining any surprises, this product offers the most expansive collections of colors and designs for consumers to pick from. Whether you are looking for a pair of black, khaki, or traditional brown boots, this brand has it for you. This brings us to our next point!
PU Upper
What is even more fascinating about the design and appeal of this product is that the manufacturer made it in two different formats: lace-up and pull on. So, whether you are a fan of the casual laces or seeking a more modern pull-on style footwear, the choice is yours! Whatever you prefer, we can say that previous customers adore both!
Cost and Value
As far as cost is considered, this item is one of the most affordable options on the market. It's not gravely expensive and, if we can be honest, it's quite fair – considering what other companies are charging. Do consider that this product is offered in over 10 different color variations, made of durable materials, and is quite fashionable. If you are looking for the perfect dress-up footwear for a special event, this could just be the one!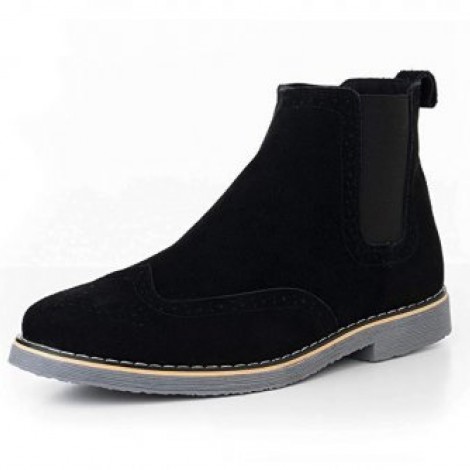 Nestled in the middle of the competition, we have the ever-so-popular, Alpine Swiss Chelsea. This specific product has reached such heights, including the #5 spot on our buying guide, due to their impressive and favorable design. To top it off, the product itself is very visually appealing, making it a great piece of footwear for those special occasions.
Slip-On Design
Our favorite aspect about this item is the slip-on design. It's incredibly easy to put onto your feet and, the moment you do, the first thing you will notice is the impressively padded footbed. As previous consumers have noted, it's like walking on a cloud!
Non-Slip Outsole
If there is one thing that this product is known for, it would be its non-slip design. The outsole of this product was carefully designed like a Crepe. This helps to give the consumer a bit more traction to the floor's surface, preventing any slips or falls.
Cost and Value
For being positioned in the middle of the competition, this product offers one of the best deals on our list today. The truth is, this is a reputable brand, known for offering consumers some of the best gear and footwear in game. On top of this, in our opinion, this is one of the trendiest designs on our list. The subtle white stitching to contrast the rest of the colors is captivating – making it worth it.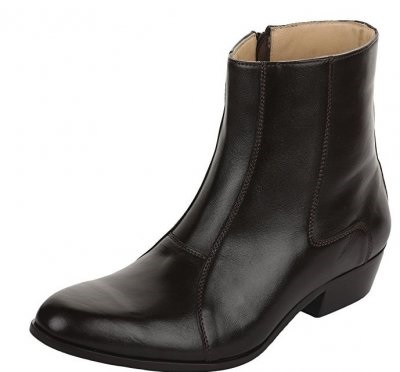 For the final product, we have an incredibly popular choice, the Liberty Footwear Formal. While this product does resemble many other brands and products that we have shared today, there are some unique features that make this product different. If you are looking for a versatile pair of footwear with a unique closure system, this may be for you.
PU Rubber Outsole
When it comes to the quality or durability of a shoe, one of the aspects we pay close attention to is the outsole. Here, we have a product that was crafted with a PU rubber outsole, which is quite impressive. If you are new to this terminology, this simply means that this is durable and long-lasting.
Leather Materials
In efforts to compete with some of the major brands, companies need to design their products from the best possible materials. This entry in the competition was crafted from genuine leather materials and even includes a leather lining on the interior part of the boot.
Cost and Value
At the core, we have a decent piece of footwear that offers its audience some unique benefits and opportunities. It is not vastly different than a few other major labels that we have discussed today; however, it is significantly cheaper than those companies. If you are looking to save some money but also look stylish – here is an option.

Subscribe to our Newsletter