Best Tuxedo Shoes For The Savvy Gentleman Reviewed
In a Hurry? Editors choice: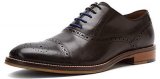 Test Winner: Johnston & Murphy Conard

A tuxedo is a two or three-piece suit, with the jacket's lapels made of
satin
or grosgrain, and stripes out of the same material along the outseam of the trousers. It originated in the 19th century, largely thanks to King Edward VII, and the word itself - 'tuxedo' - came from Tuxedo Park in New York State, where this evening wear was first introduced, mimicking the European style.
Footwear that goes with this style, however, is quite complicated. You need to think about color, and type - there are slippers and
loafers
and oxfords and brogues - and materials, and an abundance of choices that may be confusing. That's why, in this guide, we have collected only the
best tuxedo shoes
which go perfectly well with a tuxedo.
Standout Picks
Criteria Used for Evaluation
Style
When it comes to footwear for a black-tie event, there are really only two ways you can go: modern and traditional. The modern way involves designs which are contemporary, which a gentleman of the 19th century wouldn't necessarily associate with formal wear, such as the derby and the brogue. Times change, fashion evolves, and nowadays there are more options than there were in the olden days.
However, that is not to say that the traditional route is in any way wrong. Go for slippers or a traditional pump and you will be the most debonair person in the room.
So let's learn more about each of these options, and what they offer.
Derby: This type of footwear came from the 1850s, as a type of hunting boot. By the start of the 20th century it migrated into everyday life, and thus now the derby is appropriate for formal wear as well. It represents a design which has quarters with lace eyelets sewn on top of the vamp, known as 'open lacing'.The derby can be found in many color options, made out of many types of materials, and for many occasions - casual and formal alike. For black-tie events, a streamlined, polished patent leather round-toe silhouette is the most popular, as it is simple and yet effectively striking.
Brogue: The brogue design was first meant only for the countryside, as outdoor footwear. Later, it became staple footwear for casual and business wear, and today it is suitable for most occasions. This is a low-heeled shoe or boot which has solid leather uppers made out of several pieces, and decorative perforations - or broguing - in aesthetically pleasing lines.For pairing the brogue with a tux, go for more simple designs. The brogue can have a quite intricate detailing - however, it is best to leave this for a less formal occasion. The classic color choice is black, of course, but if you want to mix it up a bit you can always go for dark brown or even burgundy instead.
Formal Pump: When we hear pump, we automatically picture closed-toed high heels that women often wear. However, all the way back in the Regency period, before the explosion of extravagance in the Victorian era, upper-class gentlemen often wore pumps, complete with silk stockings to emphasize their wealth and high standing. This is why today, the pump is still a part of menswear in many formal situations. The most common place you will still see formal pumps on men is the opera.Pump is a design with a low-cut front, without any fastening. Men's pumps have low, usually square-shaped heels, and a decorative bow in the front. This bow creates an interesting contrast with polished leather and matches well with a tuxedo.
Albert Slipper: This type of footwear got its name from Prince Albert, the husband, and consort of Queen Victoria. Originally, it was meant to be worn as a house slipper, in the 1840s when it first became popular. But, as it so often happens with fashion trends, its purpose changed, and today the Albert slipper can be found in many formal occasions.This is a traditional slip-on design, usually made of velvet, suede, or any other type of plush material, with intricate embroidery on the front. The embroidery can be a pattern, any type of a gold embellishment, and even the wearer's own monogram. The Albert slipper is quite popular these days, as it offers a variety of color options and combinations. For the most formal of occasions, however, a classic black suede with a hint of gold is the right way to go.
Materials
One of the most important things to consider when choosing suitable footwear to pair with your tux is the material it is made from. Because of the nature of black-tie events, everyone wants to put their best foot forward, figuratively and literally, and it is advisable to look as expensive and as put-together as possible. This is why natural materials, such as leather and suede, are the first choice. However, synthetic, but expensive-looking materials - velvet, for example - are a great alternative.
Patent Leather: Easily the most common type of material when it comes to formalwear footwear is patent leather. This is a type of coated leather which has a high-gloss finish. The polished shine brings out the satin accents on a tuxedo - such as on the lapel of the jacket and the outseam of the pants - and it is a classic combination.
Calfskin: While they will never be as glossy as patent leather shoes when polished to a high shine, calfskin designs are also perfectly fine to go with a tux.
Velvet: Rich, plush materials such as velvet are perfect for the slipper design. What's even more fun is that with this type of fabric you can play around with the color choices. Go for burgundy, plum, bottle green, anything that's similarly dark and deep. Of course that it all depends on the occasion, but if you know the hosts and know they will appreciate a little whimsy in their event, don't be afraid to show off your style!
Color
Traditionally, you would always wear black shoes with a black tuxedo, and for good reason - these are usually formal events where putting your best foot forward is not just a matter of style, but also etiquette. However, in this modern day and age, rules have become less strict and our society is more open to expressions of personal style. This opens up a door for a variety of fashion choices that includes our footwear as well.
Yes, most people will still go with a pair of black oxfords if they have to dress up, but those more bold among us may decide to show off an intricate design or a bold color choice. You shouldn't be surprised to find people wearing footwear in bright colors such as red, gold or yellow, or even finding that they've gone with a glittery or opulent velvet version of the classic Albert slipper.
Before choosing to wear bright colors, however, do make sure you've checked the dress code, and consider whether it will be appropriate for your outfit to greatly stand out.
Comfort
Have you ever been to a wedding, and realized halfway through that your shoes were killing you, just wishing you could change into your sneakers? The answer is probably yes - we've all been there. Luckily, this doesn't have to be the case, as a huge number of formal footwear options now come with comfort features that, until a few years ago, were reserved for athletic sneakers.
If you're after something you can wear without having to endure pain, there are definitely a few features that are worth looking into:
Cushioning: Most often achieved through the integration of foam and rubber materials into the sole portion of the shoe, cushioning absorbs shock and prevents fatigue and muscle and joint pain that are the consequence of standing or walking.
Padding: Likely to be found in the collar of the shoe, a bit of padding can do a great deal to prevent heel pain and rubbing, and may even stop you from forming blisters.
Moisture Control: While most formal footwear is still made with leather lining (which is great for most occasions), some people find that they sweat more, which is where a mesh or moisture wicking lining can come in quite handy. Not only can it prevent bad odors, it can also stop bacterial overgrowth as well as conditions such as athlete's foot.
Support: Last but not least, you should always make sure your shoes are properly supporting you, especially in the arch. If the model you've chosen doesn't provide as much as you need, you should be able to easily fix the problem with an orthotic insert that'll keep you healthy and properly aligned.
Brand
You should never judge a book by its covers, and the same goes for footwear, but the brand name can still often tell you a lot about what you can expect from a certain pair.
Durability: While every design is different, there are certain brands that are well known for making durable footwear that can last a lifetime. Red Wing, Dr. Martens, Florsheim and Magnanni are great examples.
Materials: Manufacturers get the materials for their footwear from different sources, but there are brands that pride themselves on using the best. Some will even produce and tan their own leather, or import it from the top tanneries in Italy or Spain. Others, however, may opt to go with lower quality materials in order to cut costs and offer a more affordable product.
Size and Fit: Despite universal size charts, one of the most frustrating things about shopping for shoes is that you simply never know. Some brands will run small, some will run large, and some will even have variations between different models. Always check the manufacturer's sizing chart to avoid disappointment.
Price: Have you ever noticed how Nike basketball shoes seem to be twice as expensive as models of the same quality by other brands? The same thing happens with formal footwear as well. Certain brands, especially designer ones, will simply have a higher asking price for their products. This is not always justified, so make sure you've considered the shoe's quality before spending your hard earned money on it.
Top 10 Mens Tuxedo Shoes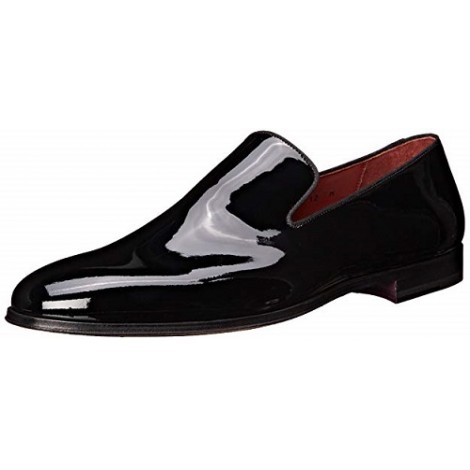 Magnanni is a family owned Spanish company which produces only the finest of men's footwear. It utilizes special Bologna Construction techniques and finishes the designs with expert hand detailing. The Magnanni Dorio is a loafer which simply radiates class. It is made out of polished leather, with a clean, sleek appearance and a slip-on silhouette. It has a leather sole and a heel of around one inch in height. The Dorio is a design which is a perfect blend of traditional and modern, one that is worthy of Hollywood stars and world-famous fashion models.
Bologna Construction
The Bologna Construction with which the Dorio is made represents a special technique where the upper and the lining are rolled into a tube which is then stitched into the outsole. This adds exceptional flexibility to the design and makes this loafer one of the most comfortable options there is.
Effortlessly Elegant
It speaks volumes that in this guide of nothing but elegant footwear, the Magnanni Dorio still stands out from the rest. You will hardly find a more posh, more seamlessly sophisticated design than this one. Black-tie approved!
Cost and Value
Magnanni footwear is famously expensive, and the Dorio is no exception. It is the priciest choice on this list, and there is simply no way around it. However, if it helps, we do think that the cost is definitely worth it. This is a one of a kind shoe, carefully constructed for maximum elegance and comfort, and it is certainly one to last you a lifetime.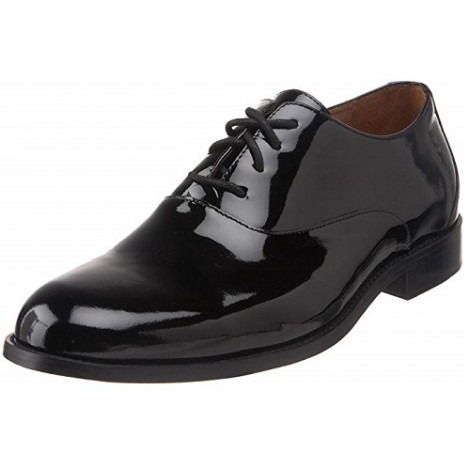 If you've ever stopped to picture what black-tie footwear looked like - you likely imagined something exactly like the Florsheim Kingston. Because this design is exactly that: a perfect representation of a tux shoe. It is made out of patent leather polished to a gleaming shine, with a leather lining and sole as well. There is cushioning in the footbed for support, and a lace-up system in the front of an adjusted, secure fit. The Florsheim Kingston is truly a classic which will seamlessly complement all of your most formal outfits.
All Leather
It is not only the upper of the Florsheim Kingston that is made out of leather but the lining and the sole as well. This natural material brings much-needed breathability to the design, as well as the ability to conform to the shape of your foot, providing you with the ultimate comfort experience.
Lace-up Closure
The unassuming bit of lacing at the front of the Florsheim Kingston has two purposes: one, it helps you adjust the fit to however loose or tight you'd like it to be, and two, it makes sure that your foot stays in place and that the shoe isn't slipping off.
Cost and Value
The Florsheim Kingston is one of the most expensive options in this guide. However, it is not overpriced, and we feel that its cost accurately reflects its quality. It is certainly a staple design, one that will fit perfectly with any tux look, and which you will wear for many a formal occasion to come.

3

. G. H. Bass & Co. Winnie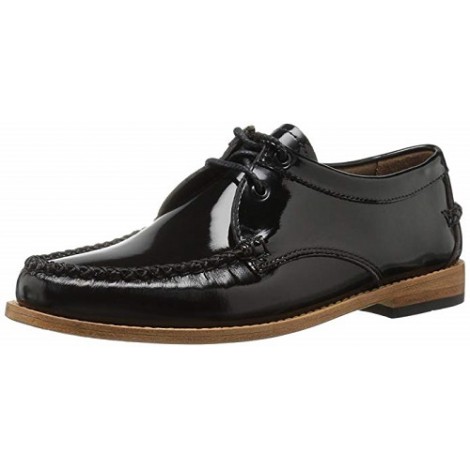 With the G. H. Bass & Co. Winnie, we have tuxedo shoes that are a little more out there in terms of detailing. While it is a polished black leather loafer, it doesn't have that clean, streamlined silhouette that most other black-tie footwear does. In fact, the Winnie is decorated with tassels at the end of its laces, as well as moc stitch accents, to add a modern flair to a timeless design. To complete the look and feel of this hand-sewn loafer, there is a genuine leather lining and a genuine leather outsole, for the ultimate luxurious experience and comfort.
Hand Sewn
Industrial manufacturing is the standard - a quick and easy way to mass produce anything you can imagine. However, there is something to be said for hand sewing. In the case of footwear, this method of construction guarantees quality and comfort since more attention is paid to details, and every stitch is checked and rechecked for its reliability.
Tassels and Accents
What we love the most about the Winnie loafer is that it isn't boring in any way. In a sea of uniform, black patent oxfords without any interest to them, this loafer will stand out with its lighthearted accents and bouncy tassels on the laces. Formal but whimsy!
Cost and Value
The G. H. Bass & Co. Winnie is one of the lower priced options we've looked at. It is not traditional or classic, mostly due to its playful decorations, but it is a design that we can't help but be charmed by. It will make a great addition to your formal wear, as it is also comfortable and well-crafted to boot!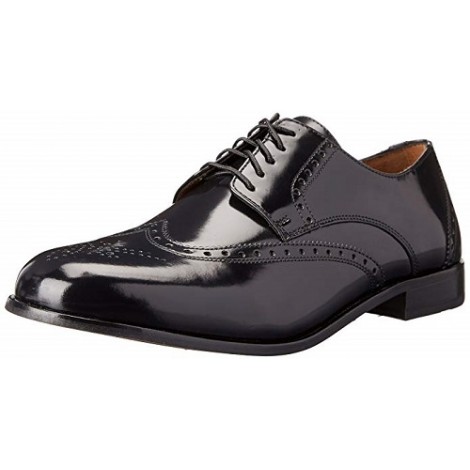 Florsheim spices up the classic black patent oxford design with a wingtip, brogues detailing on the Brookside. You don't have to limit yourself to sleek, simple footwear if you feel like it is too uninteresting for you. With the Florsheim Brookside, you will look as dashing as ever, while being comfortable as well. This oxford comes with a cushioned insole, a leather lining, and a durable and flexible leather outsole. The approximately one-inch heel is made out of rubber for traction and slip-resistance, and there is the traditional lace-up closure in the front. The Florsheim Brookside puts a different spin on the timeless tuxedo look!
Leather Lining
Even though you are attending a formal event, you still want your feet to be comfortable and sweat-free. The leather lining on the Florsheim Brookside helps with that, as it wicks moisture away from your feet and promotes a healthy foot climate. Say goodbye to bad odors!
Flexibility
Too often dress shoes are stiff and uncomfortable. They don't fit right, they don't move right, and they are a literal pain to wear. However, none of this is an issue with the Florsheim Brookside. This is a highly flexible design which moves with the movement of your foot, and which keeps you cushioned and supported every step of the way.
Cost and Value
Within the category of formal footwear, the Florsheim Brookside is not expensive at all. It is a great option for when you're tired of the same old smooth leather designs and want to bring a little interest to your looks. This oxford is made out of high-quality materials, and it definitely won't let you down.

5

. Johnston & Murphy Conard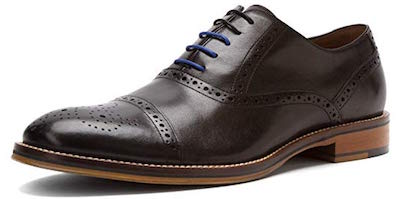 If you want a pair of shoes that'll make a statement, the Conard is a great choice of tuxedo shoes. This Italian leather shoe features beautiful broguing details to make it stand out from the typical formal lace up, and even comes with two sets of laces - one that matches the leather upper, and one in a contrast color to kick things up a bit.
Cushioned Outsole
You don't often find really elegant footwear with a comfortable sole, so it's great news that the Conard features cushioning in the sole, protecting you from the fatigue and joint pain that often happens after long hours of standing or walking.
Rubber Sole
In addition to protecting you from shock, a rubber sole is also a great feature in terms of traction and durability. For one, it won't deteriorate if you happen to be caught in a rain, and it won't slip on slick surfaces such as tile and hardwood floors.
Cost and Value
This is an averagely priced model that perfectly combines quality and value, and can be worn on a number of occasions, not just formal ones. Pair it with a suit, tux, or even some jeans, and you'll look dashing. The fact that it's a comfortable shoe is a huge bonus.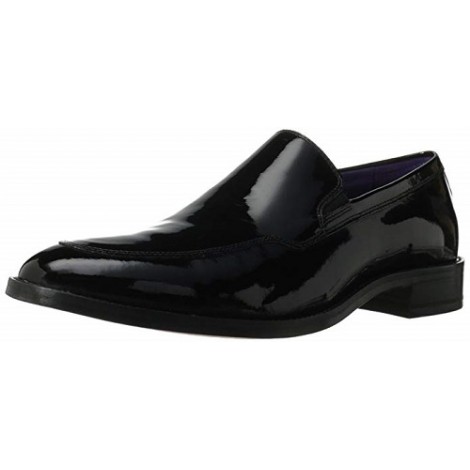 Cole Haan is a brand with 90 years of experience in crafting only the sharpest, most luxurious footwear for both men and women. It combines artisan quality and impeccable style and creates products which are stylish, modern and comfortable at the same time. And this is exactly what the Lenox Hill is. This Venetian loafer is made out of leather, with a leather lining and a full rubber sole. It has a slip-on construction with small gore panels on the sides for that easy fit. The sleek, polished shine of the Lenox Hill won't leave anyone indifferent, and you will be one of the suavest people in the crowd at any event!
Elastic Inserts
For those who have a high instep or a wide foot, it can be difficult to fit into a slip-on design. However, in the case of the Cole Haan Lenox Hill, getting in and out is made easy by the elastic inserts in the sides. These stretch out to accommodate your foot, and you won't have any problems sliding into this gorgeously elegant loafer!
Elegance and Class
With the Cole Haan Lenox Hill loafer, you will not go wrong. This is a classic silhouette, one that complements all formal outfits - suits and tuxedos alike. No matter the formal occasion you find yourself in, you are never going to look out of place in this shiny, streamlined design.
Cost and Value
As far as the price goes, the Cole Haan Lenox Hill doesn't stand out in any way - either by being too cheap or too expensive. It is a comfortable, elegant design which you will love wearing, and which will bring you loads of compliments on your stylish choice of footwear. As simple as that!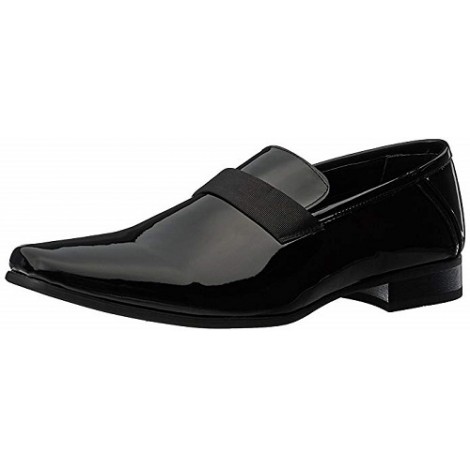 From a brand which is renowned for its minimalistic aesthetic and elegant but functional designs comes the Calvin Klein Bernard loafer. This option is made out of synthetic black patent leather - the most common of materials for a black-tie affair - with a slip-on silhouette, and a grosgrain trim across the instep. The lining and the sole are man-made, while the insole is lightly cushioned for extra comfort. There is a half-moon heel of about one inch in height. The Calvin Klein Bernard is a great choice for when you want to stand out in the crowd and impress with your suave, fashion-forward style.
Grosgrain Trim
The contrast of the grosgrain overlay on the Calvin Klein Bernard against the high polish of its patent leather upper offers a point of interest in the design. It also pairs well with a tuxedo which has grosgrain lapels or stripes down the outseam.
Slip-on Design
If you are tired of constantly keeping an eye on your laces - or if you are someone prone to accidents caused by stepping on them - then this slip-on design of the Bernard will be a breath of fresh air. Simply slide your foot in, and be on your way without a moment's pause!
Cost and Value
When it comes down to cost, the Calvin Klein Bernard is neither more nor less expensive than its counterparts in this guide. However, this loafer is made of synthetic leather. It is environmentally friendly, sure, but for the same amount of money, you would be able to purchase a genuine leather pair of shoes, which are far more breathable and long-lasting.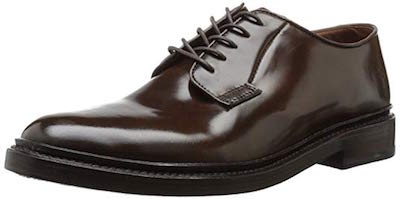 Frye has been a go to brand since 1863, and for good reason. Not only are their shoes made with the bes leather you can find, but they are always designed in a way to be both stylish and versatile, as well as timeless in terms of style so you can wear them for years to come. The James Oxford is one of those shoes you can purchase and wear for years to come on any special occasion, or wear daily, and still get a lot of use out of.
Leather Outsole
Nothing says sophistication like a pair of dress shoes with a quality leather outsole that molds perfectly to your foot, while providing you with the protection you require. Though this shoe won't do well in wet conditions, it can easily be resoled and repaired by your cobbler.
Leather Lining
You want the inside of any pair of shoes to be soft to the touch and breathable, regardless of what you plan on using it for. The James is lined with leather that'll feel great, won't trap moisture, and will last for a long time, without you having to worry about it.
Cost and Value
This leather shoe definitely costs more than the rest of the models listed, which is, in a way, to be expected from a company such as Frye. If you really are after something that'll do great, not just with a tux, but a number of outfits, then you definitely can't go wrong with the James.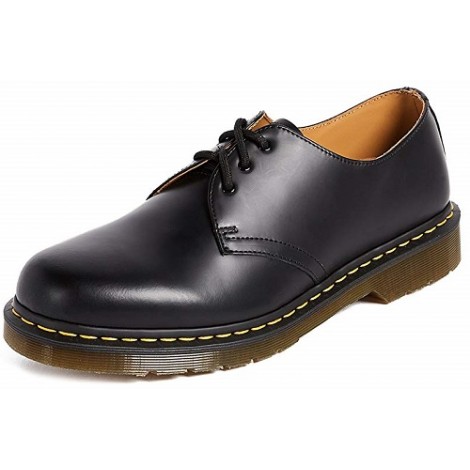 Throughout most of this guide we talk about classic styles, the importance of timeless color combinations and conformist designs - well, the Dr. Martens 3 Eye is anything but that. This option fits the bill for a tuxedo design just barely, with its round toe silhouette and smooth leather upper. However, it also comes with a platform of over one inch in height, and a thick rubber sole with deep grooves characteristic of the Dr. Martens brand. While it is sturdy, this design is also comfortable with its air-cushioning in the sole. If you're not the one for sleek, polished and impeccable, throw a rebellious twist in your tux look with the 3 Eye Oxford.
Leather
The upper of the Dr. Martens 3 Eye is smooth and semi-bright. It is a signature leather of the company, firm and yet comfortable, allowing your feet to breathe. Not only that, the quality of this material makes this design unbelievably durable.
Sole
The sole of the Dr. Martens 3 Eye offers superior comfort with its air-cushioning in the sole, but it is also oil and fat resistant. This means that you don't have to worry about slipping or skidding on any type of terrain in this oxford.
Cost and Value
The Dr. Martens 3 Eye is a design which belongs in the middle range of price. We will be the first to admit that this look is not for everyone - or for every formal event, either - but if you find that it fits your aesthetic, you won't regret investing money into this high-quality, exceptionally comfortable oxford.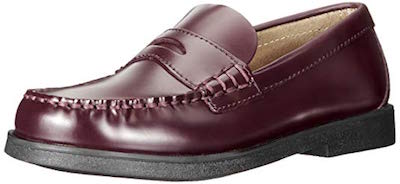 This is the perfect shoe to have in your child's closet for special occasions such as weddings and parties. Not only is it a stylish piece of footwear made by a reputable brand using quality materials, it also looks great, combining a formal look with the comfort features any boy or girl will love. It can even be worn to school, or to dressed up outings.
Leather Upper
These come with a leather upper that's soft and supple - perfect for those who hate breaking in their shoes. It's available in two color options, classic black, and a more modern burgundy version.
Slip On
Easy to put on and off, this model won't have you bothering with laces when you're in a hurry to get out the door. Additionally, the flexible rubber outsole allows for full range of motion, and will perform well on all types of surfaces.
Cost and Value
With a price that's affordable, especially when compared to the amount you'd pay for a model of similar quality by a different brand, this is quite a good investment. It comes in big kid and little kid sizes, as well as three width options, so you can easily get the perfect fit, and stop worrying about your little ones screaming to take their shoes off at the worst possible moment.

Subscribe to our Newsletter