Best Velvet Shoes & Velour Heels Reviewed
In a Hurry? Editors choice: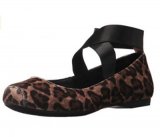 Test Winner: Jessica Simpson Mandalaye

Shoes can completely transform an outfit. No matter if you're going for a formal dinner-party look or a casual Friday night look, shoes be used to accessorize and add a touch of style and personality to your appearance. But it's not just the type of shoe that makes a difference. It can also be its color, pattern,
heel height
, and material. Recently, velvet heels and shoes have been coming back into style, and we couldn't be more grateful.
Standout Picks
Criteria Used for Evaluation
Materials
Before jumping into any of the other features to look for in velvet heels and shoes, it's necessary to first understand what velvet is. Velvet can be defined as a woven fabric with dense, evenly distributed threads. Their density gives the material a smooth and fuzzy feeling. Though originally made with silk, velvet is now often made using synthetic fabrics that are all man-made and require no animal products.
Because velvet was once handmade in a long and tedious process, it was considered to be luxurious. Many people of high stature wore velvet to display their royalty. Nowadays, it is made by a special loom, which goes through a similarly intricate process to create the velvet, but as technology continues to develop, the material is becoming increasingly affordable. They are now often seen on furniture and clothing.
When it comes to shoes, velvet has a feminine, romantic, and luxurious look. Because they were previously only worn by people of high status, they have come to represent grace and glamour. They are especially suitable for fall fashion, and their texture gives their color a rich hue that can't be found with any other kind of material.
Model
Crushed Velvet:
This is the type of velvet most often used with shoes. It is made by pressing the fabric down in different directions, or by twisting the fabric when wet. Its result is a patterned appearance and soft texture that is rich and shimmery. What's more, it gives the color of the shoe a more rich look. Shoes made of this type of velvet have a classy look that renders them suitable for all sorts of occasions. Pair them with neutral and uniform colored outfits, or with boldly patterned clothing for an extra touch of elegance.
Embossed Velvet:
Here is another type commonly used in footwear. With this type, the material is stamped by designs to create noticeable patterns such as a floral pattern. Shoes with embossed velvet have a more sophisticated look as a result and are great when paired with plain, uniform outfits to add a finishing touch of style.
Style
When picking out what to wear, the style of the shoe is very important to consider. The suitable style will vary depending on the occasion in which you are wearing them. Sneakers, for example, are perfect for a day out running errands or shopping, but not so great for a formal event. The velvet fabric gives all types of shoes a more glamorous and elegant look, true, but the shoe style should still be appropriate to the occasion.
Heels:
Heels are a classy choice for formal events. When attending a big occasion, it almost feels mandatory to be wearing heels – and for a good reason. They give you a feminine look by adding a touch of grace to your every step. In addition, they can lengthen the legs and make you appear taller, which is perfect for those who are on the shorter side. For taller women, they nonetheless give you a look of class and elegance. All in all, they are the perfect go-to for formal events like weddings, graduations, or evening parties.
However, heels can also be worn more casually. If worn to a party or when running errands, they can make your everyday attire look more fierce. They also give the illusion that you spent more time on your appearance and that you value the occasion to which you are attending, making them a great last-minute choice for out-of-the-blue occasions like meeting an old friend.
If you're wearing heels out on a casual day, just make sure that the heel is comfortable enough to allow you to enjoy your day and get around without discomfort. To ensure this, kitten heels are a great choice. Their low heel will provide you with more stability than taller heels. Block heels, or chunky heels, are also a great choice because the thickness of the heel also provides stability. Of course, these types of heels can be dressed up for formal occasions as well and are a great choice if you prioritize comfort.
Sneakers:
There's nothing more suitable for everyday streetwear than sneakers. They're comfortable thanks to their cushioning and construction, and they are also very easy to pair with thanks to their plain look. Less formal than flats and more fashionable than running shoes, there's no way you can ever go wrong with sneakers. You can wear them with sweatpants and a hoodie for a casual Monday, or with jeans or a skirt for a laid-back look. If you're going to be walking a lot, such as when running errands or shopping, sneakers are always the go-to.
But velvet sneakers aren't like your typical sneakers. Despite being of a casual style of shoes, the velvet texture really gives them a chic look and a sense of sophistication. Because of this, they're much more suitable when paired with outfits on the more formal side. If the sneakers are of a neutral color and don't have a very bold design, you can even wear them to work when paired with slacks and a blazer or a button down. You'll give off a modest and professional vibe while also staying comfortable.
Velvet sneakers can also be worn with casual outfits but will add a bit of a formal touch to the look. However, they're still great for everyday streetwear and can even add a bit of a retro feel to your attire. Like velvet heels, they also give the illusion that you spent more time and care on your appearance than you did.
Loafers:
Loafers can be difficult to style. Though they are incredibly comfortable and convenient because of their design, many people are hesitant to wear them because they don't know how to style them. However, taking the time to get to know loafers is definitely worthwhile, because they are actually some of the greatest and most versatile shoes ever.
Because they have no laces or straps, loafers are very practical. Their heel is not overly fitted, which means you can simply slip them on and you're good to go, which saves you the time and effort that would otherwise be spent on adjusting straps or tying laces. In addition, they are very flexible thanks to the way they are designed and are comfortable for casual everyday wear.
When it comes to styling, loafers can practically match with any kind of outfit so long as the color goes well with the clothing. For more formal occasions, pair them with dress pants and a blazer for a modest and classy look. The velvet gives them an even more modest and professional look. For more casual occasions, wear them with jeans, leggings, or even sweatpants. The loafers will add a touch of style to your laid-back outfit and is very fashionable.
Brand
When we think about some of the hottest and most luxurious brands in the fashion industry, ones like Prada, Gucci, Louis Vuitton, and Jimmy Choo might come to mind. A product is a promise made, but a brand is a promise kept; generation after generation. A brand and its label are a statement of quality, craftsmanship, and service found in each of its products.
When assessing the products on our list for "brand," we took into account the quality of its products, its attention to detail and style, its reputation within the fashion industry, its commitment to customer service and its perceived luxuriousness and exclusiveness, to create an overall score for brand equity. Brand equity can loosely be defined as the pricing power a brand has in the marketplace due to each of the factors above.
So, while a product that scores high on this list may be gorgeous and exclusive, you can also bet it will much pricier, as well. After all, if everyone could afford it, it wouldn't be exclusive or luxurious, would it? Be prepared to look amazing, but feel the pain at the bank, if a product scores high on this metric!
Fit
We all know how hard it can sometimes be to find the perfect pair of shoes that we not only love, but that also fit snugly and comfortably. With so many styles, brands, colors, and models, how can one compare hundreds of supposed "size 6s?"
To assess for trueness-to-size, we considered the opinions of thousands of wearers from across the globe to find out the answer to the ultimate question: do these 6s fit like a 6? While some things can give you a hint as to whether they will fit true, small or large; like brand name, shoe type and year of make; we believe that the opinion of buyers cannot be wrong. If they say the shoe doesn't fit the way it's supposed to, then you won't find it in our 10-best list.
You will find that a pair of shoes or boots or sandals that score high on this metric tend to experience a trueness-to-size that was verified by our large community of sampled buyers. Just don't forget to take into account the factors above to also make sure your favorite pair will fit you perfectly.
10 Best Velvet Heels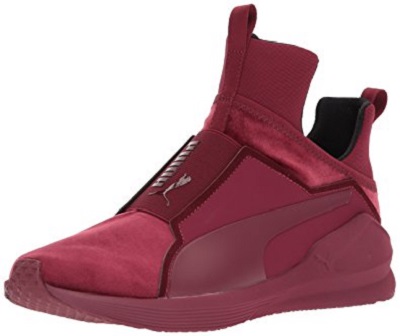 Velvet isn't just for evening parties and fall fashion, and these sneakers by PUMA prove this. With the Fierce Velvet sneakers, you can kill it while staying casual and comfortable. They feature an extra-high tongue that not only gives them a more unique style but also comes with pull-tabs to make them easier to slip on and off. The PUMA cat logo is featured on the side with the PUMA Formstrip on the other side, giving them a more fierce look. As well, their durable outsole provides grip, stability, and cushioning. The only downside is their expensive cost, but this is easily justified by their high quality.
The textile linings are breathable so that no odor or perspiration gets trapped inside the shoe. In addition, they feature internal flatlock stitching for reduced friction, as well as a soft velvet upper and a comfortable round toe.
The outsoles are made of durable rubber outsole that features full-length flex grooves. This way, you can move around with ease. They also provide excellent grip and stability. Considering the fact that they are high-quality sneakers from a well-known brand, these shoes are definitely pricey. But if you've really got your eyes on them, we suggest you go for them - after all, they are guaranteed to be of excellent quality and have a look like no other.

2

. Jessica Simpson Mandalaye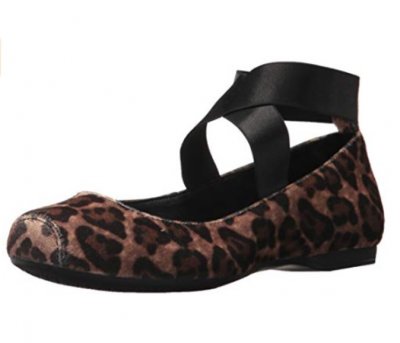 Sometimes it's nice to just have a pair of fun flats, soft and velvety, to pair with your ensembles as a statement piece. The Jessica Simpson Mandalaye is an adorable ballet flat, with wrapping ankle straps, and a fun velvet animal print pattern. Super comfortable and soft to touch, they're great with paired with basic leggings, jeans, skirts or dresses, and add some fun to your attire with animal print and velvet feel.
Animal print footwear has become quite a staple for any fashion forward individual to have in their arsenal of shoes. The Jessica Simpson Mandalaye has a leopard patterned upper, giving it a fun flair to basic outfits such as black leggings or skinny jeans. Soft and velvety to touch, the animal in you may come out when you have these adorning your feet!
Along with its soft velvet feel, the Mandalaye has a secure fit found with the elastic ankle straps. These straps wrap across the top of the foot and up the ankle, similar to actual ballet point shoe would, and have a shiny look to them. Memory Foam footbed pads each step in cushioned comfort, and flat, sticky sole helps to give traction and grip. Somewhat expensive for a pair of flats, its unique animal print design, velvet texture, and ballet point shoe inspired elastic straps do make the Jessica Simpson Mandalaye a solid investment to add to your collection. Animal print is a staple for any closet to have, and with this fun option in your arsenal, you're sure to make a statement. If you're in search of a flat for your next pair of velvet shoes, consider this one for its fun style and strappy design!

3

. Room of Fashion Almond Toe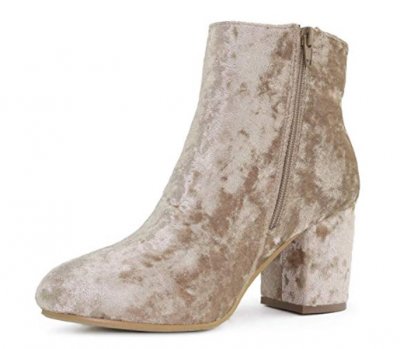 Modest yet oh so glamorous, these ankle booties will make your jaw drop. The velvet material really complements the chunky heel to create an old-fashioned, almost retro, look that is modest yet elegant. Pair them with jeans and a coat in autumn and winter to spice up your go-to outfit when shopping, running errands, or just going about your daily life. The velvet version of these booties come in brown, grey, and champagne, all of which are neutral, easy-to-match colors. To top it all off, they're affordable so that you don't have to break the bank to complete your look.
No need to worry about laces or straps. With a pair of these, you can simply step in, zip them up, and be ready to go, rendering them convenient. Though some velvet shoes are made with the use of animal products, these are completely man-made, synthetic, and cruelty-free. They have that same rich shine while staying ethical.
For a pair of boots, these are very inexpensive. What's more, their clean design and simple look mean they can be dressed both up and down, meaning you can make the best out of them by wearing them on all sorts of occasions. Just keep in mind that some reviewers have claimed their durability to be questionable.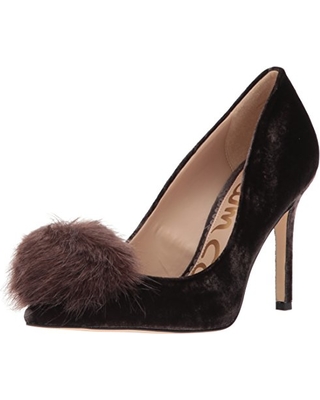 One of the fun fashion trends for this year involves shoes with embellishments that are statement pieces. Embellishments such as buckles, large rhinestones, or in the case of the Sam Edelman Haroldson, fuzzy pompoms! This cute and sassy velvet pump is modest in height, soft velvet throughout, and has a fun fuzzy pompom at the toe, making it quite the pair to wear with dresses, capris, or skirts!
Embellishments are all the rage for 2018, on flats, boots, and pumps. The Sam Edelman Haroldson keeps this pump fun and fashion forward with a large Pompom that sits atop the pointed toe. Pair these with capris to dress up basic pieces, or pair with something a bit wild for a fun night out on the town. Soft and fuzzy, it's sure to get loads of compliments for its unique look!
Modest in height, the Sam Edelman Haroldson is the perfect pump for any occasion to be comfortable in for hours without worrying about sore calf muscles. The pointed toe adds some tapered shape to the toe while the pompom hides the tip and replaces it with some fun flair. Velvet runs throughout the entirety of the pump. With a couple of fun color options, you can find one suited to your wardrobe for certain. Slightly more expensive than what you'd expect to pay for a quality brand name pump, the Sam Edelman Haroldson keeps a fashion-forward design with this velvet sweetie. Pompom embellishment makes this a fun, statement pair of pumps, while modest heel height allows for a comfortable wear. Great for anyone looking for something out of the ordinary in a velvet shoe.



If you're looking for something with a clog look to it, but a velvet finish, the Bernie Mev Gem is a wedge style clog that does just that. Comfortable and easy to wear, just slip on and head out in style. A two-inch wedge gives some confident height, while woven elastic and textile create the flexible uppers for a comfortable fit and breathability. With its unique texture appearance and easy slip-on style, it makes for a great weekender shoe.
The Bernie Mev Gem combines elastic fabric and velvet strips to make the uppers of this wedge clog, giving it a unique look and texture. Elastic also helps make this easy to fit many foot shapes and sizes, providing a snug fit without being restrictive. Breathable with the woven pattern, feet can stay ventilated in the summer, or during winter the Gem can be worn with socks for an extra layer of warmth.
The Bernie Mev Gen has a two-inch heel wedge that gives a confident height to this weekender shoe. Perfect to pair with comfortable jeans, or dresses, its clog slip-on style makes them ideal for walking downtown or wearing out for extended periods. A memory foam inner sole adds to the plush feet of the clog, and a PU outsole provides sturdy durability and structure to support you.

6

. Room of Fashion Chateau-22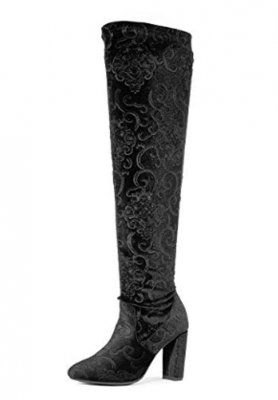 Starting off the list with a bang are these gorgeous thigh-high chunky boots. They can be dressed up as well as down depending on the occasion, but generally, have a more laid-back look. What's more, the shaft fits over the knee to give your legs a more lengthened look. The adjustable drawstring ties and medium/wide calf options ensure you can feel comfortable in them. Made of stretchy man-made suede and leather, they are also completely vegan-friendly.
If you're not used to wearing thigh-high boots, these might not seem too appealing to you in terms of comfort. However, they are made of a stretchy material and have a lightly cushioned insole to keep you feeling good as well as looking good.
If you've got wide calves, you might have struggled with tall boots before. This model, however, is available in both medium and wide calf so that they can be suitable for all body types. Though slightly more expensive than most of the shoes on our list, the fact that they are thigh high boots means their manufacturing requires a lot of material. Naturally, the price would also increase, but with hundreds of positive reviews, we know they're a worthy purchase.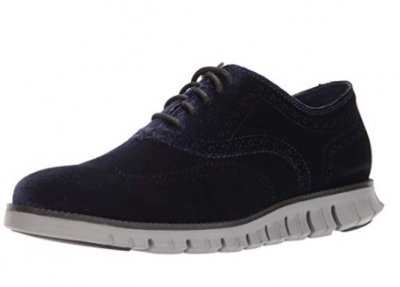 Cole Haan pulled together a great oxford style shoe covered in soft, rich velvet, to bring the fashion industry back to business attire. Closed lacing system gives the Zerogrand a sleek, classic look about it, and quarters are adorned with perforated brogueing to bring style to the max. The unique sole provides ample traction, but wonderful flexibility, similar to what you'd find in quality running sneaker, making these easy for the wearing. Durability can be seen in the craftsman ship of the storm welt, helping to keep water out, and the integrity of the shoe maintained.
Cole Haan partnered with the New York City Ballet, among others, to unveil their newest technology, Zerogrand this past spring. The technology combines comfort, breathability, ultra-lightweight, and responsive cushioning to one single pair of footwear. This oxford style velvet shoe not only will be comfortable for all day wear but perfect to pair with suits for business attire.
Rubber soles base the Zerogrand, with a flexible build and construction that gives padding and comfort for extended wear. Natural storm welt seals the shoe tight against the elements and makes it durable. Velvet uppers give it a lush look, and wingtip brogueing adorns the toe for added styling elements. EVA midsole provides additional stability and comfort, for those longer meetings in the afternoon!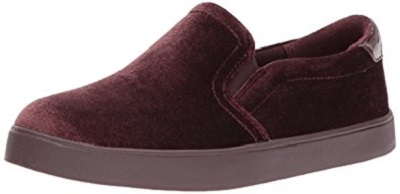 If what you're looking for is something more suitable for everyday occasions, consider these adorable sneakers by Dr. Scholl's. These sneakers feature a simple design that renders them convenient and minimalist. Because of this, you can pair them both with colorful or patterned clothes as well as with clothes in more toned-down colors. The model comes in many different materials such as microfiber, leather, flannel, and canvas, but the velvet version includes a rich shade of merlot and grey that can be paired with nearly everything. Their only downside is their high price, but this can be justified when taking a look at their great balance of features.
If you're wearing a pair of shoes often, you want to make sure the insoles are perfect for your feet. The removable insoles in these sneakers allow you to replace the insoles with something that better suits your preferences if their original insoles do not.
With ultra-soft material in its lining and collar, you're sure to stay comfortable in these. What's more, they will keep your feet warm to an extent during the colder months. These shoes aren't the cheapest for sneakers. However, it's not often that you find such practical yet fashionable sneakers, so we believe they're worth the consideration.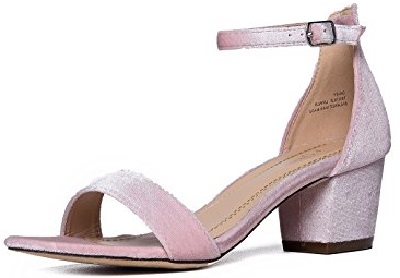 If there's one thing every woman needs in her wardrobe, it's a pair of simple kitten heels. These are perfect for formal occasions that pop up out of the blue, such as work meetings or formal dinner parties. They're low enough to keep you comfortable, yet high enough to give you a slightly more elevated look (if you'll pardon the pun). This particular pair by J. Adams has a simple ankle strap and toe strap that provide a better fit while also contributing to the minimalist design. The block heel is around 2.5 inches tall and allows you to retain your balance when walking. Overall, this pair is a great pick for random occasions that pop in which you need to wear heels.
The ankle and toe strap give these kitten heels a classy and versatile look. Because of their simplicity, they can be paired with nearly everything. Not only do the straps add to their look, but they also stabilize the foot in the shoe. The ankle strap ensures they fit well at the ankles, and the toe straps keep your foot in place to reduce the strain of making your shoes keep up with your feet when walking.
As a versatile, go-to pair of heels, they are an incredible bargain. Not only can they be worn frequently and in all types of events, but they are also reasonably priced. What more could you ask for?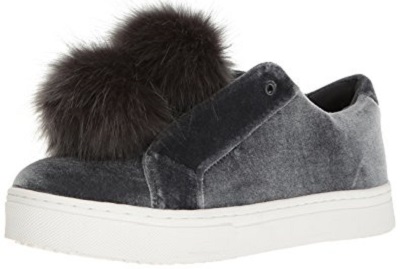 There's nothing like velvet to spice up a pair of ordinary sneakers. Our next pick is the Leya sneaker by Sam Edelman. Made of a lush velvet material, they are casual while also giving off a vibe of luxury. The pom poms add a touch of uniqueness that is sure to give your outfit more personality and showcase your fun side. The thick outsole gives you a bit of a boost in height while keeping you stable on your feet. Also, the velvet version is offered in many colors, such as mauve pink, grey, and navy. Just keep in mind that this model does run around half a size to a size large, meaning it's a good idea to order a size or so larger than your usual shoe size.
Not only is the shoe made of lush velvet, giving it a rich color, they are also decorated with pom poms. The pom poms give them a unique look that sets them apart from other velvet sneakers and renders them more eye-catching and fashionable.
Under the tongue of the shoe are concealed elastic inserts. By giving the shoes more flexibility, they ensure comfort and a more snug fit. Like our previous pairs of sneakers, these aren't the cheapest. However, they are affordable, and their luxurious look is sufficient justification for their high price.

Subscribe to our Newsletter