Best Boots for Thick Calves Reviewed
In a Hurry? Editors choice:
Test Winner: Dr. Martens 1460

How many times have you gone shopping and found the cutest or
most stylish
pair of boots? When you get the sales associate to bring you the correct size and you put them on, you see that your thick calves do not fit comfortably inside the boot! It is so frustrating. A typical standard boot opening is 13.5 inches, so we searched for the best boots that had a minimum of 14 inches in circumference so you can find the most comfortable fit regardless of calf size.
Standout Picks
Criteria Used for Evaluation
Materials
Boots, as with all shoes, are made with differing materials. They can be synthetic, leather, cloth, suede, cotton, or a combination of materials. Depending on the type of material, the boot could be slouchy and loose or tall and stiff. Material choice is important because it affects so many factors about the boot. For example, if you have leather, the boot will not be as breathable as a cloth boot. However, the boot will stay upright. Whereas a boot made of cloth or wool will be mad to have a slouchy look.
The material also determines the style of a boot. Leather will almost always look polished and more formal than a sweater material boot. If you are searching for a warm booth then you will want one that is lined or made of a warmer material. Conversely, if you live in a warm climate and only want the boots for aesthetics then you would likely want to avoid a hot and unbreathable material or a lined boot.
Another thing where the material plays an important part is the durability of a boot. Some materials such as suede do not hold up in bad weather. If you live somewhere that has cold weather such as snow or rains a lot you would not want to choose a material that is not going to hold up. Also, if you are saving and plan on buying one high-quality pair of boots, typically leather will be the most durable of all the materials and will be a better investment usually.
Boots come in all kinds of materials. Such materials include synthetic, leather, cloth, suede, cotton, or various combinations. What material you choose depends on your personal boot needs.
Leather is usually stiffer and cloth is usually looser. Leather means a boot that will stay upright and cloth means more of a slouch. In addition, leather is less breathable and cloth provides more ventilation.
For materials other than leather or cloth, it depends on how they're constructed. Such materials, however, are usually in a combination blend of materials and not stand alone (with the exception of wool).
Ride
The calf opening is important to look at when searching for a boot that is made for thicker calves. A typical boot for larger calves is going to be any measurement over 14 inches. You should measure your calf to make sure you have a large enough opening for your particular leg. Some boots go many inches higher than 14 so you don't want to have too much of an opening and the boot gapes far from your leg. Also, if you are looking to wear bulky clothing inside the boots you will want to account for more room than just your bare skin.
Secondly, regarding the opening, you will notice some boots have a straight cuff around the top of the boot. However, others will have a scalloped pattern. This scalloped pattern is essentially a notch or slits cut into the cuff. It is a design for looks but also it will give a little more flex than a straight across boot top.
One last trait some boots will have is an elastic portion. This elastic is generally known as goring. In fact, its purpose is to give the boot a little more stretch without compromising the integrity of the boot. Further, the goring is usually very unnoticeable so it does not affect the aesthetics of the boot. Goring is typically used in boots made of a more rigid material such as leather. Leather does not have as much stretch in the actual structure of material so goring is added to give some more room. You can find goring in many places on the boot such as the sides, the tops, or up the back portion of the boot's upper.
Style
Boot heights from above the knee to down below the ankles are so very popular and constantly in style. Furthermore, they can be an everyday shoe. Some people will only want very tall boots while others prefer shorter styles. Going through the many hundreds of designs we tried to incorporate a few varying heights into our results.
For a person with shorter legs, it is very important to measure the height of the boot. A boot that is supposed to come to just below the knee for average heights, but on a shorter person that might mean the boot comes to the actual knee. That could be very uncomfortable. On the contrary, a very tall person will need to be cautious when ordering boots as something that is mid-calf rise may only come to just above their ankles.
The height affects the calf opening width a person will need. Additionally, depending on where the boot is supposed to hit on the leg determines the calf opening. Most people have larger upper legs than lower legs. They will need to purchase a boot that has a large enough opening to accommodate a thicker portion. So even if the buyer has normal calf measurements, they might need a larger opening for an above-the-knee style. Secondly, an ankle and lower calf height won't need to be as large of an opening on something that hits above the knee.
Ease of Use
Boots that have a zipper make the boot easier to put on and take off. To add, it doesn't matter if you have smaller calves or larger calves. Boots are hard to get on and especially off without being able to unzip. That is not to say it is impossible to get on and off without one. A lot of boot styles simply do not look good with a zipper. Still, designers choose to not use the zipper in their designs regardless of their usefulness.
Nevertheless, the brands that do choose to add a zipper will try and camouflage the zipper into the boot. Conversely, some will use the zipper as an adornment and will embellish the zipper with big hoop pulls or colored teeth on the zipper.
Zippers are a great option for thicker calves, if not the best. It makes putting the boot on easy and taking it off easy. The downside is that zippers have the tendency to not look good with various outfit styles so designers are less likely to use zippers. Designers that do use zippers, however, will try to camouflage the zipper within the boot. Some will make the zipper fashionable itself by using it as an adornment or using unique designs such as multi-colored zipper teeth or big hoop pull zipper tags.
Upper
Some people either love boots or they hate them but still wear them for their functionality. In other words, someone that lives in cold weather probably would opt for very tall and lined boots as opposed to sneakers for a day at the office. While the sneakers may be more comfortable, they are usually not favored at work. Therefore, the person has to resort to boots. Designers are looking for ways to make boots as comfortable as they can. The most efficient way to do this is the insole. By providing more padding or a more breathable insole, designers hope to lure buyers to purchase again and again.
Boots that have a high heel especially need more padding as it puts the foot at an awkward angle. Thereby, more pressure is applied to the ball of the foot. It is important to take precautions to prevent issues with the ball of the foot. Many things can stem from an injury to that area. Another area the insole definitely needs to support is the arch. Designers have made the arch of boots to now have supreme arch support to prevent collapsed arches. Also, boots that are totally flat absolutely need to have good arch support. Otherwise, that can lead to massive foot pain.
Boots are either hated or loved and some people wear them strictly for style. A lot of people, however, have to wear them for functionality. Especially people that live in colder or snowy climates.
As beautiful and functional boots can be, they can be uncomfortable from the support to the lining. Boots that have a high heel require even more support as your foot is at an angle.
If possible, choose boots with supportive insoles that have arch support. This will help reduce unnecessary pain and pressure. If needed, purchase inserts for foot support. For other comforts, check for breathability in warmer climates or lining in cooler climates.
Top 10 Boots for Wide Calves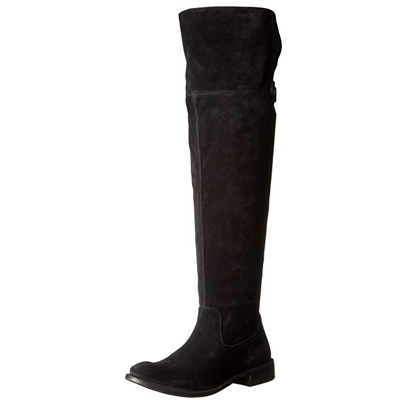 Nothing looks as luxurious as a pair of quality leather boots, and the Frye Shirley is definitely an investment pair of footwear. These over the knee boots bring classic style with an updated feel, and a look you can customize based on your outfit of the day, or level of comfort you're after. It's a pair of boots that actually comes in an extended calf version for those who need a bit of extra space in this portion of the boot, and is made with the highest quality of materials, as you can expect from a company such as Frye.
This model uses either vintage leather or oiled suede in the upper for a supple fit that only gets better with wear. Sourced from some of the best tanneries in Italy, the material of these boots will look better with wear, so you can look forward to using these for years to come. Plus, they are handmade, so you can be sure you're investing your hard earned money into a quality product.
As for the rest of the boot, it's quite simple: a leather lining for breathability and softness, a leather outsole with a 1" stacked heel that's stable and looks great with most outfits, and an inner side zipper for easy on and off. The price of this product is quite high, and will definitely not fit everyone's budget, but if you're after the best possible quality, then we highly recommend checking these out.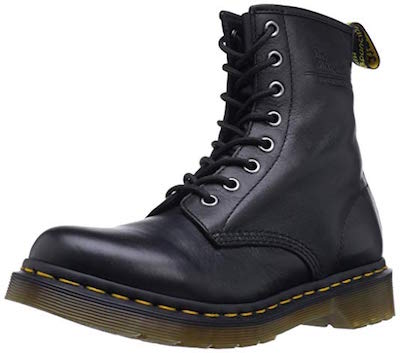 An iconic style, the Dr. Martens 1460 was originally made for workers who needed sturdy, durable and protective footwear. However, it has since then become a classic that can be worn with almost any outfit. And the best part is the fact that the lace up closure allows for a great amount of fit adjustability, so that all shapes can find a comfortable way to wear these. Made with a number of upper options, these boots come in numerous colors, and new colorways each season.
The 8-eye 1460 was made with absolute functionality in mind, which is why it includes a pull tab at the heel for easier on. The smooth leather upper is simple to keep clean and nourished, and the entire boot is constructed so as to last for years. A Goodyear welt ensures water protection, making this model suitable for wear in all weather conditions.
As for comfort, you will definitely enjoy the air cushioned sole that is made with rubber, and uses particles of air to provide shock absorption and long-wearing comfort. Resistant to slips, abrasion, as well as oil, it will put up to rough daily use, without losing traction or flattening. As for the price, it's only slightly above average, but overall, you will get a product you'll be able to wear for years, so the investment is definitely worth it.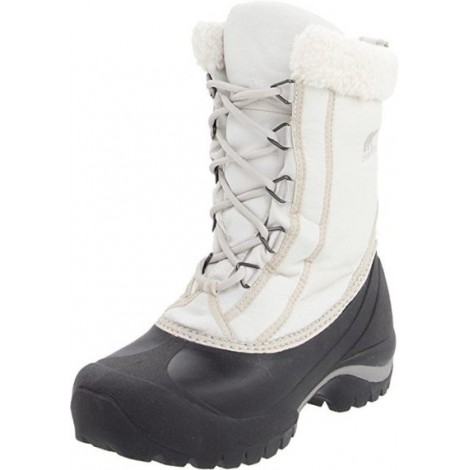 Sorel builds a brand of shoes that really withstand the elements. These boots will be perfect for someone looking for an all-terrain and all-weather footwear. These boots will shield off wind and water with their coated synthetic textile upper. The gusseted tongue keeps out debris, rain, snow, etc. Finally, top the shoe with a soft and cozy sherpa pile cuff and you will hardly believe a boot this rigid can be this soft. It is a perfect compliment for people that need a shoe to wear every day and in all weather situations.
One of the main concerns people have with footwear is stability in all terrain. No one likes to wear a shoe they could potentially slip and get hurt in. These boots have a base that is rugged and will enable walking on all different surfaces whether wet or dry, gravel or concrete.
A huge benefit for these boots is the ability to adjust the with laces that run up it. This also enables wearers to loosen the opening or tighten it depending on how much room they need. It is perfect for wearing with leggings or multiple layers of clothing in extreme conditions.
The Sorel boots hit right in the middle of the price range which makes them a good buy for almost everyone. They are incredibly durable so you can be sure with you purchase you are getting a boot that will last. It is also a boot that can be worn on many occasions so you will most definitely get the use from it.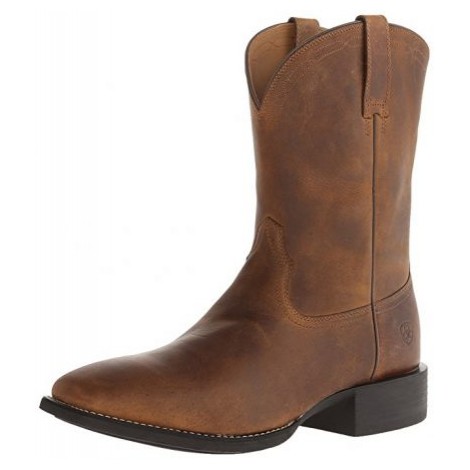 Ariat has been a top name in boots for over a century. The brand is known for quality, durability, and comfort. Their boots will withstand just about anything thrown at them. The Heritage Roper boot lined with leather and made of full-grain leather upper and leather foot will be one of the most cushioned and well-designed boots to ever be put on your feet. They will provide all-day comfort for standing as well as walking.
The thing about the outsole of any shoe is to make sure it provides good traction. Without dependable traction, you will be more likely to suffer from a fall or slip and resulting injury. Duratread means reliability underfoot in all conditions. These boots will help keep you sturdy while wearing them.
Leather, in all aspects, is a high-quality material. Moreover, shoes that are made of leather generally have a luxurious feel. They will last longer with proper care than shoes made from other materials. Interestingly, leather has been used for centuries before modern technology gave us other options. Further, the reason being, it will last and hold up in almost all weather conditions.
For such a well-known and highly constructed brand, the price of these boots is affordable but still in the higher range when compared with some of the other boots on our list. However, Ariat builds a shoe and boot that people have come to depend on. Buyers should know that the boots being bought will last for a long time.

5

. Hunter Original Adjustable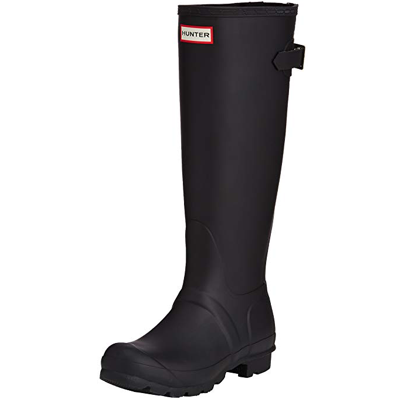 Hunter is a brand that's been very popular for the last few decades, and considering the nature of their products, this comes as no surprise. If you're looking for a functional pair of boots you can wear in wet weather or on muddy terrain, the Hunter Original Adjustable is a great choice. The Original Adjustable looks the same as the regular version, but adds an expandable elastic gusset at the back for a higher level of comfort that won't cut into the leg, and will allow free movement.
The Hunter Original tall boot comes in 6 different colors, from classic black to feminine pink, and it looks great with almost any casual outfit. Handcrafted from natural rubber, this boot is 100% waterproof, which means that you won't have to worry about getting wet, even in the worst weather conditions.
On the inside, the Original Adjustable features a polyester lining that is comfortable for extended wear, and prevents overheating, seeing that it includes no insulation. The outsole features a tread that will grip all types of surfaces, while the entire boot is flexible, so you can comfortable walk for hours without pain or discomfort. In terms of price, this model ranks average on this list, and is a good investment for anyone who lives in a climate that gets a lot of rain in spring and fall.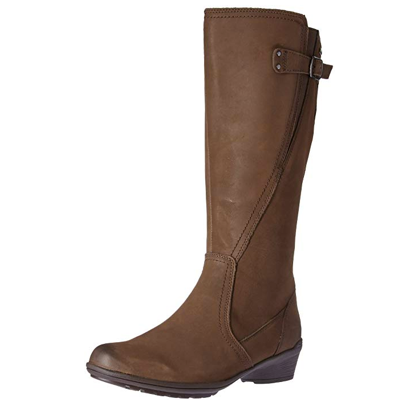 The Rayna by Rockport is a waterproof tall boot made for those looking for comfort that doesn't sacrifice style. Available in two color options - classic back and a bit more laid back stone, it will easily go from casual to professional, all while allowing you to enjoy a non-restrictive fit. The 13 ¼ inch shaft is perfect for all heights, and will comfortably sit below the knee for all users.
The upper of the Rayna is made with leather, with an elastic gore and adjustable buckle at the side which allows you to find the best fit. On the inside, the textile lining is stretchy to allow for the best possible fit, and the boot will shape itself to your leg with wear. It's breathable, while waterproofing is ensured by a HydroShield drainage system that keeps moisture out.
In terms of comfort, the footbed is made with EVA foam which is great for those who stand or walk a lot, while the insole is made with memory foam, for a customized fit that won't pack or wear out too easily. The rubber outsole grips all surfaces efficiently, making this a shoe suitable for both indoor and outdoor use. As for cost, expect a price that's above average. However, you can easily find them on sale.

7

. Naturalizer Jenelle Riding Boot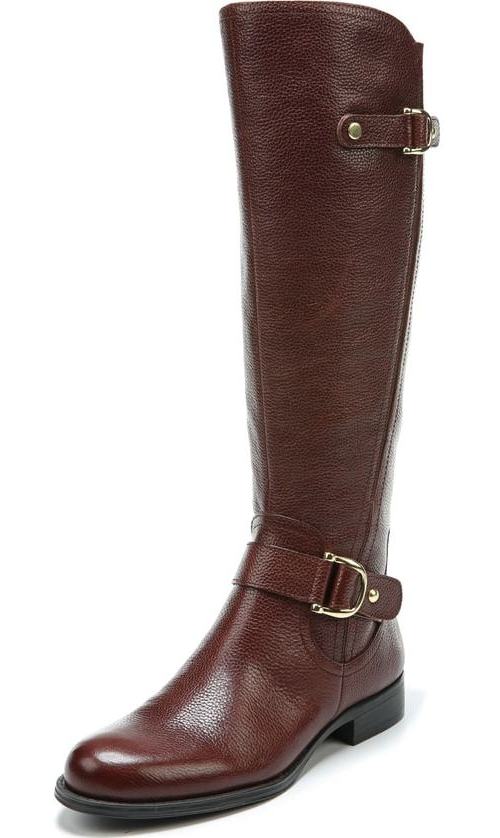 This boot will carry you far in style. Constructed with pure leather, the lining is textile with the insole cushioned with N5 comfort. There's a zipper on the instep to give you an easy on and easy off ability and there are detailed twin buckle accents. The outsole is non-slip, the calf opening is 16.34", and has a gore panel that is elastic. Five colors are available.
Leather material is the best you can choose for a pair of boots. Durable, long-lasting, and great for weather such as snow or rain. No need to worry about a tight fit as the leather has been outfitted with elastic abilities for easy wear.
A lot of leather boots can be uncomfortable for people but these have the special N5 feature. It's a combination of five comfort factors. Extra latex cushioning for shock absorption, breathable lining for cooler and drier feet, balanced heel/toe for a stable natural gait, flexible soles for pressure relief, and lightweight materials for comfort without extras. You'll never get tired wearing these. The current pricing is about average, so the Jenelle is worth every pretty penny. Pure leather, specialized comfort features, and supportive elastic make these the best you will ever walk in.

8

. Journee Collection Studded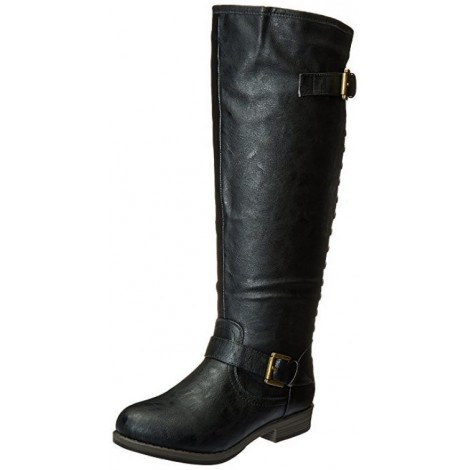 The Journee Collection of boots all top the list of trendy boots. However, these with their stylish studs and buckles put these boots a sought-after item. The boots consist of a faux leather upper and a nicely tractioned sole. Furthermore, the sole has enough traction to be stable but not so bulky that the tread sticks out and looks obtrusive from the sole. The knee-high height gives the boots a casual and professional look at the same time. Further, they can be worn perfectly complementary with any attire.
Two strategically placed buckles, one at the ankle and the other at the opening allows wearers to customize the fit of their boots. In addition, the boot already has a generous 17-inch opening. Therefore, it can have enough room for extra thick calves or bulky clothing.
The zipper being somewhat hidden by placing it in the back lets those that don't like the look of a zipper but love the convenience still have a nice boot. A zippered boot makes getting the boot on and taking it off much easier. This is especially true if you have sweaty legs or bulky clothing that can sometimes make getting boots on and off harder. These boots fall within the middle of the price range when compared to other boots in the category. They are versatile enough to be worn many different times and way. Also, buyers can know with their purchase they are getting a boot that will last and can be worn in just about all settings and weather.

9

. Dr. Scholl's Shoes Poe Slouch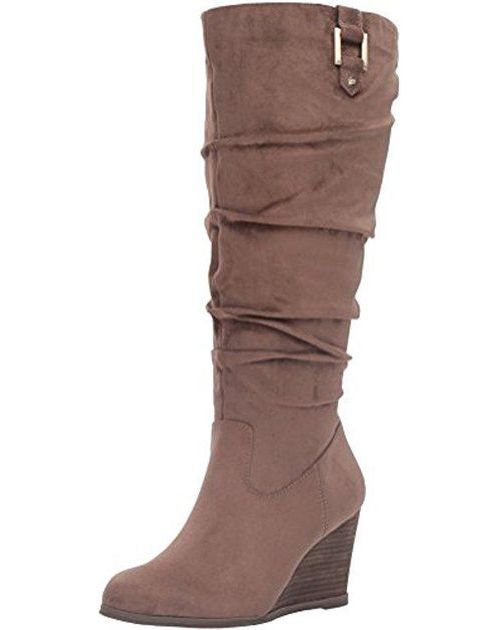 Original style and comfort, enjoy an all-day cozy feel in a boot that is lightweight. They come in two colors (Stucco or Black) and the fabric material is microsuede to give a finish that is soft and head turning. Great option to wear with denim jeans or a dress, the style is a slouch with a buckle for an added accent with a wedge heel that is wrapped in leather. You don't have to sacrifice beauty for comfort as the insole is a breathable memory foam and the sole is very flexible for a natural-like supportive walk.
If you have thicker calves but love to wear boots with jeans or other thick fabrics, the Poe is a great choice. Already big enough for calves, but even bigger for those who like to layer their outfits. Even then, you'll still have room so your legs will never feel tight or restrictive.
This man-made material comes with many advantages. It provides you that same soft feel suede leather gives but it's just as durable and much more affordable. Also, it's less likely to collect dust particles, is stain-resistant, and can be much easier to clean. You can wear these boots virtually everywhere in all kinds of weather. A higher price but worth it when you consider the brand. These boots have built-in comfort without sacrificing the style. Due to the material construction, you'll have shoes that will last you year after year because of their durability and easy maintenance.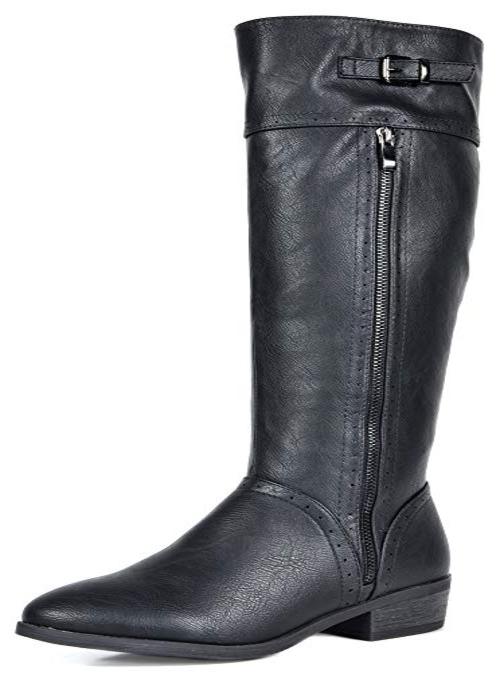 With ten colors available, you have endless style options at your toe tips. The boots are motorcycle inspired with accented stitching detail, a leatherette upper, and a rounded toe. For extra style, there are double buckles and a quilted zipper for that tough moto look. There is an instep zipper, light faux fur lining and insole, and a thermoplastic rubber sole. The calf sits at 16.5".
A lot of boots do not come with a zipper which can be a problem for larger calves. These have a zipper for easy on and easy off so you'll have less discomfort. The zipper, however, isn't obvious as it has been placed in the instep of the shoes to be less likely seen and less likely to ruin your outfit choices.
The TPR sole material is a specialized rubber that gives you the same support and durability of other rubbers. What makes this one so special is that it's latex free, unlike other rubber soles which are great for those of you that have latex allergies. Also, TPR is aesthetic versatile and recyclable.
Very affordable for those who want inexpensive fashion but isn't low quality. The only downside is that there is not immense support with the exception of a lightly padded insole so you might want to invest in some inserts. However, if your focus is the occasional style for special moments, then these are a cool choice.

Subscribe to our Newsletter