Best Shoes for Working in Retail Reviewed
In a Hurry? Editors choice: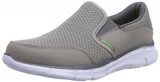 Test Winner: Skechers Equalizer Persistent

Looking for the best shoe for working retail? All shoes listed in this article meet high standards for comfort levels, durability, cost, aesthetics and more. Certain positions won't allow for open toes, while others will require formal footwear. We've taken all possible demands into consideration, and have compiled a list of shoes appropriate for most retail jobs. However, it is advisable to check the rules of your company about shoe specifications before you make a final purchase. Check out the best shoes for retail workers, below!
Standout Picks
Criteria Used for Evaluation
Comfort
The most important thing to look for in a pair of shoes that you're going to wear for working retail is the level of comfort they provide. When choosing footwear that you are going to be spending a lot of time in (on your feet or walking), you need to make sure that these shoes fit you perfectly. Ultimately, what will ensure the highest level of comfort is a good fit. This means that your shoes for working retail need to be the correct length and width, and they need to hug your foot without constraining, pinching or rubbing any part. If a pair of shoes is causing even the slightest discomfort when you first put them on, move along – those are not the shoes for you.
A comfortable shoe will have a few features that make it suitable for prolonged wear. Most people need different features, but there are a few things that you should consider.
Upper Material – a pair of shoes that is comfortable to wear all day will have an upper that will be perfectly suited to your foot size and shape. Everyone has different preferences, but going with a few standard materials is recommended. One of these is leather, and it's a great option thanks to its natural flexibility and breathability. A good pair of leather shoes will mold to your feet with use, and if you take proper care of them, they'll last you for years. Another material you might want to look into is a mesh or synthetic upper. These materials are soft and flexible, which allows them to be more comfortable and lightweight. Additionally, they will provide better airflow, which means that your feet won't get too hot, even if you're logging many miles during the workday. Finally, you might want to look into canvas shoes, which are the middle ground between leather and knit or mesh, in that they are breathable and lightweight, but won't deteriorate as quickly as other synthetic materials will.
Cushioning – standing and walking for long periods of time means that your feet will be doing a lot of work throughout your day. Getting a pair of shoes that is well cushioned can heighten your level of comfort by lowering the stress and shock that is put on your heel, arch or forefoot. A well-cushioned shoe will feel soft when walking on it, and it will lower the level of fatigue you feel in your feet and legs at the end of the day. Running shoes can be a great option, but more and more companies are also making everyday and formal footwear that has good cushioning properties. If possible, look for GEL, memory foam or EVA foam elements in your shoes, as all of these are great materials that provide a soft feeling underfoot.
Lining – the part of the shoe that touches your foot is just as important as its outer build. Try to opt for shoes that have soft and breathable lining such as leather or textile. When standing and walking, especially if you're doing so in an environment that is warm, your feet will sweat. Although this is completely natural, it's important that you aren't spending hours upon hours in wet shoes and socks as this can lead to a wide variety of consequences. Moisture in your shoes can cause bacterial or fungal infections, can promote odors, or can be the cause for the development of blisters, corns, etc. A good shoe will have a breathable or even moisture-wicking lining that will promote proper airflow and keep your feet dry throughout the day.
Support
When shopping for shoes for working retail, you need to make a choice of footwear that will not only allow you to do your work, but that will help with the process. Support is very important in a pair of shoes that you're going to be spending a lot of time in. A pair of supportive shoes will allow your feet to move naturally and correctly, ensuring proper alignment that you will feel throughout your entire body – not only will they improve your posture, but they can also help alleviate knee, hip or back pain that you may be experiencing from a lot of standing or walking.
There are several places where you will need your shoes to be supportive, and these include the ankle, arch and heel areas. While ankle support is important in sports such as basketball, it's not crucial for working in retail unless you have weak ankles and need your shoes to prevent any sprains or rolls.
When it comes to arch support, it's very important that you pick the correct kind. The arches of our feet are made so as to naturally absorb the shock from walking, and if they are unable to this, you are looking at a lot of unnecessary force shooting up your entire legs. However, even for those who have absolutely zero problems in their arches, a lot of standing will result in fatigue and arch pain, which is where a good pair of supportive shoes can save the day. The best shoes will hug your arches and will allow your foot to stand in a natural position, not rolling inwards or outwards. Although not all shoes have enough arch support for everyone (or they can even have too much), you can solve this problem by inserting your insoles, or using custom orthotics. Take the time to determine what it is exactly what you need on arch support, and don't be afraid to invest in it, as it is the one aspect of your shoes that will make the most difference.
Heel support is also a good thing to have, especially in slip-on styles. A pair of supportive shoes will clutch your heel and prevent it from sliding in and out of the shoes which can lead to foot fatigue, blisters, and even sprains or injuries. Make sure that your heels are secure in your shoes, and that there is no pressure on the back of your legs, especially on the part where your Achilles tendon meets the bone.
Traction
A lot of retail jobs are done in environments where you will be required to navigate different types of floors, from carpet to concrete, hardwood, tile or even marble. Although spills are less common than in some other professions, it is still very important that your shoes allow you to walk on these surfaces without worrying about falling and injuring yourself.
When shopping for your work shoes, make sure to choose a pair with a good traction pattern on the outsole that will be able to stand up to slick or wet surfaces. You can look for deep lugs or shoes which have non-slip rubber outsoles. Skip footwear that is too slick, or that has an outsole that feels like plastic, as these will not do a good job in keeping you safe at your workplace.
A number of models included in our list include this type of outsole. While not all are marked as slip-resistant, the material used for the outsole will give you a good idea of what you can expect. We've also made sure to include any traction issues in the Pros and Cons section for each model, so you can look there for accessible info about this aspect.
Durability
Working retail will require a lot of time on the floor. In this, an individual will need a product that can last hours upon hours of dancing. Knowing this, when picking products for today's list, we focused a lot of our attention on durability.
Since the overall nature of this footwear is quite simple, it was quite easy for us to determine what products were long-lasting and what would wear quicker. Those products that were made from leather or canvas were most often designed to last. Those created from synthetic or manmade materials often showed signs of wear and tear quicker – and ripped.
Additionally, we took measures to look at whether or not manufacturers offered different guarantees or warranties. For us, if a brand took the lengths to offer either – it shows that their product is most likely quite durable. The last step that we took for today's buying guide was to look at what previous dancers said about their experience. If we notice a constant stream of positive feedback, supporting the durability of the product, it was a plus for us. On the contrary, if we found a wealth of reviews regarding wear and tear or the footwear ripping, we removed it from our list.
Value
Another important criterion that we used when picking out products is the price tag. The truth is, we all know the price is important. When picking out footwear, we have a budget in mind and try to stay in-between a specific dollar amount. However, when it comes to this type of evaluation, we are looking at something a bit different. Here, we focused on a way to ensure that no matter what product you decide, you receive your money's worth for the purchase.
So, to start the buying guide, we actually first scanned the market and looked at what companies were charging. We paid very close attention to the highest-priced items and the lowest price. In this, we were able to draw some conclusions as to what perhaps may be an average price tag.
For us, we used this to our advantage when assessing each product. We carefully looked at each product and considered whether or not the price was fairly priced, by the average price tag. From there, we also were able to conclude as to whether or not the value it offered was fairly priced.
10 Best Shoes for Retail Workers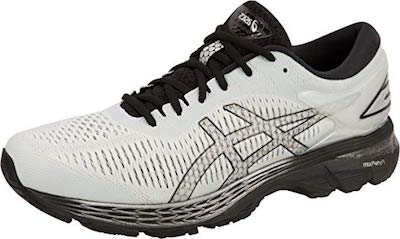 Those who have the luxury of wearing sneakers at work should definitely consider this flagship model by ASICS. The company is known for designing footwear that does a swell job at absorbing shock, while the Kayano line was developed to correct overpronation, giving you cushioned and stable support throughout the working day. This model comes in a wide variety of color choices, so you can go with monochrome black, or opt for one of the more colorful models - regardless of looks, this running shoe will feel amazing on your feet.
The upper of the GEL-Kayano 25 is made with a jacquard mesh knit that includes stretch fibers for the ultimate fit. Combined with the no-sew inner, this will provide you with a flexible yet supportive upper that's highly breathable and lightweight. The outsole uses ASICS High Abrasion Rubber to prevent excess wear even on concrete surfaces.
As for support and cushioning, the GEL-Kayano was developed for overpronators, and the midsole and insole work together to provide you with the support and shock absorption you require for a stellar wearing experience. The midsole uses Flytefoam which is extremely lightweight and responsive, while GEL cushions can be found in the forefoot and rearfoot sections. In terms of price, this model will definitely set you back more than some of the others listed, but if you require a high level of support and shock absorption, then the investment is definitely worth it.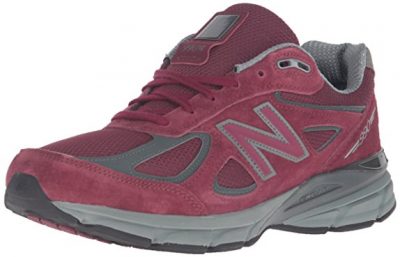 New Balance signifies American craftsmanship. The brand was founded on true beliefs of integrity and standing behind the products they manufactured. This particular shoe has been an icon for the brand for 30 years. Small modifications are made to the previous version to improve the 4th version. It is crafted with blown rubber for the outsole, an Ethyl Vinyl Acetate (EVA) core for the highest comfort, and a pigskin mesh upper for durability and good airflow.
There are various techniques to make an outsole. New Balance chooses to use a blown rubber method to ensure durability, craftsmanship, and comfort. The blown rubber method allows the sole to have good traction while being rigid but rubber is known for being squishy so it absorbs the impact before it reaches the bottom of the foot.
The midsole of a shoe is where most of the stability comes from. It is the piece that holds the sole to the upper but is hidden from view. The Encap midsole is made for durability, strength, and reinforcement. It provides a layer of shock absorption so the pressure on the foot meets a barrier in transport from the floor to the foot bottom.
New Balance shoes are handcrafted and therefore the price is a bit higher than other shoes in the category. However, the company stands behind its shoes and buyers will know that they are getting a high-quality product when they purchase these shoes. They are made to last a long time and the comfort they provide retail workers will far outweigh the cost.

3

. Skechers Equalizer Persistent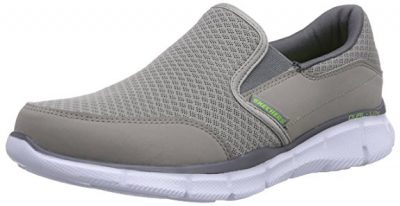 Skechers has gone above and beyond by pairing style and comfort with the Equalizer Persistent. The shoes have a nice faux leather upper which is a mesh material for breathability but gives the look of leather. The easy slip-on design makes fooling with laces a thing of the past. Featuring dual side elastic panels to give the shoe flexibility, these shoes will feel great if your feet tend to swell when you've been standing for long periods of time. Retail workers will find great comfort in these shoes, especially considering that they are lightweight and offer great comfort features.
Some shoes that are slip-on are known to aggravate the ankle/heel and cause blisters where the shoe cuts into the skin. These shoes are extra padded to prevent chafing or rubbing in the entire collar area. It helps to cushion the ankle and provide stability as well so the foot will feel more secure in the shoe.
Strategically placed in the front of the shoe and along the sides are mesh panels that help with the cooling ability of the shoe. Retail workers will be wearing their shoes for a minimum of 8 hours a day and that is a lot of retained heat that could be trapped in the shoe. The panels promote a nice airflow through the shoe and around the foot to prevent moisture from being trapped making the foot uncomfortable.
Skechers shoes have always been known for comfort and value. Their shoes are generally at a low to the mid-price range which makes them affordable for almost anyone on any budget. The shoes will last for a good amount of time as Skecher's shoes are made with great quality standards. Buyers should feel confident in their purchase should they opt to buy these Skechers Equalizer Persistent shoes.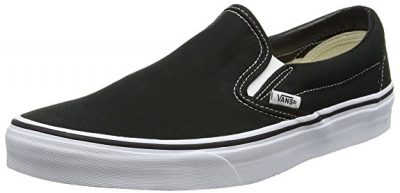 While typically thought of as a skateboarding shoe, the Vans Classic Slip-On is actually suitable for everyday wear. It's a shoe that is the perfect choice for a retail working professional. Vans have come to be known for their comfort after standing for long periods since they were originally designed for long skateboarding trips. The shoes have a very padded collar and a plush inner sole lining that helps prevent fatigue as it absorbs impacts and shocks from walking.
Canvas has a long-standing reputation for being lightweight, cool, and flexible on the foot. These are great characteristics for a person who has to stand and walk all day The fact that these shoes are also lightweight adds to the comfort levels they offer, considering that they'll prevent foot fatigue so often found in professions that involve a lot of standing. An extra bonus is a fact that these shoes allow for proper airflow, keeping your feet cool and dry throughout the day.
While technically these shoes don't have a separate tongue area as in generally expected, the area that covers the top of the foot is very padded. Moreover, so is the collar that goes around the upper portion around the ankle. This will prevent chafing on the back of the ankle, and it will also provide added ankle support that is great to have on long days spent standing and walking.
Surprisingly, this high-quality shoe is at the lower end of the price range when compared to other shoes in this category. As well, Vans were made to last through many kickflips and other skateboard tricks. Therefore, the shoes are highly durable and buyers should feel confident that their purchase will last them many years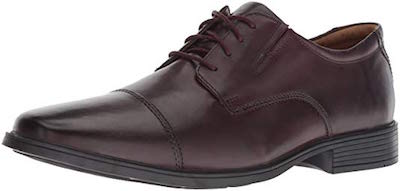 This classic cap-toe Derby shoe is perfect for the professional who needs to look their best throughout the day. Made by a company that is known for the comfort and support levels their footwear provides, the Tilden is a truly great choice for anyone who needs stylish, formal footwear. It comes in two width versions - standard and wider, which means you shouldn't have too much trouble finding the perfect fit, even when you take swelling into consideration.
The upper of the Tilden is made with shined leather and is available in black and wine, so you can choose the option that will match your work wardrobe best. The inner is lined with fabric, resulting in a breathable pair of footwear that won't take too long to break in, while the outsole is made with durable TPR that provides a good amount of traction, and enhances cushioning.
The built-in Ortholite insole will absorb the shock that happens while walking on hard surfaces, plus it will help wick away moisture, preventing bacterial and fungal overgrowth, and keeping bad odors at bay. As for its price, the Tilden ranks average on this list - it's an affordable pair of formal footwear, with a good amount of cushioning, and a professional-looking upper.

6

. Saucony ProGrid Integrity ST2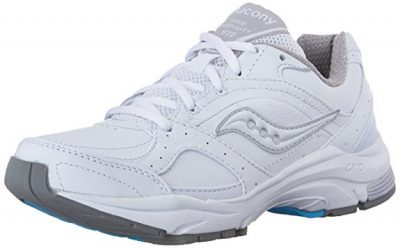 A perfect pairing of high durability and extreme cushioning is what the Saucony ProGrid Integrity ST2 brings to the table. Saucony shoes are known to be very comfortable and ultra-supportive in all the right places. This is especially important to have in a pair of shoes used by a person in retail or any other job that requires standing for long periods of time day after day. These shoes have a specially designed grid positioning system that helps absorb the impact preventing the feet and legs from Getting fatigued from the repetitive shock that comes with taking large numbers of steps. The shoes also have a very cushioned midsole which contributes to a comfortable feeling while standing and walking on all surfaces.
The leather upper of these shoes is made with stretch zones that are there to provide you with higher levels of comfort and flexibility by giving you an unparalleled fit. The stretch zones are a great addition, especially for people with wide feet or those who suffer from bunions and related problems, seeing that they will allow the shoe to fit you, instead of the other way round. It's also a great feature to have if your feet swell after hours of standing.
Correct alignment is crucial, especially for those who spend a big portion of their day on their feet. These shoes feature overpronation control which supports your arches and allows them to properly absorb the shock from each step. This, in turn, benefits your ankles, knees, hips and back, as they are likely to feel less pain when they are properly aligned.
Saucony Shoe Co. does a great job of revolutionarily designing shoes but still keeping them within a price range that most people can afford. The ProGrid shoe ranks below average on this list price-wise, which makes it a great choice for almost anyone. It will be especially beneficial to those with low arches or people who tend to overpronate.



Style meets comfort with this flat. Retail workers will rejoice in the light and airy feel of the shoe which is made from a fabric upper that promotes breathability and flexibility. Made with an Ortholite sock liner, these shoes are comfortable, cushioned and wick away moisture from the foot in order to prevent bacteria and odor overgrowth. An easy slip-on and off design allow you to put these on hassle-free.
Feet have the tendency to sweat when bound up inside of a shoe all day. These Grasshopper flats are made with technology that quickly wicks away moisture and controls odor that forms as a result of moisture. This can help prevent blisters on the feet which form from excess moisture.
Some people have thick feet and need to remove the footbed of a shoe. Some require special inserts for their feet. These shoes have a removable footbed so buyers can customize the fit of their shoes. It is also easy to replace with a standard insert should yours get worn down before the life of the shoe is out.
These shoes are an amazing value. They rank lowest on this list when it comes to price, but still have excellent ratings by a large number of users. If you are looking for footwear that's comfortable and dependable, then these are the perfect shoes to wear to your retail job.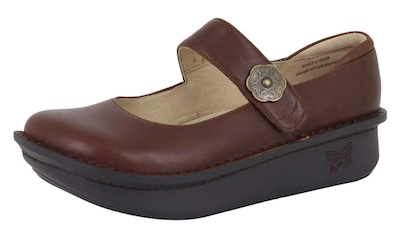 One of the most challenging parts of working retail is the fact that you have to spend a lot of hours on your feet, which is something that various professionals go through on a daily basis. The Alegria Paloma Mary Jane style shoes take this into account, and bring you a pair of sensible, stylish and easy to pair option you're going to love. These shoes feature a leather upper, and adjustable strap over the instep, removable insoles and a rocker bottom. If you go with this style, you'll definitely be wearing it for years to come, both at work and in your free time.
One of the best things about the Alegria Paloma is the removable (and replaceable) insoles which were made out of a mixture of cork, memory foam, and latex. These materials have been chosen for their custom-made and cushioning properties, and they will provide you with the best possible arch support. If, however, you require custom orthotics, you can easily insert them in these shoes.
The outsole of these shoes is made out of polyurethane which will perform well on all surfaces. Shaped with a slight curve, these shoes promote proper alignment and posture and allow your feet to move in their natural gait cycle. What you'll love about these outsoles is the fact that the rocker bottom provides you with a good amount of energy return, making it less difficult to walk even after hours spent on your feet.
Alegria shoes are expensive, but this is to be expected from such a quality-driven brand. Featuring a genuine leather upper, superior contoured insoles and a good outsole, these shoes rank high on this list when it comes to price. Nonetheless, they will last you plenty of time, and if you find they've lost their comfort, you can just replace the insoles without having to purchase a new pair of shoes.

9

. BOBS Plush Peace and Love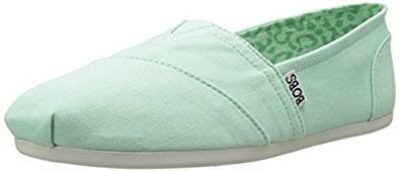 Contemporary style and comfort in one shoe. That is the Bobs Plush Peace and Love flat. A spinoff from Skechers, Bobs are trendy while still being super comfortable. This particular flat has a stretchy area on the upper that promotes easy on and off. It also gives the shoe a bit of room to expand should the feet swell. For the utmost comfort, the inner lining is made from memory foam to cradle the foot and provide stress relief on tired feet after standing all day.
The midsole of this shoe has a very comfortable foam that supports the foot but also absorbs the shock from impacts of standing and walking for sustained periods of time. Don't let the thin layer fool you. This shoe is highly rated for comfort.
Having the proper arch support is a key way to prevent the feet from feeling fatigued. An arch which does not receive the needed level of support can collapse, which can lead to a wide variety of issues, all coming with considerable amounts of pain and discomfort. This shoe has reinforced arch support that will cradle the arch and foot. It will help the foot and legs to not feel as tired if you are a retail worker.
These shoes rank low on this list when it comes to price, still, they provide excellent value. One of the best things about them is the arch support, as well as the shock-absorbing midsole, but the plush, stretchy upper also has its advantages for those who often find that their feet have swollen during the workday.

10

. ECCO New Jersey Slip-On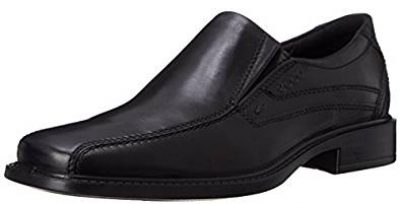 A sophisticated and refined style is the perfect way to describe these shoes. Retail workers that work in a high-end environment will find this style perfectly meets the needs they will be looking for. Further, the style of these shoes is extremely comfortable and will support long-standing periods while working in retail. Firm arch support and supple leather show that this shoe is good for flexibility, despite lacking some in the breathability department.
Having a leather upper dignifies this shoe as high-quality and sophisticated. Not only does leather give it a nice distinction but it gives the shoe flexibility Which leather is known for. Leather also is easy to clean and will withstand many elements whereas mesh and other materials do not go well in the rain. Don't let the dress shoe fool you. These shoes are made with reinforced soles and inner soles that absorb the impact of walking and standing and prevent it from going back into the body. This will also help with leg fatigue and foot fatigue.
The ECCO New Jersey is a quality product by a brand that is focused on making comfortable, supportive footwear. Even though the price of these shoes reflects their high quality make, they're still a great investment if you want something that looks amazing but won't hurt your feet after an 8 hour workday.

Subscribe to our Newsletter