Best Ellie Shoes for Sexy Costumes Reviewed
In a Hurry? Editors choice: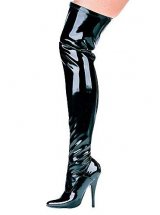 Test Winner: 511-Ally

The Ellie name guarantees sexy, fun, and frothy concoctions for your feet whether you're looking for something to walk around in or to show off with a crazy costume. Making shoes fit for Halloween fun, a masquerade ball, a pin-up poster, or the burlesque stage, Ellie is a family run company that has been making bedroom shoes and lingerie since 2000.

There's the Sexy Collection with platform peep-toes and naughty boots for the boudoir. These are often a winner with dancers, performers, and the fetish community alike. Penthouse By Ellie Shoes features footwear suggesting vintage pin-up and rockabilly styles. In the Halloween and 1031 Collections, you will find footwear appropriate for every manufactured costume on the market.

Check out our selection of the top Ellie Shoes available on the market today!
Standout Picks
Criteria Used for Evaluation
Style
Choose from a wide selection of styles based on your needs and personal aesthetic.
Ellie Shoes is a brand that's mostly focused on providing its customers with novelty footwear that's difficult to find elsewhere. With a huge number of available styles, you'll easily find the one that you need. Regardless of whether you want to wear your newest pair to a costume party, as part of a performance or just as a regular everyday shoe, you'll appreciate the attention to detail in terms of design as well as the numerous features that make this brand one of a kind.
There's a variety of shoe styles available, but the following are the most common:
Pumps: A huge variety of footwear can be described as pumps, and a woman can never have enough. Go with something extremely simple, or something that is bold and out there - like a sequined pair of platform pumps; you'll definitely feel sexy and feminine in all.

 

Sandals: A number of the brand's styles are sandals with intricate straps that serve both the purpose of keeping your foot supported and providing you with a unique look. The brand even offers a huge number of clear strap sandals for those who are fans of the look, so if you want to look like Cinderella, this is a great place to start looking.

 

Mary Janes: Stable and cute, Mary Janes can be bought in a number of heel heights. The uppers often differ greatly, but our favorites are definitely the sparkly, colorful models that can make even the simplest black dress a show-stopping outfit.

 

Boots: Unless you want something ordinary, this brand is a great place to look for your next pair of boots. They have models made for a number of occasions, and to suit different looks - from Victorian witch boots to those made for pirates and even high heel, platform over-the-knee ones.

 

Slippers: Though you may think these are for home use only, the slippers made by Ellie Shoes are anything but ordinary. Opt for feathery embellishments, clear straps, or even sequins - you're sure to look amazing.
Comfort
Features that you should consider in regards to comfort are fit, the shape of the design, whether or not it is adjustable, and if there is enough support and cushioning.
Overall, models by this brand were not designed with comfort in mind - their focus is mostly on aesthetics, so you shouldn't expect them to be the best choice for hiking, 8-hour work shifts, travel or long walks. Nonetheless, there are several things you can do to make sure that they serve you well, preventing pain, blisters, and fatigue.
Fit: Before buying, you need to make sure you're choosing the correct size. These shoes do not come in half sizes, which means you should size up if you need such a pair. Additionally, you may want to consult the brand's size chart, ask them a question about the fit, or read customer reviews. This should give you a good amount of information that you might want to consider before making a purchase.
Shape: Being novelty footwear, Ellie Shoes will often feature sky-high heels, big platforms, pointed toes or other design aspects that are less than perfect for those with foot health issues. The best thing you can do is to consider whether you should purchase a pair of pumps with a 6-inch heel if you have bunions, or if a pointed toe will work with your wide feet. Just a bit of premeditation can save you a lot of pain.
Adjustability: Although most of their models have a zipper or buckle closure, you'll find that some are more adjustable than others. Those with too narrow or wide calves should probably opt for lace-up boots instead of those with just a zipper, while those with a high instep may want to consider an adjustable Mary Jane over a slip-on style.
Insole: The best thing you can do to improve the comfort level of any pair of shoes is to purchase a pair of shock-absorbing, supportive insoles that'll hold your arch, protect your heel, ensure proper alignment and absorb the shock that's generated when walking. Though some may take up a bit of space (again, consider sizing up for them to fit), they can make a huge difference in how your shoes feel on your feet.
Materials
The materials this brand utilizes ensure the affordable prices of their footwear, as well as easy maintenance.
Almost all Ellie Shoes are made with synthetic materials, with leather being the least available in their models. Even though this is done to ensure affordable pricing and easy maintenance, you need to be aware of the pros and cons of each material.
Polyurethane: This is a material that's mostly used to replace leather. It looks great, and if taken care of, can last quite a long time. It's also more likely to be scuff-, stain-, and water-resistant than natural leathers, especially if you go with a patent version. Nonetheless, make sure you take good care of it, as it may start to look shabby with too much wear.
Textile: A breathable material that's ideal for summer use, textile is the perfect choice for summer sandals, pumps, as well as for boots that you want to wear in warm weather. Although it won't protect you from water or cold, it will allow moisture to escape your shoes, preventing sweaty feet and unpleasant odors.
Rubber: Most often used in the outsole portion, rubber is a great choice that can ensure your safety on several surfaces. It shouldn't allow you to slip on tile and hardwood (even when slightly wet), and it can increase the stability you have in a pair of super tall heels.
Use
Consider what type of costume you want to wear, and choose your outfit and footwear accordingly.
If you're buying shoes to go with a costume, then you're looking for something that's just right in the looks department while also being comfortable enough to let you enjoy the event. Even if you don't wear a costume for work or a party, there's a reason you might like the dress-up shoes, the kinky boots, and the Halloween glam.
Everyone has unexplored personalities that enjoy coming out to play occasionally; so, if you indulge yourself now and then, you're revealing a new you each and every time.
Costume Vacations
You might feel a little shy about wearing Wonder Woman boots without the rest of the costume, but you could choose a pair of boots that make you feel like a woman with superpowers. Even if it's just for an hour, it is considered psychologically healthy to try on a new persona and allow yourself to feel whatever emotions pop up.
If it isn't power you seek, it could be excitement or bravery or even an innocence you think you may have lost. Shoes are a terrific way to escape, especially if you don't have time to get into a full costume. You see the shoes and the emotion is there. Even if you're wearing nothing else at all.
Transformation
When life throws you a curve or it's just time for a change, you need to figure out a new direction. Trying on footwear can help you see yourself in a new way. You might be looking at a promotion that you find daunting, so why not give your courage a little boost with a pair of power heels. Cowboy boots can make you feel down to earth and practical, like you could wrangle just about anything, anywhere.
If you're trying to slow things down, ballet flats from this brand come in every color and some are sequined for those days when you need a little bling with your simplicity. No one has to do everything all at once.
Halloween and Masquerade to May Day and Mardi Gras
Part of the fun of dressing up for holidays and costume parties is the tribal vibe. If everyone is doing it, then you're part of the crowd. Ellie Shoes have footwear for any commercial costume you can find, but you're certainly not limited to pre-made, pre-packaged ideas.
If you want to be a rose, there's no reason you couldn't do it. And you'll still need shoes. Perhaps this is where you'll begin the costume. Earthy moccasins or boots might suggest roots or maybe a pair of Tinkerbell flats with little rosebuds on the toes to offset the larger rose up top. Choose or make yourself a costume that makes you feel good. It doesn't have to please anyone but yourself.
Creating a character is more about selecting recognizable characteristics, so think of the things that make this character stand out. Most people would know Hitchcock from the famous silhouette; anyone would know Einstein from his hair and mustache. Marge Simpson has tall blue hair; a troll doll has huge pointed ears; Jimmy Durante was "The Nose." Physical characteristics that suggest an animal, character or person are a good place to start.
Value
If you're looking at buying a pair of Ellie Shoes, you're probably wondering whether their products are worth the asking price. Even though they're less expensive than a number of similar items, you need to keep in mind a couple of things before making a purchase:
This footwear is not made for everyday use
The materials used in construction are often budget-oriented
The construction is usually glued
You may need to invest in insoles and orthotics
You will get a limited time of wear out of these models

 
If all of those are all right with you, then you should definitely go ahead with your purchase. If, however, you're after something that will last you for years, it would be advisable to look a bit further for options that will prove to be more durable and comfortable.
A great way to determine whether a particular pair is worth your hard-earned money is to check out the user reviews. Because these shoes are relatively cheap, there's a large number of people who have already tried them out, and you can learn from their experiences. Not only can you use those reviews to determine whether the shoe will fit you, but you can even read them to look for possible defects, and to make a decision whether these issues will present a problem for you or not.
Our Favorites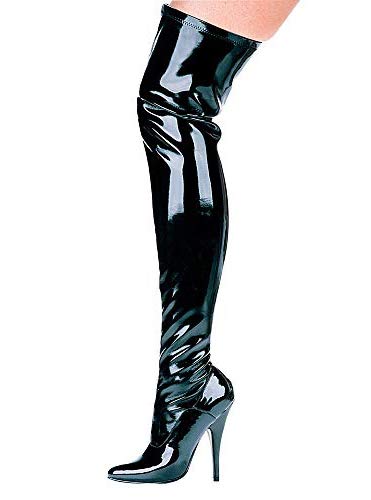 Classic 60s go-go boots are stylish and sassy and might just be the thing you're looking for. With a high heel, glossy rubber upper, and a few different color options, you could wear these with just about anything.
These stylish thigh-high boots were confined to dancing cages for much of the time, but they're out now and walking around in almost any venue. Great costume boots in any color and terrific carefree business wear.
Great for Cosplay and every day, these boots come at a pretty great price. So much like the real thing with some terrific improvements. If you've got a 60s or Ziggy Stardust costume, or just a skirt that wants a colored boot, this is the go-to go-go.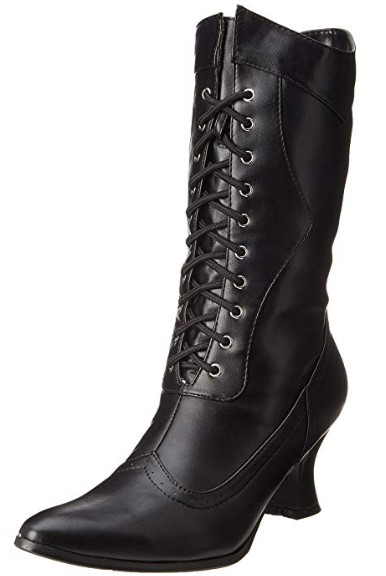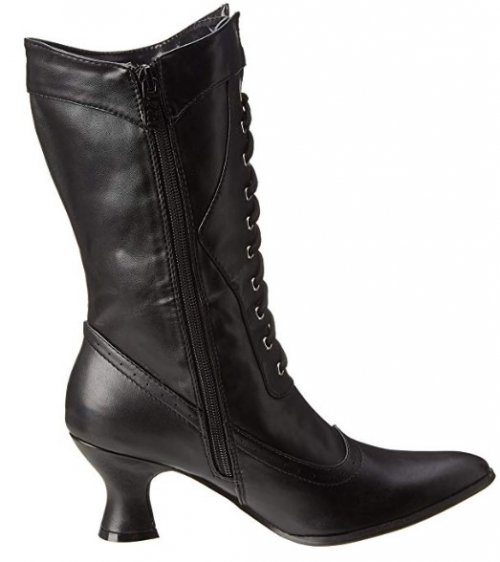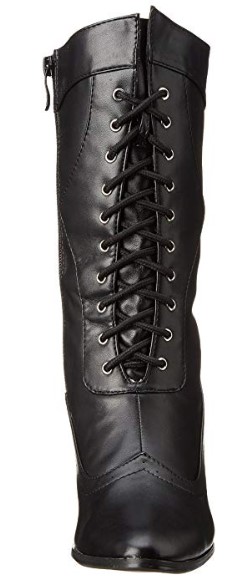 Suitable for a cleaned up Eliza Doolittle or a well-dressed Dolly Levi, this Victorian boot is a perfect addition to any Dickensian or steampunk costume. These are a fun nod to by-gone days of practical, low heels and no ankle-showing shoes. Rich or poor, if you had to do a lot of walking, these were your pick.
A convincing copycat but limited to black, polyurethane uppers with leather and rubber soles. The heels are a comfortable 2.5 inches and the upper measures 10 inches from the arch. A side zipper allows for easy entry and the laces adjust the fit even more. The lightweight design of this boot makes it comfortable for long hours of wear. Going to a party? Trick or Treating? These boots will ensure you don't finish the night with sore, aching feet.
These work just as well as a stand-in for a 1970s granny boot which was based on Victorian lace-ups so that's 3 looks in one boot! Comfortable enough for regular wear, this is a costume shoe that's worth the price!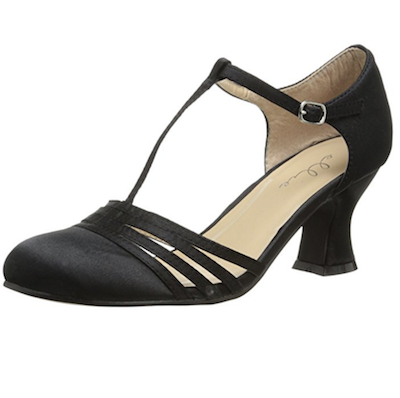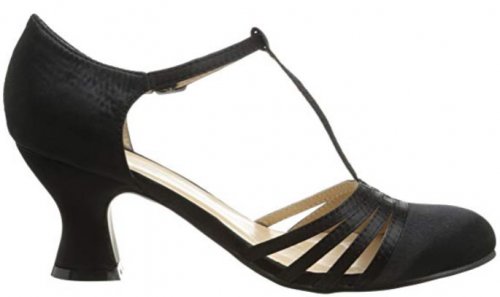 A swanky pair of satin shoes with leather and rubber sole. These vintage t-strap pumps are an excellent paean to the vintage shoes of the 20s and most surely much more comfortable than the original. The perfect mate for a flapper costume, these babies will look great for modern wear, too.
The side cutouts on this gorgeous pump bring a little extra to the T-strap design. It's a more elegant touch than glitter or rhinestone bling. The shine of this beautiful black satin is a perfect base for any 20s-40s era outfit, costume, or even a modern pantsuit.
A classic-looking shoe that should never have left the stage, the vintage t-strap is making a welcome return. The short heel makes them oh so much more comfortable than taller pumps, but it gives nothing away in style. Adjustable ankle strap makes this workable for different instep requirements, and the traditional round toe gives it an authentic silhouette. Excellent modern construction makes this an absolute bargain replica of the classic vintage shoe.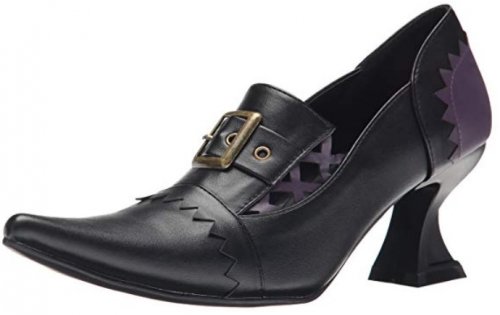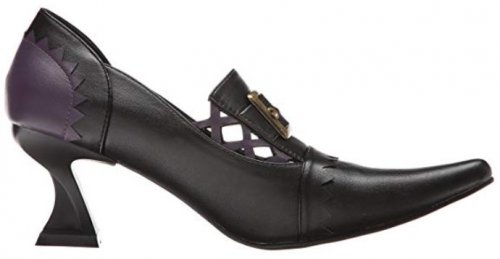 We've had superheroes, we've had pirates and dancers, we've even had steampunk vixens. Now it's time for some magic! Whether you're a good witch who likes to keep the peace or you dabble in black magic in your free time, the 301-Quake is certainly a footwear style that will meet all of your witchy needs. It has a super pointed toe, a curved heel with a stable square base and a buckle accent over the instep to add a bit of hardware into the design.
The 301-Quake is made from synthetic leather, as all footwear from this brand is. It features interesting purple detailing in the front, as well as a purple overlay at the heel. The heel is about 3 inches high, meaning it is comfortable enough to wear all day and all night if you so desire. The sole of the 301-Quake is made from rubber to prevent any slipping or skidding that may occur.
Pair this gorgeously witchy design with wild hair, a pointed hat and a broom that will take you up to the stars. While it may not be suitable for everyday wear - though we would be interested to know if someone attempts it! - it is definitely a go-to design for Halloween or any other costume party where you want to wow the crowds.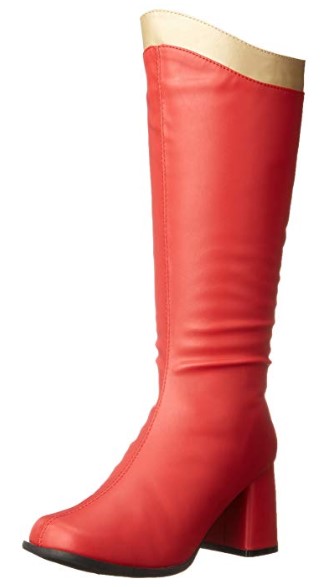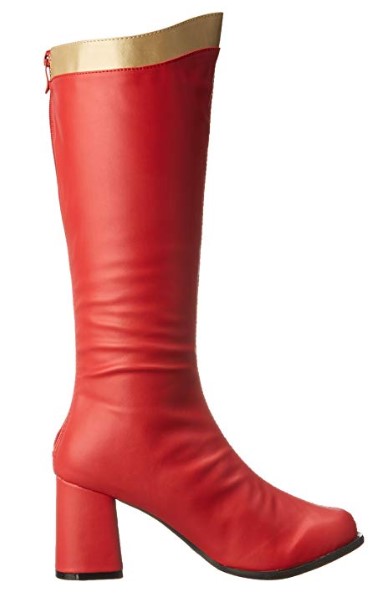 Made for superheroes who need good footwear to help them make the world a better place, the 300 Super is a boot that's comfy, practical, and wearable almost anywhere. Choose one of the color variations - red with gold or red with white, and win best costume at the next Halloween party you attend.
The easiest way to put on a pair of boots is when they have a back zipper closure. This allows you to slip them on and to safely close them without a zipper ruining the front look of your footwear. The PU upper will allow for a good amount of flex, making these comfy for long time wear.
Because it doesn't feature a platform or a heel that's too high, the 300-Super actually provides you with a good amount of flexibility in the forefoot, which is important if you're planning on spending a lot of time in these boots. The round toe is also a great feature, as it won't cause health issues such as bunions or corns.
With a price that's below average, the 300-Super is an excellent investment for almost anyone. Whether you want to wear it to costume parties or daily, you'll definitely benefit from the comfortable upper and stable heel. It's ideal for colder weather, as the PU will trap in the heat; just make sure to wear the right socks with it.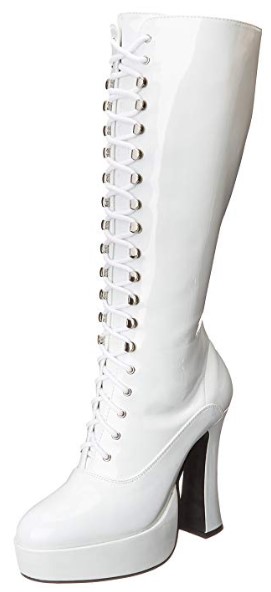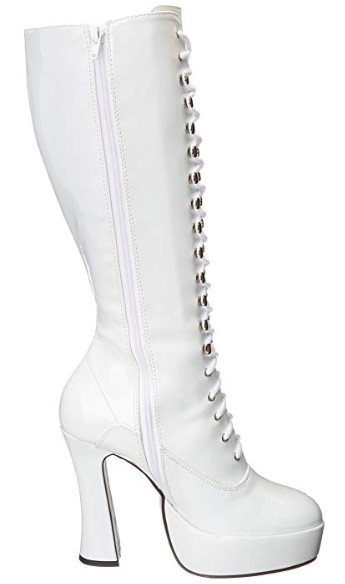 Great boots for cosplay, Halloween or 70s revival shows. The Easy is a glamorous cross between the grannie boot and combat style footwear. Built for style, not war, the polyurethane uppers come in beautifully bright and shiny white, black, red and patent white or back. and the name is perfectly appropriate since they are easy to wear every day.
A leather and rubber sole, the Easy is a practical knee-high 12" from the arch up, and the 5" platform heel makes these a comfortable walking boot. There's a side zipper for easy entry from arch to knee and laces help adjust the fit around the calf and ankle. Whether you're going for a superhero look or keeping the toes warm and dry in wintry weather, the Easy combat boots are an excellent choice. Excellent comfort and versatility for dressing up or down.
Fun and useful, the Easy is a good investment for a boot you could wear into Comic-Con and walk out for a day of shopping or fun. These are great for concerts and practical wear at a great price.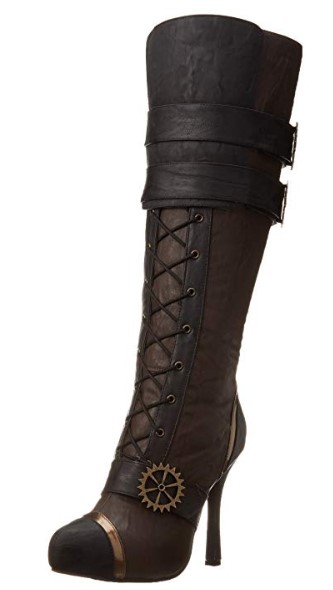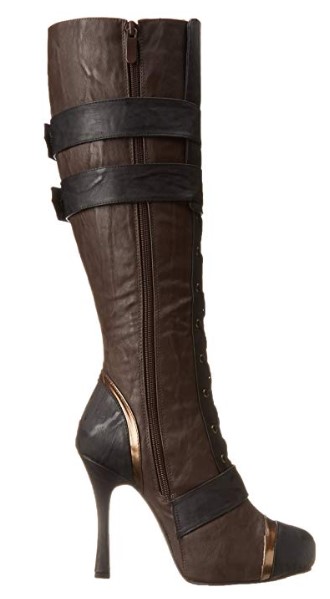 Are you a fan of steampunk? Looking for THE pair of shoes that'll set you apart from everyone else at the next convention? The 420 Quinley is a great choice then. Knee-high, sexy, and with a hidden platform, this boot is a perfect addition to your wardrobe. Wear it with a skirt or tights and you'll look great in both.
This model features a lace-up design, a side zipper, as well as two adjustable straps over the top. While this may look like a lot at first, you'll definitely appreciate it if you're looking for the perfectly fitted look that'll completely follow the line of your leg. Though it has a 4" heel, the Quinley is actually more comfortable than it looks thanks to a hidden ¼ inch platform that won't only make the heel feel lower, but will also absorb shock from lots of standing and walking.
Averagely priced, the 420 Quinley is a good choice for a number of people. Like with most other Ellie Shoes, the upper is made with polyurethane that's easy to keep clean and looking new, while the outsole features a rubber section that'll keep you safe from slipping on slick surfaces.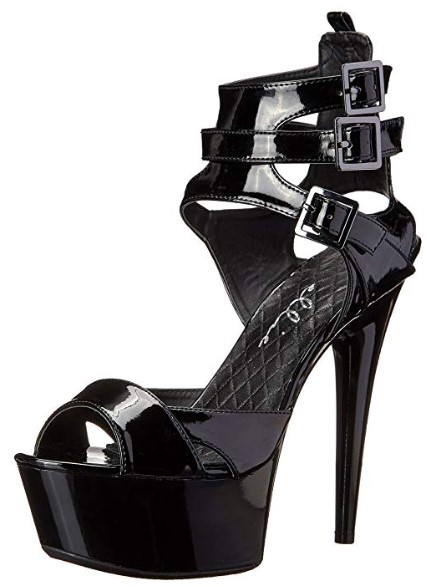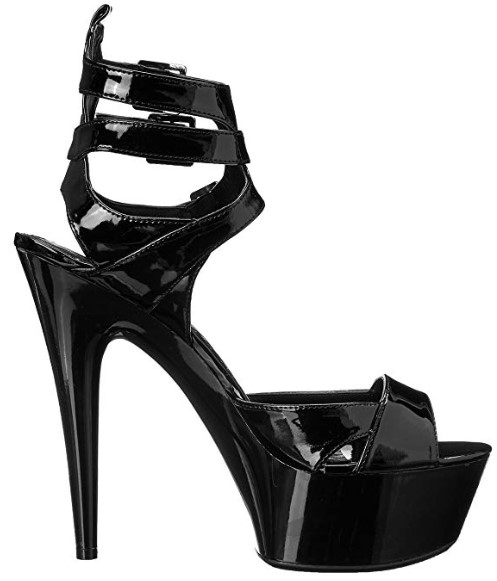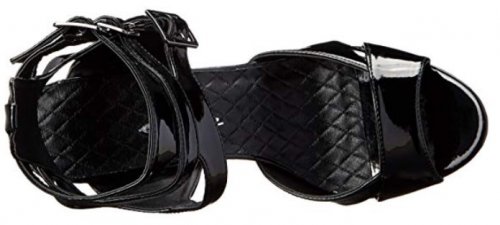 A stunning nod to the gladiator sandal on a towering platform heel, the Athena is a powerful fashion statement. A hot look on stage or off, the buckle straps and stiletto heels are off the chart sexy. A fantastic choice for cosplay or a fun night at your favorite club, these are daring fashion shoes and not for the meek!
Multiple buckles on some serious ankle straps show these pumps mean business. A 6.25-inch stiletto heel and a 1.75-inch platform make this truly a power shoe with a cute peep toe. Black or red. Got a little desire to dominate? Buckle up! No one will argue with you in these heels. Whether you wear them before or after whipping up a little desire, the Athena will be fashionable and forthright in any setting.
If you're a tiny bit challenged in the height department, this might be your solution. You can't buy a style like this without getting stared at and there is value in that. Certainly not the least expensive options on our list, this is the most amazing value in terms of spectacle and that "wow" factor.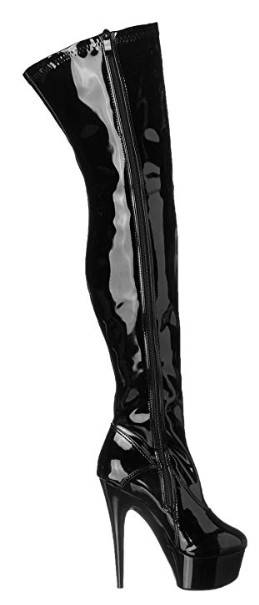 The 609-Fantasy is a great style by Ellie Shoes, perfect for those looking for an over-the-knee platform boot that's sure to catch everyone's attention. As you've come to expect from this brand, the boot made to be as comfortable as possible, while giving you a unique appearance that's perfect for parties, costumes, photoshoots or even everyday wear. The 5.25-inch heel may take some time getting used to, but think of how beautiful it'll make you feel.
Designed with a 2.75-inch platform, this boot differs from any similar model in that it allows you to choose whether you want the entire shoe to be the same color, or if you prefer a clear platform that'll make you look like you're walking on air. While the material of the upper is 100% synthetic - meaning it's vegan-friendly - you'll still feel comfortable in it, seeing that it's stretchy and will mold perfectly to the shape of your leg. Not only will this mean a sexy line, but also an easy time getting it on and off.
With a price that's slightly above average for this manufacturer, the 609-Fantasy may not fit everyone's budget, but you can expect to pay as much with any pair of similar boots. It's a highly versatile shoe that you'll love wearing as often as possible, so if it's something that matches your style, it's highly recommended.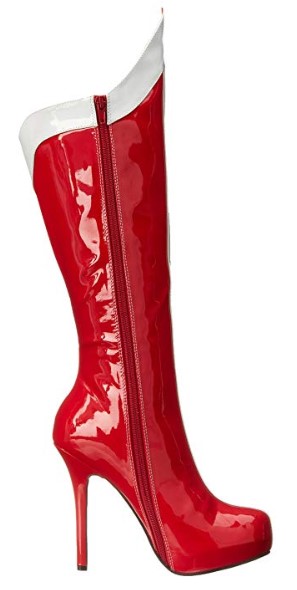 Wonder woman, Super Girl or any superhero in a stiletto boot would be proud of these super shiny, sexy cherry red heels. These will work with any manufactured or homemade costume. Comet boots are a perfect selection for a powerful look and these will tempt you to wear them with running tights just for kicks. The ultimate power statement, Comet boots are a hot look for anyone!
A hidden 1-inch platform gives you more height, and it's not an illusion. The 15-inch shaft lengthens the leg with a peak at the knee and the gold stripe right up the front directs the eye up the leg. A zipper from toe to boot top allows for easy entry, and the 5-inch heel allows you to tower above the rest.
Put on your Wonder Woman best or a long t-shirt and strut your stuff. No one will argue with you whatever you choose as an ensemble. Try it with a tuxedo shirt and a pair of black silk shorts and people will want to meet you. You'll be the hit of any party, costume or cultured. These are not the sock type pull-ups that you might expect; this upper is a sturdy synthetic that will never sag or lose its shape. What could be better than hot red and gold stilettos? An easy to wear platform with a full-length zipper at the right price.

Subscribe to our Newsletter