Best Clear Strap Heels Reviewed & Rated
In a Hurry? Editors choice: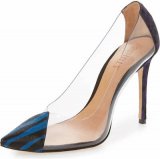 Test Winner: Schutz Cendi

The idea of clear strap heels first came to the designer Salvatore Ferragamo in 1947, when he created the first invisible shoes. These sandals used vinyl in the upper and featured a bold wedge heel, and have, since then, changed the shoe industry. Though not the most popular of styles, clear strap heels are an ever-present trend that isn't showing signs of stopping.

Not only do these see-through shoes evoke images of princesses and fairies, they offer a unique aesthetic that just so happens to go really well with almost any outfit. They can be both futuristic and classic, elegant and casual

The list below looks at the highest rated clear strap heels currently available for purchase, including a variety of styles. Furthermore, you'll find a Criteria for Evaluation, and a FAQ section, both of which will offer you important information you should keep in mind for a successful purchase.
Standout Picks
Criteria Used for Evaluation
Materials
An important aspect of any type of footwear is going to be the materials and type of construction used in the manufacturing process. If you're after clear strap heels, then these options become quite limited, and you're probably going to have to make a few compromises in terms of comfort, and maybe even in terms of quality.
Of course, there isn't a wide selection of materials to choose from when it comes to the clear strap heels, as they're always made out of PVC and polyurethane which have quite a few shortcomings when it comes to the best materials for footwear. However, they are some of the only materials that will achieve the transparent look.
Because they have such big shortcomings as lack of flexibility, breathability, and an overall hard feel in touch with skin, you will need to consider ways in which to prevent side effects from appearing. These may range from blisters to foot fog, and can lead to health issues if worn for prolonged periods of time.
To ensure the least possible damage to your feet, try to look for clear strap heels that are made with high quality materials in the parts which are not plastic. This means the footbed, midsole and outsole, as they can greatly contribute not just to cushioning and comfort, but also to the breathability factor.
Size
Straps, in general, can be quite bothersome if they are too tight. Clear straps have an added disadvantage in that the plastic cuts into the skin and can leave lacerations.
Therefore, when you're choosing your clear strap heels, make sure to find the right fit. If you can't squeeze your toes inside, it's best to go for half a size or even a whole size up to avoid any discomfort. If it is a closed toe box, your toes should be able to comfortably wiggle in it; if it is an open toe shoe, there should be enough space between your big toe and the end of the shoe so that your toes don't fall over the edge.
As for straps, it would be best to find ankle or T-straps which have a buckle, and as such can be adjusted to the width of your ankle, so that they don't hurt you.
As with any other type of footwear, it is crucial that you find a good fit, and stay away from anything that causes discomfort. If your clear strap heels hurt when putting them on, and if they are painful to walk in within a few minutes, they're simply not for you. Note that plastic is much more difficult to shape and mold than leather or textile, and any type of adjustment you try to make may end up ruining the look of your shoes.
Comfort
Because of their inability to hide anything, it is a bit tricky to have inserts or added insoles in clear strap heels. Even some celebrities had unfortunate red carpet mishaps where their inserts pitifully hung from their clear strap shoes in photographs.
This is why, when making a purchase, you need to pay close attention to how the shoe makes your foot feel. Is there too much pressure on the ball of your foot? Are your arches supported enough? How does the heel fit?
Your best bet would be to look for clear strap heels which have cushioned footbeds. With the added padding they will be extra comfortable, will provide support and shock absorption, and you won't feel the need to purchase extra inserts to increase their comfort level.
Breathability
Clear straps, or clear uppers, aren't very convenient for maintaining a cool, dry climate for your feet, nor do they allow for proper air circulation. This results in so-called foot fog, meaning that the clear parts of the shoe fog up, turning into quite an unbecoming sight. While there are ways to avoid foot fog, we will mention one that has to do with the construction of the shoe itself, and that is - perforated shoes.
Little holes anywhere on the PVC part of the shoe offer good ventilation. Your foot will be able to breathe, won't sweat as much and won't suffer from unpleasant odors. What's more, perforations will add a bit of interest to the design of the shoe, so it's a win-win for all!
If you go with a pair of sandals, there'll be less need for perforations, especially if the straps in question are thin. But, a pair of PVC boots definitely won't make for a breathable pair of clear strap heels, so you should consider this factor before making a purchase.
One more thing to keep in mind is that clear strap heels lacking in breathability can have serious health factors, including softening up your skin for blisters, aiding the appearance of corns, cultivating odor causing bacteria, and even aiding fungus growth that could lead to athlete's foot. To avoid these, it is recommended that you wear your plastic shoes only once in a while, or that you try some of the sweat prevention methods mentioned below.
Style
While all of these clear strap heels do have one thing in common- the use of transparent or translucent materials- they showcase a wide range of styles, from summery wedges to translucent booties. The style is a big factor for these shoes, and this style can and often does impact other aspects of them.
Whether it's related to heel type, heel height, or overall fit, style plays a big role in comfort and versatility. For some people, wedges are easier to walk in, as there is a wider surface area of the outsole touching the ground. These can also be easier to walk in and may not come with the same balance issues that stilettos can have, for example. Closure types can play into this as well, as some closures will offer a more secure and/or customizable fit than others.
Of course, style isn't all about practicality. Everyone has different preferences for styles, which is why we made it a point to present a wide range of them. Different events may also call for different styles as well. Think about where you will be wearing the clear strap heels, as well as your own preferences when it comes to style.
Top 10 Clear Strap Heels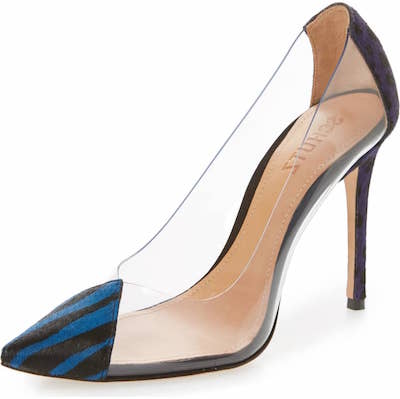 While it may not necessarily be a strappy sandal, the Schutz Cendi is a unique take on the glass slipper with a mixture of transparent sides and a sporty yet elegant toe and heel that are available in a number of unique color and material options. If you're looking for a pair of clear strap heels that's both original and classic, you should definitely check out the Cendi, as it will look just as good with shorts or jeans as it will with a long gown.
While the clear part of the shoe is made out of vinyl, the toe and heel are constructed in leather, patent leather or calf hair, giving you peace of mind that the product you're purchasing is made with materials that don't just look premium, but are also easy to care for, and are durable.
Regardless of whether you plan on wearing any hosiery with these clear strap heels or not, you will want an insole that's going to be gentle to the skin of your feet. The full leather insole is not just soft to the touch, it's also breathable, which is quite important in a pair of plastic footwear. With a price that's above average, the Schutz Cendi may not fit everyone's budget for a special occasion shoe. However, if you're planning on wearing clear strap heels more often than just a couple of times, then this is a great investment, as you'll be getting a quality pair of shoes you'll love wearing.

2

. Stuart Weitzman Nearlynude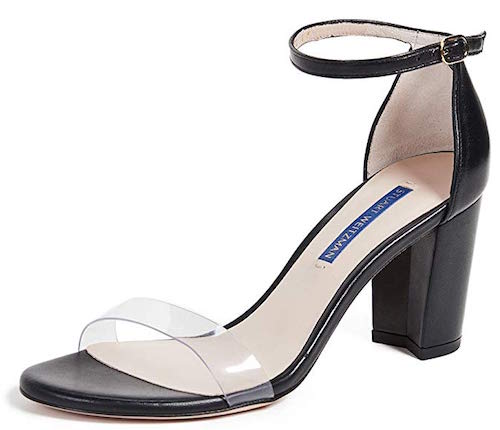 The Nearlynude strap sandals by Stuart Weitzman are a pair of designer clear strap heels that have been around for quite a while. These block heels can be purchased in a huge variety of color options (including upper material choices), but there's only a few that feature a vinyl toe strap. Ideal for parties and relaxed special occasions, these are sure to make your outfit pop.
The upper of these clear strap sandals uses a combination of natural and synthetic materials - the heel area and ankle strap, as well as the footbed are made out of Nappa leather (available in yellow, red and black), while the toe strap uses vinyl for a thin, feminine sandal look.
The heel of these shoes is chunky, and approximates to about 3 inches in height. Not only is it stable and easy to walk in, but it's made even more comfortable with the lightly padded footbed that's leather lined for maximum breathability. The outsole on these clear strap heels is made with leather, making it durable and flexible, but unsuitable for wear in wet conditions.
These clear strap heels can be purchased at a price that is quite high compared to the other models on this list. Nonetheless, some can be found on sale, and you can rest assured you'll be receiving a high quality product with the Nearlynude.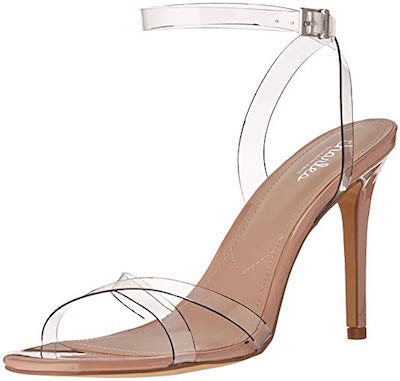 A strappy sandal that comes in a number of upper variations, the Rome by Charles David is an elegant model that's perfect for both summer nights on the town, as well as the more dressed up formal occasions where you're expected to present yourself in the best possible light. The clear strap version is placed on a nude faux leather sole that's perfectly subtle and can be matched with absolutely any outfit.
Instead of going with one thick plastic strap over the toe area, the Rome features two thinner straps that are sewn in a criss-cross manner, allowing not just for a more comfortable fit, but also a more sophisticated look. While the fact that the lining of this pair of clear strap heels is less than ideal, the synthetic material is actually welcome in the outsole portion as it offers more durable wear than leather, and might even prove to be more stable in terms of surface grip.
With an average price for clear strap heels, the Charles David Rome costs more than what you'd expect of a synthetic model to go for. Nonetheless, it's a great investment if you're after a subtle sandal that's not chunky in the strap areas, but instead offers elegant support over the foot.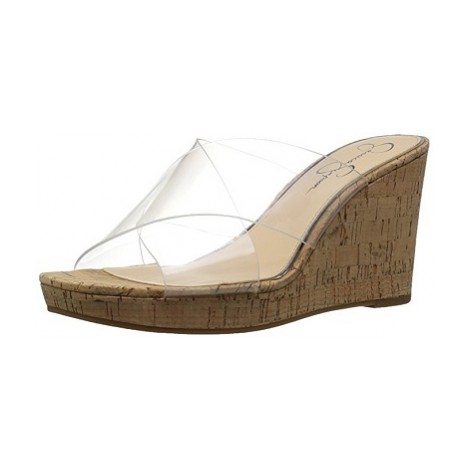 Jessica Simpson shoes, a label which designs anything from western boots to the latest dressy and casual footwear, is all about being fun, flirty, and fashionable. The Jessica Simpson Seena fits that description seamlessly, as it is a great spring/summer pair of clear strap heels for that leisure traipse along the beach, or for a fun cocktail evening with friends. It has two clear straps crossed at the front, a memory foam insole and a platform wedge, amping up the comfort level.
If you're planning on spending the whole day on your feet, extra cushioning in the footbed is a must-have. The Jessica Simpson Seena comes with a memory foam insole, which takes shape of your foot and basically means you'll feel like you're walking on clouds.
The benefit of a wedge heel is that, no matter how high it is, it is one of the most comfortable types of heels there is. In the Jessica Simpson Seena, your weight is evenly distributed over the surface of the clear strap heels, easing the pressure off of the front of your foot, and allowing you to walk without any pain or discomfort!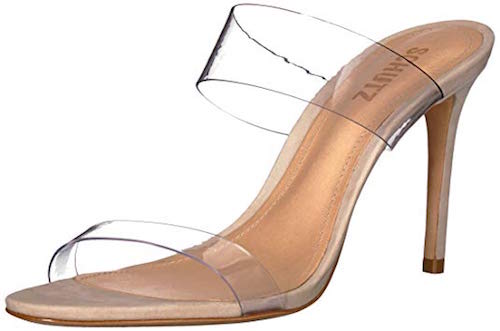 If you prefer to purchase quality footwear from reliable brands, then you should definitely check out these clear strap heels by Schutz. The company is known for their vinyl designs, as well as the high quality leathers they use in construction, so it comes as no surprise that they're featured on this list of the best clear strap heels. The Ariella is a slide on sandal ideal for casual and semi-formal wear.
This model features two straps for a high level of support. Still, you'll enjoy a good amount of air flow (not something you often get with clear strap heel), seeing that the toe, instep and heel areas are open. Additionally, these are easy to put on, and the two color options (black and nude) ensure that they'll perfectly match with everything in your closet.
The heel height on these clear strap heels is 4 inches, which makes them one of the highest options on this list. Not only will the high heel elongate your leg line, but coupled with the see through straps, it will also become one of the go to styles in your closet. The footbed is lightly padded for comfort, and the stiletto heel is wrapped for a seamless overall look.
The Schutz Ariella costs slightly above average compared to the other clear strap heels listed, but seeing how versatile it is, it makes for a truly great buy, especially for those living in warmer climates.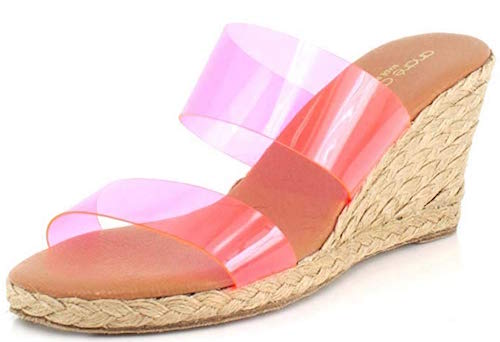 If the clear strap heels you have in mind have a more laid back, beachy vibe going on, then you should definitely check out the Anfisa by Andre Assous. These designer shoes are ideal for the summer months, combining the aesthetics of vinyl straps with jute wedge soles. You can easily rock these at the beach, or choose to pair them with a cute dress and wear them on a casual outing.
What's special about these clear strap heels is that they can be purchased in several color options, which is not something that's seen too often with vinyl footwear. You can choose the straps to be black, pink, clear, beige or even yellow. This means that you'll easily find the pair that'll match your favorite outfits, while still retaining that see-through look.
In addition to looking great, these clear strap heels have a lot going on in terms of comfort as well. The footbed is covered in natural leather, is extra cushioned and offers moderate arch support. As if that wasn't enough, the wedge heel provides a stable surface to walk on, and the synthetic outsole performs well on multiple surfaces, without allowing the woven jute sole to become damaged.
As for cost association, these clear strap heels rank around average, making them a good choice of footwear you will definitely wear for at least a couple of seasons. They're unique in terms of design and comfortable for wear, making them a great investment.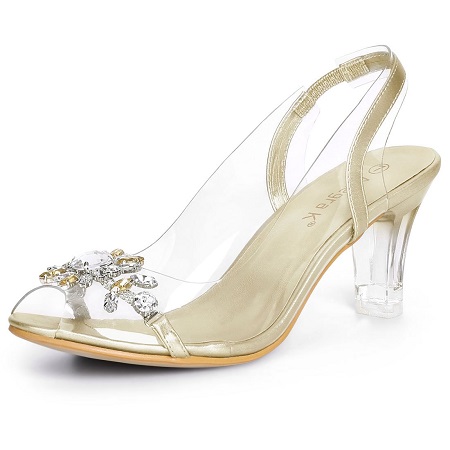 These slingback shoes from Allegra K feature a modest heel and elastic insert for comfort. The simple yet elegant style makes these clear strap heels ideal for a variety of situations, from a day in the office to a night on the town. Offered in three different color options, these shoes also feature rhinestone accents on the vamp for a little extra sparkle.
Not everyone likes sky-high heels, and that's okay. The Allegra K slingback has a 2.75" heel, giving you a little extra height without the discomfort and balance issues that can sometimes come with larger heel heights. These clear strap heels also run true to size, eliminating the guesswork when it comes to proper sizing.
Slip-on styles are great for those with mobility issues or other troubles with traditional closure types, but when it comes to heel a slip-on does not always offer the most secure fit. This can lead to your foot slipping around in the shoe, which can impact comfort and balance. This is why we're a big fan of the elastic insert used in this pair of clear strap heels, as it allows for a more comfortable and secure fit without detracting from the shoe's overall style.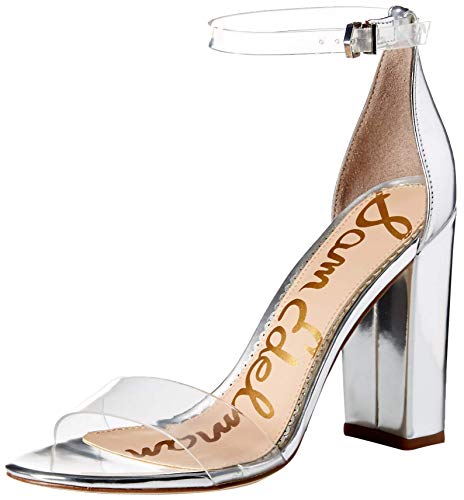 Sam Edelman shoes emphasize sophistication and "affordable luxury," and the Yaro is a great example of that. These are a classic Sam Edelman style with clear straps that add a modern touch. The leather construction is both durable and stylish, while the block heel and ankle strap ensure a secure fit and stable footing. These clear strap heels run mostly true to size and are offered in a wide range of size options.
We've talked about leather shoes a lot, and that's for a good reason. Leather has been used in the making of shoes for thousands of years and is prized for its durability and versatility. Patent leather is used prominently in the Yaro, giving these clear strap heels a sleek and shiny look with all of the benefits that leather offers.
While heels are very stylish and appealing, they aren't known for their practicality. Think back to the first time you wore heels; chances are you were teetering about trying to find some semblance of stable footing. While the sheer 4" height of the heel on the Yaro may be daunting for some, it features a thicker block style that is easier to balance on. This along with the ankle strap will provide a secure fit without the risk of teetering about.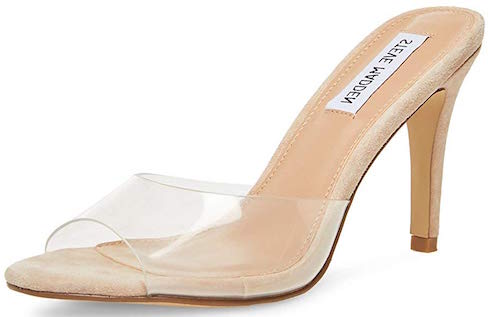 These heeled slides by Steve Madden have become a staple model in the designer's collection of footwear. If you're after a pair of clear strap heels that are easy to put on, and that'll easily go from casual shoes you can wear with jeans, to something more dressed up for nights on the town or special events, you have to look no further.
These clear strap heels come in a number of color options, but only one has the vinyl upper you're looking for. The nude sole and wrapped heel make it seem like you're wearing no shoes at all, elongating the line of your leg, making you appear as if you're floating on air.
The man-made lining isn't ideal for air flow, but it's set off by an open toe and heel, which allow for plenty of fresh air into this pair of clear strap heels. The 3.5 inch heel may be a little high for some people, and definitely isn't meant to be worn on a daily basis, but it's a great stylistic addition to a great shoe.
In terms of cost, this pair of clear strap heels ranks slightly below average, with a price that should fit most budgets. On the whole, it's a great investment if this is the look you're after.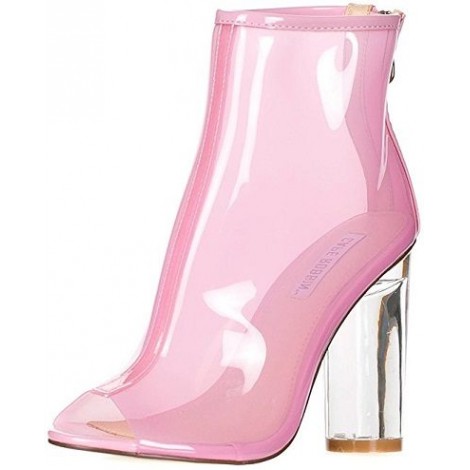 We admit that we cheated a little bit on this one since the Cape Robbin Benny doesn't exactly have any clear straps, does it? Rather, this shoe is a bootie, made entirely out of PVC and perspex. If you've followed fashion trends for the last few years, you must have seen that these see-through boots are all the rage, especially in the Kardashian family. The Cape Robbin Benny comes with a peep toe and a solid lucite heel which measures four inches in height, as well as a zipper closure in the back.
Other than the obvious aesthetic purpose, the benefit of having an open toe on a PVC bootie such as this is that it allows for better air circulation. Maybe not ideal, but your foot will be able to breathe somewhat, and sweat less than if the shoe were entirely closed.
How many times have we struggled to fit into that one cute pair of booties only to give up because we couldn't yank them on? This is why the Cape Robbin Benny comes with a zipper in the back, to allow you to ease into and out of the shoe without any problems.The Cape Robbin Benny comes at a middle-range cost. It is far from expensive, and if you're dying for a pair of transparent boots, these are the right ones for you. However, judging by the discomfort the shoe potentially brings, the sweating and the foot fog, maybe it would be best to spend the money on a different model.

Subscribe to our Newsletter