Best Black Booties Reviewed & Rated
In a
Hurry? Editors choice: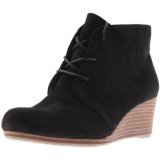 Test Winner: Dr. Scholl's Dakota

Over the past few years,
booties - ankle-high boots -
have roared into mainstream popularity – and it isn't hard to see why. It is almost impossible to walk down the street without running into at least a few people rocking them, so why feel left out? With this list, we hope to outline all the variations available so that you can decide which features work best for you. Whether you like buckles, bangles, or laces, or you prefer a simple, sleek look – or maybe something right down the middle – there is sure to be a model here that is perfect for you. In addition to appearance, we took into consideration other features like comfort (of course), durability, stability, and more.
Standout Picks
Criteria Used for Evaluation
Comfort
Ankle boots are versatile in their uses: you can rock them on the dance floor on a Saturday night and then turn right around and wear them in the office on Monday. In both cases, you are going to be on your feet a lot and need footwear that will keep you feeling fresh and comfortable all day. The designs on this list all possess advanced comfort features that put them (pardon the shameless pun) a step above the competition.
Some of the comfort features seen throughout our list include:
Extra Padding: Any design with heels can be particularly hard on the feet. Because boots are so versatile, you will find yourself wearing them on multiple occasions and for long periods of time – enough to make anybody's feet ache. Many of the options on this list address that area with additional padding in the insole that alleviates the pressure along both the arch of the foot and the heel.
Internal Lining: An internal lining provides an extra layer of support and comfort all around, but it also helps the shoe fit more securely around the unique shape of your foot. An increasingly popular feature, a boot with internal lining will have you feeling like you're walking on clouds – no matter how long you are on your feet.
Heel
This list is for shoppers of all kinds, so don't be afraid to browse if you are hesitant around heels. While boots aren't typically as wobbly as other high heels, we still made sure to select models that are fine for any wardrobe, whether you are an Olympic athlete or someone with two left feet.
When it comes to stability, there are certain points on the shoe that can really affect you. Things to watch for are:
Heel Thickness: This one is a no-brainer, but a design with a more narrow heel and sole will be less stable than a wider heel. If you aren't so comfortable in heels, focus on finding a wider option, such as a chunky heel, or a wedge – they won't make you look like you're walking on ice all day.
Heel Height: The obvious follow up to heel thickness, you also want to be conscious of the height of the heel on your next purchase. There are many options out there for heel height, with everything from low wedges to 4-5 inch stilettos – so choose what feels most comfortable for you. Generally speaking, if you want that all-day wearability, go for a heel that is lower than 3 inches. Anything above 4 will surely start causing you pain sooner or later, no matter how proficient you are in wearing heels.
We ranked the items on our list according to how comfortable their heels are to wear. Some have no elevation to them, while others are quite high. Which option you go for depends on the situation you are shopping for, as well as how confident you are in your heel-walking skills.
Traction
You may not be thinking about this feature when you're shopping for cute footwear, but since you will be wearing this type of design during fall and possibly winter, good traction is key. Autumn weather can be unfavorable, sometimes wet and slippery, and you may even find yourself walking around in light snow! For all of these, you need a good outsole which prevents you from slipping and potentially falling and injuring yourself.
So, how do you know whether or not a design has good traction?
First of all, look at the material: the most well-known slip-resistant material is rubber, and most - if not all - rubber outsoles ensure decent balance. Leather outsoles, by comparison, while being comfortable and elegant, can be quite slippery, and never achieve the same level of traction as rubber.
Secondly, look for distinct patterns in the outsole. Smooth outsoles don't have any grip to them and are almost guaranteed to send you flying. Look for shapes - such as a herringbone pattern, the most popular of them all - that provide traction in multiple directions, and thanks to which you won't find yourself skidding regardless of whether you are walking, running or even twirling around. If the boot has lugs on it, even better! Deep lug outsoles are perfect for wet conditions and snow, and you can never go wrong with those.
Versatility
The beauty of ankle boots is that they are just so darn versatile. Almost any outfit can be paired with them and look great.
Of course, some are more casual in appearance, meant for running errands or for relaxed strolls around town, while others are fancier, and can even be worn on elegant nights out! Some options you can wear to multiple occasions - such as from the office to a cocktail hour, to a fun dinner with your friends - and some are better saved for special occasions.
On our list, you can find many different types of booties, ranging from completely flat and more geared towards snow, to significantly heeled high-end options. We ranked them according to their versatility, and how well they can hold their own in a variety of situations.
However, if you are after a particular design, and wish to achieve a certain look regardless of the overall versatility of the option - don't let us stop you! Whatever style works for you is the best one to choose, no matter where it stands on our list.
Style
Last, but certainly not least, we need to look at style. There is an overwhelming number of options when it comes to ankle boot styles, and it is very easy to get lost in them, once you really start digging in. However, this is why we're here! To help you sort through all of the choices and come out the other end with a design that fits you the best!
When you're looking at footwear of this type, it is important to separate them into two categories:
Casual: Options for every day usually come with flat soles, round or almond toe silhouettes, and are usually adorned with laces, snaps or buckles for an edgier look. These can be worn practically everywhere - maybe even to your workplace, depending on the dress code - and are best paired with jeans, leggings, sweaters and casual coats.
Fancy: Fancy designs, on the other hand, have a bit more oomph to them. These are choices that come with higher heels, sometimes even stilettos, and that usually have a pointy toe front. They can be polished, smooth or with some fine detailing, and are meant to be worn on occasions when you need to look more put-together. Match these with a winter dress, a pencil skirt and a (faux) fur coat and strut your way through the day with confidence, knowing you're one fashionable cat!
Of course, there are options which are a little bit of both, as well. To choose a style which is best for you, simply take a moment to consider what occasion you're shopping for. Is it an everyday boot? One that you will wear to the office? Are you required to attend some formal gatherings in the winter season? Answer all of these, and you will easily find your next favorite ankle boot!
Our Favorites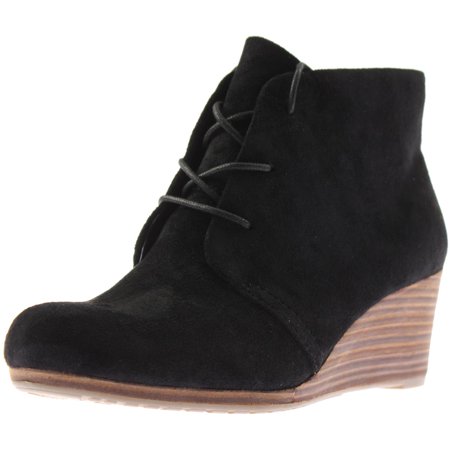 Another wedge option, this model is extremely comfortable without sacrificing style. Composed of man-made materials and built with a padded insole, the Dr. Scholl's Dakota is a quality purchase. The laces make it easy to get on and off and help secure the design to your foot with a more snug fit.
This model has an extra padded insole that provides more comfort on the foot – specifically the arch. Some designs can make the foot ache after a long day, but this model has additional padding to ease that pain. Many options are narrow and do not support wearers with wider feet. The Dakota is designed to fit any shape of the foot with flexible material and laces to secure the upper to the wearer's foot.

The comfort level of the Dr. Sholl's Dakota is far above average with wearers reporting that they can wear them all day pain-free. Because of that, this model is a very strong value.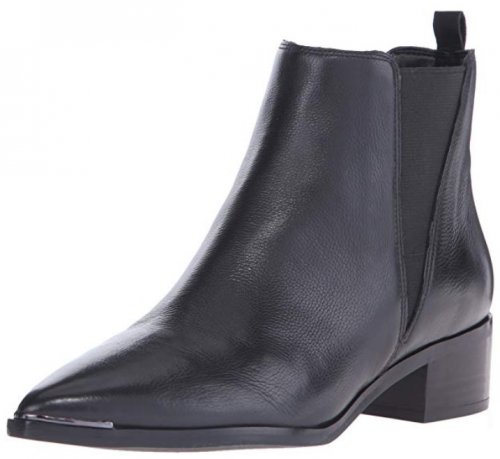 Marc Fisher is a brand which speaks of timeless style, of clean, effortlessly chic looks which put a fresh spin on the classics. The Yale is a prime example of that, a design which we have seen before, but which - through the lens of Marc Fisher - looks new and reinvented. This pointy toe model comes with a metal detail at the front for some toughness, and it is polished enough to suit both casual and fancy occasions.
The Yale is made from leather for the upper, while the lining and the outsole are from man-made materials. There are elastic panels in the sides for stretchiness, and a pull tab in the back to make it easy for you to slide this baby on. Additionally, the heel height of the Yale is practically insignificant - almost 2 inches - meaning that you can wear it all day and all night if you so desire.

The metal tip of the design adds some interest to it and makes the Yale positively eye-catching. You will have a fun time mixing and matching this design with your favorite fall looks - try pairing it with a leather jacket for the ultimate rebel vibe, or with a long wool coat for winter chic style. There isn't anything the Marc Fisher Yale can't do!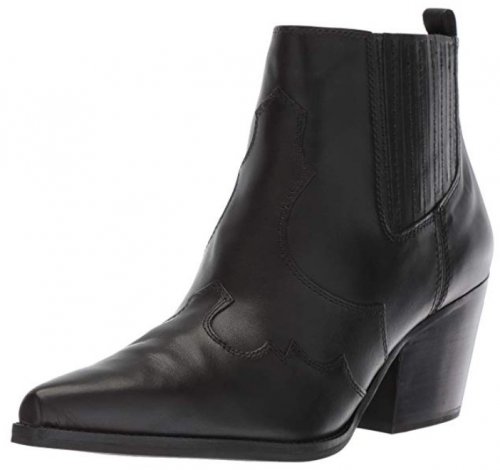 The Sam Edelman Winona is a western style design, with intricate stitching and a pointy toe for some fierce energy. It is an easy pull-on option, and its sleek, polished appearance will definitely complement all of your sharpest outfits. The Winona can be styled up with a wool skirt and a blouse or styled down with a pair of skinny jeans and a button-up shirt. Its versatility is endless, and that is one of the many reasons we love this sassy option!
The Winona is made from genuine leather and has stitch details on the front for some western flair. It is a pull-on design, with a pull tab in the back and gore panels in the sides for an adjustable fit. The pointy toe makes it sharp and merciless, and the stacked heel won't cause you any trouble when walking. The heel height is about 2.3 inches, making it perfect for all-day wear.

If you're looking for that wow factor, for a design that will be the perfect finish to your casual to semi-formal looks, then the Winona is the obvious choice. Embrace the western style and show off your new shoes to all of your friends and family!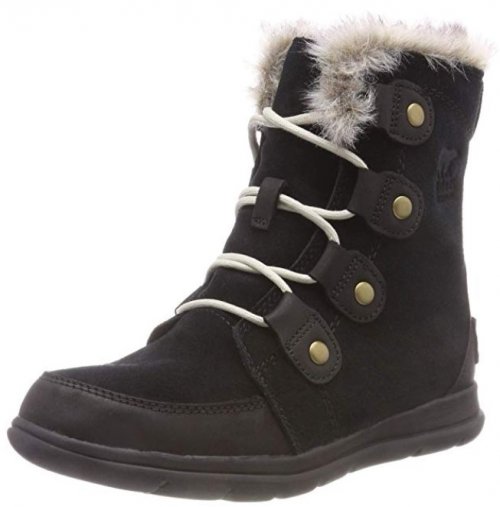 From Sorel, a Canadian brand famous for its winterproof footwear, comes the Explorer Joan, a design which is a combination of a winter boot and a sneaker! Thanks to its slender silhouette you won't feel like you're being weighed down, and yet you will still be completely protected from wet conditions and the advancing chill. Cute, comfy and insulated, the Explorer Joan is a great option for the coldest days of the year.
The Explorer Joan has an upper made from full-grain leather and suede, with a faux fur collar for a touch of that winter wonderland effect. It is entirely waterproof thanks to its waterproof membrane construction, and it comes with a microfleece lining and 100 grams of insulation. The footbed is EVA, molded for comfort, and removable should you require more space inside the design. Finally, the outsole on the Explorer Joan is also made from EVA, with rubber pods to provide solid traction.

While not very well suited for more formal occasions, the Sorel Explorer Joan is a real lifesaver in light rain and snow. It will keep your feet warm and dry, and it is absolutely adorable to wear with its faux fur accents. If you're looking for a cold winter option - there is no better choice than the Explorer Joan!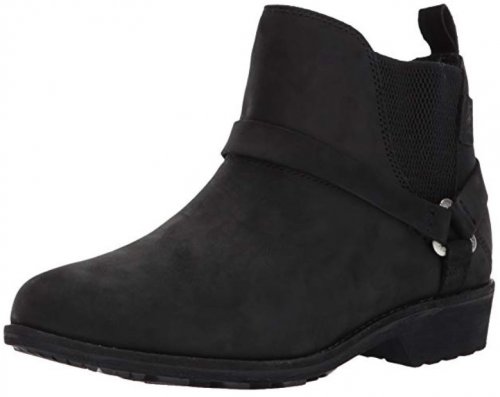 Teva earns a spot in our list with an upgraded Chelsea boot design in the form of the De La Vina Dos. This casual, urban option comes with a waterproof upper and strap detailing to add a bit of a rock and roll feel to it. It is made of premium leather and has exceptional comfort features as well. The De La Vina Dos is easy to pair with both pants and dresses, and it will quickly become a staple piece in your wardrobe.
This design is made from full-grain leather that is treated to be waterproof. Inside, you will find pigskin lining for superior comfort and a soft feel against the skin. Additionally, there is a PU sockliner for cushioning and energy return, and a rubber sole which provides both durability and slip-resistance. The De La Vina Dos is a pull-on design, with the obligatory dual gore panels in the sides.

For all of your casual outings, the Teva De La Vina Dos is a perfect choice! It is versatile, stylish and easy to wear, and it is also waterproof, meaning you are able to take it out in rainy weather and not think twice about your feet getting wet. What an amazing deal!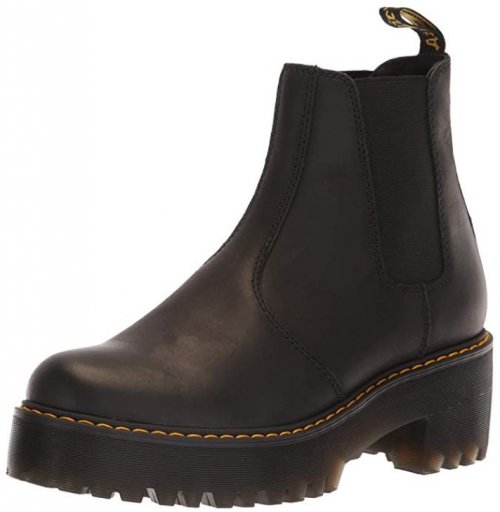 For all the goth and the punk souls out there - or for simply those who like a little danger, a little unconventionality in their looks - the Dr. Martens Rometty is here to shake things up. This is more of a boot than a bootie, one with a thick platform sole and heel, with pronounced lugs on the bottom to keep you firmly planted on your feet. It is smooth, it is rebellious, and it will definitely empower you to conquer the world!
The Rometty has a leather upper, a subtle grain, and an oily surface, and it is burnished in the toe and counter areas. It has no complicated closures, no laces or zippers, but rather it is an easy pull-on design, with a stretchy fit thanks to the elastic panels in the sides. In terms of comfort, the Rometty comes with the signature Dr. Martens air-cushioned sole that makes you feel as though you're walking on clouds. The platform sole is 1.5 inches high, with a 2-inch heel and deep grooves that prevent you from slipping.

The Dr. Martens Rometty is definitely not an option for the office or a formal gathering. However, if you are willing to experiment with your style, if you want to amp up the grunge factor - then don't be afraid to reach for this comfortable design that is a perfect combination of feminine and tough.

7

. Loeffler Randall Cooper


Reminiscent of the '70s, the Loeffler Randall Cooper is a classic design that will seamlessly fit into your wardrobe. It is another high-end option - with a steeper price, but stamped with a world-famous brand name and radiating quality, style and effortless class. You can pair it with your skirts, your slacks, and even your jeans for many different fashion results!
The Cooper is made from soft calf leather, polished and smooth in the upper. It has an almond toe, with just the right sharpness to be elegant but not to cram the toes. The way to get in and out of the design is thanks to the zipper in the inner side - easy and simple! The heel of the Cooper is sculpted, half-moon in shape and almost 3 inches high. It will boost your height and your confidence, but not make you uncomfortable even after an entire day in it.

The Loeffler Randall Cooper may not be groundbreaking in terms of style, but it is definitely that classic option that we all need in our wardrobe. Come chillier weather, we need something that will keep up with our busy schedules without a hitch, and for the Cooper that will be no problem.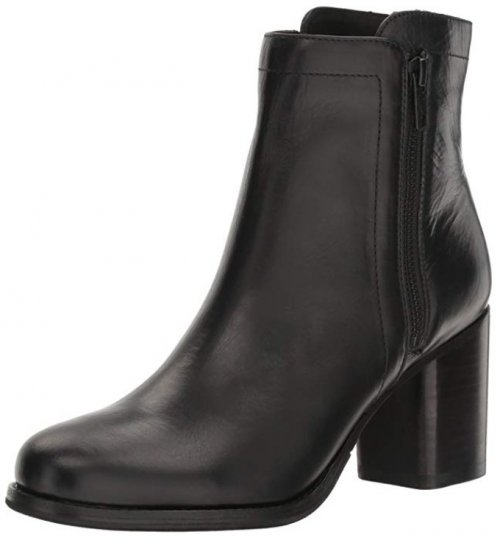 With the Frye Addie, we step away from the casual and into something a little more polished, a little more elegant and put-together. The Addie is a wonderfully sophisticated option, with a smooth leather upper and double zip accents, a comfy round toe and a chunky mid-heel that keeps you stable and yet elevated. You can take the Addie to work, to a fun time with friends, even to a date night out, and you will look drop dead gorgeous through it all!
The Addie is not only made from leather, but made from Italian leather of the highest quality possible. It is handcrafted, with antique metal hardware that lends a touch of interest to the design. The interior of the Addie is also lined with leather, for comfort, breathability, and a healthy foot climate. The heel is about 2.75 inches high, but it is still comfortable to walk in due to its blocky shape.

One tiny downside to the Frye Addie is that it comes with a leather sole, as opposed to a rubber one, and thus is a bit low on traction. However, for dry weather and occasions where you need to look your best - the Addie is a fail-proof choice!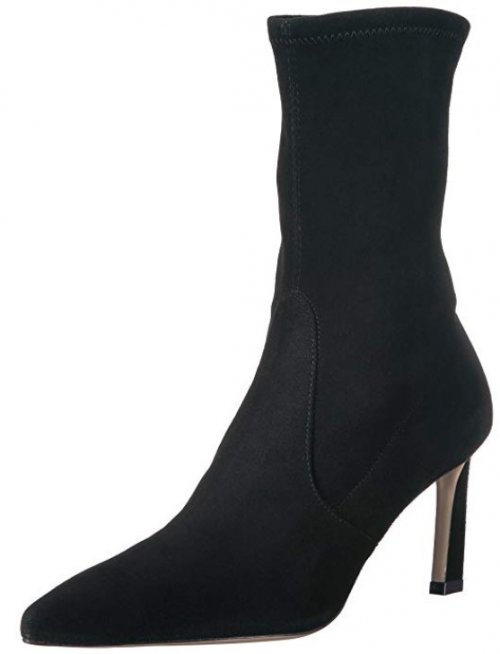 Sock booties are all the rage, and Stuart Weitzman is a high-end fashion brand which jumps right on board with the Rapture 75. This is a far cry away from a casual fall look, as the Rapture is here to positively seduce with its elegant lines, narrow silhouette and a chic pointy toe front. This option is designed to be taken out to important business meetings, luxurious dinner dates, and grand gala events, and it will make you look like absolute royalty.
The Rapture 75 is made from premium suede, a soft material that gives the design that plush finish. It has a leather insole for comfort and breathability, and a leather outsole, which definitely means you should be careful if you're taking these out in rain or snow. The heel of the Rapture is a little over 3 inches high and not as wide as our other options, so it may take some time getting used to.

All that being said, the Rapture definitely won't leave anyone indifferent. In it, you will be the star of any event, a person who exudes wealth, class and above all an impeccable fashion taste; if you're looking for a show-stopper, you definitely found one.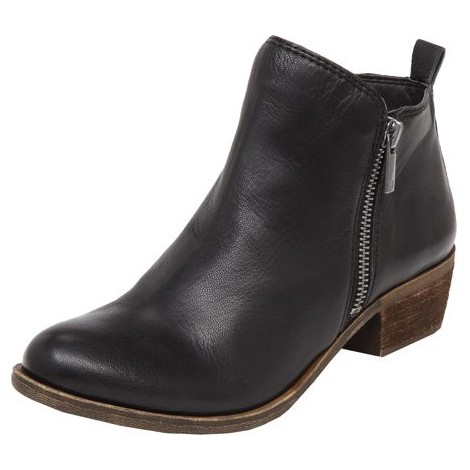 Another model with double zippers, the Lucky Brand Basel is a versatile and classy option that possesses a subtle style. A narrow upper and tall ankle enhance this model, giving it a more formal air. But the stacked heel also makes it stable, making it an extremely reliable option for any closet.
The stacked block heel on the Basel makes it very stable, ideal for professionals who are often on their feet. A relatively low height adds to long-term comfort. The zippers along either side of the ankle make this model very easy to put on and take off.

The Lucky Brand Basel is priced slightly above the market average, but knowing the quality that comes along with it, you can be sure you are purchasing a great value for the price.

Subscribe to our Newsletter