Best Ankle Boots Reviewed
In a Hurry? Editors choice:
Test Winner: Blondo Villa

Ankle booties might just be the perfect shoe. Comfortable, modern and chic, they're easy to transition from season to season and can look different with every outfit. From beautiful high heeled booties to those more rugged styles that are comfort-oriented, makers are constantly upping their game, trying to produce the right combination of fashion and practicality. Our list will closely look at all the features a pair can offer, helping you make a purchase you will be happy with for a long time.

Standout Picks
Criteria Used for Evaluation
Comfort
While it's true that they are considered by many to be a fashion statement, it doesn't mean that they shouldn't or can't be comfortable. Like any other shoe, the pair you have chosen should in no way hurt, rub or pinch your feet as this can lead to serious complications, especially with prolonged wear.
When purchasing shoes, make sure to order the correct size, then try them on around the house to make sure the fit is indeed a good one for you. Needless to say, investing in a pair that you just want to take off a half an hour later is no fun, so you have to pay attention to things like where they fit, if they have a zip, buckle or lace closure, and if that closure system is adjustable for customized comfort.
If you need arch support, make sure that the slope of the arch in the footbed is higher, and select a heel that is the appropriate height for whatever activity you'll be wearing them too. You will find that a wide heel will provide not only better weight distribution, but will also provide better stability, which can be especially important if you plan on wearing your them in wet weather or on slippery surfaces. It's a bonus if your selected pair features extra padding or cushioning, though sometimes more fashionable ones lack in that area. If they aren't padded, consider getting a half size bigger than you normally would so as to allow for a gel or foam insert. That way, even dressy ones can be a joy to put on.
Fit
The fit is important because you don't want your feet sliding around in a shoe made out of unforgiving materials. Most of them are typically made out of leather, suede, vinyl, or some sort of non-breathable material that requires a proper fit. To prevent injury, you will need to avoid those that chafe or move around too much at the heel, since that can lead to irritation or even injury. Look for pairs that fit comfortably in the heel and instep, as these areas are the hardest to fit, especially with Chelsea style booties.
You should also consider how much room is available in the toe box, as any constriction in this area (especially paired with a high heel) can have serious consequences down the line. Your toes should be able to spread out, evenly distributing weight over the entire forefoot, which will greatly improve your balance and will lower the level of pain you feel at the end of the day.
You may want your legs to appear longer, shorter, wider, or narrower. A bootie can help you achieve a certain look, provided it fits well. You also want to make sure that they're the right shape and look for your body type and frame – it not only needs to fit your foot, but it also needs to fit you!
Style
While there's a wide variety out there to choose from, the fit and comfort of which are vitally important, the style also plays a big part in your purchase. They come with thick heels, thin heels, rounded toes, squared toes, and pointed toes. Their design details might include straps, buckles, clasps, laces, or a combination thereof!
What sort of style you go for can depend on where you live, what your working environment is like, and how often you plan to wear them (and for what purpose). Some are intended for more casual wear, while some are appropriate for more professional settings. Oftentimes there'll be a pair for both occasions, or even something fancy. They are a great accessory and fashion statement for when the weather turns brisk, so you'll want weather-resistant ones in that case. Whichever style you choose, remember that it is a means of self-expression and communication of your unique individuality as much as it is about utility.
Because there are so many different cuts and styles, they also often have very versatile profiles. The heel height, lace system, and design materials often determine how versatile they'll be to you. Some flat-heeled ones, for instance, are perfect for work, lots of errand running, or casual daywear. Heeled ones are great for sprucing up a professional look, adding height for shorter wearers for a more elegant look, or simply to dress up an outfit for a night on the town. Those made of snakeskin may not have the same versatility as, say, a pair of combat ones. Because they aren't tall and not a pump or sneaker, they often fit into the nice niche of being applicable in a variety of circumstances. The choice is yours when it comes to ankle booties!
Materials
They are known for coming in a myriad of materials because they're often selected for their versatility and functionality. They are a piece of footwear somewhere between the statement of a pair of tall ones and the usefulness of a pair of footwear. Wearers that want attention or to make a statement can find plush patent leather ones, ones flecked with glitter, or simply of vibrant color. Wearers that want a durable, rugged all-purpose bootie may want materials like mesh fabric, a chunky heel, or buckles and laces. In a professional setting where they are worn, the right materials mean sending the right message to employers and coworkers.
Materials are also a way to communicate your individuality. They can also constitute sustainable practices by the brand, which you can support by purchasing them. This includes things like vegan materials or repurposed/recycled materials for construction.
A higher score on the materials criterion means that the pair of ankle booties you are looking at are made of better materials and may even be vegan or environmentally friendly.
Durability
A quality product is one that will follow you through the years and work the same way it did on the first day you bought the product. In regard to booties, we assessed durability in a few key ways, analyzing the materials, details, construction methods and brands to deliver to you a simple opinion: will this set of booties do the job and do it again and again? Take a look at each area we evaluated:
The Materials
Which type of materials was the product made from? Are they synthetic or natural? How do they smell out of the box? All of these are critical questions we asked when evaluating the materials of the product. A pair of booties made from fabrics that don't retain heat? They didn't make our list!
The Details
Extra buckles, complimentary cases, and reinforced fabrics are all good indicators of a manufacturer that is setting you up for long term success with their product. Attention to detail separates high-quality producers from cheap pairs of booties.
The Brand Name
A reputable brand is a signal of quality and trust. Often, high performers continue to perform and out-endure the competition. While there are always exceptions to the rule, we gave higher marks to manufacturers with solid reputations.
The Construction
You can tell a lot about a pair of ankle booties or shoes by how the zippers behave. Do they pull swiftly and softly, like cutting butter? Or do they jam and snap? What about the sew? If there was threading after a few wears, we considered that a warning sign of a lack of proper construction and durability.
Top 10 Ankle Booties


The Clarkdale Jax from Clarks is one edgy bootie. It has that classic autumn silhouette, but it's decorated with straps and gold-toned hardware to bring up that intimidating factor a bit and make the whole look more rock and roll. The Jax is a comfy, versatile option for unfavorable weather, one that will keep you warm and cozy and effortlessly stylish at the same time.
The Clarkdale Jax is made from premium leather materials for the upper, the footbed and the outsole as well. Its round toe front is comfy and spacious, and the side zipper eases your way in and out of the design. The inside of the Jax is lined with breathable sheepskin that is super soft to the touch, and the footbed is Ortholite, meaning it comes with a level of comfort you have to experience to believe. The heel is a little over 2 inches high and stacked for stability and ease of movement.

We shouldn't forget to mention the rubber tread on the bottom of the design, which doesn't let you slip no matter what surface you're walking on. The Clarkdale Jax is a great way to play with your personal style, to express your darker, more ferocious style while still being business-appropriate. The luxurious lining will keep you comfortable and warm, and you won't be able to resist taking this bootie out whenever you can!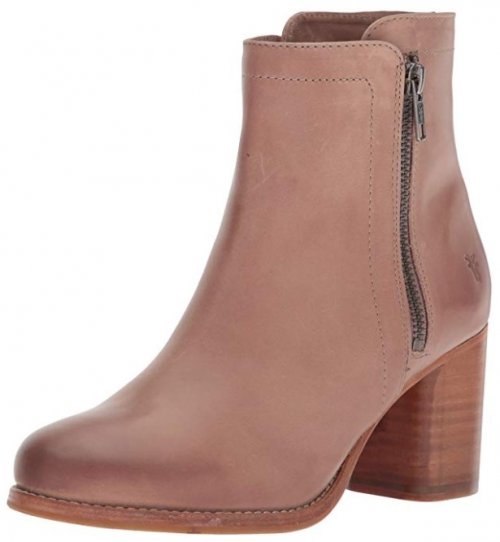 The Frye company was founded over a century ago, in 1863. Through the decades, the brand has become a leading name in the boot industry, carefully crafting their designs by hand and only from the best, most high-quality materials available. The Addie is no different; an elegant, no-nonsense leather option that stands out with its double-zip touch and chic sophistication.
The upper of the Addie is made from genuine Italian leather with a combination of high and low tones. It comes in an array of colors, from the standard black to ivory, to whiskey oil to grey to this irresistible dusty rose in our picture. The inside of the Addie is also lined with leather for a healthy foot climate, and the sole is from the same material. The heel is about 2 ¾ inches high for a touch of poise, and the two zippers in the sides ensure an easy entry as well as a cool look.

This round-toe option is perfect for both everyday wear and for a more elegant occasion. The Addie goes well with pants and skirts and dresses, and we would recommend pairing it up with a winter A-line skirt and a flowy blouse tucked in for maximum fashion appeal. Get ready for turning heads in this perfectly constructed bootie!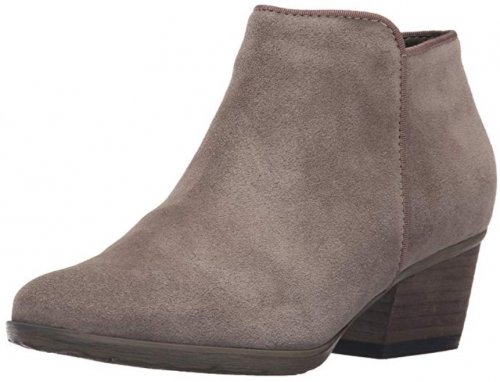 Blondo is a Canadian footwear brand which is most famous for its fashionable and functional cold-weather designs. The Villa is just such an option, a style that is versatile, cute, and that will keep you protected from inclement weather and chilly autumn days. It is a simple bootie built from waterproof suede, in a wide range of neutral colors that you will love pairing with your best outfits. Our favorite is definitely the mushroom suede we chose for our pic!
The Villa is made from premium suede for a plush, luxurious finish. It comes with special AquaProtect technology, meaning that it is built to keep water out thanks to its sealed seams. The inside of this design is insulated with textile lining to keep your toes toasty as you take on the challenges of the fall, and the outsole is made from rubber, providing you with a stable footing on all types of surfaces.

The Blondo Villa has a low, two-inch heel in the back for a touch of elevation and elegance, and a zipper in the side for easy entry. We love its simple, straightforward aesthetic, and the fact that you can easily wear it to work and to a fun day out with friends! The Villa will become your new go-to option in a blink of an eye!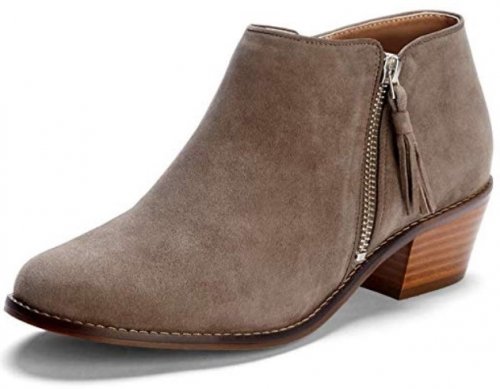 Vionic has become a synonym for supportive footwear, for the kind of design that you can wear for hours on end, day in and day out, and never feel even a twinge of pain or discomfort. The Serena comes from their line of cute, stylish ankle booties, built to become a fall staple. It is minimalist, but the tassel detail on the zipper and the seam piping bring a bit of playfulness to the design.
The Serena is made from kid suede, a gentle, conforming material that your feet will never get tired of. The upper is treated with a protective agent to make it wearable in unpredictable weather, and the zipper in the outer side makes it easy to slip in and out of the design. The footbed of the Serena is made from EVA for maximum shock absorption, and it is also removable, should you require more space inside the bootie. The TR outsole makes sure that you don't slip or skid on slippery terrain.

The low heel of the Vionic Serena means that you can easily wear it for as long as you want to and be as comfortable as though you're wearing your favorite sneakers. This is a standard fall design, one that will seamlessly fit into your wardrobe and that you will love putting on at the start of each day.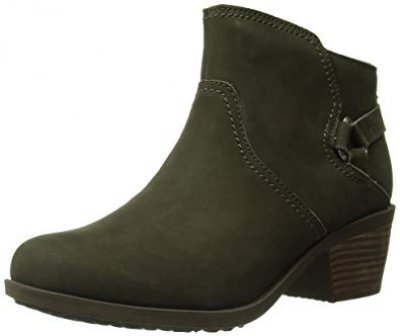 Teva is a brand that has long been synonymous with comfort and function. It focuses on athletic footwear made for performance, then brings that innovation and technology into more street and fashion-oriented footwear that's made to offer beautiful style and excellent functionality. The Foxy is the perfect example of Teva's intentions to blur the distinction between chic and casual through a versatile design that is sure to get you plenty of compliments.
The buffed leather upper on the Foxy will provide you with a soft and adaptable fit that will wear in and mold to your foot shape after just a couple of wears. The natural leather is a great choice if you need breathable footwear that doesn't get too hot. The printed textile lining will aid airflow, keeping you fresh and cool even after hours of wear. This pair features a midsole that is leather-wrapped so that you get a style that is not only supportive and comfortable but even more, you will be getting a durable pair of shoes that will look good in any setting. The rubber outsole will provide long wear without thinning or cracking, for great traction on most surfaces.

The Foxy represents a style that is very versatile and wearable for any occasion. It will provide good comfort and traction, and is even available in a waterproof version if you need a pair that will prevent you from getting wet in the rain or snow.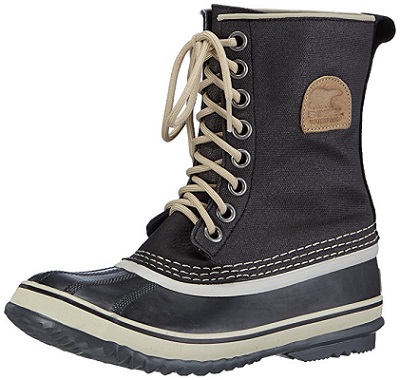 Sorel has long been known for their waterproof rain and snow footwear. Always providing excellent quality, their newer line doesn't sacrifice any of the technical functions you've come to expect. This waterproof model provides great traction in slippery situations, excellent rain and snow protection thanks to the rubber foot, and a leather upper that is both warm and protective. You will especially love the molded footbed which ensures premium comfort.
The standout feature is the function that 1964 offers. Designed for rainy weather, you can rest assured you'll stay dry even after spending hours in the wet. The seam-sealed construction ensures a fully waterproof design that will stand the test of any amount of rainfall, while the insulated lining will keep you warm and cozy. 1964 is a great choice if you want something sturdy, waterproof, and comfortable enough to wear for long hours in cold weather. Comfort rated down to an amazing -40 degrees Fahrenheit, they are an excellent pair for anyone looking at cold winters. The herringbone outsole provides secure traction even on slippery surfaces, meaning that you can wear these with the confidence of knowing you're safe on your feet.

Sorel is known for its high-quality footwear and the longevity of their products, and this model is no exception. While these aren't the cheapest pair on this list, you can rest assured that with this pair you get the quality you pay for. With proper care, they will give you years of comfort and reliability.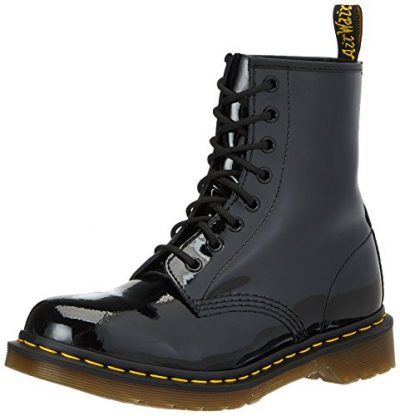 The Dr. Martens 1460 is one of the most recognizable styles on this list. Built to last and to offer a comfortable fit, this footwear is the perfect choice for anyone who wants to stand out while retaining a classic and simple look. Made with a full-grain leather upper and an air-cushioned rubber sole, they are not only a fashion statement but also one of the most functional work models you can purchase. And they'll last for years to come!
The bottom of 1460 utilizes the Goodyear Welt construction method, ensuring its durability and longevity. The thick, rubber perimeter is punctuated by an iconic yellow stitch that has become a staple of Dr. Martens. The sole is abrasion-resistant, as well as slip-resistant on wet and oily surfaces, so you'll always have a secure footing and excellent traction. The upper of 1460 is made out of genuine leather in a wide variety of colors and finishes, ensuring that you can completely reflect your style with a pair of Doc Martens. The shaft has an 8 eyelet closure which will allow you to customize the fit in the instep and calf areas. Caring for them is fairly simple, seeing that you'll only need to wipe them with a damp cloth, and use a leather wax to keep the leather soft and supple.

These ones are a workhorse, and you'll find that investing in a pair of 1460s will get you shoes that will last for years on end, especially if you take good care of them. Although they may be heavier than most other options, this will pay off in the high level of protection they offer, no matter the situation you find yourself in.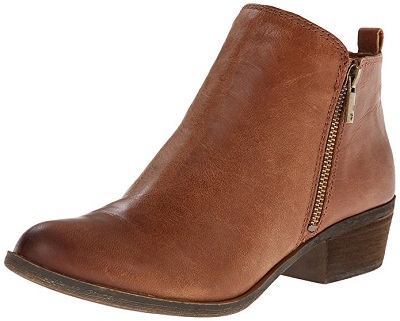 Every wardrobe needs a simple, quality pair that will work with any outfit, and the Basel by Lucky Brand doesn't disappoint. The shaft is a universally flattering mid-rise, and the low heel offers to lift without sacrificing comfort. The smooth leather has a luxurious look to it, and the side zippers are a functional and understated detail.
With nothing more than a simple zipper, the Basel remains perfectly balanced and visually appealing. You'll be able to wear it to work, on a date or even just a casual coffee with friends, and you will look good in any of these situations. Being simple and elegant, the Basel is bound to get you plenty of compliments from anyone who sees you wearing it. Many of the designs on our list have been praised for comfort, but these go the extra mile, providing you with the style of an ankle bootie but the comfort levels of a sneaker. With a low heel and zippers that can be left undone during wear, you'll be able to relax while wearing these kicks, even if you've got miles to go before you get to take them off.

The Basel represents a great value to the wearer who prizes quality but still weighs the cost. Nothing about this model looks cheap or feels cheap, but some styles can be snagged for under $100. Although they shouldn't be worn in wet weather, if they are cared for, they'll be well worth their price.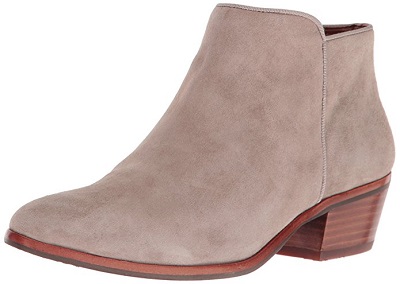 With the style and quality, they offer at a reasonable price, it would be difficult to go wrong with this model by Sam Edelman. This low-heeled, leather pair prioritizes comfort and chic minimalism without sacrificing comfort and stability. The low shaft is universally flattering, and the minimal heel keeps them functional, offering you a secure footing and some height that will elongate the legs, regardless of whether you wear these with a skirt or with jeans. Available in a range of colors and finishes, there's a version of the Sam Edelman Petty for everyone.
One of the most appreciated aspects of this pair is the comfort it offers. The rounded toe allows your forefoot to spread out naturally without any pinching or discomfort, while the side zip allows easy on and off for most foot shapes. Thanks to the leather it is made from, the upper will mold to your foot shape, following its contours and providing a soft fit that you are bound to love. Made to go with any outfit, and to be wearable on a wide variety of occasions, these are a great addition to your wardrobe, seeing that you will be able to wear them every day with any outfit you choose.

The value of the Petty lies in its comfort and modern style. It is a great choice if you want a bootie that will make you stand out, but that will offer versatility and functionality in addition to being pretty and durable.

10

. Sorel Joan of Arctic Wedge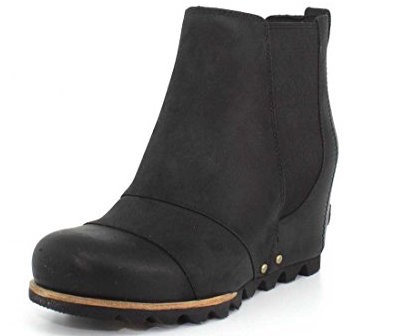 This wedge design by Sorel is a great choice if you are looking for a style that will give you the height you want without sacrificing comfort and stability. Made with the highest quality of materials, both in the upper as well as in the sole, this 4-inch pair comes in ten different colors and is an excellent choice for fall and spring footwear seeing that it is waterproof, so you won't get wet feet even if you are caught in a sudden rainfall.
The Joan of Arctic Wedge features a removable molded EVA foam footbed that has a heel cup and pronounced arch support, making it easier to wear it for longer periods of time. They will ensure proper alignment and will take the pressure off the ball of the foot, ridding you of the pain that usually comes with wearing high heeled footwear. The full-grain leather upper is waterproof, while the outsole is made out of molded rubber that will keep you from getting wet or from slipping on wet surfaces. Thanks to these features, you can easily wear these even in winter, just make sure to take good care of the leather so it's not damaged by salt or snow.

With Sorel footwear, you are paying for long-lasting quality and a super comfortable fit. These are an excellent choice for anyone looking for a stylish pair with some added height but without having to sacrifice stability.

Subscribe to our Newsletter