Best Side Zipper Boots Reviewed
In a Hurry? Editors choice: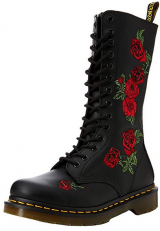 Test Winner: Dr Martens Vonda

This super handy marvel was created in 1851, but it was only shown to the public in 1893 and has since been improving our lives. Whatever needs to be closed and secured, the zipper has it covered! No wonder shoemakers realized that this innovation was a simple solution to the troubles many people experienced. The placement of the zipper helps a lot too - if it were placed on the front, or on the back, you would probably have more trouble closing it. Shoes with back zippers do exist, but they usually pose a problem and are stubborn, refusing to close down. So, if you need a pair with a side zipper in your dresser, look no further, we've got you covered! Our comprehensive guide features plenty of different models with this helpful feature, so you'll have plenty to choose from!
Standout Picks
Criteria Used for Evaluation
Top 10 Picks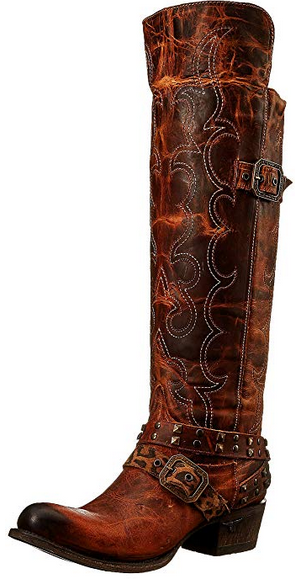 If you truly love everything about Western culture, and would gladly wear clothes inspired by this era, then do not skip out on the Julie boots! These honey boots are 100% leather, soft enough to give your feet a break, but hardy enough to last a lifetime. These boots are completely handcrafted, so every detail was painstakingly put together and thoroughly checked for fallacies, to bring you the absolute best boot they could. The front of the boot is higher than the back, elongating your legs, and making it easy for your knees to bend properly.
The rustic appearance is slightly contrasted by the tribal embroidery spanning the whole length of the boot. An urban decorative buckle sits on the side, giving them the full riding boots style. Even more, buckles wrap around your ankles, immersing you into the Western world completely. A part of the belt sports an animal print, while the rest slithers proudly with stud scales protecting their surface.
The upturned pointy toes might look constricting, but there's plenty of room for your toes to stretch and wiggle. A memory foam insole guards you against the impact forces while you walk on the decorated heel, strutting your way downtown. As you walk, a flash of blue shines in the sun - the iconic outsoles give enough grip and traction to keep you going as long as you need to.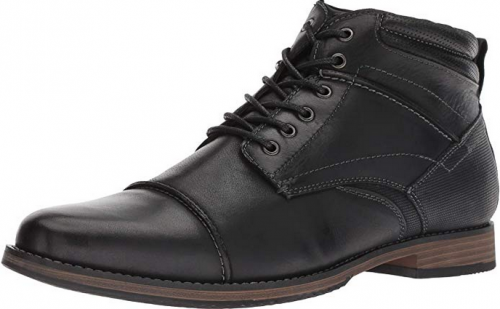 This essential style effortlessly combines formal elements with casual tones, making this the ideal versatile boot. The lace-up design makes it easy to adjust the fit, and once you do, turn to the zipper and enjoy an optimal fit every time you put them on. The thick stitch running along the upper determines them as a cap toe, something every sharply dressed person needs in their closet.
The texture difference on the heels pleases the eyes and gives the boots a little flair. A cushion sits around the ankles, negating the possibility of the upper cutting into your delicate skin and causing more trouble than it's worth. The contrast stitching and burnished toes add glamour and make you a vision of class. The short stacked heel attached to the ribbed outsole balances your gait and gives plenty of arch support.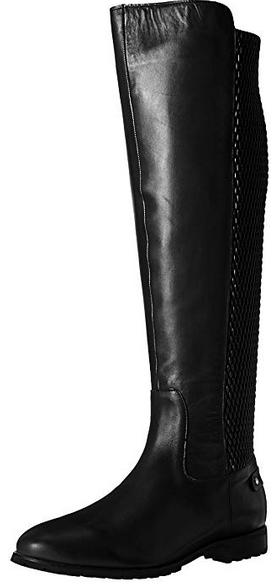 This polished riding boot combines leather and rubber to bring you the ideal autumn style. The gleaming leather upper flexes and stretches as you walk, and keeps your legs safe in its embrace. They might seem like your regular riding boots when viewed from the front, but once you start to turn them around the quilted stretch back will surely be a shocker. This stretchy back gives an urban vibe to the boot while giving enough room for the widest of calves. The metallic rand combined with the metallic zipper makes these boots ideal for a city setting.
The linings are leather as well, cushioning your legs and giving them plenty of protection. As you slide your feet in, you will encounter a sock - a removable sock, but don't be too quick to throw it away just yet! They sport a dual density shock absorbing surface, meaning you will be safe from the dangerous cold, and safe from pain set off by standing or walking around the whole day! The outsoles are lug rubber, a flexible variety of regular rubber that still gives enough grip to make you steady on all sorts of terrain!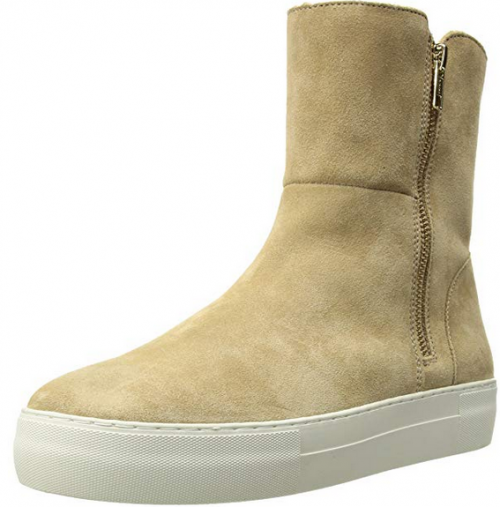 How much do you love sneakers and their casual style? If you can't imagine going one day without them, don't freeze in the cold winter days - give the Allie a try! Their sneaker look keeps your casual heart happy, and they keep you warm and toasty. The upper is suede that comes from sheep, hardy and valuable, colored in various shades and patterns. The lack of details give it a refined look, but there is a little stitch that runs along the middle. What could that stitch be?
It's so you can easily turn them inside out, showcasing their beautiful furry linings! This is made even easier by the two golden zippers running along both sides of the boot, making it supremely easy to slide in and out of the boots. The fur linings keep you warm, wick away moisture and make winter seem like a bad dream. A cushioned footbed hugs your feet, while a removable gel insert keeps you pain-free. The chunky white soles iconic for skater sneakers are what completely push them into the casual world. They do bend easily and give enough support for your sensitive joints and muscles.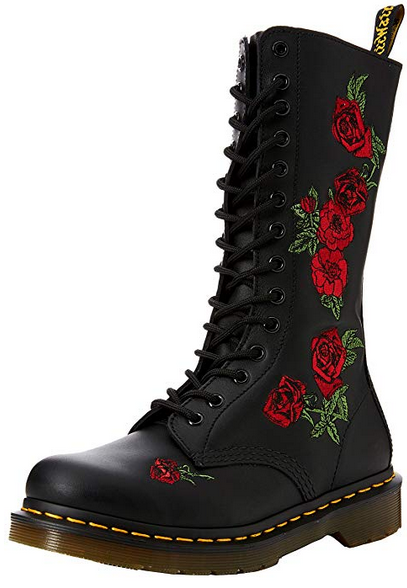 No boot list would be truly complete without the iconic Doc Martens showing up at least once, and the Vonda is here to show us why. The classic tall doc boot was reimagined as graceful, with a garden of roses blooming all across the upper. The crimson red threads blend with the lively green leaves and are accentuated by the perfectly black backdrop. The black backdrop is top quality leather, checked for mistakes and aberrations by very insightful eyes.
Their fourteen eyelet height keeps you warm and awakens the inner rebel you always had lurking inside. Everything about the screams Dr. Martens - the yellow threads running alongside the outsoles. The Goodyear welt, keeping the outsole together with the upper, holding on tightly for a long time. The signature padded footbeds, helping you work through their heavy weight with ease. The airWair handy pull tab, easing your way into them. But, surprisingly, a zipper sits on the sides and makes it easy to push your feet in. The rubber soles are chunky, thick and slip resistant, just what a true punk needs.

6

. Rockport Cobb Hill Caroline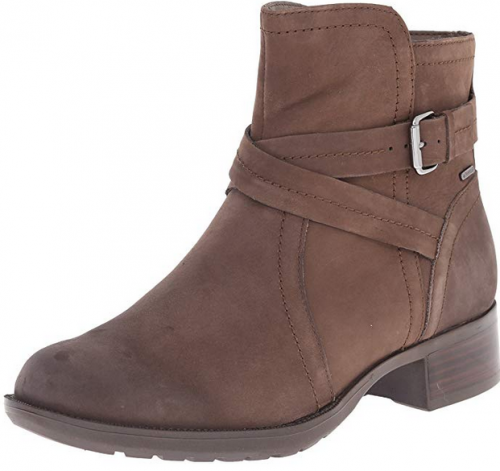 The Caroline is a fitting companion for all city dwellers around the globe. The upper comes in leather or suede, in two gentle hues and a vibrant, rusted down red. The stone suede upper also has rustic details, camouflaging them with the rest of your urban companions. Two thick straps crisscross around your ankles, keep you strapped in and give you sharp form.
This upper might seem like your regular run-of-the-mill upper, but it hides a valuable secret - the seams are sealed, waterproofed to perfection, keeping the smallest droplet of water out, making these boots an all-weather shoe! Look your best even in the worst of downpours! Speaking of rain, it can cause quite the trouble in the surface department, making it possible to slip down and injure yourself. This is nothing you should worry about since the rubber outsole and the lead wrapped heel will keep you steady and balanced.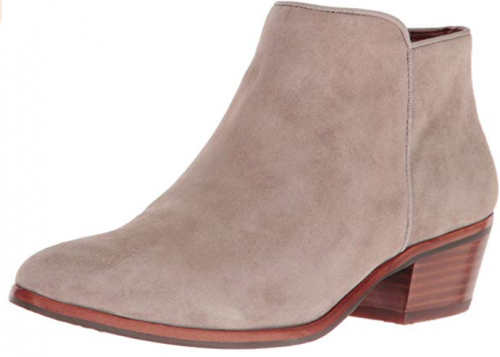 This iconic Sam Edelman bootie finds its way onto our feet and into our hearts time and time again. One of the best things about it is the variety of colors, materials, and patterns it comes in! If you dislike leather, you can always go with suede, and if you feel pain for animals, why not choose the fabric ones? Sleek, clean uppers work great for business surroundings, while the ones with animal prints and glamorous patterns are simply made to be worn to a gala event.
Not all of the models have zippers, and if a zipper is what you're after, then be mindful when choosing your pair! Their clean design and rounded toes make them super versatile, and allow them to explore every setting with you, be it casual, business or formal. The grosgrain-piped topline gives a western vibe, while also holding the upper together, preventing it from unraveling. The wood inspired outsole offers stability, support, and a stacked, block heel propping you up to new heights!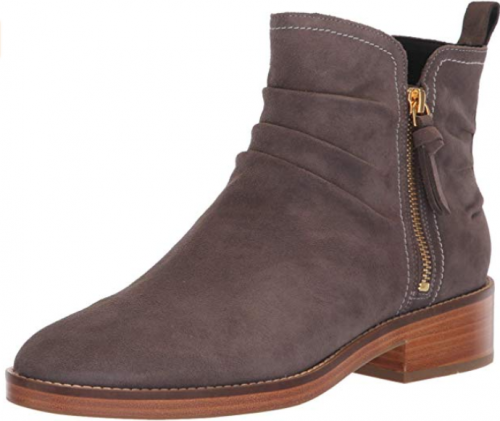 It's very obvious here that the zipper was not meant to be hidden! The casual ankle booties sport a chunky zipper colored in brilliant gold, with a lovely tassel detail hanging on the sides, jumping and dancing as you walk. A brilliant attention grab! Their supple upper is suede, a soft and luxurious material that is renowned for its undeniable style. It's also quite pliable, so you'll have a cozy experience all around. The slouchy detail contrast the clean upper and gives them drama! Decorative stitching runs along the edges, and a handy pull tab rests on top of the heel counter.
The lining inside is fabric, gently hugging your feet and offering enough air to keep you dry and happy. The leather sock liner is fully padded. This means that you can strut around the whole day wearing the Harrington without fatigue catching up with you! The outsole is what shows us that this ankle bootie is all about comfort - they are lightweight, cushioned with grand Os. technology for the cushiest, coziest touch. You won't even notice the 35mm stacked heel! The outsole joins the rest of the boot with a welt, so durability is guaranteed.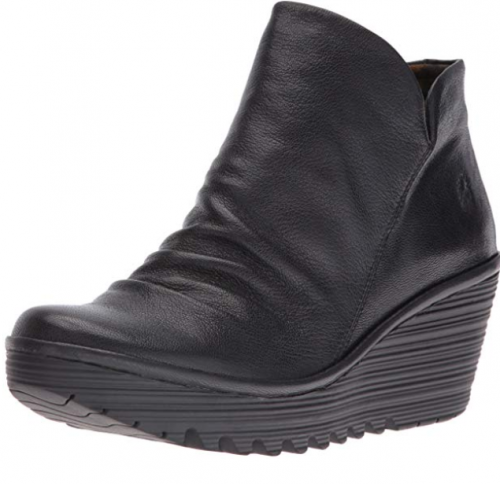 This chunky ankle bootie just begs to see the light of day, as it will keep you warm and classy without any effort. Every detail here is leather, meant to mold perfectly to the shape of your feet, making it easy to forget you actually have any shoes on. No decorations grace the upper, besides the rouched up waves and a metallic instep zipper on the side.
Simple on the outside, yet secretly frisky - the colorful print on the linings add interesting details once you take the booties off. Now let us mention the obvious - the super chunky rubber wedge! Textured to add style, thick enough to give some serious height, they provide much more support than regular heels do, as they smoothly let you walk as if no heel was present at all!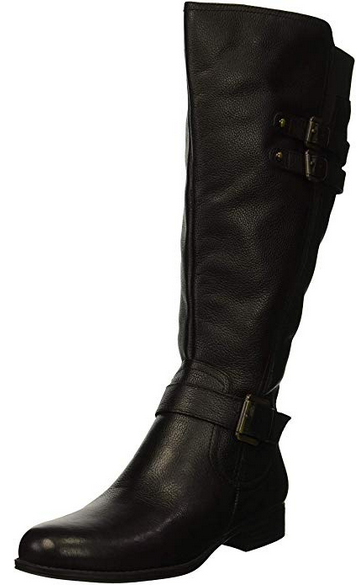 Naturalizer is a company known for creating comfort footwear, and the Jessie is no exception. Their riding boot silhouette is enhanced by the buckle details - two thin ones wrapped around your calves, and a thick strong one resting on top of your ankles. Their upper is leather, made to keep you warm and cozy. Coming in calm, earthy tones, there won't be a single clothing combination you won't be able to work them in.
An elastic gore is sneakily hidden under the buckles, as it stretches to accommodate the strongest of calves. A zipper runs alongside the inner part, making this pair welcoming to all shapes and sizes. There's a lot of cushioning sitting in the footbed, reinforced with extra heel pads, just so you never have to experience tired and painful feet again. The lining is leather, warm, yet breathable, keeping you sweat free and toasty. It might seem like a stiff boot, but the outsoles provide enough elasticity to keep you on the right path, while the little heel tries its mightiest to give you arch support and balance.

Subscribe to our Newsletter