Best Pumps Reviewed
In a Hurry? Editors choice: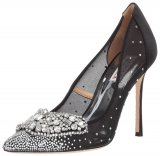 Test Winner: Badgley Mischka Quintana

People have been wearing heels since the 16th century, and those early heeled designs have evolved into our
modern heels
. When it comes to heels, you can wear them for any occasion – work, school, parties, weddings, dates, or just when going out with family or friends.
Pumps add a powerful feel to any outfit you are wearing. Wearing heels elongates your legs, making you look taller and making your legs look sexier. Many people wear heels to feel confident, polished, taller, and powerful. A great pair of heels garners a lot of compliments. If you ever wanted to add a classy and sophisticated look to any outfit, a nice pump is a way to go. Read on to view the best pumps reviewed!
Standout Picks
Criteria Used for Evaluation
Heel
Truth be told, sometimes we do need a little bit of a boost in our height. It makes us feel more confident, bolder, and like we're ready to take on all of the challenges of our day. But the fact remains is that not all of us are skilled enough to walk in high heels such as pumps.

If you are not experienced with wearing pumps, it can be scary, wobbly and potentially injuring. The adventure of higher heels comes with the risk of getting blisters, bunions and not to mention an embarrassingly wobbly walk and falls.

The good thing about pumps is that they come in a variety of heel heights, so you have the freedom to pick from a variety from low to very high. For first time buyers, it's advisable to choose a lower heel height. You can start by going for a pair of shoes that have kitten heels, and they must be of high quality.

The other option for first timers would be to start with low heel wedges. After getting the low heel you should allow your feet to adjust and get used to the shape of the design. Wear the shoes in the house for 15 minutes and check the reaction of your feet. Let your feet be fully comfortable in pumps before deciding to wear them the whole day.

With pumps, it's very crucial that you have the correct size. The sizing of this classic design will determine how graceful your walk will be and also the comfort of the shoes. When you have loose fitting footwear it will always be slipping on and off; a very tight fit will make your feet feel suffocated and very painful, and both of these fits will leave you very uncomfortable.

Many brands have their own customized sizing systems that they use when making their footwear so it's important to read sizing charts carefully when choosing a pair of heels. Also, check reviews to determine whether sizes run large, small, wide or narrow.
Style
As we mentioned before, in this guide you will be able to find the right design for all of your needs. Pumps as such are a very versatile category of footwear, and you can wear them anywhere you want, barring the most casual of situations.

For easier browsing and decision-making, we've divided all of the options on our list into two main categories: classic and dressy.

We'll start with the classic group. Heels that belong here are the Calvin Klein Brady, the Predictions Karmen, the LifeStride Parigi. What makes these designs classic are their elegant lines and their silhouette which withstands the test of time and ensures that you can wear them practically anywhere you wish. The advantage of these heels is that they are suitable for the office and any other occasion where you need to look business-appropriate, but they may not be the most creative when it comes to style.

The group that is creative, however, is the dressy heel group. Here we have the L'Artiste Wondrous Dress, the Hot Chocolate Marie Antoinette, and the striking Badgley Mischka Rouge, among others. These options may be too extravagant, too funky for the workplace, but they will be an absolute showstopper at a formal event, a wedding or any type of gala that you need to attend.

Which style you opt for in the end depends entirely on your personal preference, as well as the purpose these shoes will have. Take a moment to consider the type of situations you will be wearing these in, and whether or not you like something more subdued, or something more sparkly. Whichever one you like best will be the perfect choice for you!
Comfort
There's no denying that heels are considered one of the least comfortable footwear options. The reason for this is that the elevated heel puts your foot in an unnatural position, shifting your weight forward and causing strain on the front of your foot. Over time, this results in numbness, cramps, pain, and other unwanted issues.

However, wearing heels doesn't have to be uncomfortable. There are several things you can look for, which will make your pump-wearing experience a lot more bearable. Let's see what they are:

Heel Height: In our Heel section above, we already talked about the best heel options for a beginner at walking in heels. Here, we will expand on this by adding some quick information about heel height.
If you wish to be comfortable all day long, to be able to wear your shoes from work to cocktail hour to dinner with your significant other, then look for lower heels, ideally three inches or lower.
Anything over four inches in height is bound to start causing you pain after a couple of hours of wear, and there is pretty much nothing you can do about it.
So remember: for all-day wear - the lower the heel, the better!
Heel Shape: We established that blocky, chunky heels are far more comfortable than stiletto ones. This is because chunky heels provide more stability to your steps, and enable you to walk without any risk of stumbling or twisting your ankle. Stilettos, in contrast, narrow all of your weight down to a point and thus make it extremely hard for you to maintain balance.
If you're looking for that easy-to-wear experience, thicker heels are your friends.
Insole: Finally, you may not think that insoles have much to do with the comfort of a design, but we are here to tell you otherwise. A padded insole can make or break a shoe, and with a tricky footwear design such as a pump, you will need all the extra cushioning you can get.
A padded insole will absorb shock as you walk, and reduce the pressure on your feet and joints, which is why having it might be a good choice if you plan on spending a lot of time in your heels.
Upper
In this case, by 'upper', we mean the shape of the front of the shoe. Pumps, by definition, are closed-toe footwear, and as such this front area comes in many different versions. We have pointy toes, round toes, and all the variations in between. So what do you have to know about this feature, in order to get the most out of your new shoes?

For starters, if your priority is comfort, you will stay clear of pointy toes. These toe boxes tend to be too narrow and can cause toe pinching or squishing, which is not comfortable to wear for longer periods of time. As in all footwear, it would be best if your toes could wiggle a little, and a round toe option has plenty of room for that.

Of course, you may find that a round toe is not as stylish as a pointy toe. There is something undeniably elegant about a pointy toe silhouette, a sense of sharpness and ferocity that doesn't come with other designs. Not to mention that pointy toes elongate the leg and make your figure appear slimmer.

Which one you will find comfortable depends on the shape of your foot. Generally speaking, narrow feet can fit anywhere and have little trouble with pointy toe silhouettes, but that doesn't always have to be the case. It would be best if you could first try on the design before you commit to purchasing it.

Just keep in mind that whatever little discomfort you're feeling on the first wear will only cause bigger problems later on, so definitely go for a design that feels good to you right off the bat.
Durability
Any good pair of shoes that is durable and comfortable is always a good investment for the buyer. Having a pair of classic pumps that are well-constructed will be a good investment in footwear. For maximum durability, you will need to take good care of your shoes.

Pumps are considered to be a preferred dress shoe, and that's why high-quality material is very important when determining their value. High-quality and natural fabrics will guarantee your comfort and ample breathability. Remember that cheaper fabrics and construction equals a short lifespan on your footwear. Everyone's taste is different, but when it comes to durability, everyone wants high-quality footwear.

Every design on the market has been created differently. It's very true that you will find a big difference in the quality of footwear depending on the brand. That's why it's essential as a buyer that you can spot a high-quality design and invest in it. When looking at design, there are factors that are used to gauge its quality.

These factors are:

Sole: Take note of the construction used in attaching the sole to the shoe. The sole can either be glued to the shoe or just stitched; sometimes both might be used to enhance the durability. If it's a glued sole, check for any space that might be at the edges as these are the places where the sole will start peeling off. For stitched soles, make sure the stitching is very secure, and the stitches are evenly done. At the end of the day, your sole must be seamless.
Heel: The heel is an important part of any footwear. For this type of design, make sure that the heel has an additional layer made of rubber. The importance of the extra layer is that it will prevent any slippage, hence walking will be much easier and more comfortable. Heels without any grip can be dangerous and lead to injury.
Lining: The lining should be given plenty of attention. Most high-quality shoes have a lining that is made of pure leather. The lining tends to cover the inner section of the whole shoe. Shoes that have lining located at the bottom but not on the sides might prove to be uncomfortable to walk in. Leather is perfect for lining since it's a natural material and hence will be able to absorb any form of moisture and also permit the foot to effectively breathe. Synthetic fabrics are not able to absorb any form of moisture and might be a little uncomfortable.
Materials: At the top of the list of the best footwear materials is genuine leather, but then we also have vegan options that are just as good. The market also has synthetic fabrics that are being embraced by many brands and manufacturers. Fabrics like nylon or plastic should be avoided since they get very uncomfortable after being worn a few times, and are not durable.
10 Best Pumps
1

. Badgley Mischka Quintana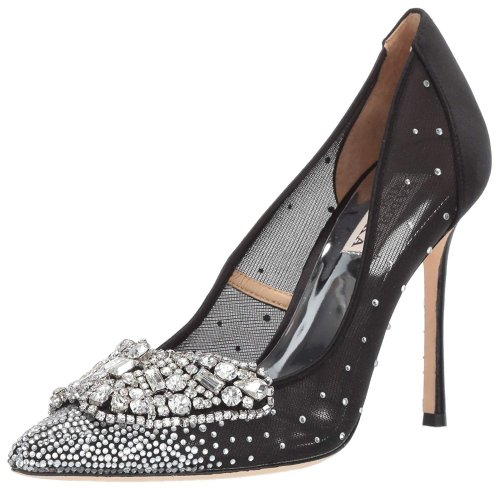 What stunning beauty! What graceful extravagance! The Badgley MischkaQuintana is that one design that will blow everyone away. Whether you're attending a wedding (perhaps even your own), or a different type of a formal event, you can be sure that in this heel all heads will turn your way and you will receive a world of compliments.
All Badgley Mischka designs are inspired by old Hollywood, and this is clearly evident in the Quintana design. This heel is covered in satin for a luxurious sheen, and it has a pointed toe for added elegance. There is a scalloped topline at the heel for a touch of femininity.

However, what absolutely catches the eye on the Quintana are the rhinestone-studded lines that elegantly wrap around the foot. These add bling to the overall aesthetic and elevate it to new, opulent heights.

The Badgley Mischka Quintana is a design that comes from a famous high-end brand, is made from premium materials, and will make you the star of any event. Slip these on and feel like a princess in a blink of an eye!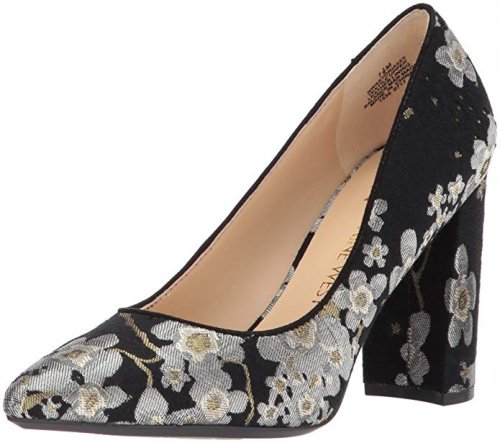 Nine West is a brand which is all about translating the latest runway looks to their stores and making them both available and affordable to everyone. The Astoria is a design that follows the most recent trend of thick, chunky heels and elaborate floral prints. It is meant for casual and semi-formal wear, an event where you want to look stylish, but not too over the top.
The Astoria comes with an upper of lightweight fabric, that is moldable to the shape of the foot and amazingly breathable. The leather lining on the inside ensures a healthy climate for your foot, and the heel sports an elegant, poised pointy-toe silhouette.

Arguably the main feature of the Nine West Astoria is the blocky heel, which gives this shoe a retro vibe but also provides stability for your steps. It is three and a half inches high, and yet you will have no problems wearing it for as long as you'd like.

The Nine West Astoria is that design we can wear anywhere - to work, to a lunch date with friends, to a dinner with our partner, and it is so easy to pair with any outfit. Bring a little spring flair into your looks with the Astoria chunky heel!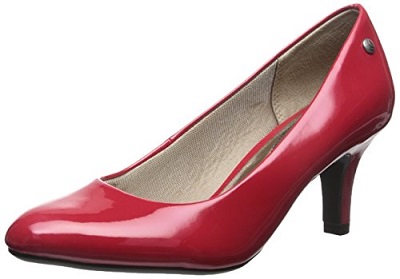 The LifeStride Parigi is a cute little heel that is appropriate for work, going out for a fun evening with friends or any occasion, really. Great with a skirt, jeans, slacks or virtually any other outfit in your wardrobe. They are available in a wide variety of colors and textures to suit any taste and with the moderate heel, will be comfortable and good for those who want a few inches of height but are not comfortable with stiletto heels.
The synthetic sole on the Parigi is flexible and provides decent traction on most surfaces. The heel is well glued to the sole, preventing wobbling and separation. It is also just the right height for those who want added height without the strain of a higher heel.

The insole in the Parigi is not removable but it is padded at the heel and through the outside of the midfoot for extra comfort. The lining of the shoes is synthetic and sewn in a way that will reduce the amount of friction at the heel and sides of your feet, for comfort. Perforations in the insole also help your feet to breathe.

These cute shoes are great for going from work to dinner to a wedding without stopping in between. Do not expect the same durability from these pumps as you can from shoes with higher-grade material construction, but if taken care of properly, the Parigi will last for hundreds of miles of walking.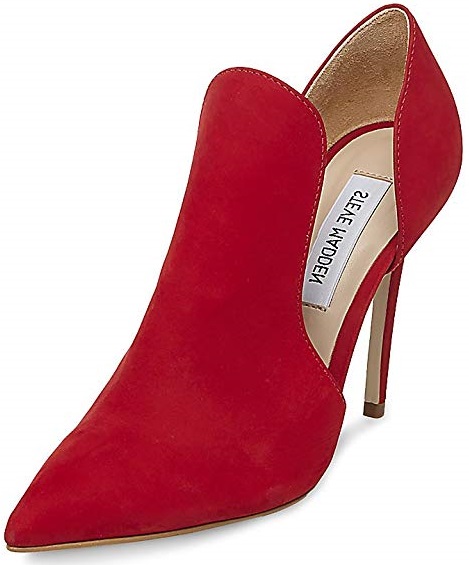 While most other items on this list follow some sort of conventions, the Steve Madden Dolly breaks out of the norm, which is to be expected of this wholly unorthodox designer. The Dolly is a pump, definitely, but it also bears some resemblance to a bootie, in the sense that it's upper completely covers the front of the foot. It is meant for those who are not afraid of embracing their sexy, seductive side, or of leaving a lasting impression on their surroundings.
The Dolly comes in several different color and print options, out of which we have singled out this striking red nubuck version. It has cutouts in the sides to expose some skin, both for an alluring effect and to provide some breathability in warm weather.

The toe shape of the Dolly is pointed, and the heel is stiletto, four inches in height. Walking in these beauties may require some practice, but trust us when we say that it will be worth it, in the end.

The Steve Madden Dolly is not meant to be worn every day. It is a heel to end all others, one that you wear when you want to make a fierce statement. You certainly won't go unnoticed in these shoes, whichever event you're attending.

5

. Hot Chocolate Marie Antoinette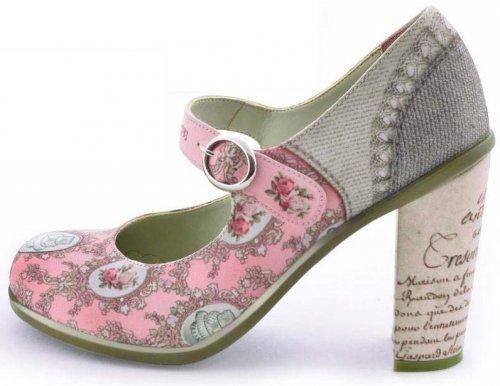 Hot Chocolate designs are fun – there's no other way to describe them. Each style is unique, colorful, bright and cheeky. The Marie Antoinette pair offers a covering that changes the look from a Mary Jane style to a full bootie. These are great shoes to express your individuality in a youthful, stylish, high-quality way.
Marie Antoinette has a fabric upper that carries a vibrant, humor-filled and youthful print, consisting of Marie Antoinette on the right and her famous cake on the left. The heels also come with a slipcover that converts them to lace-up booties for a completely new look.

The inner sole in this pair is cushioned and designed to support the arches, making them perfect for overpronators. They will provide comfort all day so that you can concentrate on all the fun you're having and not worry about sore, painful feet.

With the Hot Chocolate Marie Antoinette, you are getting a comfortable, high quality, unique design with an updated yet vintage style. The soft fabric lining will help keep your feet comfortable along with the great arch support and cushioned inner sole.

6

. L'Artiste Wondrous Dress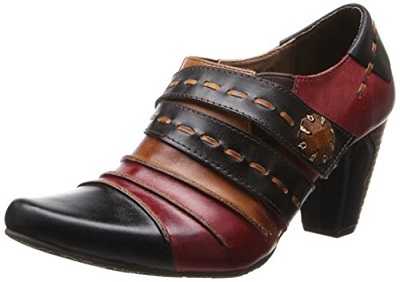 L'Artiste by Spring Step makes a number of bootie pumps in a variety of unique cut, painted leather, and embossed styles. The Wondrous Dress is hand-painted and features details that give it an overall vintage-inspired Bohemian-chic appearance. It also comes with a stacked heel at a reasonably low height of 2 ½". The width of the heel makes it much easier to walk in without the wobble.
The style of this boot is ready for work or play. It features hand-painted leather blocks, a decorative button, vamp stitching, and leather whipstitching details. Available in three color variations from red/black, red/yellow and blue/green, there is a palette for everyone.

For those that are not accustomed to or not comfortable with a slim heel, the wider stacked heel on this bootie makes it very easy to walk and stand-in. There is no risk of slipping off balance in this heel. A padded insole increases comfort levels.

The L'Artiste Wondrous Dress is very durable and high-quality. It will last longer than many other options, which increases its value, and it is a unique, stylish, and chic choice that is both casual and work-appropriate.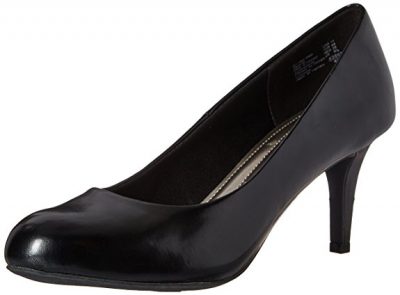 The Predictions Karmen is a very cute, moderate height heel at 3". It is available in some unique colors including olive green and merlot and either faux suede or synthetic leather. This shoe offers decent traction on most surfaces and a softly rounded toe for comfort. With very traditional lines and two textures to choose from, you will find a pair that suits most of your outfits.
These heels are built with durable, though synthetic materials that will last well so long as you take care of them properly. Replace the heel lug as it wears for an even longer lifespan; for a slip-free experience, the sole is thick enough for scuffing to improve traction.

We love heels, but they can be incredibly uncomfortable along the midfoot and forefoot because of the pressure of walking in an elevated position. This pair of pumps come with a good quality memory foam insole to give you additional comfort and remove some of the pressure from the balls of the feet.

Since the Predictions Karen is so versatile, you may be tempted to grab three or four pairs, to match each of your outfits and add a bit of punch to your wardrobe. This heel will last if cared for well, and you will not regret investing in it in the long run.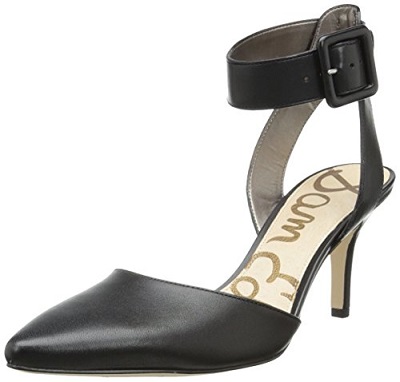 Sam Edelman is known for making high-quality, stylish footwear. The Okala is a twist on the Mary Jane with the ankle strap but open sides. Available in nude or black leather, you can count on this heel to be durable and made of quality materials. The colors will fit with almost any wardrobe and look as cute with a pair of jeans as they do with a skirt or slacks.
The elegant style of these heels will fit anywhere from work to play to a formal occasion. Mary Jane around the ankle, classic pump in front, they are sleek, simple, and fashionable. Down to earth and sophisticated at the same time, these are a great addition to any wardrobe.

Sam Edelman emphasizes comfort in all of his designs. These shoes are lined with genuine leather for comfort and breathability, have a gently rising midline to reduce strain and an adjustable strap for a great fit, all of which ensure a comfortable design that you can live in.

The Sam Edelman Okala is a quality, comfortable shoe in a style that is versatile and made for regular wear. It is a moderate heel but not so high as to cause strain in the mid- and forefoot. The leather material will also last, increasing the value of this design.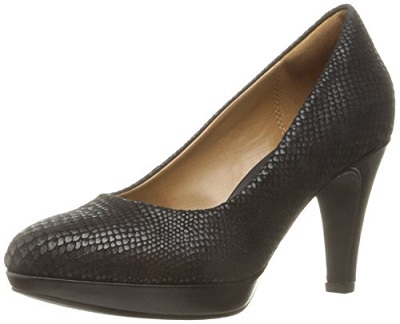 This is a platform heel from Clarks, a manufacturer of comfortable footwear. The Brier Dolly features a comfortable footbed, a broader heel that is easier to walk in and a platform that adds height without adding more instability. Available in muted and dark colors in a choice of textures, this shoe is versatile, easy to walk in and will not leave your feet pained at the end of the day.
The Ortholite footbed in this shoe is a large part of what makes it so comfortable. From heel to toe, your feet will feel pampered through long hours at work. Other comfort elements include the breathable leather upper and lining.

The Brier Dolly is a classic design upgraded with modern style elements – like availability in gloss and snakeskin uppers, a modern platform and broadened heel that makes walking in its 3.25" heel so easy.

This shoe is durable, very comfortable, goes with almost anything. You will be proud to wear it to work for a long shift. Clarks knows comfort but they also know clean, classic styles.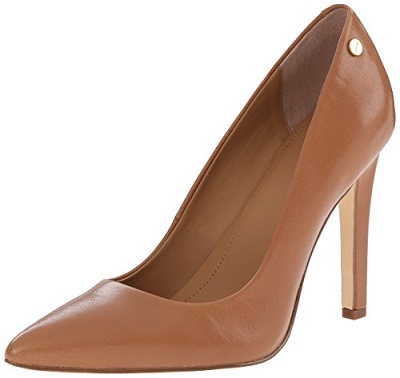 The Brady is a classic stiletto with a 4" heel, elegant lines, and a great quality build. You cannot expect less from the Calvin Klein brand. Available in classic colors – light brown, black and an off-white with a brand detail just below the ankle, this shoe will fit your best power suit, your favorite skinny jeans or even an elegant, flowing wedding gown.
The Brady is the definition of a classic stiletto. It has long and elegant lines that enhance and emphasize your feet, elongate your leg and say power, style, and confidence.

The upper of this pump is 100% leather, while the lining and insole are also leather. This construction makes for a breathable and durable design that will last a long time if cared for properly. Leather is also easier to clean and treat than many other materials.

For a classic made of durable and high-quality materials, the Calvin Klein Brady represents a real bargain. The heel will not trend out of style and will remain a favorite part of your wardrobe for many years.

Subscribe to our Newsletter