Best Steve Madden Shoes Reviewed & Rated
In a Hurry? Editors choice:
Test Winner: Khloe

This designer owes his success to his innate understanding of trends in fashion. Steve Madden shoes speak of authenticity, individuality, always with a twist – with a new way of looking at the world. His inspirations are rock and roll, thanks to his New York background, as well as many different cultures he has gotten to know through traveling over the years.

From chic and sophisticated heels to laid-back, effortlessly casual sneakers, Steve Madden shoes offer a wide variety of footwear. If you are looking for high quality, for comfort and support without sacrificing style, and all of it for a reasonable price, then a pair of Steve Madden shoes are an excellent choice!
Standout Picks
Criteria Used for Evaluation
10 Best Steve Madden Shoes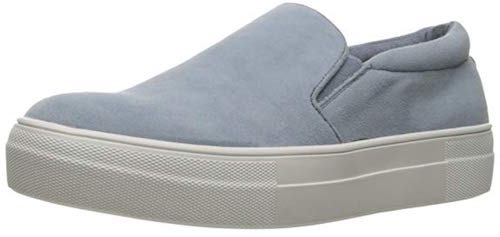 The Gills is a classic round-toe slip-on Steve Madden shoe that is an all-time favorite this season. It has twin gore panels on the vamp for easy wear, and an upper constructed out of a variety of materials - suede, lurex, leather or synthetic - and in a variety of colors. We are in love with the glittery version - casual and yet eye-catching! This Steve Madden shoe has a 1.25-inch platform synthetic sole and synthetic lining. It is bound to bring a touch of chic to your everyday style!
In this busy era when everyone is rushing and late for this meeting and that appointment, saving time is a luxury. With its slip-on design the Gills does just that - you don't need to bother with complicated lacings or unreliable zippers, just slip this Steve Madden shoe on and you're good to go!
One of the many benefits of this particular Steve Madden shoe is that it elevates your height while still keeping you comfortable. You don't have to wear painful high heels to get that boost, as the thick sole of this sneaker cushions your steps and guarantees a smooth, effortless ride.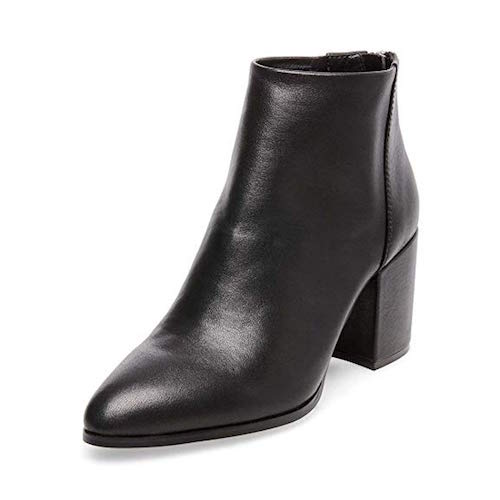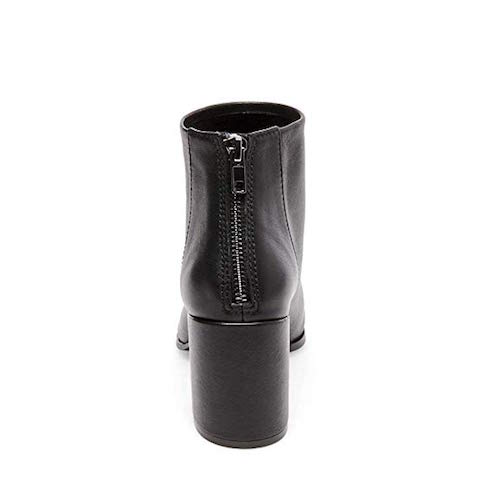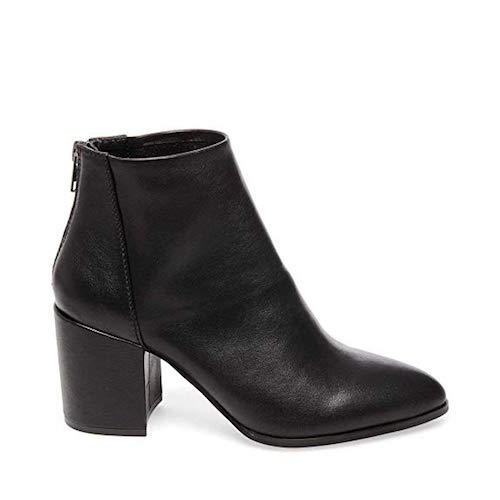 These ankle boots are a great purchase for anyone who needs a versatile pair of footwear that can be paired just as easily with a skirt or dress, as it can with your favorite skinny jeans. The Jillian is a classic style, ideal for casual wear, but thanks to its great design, it can be dressed up for the office or nights on the town. It can be purchased in three color options - black leather, black crocodile leather, and natural snake, all of which are easy to coordinate with most fall/winter outfits.
The upper of the Jillian is made with leather, which makes it a great choice for those who want the best quality footwear. This material is soft and supple, with natural breathability, and it molds to the foot with wear, so you'll have the pleasure of wearing perfectly broken-in footwear. The back of the heel features a zipper for easy on and off, and it serves the double purpose of adding a bit of decoration to an otherwise simple pair of shoes.
These booties have an almond toe that looks elegant but is more comfortable than standard pointed toes. The heel is 2 ¾ inches high, and this makes it ideal for everyday wear - it's not too tall, but still provides some elevation. It's also a chunky heel, giving you a greater surface to put your weight on. The synthetic sole works on all surfaces, so you won't have to worry about wearing these in less than ideal weather conditions.
The price of the Steve Madden Jillian is slightly above average, and it's a great investment considering how easily it can be worn on almost any occasion.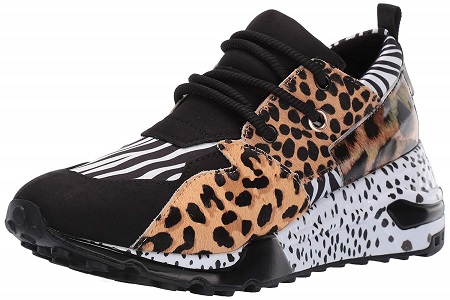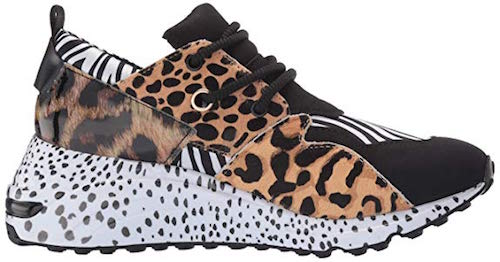 The Cliff sneaker is a more unique Steve Madden shoe design and sits comfortably at the intersection of high fashion and modern-day streetwear. The 2.5" wedge and bold color blocking make this Steve Madden shoe one that definitely stands out from the rest. The Cliff is available in a wide range of colorways, ranging from wild animal prints to vibrant metallics, with multiple colors and textures being prominent in each option.
Platform and wedge sneakers are an uncommon design that often comes off as looking clunky or cumbersome. This is not the case with the Cliff, however. While the unique color blocking does make the wedge on this Steve Madden shoe stand out more, it is done in a manner that adds to the overall style rather than detracting from it. There is also a half-inch platform, which makes this Steve Madden shoe more comfortable and the overall wedge less jarring.
Something that is important with every shoe is support. The right support can make a world of difference and is often a determining factor in terms of overall comfort. While the Cliff does not sport any unique technologies in this regard, the overall build of the shoe is very supportive, especially for those with flat feet.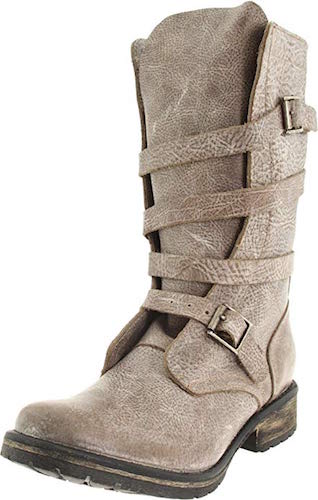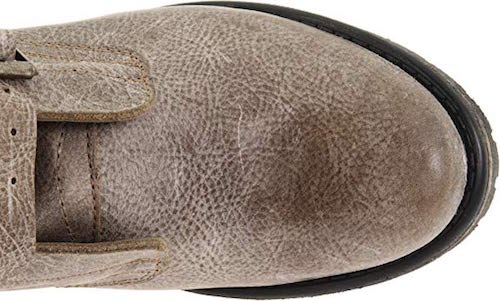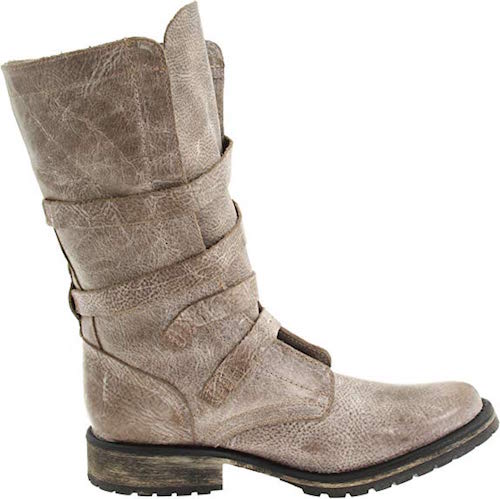 Nothing will ever look as cool as a great pair of motorcycle boots, and if casual chic is the look you're going for, the Banddit by Steve Madden is definitely the right choice for you. This pair of boots will look simply amazing with jeans and skirts and is an excellent choice for all-day wear. You'll also find that these can be purchased in three color options - the classic black, an earthy brown, and a stone-colored version that's slightly more casual, and definitely unique for this type of footwear.
The upper of the Banddit is made with genuine leather which makes it a great choice, considering the natural material's properties. It is secured through multiple straps with two-point buckle closure, and this gives the boots a unique look. The straps can be adjusted to allow for more or less space for the foot, but you can also set these up so that they're slip-on, which is great for those who tend to get ready in a hurry.
The Banddit has a chunkier sole than most other models listed, and this is a great feature for those who prefer a bit more protection. The rubber has traction lugs to grip soft and firm surfaces, and will even work on wet surfaces. The heel offers 1.25 inches of elevation, making the Banddit a great choice for everyday use, seeing that it won't put too much pressure on the ball of the foot.
As for cost, this is one of the more expensive products on this list, but it's also one of the sturdier options out there, so it's highly recommended for those who want a great looking pair of boots that are definitely going to last.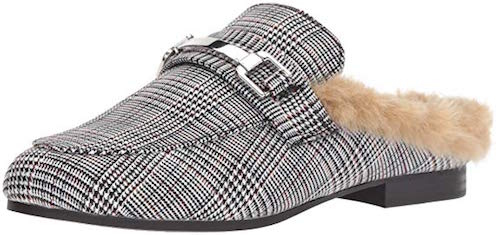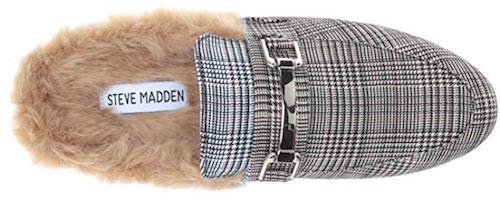 Nothing says comfort like a pair of fur-lined mules, and the Khloe is an amazing pair of footwear that manages to combine elegance with leisure. It's the perfect choice for casual outings and running errands, seeing that it utilizes a bit loafer silhouette, all the while keeping you as comfortable as if you were wearing a simple pair of slippers. The Khloe can be purchased in two color options, either a black leather one or a plaid textile version.
The lining in the Khloe is made with faux fur which serves multiple purposes. In terms of appearance, this material gives the mules an exclusive look. In terms of insulation, the fur keeps heat trapped, ensuring that you're toasty warm regardless of the temperatures outside. Additionally, the faux fur also acts as a cushion on top and underneath the foot, keeping you comfortable throughout the day, preventing any rubbing or pain.
These slip-on shoes have a synthetic sole with a minimal heel, which works to their advantage in terms of weight. Being very light, these won't feel clunky and will allow you to wear them all day long without becoming fatigued. Additionally, the open heel means that you won't have to worry so much about the fit, and it adds breathability to this warm pair of footwear, keeping you dry even when you've walked a lot.
The price of the Khloe is slightly below average, which makes it an excellent choice for anyone on a budget looking for a good mix of formal and casual. While they may not be appropriate office wear, they will look great when worn with casual outfits.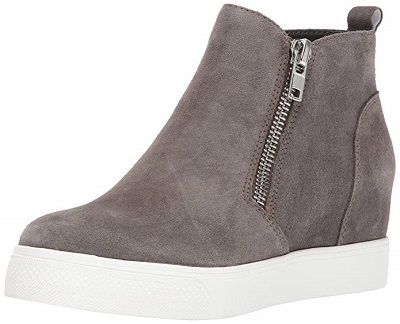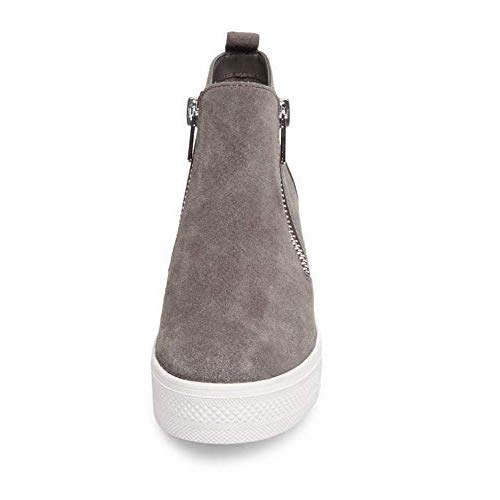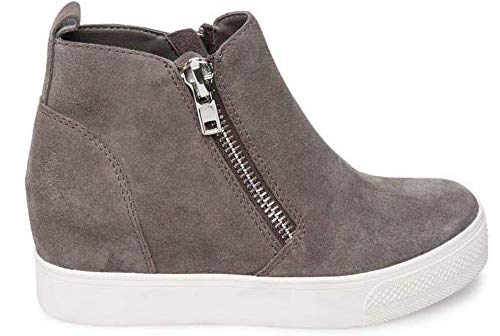 Get ready for a little rock'n'roll glam in the Wedgie. This Steve Madden shoe has a hidden wedge sole of about 2.75 inches in height, and a one-inch platform all around. Its upper is made out of soft suede with dual side zippers for quick and easy wear. You will enjoy the slip-resistant rubber sole for added stability and the gentle fabric lining which won't cause any discomfort to your feet. The Wedgie is a Steve Madden shoe that will elongate your silhouette and complement any casual outfit with its sexy, laid-back style.
Even though you can't see it in this Steve Madden shoe, it's there. The Wedgie has all the hallmarks of a classic wedge, except that it's hidden. This makes the sneaker effortlessly casual in appearance, comfortable to wear, all the while taking excess pressure off of the front of your foot.
Suede is a soft, malleable fabric which promotes proper airflow through the sneaker - allowing your feet to breathe and creating a healthy climate. It also changes shape over time to accommodate your foot, thus providing you with easy, customized comfort.
The Wedgie sneaker is in the lower range of cost, compared to other models on our Steve Madden shoe list. It is a uniquely fashionable design, one that we can't help but admire. Despite having a hidden wedge and a platform, it is incredibly easy to walk around in, and if you're into these sort of rock glam designs, we see no reason why you shouldn't get the Wedgie.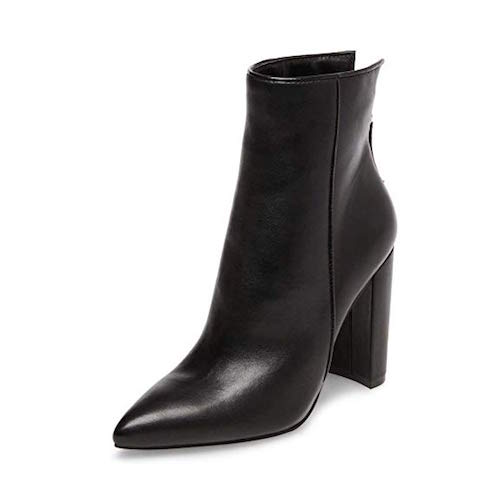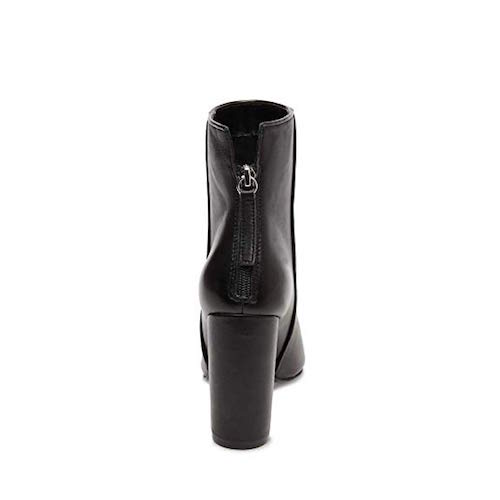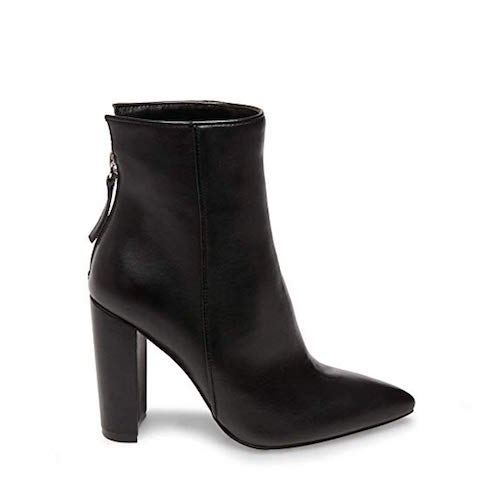 These ankle boots are one of the most elegant models on this list. They're ideal for work and casual occasions, and can even be worn to parties thanks to the classic silhouette. The Trista can be purchased in two color options - black and white, and it will look great with absolutely any outfit, from jeans to cocktail dresses - the possibilities are endless.
The upper of this pair of ankle boots is made with leather, but there are also fabric versions available. You'll find that it's relatively easy to care for, and will break in nicely with just a few wears. The closure system utilizes a zipper at the back of the heel which allows easy entry, and makes on and off much quicker than traditional laces or buckles.
The heel of the Trista is made to be chunky and stable and offers a whole 4 inches of height. While this will put pressure on the ball of the foot (which may get to be a bit too much combined with the pointed toe), it also allows you to put a great deal of weight on the heel, which is properly supported and minimizes discomfort.
In terms of cost association, the Trista ranks around average, making it a great option for anyone who's ready to invest in a quality pair of footwear, but still wants to get something that can easily go from casual to elegant.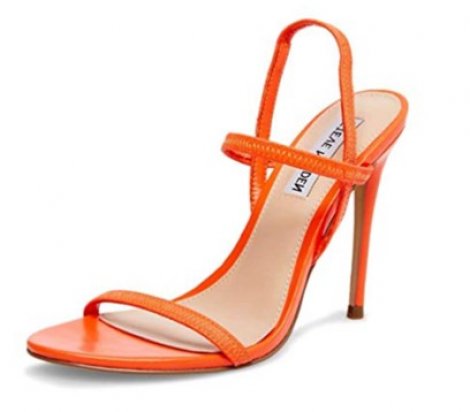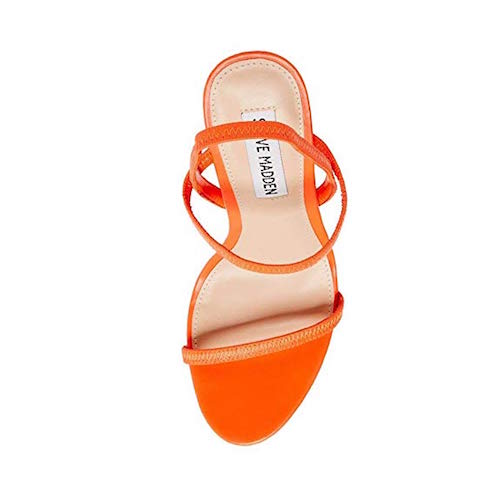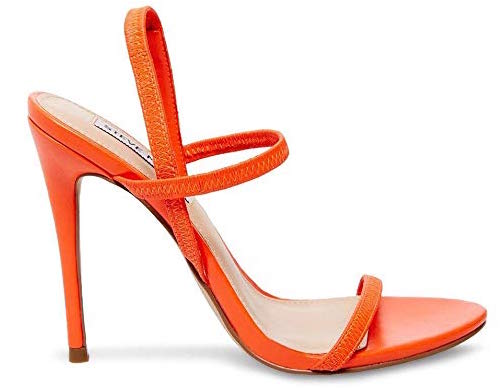 This sassy little Steve Madden shoe is going to have you turning heads! The Gabriella is a strappy, tall stiletto heel, with three straps constructed from elastic to hold you in place. Available in several colors, it's a Steve Madden shoe not for the faint of heart. This stunner was made for hot evening dates, or bringing a pop of color to your little black dress.
The Gabriella measures a heel at 4.25 inches in height, giving you a confident boost over the crowd, and lengthens your legs for those shorter dresses and skirts. It's lightweight, breathable, strappy design helps keep you cooler in the heat, and a man-made lining provides a bit of comfort. Synthetic soles are patterned with ridges to help give some traction for slippery floors or surfaces.
The great selling point about this Steve Madden shoe is the elastic straps which keep you inside the heel. Having been made from elastic, it allows for an adjustable fit which won't be super tight on or across your feet. A toe strap, as well as dual ankle strap, create a sexy appeal, dressing up that date night outfit to make a memorable evening. Step out to your next big adventure in this Steve Madden shoe stunner!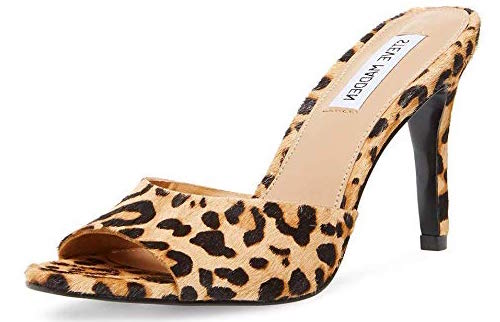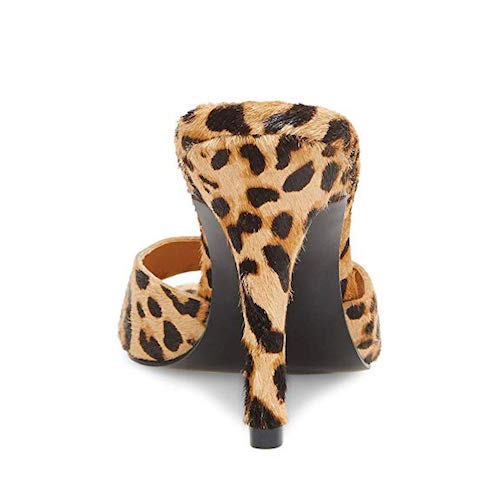 This modest height mule from Steve Madden shoes mixes together the perfect blend of sophistication, sassy style, and color for your viewing pleasure. The Erin Pump is an easy slip-on style mule, with many different hues ranging from neutrals to brighter oranges and yellows, even snakeskin print. Uppers of this Steve Madden shoe are made from different materials based on the color you get, and they range from plastics, to suede, and even horsehair. It's a solid pump for business and casual occasions.
This Steve Madden pump is easy to slide on, easy slide off, and has an open peep toe design for showing off a fresh pedicure for summertime. It's open and airy, perfect for warmer weather, and with a man-made lining to help keep you cushioned and cool, it's an ideal Steve Madden shoe for hot days or nights. A man-made synthetic sole has a bit of patterned tread to help keep you from slipping, and provides decent cushion throughout the day.
Available in several bright color options as well as neutrals, the Erin Pump is one style that can pair with many items in your wardrobe. Adorable snakeskin print is versatile for any solid color, while brighter blues and pinks can be worn to dress up a monochrome outfit or dress. With uppers that range in texture and look, you'll find a Steve Madden shoe perfect for you in the Erin Pump!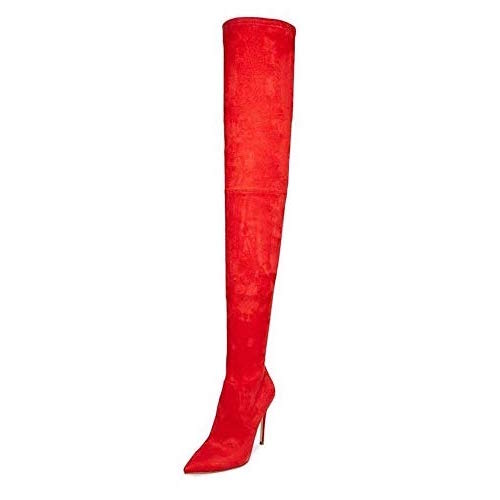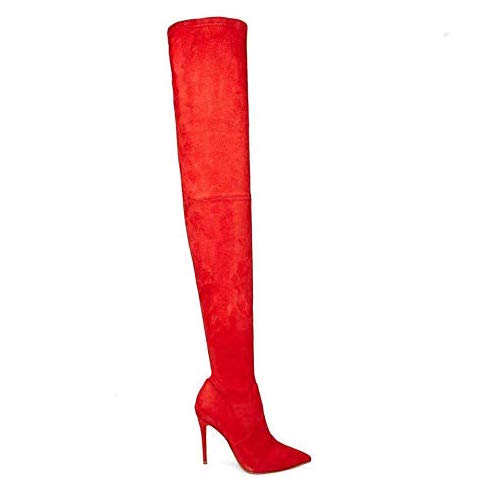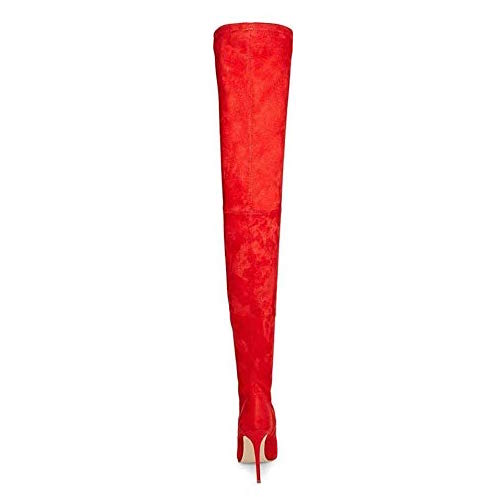 These incredibly sexy boots are the ideal choice for when you want to dress up, but still need the warmth and protection of a high style. These thigh-high boots come in several color options, including classic black which can be bought in either faux suede or synthetic leather, as well as red, neon-leather, natural snake, and white. What this means is that you can go with the option that will compliment your outfits the best, and you'll be on your way to looking amazing on any occasion.
The materials used to make the Dominique boots are synthetic. They can be purchased either in microsuede which appears like natural suede but doesn't use animal products, or a stretch PU which is slightly more resilient to wear and clings to the legs for a streamlined appearance. There is no closure system on the Dominique, which means that putting these boots on will take a bit of effort, but luckily the materials allow for a good amount of stretch - this favors those with wider calves as well.
You'll also find that you can wear these boots all the way up, or fashion them into something more slouchy for a laid back look and feel. The 4-inch stiletto heel looks amazing, adding to an elongating look, and pairs well with the pointed toe. The outsole is synthetic for a lightweight, durable experience.
These are one of the more affordable thigh-high boots of this type, and seeing that they are worn by celebrities, including Cardi B, you'll definitely get your money's worth. They're a great investment for anyone who likes to show off.

Subscribe to our Newsletter