Best Sexy High Heels Reviewed & Rated
In a Hurry? Editors choice: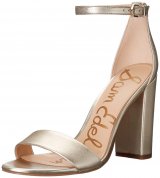 Test Winner: Sam Edelman Yaro

Nothing looks as great as a pair of sexy high heels. Pumps and high heeled sandals are feminine footwear options which can make you look incredible and feel great about your body. In addition to elongating the line of the leg, defining the calf muscles and having an overall slimming effect, these shoes also change the way you walk and stand. Plus, a pair of sexy heels can highly boost your confidence, which is ultimately what makes someone truly attractive.

The list below looks at the highest-rated sexy high heels currently available for purchase. These include strappy sandals, lace models, chunky platforms and even some unique designs that will draw attention to your feet. You are sure to find something you like and can rest assured that all the items listed offer great value for money and even a high level of versatility so you can wear them anywhere.
Standout Picks
Criteria Used for Evaluation
10 Best Sexy High Heels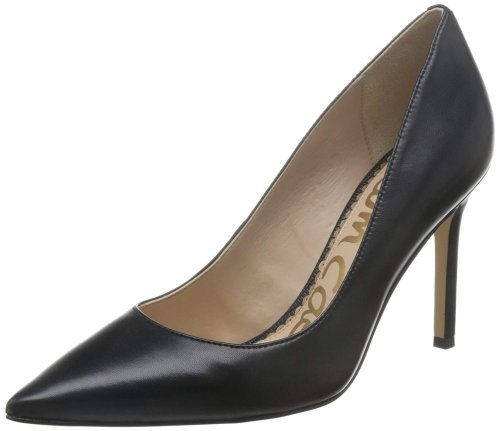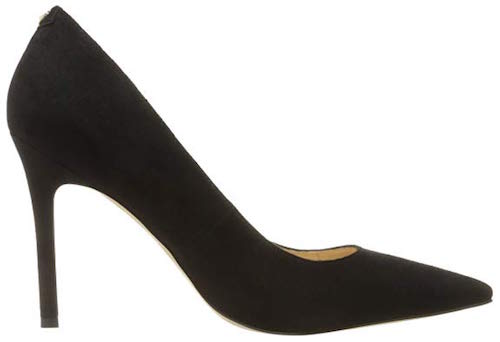 The Sam Edelman Hazel Pump is a towering pair of heels that boast a provocative upper and a sky-high heel. If you're in search of a pair of sultry foot apparel with some serious lift, then these are the answer to your prayers. Despite the Hazel stilettos' staggering height, they're surprisingly easy to move in, and you won't find that walking is particularly difficult.
These Sam Edelman heels feature a stiletto heel that brings some serious oomph to any outfit. Their pointed toe design paired with a colorful upper material makes for a seductive silhouette that's guaranteed to impress. The Hazel Stiletto is available in countless colors and patterns so you can match any outfit you pair it with.
The Hazel Stiletto from Sam Edelman is the perfect pair of high heels and can add that extra level of saucy to any performance. But these high heels aren't just for wearing while you're on the stage, they're perfect for any occasion that requires some added allure and always take center stage no matter the location.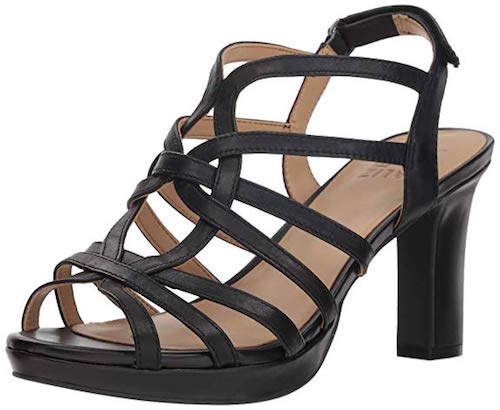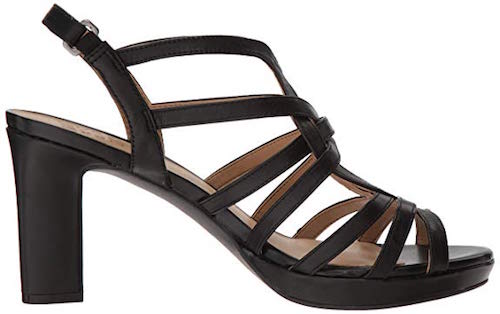 This pair of strappy sandals by Naturalizer makes for an excellent choice for both everyday wear, as well as special events and nights on the town. Made by a company that focuses on comfortable footwear that looks good, you can expect the Flora to feel great on your feet, no matter how much dancing you're doing. The intricate straps show you off in a way that is sure to complement a number of outfits, from short dresses to skinny jeans, and even some dressed-up outfits.
The upper of the Flora is made with leather and suede for the best possible wearing experience. These natural materials offer just the right amount of flexibility so that you get a fit that breaks in just right, while the heel hook and loop strap helps you find the right amount of support.
The footbed of the Flora is contoured for the right amount of support, while the platform allows for added space for cushioning. This will lessen the impact on the ball of the foot, while the chunky heel increases stability while walking. The outsole is non-slip for maximum protection, and it will work great on all surfaces, both indoors and outdoors. As for cost, the Naturalizer Flora makes for one of the most affordable options on this list, which means that it's a suitable option for all budgets.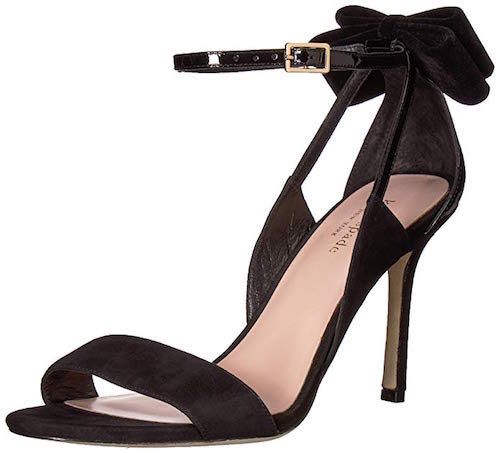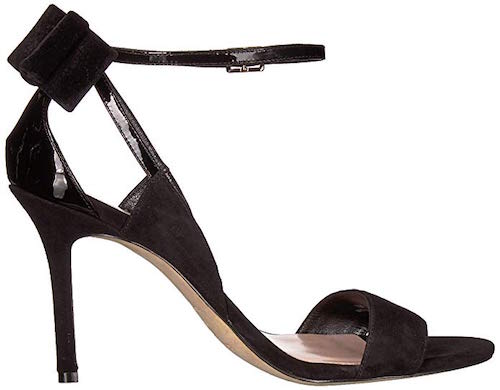 These black suede sandals by Kate Spade are the perfect choice for those who prefer to show a bit of skin. In true Kate Spade fashion, the Ilessa offers a great combination of sexy and feminine through the use of cutout sections that show flashes of skin. This model can also be purchased in nude suede, which gives a seamless look to the feet, elongating the leg and making you appear taller, slimmer and like you're wearing no footwear at all.
The great thing about these sandals is that they're made with high-quality materials. The toe strap and instep straps use suede, a softer form of leather that will break-in easily, without causing discomfort or blistering. The straps use patent leather, and the ankle strap has a metal buckle that allows you to adjust it for the best possible fit.
As for the footbed, it's lightly padded to ensure some shock absorption while walking, protecting the ball of the foot. The 3.75-inch heel is tall for long-term wear but will work well for special occasions, parties, and events. As for price, these sandals rank higher than average compared to the other items listed, but if you're after a beautifully crafted pair of footwear, the Ilessa is definitely worth checking out.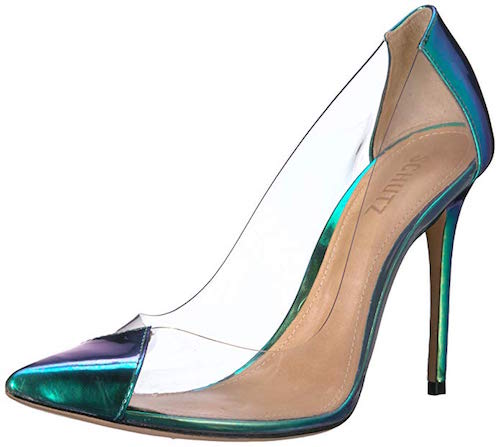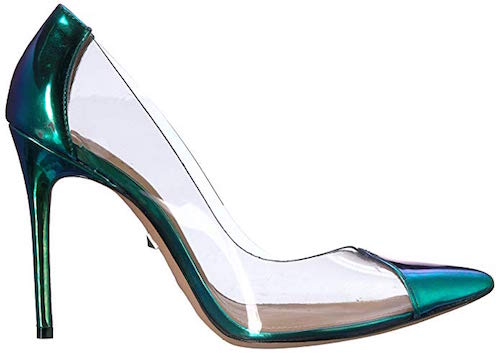 What makes these pumps by Schutz such a popular choice is their unique design that combines a classic silhouette with the futuristic appearance of vinyl uppers. The Cendi comes in a number of color choices, from classic black and nude patent leather options to neon colorways, holographic versions, and even metallic variations. This means you'll easily match these to your favorite outfits.
As already mentioned, the Schutz Cendi features a classic pump silhouette with a pointed toe, a nicely cut vamp that will compliment any foot shape, and a 4.25-inch stiletto heel that is perfect for nights out and special events. The material used is Cowhide leather which is extremely durable, easy to maintain and breathes well, while the lining and sole use leather as well, offering a comfortable wearing experience.
You should keep in mind that the leather sole of the Cendi has some advantages, but also some disadvantages. While it will provide you with a flexible and naturally cushioning surface to walk on, it will not be suitable for wear in wet conditions. As for cost association, this pair of high heels ranks average compared to the other items on this list, making it an overall great choice, especially because it's highly versatile, and can look as sexy or as demure as required (depending on the outfit you pair it with).

5

. Badgley Mischka Veronica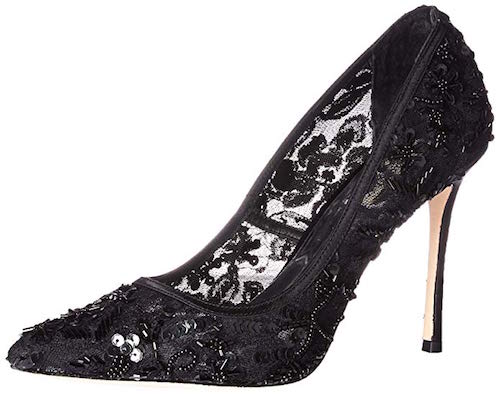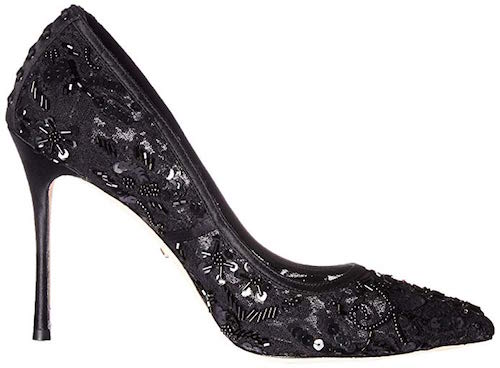 If your idea of sexy includes a little bit of lace, then the Badgley Mischka Veronica was made for you. This pair of classic pumps is the ideal choice for anyone who wants something that will draw attention to your feet, without actually going overboard. You can pair these with any outfit in your wardrobe, and you can even go with the ivory pair for a bridal look. Pair these with a gown for an elegant look, or wear them with your favorite short dress for a night at the club.
The upper of the Veronica pump is made with delicate lace and is available in black or ivory. There are sequins and beads embroidered, and not only do they give a slight shimmer to the look, but they also make it more luxurious in appearance. The heel is a staggering 4.25-inches tall for a sexy look, while the rest of the shoe uses the highest-quality materials to ensure a happy wearing experience.
The sole and footbed of the Badgley Mischka Veronica are made with genuine leather which ensures two things. For one, leather is breathable and soft to the touch, so you can wear these without hosiery and show off your legs. The second advantage is the material's pliability and durable nature that means you'll be wearing these for years to come. As for cost, the Badgley Mischka Veronica does sell at a price that's higher than average, but on the whole, this brand's footwear is an excellent investment, regardless of the occasion you're shopping for.

6

. Guilty Shoes Cutout Gladiator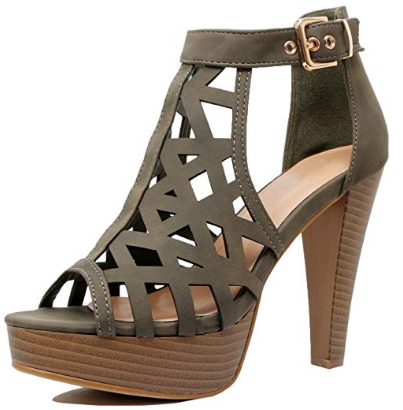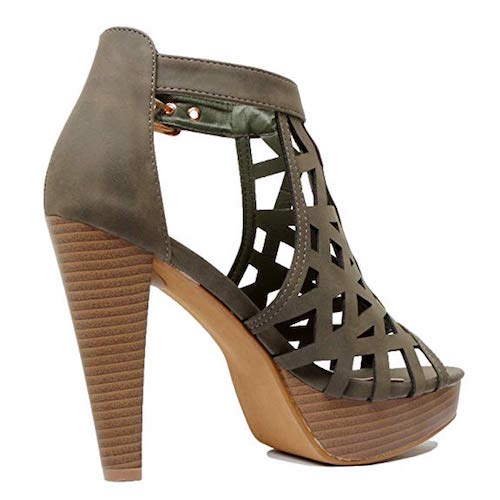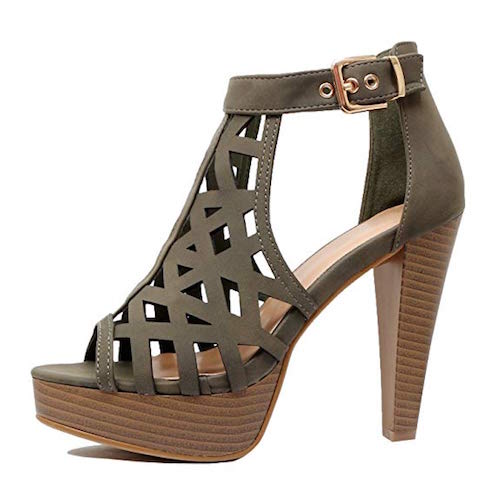 The Cutout Gladiator from Guilty Shoes is a great example of classic yet sensual footwear that's as comfortable as it is sublime. These block-beauties come in nearly twenty style variations so you can rock a different pair for every day of the week. There are so many colors and styles to choose from you won't have any trouble matching them to your favorite outfit, and they're so comfortable you'll want to wear them all the time.
Guilty Shoes' Cutout Gladiator features a lightly cushioned footbed that provides just the right amount of padding without any excess bulk. A stylish ankle strap offers an added layer of protection and security while ensuring that your foot stays firmly in place, preventing unnecessary flopping or sliding. Their chunkier design allows for a more natural stride and eliminates the need for constant gripping of the toes that can lead to foot pain.
These Cutout Gladiators ooze sexuality and present an impressive design that's sure to turn more than a few heads as you walk past. Their 1.25-inch platform and 4.25-inch back make them an alluring pair of sandals that will fast become your favorite go-to footwear when you're in the mood to wear a pair of sexually charged sandals.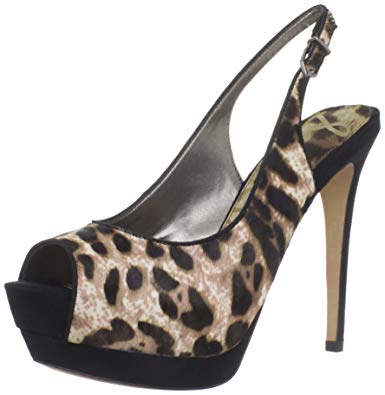 The Penelope from Sam Edelman is as alluring as it gets! These stunners are available in over multiple patterns and boast a towering 5-inches for some serious lift. The Penelope has a sexed-up silhouette and lustrious peep-toe design that lets you show off your sparkly new pedicure and is the perfect choice of footwear for formal events, dressy occasions, or just for a night out on the town.
The Penelope is crafted from lightweight and airy man-made materials that allow for adequate ventilation and prevent overheating. Sweaty feet can lead to a build-up of odor-causing bacteria and increase your chance of developing painful blisters, which is why airflow is so important in footwear. These Sam Edelman's have a TPR rubber outsole that prevents slips and keeps you stable even on slippery surfaces and a comfy faux-leather insole that's lightly padded to prevent foot fatigue.
This bold yet dainty foot apparel has a gorgeous silhouette and features a peep toe design that's fun and flirty. Their wraparound ankle strap and slender 5-inch back make for an alluring structure that commands attention and is perfect for formal, dressy, or special occasions.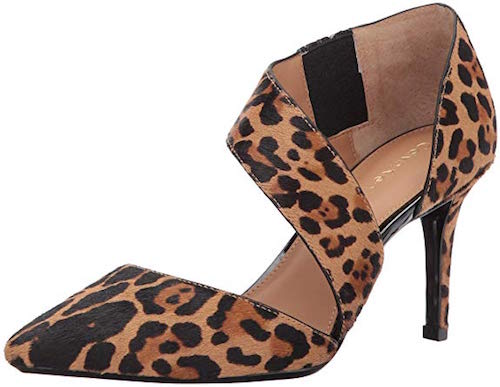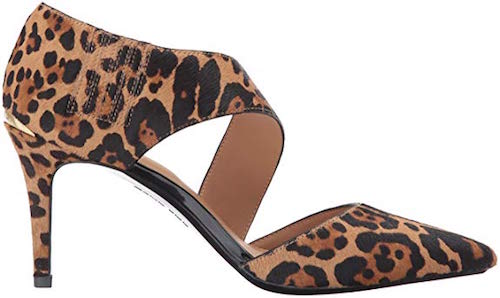 This pair of dress pumps is the ideal choice for those who want an eye-catching silhouette that doesn't reveal too much skin. A modern reinvention of the D'Orsay pump, the Gella features a strap that connects the heel with the toe, drawing attention to the feet and feminine pointed-toe silhouette. Made by a reputable brand, it's a good choice if you're after quality at an affordable price.
The great thing about the Gella is that the upper comes in numerous versions, including leather and textile. You can opt for a classic nude patent, a brightly colored snake print, or even a camouflage pattern. The elastic gore on the inside of the foot ensures easy on and off, as well as wearing comfort, while the strap also ensures some support over the top of the foot, minimizing strain and fatigue.
The sole of the Gella is made with synthetic materials which means that these won't be as sensitive as shoes made with a leather outsole. You won't have to worry about walking on abrasive surfaces such as concrete, or about getting them wet. Gel pod inserts are placed in key areas for shock absorption and comfort, while the outsole includes a slip-resistant section in the forefoot that makes sure you're stable on your feet, no matter what. As for price, these rank below average compared to the other models listed, making the Gella an excellent choice for any occasion.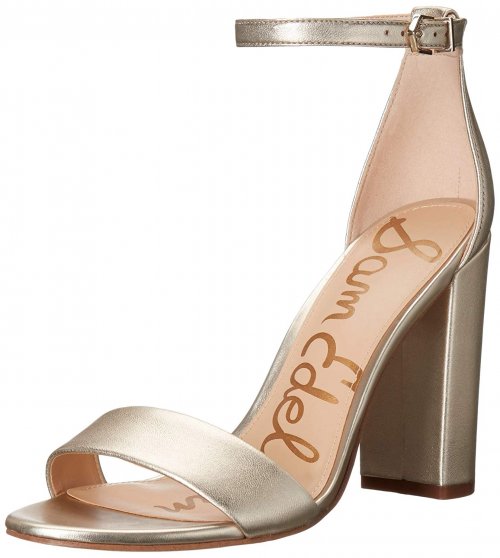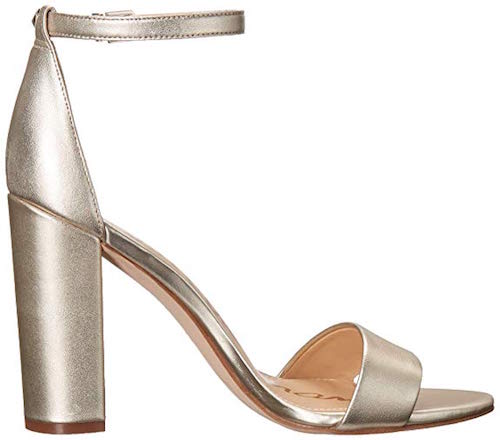 The Sam Edelman Yaro is made from 100% leather and has a classicly sultry structure that's perfect for work or play. Its medium-low heel height allows for easy walking, and its cool design complements any kind of outfit.
These Sam Edelman Yaro feature a 4-inch height that's the perfect level for easier walking. Despite the moderate height, these are still as alluring as can be and offer an airy open-concept design that's perfect for warmer weather.
These are easier to walk in thanks to their lower height and flat platform design. A raised platform makes it difficult to balance properly which is why the best design for walking in is one with a flat raise. Their low height offsets the minimal raise by encouraging a more natural stride.

10

. Pleaser Funtasma Juliet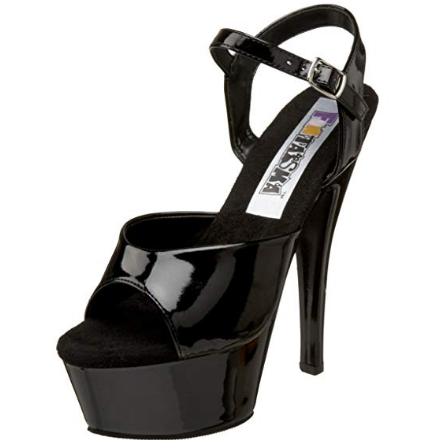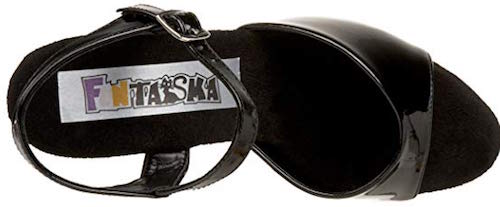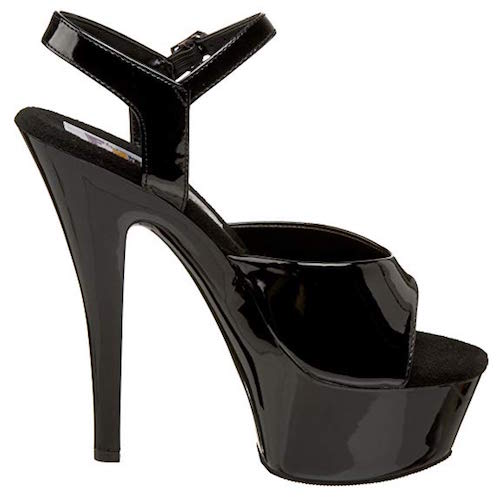 The Juliet from Pleaser is an affordable pair that is perfect for themed occasions, after hours parties, or just for whenever a naughty mood hits. Their 3.75-inch back and 1.75-inch platform provide that extra lift you've been searching for. The Juliet is a dangerously alluring heel that will put some hit back into your collection.
The Juliet is a towering heel that has a design made to impress. These heels appear higher than they are thanks to their 1.75-inch platform that gives them the illusion of a higher heel. They feature a cute ankle strap and side buckle closure that keeps your feet securely in place for a safe walking experience. The Juliette has an open concept upper and cute over the toe strap that hides the base of the toes and lets your toenails peep out.
The Juliet was originally designed as a costume shoe which means these sexy heels can be worn to themed parties or just as a pair of sultry evening footwear. Dancers everywhere have fallen in love with the Juliet's easy-wearing foot feel and sturdiness despite the higher platform.

Subscribe to our Newsletter