Best Stiletto Heels Reviewed & Rated
In a Hurry? Editors choice: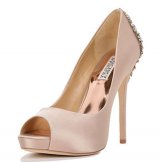 Test Winner: Badgley Mischka Kiara

Named after a dagger, stiletto
heels
are an attractive style of footwear that features a long thin heel of at least one-inch or more in height. The end of the heel is usually a rubber or metal tip with a small diameter of less than one centimeter. There are many different styles of shoes which can have it, including
boots
, sandals, and pumps. They accentuate a woman's legs, elongating and defining the calves in particular. But not just any pair of pumps are suitable for
any occasion
; those that are great for a night out, for example, probably won't be the best choice for a
Monday morning meeting
.
Standout Picks
Criteria Used for Evaluation
Features
There are many aspects of a certain style that can completely transform its appearance and functionality. The smallest detail can convert a once seemingly perfect pair of shoes for work, into next Saturdays hottest pair. The following style points are worth noting when it comes to a stiletto heel:
Heel Height: The height ranges anywhere from 1-inch to 10-inches, with the average height sitting around the 4-inch mark. Generally speaking, they can be painful to walk in. For a more natural walking experience try opting for a heel that's less than 3-inches, this will allow for a less labored stride.
Color: Color plays a large part in the professionalism of a shoe's appearance. For example, solid colors should be a first choice for the office, whereas most patterns should take a back seat. Patterns distract from the rest of an outfit and can quickly lower your professional demur. Neutral shades and colors like black, white, grey, and brown are the safest choices for work and usually pair well with any color outfit.
Material: Materials like suede, PU, leather, and synthetics are the best choices for a shoe like this. They are soft, flexible, and long-lasting while allowing for proper airflow around the foot.
Closures: There are different styles of closure systems available including, buckles, zippers, hook & loop, ties, and traditional laces. While zippers are the most straightforward option, a hook & loop is the most customizable. Traditional laces offer an excellent level of customized security and can also add to the shoes overall style, while ties can be a seductive option, imagine those long ties wrapped around your calf and left loosely tied at the back.
Platform Height: The height of a shoe platform is a major deciding factor in the overall wearability. The lower the platform, the easier it will be to balance and walk-in a shoe. Try opting for a .5-inch platform is you're uncomfortable walking in taller shoes.
Comfort
Let's face it; most high heels are far from comfortable. But that doesn't mean that you can't find a pair with a half decent level of comfort though, and the following features are ones to look out for because they can add an extra level of satisfaction:
Padded Footbed
Wider Toe Box
Lower Heel Height
Low Platform
Rubber Outsole

 
A padded footbed is a big bonus when it comes to comfort. Padding reduces the amount of pressure on the underside of the foot and lessens foot fatigue, while a lower heel height and platform will reduce the strain on your legs and feet preventing pain in the calves and underside of the foot.
A rubber outsole is always advisable because rubber is a non-slip material so you won't have to grip as much while walking. Gripping your feet tenses the muscles of the foot and repeated gripping movements can cause pain in the tendons and arch of the foot.
Style
Many people feel that this type of shoe just isn't practical or is even inappropriate for a more professional setting, but this just isn't true. A heel can be as professional as any other pair of shoes as long as an appropriate style is selected.
There are several different designs of shoe available that feature this kind of heel. Some of these designs are more work appropriate while others are best for your free time and it can be easy to confuse the two. The following are designs of footwear that can feature a thin heel:
Open-toe
Closed-toe
Closed-heel cup
Open Toe Sandals
Boots
Pumps
 
Pumps are the classic professional style and are a hit among working ladies everywhere. While other design options listed above are mostly suited for wear during your own time and are less appropriate to professional settings.
If you're going to be attending a formal event such as a party or wedding, you may opt for a simple or embellished sandal, which are often easy to pair and look great with both short and long dresses. For a high heeled look that's more toned down, you can go with a pair of ankle boots in a solid leather upper, pairing them with either jeans, skirts, or even a suit.
Fit
Getting the perfect fit with a pair of high heels takes both practice and luck. You should consider how you're going to wear your shoes - with hosiery or barefoot. The temperature may also influence the fit, as in hot environments, your feet will tend to sweat and swell.
The safest way to ensure a good and healthy fit is to try the shoes on, but that's not always possible. If you find that you've ordered a pair of shoes that are slightly snug, you may try to stretch them a bit to improve how they feel on your feet.
Although there is no guarantee that any method will work to stretch a shoe at home, there are several things you could try in an effort to make your shoes roomier.
Method 1: 
Try using a blow dryer to stretch out your overly narrow shoes, this is a simple method which many swear by. All you need to do is put on one or two pairs of thick socks and then put your shoes on. Keeping the hair dryer on medium heat, slowly blow the hot air over the entire shoe continuously, do not stop in one spot this can damage your shoe by overheating it. Continue doing this for roughly two minutes for each shoe.
Method 2:
Fill a freezer bag just over halfway with water and then place the bag inside of your shoe. Now put your shoe, with the bag inside of it, into the freezer and let the water fully freeze. Take your shoe out of the freezer once the ice has formed and allow 30-minutes for thawing. Repeat this as many times as necessary until your shoes fit properly.
Outsole
The outsole, or more simply, the sole of the shoe, makes direct contact with the ground and therefore supports the entire foot and body when in motion. Needless to say, a poorly-constructed outsole will lead to discomfort, slipping and foot or other bodily injury. For this reason, many manufacturers use materials that are water-, weather-, heat-, and impact-resistant.
Depending on the type of footwear, one will often see outsoles made from natural or synthetic materials, such as PVC, EVA, rubber and leather. Each of these has their advantages, depending on the shoe's purpose; however, as a general rule, they each are resistant to the aforementioned factors. They are also flexible enough to support a proper foot cycle when in motion, but they are not so flexible that they feel like a pair of socks.
Top 10 Picks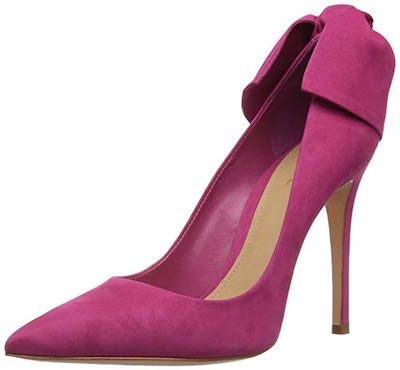 Schutz is a company that makes high quality footwear, and the Blasiana is no different. Produced in Brazil, it features a leather upper, lining and outsole, making it a lush-feeling and fancy-looking option for both formal and everyday wear. It comes in black, blush and pink, and features a floppy knotted bow at the back of the heel, bringing a romantic stylistic addition to an otherwise classic look.
A great pair of high heels will not only make you look and feel great, but it should also provide a number of comfort features that make up for the unnatural elevation and position your body has to assume in order to be able to walk. The Blasiana features a cushioned footbed that absorbs shock and comforts the forefoot throughout the day for a lower level of pain and discomfort.
The upper of the Blasiana is made with nubuck leather which is both breathable and soft to the touch, while the inside of the shoe is lined with further leather for a great wearing experience, regardless of whether you prefer to wear hosiery or not. Being made with natural materials, the Blasiana will allow adequate air flow inside the shoe, preventing moisture lock-in that can lead to blisters or other foot health issues.
The Blasiana by Schutz is one of the most expensive models on this list, which comes as no surprise considering the high end materials used in production, as well as the fact that this is a company which focuses on beautifully designed, comfortable footwear that can stand the test of time, both in terms of durability, as well as style.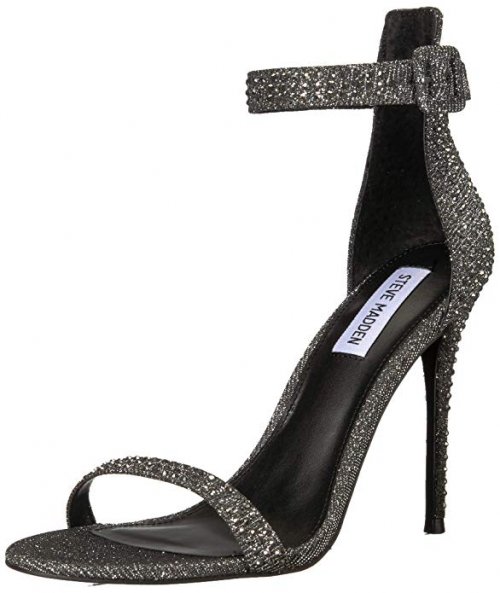 An elegant and classy open-toe stiletto, the heel on the Steve Madden Mischa comes in at over four inches long. Get ready to make a statement when you step out for the evening in these heels, as they offer rhinestone adornments and a delicate, feminine strap that add to the chicness of the wearer.
Despite having a four-inch long heel, the Mischa are secure to walk in because of their madmade rubber outsole, providing the grip you need to balance and move when wearing a heel like this. Regrettably, though, they probably aren't the most comfortable choice on our list, simply due to their heel height. But you know what they say, no pain, no gain!
Finally, the upper of the Mischa add a touch of class that is hard for competitors to replicate. The upper features a fabric construction with a metallic finish, formulated through a special process unique to Steve Madden. Each Mischa looks a little different because the process to manufacture them always results in subtle differences from build to build.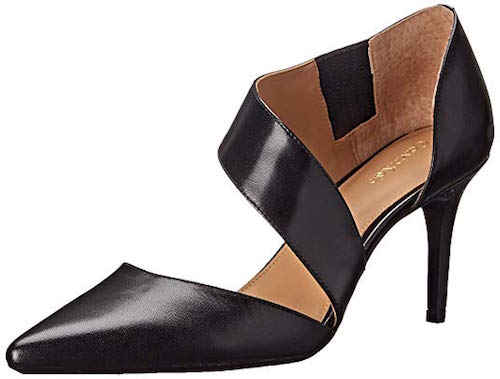 Those who are a fan of the asymmetrical look will simply fall in love with the Calvin Klein Gella - a versatile pump with a medium heel that's both stylish and comfortable enough for all day wear. Available in two basic colors - black and nude, as well as in a variety of prints, this is a style you'll want to have, whether to wear at the office or for nights out with friends. Best of all, it's almost a full inch lower than most other styles on this list, making it more forgiving on the balls of your feet!
Avoiding laces, zippers and buckles, the Gella is simple to put on thanks to an elastic gusset that also serves as an added comfort feature. The fact that the upper is made out of genuine leather is also a good thing, as it will mold to the shape of the foot without being too stiff.
When walking in high heels, the majority of your weight is shifted towards the front of the foot, putting a huge amount of strain on the metatarsal area, as well as on the knees and back. The padded footbed in the Gella helps absorb some of the shock that occurs when walking, thus eliminating some of the pain that inevitably comes with high heels.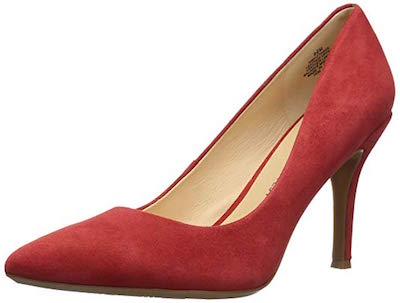 The Fifth by Nine West is the brand's latest signature pump that was made for those looking for a versatile shoe that will easily go from casual to office to formal wear. The pointed toe and 3 ¾ inch heel give it a classic look, while the huge variety of materials and colors allow you to find the perfect match (or matches) for your wardrobe. Whether you're looking for leather, patent, wool, suede, or a fabric print, you'll easily find a pair of Fifth shoes that'll match all your requirements.
Depending on the material you opt for, you'll see different performances, but it's safe to say that the latest edition of the Fifth is the brand's softest leather shoe available. The lining is also made with natural leather, for a breathable wearing experience, while on the whole, the shoe is easy to keep clean and looking new, with just a little bit of everyday care.
Differentiating the Fifth from their other models, Nine West have added a rubber anti-skid section in the forefoot area that'll allow you to get a better grip of the surfaces underfoot. That said, you'll also benefit from a material that's more resistant to abrasion and won't show scuffs as easily, so you can walk even on slightly wet surfaces, without having to worry about your footwear.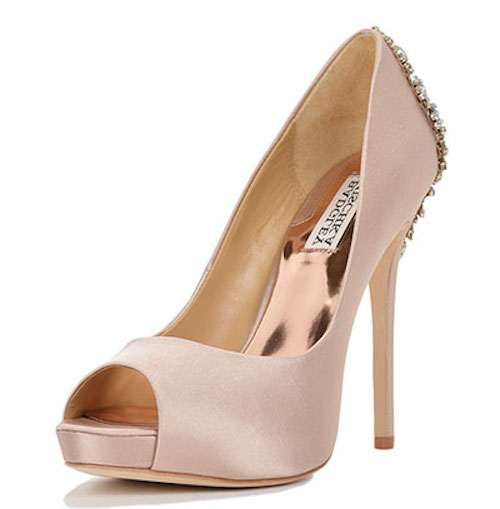 These heels are really something else, featuring an upper that's available in satin or soft velvet. The 11 color combinations range from white to blue, to purple and black, and all feature a handmade rhinestone decoration on the back of the heel which sets these pumps apart from any other pair of shoes you own. Whether you want to get these in a dark color to wear to formal occasions and nights of dancing, or if you opt for a white or ivory version to wear to your wedding, you are sure to be happy with these open toed beauties.
At 4.75" tall, these are the highest heels on our list, and they're absolutely stunning. With the addition of the platform and the open toe detail, they may not be the best choice for everyday wear, but you will adore wearing these on special occasions.
While most footwear uses leather or man-made materials for the upper, the Kiara goes a different way and offers something new. The luxe satin used in the making of these pumps is luxurious, shiny, and of a high quality, which definitely means more comfort for you - rather important if you plan on wearing them for a long time.

6

. Kaitlyn Pan Studded Slingback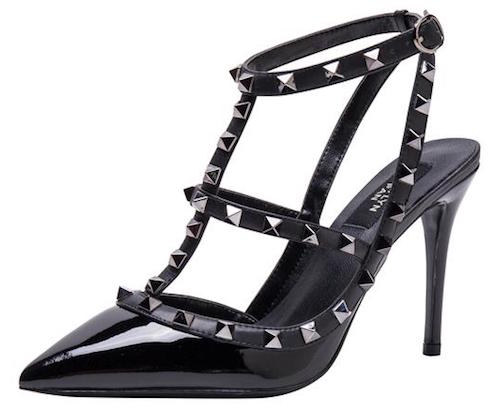 Looking for something a bit more rock and roll? Look no further! The Kaitlyn Pan Studded Slingback is a pair in a line of footwear by the designer that all feature the same style of studs placed over the upper and straps of this gorgeous shoe. Available in 20 color combinations, you are sure to find a pair that catches your eye - be it the nude patent leather or the monochrome red that will look amazing with almost any outfit you can think of.
The upper of these Kaitlyn Pan slingbacks is made with genuine leather for a luxurious feel. Featuring a lambskin insole that allows the foot to breathe, you will reap the benefits of excellent airflow and soft underfoot insulation that won't allow you to get too cold.
The lining in these is made out of microfiber, which is a great option thanks to its softness and breathability. Even more, the straps are also covered in this material, making them less likely to rub or cause any hot spots even with prolonged wear.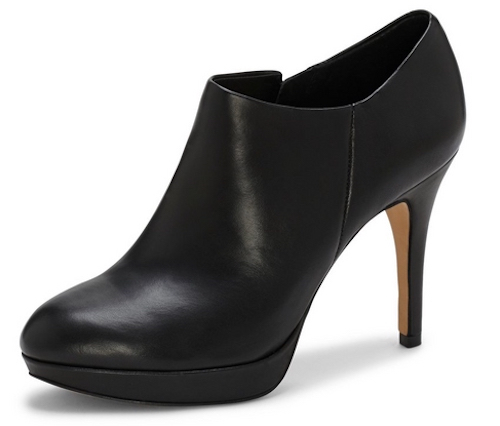 Even though you may not think a high heel is appropriate footwear for cold weather, the Vince Camuto Elvin is sure to change your mind. A gorgeous leather ankle bootie, this is a style you will want to add to your fall wardrobe. Available in three different variations: black nappa leather, caramel leather and black suede, the Elvin will look great with any outfit and color combination. Plus, it's rather comfortable compared to similar footwear, making it a good choice for when you want to look good, but still have to stand or walk.
Getting out the door on a busy morning is hard enough as it is, which is why complicated footwear with intricate closures can be a drag. The Elvin solves this with a zipper closure that'll not only allow you to put these on quickly, but to take them off just as fast.
Wearing high heels has consequences that most people are familiar with. The pressure that's put on the ball of your foot is bad enough as it is, so having a shoe which allows your toes to spread out naturally, and to grip the floor better is a smart choice. With these ones you'll get exactly that, thanks to the rounded toe.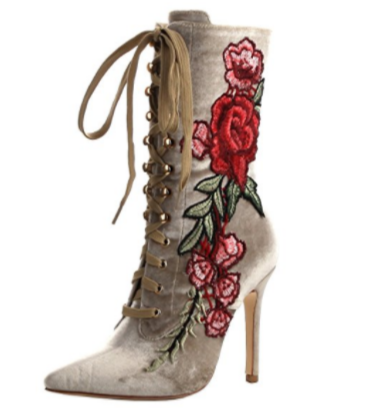 Cape Robins Embroidered Lace-up is a stylish mid-calf boot that boasts a sexy 3.75-inch heel. Made from synthetic materials and available in three colors: black, denim, and nude, these boots are sure to impress. They feature gorgeous full-length frontal statement laces and floral embroidering up the shaft making these the perfect pair of sexy boots for a night out, or just for strolling down the fashion strip.
These Cape Robins mid-calf boots feature unique and stunning embroidering up the shaft for a one-of-a-kind presentation. Considering the fact that this is a look that's extremely popular in 2018, it's a welcome refreshment in terms of style. Wearing these boots, you'll show off both your sense of fashion, as well as your legs.
The Cape Robins Lace-up is available in three colors: black, nude, and denim, so you won't have any trouble matching these boots with your favorite outfit. The Cape Robins unique appearance makes these a bold pair of footwear.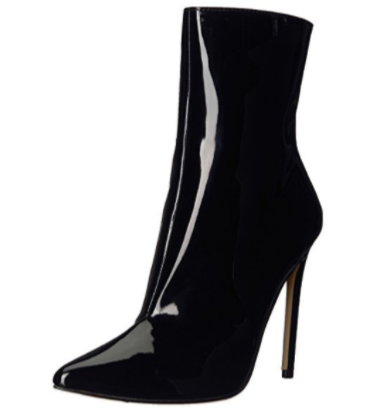 Taking the timeless style of the pointed heel a bit further, the Steve Madden Wagner is a classic yet modern rendition of the shoes we all love. Made with synthetic patent leather and a 4.5" heel, this bootie is available in four color combinations, including black patent, blush patent, black suede and a bold red suede - the option that's sure to turn some heads. Whether you pair these with some skinny jeans or a dress, you're sure to feel like a million dollars as soon as they're on.
Nothing elongates the line of your legs as much as a pointed toe and high heel, and the Steve Madden Wagner features both. These boots will accentuate your calves without revealing too much, or being too formal - perfect for nights of dancing and weekend outings with friends.
Thin heels are rarely appropriate for cold weather for one of two reasons - the first is that they mostly come in the form of pumps and sandals, which are simply not warm enough, and the second is that they are hard enough to walk in without the added obstacle of snow and ice. The Wagner eliminates the first of these problems, and is great for dry but cold weather wear.

10

. Badgley Mischka Marcela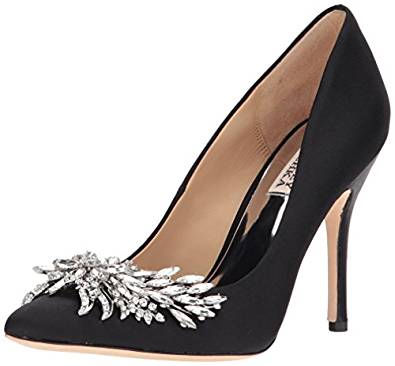 The Badgley Mischka Marcela is an absolutely stunning pump that is perfect for a big night out, wedding, anniversary or some other glamourous event where you want to shine. The crystal adornment on the front of the pump give it an elegant evening look and is perfect to complement your favorite dress. Rated by wearers as more comfortable than the average pump, you can look good and wear them all night long without fear of chaffing and aching.
The Marcela has a refined textile upper and is available in Ivory, Sapphire, Black and Violet. The upper gently compresses the wearer's foot, for a snug, but comfortable, fit. They are easy to pop on and pop off and can be cleaned easily with a warm cloth.
The leather outsole offers durability and a good amount of grip and traction, so you don't have to be worried about slips and falls. The only bad thing wearers had to say about the Marcela is that they can run a tad narrow, so you might need a half size up.

Subscribe to our Newsletter