Best Nude Heels Reviewed & Rated for Appearance
In a Hurry? Editors choice: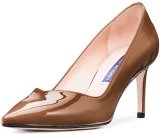 Test Winner: Stuart Weitzman Anny

When it comes to a category like nude heels, the options are pretty vast and endless. There are so many styles available that narrowing down even ten of the best is quite a challenge. The goal was to really focus on shoes that were versatile, classic, and comfortable in the hopes of meeting the majority of people's expectations and desires. While we weren't able to cover every type of heel, we made sure that the ones we selected were all highly rated and worth your time and effort.

Standout Picks
Criteria Used for Evaluation
Versatility
One of the most important factors, when it comes to a topic like nude heels, is how versatile that piece of footwear is ultimately going to be. Unlike purchasing a pair of metallic shoes or a heel in neon yellow, nude heels are designed to be worn with a vast amount of outfits, and so if the nude heels we selected weren't versatile, then there really wasn't much point in including them.
Nude is the most basic of colors, and other than white or black, it is about as bland as you can get for footwear. Bland doesn't have to mean boring though, and many of the heels we featured were far from boring. Nude heels can be cute, attractive, playful, and even sexy; all depending on the style you opt for. From round toes to pointed, stilettos to kitten heels, synthetic to suede, there are so many options available to you that it's nearly impossible not to find something you love.
One of the big influences that affect versatility is heel height, and this is because certain heights are considered appropriate, or inappropriate, for different kinds of events. A four- and- a- half-inch stiletto may not be considered the ideal footwear for an office place, and if you are looking for work shoes, a shorter heel height may be a better fit.
Individuals who work jobs where they are on their feet for long hours will certainly appreciate the comfort that is offered by a lower heel, as the higher the height, the more of an unnatural angle you put your foot at. While high heels may not be best for work, they are sometimes the better choice for more formal and fancy events.
You don't want to be at a gala or a dance in a stumpy short heel, and if you're wearing a long dress, you are more than likely going to opt for something with some height; so, your dress doesn't drag and your legs remain elongated. While certain heights suit certain events, you should find that the majority of the heels we featured sat close to around the three-inch mark. The reason for this is that three inches is right in the middle between high and low, and it is hands down the most versatile height you can opt for. While many shoes were considered for this list, those that had this versatile height were more likely considered, as we found that they appealed to a wider range of people and would be worn for more varied occasions.
Style
Although heel height does contribute to style, we talked about how that impacted our decision under the versatility heading, so we won't go over it again. Instead, we will focus on the literal style of the heel, from sandal to peep-toe to the more classic pump.
If you looked over the entire list, you may have noticed that there were some similarities between lots of the items that we listed. While we attempted to keep the styles varied, we, also, made sure that the most classic pump was featured more frequently, since that is what most people opt for when selecting a nude heel.
A classic pump is usually a closed toed shoe, with a variety of either shiny or matte finishes. The reason this style is the most popular is that it is the easiest to pair with a variety of outfits, and can be dressed up or down depending on your needs. The classic pump may appear boring to some but it is a staple that everyone should have in the closet because when you need a pair of heels, this is the pair you are most likely to reach for.
We didn't limit ourselves to just the classic pump though, and you will find sandals and embellished heels on the list, as well. We wanted to find styles that popped and made you stop and look, and that was accomplished by selecting highly reviewed shoes that, also, had a notable feature about them.
Crystal-wrapped heels and wave-inspired straps all make an appearance on this list, along with frilly ruffles and crisscrossed designs. Versatility is the key, and if we had an entire list of nude classic pumps, it would not only be repetitive but it wouldn't be an accurate representation of the best that is out there.
Comfort
There's a reason this point appears last on our list of criteria, and that's because it was honestly the third thing considered. It goes without saying that the very first thing we used to judge the shoes was whether or not it was a heeled shoe, and if it was nude in color. But after that, style and versatility were the largest influencing factors that really directed the decisions we made.
Comfort wasn't as highly considered because it's not always possible when it comes to this type of footwear. While running shoes and sneakers can be judged highly based on how comfortable they are, a lot of even top designer heels are more uncomfortable that flatter shoe options.
That doesn't mean, however, that comfort was just thrown out the window. No one wants to own a pair of shoes that are painful to wear and impossible to walk in; those would sit in the closet and never be touched. Instead, comfort did come in to play, and we took the time to mention the comfort level of each shoe in its description.
The health and well-being of your feet should never be sacrificed, just for a killer pair of heels; so, padding and cushioning should always be looked at and investigated. If you require orthotic inserts, the size or shape of the shoe may need to be considered to accommodate insoles.
Lower heel heights are going to be your most comfortable choice and anything with gel or memory foam will help reduce pressure on some of your foot points. The outsole can, also, make a significant impact on your comfort levels, and you want to look for soles that distribute weight and are durable. Rubber is your best option as it, also, tends to be anti-skid, keeping you from tripping and slipping as you walk.
Brand
The first thing people look at when shopping for new shoes is often the brand. While brand name doesn't always dictate the quality of the shoe, it often is an indication of what to expect when it comes to the other criteria mentioned above, like durability, comfort, and materials used.
When we looked at options for this list, we definitely kept in mind brands that are known to take comfort and durability seriously because it's of the utmost importance when you're walking on a hard surface like concrete.
You might notice that many of the brands are top brands from companies that have a reputation everyone knows. With that being said, be sure to look at all of our options, whether they are big names or not, because they are great choices when you want to make sure your feet are well taken care of.
Value
The price of a shoe can sometimes be a deal breaker. That's part of the reason why footwear manufacturers invest time and energy into creating cost-effective technologies to incorporate into their shoes to make them durable, long-lived, versatile, and inexpensive.
Durability & Longevity
Footwear, usually, lasts more than a few months, because shoes that are going to fall apart after a few months of use aren't worth the investment of more than a few dollars. Leather and synthetic overlays can be used to make the shoes more durable without sacrificing flexibility. Firm leather or synthetic uppers provide durability and support.
Versatility
Great footwear can be used for more than one activity. Walking and running shoes, for example, can be used in some casual sports. Stylish athletic footwear could be used in informal work environments. Sandals can be used in casual and semi-formal settings. The more situations you can use the shoe in, the more value it offers for the price.
Maintenance
Good footwear is easy to maintain and clean. They don't require a lot of expensive shoe treatments or time-consuming upkeep. Shoes that need a lot of effort, time and money to maintain, don't sell as well as shoes which are easier and cost less to keep.
Removable inserts
As mentioned earlier, removable inserts in footwear make it customizable, but that's not the only bonus to removable inserts. Removable inserts increase the longevity of the shoe, which is why some come with removable inserts.
Cost
A hefty price tag can be a deal-breaker for people on a budget. That's why many can be found in the low-to-middle price range. They're affordable, and if they are priced a little higher than others, then they offer many features to make the footwear worth the extra investment.
10 Best Nude Heels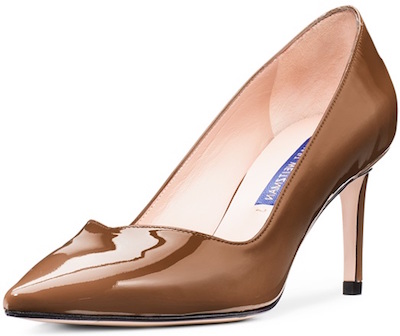 Sometimes, nothing really beats a quality shoe that has a simple design and a good construction. The Anny by Stuart Weitzman is definitely such a heel, as it offers a simple, versatile style that's been updated with an original sweetheart cut. This model is sure to become a staple in your wardrobe, and the best thing about it is that it's just the right height for you to wear it to work, casual or even elegant outings.
The upper of this model is available both in suede and patent leather, so you can choose the option that would suit you most. While patent is a bit more formal, suede has that soft quality that many people love in a pair of footwear - it'll easily mold to your feet, making you feel like the shoe was cut especially for you.
Another great feature of the Anny is the fact that it's available in several nude shades, making it easier to match your skin tone. You'll also find that the low cut sides contribute to a better fit, while the luxe leather making up the inside feels amazing, whether you decide to wear these barefoot or with hosiery. The price, of course, is quite high, as you may expect from a designer item, but it's definitely worth checking these out if you want something you'll be using for years.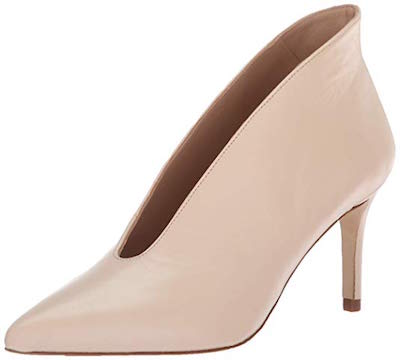 This summer bootie by L.K. Bennett is an amazingly versatile pair of footwear you'll definitely love wearing as often as possible. Although it's available in several color options, our favorite is definitely has the nude which combines elegance with edgy style, and goes great with any outfit you can imagine - from suits to skirts to jeans and dresses, it'll compliment any look, wrapping you in luxury.
The bootie is made in Spain, using high quality nappa leather. Not only does this mean that you get a soft, durable upper, but also that it'll be easy keeping it clean and looking new. The outsole is made with genuine leather as well, giving you a flexible surface to step on, while the inner is lined with the natural material, ensuring both comfort and breathability.
This model features a stiletto heel that's 2.75 inches high, which makes it tall enough to elongate your legs, but not too tall to make you uncomfortable during long-hour wear. The footbed is lightly padded in order to protect the ball of your foot from shock and fatigue, and the slip on opening should fit most foot types. This is a designer item, so you can expect to pay a higher price for it, but considering the timeless design and exceptional quality, it's an investment that's definitely worth making.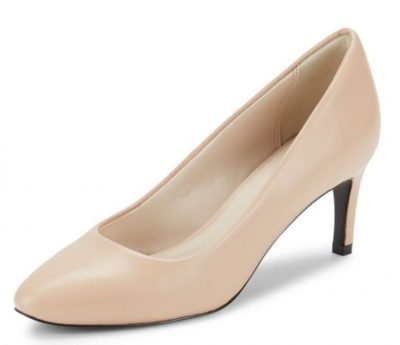 Another classic option on our list, the Hellen pump from Cole Haan is versatile, sleek, and perfectly heeled; so, you remain comfortable no matter what event you wear these too. There are a few different options available when it comes to this shoe, so there is a bit more freedom in selecting exactly what works for you. From different heel heights to different nude hues, you can select exactly the shoe you need for work, casual wear, or even more formal events. What makes these pumps stand out from other similar styles on our list is that the feature Cole Haan's Grand.OS Technology for the ultimate in comfort and design.
Heel/Design
These come in two different heel options; so, you can choose which the right height is for you. The shorter option is a two- and- a- half-inch heel that is great for people who want more comfort and a shoe that is better suited for an office or more casual outfits, such as jeans or summer dresses. If two and a half inches is a bit small for you, this shoe is also available in a three- and- a- half-inch model which will give you a slight bit more lift and can be a bit more formal in appearance.
Comfort Level
Both heel heights are, actually, quite comfortable, and a lot of that has to do with the fact that these nude pumps feature Cole Haan's Grand.OS Technology. What this means is that they have taken their standard shoe features and redesigned almost every aspect; so, it is made with higher quality materials and more thought has been given to both fit and comfort. These heels are extremely lightweight and very flexible, making for a great shoe to wear for long hours at a time.
Cost and Value
While this is still an expensive option when compared with cheaper options on our list, these heels are actually worth the higher price tag, as they are much more comfortable than a lot of other similarly styled shoes. Given how simple the design is, you should find yourself wearing this often, giving you your money's worth over time.



The Rubie nude heel from Chinese Laundry has a very similar style to a lot of other heels on the market. What makes this one stand out, however, is the wavy design on the foot strap, side straps, and ankle strap. This simple design choice, actually, makes for a very unique-looking shoe, and it's a very cute sandal that will look great for dinners with friends, date nights, or even more formal events. While most strappy sandals only have a foot and ankle strap, these feature straps along the side of the heel, giving a little bit of added support and a very pretty profile appearance.
Heel / Design
Extremely feminine, these delicate sandals have an ideal heel height of just under three inches. The kitten style pump is made of suede for a very elegant and soft look and feel. With a buckled ankle strap, you have a bit more control over the fit and feel of these shoes, and these fit a wide range of feet shapes and sizes. Great for any age, this sandal will be a gentle addition to any outfit and will give you a spark of cuteness that other sandals may lack.
Comfort Level
Given that these are an open-style sandal, they are not at all constrictive on the feet and you should enjoy the light and breathable nature of these nude pumps. While the straps may be uncomfortable for some, most people found that the suede was soft enough to not rub or irritate the skin and that the adjustable strap really does help with getting the correct fit. The footbed is lightly padded, and while it may not completely disperse pressure away from the foot, the heel height is low enough that there isn't too much weight bearing down.
Cost and Value
These sandals are very reasonably priced. Given how cute these are, you will, more than likely, find yourself pulling them out of your closet at any opportunity you get; so, value-wise, these are certainly worth the money. Perfect for the summer, or a date night, these have great reviews and the price tag makes them that much better.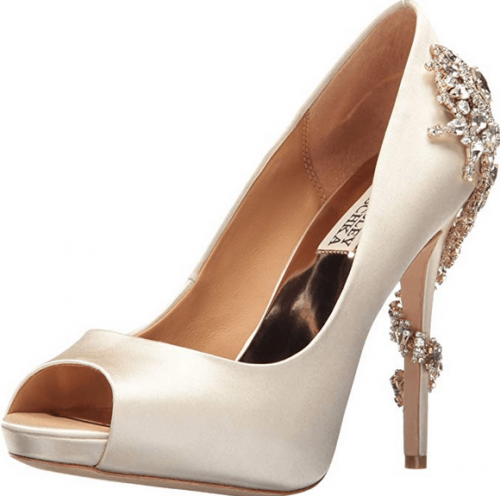 Hands down one of the most expensive options on our list, this satin heel is, absolutely, breathtaking, as there was no way to not have it on our list. If you want a shoe that is going to catch the eye of every person in the room, this embellished pump is guaranteed to do so. The heel is wrapped in crystals that truly make this shoe one of a kind. Perfect for galas, parties, and even for brides, this is a shoe that will make you feel beyond glamorous every time you wear it.
Heel/Design
The four- and- a- half-inch stiletto heel is striking on its own, but what really makes it pop, is the crystals that weave their way down. Beginning at the top of the ankle, the crystal design snakes its way to just above the tip of the heel, creating a truly stunning look. The peep-toe opening allows you to show off your new pedicure, while the satin shoe makes you look like royalty. This is a shoe that won't be seen on any other feet, and it is ideal for formal events and occasions.
Comfort Level
It should go without saying that this is kind of a case of fashion over comfort. While the shoe isn't designed to be uncomfortable, more thought was certainly put into the look, instead of how it actually feels on. With that said, there is a cushioned footbed that does a decent job of offering some padding to the soles of your feet, and the interior lining is soft enough to reduce chaffing and blistering. The heel height is where the most discomfort is going to come from, but if you're used to taller heels, then you may not be bothered by the four and a half inches.
Cost and Value
Like previously stated, this shoe is expensive and there is no other way of putting it. This isn't going to be within everyone's budget and this is, definitely, a shoe that is for a more-specific clientele. For those who are looking to spend that much, you are guaranteed to get a shoe that is absolutely beautiful and will make you feel like a queen. It can, occasionally, be found on sale; but even so, it isn't within everyone's budget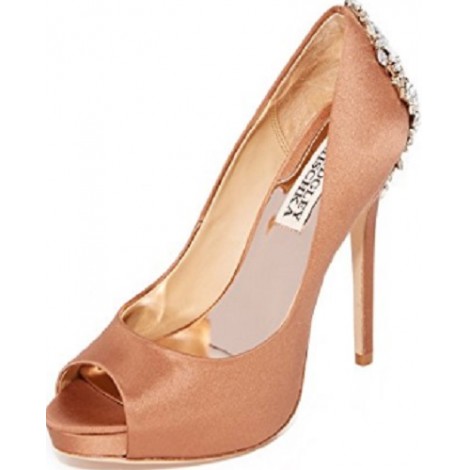 Amazing and attractive, these shoes are irresistibly gorgeous. With a 4.75-inch stiletto heel, these shoes will work great with long gowns. Furthermore, the rhinestones at the heel counter, provide that extra sparkle to help set off your already beautiful outfit. Walk in both style and confidence with this pair of nude heels from Badgley Mischka.
4.75-inch Heel Height
These stiletto heels measure in at 4.75 inches of glorious beauty. Great for long gowns, this is a must-have heel for your elegant choices in wardrobe perfection.
Peep-toe
These nude heels have a peep-toe design. Show off beauty with a hint of reservation, a teasing effect to entice your wardrobe to be even more beautiful than ever when paired with these heels.
Cost and Value
A name of elegant design, these Badgley Mischka's fall into the upper range of cost association. With that being stated, however, these are aesthetically pleasing to the eye and can make a good gown into an even better choice with an impressive ensemble of both style and elegance. In other words, these are shoes which are impressive by all standards.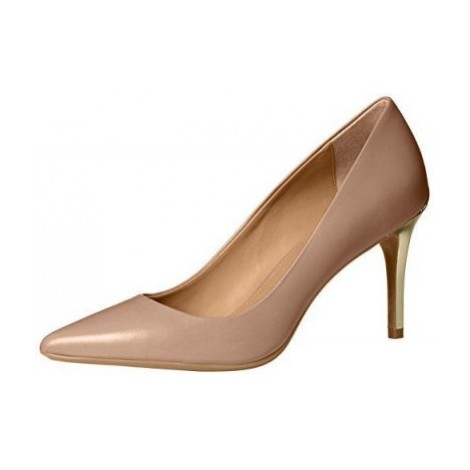 Calvin Klein is such a well-known brand, that most people reading this, more than likely, recognize it. These Gayle pumps are pretty basic which is great for someone who wants a shoe that is versatile and great for a multitude of events. With a slightly pointed toe, this shoe is surprisingly roomy and most people find it to be very comfortable, even for extended periods of time. The leather upper is extremely smooth and soft, and there is a metallic emblem on the back heel that displays the name, Calvin Klein.
Heel / Design
Often considered the ideal heel height, this three-inch pump is perfect for both casual and formal wear. Not overly high, this is very office appropriate; so, if you are looking for a new work shoe, this may be it. The height is, also, great for parties and more casual fun, as it doesn't look short or stumpy and still gives your legs that bit of an extra pop. The toe is slightly pointed, but not overly long; so, your feel will still look slim and not too elongated.
Comfort Level
The heel height really does help with the comfort level of these shoes. And out of all of the ones we have listed, this is one of the top heels when it comes to comfortableness. The footbed features a hidden gel pod that really helps to give the foot some extra padding and disperse some of your weight when you walk. This is certainly a luxury shoe, and time and consideration have been put into both its appearance; as well as, how it feels on your feet.
Cost and Value
Calvin Klein is a designer name brand; so, it's understandable that this shoe is going to be a bit more expensive. Its value really comes from how versatile it is. This is very easy to dress up or down, as it is a simple pump without any additions to the exterior. The focus has been on keeping it a classic shoe that can go from the office to a dinner date with ease.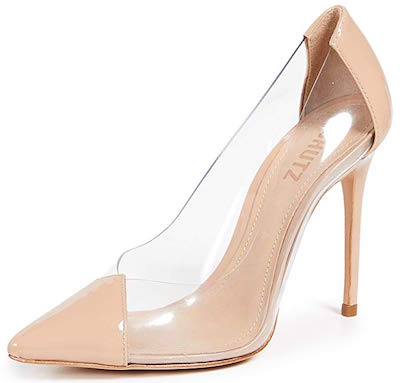 If you're after a barely-there look, why not go with a pair of clear heels by Schutz. The Cendi is one of their most popular models to date, with numerous colorful versions, but the one that caught our attention was definitely the one in a color named Honey Beige. Being made by a reliable brand, you can count on its quality and comfort, and you'll definitely love combining it with both sophisticated setups, as well as with statement hosiery that'll have you standing out on any occasion.
The upper of this model features a combination of patent leather and clear vinyl which don't exactly scream comfort, but you can rest assured that you'll love wearing these. Not only is the back of the heel lined with soft suede, the entire footbed is made from genuine leather as well, providing you with the needed breathability, as well as light padding to make walking and standing in these a bit easier.
These shoes feature a 4.3 inch heel, which is definitely high, and may be too much for everyday wear, but on special occasions, you can count on it on showing off your legs. The straight stiletto heel is wrapped in the same leather material that makes up the toe and heel, and the outsole is constructed from a quality leather. The price of this model is slightly above average, but considering the fact that it's one of the best constructed items on this list, as well as its construction, you really can't go wrong with it.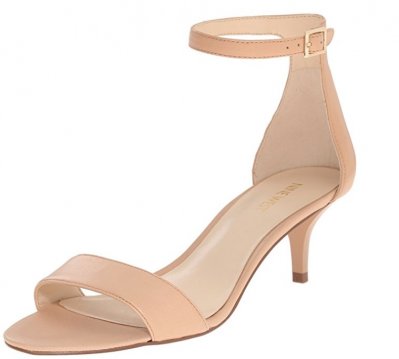 This minimalist sandal from Nine West is a great addition to any closet, as it is easily one of the most versatile options on our list. Simple, classy, and with a low heel, this is a shoe that you can dress up or down for nearly any event. Nine West has been a popular name in the fashion footwear industry for a long time, and it's due to the fact that they consistently produce high-quality shoes that are durable, comfortable, and attractive. The Lesia nude heel is no exception, and the sleekness of this sandal makes it an extremely popular choice.
Heel/Design
With only a two- and- a- half-inch heel, this is one of the shorter shoes on our list. That doesn't affect the overall look of this shoe, and instead of being a frumpy, low-heeled design, it is actually a very sleek and modern-looking sandal. The higher ankle strap adds length to your legs, drawing the eye further up than usual. With an adjustable clasp, you will be able to find a fit that works right for you.
Comfort Level
There are, certainly, some pros and cons when it comes to how comfortable this shoe is, and reviews can be a bit mixed on this specific point. While the low heel height really adds to the more natural shape of your foot, the lack of padding means you don't have a lot of cushioning. Some people find that this shoe is still comfortable all day long, while others recommend only wearing it for shorter durations. As sizing does run smaller and narrower, going up a size may help with how comfortable this shoe feels.
Cost and Value
Nine West is a more mid-range brand, with their prices not being as high as other labels. It's certainly not the most expensive shoe on our list, and it's a great price for a sandal that you will certainly get a lot of use out of. Because the heel height is so low, it's much easier to dress up and down for any event. The openness of these sandals, however, may limit what time of the year you will wear these. Overall, the value on these is great, and if you want a classy and sleek nude heel, this is a great one.

10

. Sam Edelman Telsa D'Orsay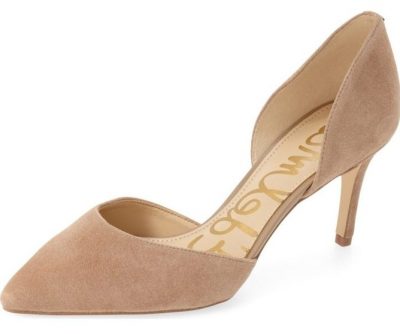 Designer, Sam Edelman, has been creating luxury women's footwear for many decades; so, of course, at least one pair of pumps is going to be featured on our list. The Telsa D'Orsay is a stunning shoe that is offered in both suede and matte leather options. This classic shoe is perfect for evenings out on the town; or you can, also, dress it down for more casual affairs. The higher back gives you some heel support, while the pointed toe gives a more slimming and attractive profile.
Heel/Design
Featuring a three-inch stiletto heel, these shoes are both attractive and sexy, while still remaining reasonable enough in height to wear for a variety of occasions. The low-drop sides make these look great with jeans, but they can easily be spiced up for a more professional or classic look. Having the option of suede or matte leather means you can select this shoe in exactly the design for you. The colors, also, come in varying shades of the nude variety; so, you aren't limited to just one general choice.
Comfort Level
Many people comment about how comfortable this shoe is, and how out of all the heels they have ever owned, that one has been the easiest to wear for an entire day. Featuring a padded interior, and softly-lined heel area, you should find that you have just the right amount of cushion to relieve your feet of any aches or pains. Unfortunately, due to the low cut sides, you aren't able to add an insole without it being very noticeable, so for individuals who require orthotic insoles, this may be a deterrent from this shoe. If you don't require additional padding, this is a comfortable heel that many people find to be beautiful and versatile.
Cost and Value
Now that we are starting to look at some designer name brands, the price jumps up a fair bit. Sitting around $100, this pump isn't the most budget-friendly option on the list, but the high-price does come with some perks. The materials used are high quality, and the look of the shoe really shows that off. You, also, have more options when it comes to color and style, allowing for a more personalized nude heel. On the plus side, these heels are often on sale; so, if you are shopping online, you may be able to score a great deal on a pair.

Subscribe to our Newsletter