Best Peep Toe Shoes and Pumps Reviewed & Rated
In a Hurry? Editors choice: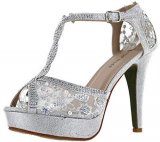 Test Winner: Top Moda T-Strap

Having become a popular footwear option for women in the 1940s, peep toe shoes have had their ups and downs through the decades. Featuring an
opening in the toe box
area, they bridge the gap between sandals and pumps and can be a great way to mix up your style with just a little pop of skin. Whether you are looking for a classic court shoe, a strappy model, a slingback or even a peep toe boot, you're sure to find something that will make you look and feel beautiful and feminine.
Standout Picks
Criteria Used for Evaluation
Style
Back in the days when peep toe shoes were made popular, showing off a bit of skin was reserved for court shoes and sandals made to be worn on an everyday basis. But since then, the trend has been applied to such a wide variety of shoe styles, that you can easily get almost any type of footwear with an open toe.
Nonetheless, being widely available does not make peep toes appropriate for all occasions. Some workplaces will have strict rules regarding this type of footwear, and some settings will simply find this kind of footwear either too dressy or too casual. Knowing when and how to wear your favorite peep-toe pumps can save you a lot of thought, so here's a quick overview of the options available and their best uses.
Pumps – or as they are often called court shoes, are the most classic style of footwear you can get in an open toe variation, and the easiest to pair as well. Depending on the upper and color/pattern, these shoes can go from elegant and formal – think fancy dinners or galas, to something you put on with a pair of ripped jeans on a weekend night out.
Slingbacks – shoes with an open heel area that's covered with a supportive strap. These can go from quite formal to casual as well, but on the whole, a single item will be less versatile than a pair of pumps. If you opt for a more open style, then it'll be a great option to wear with an evening or cocktail dress, while a more chunky one will bode better with casual outfits such as mid skirts or jeans.
Wedges – the thing everyone loves about this type of shoes is the stable and comfortable outsole that gives support to the entire foot without sacrificing heel height. If you opt for a pair of wedge shoes with an open toe, you will find that it's an updated look that can work well for a variety of casual and semi-formal occasions. Day parties, workplace, as well as weekend outings, these will be a great choice.
Mules – with a chunky look that resembles clogs, these slip-on shoes are a great casual option for more than just one reason. First and foremost, they are supportive in the upper, being made with a generous amount of material that will cover almost the entire foot. Secondly, they are often made with a stacked heel that is much more stable than their thin counterparts.
Flats – for those who prefer to stay away from high styles, flats are a great option. Shoe designers will often offer their most popular open toe shoes in lower heel heights, which is a great choice if you require more stability, or if, for any reason, you can't wear high heels.
Boots – last but not least, in the past couple of years, boots with open toes have become immensely popular. A fashion statement on their own; these styles are perfect for spring and autumn wear as they provide a good balance between warmth and breathability.
Furthermore, they help show off your authentic sense of fashion, and can even be combined with a huge variety of outfits, for almost any occasion.
Brand
When we think about some of the hottest and most luxurious brands in the fashion industry, ones like Prada, Gucci, Louis Vuitton, and Jimmy Choo might come to mind. A product is a promise made, but a brand is a promise kept; generation after generation. A brand and its label are a statement of quality, craftsmanship, and service found in each of its products.
When assessing the products on our list for "brand," we took into account the quality of its products, its attention to detail and style, its reputation within the fashion industry, its commitment to customer service and its perceived luxuriousness and exclusiveness, to create an overall score for brand equity. Brand equity can loosely be defined as the pricing power a brand has in the marketplace due to each of the aforementioned factors.
So, while a product that scores high on this list may be gorgeous and exclusive, you can also bet it will much pricier, as well. After all, if everyone could afford it, it wouldn't be exclusive or luxurious, would it? Be prepared to look amazing, but feel the pain at the bank, if a product scores high on this metric!
Heel
Because most open toe shoes come with a high heel, it's important to consider the type of elevation you will be getting before making a purchase. If you're buying shoes that you will have to spend a lot of time in – such as those worn at work or weddings, you need to keep in mind that comfort (or at least the lack of discomfort) should come before looks.
There's a wide variety of heel types available in peep toe shoes. You can get completely flat shoes that will be easy to wear and will show off your nail polish, or you can get 4-inch heels that will look amazing but will require some serious skill if you want to walk around in them.
One thing you might want to look out for, especially if you want a high but stable shoe, is a wedge or stacked heel. Both of these types are chunky, which has some great benefits, even if you go with a higher height. First and foremost, seeing that stacked and wedge heels have a bigger surface of contact with the ground, they are more stable, giving you much more stability than you would get with regular heels. Secondly, they support the foot over a greater service as well, lessening the pressure that is put on the heel.
A well-chosen heel type is important for one more reason, and that's looks. Before buying a pair of shoes, especially if doing so online, you need to consider the shape of your legs. Are you more muscular? Don't go with stilettos. They will contrast with your shape, making you appear more sturdy than you are. Or, if you're on the more frail side, you will probably look better with a thinner heel that will aesthetically fit with your overall leg line.
Comfort
Whether you are looking into buying a pair of walking or running shoes, house slippers or splurging on some peep toe heels, it's important to get the size and shape that will fit your feet. Peep toe shoes can be a bit more difficult to find if you're after the perfect fit, due to the front opening that greatly varies from shoe to shoe.
With closed footwear, your toes will be held in place by the front portion, which is simply not there with peep toes. If the shoes you opt for have an opening that is too large for your foot, you risk sliding forward too much and hurting yourself in the process. If you find that your toes go too far through the opening, you risk developing painful blisters, overcompensating through gripping with your toes, and even injury.
Sometimes, these issues can be corrected by wearing the right inserts. You can easily purchase silicone, suede or even leather inserts that will help grip your shoes better, or that will adjust the availability of space in your footwear. Often, these can even be used as additional cushioning, as they can help protect the ball of your foot from the shock of walking in high heels.
Versatility
While peep toe shoes are fun and elegant, you need to know whether they will be appropriate at your workplace, or the function you are planning on attending. Some offices will have strict rules regarding open footwear, so before you make a costly purchase, it's a good idea to check whether your new favorite pair of footwear will be OK to wear during business hours.
Another thing to consider with peep toe footwear is hosiery. While for a long time peep-toes were reserved for barefoot wear, the latest trends allow for much more freedom. When reaching for your peep toe pumps, you should consider the weather – if it's autumn and kind of chilly, you can now easily pair them with some knit socks and a mid skirt, and be the most fashionable person in your group. However, if you're wearing these shoes in the summer, you should skip pantyhose and socks and go with a barefoot look. Hate the way shoes feel on bare feet? You can purchase specialty hosiery made for wearing with open-toed shoes.
Lastly, before you decide to show off your toes, make sure that they're well taken care of. A peep toe pump is an elegant piece of footwear, and should in no way be worn if your nail polish is chipped or, even worse, if your nails are neglected in terms of care or hygiene. Instead, wear peep toes to show off your pedicure, and to bring attention to a part of your body that's playful and elegant at the same time.
10 Best Peep Toe Shoes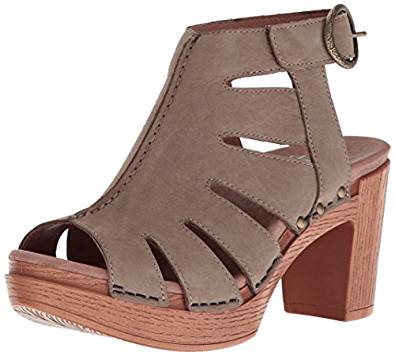 Call it a peep toe bootie, a slingback sandal or a peep toe clog, the Dansko Demetra is definitely an option to check out. Made by a company that focuses on bringing you wearable, fashion-forward footwear for all occasions, these booties will keep you comfy while remaining modern and chic. The nubuck upper and faux wood outsole work together to give you a pair of spring footwear you will love wearing both to work and on your days off. Plus, they've got some awesome features for healthier feet too!
No matter the shape and size of your feet, there are several things that are crucial in giving you a good pair of footwear. These include stability, support, and the right balance between flexibility and protection. Dansko shoes are an excellent choice because they work to give you all of these. One of the best features of the Reggie is the anatomically correct footbed that hugs the arch of the foot, aiding shock absorption and cushioning, and keeping you pain free for a longer period. If you want footwear that's durable, comfortable, and good for your feet, then going with leather for the upper of your shoes is a safe bet. It breathes and has amazing moisture resistance so no matter what, you can rest assured it will stand the test of time. These peep toes are made with a nubuck upper and a leather lining, so they'll keep your feet breathing well even on hot summer days.
These peep toe slingbacks are one of the best investments you can make when it comes to this type of footwear. Made with high quality, a good leather upper, an EVA footbed and a mild rocker outsole, you get a pair of shoes that's not just comfortable, but even good for your feet and posture. They feature a classic design that goes with almost any outfit, and the construction is durable, giving you a shoe you'll be happy wearing for a long time.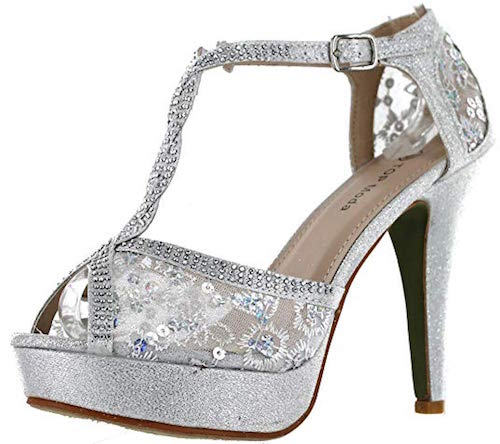 A pair of T-Strap shoes will never go out of style - they're elegant and classy, but give a bit of an edge to an otherwise simple shoe. This pair of peep toes by Top Moda is just the shoe you're looking for, perfect for special occasions such as weddings, nights out or fancy dinners. The floral lace upper differentiates these from any other model on this list, and the fact that they're very affordable makes them a great option if you're looking to save some money, but still look amazing.
Sure, a sensible heel height is better for your feet, joints and back, but can it make you look as stunning as a pair of 5.5" heels? If you're one of the people who are up for the challenge of wearing such high heels, then this sandal will steal your heart. The heel height is 4.5", while the 1" platform gives even more elevation, perfectly sculpting your legs and showing off your figure.
To make up for the fact that you will definitely be in pain after a full night wearing these, the T-Strap features a padded footbed that allows for some cushioning and shock absorption, as well as for a little bit of arch support. Combine these with the strap that, in addition to looking good, also serves to keep you from having to grip in order to keep your shoes on, and you've got yourself a decent pair of shoes for a night of dancing.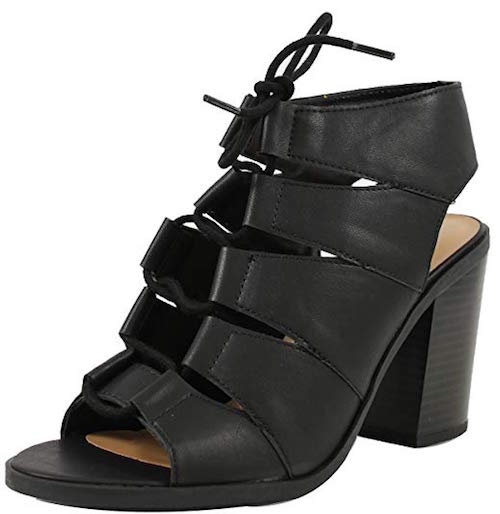 Lace-up heels and fashion footwear has been "all the rage" for quite some time thanks to its wide range of adjustability. This style is referred to most often as gladiator thanks to the resemblance of Roman Empire shoes. When it's hot, you want something that is going to give your poor feet some fresh air that just is not possible when you're wearing completely closed off shoes. The Soda Quince gives you all that and more thanks to the chic design and sturdy construction combined with high-quality materials.
When you find a pair of shoes you simply love, you will want to wear them everywhere, all the time. But, to make a pair of shoes work with an outfit, you need them to either be in an easy-to-pair neutral color or to come in a variety of options. The Quince does exactly this, giving you nine different shades and material variations to choose from, allowing you to make the perfect match.
When ordering shoes online what is your biggest fear? More than likely the fact that they could end up being too big or too small even though you ordered your usual size. Based on the customer reviews and size chart references provided by Soda you'll notice a whopping 89% correct fit report. There are half sizes available from 5.5 to 8.5, but there aren't any from 9 to 11 which is quite the bummer. If you're in-between these than order the next size up (say you're a 10.5 then get the 11) so you don't end up with too small shoes. Remember you can tighten them if they're a little bit loose with the lace-up front.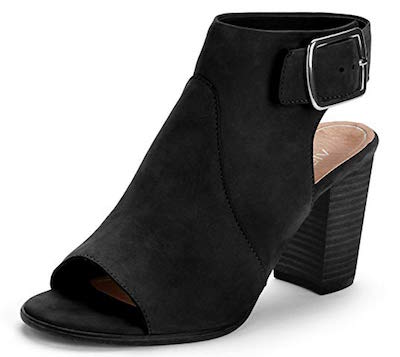 Inspired by motorsports, the Frye Brielle zip peep toe bootie is a handcrafted pair of designer footwear you will love wearing come spring. Made with the finest Italian leather, inside and out, it comes in two easy to pair colors - black and charcoal - and is one of those shoes that only gets better with time. You can wear these shoes both with jeans and a skirt, and they may even be appropriate in a slightly more casual work setting. If, however, you prefer something more toned down, you can also opt for the oiled suede version that comes in beige, the perfect color to wear this autumn.
Everyone loves a boot with a zipper closure, especially if the hardware is done right. In addition to giving an edge to otherwise classic footwear, a zipper will make putting your boots on and getting them off so much easier. The Brielle features either antique silver or gunmetal hardware that's tough and stylish and will give your new favorite boots a bit of a pop in style.
You can't get much better than Frye boots. The Brielle, for example, is made with a fully leather lined interior that'll breathe and mold to your feet with wear, the footbed is slightly padded to accommodate all-day wear, and the heel is a chunky 2 ½" one that's both stable and elegant, giving you a good amount of surface to put your weight on while walking.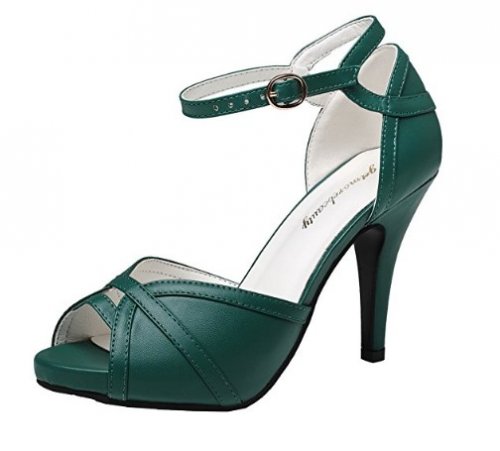 Ever seen a pair of shoes that you just absolutely fell in love with at first sight but it wasn't the color you wanted? Never fear because getmorebeauty is here! Their strappy, buckled peep-toe heels can be purchased in several colors like red and purple and two-tones as well! Want a black accent to make the red pop? You got it. How about a pastel to make you pretty in pink? They have that too. Bet that they have the right color for you to go with any style.
When buying everyday shoes, it is important to look for materials that are of the highest possible quality so that you can rest assured that they won't cause any problems such as irritation, odor build-up, or even skin infections. But if you're purchasing your shoes to wear once, or just a couple of times per month, then paying hundreds of dollars is something you'll want to avoid. The getmorebeauty Buckle is made with a synthetic upper, keeping the price low, while still allowing for a good amount of air flow inside the shoe thanks to the open design.
Being made with a synthetic material, the outsole of the getmorebeauty Buckle will work well on a number of surfaces - be it pavement, the dance floor, or even a soft grassy surface. Wearing these shoes, you are unlikely to slip, and the high heel is made to feel like less thanks to the 1" platform.

6

. Imagine Vince Camuto Rielly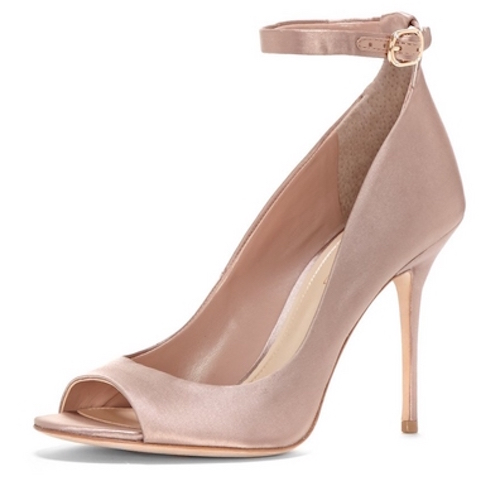 Elegant and stylish, with a price that's affordable - this is what makes the Imagine Vince Camuto Rielly a good option for a number of occasions, whether formal or casual. A stiletto heel with an ankle strap, it's a pair of shoes that will turn heads without once coming off as over the top. A 4" heel gives you some elevation and leg muscle definition. You can get these satin shoes in 5 colors, ranging from white to red to navy to black, and there's even a taupe version that'll have a nice elongating effect if it matches your skin tone.
The ankle strap on the Rielly makes a great, stylish addition to these pumps, but what makes it different is the rhinestone embellished buckle. Subtle yet different, it can add some sensible sparkle to an otherwise simple outfit. Or it can be combined with something bolder to make your whole outfit stand out.
If you've ever spent more than a couple of hours in 4" heels, you know how badly the ball of your foot and your arches can hurt. A shoe that works to help you deal with this can be a lifesaver on the occasions when you simply cannot change into a pair of flats once your feet start aching. The padded footbed on the Rielly will absorb some of the shock from walking and will make the whole 4" heel experience a bit more bearable.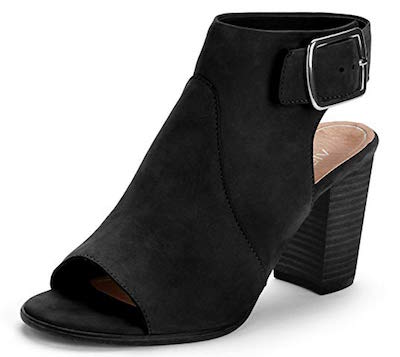 A peep toe slingback bootie? You got it right! The Vionic Blakely is a fashion-forward pair of footwear that will definitely get you noticed, no matter what you pair it with. It's available either in suede or printed leather, and you can even get a snakeskin pattern if that's something that fits your aesthetics. Stable and appropriate for all-day wear, these are great for casual outings, running errands in style, or even for wearing at the office.
For those who find leather lined shoes to be sweaty or sticky after wearing them for a few hours, the microfiber lining in the Blakely is going to come as a welcome change. Soft to the touch, moisture wicking, and slightly cushioned, it will feel great against your skin, even if you wear these with no hosiery.
The heel strap on the Blakely is a thick, secure one that'll keep you securely in your shoes, no matter how much you walk. If you find that you are between sizes, or that you require a different fir based on whether you're wearing socks or not, the adjustable closure will help make the size of these shoes perfect for you.

8

. Chinese Laundry Holliston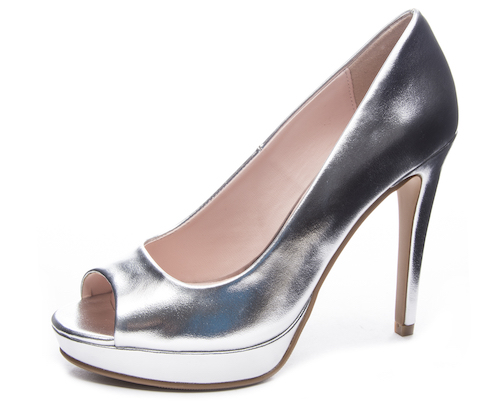 Simple glamour in the form of silver shoes is easy to obtain with the Holliston peep toe pump by Chinese Laundry. An affordable pair of high heeled shoes, these are a great option both for fancy parties, as well as nights at the club. And you can even wear them during the day at your more laid back workplace. The 4 ½ " heel is high, and may not be everyone's first choice, but the 1" platform actually lowers the heel to toe offset, making these relatively comfortable to walk in.
Sure, leather is luxurious and durable, but it also has serious drawbacks. First and foremost, it's expensive. Second, it is often acquired in ways which are less than ethical. If you prefer to have a pair of cruelty-free, vegan shoes, then manmade materials such as those found in the Holliston are the way to go.
This stiletto heel comes in an abundance of size choices, including half sizes for those who find themselves in between. This will ensure that your shoes can perfectly fit your feet, or even accommodate any inserts you want to use them with.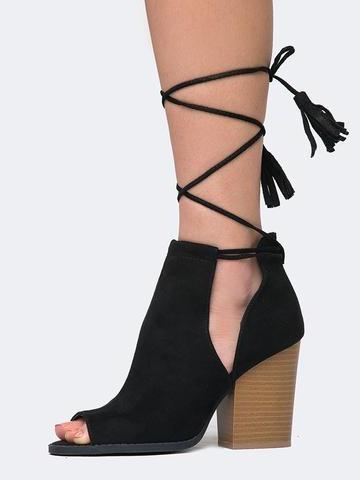 Office wear or casual, wrap dresses or pantsuits, the J Adams Cady is an amazing pair of shoes that are completely focused on providing you with superior comfort and cushioning while remaining stylish and smart. Available in three color options: black, taupe or rush patent leather, these will easily become a staple piece in your wardrobe thanks to the quality make and comfortable features.
These gorgeous heels feature a lace-up design that adds a unique look to any outfit. With an ankle strap buckle enclosure, you can easily adjust these shoes to fit your foot.
The material in contact with your skin is completely natural with the J Adams Cady. The vegan eco-conscious faux-suede material this shoe uses is soft and flexible, and it will allow a good amount of air flow. Plus, the footbed is padded for additional comfort.

10

. Badgley Mischka Kiara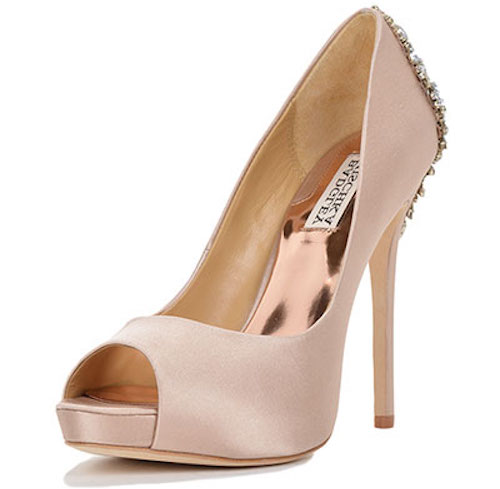 If you're after something absolutely stunning to wear to a special occasion, then the Badgley Mischka Kiara is definitely an option you should consider. A platform pump that features a staggering 4 ¾ " heel, it will look amazing with almost anything you choose to wear, and thanks to the wide color selection, including white, ivory and silver for brides, as well as purple, emerald, pink, and many more for everyone else, they'll be easy to pair with an elegant gown or a fun cocktail dress. What differentiates the Kiara from all other models on this list is the hand-embellished back that is covered in rhinestones, bringing a bit of glamour to your look.
A shoe upper made out of satin is an excellent choice for formal occasions, seeing that it's soft and shiny, but resilient enough to withstand some serious wear. You'll find that this material breathes well, partially thanks to the leather lining, which means that it'll do great for summer occasions when a leather shoe would be too hot or constricting.
The most luxurious footwear is always made with a leather outsole, and the same goes for the Kiara. Featuring a natural surface that will protect your feet, it allows for the right amount of resilience, without being too rigid. Paired with the stiletto heel, it may take some time to get used to, and is definitely not to be worn on grass or in rain, but it'll work amazing for indoor functions.

Subscribe to our Newsletter