Best Dansko Clogs and Mules Reviewed & Rated
last updated
Apr 06, 2019
Dansko Clogs are a popular choice of footwear for individuals who work in the nursing industry. This type of footwear provides nurses with the much-needed support for the hours spent on their feet. As most know, it isn't uncommon for someone in the nursing industry to spend anywhere from 8 to 12 hours on their feet, per day. Anyone who spends hours on their feet can benefit from this type of footwear. An individual who works at a restaurant, for example, spends a great deal of time on their feet and could benefit from wearing this type of shoe, as well.
In a Hurry? The test winner after 17 hrs of research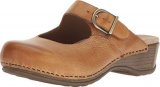 Martina
Why is it better?
Leather Upper
PU Midsole
1.7-inch Heel Height
Microfiber-Wrapped EVA Footbed
Embedded TPU Shank
In a
Hurry? Editors choice: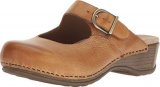 Test Winner: Martina

15
Researched Sources
1489
Reviews Considered
17
Hours Researching
20
Products Evaluated
Comfort
Breathability
Durability
Support
Flexibility
By Default
In Depth Review Top 10
Martina
Professional Clog
Deni
Pro XP Clog
Ingrid
Pro Bow
Pro XP Mule
Professional Tooled
Malissa
Twin Pro
Table of contents
Criteria Used for Evaluation
Other Factors to Consider
Frequently Asked Questions
Sources
Top 10 Picks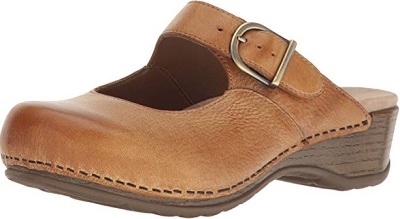 Leather Upper
PU Midsole
1.7-inch Heel Height
Microfiber-Wrapped EVA Footbed
Embedded TPU Shank
This pair of mules is made with a buckle strap, PU midsole, rubber outsole, microfiber-wrapped EVA Footbed, and leather upper. With a 1.7-inch heel height and embedded TPU shank, these mules offer stability, support, and comfort. Approved by the APMA (American Podiatric Medical Association), the Martina mule promotes better foot health. As a result, this is a pair of mules which improve both short-term and long-term foot conditioning.
Read more
Made from polyurethane, the midsole is lightweight. In conjunction with the rubber outsole, this mule provides shock absorbency, comfort, and energy return. As a result, you will feel less fatigue, as the day wears on.
In addition to the open design of these mules, the upper is made of leather. This means your feet will breathe via the natural material. Furthermore, the leather provides the quality desired in a great pair of mules.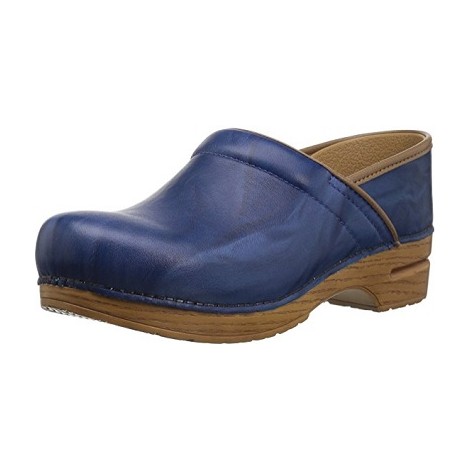 Several Color Options
Cushy Foam Footbed
Temperature Control
Support and Comfort
Protective Heel Counter
The Dansko Professional Clog isn't that dissimilar from the Professional Mule. It offers the same iconic style, support, and comfort you come to expect with this brand. The Breathable, PU foam footbed offers temperature control; and the padded, instep collar offers comfort with every step you take. Like the Professional Mule, the Professional Clog is, also, available in a number of different stylish designs.
Read more
The breathable, foam footbed is one of the biggest aspects to this Dansko clog when it comes to the level of comfort. The foam footbed makes it, seemingly, impossible for your foot to get hot or sweaty. It keeps the shoe a cool and comfortable temperature while absorbing any foot sweat.
One of the more refreshing aspects when purchasing the Professional Clog is the range of different colors to choose from. There are traditional blue and brown leather; as well as, blue grove and a gorgeous tiger lily pattern. In other words, there's a little something for everyone.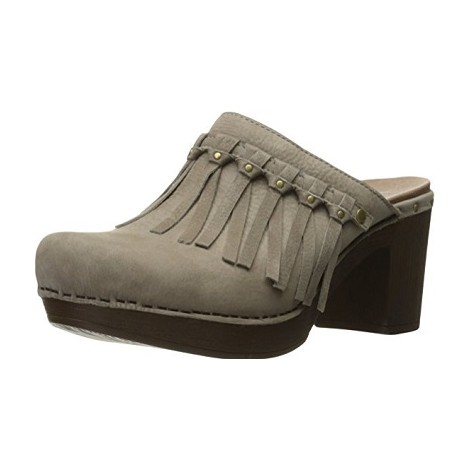 Leather Upper
3.25-inch Heel Height
1-inch Platform
Leather Lining
EVA Footbed
Fringes and a 3.25-inch heel height are the aesthetic characteristics of this pair of mules. In addition to the stylistic design, these shoes are practical, as they are full of comfort technology. With an EVA footbed, PU outsole, EVA insert, steel shank, lightweight frame, leather upper, and leather lining, they are ready to bring you comfort and stability.
Read more
With an EVA footbed and insert, a polyurethane outsole, and a steel shank, these clogs not only provide stability but give you the comfort you desire. With arch support and cushioning in place, you are ready to take on the day.
The PU outsole provides both shock-absorbency and gives energy return. This, in essence, is perfect for reducing your load rate; as well as, increasing anti-fatigue throughout the day.



Leather Upper
Rubber Outsole
PU Midsole
1.5-inch Heel Height
0.75-inch Platform
Size Runs Narrow
Break-in Period Across the Toe
With a decent array of color choices, these clogs are ready for working long hours while on your feet. With a 0.75-inch platform, 1.5-inch heel height, and a rocker-bottom outsole, walking all day becomes less of a chore and more of a comfort-friendly experience. In addition, the outsole is made of rubber. This allows you to navigate those, otherwise, slippery surfaces which might be a bit unexpected.
Read more
Above the surface, this is the idea behind a lot of platform designs. In essence, you are lifted above the surface; in order, to allow the shoes to perform their magic in bringing you their available comfort to the max.
This is perfect for those who may face surprise surface changes within their work environment. A rubber outsole is great for people facing dry-to-wet surface changes.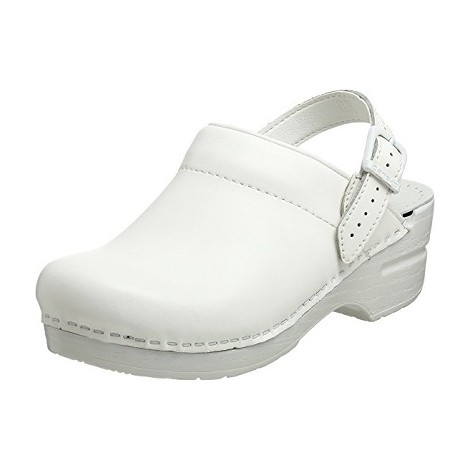 Leather Upper
2-inch Heel Height
0.75-inch Platform
Padded, Instep Collar
Rocker-bottom Outsole
These clogs are great, especially for those who might be interested in wearing clogs for the first time. This is because the buckle-strap design is both adjustable and can be moved to the front or rear of the ankle. In essence, this strap allows you to wear the strap at the rear of the ankle for becoming accustomed to wearing clogs, or at the front of the ankle to give your clogs a little more personality and décor. In addition, these comfortable clogs are made with leather uppers, have a 2-inch heel height, 0.75-inch platform height, and provide odor control.
Read more
This footbed has a design to help control temperature. This allows your feet to remain cool when you might find yourself in stressful situations. Furthermore, this footbed helps to promote better foot health and gives you odor control.
The outsole is made to give you ease when walking. The rocker-bottom design helps with follow through, as you take each and every step. In other words, less fatigue is the result of this outsole; especially, when considering long hours throughout the day.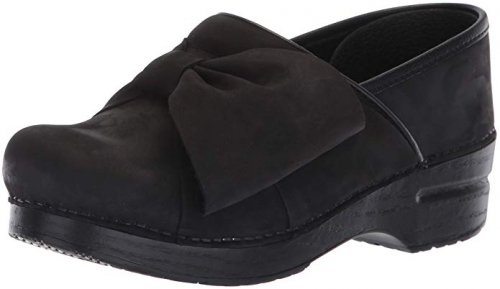 100% Leather
APMA-accepted.
Protective heel counter
Padded instep collar
Reinforced toe box
PU Foam Sock Liner
The Dankso Pro Bow Clog is a great choice for anyone that suffers from heel pain, plantar fasciitis or other orthotic conditions. It is APMA accepted, features a protective heel counter and a padded instep collar for supreme comfort and support. The PU foam sock liner is cushy and adds a gel-like feel to the clog.
Read more
A reinforced toe box coupled with the protective heel counter means your foot is protected from the elements, heel to toe. The padded instep collar only further augments the level of comfort offered by the Pro Bow.
The upper is made of 100% leather and features a stylish bow adornment on the front of the clog. A shoe that has both substance and style, the Pro Bow is one to choose, especially if you have sensitive feet.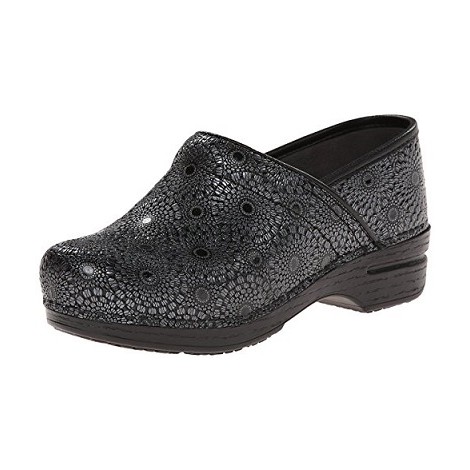 Comfortable & Supportive Footbed
Slip-Resistant
Moisture-Absorption
Little Break-in Time Required
Roomy, Toe Box
The Dansko Pro XP Mule is a piece of footwear with a sleek design and a snug-comfort fit. It is constructed with a leather-lining and foundation full of memory foam to give your feet the cushion and stability needed to make it through those longer days. A reinforced toe box helps give ample room for the forefoot while helping to protect your feet. The slip-resistant outsole is key for work that may have you stepping in slippery areas, and will help you keep your footing.
Read more
The leather-lined memory foam footbed is, single-handedly, the best feature this Dansko mule has to offer, as it is the reason the shoe offers so much comfort. As an added bonus, the footbed will, also, absorb foot perspiration.
Regardless of what type of industry you work in, wet floors tend to happen everywhere. The slip-resistant outsoles allow your shoes to provide an extra layer of protection when walking around.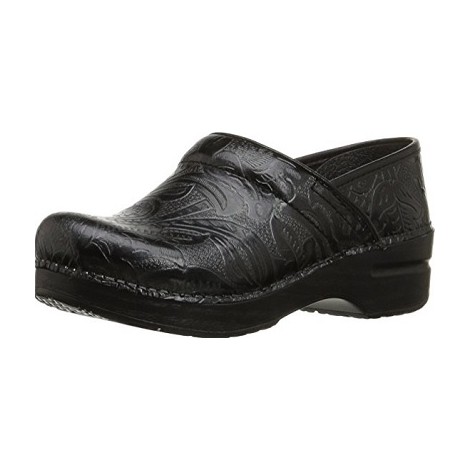 Leather Upper
Rocker-Bottom Outsole
2-inch Heel Height
0.75-inch Platform
Contoured, Shock-Absorbent Midsole
This clog has a leather upper, 2-inch heel height, 0.75-inch platform, contoured and shock-absorbent midsole, roomy toe box, and is embossed with an elegant and professional design. Add to all of these features a rocker-bottom outsole and you have a shoe worthy of long hours on your feet. Whether you are in the market for a clog for work or are, simply, shopping for comfort, this pair of clogs will not disappoint.
Read more
One of the attributes needed most when working long hours is breathability. The upper is made of a leather material makeup (which is a natural fiber); and as such, allows your feet to breathe. This, in return, reduces sweat and increases overall foot health.
A rocker-bottom outsole allows you to continue your step in a natural manner. This gives you the ability to lessen the amount of fatigue related to long hours of walking. Add to this a 2-inch heel height and a 0.75-inch platform, and you have an environment conducive to comfortability.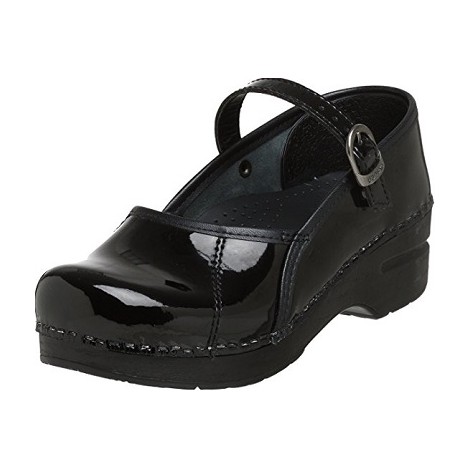 100% Leather
APMA-accepted
Accommodates most orthotics
PU Footbed
Molded thermoplastic PU arch support
Memory foam
The Malissa by Dansko is another APMA-accepted clog that is perfect for those who want to wear a shoe with a chunky heel, but also suffer from foot pain. The Malissa will wrap you in comfort while offering support throughout the entire gait cycle. It can support most standard and custom orthotics, as well, if you need to put one in.
Read more
The footbed of the Malissa contains memory foam for a soft cushion feel. It also has molded thermoplastic PU arch support. Coupled with a PU footbed, you will feel the comfort and the support at the same time.
Often, we have to make a trade-off between softness and support, but not with the Malissa. Both features are offered in this stylish, classy clog. With a variety of colors to choose from, all you have to do is find the one you love most and click buy.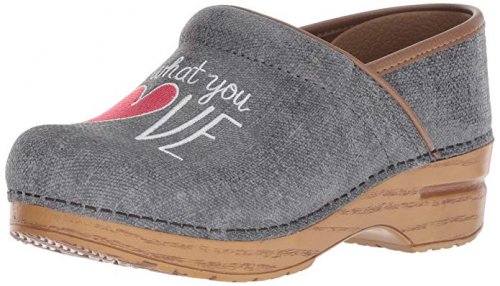 100% Leather
APMA-accepted
Protective Heel Counter
Padded Instep Collar
Reinforced Toe Box
PU Sock Liner
The Dankso Twin Pro is an excellent option if you suffer from heel pain or other orthotic conditions. Accepted by the APMA, the Twin Pro features a protective heel counter and a padded instep collar for comfort and support. The PU foam sock liner is soft, adding a gel feel throughout the footbed.
Read more
With the Twin Pro, you are protected, literally, from heel to toe. The reinforced toe box and protective heel counter means you can walk confidently across any terrain. A padded instep collar protects the ankles, as well.
With a 100% leather construction and slight heel for some added height, you can't help but feel good while you look good. If you are searching for a slip on with protective features, then the Twin Pro is for you.
Criteria Used for Evaluation


Comfort
All of this brand's options are outfitted with interior cushions along the upper, footbed, toe box, heel, and lip for optimal comfort. But they rely on much more than interior cushioning for their customers' orthopedic health. Key features of Dansko's comfortability depend on the fit of their shoes and the high-quality materials that make up the shoes.
Fit – When selecting a shoe for any type of event, whether it's work, camping, or the like, the fit of a shoe plays a huge role in your overall comfort. Dansko uses European standards to determine the size of their shoes. While this might be cumbersome for new users, veteran Dansko owners appreciate the simplicity and wide selection European sizes offer. They, also, mitigate the long-standing debate between narrow and wide shoes by labeling their products as such. If you have wider feet, simply select a Dansko shoe marked 'wide' without sacrificing style or your regular shoe size. And once you have that perfectly fitting Dansko shoe, you will have an extremely comfortable shoe.
Materials – The materials, of course, play a huge role in Dansko's comfortability. As previously stated, all Dansko clogs have extremely padded interiors for optimal comfort. But the materials used don't overheat your feet, even with the extra cushioning. This is because of Dansko's breathable leathers and footbeds. All Dansko leathers are treated to be lightweight, durable, and breathable for the optimal comfort of the wearer. And the footbeds, while extremely cozy, are built with multiple layers to promote air circulation and breathability.


Breathability
Since we were just on the topic of temperature and breathability, it's only natural to discuss Dansko's ingenious design for temperature control and regulation. Their shoes are modeled after the original backless clogs of Danish culture. Deriving from this original shoe, Dansko creates a looser fitting shoe to continuously circulate air all around the foot. This combats foot ailments, such as athlete's foot, and keeps your feet at a comfortable temperature all day. Dansko, also, equips their clogs with roomy toe boxes, allowing your toes to spread out and breathe. All of them were designed with breathability and temperature control in mind, but the shoes selected for this list outdo Dansko's norm.


Durability
Durability, as defined for this list, is a shoe's resistance to outside forces such as water, oil, grease, and debris. When selecting options for our guide, we took special consideration for those equipped with water and stain-resistance. Most of Dansko's treated leather was designed to wick away oils, grease, and other staining agents for optimal wear and durability. With proper care and maintenance, a reasonably priced Dansko clog should last the average person two years. And while the original shine of that once new shoe fades and is in need of renewal, the comfort and support persist throughout the years, generally speaking.


Support
One of Dansko's most sought-after features is the shoe's toe-to-heel support. Their options are elevated, meaning the heel is raised above the forefoot. This elevation allows stress and tension to leave the heel and disperse over the shoes thick, cushioned insole. A rocker-bottom outsole promotes a healthy gait while correcting your posture with each and every step. This feature of support is, especially, valuable for those who spend all day while on their feet. Though the rocking outsole might seem weird at first, it will quickly become second nature, and your heels will thank you!


Flexibility
Flexibility is not one of the strong suits of Dansko footwear. In other words, these are not something you want to strap on before your morning run. A lot of the different models have varying break-in periods, and this is something which you should contemplate, especially when considering them for long hours on the job. Typically, the break-in period is surrounded by the topside of the forefoot area; that is, where your foot bends during the natural gait while you walk, there can be rubbing and irritation until the break-in period has been reached. This is something to consider when purchasing this footwear.
Expert Interviews & Opinions
Most Important Criteria
(According to our experts opinion)
Experts Opinion
Editors Opinion
Users Opinion
By Default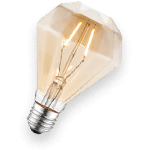 Keep Your Energy Up
Anyone whose profession involves long hours on their feet knows that footwear is critical to help you get through the day. Not only do you require support and comfort in your footwear, but ample cushion and traction to prevent your feet from aching at the end of a long day.
To help keep your energy up during the day, look for footwear that has these features, but also has some lightweight flexible aspect to them to cut down on foot fatigue when walking. If you can take even 5-10 minute to sit throughout the day and let your feet rest, it can help break up the time spent on your feet.
At the end of the day, take a few extra minutes for foot health with a foot massager.
Long Hour Support
Each of us require different levels of support from footwear to do our best, and sometimes, even with quality made shoes, we find that daily use can diminish cushion over time.
Investing in a supportive or extra cushioned insole can help extend the life of your footwear by just adding back in that extra cushion to help. Insoles are available for many types of footwear, including work boots, heels, and many can be customized with heat molding or simply cutting away to shape into your footwear.
Other Factors to Consider


Bottom Line
There are so many varying styles and colors to choose from, it really is mind-blowing. In addition to the standard choice between a mule and clog, the colors, patterns, and textures of this footwear can cause you to lose hours just going through them all. This is footwear perfect for a day at the office or out on a day on the town. With the professional appeal, as well, these can be worn dressed up or dressed down. You can wear a dress, jeans, or etc. and be only touching the tip of the iceberg, in terms of mixing and matching this footwear to your wardrobe. At the end of the day, Dansko really puts an emphasis on customer desire and need. Not everyone will want a pair of bubblegum-colored clogs, as it were. But someone will, and this is the approach Dansko takes when creating all of these awesome designs. They really do care about what makes customers pleased: choices and quality products.
Frequently Asked Questions
q:

Are Dansko clogs good for plantar fasciitis?

a:

Many of the pairs of clogs and mules on our 10-best list are accepted by the American Podiatric Medical Association (APMA-accepted). The reason for this is that Dansko outfits each of its shoes with special features that relieve foot pain, support the food throughout the entire gait cycle and offer enhanced protection for those with orthopedic conditions. For example, many of the shoes on our list have heel counters and a reinforced toe box to protect the feet from undue stress. For this reason, the APMA gives its endorsement to many Dankso products and similarly, they are good for people suffering from plantar fasciitis.
q:

How long will a pair of Dansko clogs last?

a:

Most shoes, Dankso or not, last no more than two years. This is because the midsole of the shoe often wears much quicker than other parts of the shoe, and the midsole is what keeps your foot cushioned and supported when in motion. A bad midsole, even when the rest of the shoe is in good shape, can lead to orthotic problems; therefore, we recommend changing your shoes at least once every two years. That being said, your shoes may last less than two years, depending on your activity intensity and frequency.
q:

How do I care for my new shoes from Dansko?

a:

Typically, we recommend spot cleaning whenever possible. A damp, warm cloth or even Q-Tip with just a touch of Dawn dish soap tends to work well. That being said, some materials should never be spot cleaned in this fashion. Suede and special leathers require cleaners that are unique to them. Check the care label of your particular product before starting any cleaning or if you have lost the tag, you can go to the manufacturer's website of the product, as well, as they often have care guides available to download.
q:

Are there slip-resistant options?

a:

Almost all Dankso clogs and mules are slip-resistant. Due to the special synthetic rubber Dankso uses to make most of their soles and outsoles, they offer excellent grip and traction on a variety of terrain, in a variety of weather conditions. That being said, we recommend the Malissa, Twin Pro and Pro Bow, if you require something that is specifically designed to avoid slips and falls.