Best Dansko Clogs and Mules Reviewed & Rated
In a Hurry? Editors choice: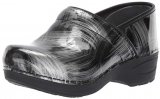 Test Winner: XP 2.0

Dansko clogs are a popular choice of footwear for individuals who work in the nursing field. This type of footwear provides nurses with much-needed support for the hours spent on their feet. Not only that, but anyone who spends an inordinate amount of time standing and walking can benefit from this brand and their wonderfully comfortable designs - waiters, chefs, hairdressers, the list goes on and on.

Dansko is a brand dedicated to the comfort of their customers, and all of their footwear is outfitted with the type of technology that will make your workday easier. You will feel light on your feet and supported on all sides, and thus you'll be able to perform your duties to the best of your abilities! Scrolls down to take a look at the best Dansko clogs available today.
Standout Picks
Criteria Used for Evaluation
Comfort
This brand goes above and beyond to ensure the comfort of their footwear, mainly through a perfect fit and high-quality materials.
All of this brand's options are outfitted with interior cushions along the upper, footbed, toe box, heel, and lip for optimal comfort. But they rely on much more than interior cushioning for their customers' orthopedic health. The key features of Dansko's comfort depend on the fit of their footwear and the high-quality materials that make them up.
Fit: When selecting a design for any type of event, whether it's work, camping, or anywhere in between, the fit of a shoe plays a huge role in your overall comfort. Dansko uses European standards to determine the size of their shoes. While this might be cumbersome for new users, veteran Dansko owners appreciate the simplicity and wide selection European sizes offer.

They, also, mitigate the long-standing debate between narrow and wide shoes by labeling their products as such. If you have wider feet, simply select a Dansko design marked 'wide' without sacrificing style or your regular shoe size. And once you have that perfectly fitting Dansko shoe, you will revel in its comfort.

Materials: The materials, of course, play a huge role in Dansko's comfort levels. As previously stated, all Dansko clogs have extremely padded interiors for optimal comfort. But the materials used don't overheat your feet, even with the extra cushioning. This is because of Dansko's breathable leathers and footbeds.

All Dansko leathers are treated to be lightweight, durable, and breathable for the optimal comfort of the wearer. And the footbeds, while extremely cozy, are built with multiple layers to promote air circulation and breathability.
Breathability
The loose fit of these designs is created with superior breathability and temperature control in mind.
Since we just mentioned breathability, it's only natural to discuss the brand's ingenious design for temperature control and regulation.
Their footwear is modeled after the original backless clogs of Danish culture. Deriving from this original shoe, Dansko creates a looser fitting shoe to continuously circulate air all around the foot. This combats foot ailments, such as athlete's foot, and keeps your feet at a comfortable temperature all day.
Additionally, this brand equips their clogs with roomy toe boxes, allowing your toes to spread out and breathe. All of them are designed with breathability and temperature control in mind, but the footwear selected for this list outdo Dansko's norm.
The way that this brand ensures superior moisture wicking and breathability is by treating the interiors of their footwear with special innovative agents, such as the Cleansport NXT and Aegis Micro Shield Control. With this, Dansko footwear isn't only breathable, but it also ensures your feet are odor-free, even if you wear these shoes without any socks on.
If you're looking for maximum ventilation and odor-resistance, sort the items in our list by this criterion and choose off the top. Come warmer weather, you won't regret investing in a pair of marvelously breathable Dansko clogs!
Durability
Thanks to the brand's water, stain, oil, and grease resistant uppers, you will enjoy your footwear for years to come.
Durability, as defined for this list, is a shoe's resistance to outside forces such as water, oil, grease, and debris. When selecting options for our guide, we took special consideration for designs equipped with water and stain-resistance.
Most of Dansko's treated leather is designed to wick away oils, grease, and other staining agents for optimal wear and durability. With proper care and maintenance, a reasonably priced pair of Dansko clogs should last the average person two years.
Rather, that is when it comes to the design's ability to resist stains and stay shiny and new. But rest assured that, while the original shine fades and is in need of renewal, the comfort and support persist throughout the years. Once you invest in a pair of Dansko clogs, you can be sure that you will be wearing them season after season, and enjoying the same amount of support throughout.
Support
The support of Dansko clogs comes in the form of elevated heels, rocker bottom outsoles, and stability shanks.
One of the brand's most sought-after features is the toe-to-heel support their footwear has. Their designs are elevated, meaning that the heel is raised above the forefoot. This elevation allows stress and tension to leave the heel and disperse over the shoe's thick, cushioned insole.
A rocker-bottom outsole promotes a healthy gait while correcting your posture with each and every step. This feature of support is especially valuable for those who spend all day on their feet. Though the rocking outsole might seem weird at first and does take some getting used to, it will quickly become second nature. Your heels will surely thank you!
Another important feature when it comes to supporting and stability are built-in shanks, which you will find in a few designs on our list. These ensure that your steps are confident and not wobbly and that you don't lose your footing no matter where you find yourself. Built-in stability shanks are just what you need to keep you on your feet and to prevent any uncertainty in your walk.
Flexibility
Don't forget to properly break your footwear in before you commit to wearing it every day.
After all the amazing thing we've discussed about this brand and their footwear, we have finally arrived at one criterion where they, unfortunately, don't excel in. Flexibility is not one of the strong suits of Dansko clogs.
A lot of different models have varying break-in periods, and this is something which you should keep in mind, especially when considering them for long hours on the job. Before you start wearing your Danskos to work, make sure to break them in properly, which is a time period that varies from one design to another.
Typically, the part of the shoe that one needs to break in is the top side of the forefoot area; that is, where your foot bends during the natural gait while you walk. There can be rubbing and irritation here until the break-in period has been reached. This is something to consider when purchasing this type of footwear.
It is important to note that this does not mean that the design you got is uncomfortable in the long run. It simply means that the leather upper needs to conform to the shape of your foot and provide you with a special, personalized type of comfort. Grin and bear it through the few days it takes to break in these lovely shoes, and you won't have any issues after that!
Our Favorites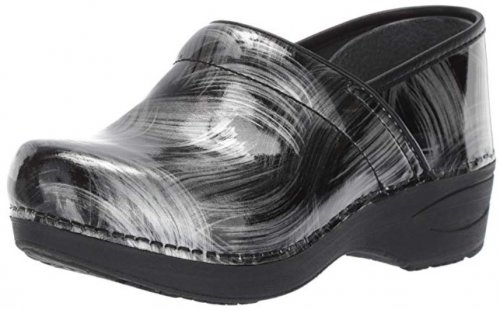 The XP 2.0 clog is an updated version of the old XP design, now with even more comfort and support features built in. The XP 2.0 comes with a padded collar, an EVA midsole and a PU footbed with Dansko Natural Arch Technology. The fit of the XP 2.0 is as spacious as you're used to from Dansko footwear, and whether you're looking at these for a long sightseeing trek or for a nursing job or similar, these clogs surely won't disappoint.
The uppers of the XP 2.0 are made from leather for breathability and comfort. Your toes will have plenty of room to wiggle around in the wide toe box and the EVA midsole is so light in weight that you won't feel a trace of fatigue at the end of the day. The Natural Arch Technology means the XP 2.0 is outfitted with an arch stabilizer for maximum support.
The Dansko XP 2.0 is suitable for orthotics, and it, of course, comes with the unavoidable rocker bottom shoes to keep you going until the end of the shift. Opt for this magnificent, slip-resistant option so you won't have to worry about a thing when you next leave the house.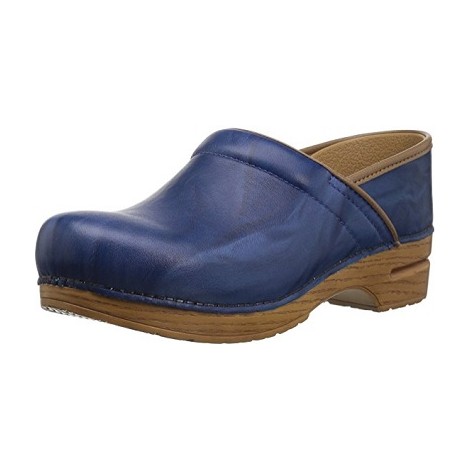 The Dansko Professional offers the same iconic style, support, and comfort you've come to expect with this brand. The breathable, PU foam footbed offers temperature control, and the padded instep collar offers comfort with every step you take. The Professional Clog is also available in a number of different stylish designs.
The breathable, foam footbed is one of the biggest aspects of this Dansko clog when it comes to the level of comfort. The foam footbed makes it seemingly impossible for your foot to get hot or sweaty. It keeps the shoe at a cool and comfortable temperature while absorbing any foot sweat.
One of the more refreshing aspects when purchasing the Professional is the range of different colors to choose from. There are traditional blue and brown leather, as well as, blue grove and a gorgeous tiger lily pattern. In other words, there's a little something for everyone.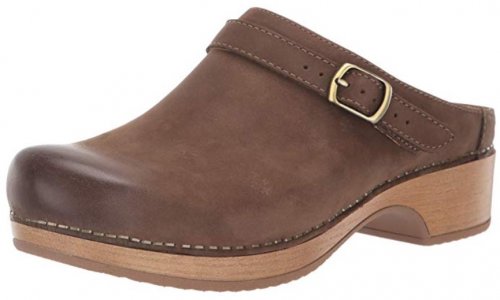 The Berry offers two different stylings - one is a classic mule design with an open back, and the other is achieved by pivoting the front strap to the back and thus ending up with an easily adjustable ankle strap. We love the fact that for the price of one you get two style options! The Berry is also amazingly cushioned and shock-absorbing for that easy, comfortable ride.
The nubuck leather on the Berry is treated with a special technology, 3M Scotchgard, to make it resistant to stains and easily worn in surroundings where you risk getting splashed. The interior is designed to control odor and prevent bad smells, and the footbed is made from dual-density EVA. This EVA is wonderfully shock-absorbing, meaning that your joints will love the Berry as much as you will.
As a final touch, there is a small elastic insert on the inside of the Berry which stretches out and accommodates feet of all shapes. Thanks to the versatility of this design, you can have either a mule or a slingback, and be equally trendy in both!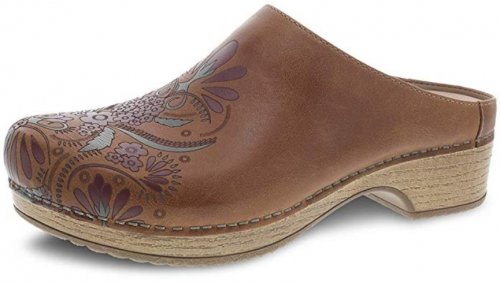 The standard Dansko comfort pack - EVA in the footbed and outsole, together with odor and stain protection - now comes in the form of Brenda, a delicately patterned mule that you will love pairing with all of your favorite early spring and fall outfits. Its floral laser print detail is reminiscent of flowy dresses, yellow flowers and windy but warm mornings - something you simply can't resist.
The Brenda is made from nubuck leather, stain-resistant and carefully designed with a feminine, intricate pattern. It is breathable and easy to wear without socks if you so desire. The EVA footbed makes it cushy and supportive, while the outsole makes you feel incredibly lightweight and gives the Brenda much-needed durability.
The style of the Brenda is something you can wear to a food fair, to a fun lunch date with your friends or a family outing at the park. You can dress it up with a sundress and a cardigan, or dress it down with a pair of boyfriend jeans and a plain t-shirt. The Brenda is easy to wear and easy to fall in love with, and its floral decorations are a great addition to any wardrobe.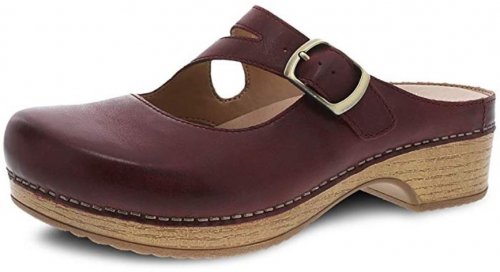 Taking a break from the classic work clog look, with the Britney we have a combination of a mule and a Mary Jane. This chunky design is made from genuine leather, so you know the quality is guaranteed. It comes with stain resistance, an odor control technology and an EVA footbed that is abundant with cushioning. With the Britney you will be both fashionable and comfortable as you take on the long summer days!
This mule's nubuck leather upper is treated with 3M Scotchgard, which is a special protector against stains. Its linings are a mix of leather and textile with Aegis Microbe Shield control against unpleasant odors. This makes the Britney perfect for wearing even on bare feet! The footbed is made from dual-density EVA with extra memory foam, and it provides comfort and support in all the right places.
The outsole on the Britney is made from EVA as well, a patent from the brand that is pending, for ensuring long, durable wear. The Britney is definitely a more stylish design from Dansko, one that you can wear to all of your breezy, casual outings and revel in its comfort!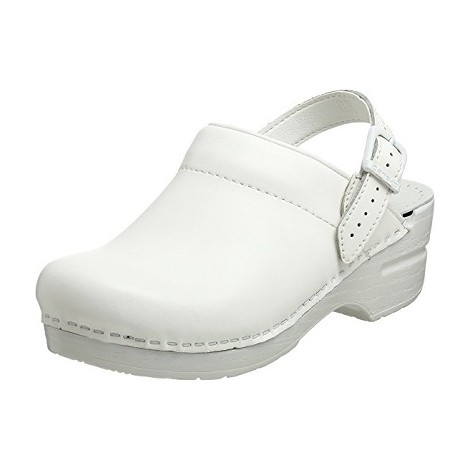 This design is ideal for those who might be interested in wearing clogs for the first time. This is because the buckle-strap in the back is both adjustable and can be moved to the front or rear of the ankle. In essence, this strap allows you to wear the strap at the rear for becoming accustomed to wearing clogs, or at the front to give your clogs a little more personality and décor. In addition, these comfortable clogs are made with leather uppers, have a 2-inch heel height, 0.75-inch platform height, and provide odor control.
The footbed of the Ingrid has a design to help control temperature. This allows your feet to remain cool when you might find yourself in stressful situations. Furthermore, the footbed promotes better foot health and gives you odor control.
The outsole is made to give you ease when walking. The rocker-bottom design helps with follow-through as you take each and every step. In other words, less fatigue is the result of this outsole, which is especially useful when you're spending long work days on your feet and can't wait to come home and rest for a bit.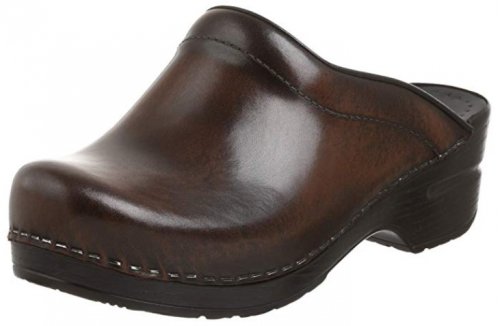 The Sonja is not meant to be stylish. Rather, this design is meant to be supportive, functional, and to provide those who spend long hours on their feet with the comfort they need. It is created for nurses, hairdressers, servers and anyone else who spends most of their workdays zooming from one place to another. With a list of Dansko's hi-tech innovations, the Sonja is sure to keep your feet happy, no matter what you do.
This design is made of leather or fabric, depending on which color choice you go for. It has a padded collar and a reinforced toe box to keep you safe and to provide some wiggle room. The PU outsole on the Sonja has a rocker bottom which makes walking so much easier and also provides shock absorption. Thanks to the PU inner frame and the heel counter, you will feel stable regardless of the direction you take.
As we mentioned before, the Sonja is a mule that doesn't win many style points. However, it is unparalleled in terms of stability and support, and it won't let you down when you need a pair of shoes to keep up with you on those high-stress days. So kick back and relax, because at least you won't have to worry about your feet, thanks to the Dansko Sonja.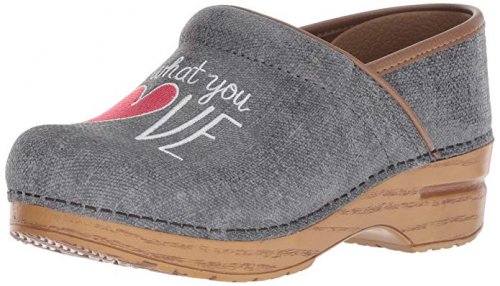 The Dankso Twin Pro is an excellent option if you suffer from heel pain or other foot-related conditions. Accepted by the APMA, the Twin Pro features a protective heel counter and a padded instep collar for comfort and support. The PU foam sock liner is soft, adding a gel feel throughout the footbed.
With the Twin Pro, you are protected, literally, from heel to toe. The reinforced toe box and protective heel counter mean you can walk confidently across any terrain. A padded instep collar protects the ankles, as well. With a 100% leather construction and a slight heel for some added height, you can't help but feel good while you look good. If you are searching for a slip-on with protective features, then the Twin Pro is for you.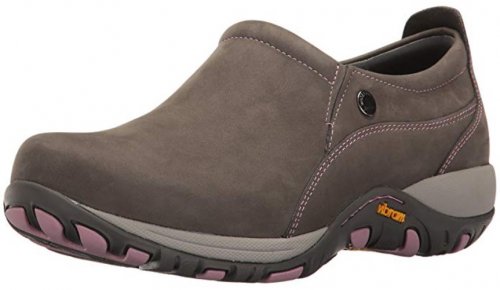 The Patti is a clog that is meant to be worn outdoors. It is similar in design to the Professional Clog, but it comes with waterproof features, a special moisture management technology, and a Vibram outsole to keep you steady on any type of terrain. While other options on our list are dry weather designs, or those meant to be worn indoors, the Patti will keep you safe in all but the harshest of weathers, and you will enjoy its high comfort levels at the same time.
The Patti's upper is made from waterproof leather. There is a triple-density footbed inside, with built-in arch support. This footbed is removable so that you can fit in your custom orthotics if you wish to. Moisture is managed and odor is controlled thanks to the DuPont Sorona fibers and the Cleansport NXT system. There is a shank for stability and support, and the Vibram outsole is absolutely essential if you intend to trek on surfaces covered in light rain or snow.
You can take the Patti out with you anywhere. It is a comfortable option to wear in fall or early winter, one that will keep your feet both cozy and dry in unfavorable weather. The attention to detail this slip-on is made with will surely leave you coming back to it over and over again.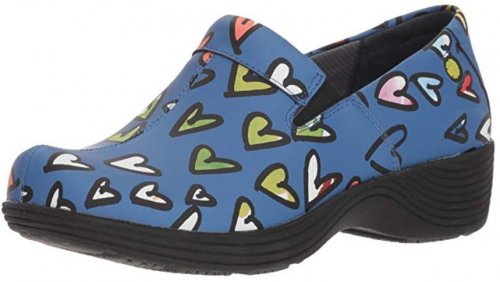 With the Coral, we're bending the rules a little. This is not so much a clog or a mule as it is a slip-on design, but it is reminiscent of the Professional Clog look. The Coral is easy to wear on any type of surface thanks to its outstanding outsole, and it is also moisture-wicking for a cool and dry experience. It is refreshingly easy to clean, should you get it dirty. Everything about the Coral is geared towards making your life more simple and efficient!
This design is made from leather, and its upper is quick to wash and quite long-lasting. The footbed on the Coral is made from foam and can be removed, should you require more space inside the shoe (if you need to insert your own orthotics, for example). The linings inside are treated with both Aegis Microbe Shield and Cleansport NXT, so you know there's no chance of a foul smell developing any time soon.
The outsole of the Coral is designed to be non-marking, durable and resistant to slipping as tested on dry, wet and oily floors. With the Coral, you will be steady on your feet, and you will have a pair of cute slip-ons that will keep you comfortable and safe from worrying about how you will clean them if they get stained! What a great deal!

Subscribe to our Newsletter