Best Shoes for Heel Pain Reviewed & Rated
In a
Hurry? Editors choice:

Test Winner: Vionic Tide II

Heel pain is an on-going concern for a lot of people in the world today, and the type of footwear you opt for can have a significant impact on how you feel when you're out of the house. The most common times of the day for this pain to be extreme is first thing in the morning and after several hours on your feet.
Slippers
and
shoes for heel pain
that are designed to help beat this pain are a great option for anyone suffering from painful
heels
, regardless of what condition you may have. Hopefully, within this list, you will be able to find an option that works for you and gives you a sense of comfort so that you can get out and enjoy life.
Standout Picks
Criteria Used for Evaluation
Comfort
Shock absorption is one of the most critical factors for combating heel pain. Many times, heel pain is caused by conditions that develop as a result of wearing shoes that don't offer the right amounts of support in the correct places. As such, you should determine the areas that you need the most cushioning in and how high your arches are before you purchase a new pair of shoes.
To determine these details, check the bottoms of your shoes to see which areas show the most wear on the outsole. Those areas are the ones that endure the most pressure and correlate to the places where your feet feel the most pressure. After that, determine how high your arches are by placing a piece of paper on the floor, wetting your foot, and stepping on the paper. If you can see the entire or most of the outline of your foot, then you have flat or low arches. If your picture shows very little of the arch area, then you have high arches. Normal arches are in the middle between the two extremes.
Now, we will discuss the different areas of the shoe that affect the cushioning in your shoe. Each area serves a specialized purpose, but not all shoes will have to cushion in all of the following areas of the shoe.
Insole
The insole is also known as the liner or the footbed of the shoe. Some shoes have replaceable insoles, but others do not. When you are considering a new pair of shoes, look for cushioning which is soft and comfortable, but also responsive with sufficient bounceback to reduce the shock associated with walking, running, or any other activity you do while wearing your shoes.
Arch
People who over or underpronate need to consider the arch support, especially if they have developed plantar fasciitis. Some shoes come with specialized cushioning in the arch area of the shoe. This can actually be found in the midsole or in the insole of your shoe, but not all shoes have this feature, so if you need extra cushioning there, keep this in mind.
Heel
An appropriate amount of cushioning in the heel area of your shoe can reduce or eliminate heel pain, especially in shoes with a raised heel and athletic shoes. Look for responsive cushioning and a slightly higher heel in athletic shoes. For dress shoes with a raised heel of any caliber, you should look for a heel that compresses just a little when you put pressure on it so that the heel can absorb a little of the shock from walking on it.
Midsole
Midsoles can serve a few purposes in the shoe, but midsoles that provide cushioning help absorb the force generated by each walking or running step. Many shoe brands have their own patented midsole technologies, but many shoe manufacturers use EVA midsoles, or ethyl vinyl acetate or other types of responsive foam in their midsoles. You want a shoe that comes with a midsole, even if it is a very thin one. Bear in mind that many dress shoes don't come with a midsole, so check to make sure before you invest!
Outsole
Believe it or not, the outsole plays a big role in the cushioning of your shoes. A hard, unyielding outsole or heel cannot absorb the shock and will pass it up to your feet and then up to your legs, knees, and thighs. Look for rubber or synthetic outsoles when you are shopping for a shoe to help reduce your heel pain. If the kind of shoe you're looking for doesn't offer rubber or synthetic outsoles, opt for leather. Avoid crepe and fabric outsoles. They offer little to no cushioning or support.
Support
After cushioning, you should consider the support features in the shoes you are considering purchasing. In general, most support and stability features are found in the outsole, but some are built into the insole or midsole. We will discuss a couple of support and stability features which are designed to support the heel specifically. There are many other technologies used in shoes to produce support and stability for your foot in general.
Heel Counter
A heel counter is a firm ring or piece in the heel of your shoe that usually holds responsive foam cushioning in the heel. Heel counters are commonly found in athletic shoes, but that doesn't mean you can't find a casual, dress, or work shoe with a heel counter in it.
Heel Shank
Just as some shoes come with a shank down the middle or up the sides of the outsole to support the arch, some shoes come with a supportive shank in the heel, which is a short, firm stick of metal or other composite material. The best heel shanks for heel pain would be shanks made of slightly flexible materials rather than firm and unyielding materials.
Flexibility
When it comes to heel pain, cushioning and support are prime factors, but flexibility also plays a role in the development or reduction of heel pain. Flexible outsoles don't just protect your feet from the elements or provide cushioning and support. Flexible outsoles also reduce the impact on your feet as you go about your daily routine. A shoe that is hard and unyielding, meaning it won't bend with your foot as you walk, can hurt your foot. So look for outsole flexibility features, such as treads and grooves, but also consider the outsole material. You want to balance flexibility with support, which can be challenging, but many shoes out there are designed to be more flexible than shoes from years past.
Adjustability
If you buy a shoe and need it to last more than a few months, then you would benefit from finding a shoe with removable insoles. This doesn't necessarily mean that a shoe with non-removable insoles is ineffective, but sometimes the insoles that come in shoes don't provide the support and cushioning that we need. Removable insoles allow you to customize your footbed so that you can use custom orthotics if you need them or replace the insole when it's worn down to give your shoes new life.
Value
There are many things to consider when discussing the value of a particular shoe. You want to primarily consider comfort, durability, personal appeal, and of course, price. It's important to find the ideal balance between these aspects. For example, an expensive pair of shoes will not have much value if they are uncomfortable enough to not be willing to wear them. The issue with buying shoes online is that you can't try them on before ordering, so it's important to look at user reviews to determine how other people feel about the actual fit of the shoe.
Also note that computer monitors and phone/tablet displays handle color differently, so the color in the picture may end up being slightly different than when they show up at your door. Be sure to look over user reviews before making your purchase, and don't be afraid to return or exchange them if you find they don't live up to your expectations. When it comes to shoes, you shouldn't have to make compromises on anything.
10 Best Shoes for Heel Pain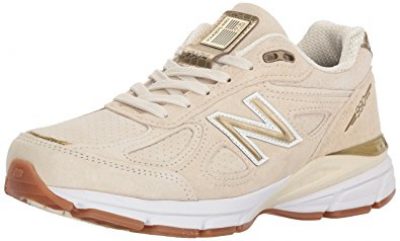 This is the fourth iteration of New Balance's 990 running shoe. It comes with a comfortable ENCAP heel complete with an EVA core, but this is only one of the many great features of this shoe. Its upper is made with a breathable mesh for temperature control and pigskin leather overlays for support and durability. It's lightweight, comfortable, and stylish. As a sneaker option, it's no wonder it hits the top of our list, as comfort is the focus for those with heel pain, and many running sneakers have the quality technology to provide superior comfort.
The 990v4 has New Balance's specially designed ENCAP PU ring, which is a ring of polyurethane fitted with an EVA core, which together provides support and cushioning for your heels. For those with heel pain, cushioning is critical to help alleviate pain when walking, running or simply standing.
New Balance's 990v4's collar is padded with gentle dual-density foam. This eliminates abrasive rubbing on your ankles by the collar of this running shoe so you can run with ease. In addition to added comfort, as these shoes are a sneaker style shoe, these shoes for heel pain are lightweight and breathable, allowing your feet to stay dry and cool even in the heat of summertime.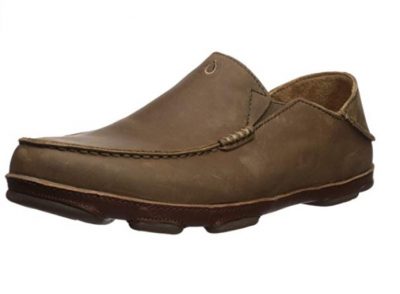 These shoes for heel pain shout comfort from their casual design of nubuck leather to their rubber cushioned sole. The Moloa boasts of a footbed which is contoured for comfort and made to match a natural anatomical foot shape. Microfiber suede covers the footbed for help wicking away moisture and is also washable. Padded comfort wrapped up in a cozy leather design will keep you walking downtown in confidence!
The outsole was designed from rubber, with traction pods at the base which won't leave any marks upon surfaces. Leather foxing lines the outsole. The footbed was designed to curve to the shape of your foot, helping to support it in places where footstrikes naturally occur, and promote heel to toe gait. A plush footbed cover lining of microfiber helps keep feet dry and feeling like each step is softened.
Weather resistant Nubuck leather helps keep this shoe supple and easy to wear. A wide ankle opening helps you slip in and out of the shoe. OluKai brand shoes embrace the spirit of Hawaii and try to keep comfort and style in a natural foundation of a shoe. The Moloa embodies this kind of relaxed fit, so it's perfect for casual gatherings, strolls around town, and will keep you comfortable and supported throughout wear.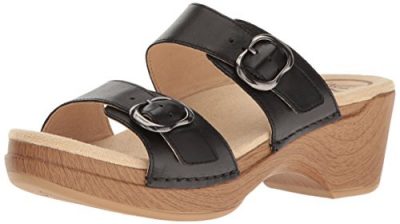 Dansko's Sophie Sandal is a stylish platform sandal with approval from the American Podiatric Medical Association. This beautiful sandal sports a lovely and soft padded suede footbed for cushioning. The synthetic sole on the Dankso Sophie Sandal helps provide you with necessary traction while the straps over the top of your foot are made of sturdy leather with buckle closures.
Dansko's Sophie Sandal was awarded the American Podiatric Medical Association's Seal of Acceptance, which shows that this stylish sandal is great for helping maintain the good health of your feet. Not all brands of shoes have this distinguished approval, but if you're questioning whether needs will be met, rest assured cushion, comfort, and support have gone into backing this approval by podiatrists.
The foam midsole used in Dansko's Sophie Sandal is designed to provide your feet with optimum shock-absorption and cushioning, which will help reduce the pain and fatigue your feet feel. It's a great option for those on their feet at work during the day, who need something stylish to pair with business casual dress attire.




Vionic's Orthaheel Tide Sandals come in eleven stylish colors and have some fun sequined options for added flair. They come with Orthaheel technology and an EVA midsole to offer you the support and cushioning you need to reduce the pain in your heels when you walk. They are a warm-weather alternative to constrictive and hot tennis shoes. The rubber outsole is carved with a geometric tread pattern.
This flip-flop has Orthaheel technology built into it to provide you with support and cushioning. It includes arch support, a heel cup, and the insole is dotted for better grip. AMPA approved, both Vionic and Orthaheel have been reviewed by podiatrists, so you know you're in good hands when you step into these sandals.
To provide your feet- especially your heel- with ample cushioning, Vionic used an EVA midsole in this shoe to provide you with cushioning and shock-absorption right where you need it. You'll be able to step in comfort to that evening BBQ or stroll in the park without pain felt from wearing typical unsupported flip flops or sandals.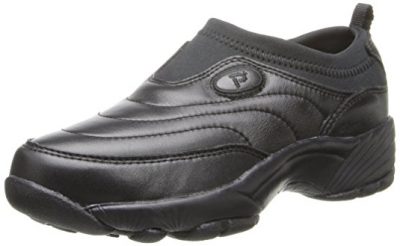 The Propet W3851 Wash & Wear Slip-On is a great shoe for comfort! With a quilted upper, this shoe is machine washable and can be kept clean and like new. Made for comfort, the Propet W3851 Wash & Wear Slip-On has an EVA insole and an orthotic insert to help alleviate heel pain and disperse your body weight evenly, taking that added weight off of your heels. As one of the top shoes on the market for heel pain, the Propet W3851 Wash & Wear Slip-On is a great shoe for you!
Great stability and stride comes with the Propet W3851 Wash & Wear Slip-On. The firm heel counter is put in place in the shoe to assist with stability in any situation. The firm heel encounter allows for a cushioned support as well, eliminating pain.
The Propet W3851 Wash & Wear Slip-On not only protects your heel but also protects the rest of your foot as well. The Eva midsole is a cushioned support put in place to contour to the foot and absorb shock for hours. Working or working out, this shoe will keep your comfort.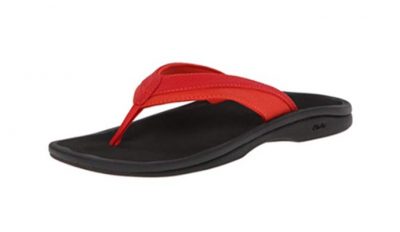 The OluKai Ohana is the best sandal on our list for those experiencing heel pain. With summer in full swing, being confined to supportive sneakers or less than ventilation footwear can leave us missing out on the joys of summertime. The Ohana is a flip-flop style sandal but packed full of supportive and cushioning technology, which is why it nears the top of our list. And, with a number of style options and colors, it's versatile enough for most.
On top of the EVA midsole which is anatomically designed, the Ohana has a non-slip EVA drop-in footbed that helps cradle your foot during each step. A plush and thick rubber sole allows for some impact absorption to help minimize any stress on the heel or rest of the foot. Soft nylon lines the inside of the flip-flop toe webbing, helping to cut down on blistering if you find yourself out for a long stroll.
OluKai Ohana created the strap from weather-resistant synthetic leather, but lined the inside with a quick-drying material should you find yourself caught in a summer thunderstorm, or wading in the ocean or pools. Gum rubber on the outsole and razor-cut lines which help channel water will help to keep you upright on wet surfaces. With so many color options available, you'll be able to pick the perfect pair of heel pain shoes to complement any attire of individual taste!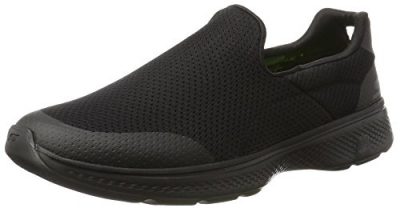 The Go Walk 4 walking shoe from Skechers's Performance series is a comfortable walking shoe that can reduce your heel pain via its responsive cushioning layers and the supportive GoGa Pillars that are built into the sole. The GO-KNIT mesh upper is also excellent for maintaining a comfortable temperature inside your shoes, as it allows air to pass through easily.
The comfortable Go Walk 4 uses Skechers's GoGa Max technology in its insole. The Go Walk 4 provides high energy bounceback and responsive cushioning for a comfortable step every time. Lightweight and plush, you can feel the return of energy from each step you take to help you go a little longer.
The 5Gen midsole technology found in the Skechers Go Walk 4 is wedged between the insole and the outsole, providing extra responsive cushioning to make your walk even more comfortable. In addition, breathable uppers help keep you cool and dry, especially during heat waves!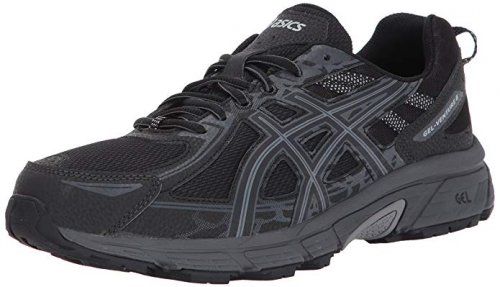 If you are the type of person that loves to get out and explore the world, and won't let your heel pain hold you back, the Gel-Venture 6 is the sneaker for you. With features such as a grippy rubber sole, removable sock liner and a patented gel cushioned midsole, the Gel-Venture will prevent heel pain from getting in the way of your run, hike or whatever other activity you love to do.
The comfort offered by the Gel-Venture is unparalleled, thanks to its gel cushioning system infused into the midsole of the shoe. Supporting your foot throughout the gait cycle, this sneaker dissipates the shock incurred by the muscles when running or walking and helps those with heel pain feel better for longer, compared to most other sneakers on the market. Add in a removable sock liner that allows the wearer to insert a medical orthotic and it becomes the perfect shoe for anyone that suffers from foot pain.
ASICS has incorporated its High Abrasion Rubber Outsole into the Gel-Venture 6 to ensure you can walk or run no matter what type of terrain you encounter. Combined with the reversed lugs, which offer excellent traction and grip, the Gel-Venture 6 is a great option for those that trek on-road, off-road or anything in between.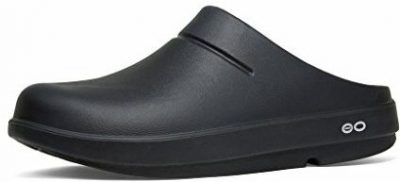 OOFOS's OOcloog Clog comes in narrow, medium width, and wide sizes. It offers arch support and a biomechanically designed footbed, but these are just two of the many features this shoe offers. It also has a non-slip pattern on the rubber outsole to improve traction. Its vented sides help with temperature management and its rubber outsole gives it shock-absorbing properties.
To reduce any heel pain that comes from having plantar fasciitis, OOFOS's OOcloog clog is designed with excellent arch support built into the sole which also provides cushioning and comfort.
The OOFOS OOcloog Clog is designed with a biomechanically designed footbed. This feature supports the natural movements of your feet by bending and flexing with your foot as you walk. And with such an easy slip-on design, it's great for those on the move.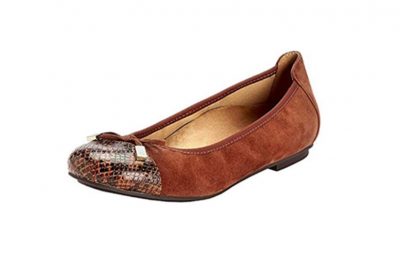 Heel pain shouldn't stop you from finding shoes that have style but also offer relief. The Vionic Spark Minna is a ballet flat style shoe, available in several color options and textured qualities, so you can step up your style backed by Vionic's comfort. Orthaheel technology helps keep you stepping in the supportive cushion, and it's slip-on fit with heel tab help keep you snugly in place. They're great for work or a night out!
This little ballet flat style shoe packs a punch when it comes to classic style elevated with color combinations, metallic, and textured uppers. A little bow adorns the top of the toe box to give some flair. And, as a flat style shoe, this helps alleviate heel pain as opposed to a high heel shoe option, which makes it a smart choice for classy footwear.
Vionic is known for incorporating Orthaheel technology into the design of their shoes, and the Spark Minna is no exception. With a removable EVA footbed, you have the option to place custom orthotics in this shoe as well. A synthetic sole gives some cushioning to your step without making the shoe appear clunky or bulky.

Subscribe to our Newsletter