Best Walking Shoes for Undepronation (Supination Shoes) Reviewed & Rated
Supination occurs when your feet roll to the outside during normal movement. Excess supination, or supination in general, can be an extreme drag for walking or running. Finding the perfect supination shoe to prevent any new or old conditions from worsening is very important. The best way to resolve some of these supination issues or at least hold them at bay is to purchase a pair of underpronation shoes that will assist in proper alignment and stability and that will correct the way your body moves.
Standout Picks
Criteria Used for Evaluation
Protection
With shoes for supination or under-pronation, there are many key factors that are in play. The very first criterion that is emphasized in shoes that deal with feet pain is the type of shoe. Although many varieties of shoes claim they have comfort, choosing the best shoe with the right features is imperative in choosing your shoes for Supination.
The first important factor that plays in mind is what type of supination or pronation you have. It is important to understand the different types of pronation and how they may affect your running. There are three main types of runners: the over-pronator, the neutral-pronator, and the under-pronator.
Over-pronation occurs when the weight that transfers from your heel to your toe when walking or running travels inwards, spreading naturally. This is normal, as your foot rolls healthily this way preventing injury, but some people feel that they are pronating too much. For the over-pronator, footwear that emphasizes medial support using a dual-density mid-sole or footbridges can solve this issue. Generally, there isn't a great need for the cushion in the over-pronation shoe.
Neutral-pronation occurs when someone doesn't pronate viably. They are able to shift their weight inwards, but not enough to relieve the stress from their outer foot. Neutral-pronation shoes have metal backings and are highly involved in mid-sole packing to relieve stress. Generally, footwear for neutral-pronators combines cushion with support features in their design.
Under-pronation is what we all know as supination. This occurs when the wearer fails to pronate at all and rolls the weight to the outside foot. This leads to problems involving Plantar-fasciitis, ankle sprains, and shin splints. Cushion footwear that emphasizes shock dispersion is the main priority for supination. Many shoe companies that centralize in supination shoes add more material and cushion to their shoes, such as gel, hydro, etc. These shoes are generally known as motion control shoes and have a low to moderate arch with tons of cushion. They utilize additional padding in the medial sector to help with pronation and usually have a flatter and larger outsole.
Which type are you? If you haven't figured out already, there is a simple test to determine which type of pronator you are. This test takes 5 minutes and requires paper and some water.
First, lay out the paper. Get the bottom of your foot wet by stepping into some water from a bowl or bathtub. Then, step onto the paper, holding for a minute before stepping off. See how your footprint is shaped. By looking at the shape of your foot, you can determine where the weight is centralized and tell your strike, which is the form of step you have. If much of the sole of your foot is visible, you are an over-pronator. If little of your sole is visible, you are a supinator. If it looks balanced, you are a neutral pronator and have an efficient step.
Knowing the difference between the shape of the foot is also essential. Over-pronators generally have a very flat foot, while supinators have a high-arched foot. Either one adds stress to areas that the foot that may cause injury.
Orthotics can be inserted into the shoe to help greatly with pronation. For supinators, a device called the cavovarus is a wedge that raises the heel to centralize the weight onto the device rather than onto the outsides of the foot. The cavovarus is one of many ideal orthotic inserts for supination.
Support
Like the concept of orthotics, there are many features in supination shoes that should be essential when buying. The first is arch support.
Arch support is the best feature that solves supination. A shoe with cushioned arch support can stabilize your foot and fill the curved part of your foot that suffers from supination. It is generally better to find shoes with higher arch support to support supination, although it is a better idea to ask an orthopedic for proper inserts, as the wrong arch support can lead to worsening the condition.
Flexibility is also an important aspect of running shoes for supinators. A flexible shoe will help you maximize inward movement in the foot and promote a natural strike. The best advice is to find soft midsole shoes and avoid any dual density midsole shoes.
Fit
Like any other shoes, your running supination shoes should fit perfectly to avoid any pressure points and pain. Here are some basic key factors to remember when fitting your shoe.
The first factor is the heel. The heel should always snug, but not tight in running shoes. You should still be able to slide your foot out. There should be some heel movement, but not an excess amount, and it shouldn't feel tight to the point of being uncomfortable.
The shoe's upper should also feel secure around the instep. This prevents hotspots and pressure points from forming under the laces. Your foot should also be able to move side to side in the shoe just barely without crossing the edge of the insole.
There should be thumb's length between your toe and the front of your shoe. The best way to test this is to kick a wall. If your toe comes into contact with the end of the toe box, it is likely to also happen while running and this could result in severe toe pain. Always leave a good amount of room between the toe and the tip of the shoe.
The biggest mistake in buying running shoes is buying shoes that are all too small. Excessively tight-fitting shoes are the major disaster that causes blisters, black toenails, and ankle injuries. If in doubt, always go half a size up as you can fill the remaining gap with special running socks or inserts. Sock thickness can greatly influence the size and feel of a shoe. Make sure you know which socks you will be wearing—thick or thin—before buying your running shoe.
Breaking in a running shoe is essentially different as they are the most flexible types of shoes. The feel of a running shoe can change drastically from when you first wear them to a week after. That's why the term "breaking in" has become so popular and revolved around running shoes. Make sure to wait a few days before making a decision on your new shoes, as they could require a longer type than other shoes. After a few days, however, if they still feel uncomfortable, you should definitely consider returning them for a better pair.
Heel
Heel support is also important. A great insert that can be put under the heel can be essential in preventing supination pain. Heel support prevents your foot from rolling from one side to the other, keeping the pressure even. This can prevent problems such as Plantar-Fasciitis where the plantar fascia is attached to the heel.
The medial post is a support device found exclusive to supination shoes. It is an insert that goes into the heel of the shoe to provide rearfoot control to limit motion. The medial post is a form of heel support and is popular among supination shoes.
A higher score on the heel metric means that you have found a product that will give better control of the movement of the heel, providing for a proper walking cycle and preventing injury.
Comfort
Cushioning is also a big factor in underpronation shoes. Opposite to over-pronators, supination shoes require a ton of cushion to soften the strike, as this feature is concrete in ensuring that your feet feel comfortable and pain-free at all times. Suffering from underpronation makes comfort a great problem, so finding a shoe that provides excess cushion—while also maintaining breathability—can be essential to recovering from supination.
Contrary to what was previously said, we don't want too much cushioning, either, as breathability is at risk with an excess of cushioning. Shoes without breathability make the feet feel like they're suffocating and having shoes that are properly ventilated can prevent unneeded sweating and cramps in the foot. The main criteria for breathability are finding a shoe with ventilation and material that is breathable, such as gel or mesh.
A higher score on the comfort metric means that the product has a thicker midsole, great for cushioning; however, be aware that the breathability of the shoe might suffer due to thick padding. This is a trade-off you have to be careful of!
Best Walking Shoes for Supination in 2020
1

. Hoka One One Clifton 5
The motto of the Hoka One One Clifton 5 design is 'go in comfort and speed'. This sporty option comes in several different colorways that are as intriguing as its construction, and it will give you nothing but the smoothest of rides. The Clifton 5 comes from an award-winning background and is outfitted with the famous Hoka One One midsole, as well as legendary cushioning. There is nothing you won't be able to achieve in the Clifton 5 shoes for supination!
This design has a mesh upper that is specifically engineered to provide the ultimate breathability and comfort. It has an EVA midsole with cushioning that is the trademark of the brand, as well as a moderate heel (5mm drop) which makes for a smooth heel transition. When you're under-pronating, stability is key, and the flat-waisted geometry of this option will give you all the security you need. The outsole ensures you are always in contact with the ground and is abrasion-resistant.

Hoka One One is not a world-famous brand such as Nike or Adidas or even New Balance, but it is already cutting out a path for itself thanks to its innovative designs and technologies. The Clifton 5 is a sneaker that will keep you supported in all the right places, and you are sure to love the eye-catching color combinations. Great deal supination shoes for walking and running overall!
2

. Nike Air Zoom Vomero 13
From the best-known sports footwear manufacturer in the world comes the Nike Air Zoom Vomero 13, a design that is soft and plush both on the outside and on the inside. It provides support in all walks of life, whether you are on your way to pick your kids up from school or about to run your first marathon, and its ultra-responsive feel with every step you take is irreplaceable.
The Vomero 13 underpronation shoes have Flywire cables in the upper which secure the midfoot area even more as you tighten your laces. Nike has taken great care to make sure these cables offer lockdown without restricting movement, and you'll find this option a perfect example of that. There is a padded collar which supports your ankle, and the famed Nike Lunarlon cushioning in the sole. Of course, the Vomero 13 is also outfitted with Nike Zoom Air units that provide that instant energy rebound we know and love from this brand.

The Nike Air Zoom Vomero 13 is every bit as elegant in its construction as it is in its appearance. It is a design that can take you anywhere, and keep you adequately cushioned and protected as long as you're on your feet. With this option, you don't have to worry about your gait or under-pronation ever again.
The Brooks Ghost 11 is an excellent choice for those suffering from under-pronation. High energized foam absorbs all and any shock while a neutral support system is in place to prevent under-pronation, keeping your feet aligned at all times. Soft and padded tongue and collar give a good feeling around the ankle and a firm grip makes this option versatile for any surface.
The Brooks Ghost 11 shoes for supination offer a medium to high arch support that is in place to help with under-pronation issues. Keeping the foot stable, this arch provides perfect alignment of the foot and a contoured midsole tops the arch for a cushioned comfort. The Brooks Ghost 11 provides outstanding breathability. The mesh upper creates an excellent barrier against moisture as it allows breathability and helps maintain a healthy climate for the feet. With mesh uppers, the feet remain disease-free.

With all the energized foams and support that this option has to offer, the Brooks Ghost 11 is super supportive and assists in alignment, creating the perfect comfort. Soft, plushy foams are added for supreme stability, and extra traction is added to give an at ease feeling, on any surface. Stay aligned with the Brooks Ghost 11.
4

. New Balance Fresh Foam 1080v7
New Balance is not a stranger to supportive footwear. In fact, their designs are created with only the comfort and security of their customers in mind, and the Fresh Foam 1080v7 is no different. This is a running shoe, but you absolutely do not have to be a runner to enjoy it. It has a wide toe box, a foam collar for ankle stability, and it is as flexible as you need it to be, accommodating your every step.
The Fresh Foam 1080v7 features an upper made from mesh for breathability and an easy fit, and a no-sew construction so that you can be sure no seams are digging into your skin. The collar of the design is padded with molded foam to support the ankle, and there is an 8mm drop between the heel and the toe area. The spacious toe box is what you need to keep your feet moving naturally, and the outsole is flexible and doesn't hinder motion in any way.

The New Balance Fresh Foam 1080v7 is the choice you make when you lead an active lifestyle. If you want a design that can keep up with you, that you can wear on your errands, on long walks through the neighborhood, and even on the running track, then this one is perfect for you.
The highly comfortable Brooks Glycerin 16 offers more than just cushion for that maximum feel. This option has a crash pad built in to specifically absorb any shock and also a platform pad to assist in the fit and function of this design. Several foam materials are added to benefit comfort and cushion, leaving the Brooks Glycerin 16 a number one choice in all things under-pronation related.
The Brooks Glycerin 16 offers a special midsole that is called the DNA midsole. This is known as the most comfortable midsole available on the market. The DNA midsole is made for hard hits and is known to not bottom out, always keeping comfort and alignment. The Brooks Glycerin 16 has a rounded heel that benefits alignment tremendously. The rounded heel is said to keep a straight alignment through the ankle bone area, reducing the amount of stress on your joints and ankle bone. Now that is a win!

With so many added features to the Brooks Glycerin 16 underpronation shoes, they are made to support under-pronation to the fullest. Firm side walls support the shape of your foot while the DNA midsole is made to take the hardest impacts and the heaviest weight, never bottoming out. Inside the design, there is a smooth lining that leaves a great feeling all day long.
Mizuno comes in hot this year with their Wave Rider 22 running shoe that also supports under-pronation. The design has a unique U4IC midsole foam and is cushioned with mesh uppers and a Cloudwave sole. The technology implemented into the Wave Rider 22 gives it a leg up on the competition. The newly designed Wave Technology enhances comfort and cushioning as well as a responsive feel.
Mizuno's breakthrough technology, the Triple Zone mesh, provides a great addition to this design and gives it its amazing comfort and breathability—a combo that is hard to find in footwear. The Triple Zone mesh absorbs shock and prevents irritation in the heel or ankle. The new U4IC midsole is another technological leap made by Mizuno. The flexible and breathable midsole provides all the necessities of an EVA midsole but also adds better cushioning and durability.

If you are looking for something newer in design and tech, the Mizuno Wave Rider 22 are supination shoes to add to your collection.
The Under Armour Micro G Assert 7 is a great option with a lot of benefits to the foot. Each step is a step in the right direction. Featuring an EVA midsole, this design is supportive and flexible, making each step, a natural step. Topped with great quality memory foams, the Under Armour Micro G Assert 7 is a comfy feel that will last you all day long.
The Under Armour Micro G Assert 7 has an incredible impact-absorbing outsole that disperses the shock in each step that you take. Added traction assists weight distribution and provides a phenomenal grip on any surface. The Under Armour Micro G Assert 7 is versatile due to the outsole and it offers a full-length EVA sock liner. This liner is designed to contour and conform to your foot, reducing pressure points and creating long-lasting shock absorption and comfort, from heel to toe.

The Under Armour Micro G Assert 7 offers excellent support while out and about. The maximum grip allows you to make any move on any surface. With all of the added foams and arch support, this design corrects under-pronation while maintaining a comfortable feel. Added padding around the collar supports the general area of the ankle. Optimal comfort with the Under Armour Micro G Assert 7 at an excellent price!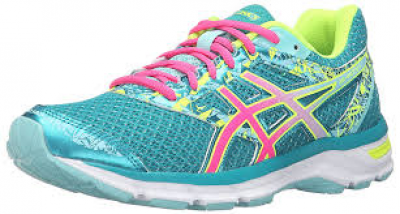 The ASICS Gel-Excite 4 shoes for supination come with lots of benefits and high levels of comfort. Padded heels infused with gel work as shock absorbers while whisking away any existing pain. The outsoles in the ASICS Gel-Excite 4 are made for maximum durability, and traction is positioned in the right areas for maximum grip. With reflective strips added to the ASICS Gel-Excite 4, you are sure to be seen in low light areas, enhancing your safety. The ASICS Gel-Excite 4 is a one of a kind design that is ideal for under-pronation as it has incredible arch support that contours to the feet and create proper alignment.
The ASICS Gel-Excite 4 has the perfect amount of plush materials that help maintain great comfort. The tongue and collar on this design are extra padded, enhancing stability and softness while the EVA plush midsole offers maximum comfort and alignment. The ASICS Gel-Excite 4 has a Rear Foot Gel system that offers optimal shock resistance to the foot. This technology also plays an important role in mid-stance transitions, making them smooth and easy.

Overall, the ASICS Gel-Excite 4 has more to offer than your average tennis shoe. With gel systems that absorb and resist shock, the ASICS Gel-Excite 4 is also incredibly plush, enhancing comfort and making it last all day. Synthetic and leather overlays give it an excellent structure, assisting in under-pronation stabilization. All of these options, at an affordable price!

The Saucony Triumph ISO 4 is made with engineered mesh and an ISOFIT inner sleeve, as well as an Everun insole to enhance comfort and support for those with under-pronation. Saucony has made their way to be one of the most respected names in the running footwear industry, and their Triumph ISO 4 is a great proof of their quality in the name. The ISO 4 is for athletes of any kind and advanced technology provides advantages to anybody.
The new technology of the ISO 4 includes the ISOFIT feature, which is a system in the inner sleeve that enhances the dynamic fit that adapts to your strike, making them great for under-pronation. This provides enhanced energy in the underfoot and is cushioned to relieve any pain or shock. The spectacularly flexible and cushioned insole is what makes this design feel like you're truly walking on air. The insole molds to the shape of your foot and are engineered to maximize your performance in any activity.

This affordable design can really be for anybody looking for a comfortable running option, regardless of budget. With all of the added features, the Triumph ISO 4 is certainly a bang for the buck.
10

. Adidas Rockadia Trail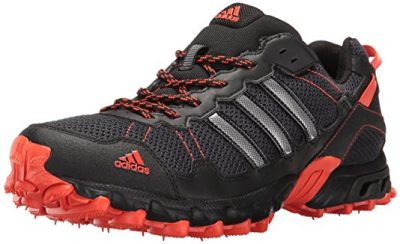 Offering strategic support, the Adidas Rockadia Trail is a very versatile design that has incredible traction and can be used on the roughest terrain without skipping a beat. The mesh uppers on the Rockadia Trail give you maximum breathability and will keep your feet smelling fresh for every workout or day on the job. This sneaker has a molded insole that contours to the foot and is made to withstand extreme impact. With a design this good, you can't beat the price!
The Adidas Rockadia Trail has a breathable mesh upper that keeps air circulating throughout the day. With an added breathable liner, this design is bound and determined to keep your feet fresh and moisture away, adding a healthy feel to your every day. The insole of the Adidas Rockadia Trail has a lot to offer. The memory foam is designed to mold to your feet, creating ultimate comfort and alignment. The molded foam is designed to fit your specific shape to help support under-pronation.

The Adidas Rockadia Trail is truly unbelievable. Offering an insole that forms to your foot, these memory foam insoles will pull pressure away and assist in absorbing shock. Grippy outsoles are made for the roughest terrains and breathable material helps pull sweat away and circulate fresh air. With a design that has it all, the Adidas Rockadia Trail is a great choice.

Subscribe to our Newsletter