Best Hoka Running Shoes Reviewed & Rated
last updated:
Mar 27, 2020
As a runner, you put enormous stress on many parts of your body, from the heart to the mind to the legs. Sprained ankles, strains, ligament, and joint injuries, fractures and pulled muscles do not have to be a part of your running routine. To achieve your running goals and set yourself up for success in running that extra mile or shaving that extra second off your best time, you need to protect and support your feet. Whether you are running in the gym or along a hidden trail, the Hoka One One company has the perfect shoe for you that will protect and comfort your hard-working feet. With Hoka running shoes, you have one less excuse to get off the couch and on the treadmill. Happy running!
In a Hurry? The test winner after 16 hrs of research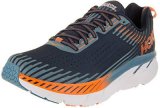 Clifton 5
Why is it better?
Breathable Upper
Reduced Overlays
Very Soft EVA Midsole
Abrasion Resistant Outsole
Weight: 266g
In a
Hurry? Editors choice: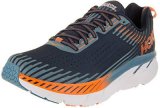 Test Winner: Clifton 5

18
Researched Sources
1467
Reviews Considered
16
Hours Researching
20
Products Evaluated
Brand
Style
Comfort
Versatility
Value
By Default
Hoka One One Reviews
Breathable Upper
Reduced Overlays
Very Soft EVA Midsole
Abrasion Resistant Outsole
Weight: 266g
Narrow Toe Box
Rigid Structure
An award winning neutral road runner, the Clifton 5 is a great choice for those who believe in maximalist, low drop footwear that stacks you high above the ground without being too bulky. This is an incredibly lightweight model, at just 266g, which is considerably less than most shock absorbing running footwear. It's another pair of shoes that comes in numerous color options, and looks different than most models listed, thanks to the unique shape of the midsole.
The upper of the Clifton uses open mesh with 3D Puff Print overlays that are used sparingly, so you get a shoe that's supportive and highly breathable, without packing too much. The tongue and collar are generously padded to maximize comfortability, and the back of the heel features a pull tab for easy on and off.
Like with most other shoes from the brand, you get an EVA foam midsole, this time with a 5mm heel to toe drop. The compound used in the 5th version is actually softer than previous Cliftons, making it a great choice for those who want a cushy shoe to wear on their daily runs. As for the outsole, it uses the brand's High-Abrasion Lightweight rubber, but it also includes flex grooves to promote a more natural gait. As for price, it's around average, so considering the comfort and durability it offers, you're looking at a good investment.
PRO2lite Midsole for Shock Absorption
RMAT Outsole for Comfort
Meta Rocker
Lightweight
The Clayton 2 is a lightweight runner with a microfibre reinforced support in the midfoot. Ultra-bright and ultra-light these road-ready running shoes also feature early stage Meta-Rocker, a PRO2Lite midsole and forefoot matrix tech that provides both cushioning and flexibility. The outsole is designed to rebound and hold on to the road, rain or shine. This is a great racing shoe.
The PRO2Lite midsole is a balance of propulsive forward-movement and protective shock absorption for race day and training. The Clayton 2 is a lightweight, well-cushioned runner that features an RMAT outsole for high-rebound cushion along with Forefoot Matrix technology that provides even more cushioning.
This is in the low-range of prices for our list which is practically a steal for a lightweight race runner. You get great stability and rebound in a cushioned shoe with a unique, ultra-bright, show-stopper.
Open Mesh Upper
EVA Foam Midsole
Early Stage Meta Rocker
Hi-Abrasion Lightweight Rubber Outsole
Lightweight
Runs Narrow
Lateral Stability
A maximalist road runner, the Bondi 6 is the newest edition of Hoka's most successful models. It's main focus is providing users with shock absorption, allowing them to run long distances, as well as to wear it on recovery days. The updates in the latest version make this a great choice for a number of users, regardless of foot shape or fit preference, and the varied color options allow you to choose from simple whites or blacks as well as to go with louder designs.
The biggest update to the Bondi 6 comes in the form of the upper, which now includes a combination of open and closed woven mesh for maximized breathability, and incredibly lightweight construction, and ability to mold to the foot. Lycra linings stretch to accommodate to the foot while wicking moisture away from the skin.
In terms of the sole, you get an EVA foam unit with a 30mm stacking height that does a great job at absorbing shock. While it's not the absolute best option for speed training, it doesn't feel too clunky, and is quite lightweight at 309g. The outsole uses Hi-Abrasion Lightweight Rubber which is only used in high-wear areas in order to provide abrasion resistance without sacrificing weight. As for price, this model can be bought at a cost that's slightly above average, making it a good choice for those looking for high levels of shock absorption.
Seamless Upper
TPU Heel Cup
Dual Midsole
Powerful Toe Off
Flex Grooves
For those looking to get the best of Hoka One One's technologies, the Elevon is a great option. This is a shoe that combines two types of material in the midsole, giving riders a cushioned ride that is completely different from anything else you've experienced from the brand. The upper is minimalistic, with several color options to choose from, and the 5mm heel to toe drop is ideal for most users.
The upper of the Elevon is made with an open knit engineered mesh that is placed without any unnecessary seams, making it a highly comfortable shoe. It's breathable and lightweight, and foot lock-in is ensured by a TPU clip that prevents in-shoe movement. As for the midsole, the bottom frame is one made with EVA, which has been successfully used in Hoka footwear for years. Closer to the foot, it's topped with a Profly layer that protects the heel, while allowing for a powerful toe-off due to being firmer in the front.
Other features of the Elevon include a Meta Rocker shape that allow seamless heel to toe transitions that require considerably less power than similar maximalist shoes. The outsole uses an abrasion resistant rubber compound in high-wear areas, while the rest of the materials is softer, with deep and shallow flex grooves for ultimate running comfort. The cost of the Elevon is considerably higher than most other Hoka footwear, so it may not be affordable for everyone. Nonetheless, if you're after a performance-oriented shoe, then definitely check out this model.
Breathable, Moisture WIcking Upper
EVA Midsole
Profly Compound
Aggressive Lugs
Weight: 255g
No Rock Plate
Heel Slippage
A low drop trail runner, the Torrent is a popular choice among those Hoka One One fans that like to take their runs off the beaten path. It's one of the brand's highest rated shoes, and considering the thought that went into the design, it really comes as no surprise. With a stacking height of around 20mm, it's what you'd get with a regular pair of running gear, and a 5mm heel to toe drop ensures the right balance between heel protection and speed work.
Like most other shoes listed, the Torrent also uses an open mesh upper in order to allow plenty of airflow into the foot chamber, ensuring temperature regulation on hot days, and quick drying to eliminate moisture retention. The tongue and hel are moderately padded, while the lacing system has an extra eyelet that allows you to customize the fit you get.
The midsole of the Torrent uses both EVA foam, which we've come to expect from the brand, as well as a PROFLY compound that is highly cushioned in the heel, dispersing force, and bouncy in the front, ensuring a more powerful toe off. As for the outsole, it uses abrasion resistant rubber and deep, multi-directional lugs that will do a good job on softer, more challenging ground. As for cost association, this model ranks below average, making it a great investment for most users.



Alternating Density Foam
Breathable Nesh
Seamless Construction
Road or Light Trail
Wider Fitting
The Constant 2 is Hoka One One's widest fitting running shoe. It focuses on stable, ground contact that remains comfortable. The midsole is constructed of alternating density foams, all in a breathable, extremely reasonably priced running shoe.
Meta-Rockers stabilize the midfoot and guide your foot through a full, proper gait cycle. A late stage Meta-Rocker puts more emphasis on forefoot stability, making the Constant 2 perfect for those who need more stability in front.
The midsole in this Hoka One One shoe is very unique. It uses a mix of soft foam and springy foam that are strategically placed asymmetrically to match the biodynamics of your foot, for extreme performance. This shoe is the least expensive in our line-up. Quite a value considering the engineering that allows a cushioned, supportive and stable running shoe for any surface. It is also wider fitting than other models in Hoka One One's line.
Meta-Rocker Technology
Lightweight
Great Arch Support
Supports Natural Gait
Rubber Sole for Grip
Hoka One One pays attention to detail and the Arahi 2 is proof of that concept. This shoe features meta-rocker (or rocking chair) technology so that the shoe guides your footfalls as you run, ensuring the correct gait in a smooth manner which distributes impact more evenly. The shoe remains sturdy but still lightweight, this is a great shoe for people who need stabilization of the metatarsals (from conditions like arthritis).
The meta-rocker design of the midsole and outsole of this shoe guides your foot carefully through the proper motion from footfall through to the toes lifting off again. This is a very durable shoe that is lightweight. It is noticeably firmer than other running shoes and won't give in to compression as easily. This is a stability shoe that is great for those with flatter feet or other foot issues.
The Arahi 2 is in the mid-range of shoes on our Hoka One One list. These shoes are an investment but they are an investment in your foot health and the technology needed to provide your foot a safe, stable environment for running. Though designed for running, these shoes can provide a great deal of comfort and stability for those who need a stabilizing, or rocker bottom, shoe.
Midfoot Cage
Open, Breathable Mesh
SpeedFrame
Durable for the Trail
Wider Platform
Hoka One One was inspired by Karl Metzter in creating the Speedgoat. As its name suggests, it is designed to move you quickly through the most technical mountain trails, where moving like a goat means light, agile, and fast. It features a reinforced speedframe construction for durability and a midfoot cage for stability and foot capture. The wider platform also increases stability on uneven terrain.
Stay agile on the trail with a host of features mean for dealing with rough terrain including a wider platform, midfoot cage, a reinforced speedframe and Vibram lugs for aggressive traction.
The oversized midsole in the Speedgoat 2 creates a very stable platform for the feet, especially on uneven terrain. This shoe is designed to be stable in over a variety of trail difficulties and conditions. This shoe, as with most of the heavier duty trail runners on this list, is in the higher range of prices. For the investment though you will receive one of the best, fastest technical trail runners on the market. You can work on gaining the lead position without thinking about your shoes.
Arch-Lock Wings
J-Frame Support
RMAT Outsole
Moderate Heel Bevel
Zonal Rubber Tech
The fact that Hoka One One takes their technology seriously is evident in the Gaviota. This is their premium stability shoe (meaning it stabilizes the metatarsals and midfoot). It also features Arch-Lock Wings technology for further mid-foot support. The RMAT J-Frame also provides a level of support, rebound, shock absorption, and durability. Despite the stability features, this is not a heavy or rigid shoe.
If you need to stabilize your midfoot to prevent pain due to an injury or medical condition, the Arch-Lock Wings in the Gaviota will do just that. Your midfoot will be comfortable and still while the shoe does the gait cycle work for you.
The J-Frame in this shoe is also designed for foot stabilization. It supports and protects the foot while guiding it through each step, all without using any unforgiving or rigid materials. This shoe is at the higher end of the price range for our list. However, for the price, you are receiving Hoka One One's premium stabilizer shoe. It stabilizes without rigid material and without excessive weight. All the support you could ask for in a functional, lightweight runner.
Closed Air Mesh
Seamless Build
Ortholite Insole
Early stage Meta-Rocker
4mm Lugs
Oversize Midsole
Another great trail runner from Hoka One One! This running shoe features a closed air mesh to keep the dirt out but let the air in, an oversized EVA midsole for cushioning, and an early stage Meta-Rocker. For traction on the trail, the shoe has 4 mm lugs and popular design in the outsole. This shoe doubles as a good road runner as well.
4 mm lugs and a popular outsole help with traction on all terrains and on uneven terrain. This shoe will keep your feet secure on the trail or on the road so you can work on your training.
Good trail runners keep the dirt, dust, and debris out of your shoes while you're running. The shoe remains very breathable throughout your run without worrying about discomfort from grit and small debris underfoot. This shoe is in the midrange price wise which is great for a shoe that you can train on road or trail in. You also receive all the benefits common to Hoka One One shoes - comfortable insoles, breathability, and a stable, smooth run.
Criteria Used for Evaluation


Brand
Hoka One One has made it a point to keep up with the science of footwear. From how feet work, the best materials and methods to support feet, how injuries affect feet, the mechanics of gait, weight, and technique in running, and build engineering, Hoka One One stays on top of it all. It is one of the values of the company that sets it apart from the hundreds of other running shoemakers in the market.
Each of the shoes included in our list features advanced shoe making techniques and materials that suit the purpose of that particular shoe – whether it is increased comfort, increased support, increased flexibility, helping you run faster, helping you run longer or helping you deal with an older injury – the shoes are designed with the newest technologies available.
Three of the current technologies built into their shoes are the Marshmallow, the Rocking Chair, and the Bucket Seat.
The Marshmallow– Hoka One One running shoes often have a midsole that is twice or more the thickness of other running shoes. These give them an appearance that people are not used to and some giggle at. However, the super thick and slightly wider midsole is very light and maximizes cushioning for your feet. Its minimal weight ensures that your feet are comfortable, stable and not fatigued. It is also a shock absorber that has no match.
The Rocking Chair-a.k.a. Meta-rocker Geometry. The midsole in most Hoka One One models has a low heel to toe differential. The outsole is also shaped to propel you forward. The two together are known as the rocking chair which encourages a natural gait for running and helps your foot do some of the work of rolling from heel to toe with each step.
The Bucket Seat– a.k.a. Active Foot Frame. The midsole in the Hoka One One is shaped like a bucket seat so your foot sits inside the midsole instead of on it. This gives you more stability for whatever type of running you do, without extra weight or additional support material. It's also adaptable to the shape of your foot.


Style
It's not enough to understand the science, it must be applied to be useful. Hoka One One has used its experience as a shoemaker and its commitment to the latest science to build several improvements and features into their running shoes:
Seamless construction– Seams are one spot in a shoe that can cause blistering, sores and irritation, even with the help of running socks. Seams are difficult to reduce or omit when building something that must be as strong as a shoe but Hoka One One has mastered seamless construction.
Durable outsoles – Engineering a good outsole is not as simple as cutting a piece of rubber and adhering it to the shoe. A good outsole must resist wear from surfaces like concrete and pavement and must provide traction on surfaces like wet pavement, wooden floors, and carpeting. It must provide support and be flexible at the same time. Hoka One One has engineered their outsoles with a thick and durable, but flexible and gripping rubber material. It's engineered so well you won't have to think about the outsole at all.
Breathable mesh– The upper of any sports shoe must be breathable to deal with sweaty feet and to prevent overheating that will reduce both comfort and performance and increase the risk of infection from microbes. Hoka One One has designed their mesh upper with breathable function in mind over aesthetics. Your feet will stay dry and comfortable in their mesh uppers.


Comfort
We evaluate all the shoes we list for comfort. This is because a shoe that fits properly and is comfortable is less likely to cause injury or damage to the foot but also because overwhelmingly, people want to be comfortable on their feet. No one enjoys foot pain and aches.
In the case of a list from a single manufacturer, we'll review comfort & fit relative to that specific line of footwear and its purpose – in this case, running.
Since you will be using these shoes for running on some level, the last thing you want to have sore and aching feet part way through your run or after. Nothing is more demotivating than pain. Hoka One One shoes are designed to be comfortable on any terrain and in any weather.
They are well cushioned and padded with the latest in shock absorbing and cushioning technology and seamless construction. This means that your shoes will take the brunt of your run, rather than your heels, metatarsals, and forefoot. It also means that your top foot and heels should not experience blisters, abrasions, scratches and other irritations that can make running (and walking afterward) extremely painful.
Hoka One One shoes are well designed for air ventilation, and a dry foot is a comfortable foot. They are also designed to hug your foot and move with it while guiding your foot into the correct gait. A stable foot is excessively happy because it will not likely be injured in any way. Finally, the shoes are designed to be as lightweight as possible. This means your feet will not be fatigued by having to lift the weight of the shoe. Instead, the lifts naturally with the foot, as it should.
No feature was overlooked with Hoka One One in terms of comfort. In terms of fit, part of the job is yours – have your feet correctly measured and read Hoka One One's size charts to ensure the best fit for you. Many of the models are available in wider sizes for those who need them.


Versatility
You will be able to use your Hoka One One shoes for activities other than running; however, you are investing in a great shoe that is designed to get you to your target speed (or endurance). Even the best running shoes only have so many miles on them, so it's a good idea to have your running shoes for exercise and training alone and purchase a separate pair of shoes for other activities like working out in the gym or running errands.
Wearing your runners for running will keep them in the best shape for that purpose. You're making an investment in your Hoka One One running shoes, so it makes sense to get the very best life out of them.


Value
Here's the deal, no one wants to spend a ton of money on shoes, even if they're special training sneakers. So, when we were evaluating items, we really took into consideration a few different things when it comes to value. Primarily, we really wanted to focus on sharing styles that offered a blend of a good price and great value.
We actually started off the buying guide by scanning through a couple of dozen different options. We looked at the price range and came up with an average or an estimated market value for both running shoes and Hoka One One products. We then decided on the best products to recommend. We would look at a product and ask ourselves:
How is this priced in comparison to the market price?
Does this shoe offer value equal to or greater than its price?
How does this compare to the other options we have chosen?
Expert Interviews & Opinions
Most Important Criteria
(According to our experts opinion)
Experts Opinion
Editors Opinion
Users Opinion
By Default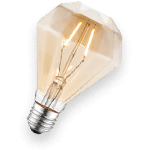 Rocker Sole
Hoka One One utilizes a kind of rocker sole, where the shape mimics that of an arch, to help promote natural gait and lessen shock impact to the body. It's a unique kind of sneaker that does take a little getting used to, but once you're acclimated, the cushion and easy to run will have you hooked!
Preventing Injury
No matter what kind of runner you are, road only, or adventure trails and beyond, preventing injury starts with the proper footwear, and knowing you're limits.
If you're just starting out, work up to mileage that can take you on longer journeys, as going to far to quickly can result in shin splints.
If you're newer to trail running, stick to less rocky terrain, or flat, open trails, until you start to test what you can do.
Other Factors to Consider


Bottom Line
If you've decided to invest in a pair of Hoka One One running shoes, you've made a good choice. This is a brand that provides highly cushioned running gear to fans of maximalist footwear, and they've been around for enough time to be able to provide you with great value. With constant technological updates, their models are getting better and better, and are surprisingly lightweight considering the fact that the heel and toe heights often exceed 30mm.
If you're not sure what the best investment for you would be, we recommend deciding on what it is you need exactly: a road or trail runner, neutral, stabilizing or motion control footwear. Once you know the key things to look for, you can browse their selection of varying cushioning materials, upper variants, outsole materials, etc.
Before making a purchase, we would recommend trying on the shoes in a brick and mortar store, as well as going through the pros and cons listed in the guide above to ensure you're purchasing something that will serve you well, without any unpleasant surprises.
Frequently Asked Questions
q:

Why is Hoka One One such a good choice for running shoes?

a:

Hoka One One is an experienced shoemaker who doesn't rest on their laurels when styles and technologies change. They always seek to bring you the very best quality construction. They are very proud when a runner in their shoes wins races and are motivated to help all their customers perform at their very best – it's ingrained in their business model and their DNA!
q:

I was told that running in two different pairs of shoes was better for me, is that true?

a:

Yes, in a way it is true. The midsole foam material in a runner can take up to 24 hours to fully recover after running use. Also, running in two different shoes helps your body adapt to both and can prevent overuse injuries. However, if you are just starting out or running a few days per week, one pair will be adequate. If you are on a heavier training schedule or are going to run longer distances more frequently, two or more pairs of running shoes are recommended.
q:

Do Hoka One One shoes tend to run bigger or smaller than usual?

a:

"True to size" is a fairly subjective standard. Some people will find that they have a hard time finding a Hoka One One running shoe that fits them. One reason for this is that running shoes do not fit the same way that street shoes do. To ensure the best fit, always check the size chart for the model that you are considering. Read the reviews to determine whether the shoes run narrow or wide, long or short. Folks are good about telling you in reviews about sizing challenges. The best though is to avoid the temptation to click on your 'normal' shoe size and expect to have a shoe delivered that fits perfectly. Take a few minutes to check out reviews and charts to be sure.
q:

Where can I wear my Hoka One One shoes?

a:

Hoka One One shoes are designed to cope with almost any terrain in almost any weather. This means you can wear them on trails and concrete, treadmills and park paths and expect that they will last. You can also get your run in whether it's raining or sunny outside. While you may not be overly motivated to run outside in the rain, having a good pair of shoes that will stand up to it gives you one less excuse.
q:

Are the insoles removable?

a:

In most Hoka One One models, the insoles are removable. It's always best to check the product details to be sure, but in most cases, you will be able to replace the insole with a custom insole or orthotic if you prefer.
q:

Is there a specific way that I would need to clean my Hoka shoes?

a:

Hoka One One's don't require any more care than other running shoes. A little soap and warm water on a cloth will take care of most dirt.
q:

What is the difference between a late-stage and early-stage Meta-Rocker design?

a:

The late-stage Meta-Rocker keeps your heel on the ground for a fraction of a second longer in the gate cycle, emphasizing heel stability. The early stage Meta-Rocker keeps your forefoot on the ground for a fraction of a second longer in the gate cycle, emphasizing forefoot stability.
q:

When is it time to replace my Hoka One One running shoes?

a:

A running shoe should last between 300 to 500 miles before needing to be replaced. If the midsole begins to show creases or the outsoles begin to wear through to the midsole material, these are signs that the shoe has worn and should be replaced. Further, if the shoe is becoming uncomfortable, this is also likely a compression or stretching issue and the shoe should be replaced.
q:

My running shoes are wearing out unevenly, why is that happening?

a:

It's most likely because of the way you run. Some people are heavy heel-strikers while others distribute their weight further forward. Some people pronate their feet (put more weight toward the instep) or supinate their feet (put more weight on the outside). All of these will cause your shoe to wear unevenly. Unless it's severe, it's usually normal and nothing to worry about. However, if you are noticing that one area is wearing much faster than others, and especially if you are experiencing pain, you may want to have your feet checked out by a podiatrist who may recommend a custom orthotic to correct the issue.