Best Hoka One One Shoes Reviewed & Rated
last updated
Feb 28, 2019
As a runner, you put enormous stress on many parts of your body, from the heart to the mind to the legs. Sprained ankles, strains, ligament, and joint injuries, fractures and pulled muscles do not have to be a part of your running routine. To achieve your running goals and set yourself up for success in running that extra mile or shaving that extra second off your best time, you need to protect and support your feet. Whether you are running in the gym or along a hidden trail, the Hoka One One company has the perfect shoe for you that will protect and comfort your hard-working feet. With shoes like these, you have one less excuse to get off the couch and on the treadmill. Happy running!
This is the best product on our list that is currently in stock: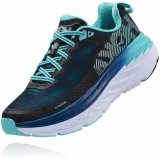 Bondi 5
Why is it better?
Breathable Mesh
EVA Midsole
Padded Tongue
Ortholite Technology
Ensures Proper Gait
In a
Hurry? Editors choice: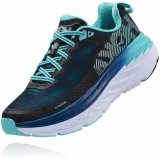 Test Winner: Bondi 5

18
Researched Sources
1467
Reviews Considered
16
Hours Researching
20
Products Evaluated
Brand
Style
Comfort
Versatility
Value
By Default
In Depth Review Top 10
Clayton 2
Bondi 5
Clifton 4
Constant 2
Arahi 2
Odyssey
Mafate 4
Speedgoat 2
Gaviota
Challenger 4
Table of contents
Criteria Used for Evaluation
Frequently Asked Questions
Sources
10 Best Hoka One One Shoes
PRO2lite Midsole for Shock Absorption
RMAT Outsole for Comfort
Meta Rocker
Lightweight
The Clayton 2 is a lightweight runner with a microfibre reinforced support in the midfoot. Ultra-bright and ultra-light these road-ready running shoes also feature early stage Meta-Rocker, a PRO2Lite midsole and forefoot matrix tech that provides both cushioning and flexibility. The outsole is designed to rebound and hold on to the road, rain or shine. This is a great racing shoe.
Read more
PRO2Lite Midsole
The PRO2Lite midsole is a balance of propulsive forward-movement and protective shock absorption for race day and training.
Ultra-cushioning
The Clayton 2 is a lightweight, well-cushioned runner that features an RMAT outsole for high-rebound cushion along with Forefoot Matrix technology that provides even more cushioning.
Cost and Value
This is in the low-range of prices for our list which is practically a steal for a lightweight race runner. You get great stability and rebound in a cushioned shoe with a unique, ultra-bright, show-stopper.
Breathable Mesh
EVA Midsole
Padded Tongue
Ortholite Technology
Ensures Proper Gait
This option 5 is designed for hard, artificial surfaces but it can be taken on trails as well. Upgrades over its predecessor include an improved tip, support and compression, and breathability. It comes with a ComfortFrame upper and a padded tongue along with a cushiony EVA midsole. For your gym training days, this is a great, comfortable ride.
Read more
Molded Ortholite Sockliner
Molded sock liners add to the comfort of your feet by holding them in place and following their natural curves.
Early Stage Meta-Rocker
The early stage Meta-Rocker in the midsole was chosen specifically for the low heel-to-toe differential that guides your foot effectively through a proper gait cycle.
Cost and Value
This shoe is in the higher range price wise but it is well worth the higher cost. The shoe is designed for hard, artificial surfaces like tracks but is versatile enough for the trail as well. It's a racer with an ultralight build, full EVA midsole and extra padding where it counts. The zoned rubber outsole will also make the shoe longer lasting, which means more value for your money.
Mesh Allows for Max Airflow
Molded Ortholite Sockliner
EVA Midsole
High Abrasion Rubber for Traction
Lightweight
Hoka One One's Clifton line is an award-winner and the 4th iteration of the shoe is even lighter, more cushioned, and faster than before. It's midsole cushioning has been upgraded so that it lasts longer than before, and the forefoot has been made more adaptive. Fit and mesh were both improved and even the look received a modern upgrade. All in all the Clifton 4 was rebuilt from the ground up to be even better than it's award-winning predecessors.
Read more
Max Air in a Secure Upper
Hoka One One proves that you do not have to sacrifice support to achieve a very airy mesh that will keep your foot cool and dry while keeping your feet secure in place.
Comfort
This shoe features a molded ortholite sock liner and a full EVA midsole for excellent cushioning and cushioning spells comfort, even after a long run.
Cost and Value
For such an upgraded, comfortable running shoe, the Clifton 4 falls in the lower mid-range for shoes on our list. An investment, yes, but a reasonable one, given all the features you get that make a great road running shoe.


Alternating Density Foam
Breathable Nesh
Seamless Construction
Road or Light Trail
Wider Fitting
The Constant 2 is Hoka One One's widest fitting running shoe. It focuses on stable, ground contact that remains comfortable. The midsole is constructed of alternating density foams, all in a breathable, extremely reasonably priced running shoe.
Read more
Late Stage Meta-Rocker
Meta-Rockers stabilize the midfoot and guide your foot through a full, proper gait cycle. A late stage Meta-Rocker puts more emphasis on forefoot stability, making the Constant 2 perfect for those who need more stability in front.
Alternating Density Midsole
The midsole in this Hoka One One shoe is very unique. It uses a mix of soft foam and springy foam that are strategically placed asymmetrically to match the biodynamics of your foot, for extreme performance.
Cost and Value
This shoe is the least expensive in our line-up. Quite a value considering the engineering that allows a cushioned, supportive and stable running shoe for any surface. It is also wider fitting than other models in Hoka One One's line.
Meta-Rocker Technology
Lightweight
Great Arch Support
Supports Natural Gait
Rubber Sole for Grip
Hoka One One pays attention to detail and the Arahi 2 is proof of that concept. This shoe features meta-rocker (or rocking chair) technology so that the shoe guides your footfalls as you run, ensuring the correct gait in a smooth manner which distributes impact more evenly. The shoe remains sturdy but still lightweight, this is a great shoe for people who need stabilization of the metatarsals (from conditions like arthritis).
Read more
Meta Rocker
The meta-rocker design of the midsole and outsole of this shoe guides your foot carefully through the proper motion from footfall through to the toes lifting off again.
Great Durability
This is a very durable shoe that is lightweight. It is noticeably firmer than other running shoes and won't give in to compression as easily. This is a stability shoe that is great for those with flatter feet or other foot issues.
Cost and Value
The Arahi 2 is in the mid-range of shoes on our Hoka One One list. These shoes are an investment but they are an investment in your foot health and the technology needed to provide your foot a safe, stable environment for running. Though designed for running, these shoes can provide a great deal of comfort and stability for those who need a stabilizing, or rocker bottom, shoe.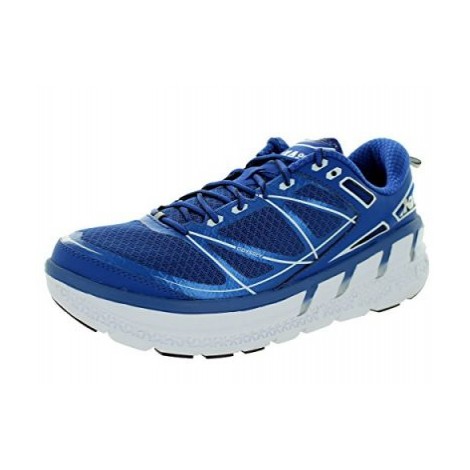 Meta-Rocker
Shock-Absorbing
Rubber Pod Traction
EVA Midsole
Midfoot Stabilizing
The Hoka One One Odyssey is a fantastic lightweight shoe with extra cushioning for road running. It has an Active Foot Frame for stability and a shock-absorbing, cushioned midsole with rubber pod style outsole for durability without additional weight or loss of cushion. It is an early-stage Meta-Rocker for propulsion and stability which the EVA midsole provides additional cushion.
Read more
Strategic Traction
Rubber pods are placed strategically over the bottom of the shoe which adds traction in the right places while keeping the shoe very lightweight and comfortable.
Early Stage Meta-Rocker
The early stage Meta-Rocker in this shoe stabilizes the foot while keeping your heel in contact with the ground for just a fraction of a second longer, increasing the stability of the heel.
Cost and Value
These shoes are in the lower range of prices and for the value, you are getting a very comfortable, very easy ride. Glide through your run with stable heels and a shock-absorbing, lightweight heel.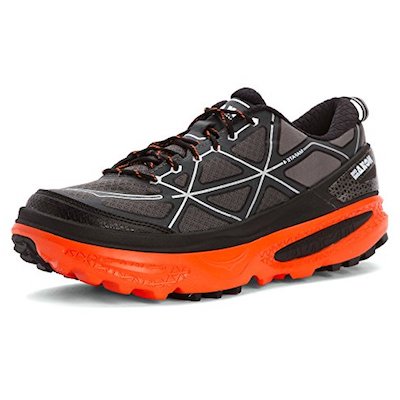 Debris Screen
SpeedFrame
Seamless Interior
Padded Tongue
CMEVA Midsole
The Mafate 4 is Hoka One One's mountain runner. It features a lightweight, seamless construction with superior traction. The bucket frame rests with an RMAT chassis to provide support over the most difficult terrain. The 3D mesh upper allows your feet to stay cool and dry while the heel counter stabilizes the back of your foot. Every feature is designed to keep you safe and stable on the most complicated trails.
Read more
Monomesh Debris Screen
The monomesh debris screen helps to keep trail debris and dirt from getting into the shoe, keeping your feet comfortably racing while the mesh remains breathable.
Race Lace
The Hoka Race Lace technology is an intuitive, quick lacing system that makes adjusting, loosening and fastening your shoes simple on the fly.
Cost and Value
These are the most expensive shoes on our list. You're paying for a lightweight, safe, secure and stable mountain runner that features a great deal of tech designed to make you the fastest mammal through the pass. You will also appreciate the debris screen while making your way through mountain trails.
Midfoot Cage
Open, Breathable Mesh
SpeedFrame
Durable for the Trail
Wider Platform
Hoka One One was inspired by Karl Metzter in creating the Speedgoat. As its name suggests, it is designed to move you quickly through the most technical mountain trails, where moving like a goat means light, agile, and fast. It features a reinforced speedframe construction for durability and a midfoot cage for stability and foot capture. The wider platform also increases stability on uneven terrain.
Read more
Trail Agility
Stay agile on the trail with a host of features mean for dealing with rough terrain including a wider platform, midfoot cage, a reinforced speedframe and Vibram lugs for aggressive traction.
Oversized Midsole
The oversized midsole in the Speedgoat 2 creates a very stable platform for the feet, especially on uneven terrain. This shoe is designed to be stable in over a variety of trail difficulties and conditions.
Cost and Value
This shoe, as with most of the heavier duty trail runners on this list, is in the higher range of prices. For the investment though you will receive one of the best, fastest technical trail runners on the market. You can work on gaining the lead position without thinking about your shoes.
Arch-Lock Wings
J-Frame Support
RMAT Outsole
Moderate Heel Bevel
Zonal Rubber Tech
The fact that Hoka One One takes their technology seriously is evident in the Gaviota. This is their premium stability shoe (meaning it stabilizes the metatarsals and midfoot). It also features Arch-Lock Wings technology for further mid-foot support. The RMAT J-Frame also provides a level of support, rebound, shock absorption, and durability. Despite the stability features, this is not a heavy or rigid shoe.
Read more
Arch-Lock Wings
If you need to stabilize your midfoot to prevent pain due to an injury or medical condition, the Arch-Lock Wings in the Gaviota will do just that. Your midfoot will be comfortable and still while the shoe does the gait cycle work for you.
J-Frame Stabilizer
The J-Frame in this shoe is also designed for foot stabilization. It supports and protects the foot while guiding it through each step, all without using any unforgiving or rigid materials.
Cost and Value
This shoe is at the higher end of the price range for our list. However, for the price, you are receiving Hoka One One's premium stabilizer shoe. It stabilizes without rigid material and without excessive weight. All the support you could ask for in a functional, lightweight runner.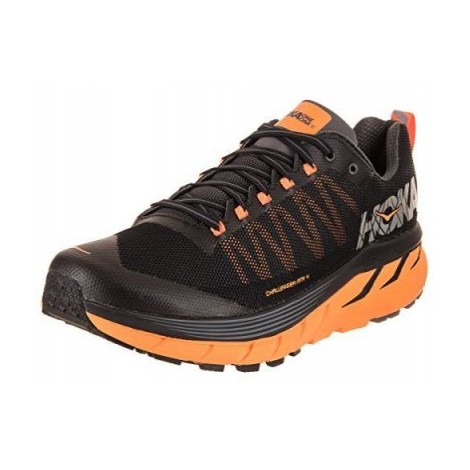 Closed Air Mesh
Seamless Build
Ortholite Insole
Early stage Meta-Rocker
4mm Lugs
Oversize Midsole
Another great trail runner from Hoka One One! This running shoe features a closed air mesh to keep the dirt out but let the air in, an oversized EVA midsole for cushioning, and an early stage Meta-Rocker. For traction on the trail, the shoe has 4 mm lugs and popular design in the outsole. This shoe doubles as a good road runner as well.
Read more
All Terrain Traction
4 mm lugs and a popular outsole help with traction on all terrains and on uneven terrain. This shoe will keep your feet secure on the trail or on the road so you can work on your training.
Closed Air Mesh
Good trail runners keep the dirt, dust, and debris out of your shoes while you're running. The shoe remains very breathable throughout your run without worrying about discomfort from grit and small debris underfoot.
Cost and Value
This shoe is in the midrange price wise which is great for a shoe that you can train on road or trail in. You also receive all the benefits common to Hoka One One shoes - comfortable insoles, breathability, and a stable, smooth run.
Criteria Used for Evaluation
Expert Interviews & Opinions
Most Important Criteria
(According to our experts opinion)
Experts Opinion
Editors Opinion
Users Opinion
By Default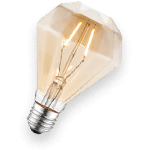 Rocker Sole
Hoka One One utilizes a kind of rocker sole, where the shape mimics that of an arch, to help promote natural gait and lessen shock impact to the body. It's a unique kind of sneaker that does take a little getting used to, but once you're acclimated, the cushion and easy to run will have you hooked!
Preventing Injury
No matter what kind of runner you are, road only, or adventure trails and beyond, preventing injury starts with the proper footwear, and knowing you're limits.
If you're just starting out, work up to mileage that can take you on longer journeys, as going to far to quickly can result in shin splints.
If you're newer to trail running, stick to less rocky terrain, or flat, open trails, until you start to test what you can do.
Frequently Asked Questions
q:
Why is Hoka One One such a good choice for running shoes?
a:
Hoka One One is an experienced shoemaker who doesn't rest on their laurels when styles and technologies change. They always seek to bring you the very best quality construction. They are very proud when a runner in their shoes wins races and are motivated to help all their customers perform at their very best – it's ingrained in their business model and their DNA!
q:
I was told that running in two different pairs of shoes was better for me, is that true?
a:
Yes, in a way it is true. The midsole foam material in a runner can take up to 24 hours to fully recover after running use. Also, running in two different shoes helps your body adapt to both and can prevent overuse injuries. However, if you are just starting out or running a few days per week, one pair will be adequate. If you are on a heavier training schedule or are going to run longer distances more frequently, two or more pairs of running shoes are recommended.
q:
Do Hoka One One shoes tend to run bigger or smaller than usual?
a:
"True to size" is a fairly subjective standard. Some people will find that they have a hard time finding a Hoka One One running shoe that fits them. One reason for this is that running shoes do not fit the same way that street shoes do. To ensure the best fit, always check the size chart for the model that you are considering. Read the reviews to determine whether the shoes run narrow or wide, long or short. Folks are good about telling you in reviews about sizing challenges. The best though is to avoid the temptation to click on your 'normal' shoe size and expect to have a shoe delivered that fits perfectly. Take a few minutes to check out reviews and charts to be sure.
q:
Where can I wear my Hoka One One shoes?
a:
Hoka One One shoes are designed to cope with almost any terrain in almost any weather. This means you can wear them on trails and concrete, treadmills and park paths and expect that they will last. You can also get your run in whether it's raining or sunny outside. While you may not be overly motivated to run outside in the rain, having a good pair of shoes that will stand up to it gives you one less excuse.
q:
Are the insoles removable?
a:
In most Hoka One One models, the insoles are removable. It's always best to check the product details to be sure, but in most cases, you will be able to replace the insole with a custom insole or orthotic if you prefer.
q:
Is there a specific way that I would need to clean my Hoka shoes?
a:
Hoka One One's don't require any more care than other running shoes. A little soap and warm water on a cloth will take care of most dirt.
q:
What is the difference between a late-stage and early-stage Meta-Rocker design?
a:
The late-stage Meta-Rocker keeps your heel on the ground for a fraction of a second longer in the gate cycle, emphasizing heel stability. The early stage Meta-Rocker keeps your forefoot on the ground for a fraction of a second longer in the gate cycle, emphasizing forefoot stability.
q:
When is it time to replace my Hoka One One running shoes?
a:
A running shoe should last between 300 to 500 miles before needing to be replaced. If the midsole begins to show creases or the outsoles begin to wear through to the midsole material, these are signs that the shoe has worn and should be replaced. Further, if the shoe is becoming uncomfortable, this is also likely a compression or stretching issue and the shoe should be replaced.
q:
My running shoes are wearing out unevenly, why is that happening?
a:
It's most likely because of the way you run. Some people are heavy heel-strikers while others distribute their weight further forward. Some people pronate their feet (put more weight toward the instep) or supinate their feet (put more weight on the outside). All of these will cause your shoe to wear unevenly. Unless it's severe, it's usually normal and nothing to worry about. However, if you are noticing that one area is wearing much faster than others, and especially if you are experiencing pain, you may want to have your feet checked out by a podiatrist who may recommend a custom orthotic to correct the issue.