Best Support Running Shoes Reviewed & Rated
In a Hurry? Editors choice: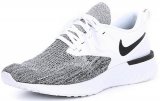 Test Winner: Nike Odyssey React Flyknit 2

Running is an excellent form of exercise that is available to anyone, anywhere. And while it does not require a gym membership or lots of equipment, you will need to think about the shoes you do it in, especially if you have a low arch or tend to overpronate. To ensure the health of your musculoskeletal system, your best choice would be to invest in a great pair of stability running shoes.

This type of footwear is made with a higher level of support in two areas: the first is the upper that needs to wrap around the foot from the sole, keeping you completely locked in, and the other is the sole which should support your heel and arch and prevent you from rolling in or out.

The list below looks at the ten best stability shoes available for purchase, all excellent choices for both beginner and expert runners.
Standout Picks
Criteria Used for Evaluation
Overall Fit
Shoes for overpronators must be constructed with some sort of heel system in place that firmly cradles and supports the heel. In doing so, it prevents the heel from moving around inside the shoe while the running is taking their steps. It locks the heel into place and helps to facilitate more of a proper and correct step to alleviate some, if not all, of the overpronation.
By securing the heel, a good pair of stability running shoes overall protect the runner and helps to prevent injury to not just the heel but the ankles and legs as well. Most injuries occur when there is a misstep. Sometimes the injuries can be minimal such as just twisting the ankle. Other times it can result in severe injuries such as a broken ankle or leg if such force is applied behind a misstep due to the foot not striking the ground properly.
Shock Absorption
The shock absorption ability of a pair of stability running shoes is a very important consideration when picking new shoes, whether overpronation is a concern or not. The shock and impact-absorbing ability of a shoe are what allow runners to go the distance. If a shoe is not properly absorbing the impact of the ground, runners can face injury, shin splints, or low-tolerance for running which could make a person stop running. All of these complaints plus much more can be completely eradicated if a person is wearing the proper pair of stability running shoes that have the best cushioning for the run.
A strong cushion from the outer sole and inner sole is hugely important in the shock-absorbing impact a shoe will make. The constant jolt from each ground strike has to be absorbed by something, so just make sure it is the soul and not the body taking the blunt force in. Studies have shown that the impact runners face can cause many long-term problems to the body such as aches and pains, arthritis, osteoarthritis, cartilage loss, and more. By providing the body and foot with the correct absorbing power, stability running shoes can prevent such drastic health problems.
Support
What the actual problem is that an overpronator face is, the incorrect alignment through the foot when it strikes the ground and then takes off again. The main goal of a pair of stability running shoes is to facilitate the correct sequence of the heel strike, roll through, and toe-off. If the shoe does not hold the foot in place and does not have the best energy diversifying sole, it cannot succeed in its job to correct the overpronation.
It is important for a runner to pick a pair of stability running shoes that correct their individual level of overpronation, whether it is mild, moderate, or severe. Different shoes will be tailored to different levels of pronation. If you are a sufferer of severe levels do not buy a shoe that is made for mild to neutral as it will not properly align the foot enough to prevent the side effects that pronators face. Conversely, purchasing a shoe that is made for moderate to severe pronation is just as unhealthy for someone with a slight gait offset. It could overcorrect the problem and the ensuing result could be a whole different set of injuries.
Breathability
While the focus of this guide is on stability, breathability must also be considered with any pair of stability running shoes. Running can generate a lot of energy in the form of heat. If this heat becomes trapped in the shoe and has nowhere to go, it can cause your feet to become sweaty. Not only are sweaty feet uncomfortable, but this sort of environment can become a breeding ground for odor-causing bacteria, as well as increase the chance of conditions such as athlete's foot.
Running shoes combat this by using mesh panels in the upper, and sometimes in the sockliner. Mesh is permeable, allowing hot air to escape and cool air to enter the shoe. This works to regulate the temperature within the shoe, significantly reducing the chances of sweat and odor.
Midsole
The midsole is the heart of a shoe and is responsible for a wide range of things. Most midsoles are made of foam sandwiched between a plastic support plate and the insole of the shoe. This part is responsible for a good deal of the shoe's shock absorption, energy return, and overall support.
Stability running shoes often have a firmer midsole than other, similar models. This stiffer design allows them to better support pronators or those with higher arches. The most common midsole type is EVA, which is a foam polymer that is relatively inexpensive to produce.
One of the most important considerations for the midsole is its long-term durability. Any midsole is going to compress over time as a result of the pressure put on your feet with each strike, and after a while, the midsole may not offer the same support it did when you first purchased the shoe.
Top 10 Supportive and Stability Running Shoes
1

. Mizuno Wave Inspire 15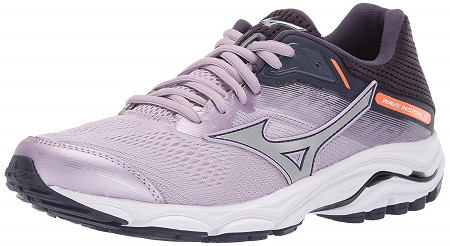 Mizuno is a company that often sets the standard for stability running shoes. Slight update from its predecessor, the Wave Inspire 15 supportive running shoes feature a lightweight and flexible mesh upper for strong breathability as well as the brand's own U4ic midsole, which is specially engineered to provide shock absorption and long-term durability.
Breathability is a big focus in all stability running shoes. As you run, you generate energy in the form of heat. If this heat has nowhere to go, it will make your feet sweaty and uncomfortable. Sweaty feet can lead to odor-causing bacteria, as well as possible conditions such as athlete's foot. This is why all Mizuno stability running shoes feature a specially designed mesh upper that properly regulates the temperature inside of the shoe without compromising on durability making it one of the most supportive running shoes on the market.
The U4ic midsole is a technology unique to the Mizuno Wave series. This midsole is designed to provide the shock absorption and stability you need on your runs. This material is made to be 30% lighter than standard EVA midsoles, without compromising on overall durability. This ensures that the midsole will stay in good form longer.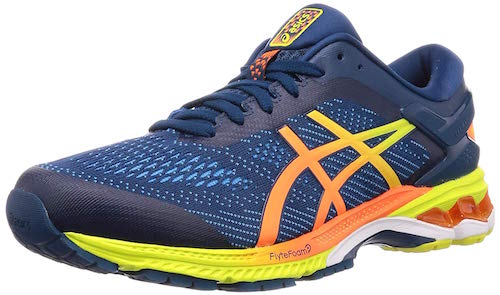 One of ASICS' best selling pairs of stability running shoes, the GEL-Kayano sees its 26th version in this model. This fan favorite is made for runners with mild to higher levels of overpronation, it's ideal for road conditions, and the excellent cushioning system works well on long runs. The weight is about average for this type of shoe, and you'll find that there is a variety of color options, all of which are true to the aesthetics we've all gotten used to from ASICS.
In the upper section, this pair of stability running shoes features an open-weave mesh material that is highly breathable, even more, lightweight than its predecessors, and includes stretchy fibers that allow for a customized fit on all foot shapes. The model can be purchased in both medium and wide widths, so any user will find a pair of these that suits them. Stability is ensured by printed overlays, while the MetaClutch exoskeleton keeps the heel locked in place.
In terms of cushioning, the GEL-Kayano 26 sure has a lot to offer. GEL cushions are located in the forefoot and rearfoot sections of this pair of stability running shoes, and they're cased in a FlyteFoam midsole that's flexible and lightweight, and great at ensuring energy return. Stability is provided by the Dynamic DuoMax system that supports the arch and prevents it from rolling inwards, helping achieve proper alignment, thus minimizing joint and back pain.
The outsole on the GEL-Kayano 26 uses Asics High Abrasion Rubber that's ideal for road conditions and can be worn in both wet and dry weather. As for price point, this is one of the more expensive models of stability running shoes currently available for purchase, but if you're after something great both in terms of support and shock absorption, these Asics stability running shoes definitely are the shoes to go with.

3

. Brooks Adrenaline GTS 19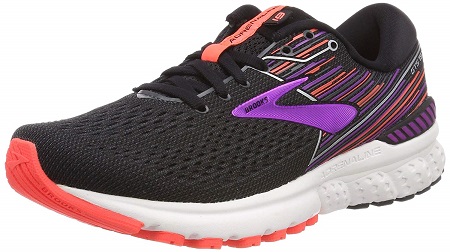 While it may not look like it, the latest version of the Brooks Adrenaline GTS is a significant update from its predecessor. Brooks took a risk in completely redesigning the support system, and this risk definitely paid off. Instead of their iconic Progressive Diagonal Rollbar which was introduced in 2003, The Adrenaline GTS 19 uses a unique Guiderail system, making it one of the best stability running shoes available for purchase.
The Guiderail system was developed with knee health in mind, and it works by absorbing some of the shock generated as you run which reduces the chance of injury. This rail system is not disruptive to one's overall gait, making these stability running shoes good for both neutral runners and pronators.
The midsole is also something that should be focused on in regards to stability. The Adrenaline GTS 19 features a new DNA LOFT Crash Pad, in addition to The BioMoGo midsole present in older versions of these stability running shoes. This crash pad is located in the heel of the shoe and works to enhance the overall durability of the midsole, reducing the long-term compression rate making these sneakers one of the best stability running shoes for women on the market.
One more thing to consider regarding Brooks running footwear is the fact that it can often be purchased in wide and extra-wide widths, making it one of the go-to models for those with low arches or other foot health issues.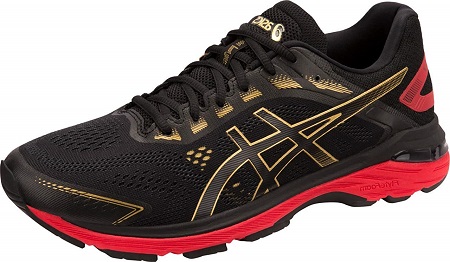 The latest version of the ASICS GT-2000 features a completely new design made with fit and stability in mind. The upper of these stability running shoes has been redesigned with a seamless two-part mesh, while the shoe also features signature ASICS technologies such as FlyteFoam and a GEL Cushioning system. So what does all of this mean for you? Let's go into more detail after the jump.
Sometimes innovation requires taking risks, and that was the case with this shoe. The upper has been redesigned with a two-part mesh that promotes temperature regulation, as well as giving these stability running shoes an overall roomier fit, especially in the toe section. This is important because A fit that is too constrictive will reduce the overall support and comfort that the shoe is able to provide. It is also available in a wide range of sizes and width options.
Gel cushioning systems are a signature part of Asics stability running shoes. In the GT-2000 V7, this system is concentrated in the heel and forefoot areas and works in tandem with the Ortholite insole to Promote energy return and overall cushioning. Ortholite is a very popular insole material, as it is eco-friendly, breathable, and has a low long-term compression rate, meaning enhanced durability. If you're looking for durable sneakers, then these most supportive running shoes are for you.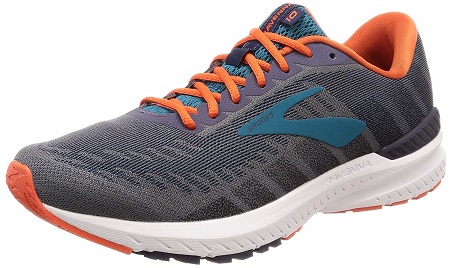 The Ravenna series is somewhat of an underdog, often overshadowed by the Adrenaline series. This is a shame. The Ravenna is built with support in mind and offers enough versatility that both neutral runners and pronators will enjoy. The support system has been completely overhauled, which lends to this versatility.
Brooks took a huge risk in changing up the support system used in their stability running shoes. The Diagonal Rollbar system had been in use for over a decade and became a signature feature of Brooks's stability running shoes. However, innovation requires taking risks; just look at Apple in 2007 with the original iPhone and Nintendo in 2017 with the Switch. In the Ravenna 10, Brooks switched to a more holistic support system aimed at preventing knee injuries. This system in these supportive running shoes acts as a sort of bumper for your feet, reducing the overall stress placed on your feet and legs with each strike, and moves with your natural gait rather than trying to control it.
The energy return system has also been changed in the Ravenna 10. Energy return refers to how responsive and "bouncy" the shoe feels. This often goes hand in hand with shock absorption- the extra foam padding in the forefoot captures this energy and bounces it back in a sense.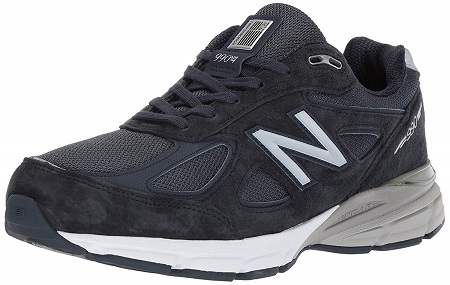 While it isn't designed for off-road running, the New Balance M990v4 is designed to provide the best in comfort and stabilization when running on the road. A blown rubber outsole provides a bouncier step without adding too much weight, and the high heel drop provides ideal support no matter your level of pronation, though isn't ideal for those with flat feet.
Blown rubber is a rubber compound that is either expanded or mixed with air, creating a lighter and bouncier outsole. While the long-term durability is limited with blown rubber, it provides that extra bit of support and shock absorption that you need when it comes to stability running shoes.
The drop level of a midsole is the difference in height between the heel and toe of this supportive running shoe. Most minimalist shoes will have a very low drop, though it isn't terribly supportive of high arches or stability. This is where higher drops come in, as they are designed to offer more support regardless of your level of pronation.

7

. New Balance Fresh Foam Vongo 3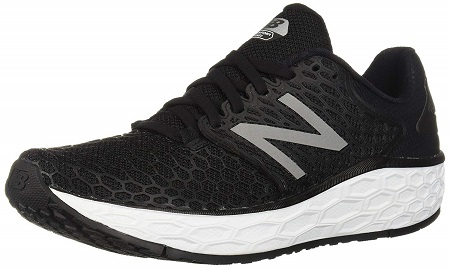 Sporting a completely redesigned upper and fabric sockliner, the New Balance Fresh Foam Vongo 3 is made with comfort and breathability in mind. The new upper is made of a stretchy mesh and a FantomFit overlay, which work together to properly control temperature. The fabric sockliner forms to the unique shape of your foot, providing the exact level of support and comfort you need.
New Balance updated the upper in the Vongo 3, using engineered mesh and the brand's own FantomFit overlay. The mesh allows for proper breathability and temperature management. The FantomFit overlay is strips of plastic running through both sides of the upper, which increases the overall comfort of these stability running shoes.
The Vongo 3 uses the same kind of fabric sockliner as its predecessor, which forms to the shape of your foot over time, creating more arch support as you break the shoes in as it compresses laterally. Even after miles of running, this pair of New Balance stability running shoes will work hard to give you the support you need when running.

8

. Nike Odyssey React Flyknit 2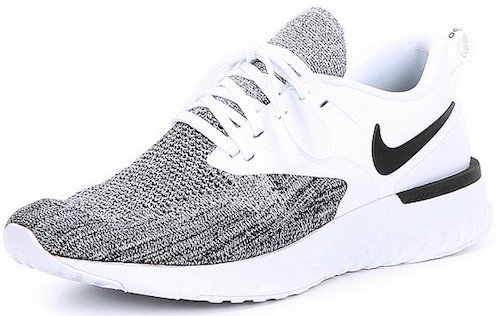 This pair of mild stability running shoes by Nike is perfect for those who don't require too much in terms of arch support or motion control but need more than a regular pair of neutral runners. Made for road conditions, this is one of the lightest models listed in this guide. In true Nike fashion, it comes in a variety of upper versions, and you can even purchase a customized model for a slight bump in price.
The upper of the Odyssey React is made from Flyknit, Nike's version of knit fabric, that's highly breathable, lightweight and flexible. Synthetic overlays are used on these stability running shoes in order to provide support in the upper, while the lacing system allows for some customization in terms of fit. Lock in is ensured by a Heel Clip system.
In the sole section, these stability running shoes utilize a React midsole that's lightweight, flexible in the toe area and provides high energy return. As for the outsole, it uses geometric shapes in order to shed weight and to provide the best possible grip on the road. The Geometry Nike stability running shoe feature also adds to the stability of the shoe, preventing the foot from rolling inwards.
In terms of cost association, this pair of stability running shoes ranks around average but may be a bit too expensive for those who don't want to invest in top of the line running gear. Nonetheless, if you're after something by a reliable manufacturer such as Nike, the Odyssey React Flyknit 2 is an excellent choice.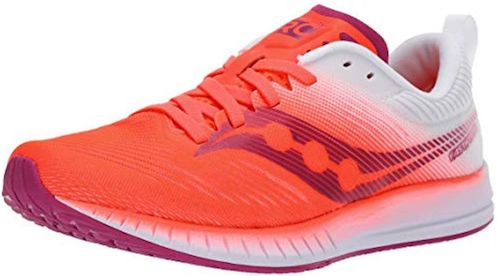 This pair of stability running shoes by Saucony is definitely one of the more popular releases of 2019. A lightweight, low drop, road running model made for competitive wear and speed days, it's the ideal choice for those who like to keep their runs short and fast. The 4mm heel to toe offset is one of the lowest on this list, and you'll find that the updates in the upper and sole units definitely make this a model worth checking out.
In terms of fit and comfort, this pair of stability running shoes use an engineered air mesh that is one of the most breathable materials on this list. Not only does it let moisture evaporate from the shoe, but it actively brings fresh, cool air to the footbed. Its stability is increased by synthetic overlays that do not weigh too much, keeping the weight of the shoe at 170g.
The midsole is a full-length CMEVA unit that protects from impact and shock, and a medial post is inserted to prevent overpronation. As for the outsole, it's made with PWRTRAC rubber that's abrasion-resistant and highly grippy. As for cost association, this pair of stability running shoes rank average, with a price that's affordable, but that still might be too much for those just starting out.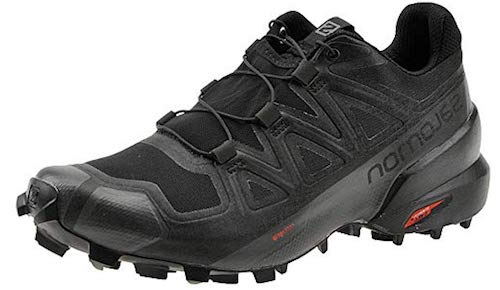 If the stability running shoes you require need to be suitable for off-road use, you'll do best with the Salomon Speedcross 5. This model of trail runners is best used by those with mild overpronation or a normal arch they want to support and is great for rough terrain, as well as wet conditions such as rain and snow. It can be purchased in several loud color options and features all the best tech that Salomon has to offer.
The upper of the Speedcross 5 mixes synthetic materials with mesh for the best possible combination of support and breathability. The reinforced toe is particularly handy in nature, while the midfoot cage wraps up from the midsole around the arch and is connected to the efficient Quicklace system. Padding is provided both in the tongue and collar, resulting in a more comfortable ride overall.
Compared to the other stability running shoes listed here, the Salomon has a considerably better outsole for tackling soft terrain, and this is thanks to the deep multidirectional lugs. The rubber used is Contagrip, which has a great reputation among Salomon fans. As for the midsole, it utilizes EnergyCell+ full-length foam which absorbs shock while providing a springy feel underfoot.
The best thing about this model is the removable Ortholite sockliner that allows users to replace it with custom orthotics, creating a great pair of stability running shoes made for trail conditions.

Subscribe to our Newsletter