Best Saucony Running Shoes Reviewed & Rated
In a Hurry? Editors choice: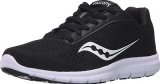 Test Winner: Grid Ideal

Saucony is one of the top-valued and reliable brands in
athletic apparel
today. Their shoe line-up consists of various styles and categories. We have compiled a list of what we believe to be the top 10 best Saucony running shoes. This list derives from product features; as well as, the pros and cons of each shoe. In making this list, we hope to make your choice more of an easier one if thinking about purchasing a new running shoe from Saucony.
Standout Picks
Criteria Used for Evaluation
Use
If you are the person that thinks there is one pair of shoes for every situation, then you probably aren't a runner. Some runners love speeding through the forest while others head out every morning to pound the pavement around their neighborhood. These require very different footwear to ensure your feet stay safe, comfortable, cool, and ready to log miles no matter where you are.
Road Running
Road and pavement runners want a shoe that is not only light but, also, flexible. The constant pounding on a hard, even surface can be difficult; not only on your feet but, also, on your joints. Keeping your feet cushioned, as well as, stabilized is important and should be taken into consideration.
Saucony knows what it takes to give our feet exactly what they need on hard and smooth running surfaces. The industry standard gives us blown rubber soles; however, what Saucony provides, is the IBR+. It is, exceptionally, lighter, and absorbs impact better than any shoe you have worn, thus far.
Staying ahead in the technology race; not only does Saucony offer us IBR+, they, also, have EVERUN technology which gives you a bouncy take-off and smooth, easy landing. The Saucony running shoes with this feature keep you going and give you options. If you are looking for a firmer support with your running shoes, the EVERUN Topsole has you covered.
Trail Running
Off-road running has become more and more popular. If running in the wild outdoors is what you love, then the need for an amazing trail-running shoe is essential. These running shoes need to have superior tread and grip capability to accommodate the ever-changing surfaces the runners face. The thicker sole protects the runner's foot and gives excellent support and stability.
Key Aspects to Look for in Trail Running Shoe
Heel-to-Toe Offset
Tread
Framing of Shoe
Fit
Traction Control
Saucony takes all of these categories and they study them, too; guaranteeing superior performance and customer satisfaction. They take trail running to a whole, new level with the introduction of their TRI-FLEX outsole; providing superior grip and the ISOFIT system that makes it feel like these shoes were, specifically, made for your feet. They will stick with you and provide comfort, support, and better performance in all of your runs.
Materials
Like most things in life, quality comes with experience and expertise. All Saucony products are highly-rated, due to their long-standing history of offering high-quality, well-built shoes. The construction of your running shoe should match the type of run and runner that you are. Looking at things, like the heel-to-toe offset to ensure great stability and shoes that offer an outer frame for increased durability, are reasons construction is part of our criteria.
We discussed the type of run you may be taking and the construction of your shoe goes hand-in-hand with the type of run you are on. In many of these Saucony running shoes, you will find an 8-millimeter heel-to-toe offset. What does this really do for you? It promotes stability and the distribution of impact during your stride. Some running shoes, you will see an offset of a mere 2 millimeters and this is not conducive to the natural motion of a runner, and you should expect more.
Shoes have many varieties in frame and support. Saucony understands tough terrains and accommodates them all with external support frames. This type of frame gives you ultimate protection. You will, also, get the support and feel you want for life's biggest adventures
Key Notes about Framing in Trail Running Shoes
Make sure it has a durable upper
Stiff construction to prevent foot rotation
Resilient midsoles to absorb impact
Grippy outsoles for great traction
Durability
When it comes to running sneakers, it's important that a pair of shoes is durable enough to withstand constant and frequent pounding that your shoes and feet will take as you run. Otherwise, it's a waste of money! Typically, consumers think that regular running shoes from popular shoemakers can withstand frequent running; however, this is not the case.
These shoes do not have the durability infused outsoles or the traction to handle whichever surface you choose to run on. With that being said, as we evaluated each product, we carefully notated the different measures that manufacturers took to ensure their product would last.
Comfort
Finding a trusted brand that offers all levels of cushioning can be difficult. One that, also, spends the time to research the best cushion for your run style is almost impossible to find. Saucony continues to support all types of running with a variety of cushion levels to make every run the one of comfort and performance. Trust that what you need you will find within the Saucony lines.
Saucony shows us something, truly, unique with the EVERUN technology. This cushioning is springy and brings your run to life. You will find an excellent take-off with great support, leading to an unbelievable run. Saucony running shoes are known for superior technology and that is, exactly, what you will find in their newest versions.
Variety is the key and we have looked at all the options. Saucony shoes, certainly, cover us all. Offering shoes with injection-molded EVA insoles and heel GRID systems, give you the comfortable support you need in all your activities. Not only do these features give great cushion but they, also, give you superior breathability. Keep your feet cool and dry while supported and comfortable with this cushioning option.
Value
If you've skimmed over the list above, you've probably found that the models listed range greatly regarding price - from those that are cheaper than the average everyday shoe, to those that cost a couple of hundred dollars and are geared towards professionals.
Price is often a great indicator of the quality and performance abilities of a pair of footwear, but it's not always necessary to go with the most expensive item. If you're an amateur runner or are just looking for a comfy pair of sneakers you can wear every day without experiencing knee and hip pain, then you can go with something in the lower end of the price range. If, however, you have specific needs, are familiar with a certain brand, or have to have the best of the best, you may find that you'll have to invest a bit more - which could pay off in terms of durability.
10 Best Saucony Running Shoes Reviews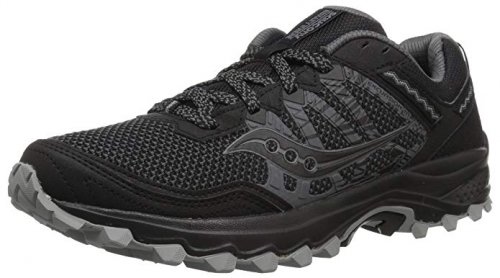 Designed for the off-road runner in mind, the Excursion TR12 from Saucony offers comfort, durability, grip, and traction, all in one great looking sneaker. The outsole on these runners alone makes them worth the purchase, with a specialized pattern and depth that allows the wearer to grip any kind of terrain in any weather condition. With such good traction, don't be surprised if you find yourself running up a mountain at a 90-degree angle.
Of course, with a great outsole and deep thread comes annoying rocks that get lodged in between the grooves of the outsole. Not with the Excursion TR12! The outsole was patterned and designed in such a way that it stops you from stopping to dislodge debris from your shoe during your run. The rubber outsole is also synthetic, meaning it can take a beating and endure whatever you throw at it, year after year.
The upper and midsole are also worth mentioning, too. The GRID cushioning system provides support and comfort to the wearer, while the mesh upper allows for maximum airflow. Letting cool air in and expelling warm air out is the best way to prevent annoying foot conditions, like blisters and ringworm. With a lower MSRP than similar runners, these are a steal.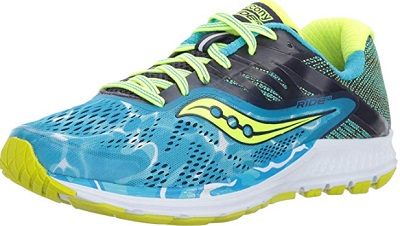 Introducing the newest of the Ride series and made for the purpose of training in mind. The new Ride 10 features great technologies, such as the EVERUN top-sole; providing top-notch energy return, and an 8mm offset that is intended to give you all-around cushioning. The Ride 10 has become one of Saucony's best-made shoes, thus far.
Providing you more comfort, stability, and balance, and even distribution throughout, so you can benefit from these features from beginning to end, this offset is nice. In other words, this allows the body to absorb lesser impact and delivers less stress on the body.
Be one with the ground with the all-new TRI-FLEX outsole design. It lets you move your feet with added flexibility while keeping the same comfort level as the Ride series is known for.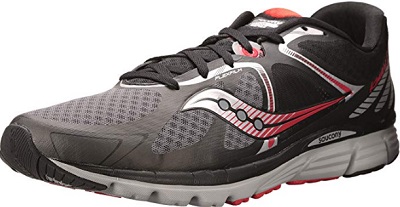 One of the top Saucony styles for running long distances, here comes the Kinvara 6. Giving the lightweight feel lets running marathons feel like a breeze. A great asset for true competitors if you're looking for the first place, then this may be the right shoe for you. Designed with a triangular lug that gives traction and added cushioning, this a great shoe to have.
This version of the Kinvara features great cushioning along the sole length; meant for energy return and, also, helps to evenly distribute pressure throughout. These shoes prove to you with the responsive ride you have been looking for.
Contributing to the lightweight feel of the Kinvara 6 is the FlexFilm. Your feet will be thanking you for the snug fit that this feature is providing them. The upper material creates great flexibility and comfort for your foot, so you can feel nice and snug.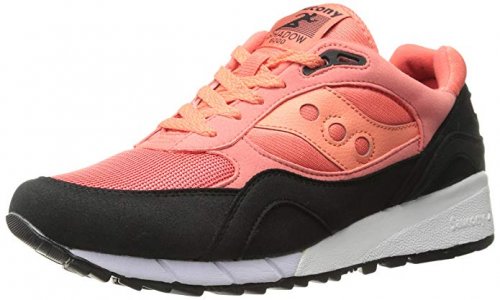 These running shoes have been through a time machine. A style that screams 90's, the Saucony Shadow 6000, gives you advanced technology, proving they were made right here in the present. High-mile runners have trusted this shoe for some time and will continue to because of superior-proven performance. The balance of this shoe is perfect and made for all types of runners, especially those that love that retro vibe.
Traction and durability are two of the most important aspects when looking for a great pair of running shoes. Saucony running shoes have proven themselves in this category with several of their shoes; however, the Shadow 6000 goes above and beyond. Giving you not only traction and durability but, also, excellent balance, these running shoes are sure to keep you feeling great on all hikes, bikes, and runs yet to come.
Constructing a midsole out of Polyurethane gives you a durable shoe that is going to keep you running more and shopping less. It, also, makes for a great cushion and support system for the instep of your foot. The structure of this shoe overall has it built for comfort and stability in your running life.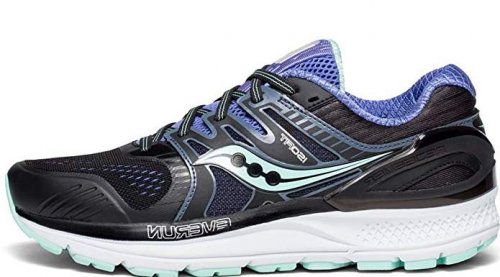 The Redeemer ISO 2 from Saucony not only looks awesome, it performs awesome, as well. Designed for overpronators, it features performance-enhancing technologies throughout the upper, midsole and outsole, that add comfort, support, flexibility and protection with every stride. Aiding you to move smoothly throughout each phase of the gait cycle, the Redeemer ISO 2 from Saucony is a winner for those that struggle with overpronation.
How do we begin to describe all the technologies Saucony has poured into the latest edition of the Redeemer? Starting at the top of the sneaker, the mesh upper is engineered to maximize breathability while reducing the weight of the shoe to provide a dynamic wearing experience. The ISOFIT structure of the upper conforms to the wearer's unique foot shape and the padded tongue and collar add comfort and support. Finally, the insole is removable, so it's appropriate for those requiring orthotics.
The midsole features EVERUN cushioning, which take the stress and feedback experienced by a runner in motion and dissipates it back toward the ground. Your joints and legs will be thanking you for this special technology created by Saucony. Finally, the TRI-FLEX outsole design will keep you protected from debris during your run, while also adding grip and traction to prevent nasty falls. The Redeemer ISO 2 from Saucony looks futuristic and cool because it is!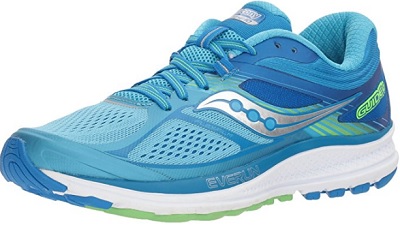 The Saucony Guide 10 is available in multiple color selections and is a great compliment to what this shoe has to offer. A lightweight shoe will have you feeling like you're running with very little effort to no effort at all. This style outshines other brands for their durability. Able to withstand many miles and marathons, these shoes will last before having to be retired.
With its newly-made technology, the Guide 10 introduces EVERUN; providing you lasting cushioning with great energy return. You will feel ready for the run after putting these on.
One of the more favorable aspects someone wants to find in a shoe is breathability. This shoe will guarantee to help keep feet dry from moisture, as this relates to generalized running conditions. More importantly, this upper is lightweight, holds to your foot, and is breathable.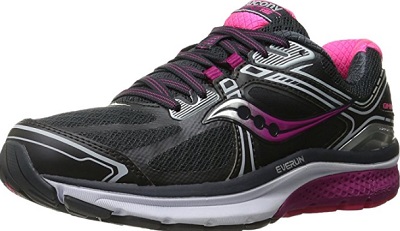 The Omni 15 is equipped with the EVERUN top-sole construction design, along with the FlexFilm that offers optimum flexibility with a lightweight feel. Guaranteed to give a smooth responsive ride every time, this is a great shoe to have. Furthermore, this shoe has a lace-up closure and is breathable, as well.
The Omni 15 is assured to give you a smoother, even ride with each touchdown. The EVERUN technology will bring you closer to comfort than ever before and will allow you to feel less pressure on your feet.
This shoe utilizes an 8-millimeter offset, so you can enjoy the run, instead of worrying over aching feet. When considering this with the EVERUN technology, your feet are certain to benefit.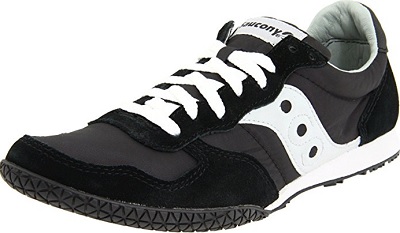 For those with more volume in their feet, these shoes could be the fit you are looking for. With a shaft height of 3.25 inches, the fit is sure to be comfortable. In addition, the nylon/suede upper adds both structural integrity and breathability. A removable insole provides easier customization and the rubber outsole gives you nice traction. Moreover, these shoes have a good variety of colors to choose from.
A removable insole allows you to customize the comfort level via another insole of your choosing. This is great, especially for those who might need orthotic support.
The upper is made to breathe, provide flexibility, retain its structural integrity, and give you a nice overall feel while running. For those who like to run, this upper is an ideal choice.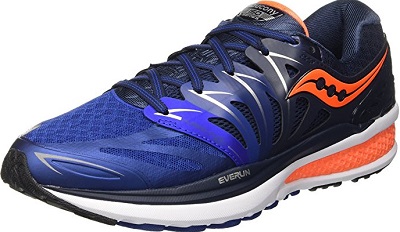 Similar to the Redeemer ISO 2, the Hurricane ISO 5 by Saucony is designed for overpronators, albeit for those who experience it to a lesser degree than would choose the Redeemer line. Featuring many of the same performance-enhancing technologies as its sister shoe, the Hurricane has the ISOFIT foot-conforming construction; EVERUN cushioning woven throughout the midsole; and a TRI-FLEX outsole for protection and durability.
Beginning with the ISOFIT construction, the Hurricane wraps the wearer's foot so snugly, he or she would think that Saucony made this shoe just for them! The mesh upper is engineered to be light and breathable and the insole is removable, so it's perfect for those with orthotics or inserts.
The EVERUN cushioning dissipates shock incurred during motion, sparing your knees a lot of pain over the years and years of running. The padded tongue and collar support the foot and help ensure a smooth transition throughout the gait cycle. Finally, the TRI-FLEX outsole design offers grip, traction, and protection when on your run. Just like the Redeemer, we highly recommend the Hurricane to those who experience a moderate level of overpronation.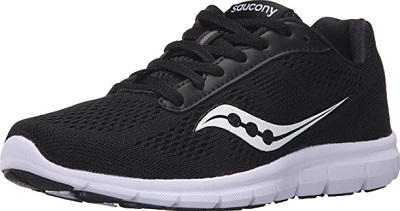 Different than the normal flashy colors that Saucony is known for, is the Grid Ideal. Sporting a very sleek and stylish look with the basic black and white coloring, these Saucony running sneakers will make you feel like you are walking on a cloud with its memory foam sockliner. Wear them while running, exercising, or as an everyday outing shoe and you will stay comfortable throughout the day.
Want to feel like you're walking on clouds? Get the Grid Ideal and that is exactly what you will experience. Imprints the foot so that you will have the same ultimate comfort each time you put them on.
It offers a smooth run with the 4mm heel-to-toe offset. Creates balance and stability for when you need it the most. The 4mm offset will, also, lessen your chance of injury, which makes it an ideal feature to have.

Subscribe to our Newsletter