Best Sport & Athletic Shoes Reviewed
In a Hurry? Editors choice: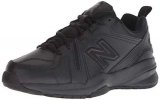 Test Winner: New Balance 608v5

Do you love engaging in a variety of physical activities that challenge all of your abilities? With so many workout routines and sporting styles, it can be a challenge to find a pair of shoes to match your performance. Finding a pair that is appropriate to the terrain and weather conditions you plan to practice on is paramount to performing your best. Traction, cushioning, support, shock-absorption, and protection are all factors that need to be taken into consideration when choosing a pair of athletic shoes. Footwear that is lacking the essential fundamental qualities required for your favorite physical activities heightens the risk of injuries including, shin splints, blisters, calluses, joint and muscle pain, stiff muscles, and pain in the arch of the foot. The list below looks at the best athletic shoes currently available.
Standout Picks
Criteria Used for Evaluation
Breathability
Your shoe needs to allow for proper airflow and breathability. It is vital that an athlete does not overheat during training or while performing because this can lead to lightheadedness, nausea, and vomiting, which can increase the risk of injury while also negatively affecting performance. There are several features and materials to look for that will prevent overheating such as:
Mesh Material
Air Ventilation Holes
Moisture Wicking
Cotton Lining
Sockliner
Lambskin
Wool
Mesh is one of the most breathable materials available and is highly recommended for athletic footwear. Air ventilation holes allow for air to flow in and out of the shoe circulating the foot and preventing sweat and overheating. The best materials are ones that wick moisture away from the foot and which pull sweat away from the foot and towards the outer part of the shoe keeping your feet cool and dry. A sockliner that enhances the temperature control as well as wicks moisture away from the foot is an ideal additive.
The best sports shoes will have perforations in the uppers because brands know that without that sort of ventilation, your progress and performance will suffer. Mesh combined with synthetic materials is best because they give you the air circulation you need, combined with stability and support. Whether or not the sport requires lots of impact or sudden changes of movement, breathability, and proper ventilation will make you more comfortable, your feet free from bacteria, and your focus more in the game.
Traction
Whether you play a sport, enjoy running, or like to keep your gym routine consistent, traction in your shoes is vital. Because your activities could take you to a variety of environments, you need to be sure that your footfalls are stable. Insufficient traction will lead to serious injury, which is why selecting one for traction is so essential. Look for deep groove inlays along the sole which provide excellent traction and also offer flexibility. Multi-pattern grip, such as raised shapes across the sole also power better grip. Whether you like your shoes grooved for better flexibility, or patterned for grip, both will keep you safely upright and prevent you from the possibility of breaking a bone or tearing a muscle.
Rubber is one of the best materials for the outsole of a shoe as it provides superior grip on any surface including wet and slippery terrain. Rubber also provides an extra level of waterproofing which is ideal for activities in wetter weather.
For sports that are played on fields, involve uneven terrain, or take place in precarious environments, traction and tread are vital for stability and durability. Football and soccer, whether played in or out of doors, require cleats with a lot of traction, the tread for which can vary in depth and enumeration. Tred for tennis and running should be sufficient for traction but enable movement more freely than cleated shoes.
Shock Absorption
One of the surest ways to prevent joint pain and the constant onslaught of foot fatigue is by selecting a pair that has excellent shock absorption feature which avoids a lot of the impact from your foot strikes or hard lands by softening the blow through the incorporation of:
Added Padding
Impact Technology
Extra thick rubber soles to diffuse from the point of impact.
In the case of padding, an additional amount of comfort is added to the shoe's construction. Impact technology is developed by a variety of brands and comes in the form of some specially patented components like Nike's Zoom Air, EVA removable foam inserts, gel pads under the heel cup, etc. Each brand develops its shock absorbing technology based on what customers need to perform at their best. They'll be more comfortable, pain-free, and much more likely to purchase from the brand again.
One thing you should keep in mind is that different activities require different levels of shock absorption, so you should always purchase footwear made for the specific type of use you intend to put them through. On the whole, running, hiking, volleyball and basketball sneakers are going to feature considerably more cushioning than models made for activities such as weightlifting or regular gym workouts.
Before purchasing, it is also important to consider your weight. Heavier users may find that soft midsoles tend to flatten to easily, and should opt for double density foam models such as those made by New Balance.
Durability
Shoes used for training will surely take a beating, and no matter their brand they need to be able to withstand the most grueling physical activities. This often comes down to how they're made, as their materials play a big part in how durable they are. Areas that can affect the durability of a shoe include:
Construction; Including stitching, welding, and aerodynamics
Materials
Closure System
Outsole Design
Make sure that the rubber at the sole is solid yet forgiving when flexed, and make sure that whatever lace system being used will give you optimal customizable comfort. Seams should show no sign of fraying in the future, and a mixture of materials, such as leather and synthetic can be helpful in keeping a shoe's structural integrity. They need to be able to survive different environments with different terrain as well as weather.
The materials that are ideal if you're after something you'll be able to wear for a couple of seasons would be leather or suede - commonly used in basketball and skateboarding sneakers. Do note, however, that they may get overly hot during strenuous activities, so if you plan on working out in warm temperatures, a breathable, mesh or textile shoe is more advisable.
Flexibility
There is a fine line between having athletic footwear which is flexible enough to allow you to go through the desired motions, and that which is supportive enough to protect you from injuries while working out. This is why you'll find that different sports require different amounts of support, not just in the sole, but also in the upper.
Overall, flexibility is important in running gear where a softer shoe allows you to use your strength for a more efficient toe off. But, in sports such as basketball, volleyball, hiking, tennis, or even weightlifting, you will want less flexibility. Not that there shouldn't be any, but your footwear should not twist, and should be snug in key areas such as the heel and ankle to prevent you from rolling an ankle.
Another aspect that is influenced by the flexibility of your pair of footwear is the arch support you can expect. While the majority of users require a neutral shoe that works fine for normal arches, those with flat feet may need to invest in pronation-correcting footwear or custom orthotics. These tend to be slightly stiffer, as they are expected to hold the foot tendons up from below, preventing them from working overtime and becoming fatigued or inflamed.
10 Best Sports & Athletic Shoes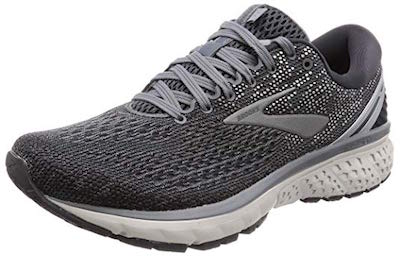 Much more than just a sport shoe, these top running shoes at the moment, the Ghost 11, is a continuation of one of the most successful series of running footwear made for those who need a neutral road running shoe with a good amount of cushioning and energy return. The upper of the shoe has been updated to now include engineered stretch mesh that perfectly combines support with flexibility, giving you a more comfortable fit you'll definitely enjoy. And great news for those who never want to stop training - there's a Gore-Tex version available as well.
Named the best running shoe by Runner's World, the Ghost 11 combines the company's BioMoGo DNA and DNA LOFT cushioning to give you a shock absorbing shoe that's responsive, lightweight and durable. The heel crash pad will be especially loved by runners who tend to land hard on their heels, and those who may be suffering from pain in this part of the foot.
The outsole of the Brooks Ghost 11 was made for use on pavement, giving you a good amount of traction in most conditions. The Omega Flex Grooves in the forefoot allow for a bigger range of motion of the foot, which means that you'll have a more efficient toe-off phase, allowing you to use the strength of your foot to the max.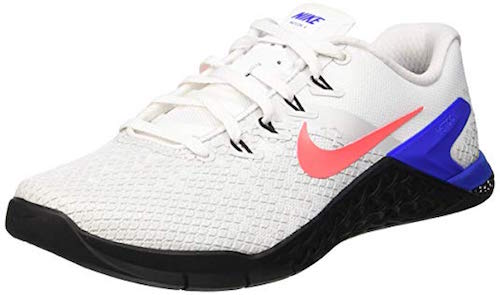 If you're into cross training and gym workouts in general, and as the true definition of a multipurpose athletic shoe, you can certainly benefit from Nike's Metcon series, and what better shoe to purchase than the latest release in the line, the Metcon 4 XD. This neutral trainer features a 4mm heel to toe drop which is ideal for a number of exercises, while the entire design lends its way to functional aspects you will benefit from on a daily basis.
The biggest update from the 4th version of this model is the fact that the mesh upper now includes a haptic 3D print that makes the upper stronger and more durable, without sacrificing weight. The lacing system helps the shoe wrap up around the midfoot by using Nike's well-known FlyWire Cables. The tongue unit uses a combination of mesh and perforated synthetics, and the collar has plenty of padding to increase wearability, even with low cut socks or barefoot.
The sole unit was developed for versatility above all else - the forefoot is softer, with a higher level of shock absorption, allowing you a flexible feel that will work for short sprints. The heel, on the other hand, has a more stable construction using a firmer foam that won't give in even while performing heavy lifts. The flat, stable outsole gives you a great base for all types of exercises, and it's covered in sticky rubber that won't allow slippage. The cost association is slightly above average, but an overall good investment for most Crossfit enthusiasts.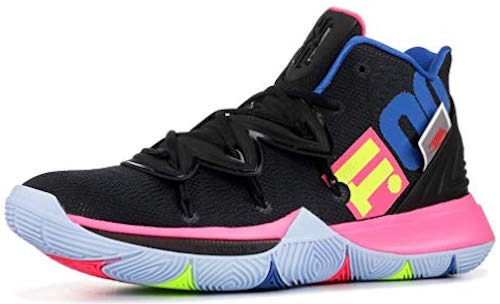 Developed in collaboration with Kyrie Irving, this basketball shoe is one of those models that's made for quick players who want explosive energy return. It's the fifth edition in a line of successful models, and comes with several updates that make it superior to previous versions. This mid-top pair of kicks comes in a variety of colorways, including special editions that will look just as great on the street as they will on the court.
When it comes to technology and design features, the Kyrie 5 doesn't make sacrifices. The upper is constructed utilizing breathable engineered mesh that's flexible so as to allow easy movement, and a supportive lock-down lacing system inspired by the Venus Flytrap plant. The medium height provides a good balance between ankle support and mobility, while the padding around the collar protects the Achilles. With this shoe you get a length that's true to size, but do expect a snug fit that's meant to increase performance.
As for the sole unit, there are two main characteristics of the Kyrie 5. First and foremost, the improved shock absorption system that utilizes an Air Zoom Turbo insert in the forefoot that allows you to get the ground feedback you require, while still maintaining excellent cushioning. The midsole is made with Phylon foam, a kind that's on the firmer side, making it a good choice for bigger players. As for the outsole, it utilizes a multidirectional pattern inspired by Kyrie's tattoo of Hamsa's all-seeing eye, and it's one of the best tractioned shoes you can get, even for poorly maintained courts. It won't last as long outdoors, but if you're an indoors player, this model is definitely worth the slightly above average asking price.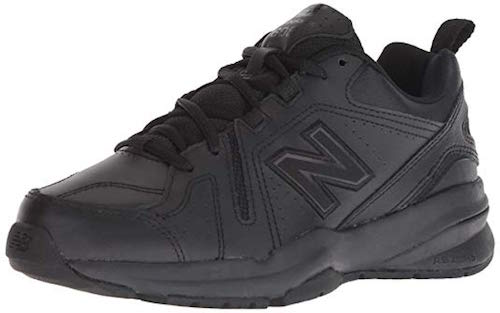 A versatile workout trainer made for all types of sporty activities, the New Balance 608v5 is a solid choice for those looking to purchase just one shoe they can wear to the gym, outdoor workout sessions, walking tours or just for comfortable casual wear. In true New Balance fashion, this sneaker features a leather upper available in a few classic colorways, so you can not only count on this item being durable, but it will also be easy to pair with any outfit you decide to wear. The style may not suit everyone, as it does go back to the old days with that old school athletic shoe design.
The main advantage of leather over textiles and mesh is the fact that it is superior in terms of durability, it allows for a completely customized fit, it has natural moisture wicking properties, and is difficult to damage in less than ideal conditions. Aiding this material are a mesh interior and tongue, generous padding in key areas, as well as mesh inserts that allow hot air out of the foot chamber, helping heat management even during physically taxing activities.
The comfort technologies found in the 608v5 have been well thought out, with several great features. First and foremost, the midsole is made with injection molded EVA foam which is firm and supportive, yet lightweight enough for long training sessions. The heel is made better with an Abzorb unit that's more resistant to compression, and that is great at absorbing shock upon impact, while an internal shank helps prevent torsion for a stable feel. The outsole is slip resistant, using non-marking rubber, and a generous outrigger that makes this a model excellent for all types of gym workouts. Another thing the 608 has got going for it is the low price, seeing that it's one of the cheapest models listed.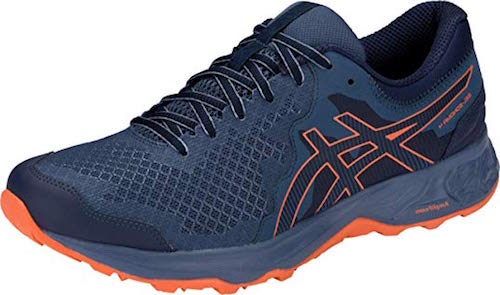 A neutral trail runner ideal for those with normal or high arches, the latest version of ASICS' GEL-Sonoma is great improvement from previous models, and is one of their best-selling trail-specific sneakers this season. It's a shoe made based on a fairly simple design concept, and offers a few basic color options that utilize the brand's most successful pieces of performance technology.
The upper of the sonoma uses plenty of mesh which is crucial for runs in hot weather, seeing that it's a breathable material that allows plenty of airflow and dries quickly. There are several sewn synthetic overlays, as well as those printed, all of which contribute to a secure fit. The internal heel counter prevents in-shoe slippage, while foam padding in the tongue and collar allow for a comfortable ride.
As for shock absorption and traction, this model uses an Amplifoam midsole that is soft and flexible, and the ideal choice for everyday use. The heel features a GEL shock absorption unit that softens impact upon landing, as well as na Ortholite sockliner that ensures moisture management. The outsole is the same as the one used in their GEL-Venture 6 model, and it features reverse lugs that successfully grip difficult terrain in both wet and dry conditions. The price of these shock absorbing running shoes is lower than average, so it's ideal for those who want a quality product, but are on a budget.

6

. Skechers Energy Afterburn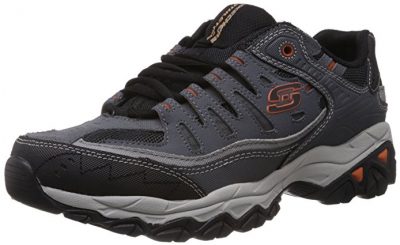 Sketchers is a brand known for their comfortable walking shoes and every-day sneakers. Their sports sneakers provide all the performance enhancement of an athletic shoe but the comfort and stylish aesthetic of a sneaker that can be worn in the gym or on the street. Perfect for those wearers that work on their feet all day, the Sports Energy Afterburn is offered in a variety of color options and has excellent arch support.
When doing anything athletic a major factor when selecting the proper footwear should be shock absorption. Your joints shouldn't be under constant stress by your movements, and joint pain shouldn't prohibit you from enjoying exercise. The padded heel of the Energy Afterburn sneakers provides ideal shock absorption, while the non-slip rubber outsole gives the wearer superior traction. It even has a cushioned midsole for comfort, along with the extra padded tongue and collar.
Because Sketchers is known for street shoes as well as athletic shoes, their range can be worn in a variety of environments. Pair them with workout clothes or with jeans and feel confident and comfortable. Having a sleek leather and rubber design without a lot of mesh means their appearance is streamlined, and so are you.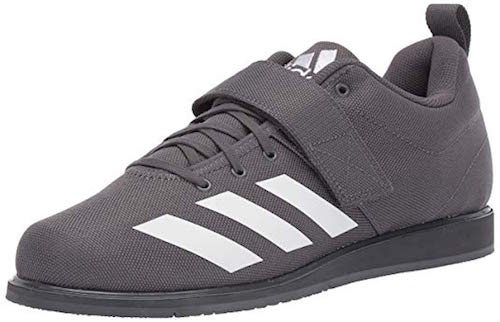 Probably the best pair of footwear you can get for weightlifting, the Adidas Powerlift 4 is a newly released model that improves on previous versions, bringing added functionality to an already amazing pair. It's a style that comes in wide range of sizes, and several color classic color options, including black, white, blue and red.
The biggest update to this item comes in the form of the upper material. While the previous version, the 3.1 was made with synthetic leather, this one utilizes textile which is not only more breathable, but also more flexible in key areas, as well as lighter in weight. You will still get the same narrow fit, with a wide instep strap for a secure locked-in feel, but you'll also benefit from the heel pull tab that makes it so much easier to put these on. Additionally, the tongue and collar feature foam padding for an even better wearing experience.
The sole unit of the Powerlift uses die-cut, high density EVA foam that's rigid and supportive, with a .6 inch heel height ideal for those only getting started with weightlifting. The flat outsole delivers excellent stability, with an underside that is highly grippy, increasing your safety. Not only was the sole unit made so as not to flatten under heavy weights, it is also abrasion resistant bringing you a pair of footwear that you'll be able to use for quite a while. As for price, it ranks average, making this an excellent investment for gym workouts.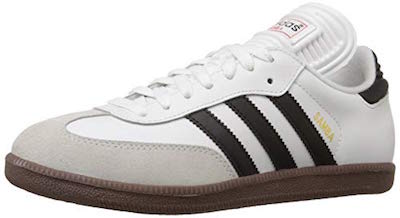 If your idea of a good workout includes more fun than lifting, then you need to consider this classic shoe by Adidas. A pair of footwear made for indoor soccer, the Samba has become legendary, both on the court and off, and has been the inspiration behind many a sneaker that has been released since. The upper is made with synthetic leather that has several benefits, including a small weight, ease of maintenance, a low price, as well as a good level of flexibility and ball grip - all of which will help you achieve a better workout.
Even if you're not going to use the Samba for soccer, you're sure to benefit from its natural gum rubber outsole that's nonmarking, meaning it won't ruin gym floor or hardwood surfaces which makes them great gym shoes. It provides excellent grip, which means you can walk and run without worrying about slips, falls and sprains.
There are two details on the Samba that make it great for soccer. One is the suede overlay that gives a better feel of the ball, allowing you to control it, so it always ends up in the net. The other is the high tongue which can be adjusted to anyone's liking. If you prefer to fold it over to protect the laces, you can, or, if you're unafraid of a little customization, you can cut it down to fit your foot to a T.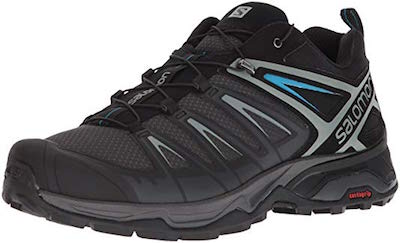 If you're a fan of hiking, or just spend lots of time on your feet, then the Salomon X Ultra 3 is a great choice of tough, durable shoes that'll keep your feet protected, cushioned and ventilated in dry conditions. Making use of Salomon's best technologies, this shoe features an abrasion resistant textile upper, paired with an anti-debris tongue and a lace pocket that'll allow you to stow the laces without having to worry about them coming undone throughout the day. If you need an even higher level of protection, go with the GTX model that'll also keep water out.
Between the outsole and midsole of the X Ultra 3 is a lightweight chassis that works to stabilize your motion, support the arch of your foot, and protect you from movements that could lead to unwanted injury. Nonetheless, it won't reduce the responsiveness of your footwear, which means your feet will have just the right amount of information from the ground to adjust the amount of energy put into each next step.
To provide you with supportive cushioning, the X Ultra 3 uses a footbed made out of EVA foam, coupled with an ortholite sockliner that combines with a supportive heel counter for the best possible alignment and heel protection. The Sensifit fit management system wraps the foot from the midsole, all the way up to the laces, giving excellent stability and support.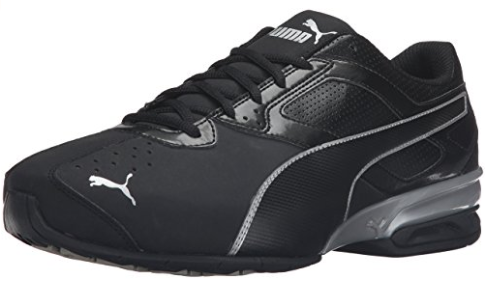 The Puma Tazon 6 FM is an aerodynamic shoe that's stylish and comfortable. It features a synthetic leather upper that's breathable and lightweight, along with a midfoot saddle that provides excellent comfort. The Tazon has a rubber outsole for non-slip wear and T-toe construction for a durable ride. Traditional lace closures allow for a customized fit and keep your shoes secure while you move.
The EcoOrthoLite is a breathable and lightweight sockliner that provides superior comfort and a perfect fit. EcoOrthoLite is an environmentally friendly, bio-based technology that uses 20% less petroleum and replaces it with a bio-oil substitute made from castor beans.
The Tazon 6 is designed with a non-slip rubber outsole and midfoot saddle that makes for a secure fitting shoe. Its traditional lace closure system allows for a customized level of tightness ensuring that you can control the way your shoe feels.

Subscribe to our Newsletter