Best Shower Shoes & Shower Slippers Reviewed & Rated
In a Hurry? Editors choice: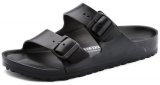 Test Winner: Birkenstock Arizona EVA

Shower shoes may seem like an unnecessary piece of apparel for you to own but if you're walking around barefoot in an area with any amount of foot traffic, then you may want to reconsider purchasing a pair. Dorm rooms, public pools, and the shower room at the local gym are all places that act as a breeding ground for fungus and bacteria, which can lead to a nasty infection if you come into contact with either while you're not wearing shoes.

Fungi thrive in moist areas, and you could easily contract athlete's foot, an irritating fungal infection that usually starts between the toes and causes symptoms like itching, burning, peeling, and cracking of the skin. What's worse, you could be exposing yourself to any number of bacteria that could potentially be on the floors. So, here are the best shower shoes and slippers on the market!
Standout Picks
Criteria Used for Evaluation
Protection
You may think that you're safe to shower in a public used facility without being at risk for infection, but you're not. Anytime you're walking barefoot in an area with heavy foot traffic; you're significantly increasing the risk of contracting certain fungal or bacterial infections. Fungi and bacteria thrive in environments that are moist, and the shower floor is the perfect spot for them to flourish.
Many people are actively carrying fungi or bacteria, and they don't even know it because they aren't yet experiencing any symptoms, or because the person may dismiss the symptoms which they do have. These microorganisms are responsible for things like athlete's foot, or a whole slew of other contagions that can be contracted just by touching a surface that the infected person has come in contact with without a protective barrier. So how exactly do shower shoes protect you?
Bacteria/Fungi
The potential for contracting an infection, either fungal, bacterial, or viral is increased when you expose your bare feet to the same moist area where a multitude of other people has, this is especially true if you have a cut or blister, or any other open wound for that matter. There are many other types of bacteria and viruses that you could make contact with while showering barefoot but the ones listed are some of the most common. Bacteria and fungi thrive in dark and moist places like the shower room floor, and the chance of exposure to the following infections is high:
Bacterial Infections
Athlete's Foot
Nail Fungus
Staphylococcus Aureus (Staph Infection)
Methicillin-resistant Staphylococcus Aureus (MRSA)
Human Papilloma Virus (HPV)
Safety Hazards
It may seem silly for you to think about the possibility of being injured while you're in the shower, but realistically speaking no matter how young or old you are, public baths are a potentially dangerous place to be. Showers are slippery plain and simple, they're wet and soapy which is the perfect recipe for disaster to strike.
Shower shoes provide an anti-slip sole which is specially designed to provide better grip while you're walking on slippery surfaces and can prevent slips or falls altogether. When you're barefoot in the shower you have no additional grip and can actually hurt your toes and feet trying to grip the floor.
The potential for injuries is greatly reduced by wearing a pair of shoes which offer some, or all of the following design features:
Secure Strap
Non-Slip Outsole
Rubber Material
Comfortable Footbed
Water-resistant materials
In order for a shower shoe to properly protect you from the potential risks of walking barefoot while in a public shower, it will need to have solid construction and an outsole that will adequately work as a barrier between your skin and the floor. The shoes on this list have been carefully researched and selected in part, because of the level of protection that its outsole offers.
Another protective element is the straps or closures that will ensure your shoe does not slip off potentially exposing the sole of your foot to a contaminated surface even if only momentarily.
Materials
The style and materials of a shower shoe or slipper are critical aspects that are responsible for various aspects of the overall performance including safety, comfort, and protection. Rubber is an ideal material for the construction of a water shoe due to its superior waterproofing and anti-slip properties.
There are also various styles available that offer similar yet unique benefits to one another. The most widely used styles of shower shoes are:
Slip-on Shoes
Water Shoes
Flip-flops or Thongs
Open-mesh
Slip-on styles of footwear are ideal for use in the shower because they're easy to take on and off and still allow for water to flow freely over the foot, but can have too much material at the heel which can be uncomfortable. Whereas a water shoe is a more enclosed option which limits the level of water flow and means having to fully remove the shoe while in the shower, limiting its ability to provide protection.
Flip-flops or thong styles are very similar to one another except for the difference with the closures. Sandals have a solid piece or strap which acts as a closure securing the foot to the footbed, whereas a thong-style will have two thin straps that meet and form one thin piece that sits between the big and second toes.
Comfort
The comfort level of a shower shoe is dependent on several factors which include:
Material
Closures
Water Resistance
Style
The most comfortable style of footwear for the shower is open concept flip-flops or thongs. Any kind of slip-on shoe, in general, will be best for this type of wear because they are easy to slip in and out of, they also allow for adequate water to flow over the foot.
Closures are a critical aspect relating to comfort which is especially true of a water shoe. An inappropriate closure can rub against wet skin causing discomfort and blisters which can further your risk of infection if your bare feet connect with the floor.
The ideal closure consists of a comfortably thin strap that does not press or rub too much, a hook-and-loop strap is a solid choice because you can adjust how tight it fits your foot. Buckles are best avoided because they can easily press or rub on the wet skin causing repeated friction and could even scratch or cut your foot.
The material of your shower slipper needs to be water-resistant and offer a strong grip on slippery surfaces. Rubber is consistently appropriate for wearing in the water because it's waterproof and grips well on slippery surfaces.
Use
Wet shoes and feet are the perfect combinations for manifesting odors. Shoes can become moldy and once mold sets in they will start to stink very quickly. Not to mention sweaty feet which are a huge contributing factor to unpleasant odors.
Consider choosing a shoe that has built-in odor-neutralizing properties and if possible, are made from a material that wicks moisture away from the foot. Again, rubber is a good choice of material for these purposes, though there are many kinds of shoes with these added benefits.
Our Favorites
1

. Birkenstock Arizona EVA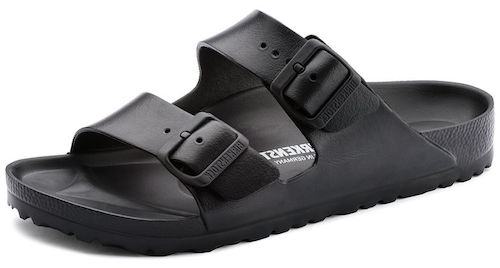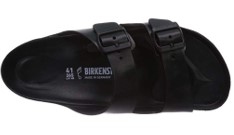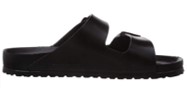 When you think Birkenstock, you probably think cork and leather, which are two of the last materials you want to wear near water. But the newest line of products from the brand gives you the possibility to wear some of the most comfortable sandals ever made at the pool, at the locker room, and even at the beach. Featuring the same anatomically correct footbed and roomy fit as the original version, the Arizona EVA is an amazing choice for anyone who's looking for something superior to wear while getting wet.
This sandal by Birkenstock features an anatomically correct footbed that has plenty of arch support to ensure proper posture. Even more, the toe grips allow for an easier walking experience, while the deep heel cup prevents overpronation and heel pain which often happen to those with low arches or flat feet.
The Arizona EVA is available in a regular and narrow width and is supposed to give your feet a roomy fit that won't constrict or rub. The upper is made with two buckles that allow you to adjust the slipper both over the metatarsal area, as well as in the instep.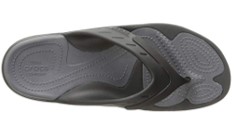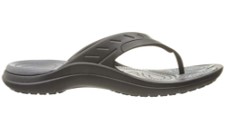 Crocs shoes are crazy comfy, which explains the fact that large numbers of people choose to wear them in public, despite their clunky looks. But when it comes to wearing in the shower, no other Croc is going to serve you as well as the Modi - a flip-flop style sandal that was developed with athletes and water wear in mind. Available in some colors, it's a sturdy option you're going to love wearing whenever you get the chance.
All Crocs shoes are made with their famous Croslite foam that is both comfortable, slip-resistant and buoyant. The Modi features a softer, more cushioning material in the footbed to give you a comfy experience, and a more dense outsole that ensures durability, abrasion resistance, and better protection.
Like most other Crocs shoes, the Modi features a massaging footbed that soothes your foot while supporting it in all the right places. Additionally, these shower slippers are made with a roomy fit so as not to pinch or rub in any place, which is perfect if you find that your feet tend to swell after a day full of activity.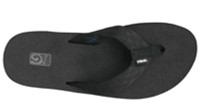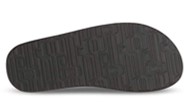 For those who prefer to forego rubber and are looking for something soft and comfy over the top of their feet, the Teva Mush II is the perfect choice. This thong sandal is great both for the beach and the dorm, seeing that it's a stylish flip flop made by a company that focuses on effortless outdoor style and cushioning footbeds that conform to the shape of the foot. To top it all off, the come at a great price too!
The straps on the Mush II are made out of a nylon weave that was made to be water ready. These straps won't rub the foot, preventing blisters and hot spots that you may be experiencing with other flip-flops, and they will easily shed water and dry quickly so that they're always ready to go.
The dual-density footbed of the Mush II is made with a cushioning effect that perfectly molds to your foot, giving you soft support under the arch, around the toes, and underneath the heel. It's a lightweight slipper that's easy to walk in; an even has the advantage of a grippy outsole.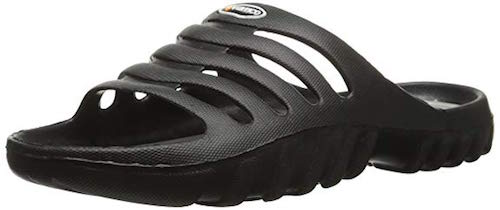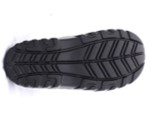 If you want to ensure the best protection from the grimy shower floor, then you're going to love the chunky outsole of the Vertico Sport which both gives plenty of room between you and all that filth and features a deep tread that can stand up to even the slipperiest of floors. This pair of sandals was made with gym and shower use in mind, and you're going to love the fact that they fit perfectly into each other, making it easier to pack them into an overstuffed suitcase or gym bag.
With an upper that's made with plenty of openings, the Vertico Sport is a great choice for use in the shower. Not only will it allow you to easily soap up your feet, but it will also allow water to run over them, then quickly drain so that you're not left sloshing around in soggy footwear.
For those who like to go swimming at the pool as their preferred form of exercise, the Vertico Sport is a great choice. It features a rubber outsole with a deep tread that won't let you slip and fall, even on completely wet tile.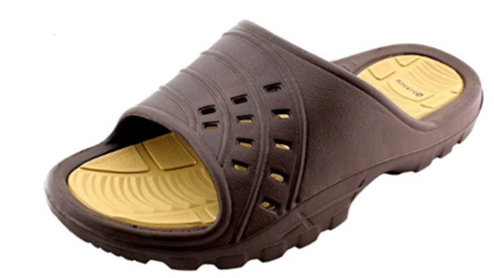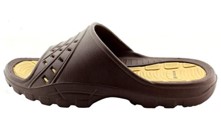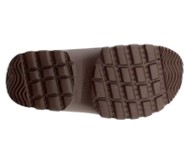 Kaiback Outfitters is a leading manufacturer of outdoor apparel including poolside and water-related footwear. You won't need to worry about slipping in these grippy sandals that boast an impressive tread for top-grade traction on any surface. These are a well-made water-ready pair of sandals that are perfect for all your summertime fun in the sun and are versatile enough to hop right into the shower with at the end of the day.
The Kaiback Simple Slide shower slippers feature an incredibly grippy tread that have enough traction to keep you steady on your feet no matter how slippery the terrain. They're made for quick-drying wear and naturally prevent mildew from forming which also stops odors before they even start.
Made entirely of rubber the Simple Slide is a casual slip-on sandal that has a uniform design and built-in upper ventilation holes for extra airflow. The Slide boasts an impressive outsole tread and a two-colored structure for a stylish outdoors vibe.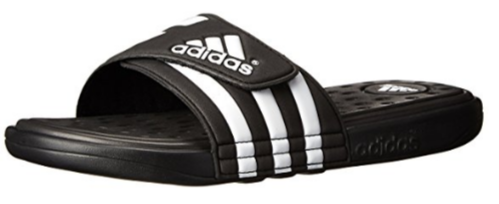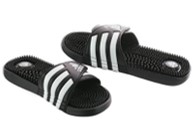 The Adidas Adissage SC is an excellent choice for any athlete out there, thanks to the carefully chosen materials used in its construction. It's made with a PU coated synthetic for a waterproof and moisture-wicking effect, while the footbed and outsole both feature injected EVA that both cushions, supports and comforts the foot during after a hard practice. Even if you're not looking for locker room slides, you'll love wearing the Adissage SC thanks to its high levels of comfort.
The Adissage features an extra-soft Supercloud EVA footbed that's water-resistant and quick-drying, along with built-in odor-control technologies. Its synthetic lining makes for comfortable wear while a hook-and-loop closure strap allows you to customize its fit.
The slip-on shower shoes are super easy to put on and take off, while an adjustable hook-and-loop strap allows for a perfect fit every time. These have plenty of wiggle room for water-appropriate pair footwear that is comfortable and stylish.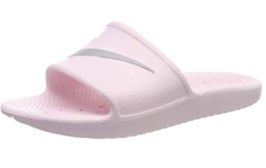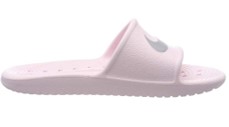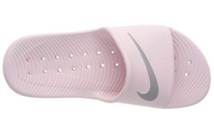 This fully synthetic pair of sandals from Nike not only has a plush feel but is durable for wet conditions for quite some time. The Kawa is a shower shoe that has a Phylon midsole, making them super lightweight, and Solarsoft footbed for that plush soft on-foot feel. Its design also helps drain water away from the foot when wearing, making them quite breathable and quick drying. Thick top straps helps keep them on, and like all slide sandals, easy to kick off once you're finished.
What isn't to love about a shower shoe that feels great on your feet? The Solarsoft footbed of the Kawa allows for an enjoyable experience during wear, especially after a long day on your feet. It's soft to the touch, with a plush, spongy, bounce back characteristic to this footbed. Perforations in the design of the shoe allow for quick water drainage as well, making them easy to dry, and allows your feet some breathability.
The midsole has, even more, cushioned softness, due to the Phylon foam construction. This keeps them lightweight, but also quite durable over the long haul. Texture soles help drain water away and also provide traction in the shower. The easy slide-on design makes them easy to kick off once you're finished, while the soft wide strap helps keep them on when you're scrubbing up. It's a soft, plush pair to consider for your next new shower shoe.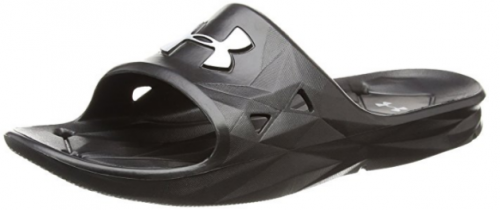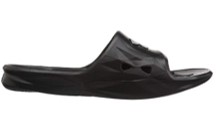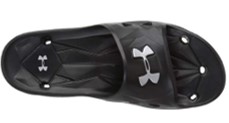 The Under Armour Locker 3 is a one-piece slip-on style sandal that's great for the locker room or even for poolside wear. They have a ton of great features and are an ideal pair of shoes for the shower. They offer a protective design that's comfortable and versatile enough to wear inside and out. These slides also have the advantage of being easy to put on and off, which makes them suitable for use that does not include water.
The Locker 3 is a quick-drying sandal and has a performance molded EVA footbed. With moisture wicking materials used in its construction, the Locker 3 will pull swear and water away from the foot, preventing any bacterial or fungal overgrowth that may occur in such conditions.
These one-piece slip-on sandals are made stylish and are versatile enough to wear poolside or while you're showering after gym class. You'll look stylish either way thanks to the trendy and modernized look that the Locker 3 brings to the plate.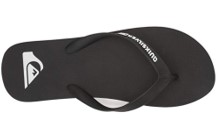 The Quicksilver Molokai is available in eight colors and is a stylish yet simple pair of water-ready thongs. They're flexible and have an anti-slip sole which makes them an ideal choice for showering or poolside activities, while the fact that they're a flip-flop means that they won't look like your regular, out of fashion slides. They're the perfect choice if you're looking for a pair of shoes to wear while camping, as they can even be worn during everyday activities without having to change footwear.
These thong sandals offer a slip-resistant outsole that prevents accidental slips or falls. They're also made from lightweight synthetic materials. The textured footbed gives a more comfortable foot feel, and they boast a Quicksilver contrast logo for a stylish and modern look.
These shower-appropriate sandals are a casually designed thong that makes for super easy on and off wearability. They're manmade and offer a flexible and finely molded design for ultimate comfort.

10

. Adidas Adilette Cloudfoam+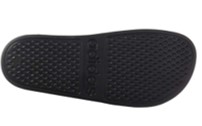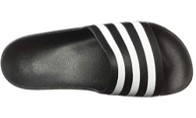 These slide sandals from Adidas, the Adilette Cloudfoam+, are great shower shoes because of their plastic and synthetic construction, making them easy to dry and clean. The bridge of the slides feature the classic three white stripes that define the Adidas brand. Lightweight and durable, you can't make a false step with the Adilette.
An EVA outsole adds comfort and grip, offering a fun, squishy feeling when you move around in them. Shock is absorbed by the sandal and the muscles are protected from undue pressure. The Cloudfoam Plus footbed feels like a soft, plush pillow for your feet.
A great choice for inside or outside the shower, the Adilette offers athletic style with comfortable bliss. Grab a pair today, or if you intend to wear them inside and outside the home, maybe grab two pairs. For the cost of them, you really can't go wrong with the Adilette Cloudfoam+.

Subscribe to our Newsletter