Best Outdoor Shoes Reviewed & Rated
In a
Hurry? Editors choice: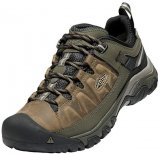 Test Winner: KEEN Targhee III

Outdoor activities can be dangerous, or at the very least hazardous to your feet. The great outdoors, whether camping, backpacking, trekking, or casual hiking, is far from being a gentle hobby. As every hiker or outdoor enthusiast knows, two things will determine the outcome of your trips.

The first one is experiencing, which you can only get by getting out there. The second one is proper equipment and gear, which is critical. One of the most important pieces of equipment is arguably your footwear. We've done some research and tests to determine what makes a good pair of outdoor shoes. Based on the results, we've compiled a list of the best ten outdoor shoes currently on the market. Enjoy!
Standout Picks
Criteria Used for Evaluation
Outsole
The outsole is one of the most important parts of outdoor shoes, especially for hiking. Unlike ordinary footwear, many outdoor activities require a particular kind of outsole. Hiking shoes must have a thick rubber outsole for decent performance on off-road terrains. Materials other than rubber are not recommended for hiking footwear.
The best outdoor shoes have an adherent or a "sticky" rubber component that maximizes contact between the outsole and any surface. This kind of technology is what you should be looking for when browsing through choices.
There's a significant difference between the grip of a basic running shoe's outsole and a hiking shoe's outsole. For starters, the quality of the grip on hiking shoes is much, much superior. The outsole of outdoor shoes must be able to grip rocks, uneven surfaces, mud, dirt, and more. When going hiking, you want to make sure you can completely rely on your outsole. At the end of the day, the outsole grip is what determines the outcome of each step.
The main factors that define the quality of an outsole are its materials, the grip, the stability, and responsiveness. Poor materials will result in an entirely degraded outsole in one month. A weak grip is something you just can't have in your shoe; it's a 100% you'll-fall-guarantee.
The sole can't be too high, as stability would decrease. If you want stability, you can't float in an 8cm sole. Lastly, a responsive outsole protects you from having smashed heels after hiking or trail running for 30 minutes.
Durability
There's a difference when it comes to the durability of an average shoe vs. an outdoor shoe. The main difference is that you can use your average walking shoes and look good while doing so, but it doesn't work like that the other way around.
Using your casual walking shoes will make you look more like a newbie, not to mention that those shoes are going to get wrecked.
It's as simple as this: regular shoes can't endure outdoor activities. You need materials that resist rocks, scratches, water, and heavy-duty usage. Think of it as placing a big motor in a small car, and the other way around. The small car still works with a larger engine, but the big one can't run with a smaller one.
When going on outdoor adventures, you'll encounter roots, mud, dirt, water, debris, rocks, and a bunch of other obstacles. The issue is not what you meet; what is important is that your outdoor shoes are prepared for it.
We know outdoor shoes are not cheap, which is why we gathered a list of durable footwear that features resistant builds. Nobody likes throwing money down the drain, just like nobody likes having to replace shoes after only one month.
You have two options when it comes to durable materials: leathers and synthetics.
The toughest one is unquestionably reverse full-grain leather. However, other factors such as weight, waterproofing, and versatility play a role when choosing materials.
For camping and other light outdoor activities, rubber outdoor shoes are also a great choice, along with mesh uppers as these will remain breathable as well as offering waterproof or quick-drying properties.
Protection
Trekking, hiking, and trail running are unquestionably rough activities. This goes for both our feet and our shoes. It's important that the materials of your outdoor shoes are sturdy enough to protect them from degrading. However, it's even more important to protect our feet. Multiple factors have an impact on the protection the shoe provides to our feet.
There are three kinds of outdoor shoes: low cut, mid-cut, and high cut. The most protective of them all is unquestionably the high cut. It covers up to the shin, offering maximum protection. Though the cut you need depends on the activity you're looking to perform. For something versatile like trail running, high boots are the last option on the list. For something like backpack trekking or hiking, consider taking mid or high cuts.
Waterproofing is one of the most important factors that affect protection. Depending on the activity and the surroundings, waterproof protection might or might not be essential. If there are any chances you'll have to deal with water, waterproof shoes make a huge difference.
Some outdoor shoes have a distinctive tongue design that prevents debris from going into the shoe. We highly recommend looking for this feature. Anyone who's hiked before knows how annoying it is to remove the boot because of debris in it. This is especially annoying when wearing high boots and a backpack. But aside from being annoying, no protection on the inside prevents you from stepping on small rocks and edgy remains.
Traction
The grip is the most essential element of the outsole, and probably the whole design. The grip determines the quality of the contact between the shoe and the surface. If the grip is loose and there is no traction, the shoe slips. When doing outdoor activities, your outdoor shoes should have as much traction as you can get. Multiple sub-factors contribute to the value of the grip.
For a better grip, we encourage the use of your natural feet and toe strength along with proper technique.
However, technologies such as heel brakes make it easier by reducing the chances of the outsole slipping or sliding. Never rely on such technology as the base of your grip – it works as assistance. Other contributing elements are lug patterns on the outsole. Lug patterns dig into the surface (mud, rocks, grass, dirt), helping your feet make each motion smoother.
The deeper the lugs are, the better traction the shoe will have. But, you should always consider the kind of activity you're going to perform. For trail running, deep lugs are not the ideal choice, as they'll dig too deep into the ground. This would decrease the running performance, as each gait would require more effort, and running would be difficult.
As things get more difficult, you'll need more grip. For instance, the grip is the number one priority when hiking steep elevations (or descents). When doing heavy activities, your outdoor shoes must be able to grip to any surface you encounter. Each step needs to be confident and firm, and that can't happen if you can't get a good grasp of the surface.
Comfort
Comfort tends to be underrated in all kinds of performance shoes. We can't say it enough; uncomfortable outdoor shoes will never let you reach optimal performance. If a shoe feels uncomfortable, it means there's something wrong.
Uncomfortable shoes are not an option for outdoor activities. Off-road events alone are harsh for our feet; imagine adding hours of unpleasant experience on top of that.
Comfort is directly related to your technique. The more comfortable you are, the better you'll do. Various things mark the level of comfort in a shoe.
Cushioning is the first one. A pair of outdoor shoes must have enough cushioning to support comfortable motions; especially trail running ones. Most brands apply their own cushioning and shock absorption technologies on their designs.
The materials are another factor. If the materials are completely stiff, any motion becomes uncomfortable. Don't get us wrong – outdoor boots must be firm. However, there's a difference between firm and inflexible. Flexibility is a must to execute motions in a natural manner. Outdoor shoes should never become an obstacle to your motions. The best outdoor shoes will flex as your feet require it, resembling their movement as naturally as possible.
Depending on the location and weather, you should be looking for either breathable shoes or one that retains heat.
A breathable shoe is the last thing you want in winter. Look for something that seals your feet away from the cold, as it's important to keep them warm. In hot locations it's the whole opposite; the heat should not accumulate on the inner shoe.
No matter where you are, one thing is for sure; you'll need waterproofing. Wet shoes (and feet) will become an uncomfortable obstacle anywhere, anytime.
10 Top Rated Outdoor Shoes Reviews
Altra has a solid reputation for high-quality products at accessible price points. Lone Peak 4 is a good example of this. These outdoor shoes cost markedly less than some of the competitors while offering a comfortable and protective design that requires minimal break-in.
The Altra Lone Peak 4 allows your toes to relax and spread out. You will have even more comfort on your uphill climbs and downhill descents. While comfort is only one factor you should consider when it comes to best outdoor shoes, it is just as important as things like durability and protection. The Lone Peak 4 comes with a hook and loop tab that allows a strapless gaiter attachment. This prevents debris from building up beneath the shoe and possibly injuring you.
The Altra Lone Peak 4 isn't the cheapest option on our list but it is in line with the other designs. For being one of our top picks, this should definitely be a contender for your next pair of outdoor shoes.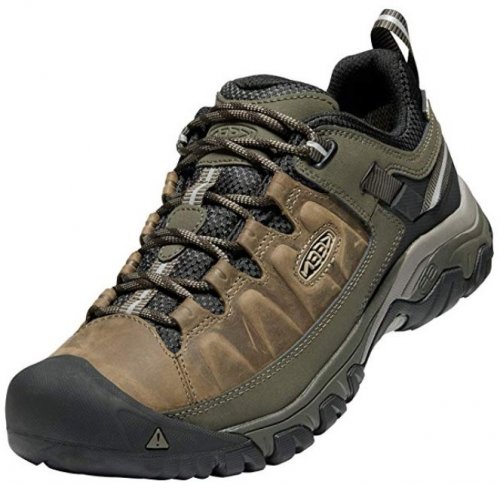 Another award-winning pair of outdoor shoes, this time from KEEN, makes the list. The Targhee III is an updated version of an iconic design, a waterproof boot that is every bit as protective, comfortable, and durable as it is rugged in appearance. The Targhee III carries KEEN's well-known sturdiness and anatomical comfort, as well as odor-resistance that is simply a must-have in this type of footwear.
The upper of the Targhee III comes with the KEEN. A dry membrane that is waterproof yet breathable at the same time. There is a mud shield made from leather and two different shanks for resilience and support. The Targhee III has a metatomical footbed that is specially engineered to deliver maximum arch support. Additionally, this design is treated with Cleansport NXT for battling foul odors.

The outsole has 4mm thick lugs for traction in any direction, and with that, we have to admit that we are having difficulty finding fault with the Targhee III. If you're looking for those ideal outdoor shoes that will keep you supported, cool, and dry on your next adventure, then don't hesitate to grab these all-terrain boots!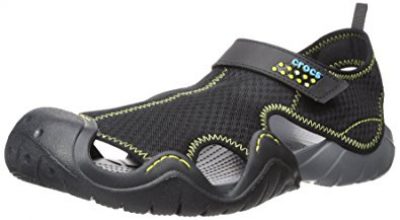 It's impossible to write about outdoor shoes without having Crocs show up on the list at least once. The Swiftwater sandal is perfect for those who are enjoying some outdoor water fun, and campers would find this to be the ideal pair of shoes. Adjustable, comfortable, and very relaxed, this is the shoe you want to slip on when you climb out of your tent or trek down to the beach.
One of the things that make Crocs so comfortable is the use of their Croslite material. Spongey, cushioned, and responsive, this is a great material for those who want a more comfortable and relaxed ride. While this may not be great for intense hiking or climbing adventures, the more casual outdoors person should find it to be ideal.
Protective enough to wear on rocky beaches or murky lake bottoms, this design is made to be worn in and around the water. Your foot will stay protected, while the shoe will dry quickly and easily as soon as you're back on land.
The Crocs Swiftwater is a great choice for those who are more relaxed when it comes to their outdoor activities. Intense hikers or trail runners will not find the support they need, but casual hikers, nature walkers, and campers will love how comfortable and durable this shoe really is. For such a low price, these outdoor shoes are perfect to throw in your bag before heading out.

The Moab 2 Vent is Merrel's most popular pair of outdoor shoes. These are the combination of protection, comfort, water resistance, and weight that should be on every outdoor design. The tough grip will keep your feet steady in place, getting a solid hold of almost any terrain. Merrel's Moab Ventilators help you step outside the box, and into the wild.
The DURABLE Vibram TC5+ rubber outsole brings a reinforced grip for the most extreme of outdoor adventures. A combination of rubber technology and a carefully designed outsole pattern takes efficiency to another level. Merrell M-Select FIT.ECO+ blended EVA contoured footbeds resemble the anatomic shape of feet for comfortable wear. Thanks to the natural form of the insoles, the fitting experience is enhanced.
The Moab 2 Ventilator is one of the lowest prices of this list while being the number one spot for efficiency. No pair of outdoor shoes on the market can beat this performance-to-cost ratio.
Saucony is a brand known for its high-performance running footwear, and the Peregrine is their award-winning design. Now it comes with an ISOFIT construction, together with a host of other features that only serve to enhance your comfort, traction, and safety as you take on the trail. With the Peregrine ISO, you will have nothing to fear no matter what challenges you face.
This design has an ISOFIT upper that is dynamic and adapts to the forms of your foot as you pound the trail. It has EVERUN in the topsole, for full-length cushioning and energy return, a PWRFOAM midsole for more rebound, and a PWRTRAC outsole for traction on any type of surface. This trail runner is made for those with neutral pronation, on any type of off-road terrain.

The downside to the Peregrine ISO is that it is not water-resistant or waterproof, so make sure to avoid any streams or even puddles on your run. Other than that, thanks to all the latest Saucony innovations, you can be sure that this high-tech option has your back, regardless of where you wear it!
6

. Skechers Melbo Journeyman 2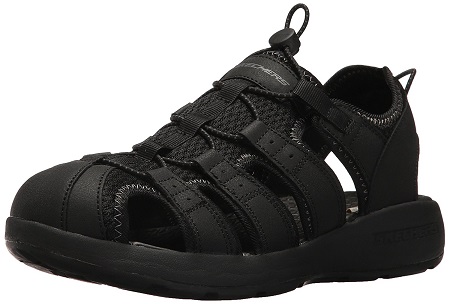 While outdoor shoes tend to offer the most in protection and waterproofing, some of them will be lacking in terms of breathability, which can be a problem in the summer and more humid areas. This is where hiking sandals come in. Initially designed for fishing, the Skechers Melbo Journeyman 2 provides the comfort and traction you need for outdoor adventures, with a bungee-style lacing system for a secure fit.
The soft memory foam insole is designed to contour to the unique shape of your feet, providing the right amount of comfort and support. It also supports arches of any height, allowing you to be comfortable even with extended wear. While this is not necessarily a feature unique to the Skechers brand, the bungee lacing system works to provide a custom-tailored and secure fit with little fuss. Simply adjust the lacing and use the clasp to lock it in place. The bungee lacing system also allows for more freedom of movement than some other lacing types.

While these outdoor sandals may not offer all of the same protections as a shoe or a boot, the lightweight design and memory foam insole make them a great choice for the summer, as well as more humid conditions where your feet are more prone to sweating and overheating.

Vasque's Juxt is a pair of all-around efficient best outdoor sneakers. They support pretty much anything you put them up to due to their multi-sport design. The midsole and outsole technology work in amalgamation to increase grip, comfort, stability, and performance. This pair can endure hiking on rough surfaces, trail running on uneven terrains, and trekking for long distances. They make great marathon shoes as well. Comfortable materials provide a smooth experience throughout the day.
Outdoor shoes have never been this stable before. A molded EVA foam functions along a TPU plate to make every step firm and stable. No matter where you're stepping, you can do it confidently. Vasque Off the Grid outsole is far from a general rubber one. The VOG outsole breaks the limits of grip, comfort, and durability. Venture into the mountains, trees, and rivers without any concerns.
This pair was costly during the release. Though there are loads of sales on it as of the date of this publication. Considering it's a multi-sport shoe, it could save you from buying two different pairs.
The Salomon X Ultra 2 Mid was a fan favorite, and their successor was released in late 2017. It builds on the high-quality design of the 2, while updating the lacing system and outsole for improved traction on rough terrain or when going downhill. This lightweight design almost feels like a trail-running shoes when you put it on, while providing the same traction and durability as more heavy-duty outdoor shoes.
The lightweight material of the Ultra 3 makes sure that you are able to hike for long periods of time without becoming overly tired. Even with the lightweight materials, there is plenty of comfort in these outdoor shoes. Salomon has redesigned the outsole on the X Ultra 3, using two types of rubber and special patterning on the heel. This ensures that you'll have a solid grip on whether you're on uneven terrain or moving quickly.
Salomon products are known to fetch a premium, but this is for a good reason. When it comes to any kind of footwear you get what you pay for, and the Salomon X Ultra 3 Mid will be a solid investment for seasons to come.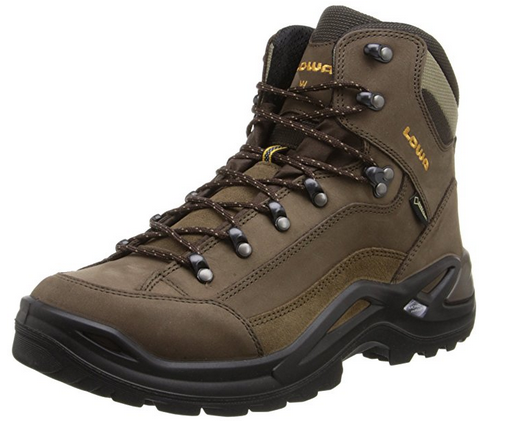 The Renegade GTX is made for any circumstances, outdoor activities, and weathers. The Vibram outsole will grip onto anything it encounters, and the midsole features protective and durable materials. An adaptive footbed responds to all weathers with responsive climate-control technology. The padded tongue and collar offer superior comfort and stop debris from getting into these outdoor shoes.
Climate-adaptive technology on the footbed responds to different climatic circumstances. By retaining heat or releasing it, the Renegade can adapt your feet to both winter and summer situations. The Vibram EVO outsole has an excellent grip on all kinds of surfaces and terrains. The rubber compound protects your heel and guarantees a durable use. A polyurethane MONOWRAP frame on the midsole delivers even more durability, shock control, and comfort.
Lowa's Renegade is nowhere near cheap. The shoe is considerably expensive in comparison to other items in this list, while not being the best one. Though, this pair of good outdoor shoes are efficient in many kinds of weather and circumstances.

10

. Salomon X Ultra 3 Trail
Don't let the classic style of the Salomon X Ultra 3 Trail fool you. As an update from the Ultra 2, this shoe is not packed with even more external technical looks, but it doesn't lack performance by any means. Ultra 3 is a highly functional blend of technology and classic design. The precision build features flexibility, durability, grip, and every other feature that composes fitting outdoor shoes.
A lightweight frame is located between the midsole and the outsole to optimize motion management and energy administration. This Advanced Chassis also provides protection, stability, and support. The Ultra 3 Trail includes an OrthoLite cushioned insole that augments comfort and avoids heel soreness. The insole also protects your feet from humidity and odors.
The price of these outdoor shoes is a bit above the standard. Not cheap, but not that expensive either. Taking into consideration its outdoor performance, the price of this pair is worth it.
Subscribe to our Newsletter