Best Keen Shoes & Boots Reviewed
In a
Hurry? Editors choice: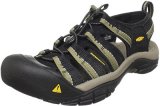 Test Winner: Newport H2

Keen shoes are consistent, comfortable, protective, and durable. They are made to last and do that job relatively well. Keen has been trusted by millions across the globe for a variety of footwear needs.
Trusting a brand of shoes
can be difficult due to the lack of consistency in manufacturing, but when you buy Keen, this is a worry you won't have. They are focused on providing amazing
shoes that will last for miles of wear
.
No matter the type of shoe, when one has on a Keen shoe they know that their feet are enveloped in something that is consistent, comfortable, protective, and durable. These are just the features that these shoes have; they are made to last and so, do that job relatively well. These are the most basic desires in a shoe.
Standout Picks
Criteria Used for Evaluation
Brand
When we started to research the best Keen shoes we asked ourselves what is it that makes these the best of their brand? While they offer superior comfort and high levels of durability, these things can be found in tons of shoes on the market. So, what is it that really makes the Keen stand in a class of its own? Technology.
Their technology ranges depending on the shoe and the intended use of it. What you see in their sandals is not what you will see in their work boots. When taking this into consideration we took each style and looked at what they have to offer and why it is important for the person purchasing it. Here is what we have found.
Style
Sandals
Hydrophobic Lining –
This is a mesh lining used in many of Keen's products. It helps remove moisture from the foot and repels it away. With the exceptional breathability of their sandals, this provides dry feet even in extremely sweaty conditions.
Metatomical Footbed –
Seen in options like the Uneek, the footbed of their shoes that offer this technology provide a superior fit and better comfort than many on the market today. The metatomical footbed provides excellent arch support and shapes to the natural curves of your feet.
Torsion Stability ESS Shank –
The Torsion Stability ESS Shank is not only seen in sandals like the Arroyo II, but also in boots like the Targhee 2. What does this do for you exactly? Well, it provides flexibility through the toe and stiffness through the arch. This allows your feet to move naturally while maintaining a high level of support and structure. When walking or running on multi-level terrains this feature will help you keep your balance and avoid rolling an ankle.
Trail Boots and Shoes
Keen Dry –
When it comes to waterproofing Keen certainly knows what they are doing. Wet feet on the trail can lead to a ton of problems for your health and comfort. Keen. Dry is a membrane that coats the shoe. It allows moisture to evaporate from the inside but it does not allow moisture to penetrate it from the outside. This helps to maintain constant dryness and optimal foot health.
Keen Zorb Strobel –
Keen Zorb is a foam padding that is used from the toe to the heel in many keen shoes and boots. It offers exceptional shock absorption and impact distribution. You will feel as if this footbed is hugging your feet.
Anatomical Steel Toe –
The anatomical or foot-shaped design in Keen's steel toe options is something you won't find everywhere and that you won't sacrifice once you wear them. Most steel caps protect your toes but at the expense of rubbing discomfort. Because Keen shapes the to cap like a foot naturally curves you won't have any of that pesky, uncomfortable rubbing.
Keen Protect –
This feature is the rubberized toe we see on many different options within our guide. When on a work site or an excursion through a dense forest you don't want something pushing through the toe of your shoe. This could lead to serious injury. Then to cap reinforces the shoe or boot to ensure your feet stay protected, regardless of what you find yourself up against.
Water Resistance
Keen uses naturally water-resistant materials like Nubuck Leather and then adds its waterproof membrane. This ensures water stays out and moisture can still evaporate. Rubber outsoles also help in overall waterproofing ability. It is important to note, some of their shoes offer a mesh panel that will give better breathability but still keep water out of the interior of the shoe. If you find that over time your waterproofing is lacking, a quick waterproofing spray will make it as good as new.
Outsole
Finding yourself in slippery conditions or on varied soft trail surfaces is not uncommon. The use of lugged outsoles will allow your shoes or boots to bite into the surface you are crossing and ensure you stay on your feet. Superior grip and traction are needed for the overall safety of any adventure. Lugged outsoles will make sure this happens helping you enjoy your adventure and stay safe while on it.
Value
Another important criterion that we used when picking out products is the price tag. The truth is, we all know the price is important. When picking out footwear, we have a budget in mind and try to stay in-between a specific dollar amount. However, when it comes to this type of evaluation, we are looking at something a bit different. Here, we focused on a way to ensure that no matter what product you decide, you receive your money's worth for the purchase.
So, to start off the buying guide, we actually first scanned the market and looked at what companies were charging. We paid very close attention to the highest-priced items and the lowest price. In this, we were able to draw some conclusions as to what perhaps may be an average price tag.
For us, we used this to our advantage when assessing each product. We carefully looked at each product and considered whether or not the price was fairly priced, in accordance with the average price tag. From there, we also were able to draw conclusions as to whether or not the value it offered was fairly priced.
Subscribe to our Newsletter