Best Durable Shoes for All Occasions Reviewed & Rated
In a
Hurry? Editors choice: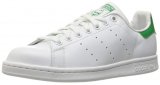 Test Winner: Adidas Stan Smith

For those who think in terms of value, a shoe's ability to last for a decent length of time is everything. Depending on the activity that the design is meant to be used for, the time that it will last will vary, but in general, it should be a durable shoe for the activity that it's meant for.

If you purchase a pair of running shoes, you would like the sole unit (tread) to stick to the ground and provide you with an adequate grip for the surface that they are meant to be used on. This goes for every design on the market and, as we will see throughout this arduously researched guide of durable shoes, it is very important.
Standout Picks
Criteria Used for Evaluation
Materials
Materials such as leather, nylon and tightly woven knits add to the durability of a design.
The materials that a design is made are very important. The make of a shoe decides how much longevity it will have, as well as impact the effect of several other features.
If you didn't before, now you see how important it is to own a durable design made of high-quality and long-lived materials. That being said, some materials are just more durable than others. Some are thicker and meant to protect the frame of the shoe while others just aren't.
The footwear in this guide was weighed against the more durable materials and sorted to find the pieces that were designed from higher quality materials.
Leather: Leather is a naturally thick material. While there are various ways to damage leather, it is rather easy to prevent the damage from occurring by simply using a protective spray. Ripping through leather is a difficult thing to do, making it a great option for footwear and thus, meaning that it should be placed on this list.
Nylon: Nylon is a material that you don't see too often in the designs of durable shoes nowadays but that still manages to be found in the more classic footwear. Shoes such as the classic Reebok models and other older designs have this material incorporated into their design and are rather long-lived because of it.
Knit: While many shoes have their own variation of knit materials, they all focus on one thing - having tightly woven fibers. A shoe designed using a knit material such as mesh, Primeknit, etc. will manage to last for a decent length of time. It was for this very reason that this material was sought after during the making of this list.
Style
Versatile, timeless pieces are what you should be looking for.
What's the use of having a pair of durable shoes if they aren't in the least bit attractive? The style of the design itself was definitely taken into consideration while this list was being constructed.
Things such as the shoe's ability to blend in with the style of clothing in today's age as well as its ability to blend in with various types of clothing were taken into consideration.
Versatility: The shoe's ability to be worn for various different activities and to do so without degrading at a fast pace is incredibly important. Versatility is something that must be taken into consideration as well.
Trendiness: Does the design blend in with the footwear models that are out today? Can it be worn with various styles of modern clothing? This is a very ill-considered portion of longevity. The shoe's ability to outlast all others in the sense of longevity is something that must be considered and weighed against; which is why this list made sure to do that. Some footwear never seems to go out of style, while some can't help it but do so.
Durability
Strong stitching and the presence or absence of overlays can affect durability.
The level of care that was placed into the design of a durable shoe is one of the main factors that affect its ability to outlast other models.
Seriously, it takes thought to consider all (or most of) the various possible things that can damage the design. It's up to the designer to prepare for and protect against all of these different hazards and the possibility that they occur.
Stitching: Many don't know this but the stitching can make or break the entire design. The depth that was placed into the stitching or the utter lack of stitching can mean the difference between a design that you wear for a few months or one that lasts a few years. Some footwear comes fitted with a tighter version of the stitching and doesn't have a very hard time providing wearers with what they'd need in terms of quality. On the other hand, some footwear comes with very little stitching (no-sew) overlays.
Overlays: Overlays are things that take great care in order to not "mess up". The introduction or lack of overlay materials into the design of a shoe can be the difference between a durable shoe and a completely flimsy model. With that being said, while not all footwear without overlays is completely flimsy, many designs with overlays are very well built.
Comfort
For a comfortable ride, search for cushioning, good ventilation, and plenty of flexibility.
For some reason, many footwear manufacturers confuse the need for comfortable shoes with the need to rid the shoe of all possibilities of being comfortable. For this very reason, the designs on this list are all sorted and reviewed for their comfort aspects as well.
There is no reason why one should have to forfeit comfort for durability.
Cushioning: Sturdy durable shoes do not have to be void of all of the cushioning that they provide to the wearer. In fact, they shouldn't. Both the upper as well as the sole unit should provide wearers with what they'd need in order to comfortably tackle the area that they wish to tackle. The sole units of a durable design on this list as well as the uppers have ample cushioning and should make it so that wearers are completely comfortable.
Breathability: With the introduction of overlays into a design comes the possibility that it won't provide wearers with what they'd need in terms of airflow. For this reason, the durable shoes on this list were searched for any blockages in that respect - to make sure that the overlays didn't cause sweaty feet or that there were perforations in the designs of the uppers themselves.
Flexibility: Again, many footwear with overlays tends to have blocky designs. In fact, many durable models tend to have a hard time bending in general. For this reason, the durable shoes on this list have designs that allow them to easily bend to the will of the wearer's foot and provide them with the fit that they'd need in order to comfortably make their way across any terrain.
Value
Look for value in the quality of the materials, the comfort levels, as well as the longevity of a design.
So what exactly is this value? Is it how much the design costs? Is it about its quality? Do you have to know the materials that go into a design to determine its value? What about its comfort levels or how long it will last?
The answer to all of these questions is a simple, yes. In order to determine how valuable a design is, you need to know how much it costs, what the materials are that go into it, if it is comfortable to wear often and if it is durable. This will help you gauge its overall quality and whether or not it is worth its price.
Since all of the options on our list are quite durable - they wouldn't be here otherwise - we will talk a bit more about the other aspects of value.
What materials are considered high in quality?
As we mentioned in our Materials section, these are, without a doubt, genuine leathers. They are comfortable, breathable and durable. With a little bit of care, footwear made from leather will last you years!
In the same vein, synthetic leathers are not so high-quality. They tend to be rigid and unyielding, causing discomfort, and they are not as breathable as genuine leathers. They also tend to crack and flake fairly quickly.
If you're asking yourself what comfort has to do with the value of a shoe, well. If you buy a design that you can't really wear because it is giving you blisters, pinching your toes, or awkwardly poking you in the foot, can you really say that it was worth the purchase? No, we don't think so, either.
While all this may sound intimidating, it is actually quite easy to find designs with a high value on our list. Simply sort them according to this criterion and choose off the top for those which are the most worth their price. Good luck!
10 Best Durable Shoes Reviewed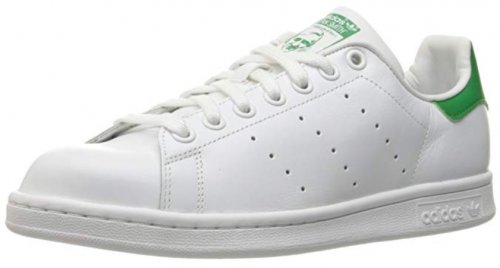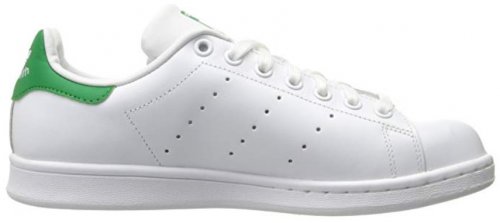 Stan Smith was a tennis player who ruled the court once upon a time. In honor of him, Adidas released a tennis shoe in 1972 which took the fashion world by storm and has been a staple casual design ever since, as well as a durable one. The Stan Smith is a versatile sneaker that you can wear in all of your everyday outings, with jeans and shorts and skirts and dresses for an easy, effortlessly cool style.
The Stan Smith has a full-grain leather upper, which is one of the reasons why it is such a long-lasting option. It has the iconic Adidas three stripes in the side, which are perforated. These perforations offer breathability and proper airflow to keep your feet cool and sweat-free. Inside the sneaker, there is a leather lining for a healthy foot climate, as well as an OrthoLite interior for shock absorption and moisture-wicking.

You can take the Adidas Stan Smith with you practically anywhere, barring the most formal of occasions. It could even work as a dress sneaker for work if your workplace isn't too strict with the dress code. If you're looking for a solid lifestyle option, then look no further than this simple, refined design.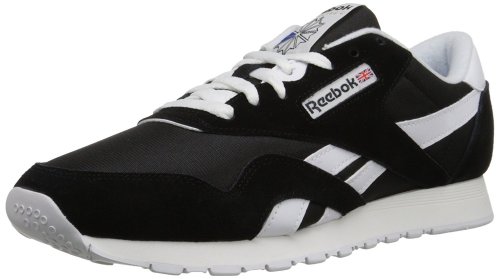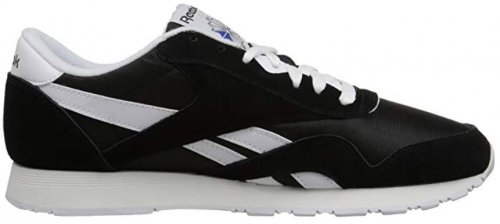 The Reebok Nylon Classic is on this list of durable shoes for obvious reasons; older designs tend to be more durable than those of today. Reebok equipped this option with a dense rubber layer on the bottom to act as its outsole. In addition to this, they featured an upper made of a combination of suede and durable nylon materials.
The upper on the Reebok Nylon Classic features a combination of various different materials. For starters, we have a nylon material that acts as its base layer. Reebok also gave the design an overlay in suede. The use of these materials is what keeps this design from ripping or tearing when presented with any type of challenge.
Now, many options have outsoles made from dense rubber; it's a very common material. The thing that separates the material of other designs and the materials that are found in this specific Reebok sneaker is that it manages to hold up incredibly well against high levels of stress; these sneakers simply don't wear very easily. The fact that the sole unit is made from a thick rubber material allows it to provide wearers with what they'd need in terms of longevity during use.

The great thing about this being a classic design as well as Reebok is that it is incredibly inexpensive. The materials incorporated into this option allow the Nylon Classic to provide above-average levels of longevity to the wearer and will work spectacularly well for all of your needs as a durable shoe option.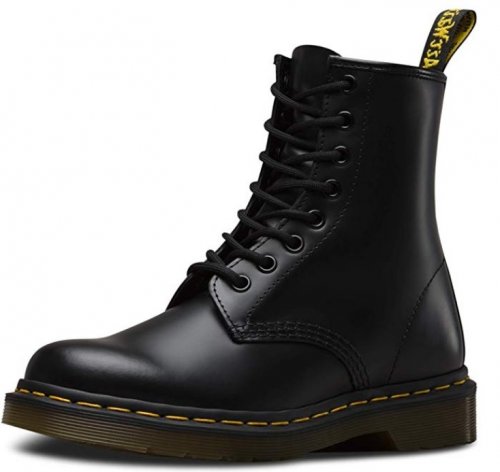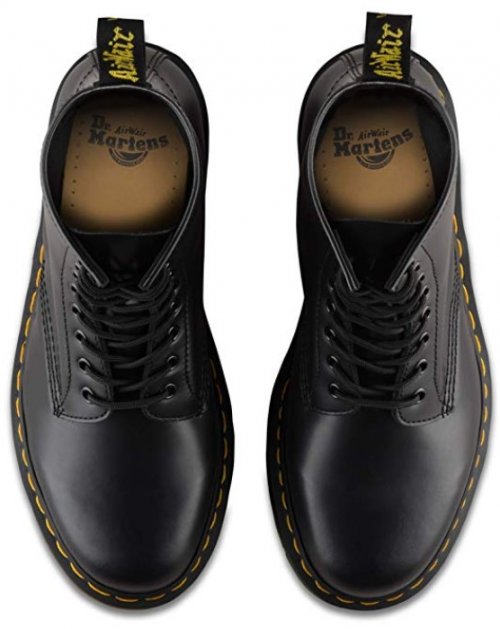 Dr. Marten's is an iconic brand, one that is especially popular among punk enthusiasts, though of course, you don't have to go there to enjoy everything this label has to offer. The 1460 is the original Dr. Marten's design. It has everything you would associate with the name - the eight eyelets, the smooth leather, the round toe and characteristic yellow stitching in the sole. This is your opportunity to be a little rebellious, a little out of the norm, in the comfortable Dr. Marten's 1460!
This durable design is made from genuine leather and has a lace-up system with eight eyelets. It has a heel loop to make it easy for you to slide in, and an air-cushioned sole to deliver superior comfort. The reason the 1460 is durable is that it is made using the Goodyear welt construction. This means that it can be re-soled time and again without risking damage to the design, and it also means that it will last you literal decades!

As all leather choices, Dr. Martens 1460 requires a little care in the form of cleaning and conditioning, but we feel that it is very little effort to put in for a design as long-lasting as this option. Embrace your punk, non-conformist side and show off your new Dr. Martens boots to the world!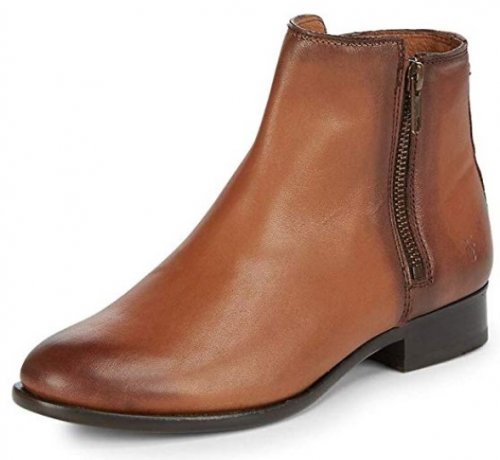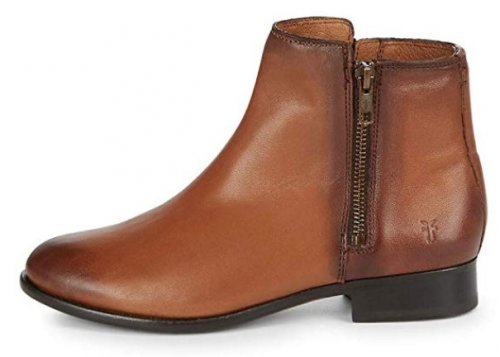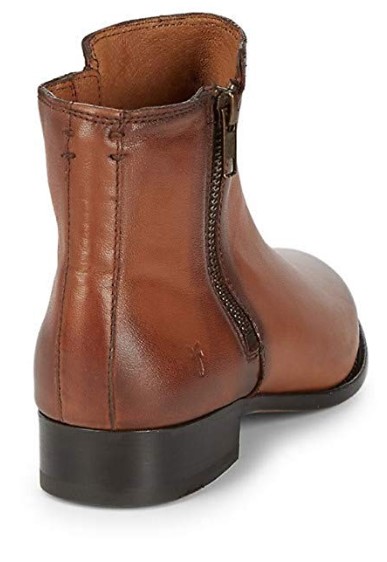 Frye is a brand known for its exceptional boots, crafted from the most durable leathers and using the famous Goodyear welt construction for ultimate longevity. The Carly is no exception, a cute tan bootie you can wear practically anywhere and that will keep you company on cold days for years to come. This lovely option is easy to pair with jeans and leggings as well as skirts and dresses for a fall chic look that never goes out of style.
The Carly is made from rich leather that has a supple feel to it. There are dual zipper closures in the sides that allow you to easily slip these on and off. The interior of the Carly is also lined with leather, increasing its durability as well as breathability for a healthy foot environment. The footbed is lightly cushioned so that you can wear this lovely option all day long if you like, and the heel is low and comfy.
For increased comfort and long-lasting design, there is a leather outsole, and the heel is made from rubber for stability. While the Carly may not be the best choice for extreme conditions, this bootie will quickly become your go-to option when the temperatures drop and it's time to start layering. It is cute, it is high in quality and you can easily wear it for as long as you want!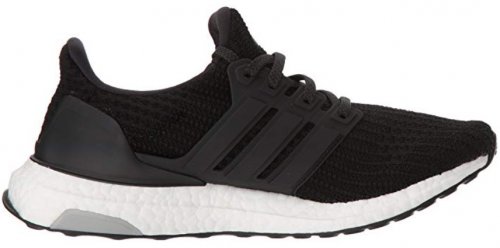 What was initially meant to be a design that provides wearers with the utmost levels of comfort, the Adidas Ultra Boost is also an option with supreme levels of longevity as well. This running shoe has a sole unit meant to provide its wearers with durability and does so simply because it's designed from Continental rubber. The upper on this design is also made from Primeknit, which is much, much thicker than the traditional mesh material.
Primeknit is Adidas' answer to those who were worried about their sneaker possibly ripping with constant use. This material is tightly woven and meant to help counteract the looseness that comes with mesh uppers, creating a more durable shoe. Not to mention that Primeknit is also highly breathable. For those who didn't know, Adidas decided that it would be a good idea to partner with Continental tire and design a material that goes into the outsoles of their footwear. This allows the sneakers to have less material actually incorporated into the outsole while remaining extremely lasting overall.

The Adidas Ultraboost also has a design that makes use of various high-end technologies. Again, this is another model that will provide wearers with the value that they need; even if it's more expensive than the average.

When it comes to long-lasting footwear, there is hardly anything that can beat a design fully made from vulcanized rubber. The Hunter Original Tall answers all of your wet weather needs, whether you're about to enjoy a stroll in the muddy countryside or you are embarking on an errand run through the city. It is a Wellington boot that enthusiasts come back to time and again because of its longevity and the simple, clean look that pairs well with absolutely any outfit.
The Original Tall is handcrafted from 28 individual pieces of rubber. This rubber is then vulcanized, meaning its features are slightly altered. Vulcanized rubber is more durable than regular rubber, more resistant to abrasions and the elements, and thus more protective for your feet and legs.
This option is 100% waterproof, and thanks to its polyester lining, it is also gentle on your skin (though it is advisable to wear it with socks). The tread on the Original Tall is deep and slip-resistant, helping you keep your footing even on treacherous terrain. To top it all off, this boot is vegan as well!
The Hunter Original Tall is certainly not an everyday option. However, if you're after something sturdy to get you through the worst of autumn and perhaps a rainy spring, then you have definitely found the right design. Pull these on over your jeans or leggings and enjoy the luxury of knowing your feet will never get wet!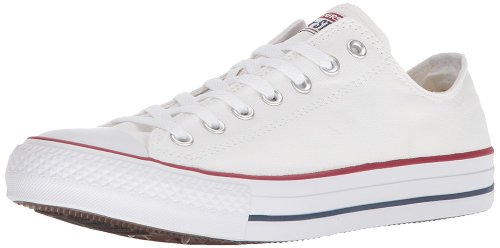 Now be honest, have you seen a shoe that performs as well and has a name that is longer-living than the Converse Chuck Taylor? Not only has the Converse brand been around for a long time but their footwear lasts for just as long, making it a casual, and durable shoe. The sturdy rubber outsole, as well as the canvas uppers of these sneakers, are what allows them to last and provide comfort to wearers for so long.
Chuck Taylors have become primarily known as the design for those who would like a decent level of grip for their basketball adventures. Beyond that, they were even used for activities such as skateboarding and running; they are just that versatile. This is all possible because of the rubber material that makes up their outsole, making it a durable shoe option.
Some of you may not know this but, canvas is an exceptionally lasting material. To give you a bit of an understanding of just exactly what this material is, when you hear canvas, think of a burlap sack. Tightly woven fibers that make up the upper of this sneaker allow it to provide wearers with what they'd need in terms of durability.

The Converse Chuck Taylor is an iconic design, there's no doubt about it, but it's also a durable one as well. It is not meant for high-impact activities, but it is versatile enough that you can wear it in practically any casual setting. The Chuck Taylor goes well with all types of outfits, and you will definitely love wearing it day in and day out for seasons to come!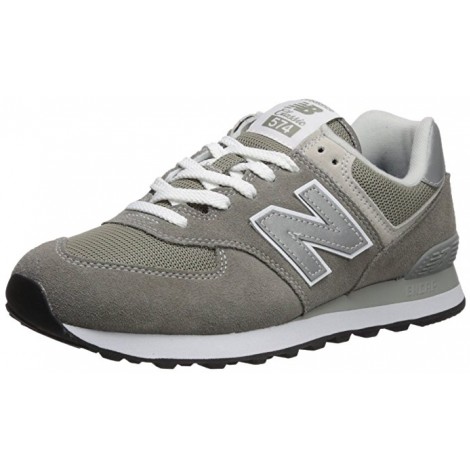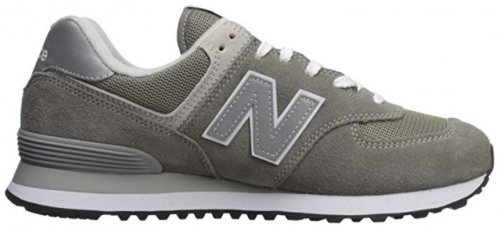 This design will provide you with comfort as well as support for long periods of walking or running; they're just that good. The New Balance 574 is able to do this because of its heel cushioning as well as the thickly overlayed upper; this design is built to last in all meanings of the phrase. If you're looking for a sturdy pair of New Balances, don't hesitate to check these cool retro kicks out.
The design of the New Balance 574 is fitted with various overlays throughout. These overlays are made from leather and allow the design to provide protection from the environment and wear and tear, making it a durable option. The interesting thing about the upper of this design is that it isn't thick to the point that it doesn't deliver ample airflow. While the entire sole unit of this shoe should be discussed, the heel cup is the area that is the most interesting. The heel of the 574 is fit with dense(r) EVA material which provides wearers with comfort as well as adequate cushioning. Another great thing is that the use of this cushioning provides heel support.

This is a solid option for strolling through the neighborhood, for sightseeing and even taking part in light exercise. New Balance 574 has that retro look that we all know and love, and it will keep your feet supported, comfy and happy for many, many years!

Salomon is one of those brands which you associate with rugged outdoor wear, whether it be shirts and pants, or their hiking boots and shoes. The Xa Pro 3D is a durable design that's made to take the abuse the outdoors and mother nature sometimes throws your way. With lateral support and breathable uppers, it also has a protective toe and rugged sole to help keep you going even when the odds are stacked against you. With this hiking shoe on your feet, you will conquer any trail!
Uppers on this design are textile and synthetic, with a mesh that allows excellent airflow in and out of the Xa Pro 3D. Inside is an injected EVA to help support your foot with each step, and a 3D chassis that helps create a stabilized environment for your feet but that won't inhibit movements and flexibility. A padded tongue and collar add to the comfort and cushion of this shoe with a heel tab for a quick pull-on.
At the base of the XA Pro 3D is an outsole to rival the best. It's created with Contagrip, making it more resistant to abrasions, scuffs, and scrapes that you encounter on the trail. A super aggressive style lug pattern on the sole also provides maximal grip and traction on varied terrain. And, durable shoes that maintain comfort are a bonus and you can include this Salomon in that group! Sensifit and a fast lace system help provide the best fit for your foot in a quick and easy manner.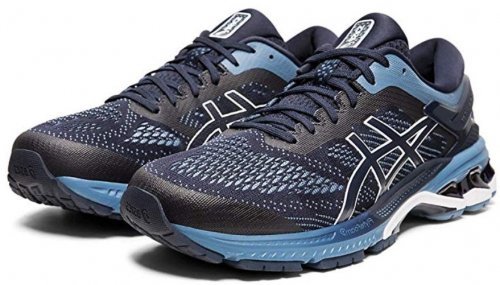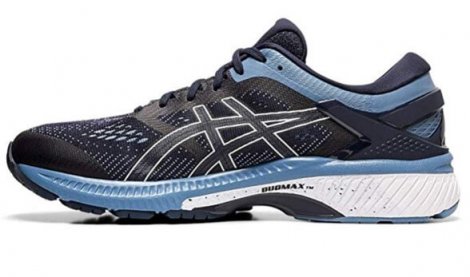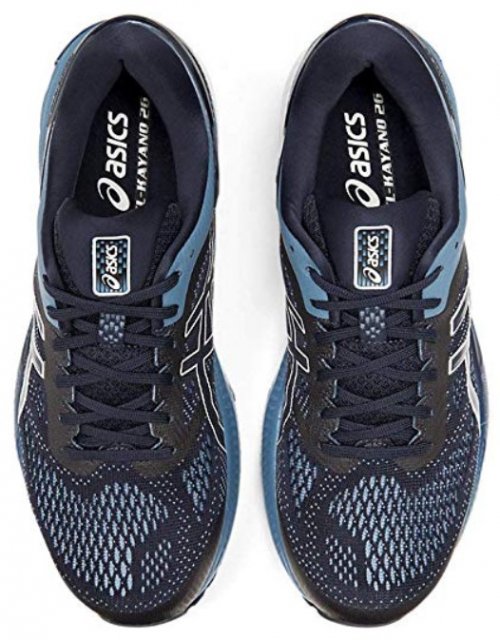 Upgraded from its predecessor, the Kayano 25, this design is made for running long and hard without falling apart from your training regimen. While many running shoes available are good for a certain number of miles, many tend to lose their cushion or shock-absorbing characteristics based on the miles ran, weather, storage, or heat. The Kayano 26 is not only packed full of supportive features for a running sneaker, but also some technology to make it a durable option as well.
In terms of durability, the Kayano 26 has an AHAR Outsole. This stands for 'ASICS High Abrasion Rubber', helping to reduce the damage done simply through wear and tear over time on the outsole. It minimizes scuffs and scrapes you may encounter when training. In terms of shock absorption, it has rear and forefoot Gel systems that reduce the impact to the foot when striking the pavement or trail. Considering this system is found in both critical impact areas of the foot, you can be assured that this design won't let you down in terms of cushioning.
The Impact Guidance System designed by ASICS helps promote proper gait during running, helping to stabilize the foot's movements and direction. And, as any durable design would have, the midsole is made with FluidRide technology from ASICS, which helps the integrity of the shoe over time but also provides you with a comfortable ride and minimal energy wasted during your run. The Kayano 26 is not just a long-lasting shoe, it's an excellent running sneaker for long-distance or heavy-footed runners!

Subscribe to our Newsletter