Best Reebok Shoes Reviewed
last updated:
May 26, 2020
Reebok, established in 1958, has provided pro athletes, casual trainers, and fashion enthusiasts with excellent footwear for generations. With breakthrough technology in traction, comfort, and durability, the brand delivers excellent performance and customer satisfaction. From specially designed CrossFit shoes to sneakers engineered for all-day comfort, they have something for any and every need. If you're looking for a good pair of Reeboks but have no idea where to begin, we've compiled this list for your convenience.
Whether you crave a casual-walking shoe or an intense-training sneaker, this list will guide you to your perfect match. No matter your circumstances, Reebok has the sneaker just for you.  To top that, every pair here has the wear-ability, comfort, and looks for every day, casual use; whatever you may be doing. Check out the best Reebok shoes on this list!
This is the best product on our list that is currently in stock: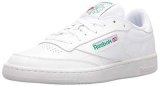 Club C 85
Why is it better?
Perforated Leather Upper
Generous Padding
EVA Midsole
Anatomically Correct Footbed
Rubber Outsole
In a
Hurry? Editors choice: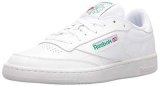 Test Winner: Club C 85

14
Researched Sources
1850
Reviews Considered
11
Hours Researching
14
Products Evaluated
Fit
Style
Outsole
Weight
Value
By Default
Top 10 Reebok Shoes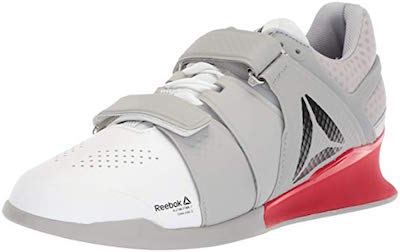 Perforated Synthetic Leather Upper
Padded
¾ Inch Heel Height
Lateral Stability Straps
Adjustable Closure
Runs Narrow
Requires Breaking In
Geared towards professional athletes, the Legacy Lifter is a weightlifting shoe that was designed with all the necessary features to keep you safe and comfortable while pushing your limits. Appropriate both for gym buffs and Olympians, it's an option that'll take you to the next level. It comes in several color options, from standard white and black to the flashier vitamin C version, allowing you to show off your style while keeping fit.
The most important thing in any pair of weightlifting shoes is that it provides adequate stability in order to prevent possible injuries. First and foremost, this is ensured through a raised heel that helps with a proper squat position, and the Legacy Lift features a ¾ inch heel. In terms of lateral stability, the straps over the instep provide a good level of security, as well as a secure fit.
In addition to an anatomical shape that provides proper support underneath the entire foot, including the arch and metatarsal area, this model also features a synthetic leather upper with perforations for breathability, foam lining for the elimination of pressure points, and a two-point adjustable closure for finding the perfect fit.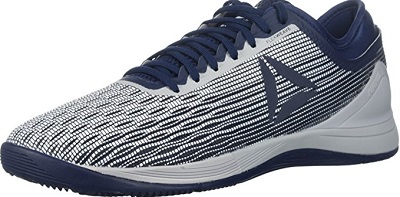 RopePro Outsole
Wide Toe Box; TPU Heel Wrap
Flexweave Upper
Forefoot Cushioning Midsole
4mm Drop
The CrossFit Nano 8.0 has a flexible; yet, stable design. Made with the needs of rope climbing in mind; as well as, overall CrossFit demands, the outsole is equipped with RopePro technology. In addition, these have a forefoot cushioning midsole, a Flexweave upper, TPU heel wrap, and a wide toe box. And for those minimalists out there, these have a 4-millimeter drop.
These have a wide toe box and, thereby, your toes are given ample room to splay during CrossFit training. Furthermore, the added room can help with those suffering from certain medical conditions, such as bunions, etc. The traction on this outsole is ideal for those who climb a rope during their CrossFit. Combined with the Flexweave upper, these two elements work in unison, to give you the correct amount of both flexibility and grip.
The midrange is the cost associated with this pair of best Rebook shoes. Moreover, the cost is great when viewing the overall quality of these, as they are built well and made of high-quality material. In other words, this means a great investment for the purchase price.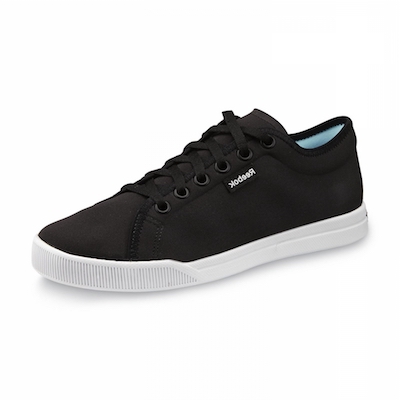 Lightweight
Flexible Exterior
Cushioned Insole with Inner Lining
2.5" Shaft Height
Memory Foam Interior
Though the phrase 'walking on air' is cliché, nothing describes the Skyscape Runaround walking better. Although this shoe is extremely light and flexible, the interior gives great support. The super-soft, memory foam interior pillows your arches for that cloud-nine experience, without weighing your strides down. Not only is this an excellent walking shoe but the super-stretchy fabric ensures that the Skyscape Runaround walking shoe will mold to your feet perfectly.
Weighing only 5 oz., the Skyscape Runaround walking shoe is one of Reebok's lightest to date. The petite, weightless style makes it transportation-friendly and super easy on your feet. Marvel in all-day comfort with this airy, stylish shoe.
The super-flexible exterior makes this shoe perfect for aching or swelling feet. Although the material is super flexible it is also extremely resilient and won't stretch out. This is a shoe that'll change and mold to your foot day today. The Skyscape Runaround walking shoe is one of the least expensive options on this list, practically making this petite sneaker a steal. Its portable-friendly design and cushioned interior make this shoe excellent for power walking and daily activity. And for such a low price, you won't find a better walking shoe.



Leather/ Nylon Upper
Low Cut
Padded Sockliner
EVA Midsole
High Traction Outsole
Runs Narrow
Slightly Stiff Sole
The perfect gym shoe, the CL NYLON Classic is a versatile option for all types of activities, both on indoor and outdoor surfaces. It's lightweight at only 210g per pair, with neutral cushioning that will fit most users, and has an 8.5mm drop that won't drastically shift your weight, but will help in instances when you want to gain speed more efficiently. Though available in several color options, it's a sensibly designed pair of footwear you'll easily wear even to work.
This is a model that combines both leather and nylon in the upper for a fit that's perfectly molded to your feet but allows for plenty of airflows. The side stability panels ensure secure lateral movement, even at high speeds, making this a great CrossFit or interval training sneaker.
The midsole on the CL NYLON Classic is made with EVA foam which is lightweight but does a great job at absorbing excess shock that happens with each jump landing. A memory foam footbed ensures a customized feeling underfoot, hugging your arch and keeping you feeling great for hours on end.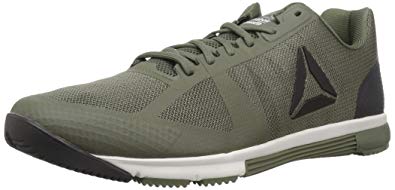 CORDURA Upper
Padded Collar & Tongue
Cushioned Foam Footbed
EVA Midsole
Low-Cut Design
RopePro Technology
Carbon Rubber Outsole
A neutral road running model, Speed Tr 2.0 is the next version of a shoe aimed at providing bouncy cushioning and an unparalleled fit through the upper, at a price that's affordable even for beginners. With a sleek look, it may even be a great choice for those looking for a comfy casual option to wear while running errands or to work.
The best thing about the Speed Tr 2.0 is the improved upper that makes use of textile and synthetic materials that are flexible and durable. Not only will it ensure a securely locked-in fit, but it'll also provide a great amount of airflow for those strenuous CrossFit sessions in the summer heat.
This model utilizes a die-cut EVA midsole that's been tried and tested for its shock-absorbing properties, while a DMX air-cushioning insert ensures the best possible rebound you can get in a Reebok. Comfort is additionally provided by a cushioned foam footbed, as well as generous padding in the tongue and collar.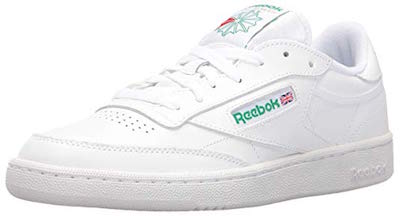 Perforated Leather Upper
Generous Padding
EVA Midsole
Anatomically Correct Footbed
Rubber Outsole
Unavailable in Wide Sizes
Sells Out Fast
A classic sneaker made for those who want the ultimate in terms of street fashion, and appreciate a quality build and comfortable design. Legendary in terms of appearance, this is a shoe you can get in a couple of color variations, from monochrome black or white to those more inspired by retro tennis shoes, featuring a yellow gum rubber outsole that'll take you back to 1985.
Finding a genuine leather upper in a pair of fashion sneakers is not that common, especially not with those models that boast affordable prices. The Club C 85 gives you the benefit of such materials, and is thus a great choice for all-year wear - not only is it breathable and durable, but it'll also mold to your feet after just a short break-in period, making these your new favorite sneakers.
Although with today's tech advancements, the Club C 85 wouldn't be considered suitable for athletic activities, it does feature an EVA midsole for cushioning and support, as well as an anatomically correct footbed. Furthermore, the rubber compound does a great job of providing grip on various surfaces, and shouldn't give in to abrasion on floors such as concrete. Slightly below average in terms of cost, the Club C 85 is a great investment for anyone looking for a versatile sneaker that'll look good both dressed up or down. It's even available in children's sizes, making it a good choice for the entire family. You'll definitely appreciate the comfortable upper, as well as the quality construction.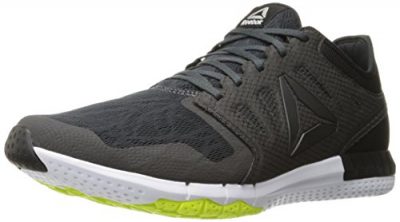 Knitted Webbing at Midfoot
Low-Cut Construction
3-D Foam Midsole
Seamless Upper
Breathable Material
With a long list of amazing product features and a sleek, lightweight frame, these running options are a high-quality option. Using advanced 3-D technology, Reebok created a shoe that, truly, molds to your feet; thereby, giving you unwavering support throughout your entire day.
A step above the others, these Zprint running shoes were developed with 3-D maps of real feet in motion; thus, allowing Reebok to have a true sense of how feet move and, therefore, creating an advanced pattern for superior support. The unique lug is essential for providing dynamic movement and, thus, creating an adaptive ride. Pair that with an abrasion-resistant outer rim, and you have a pair of these that are made to withstand all elements and last throughout the seasons.
With a slim, sleek design and exceptional features, these are a total bargain. The Zprint is a very affordable, must-have for any runner; making it easy to have a pair or two in your closet as backups.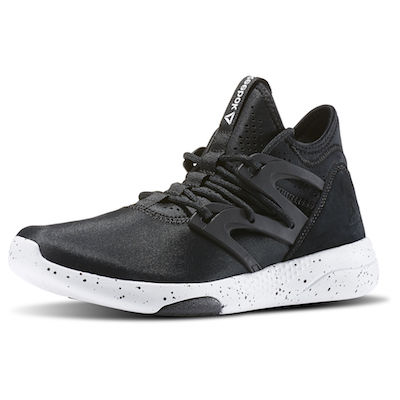 Removable Sockliner
Ultralite Midsole
Controlled Gait
Seamless Bootie
Snug Fit
The last thing you want is to be at a dance class and unable to properly work out because you can't stop sliding all over the place. Reebok's Hayasu's are made to support your feet through a wide range of movements with their TurnZone technology; making sure your focus remains spot-on, even if you may slip. Quickly becoming the go-to dance option for those looking for stylish comfort and having a unique style with even more-unique color variations, there is a pair for everyone.
The outsole is made with a soft-silky rubber, perfect for safely gliding over a dance floor. There is no need to worry about slipping because a rubber turning zone insert has been added to aid in your range of motions, helping to better control the way you move.
Few things are more frustrating than constantly adjusting and fussing with your shoes because of irritation around your ankle. This seamless neoprene bootie provides a comfortable, snug fit and will have you dancing the night away, without any worry of painful rubbing or causing blisters. The Hayasu is a strong competitor amongst this list. Although marketed as a dance shoe, they can be worn as an everyday shoe by those who love to rock the athleisure look, making them extremely versatile, stylish, and fairly priced.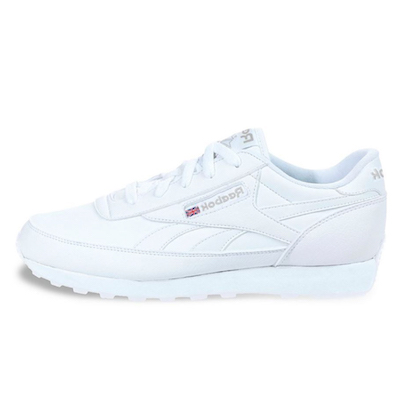 Shock-Absorbing EVA Midsole
Machine Washable
Foam Interior
Doesn't Scuff Floors
Leather/Nylon Upper
Reebok's Classic Sneaker; what more needs saying? This tried-and-true shoe has kept generations of feet supported and comfortable since the 1970s. The ultra-plush foam interior keeps your feet comfortable, even during the most intense training sessions. And the Classic Sneaker's shock-absorbing midsole keeps your feet supported and ache-free after a long day at work or in the gym. Do they feel a bit grungy after a long week? Throw those beauties in the washing machine on a gentle setting for that new, hassle-free shine.
Reebok's Classic Sneaker is made with ultra-durable material to handle the toughest activities and, moreover, washing machines. This sneaker was made with convenience in mind for those individuals pressed for time between work and play. Wear these sneakers anywhere with no fear of staining or scuffing. Dirt and sweat-stained ones go in but pristine, respectably-clean sneakers come out.
The foam interior makes for all-day comfort. Whether you're on your feet all day at work or at the gym, Reebok's padded interior cradles your arches for maximum support. Coupled with its shock-absorbing midsole, nothing will feel or protect your feet better than these Classic Sneakers. The Reebok Classic Sneaker is moderately priced and a sound investment for those who want an all-day, everyday shoe. Not only is this sneaker classically stylish and super comfortable but its low-maintenance upkeep means you'll spend less time maintaining its stunning quality.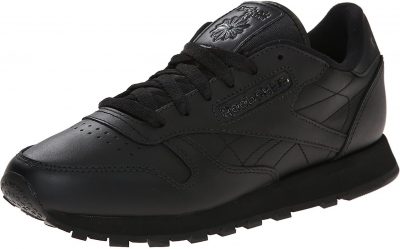 Perforated Toe Box
Plush Interior & Insole
Rubber, High-traction Outsole
Leather Upper
Highly Breathable
The Classic CTM R13 sneaker is another great work shoe, for those long hours on the job. But, with its great breathability and high-traction rubber outsole it, also, doubles as an athletic shoe. The classic style of this sneaker makes it perfect for work and play, while also, making it highly fashionable. A plush interior provides all-day comfort, no matter the activities. Whether you're out on the town or playing a game on the court, the Classic CTM R13 sneaker keeps you supported and comfortable.
The high-traction outsole makes this shoe dominate on any terrain. With a specially engineered rubber outsole, tackle any activity with zeal and conviction. Whether you're biking, hiking, running, or just walking, this shoe will keep you stable and ready for anything. Because of the Classic CTM R13's great traction and durability, this shoe is perfect for all-day wear-and-tear. Wear it every day for comfort and support to the gym, or just to the mall. This shoe will hold for years while keeping your feet happy, comfortable, and supported.
This shoe is on the lower end of the price range, thereby, making the Classic CTM R13 sneaker perfect for everyday use. The perforated toe box gives it great breathability while the high-traction outsole makes it great for both casual and intense usage.
Criteria Used for Evaluation
Expert Interviews & Opinions
Most Important Criteria
(According to our experts opinion)
Experts Opinion
Editors Opinion
Users Opinion
By Default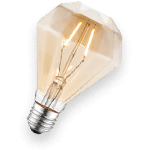 A Reebok For Every Activity
Reebok's line of footwear really does cross from running, court sports, through to lifting and niche kinds of sports. Whatever your fitness goal, make sure to select an appropriate shoe that is designed to help you perform your activity the best you can, due to its construction, levels of support, and stability.
Getting Back Into Working Out?
One of the key things to do if you're just starting back into working out, is to avoid overdoing things! This puts you at risk for injury, as well as premature soreness in muscles that may not be ready to handle the load you give them.
Ease into your activity the first week, then ramp up accordingly!
Other Factors to Consider


Bottom Line
Reebok has been a trusted brand of athletes and workers since the early 1950s. They innovate with new technologies, in order to keep pro-athletes in the best condition possible, with specially engineered midsoles and insoles. And for casual usage, Reebok designed super-convenient and super-comfortable footwear for a plethora of uses. Trying to hunt down your special pair of Reeboks can be a daunting task all on your own. These top 10 Reeboks are some of the best-rated and most-effective shoes for the average person. All people deserve great footwear that can do anything, from a simple jog to intense CrossFit training. Hopefully, this list helps you find that special Reebok for yourself.
Frequently Asked Questions
q:

Should I size up?

a:

Completely dependent on the shoe, itself, and the fit you are looking for. The best rule of thumb, no pun intended; is to measure the top of your longest toe to the tip of the shoe – it should be your thumb's width. Running shoes should, generally, be quite snug while not being constraining. Walking shoes, because you are less reliant on them to keep your foot firmly in place, can be a little bit more spacious.
q:

What is the perfect amount of cushioning?

a:

Most shoes will have a well-cushioned midsole inside. However, just because a shoe is foamier and more cushioned, does not mean that it will provide you, specifically, a better experience. Your arch type can play a large role in what midsole is right for you. If you have a high arch, it is harder for you to absorb shock, especially during physical activities like running. Therefore, a shoe built for high arches is best. If not, an orthotic may be necessary.
q:

Is there a break-in period?

a:

Some shoes may glide on your feet and feel comfortable and ready for a long day of errands, or a morning at the gym, instantly; while others, can cause a painful blister two seconds in. The break-in period for shoes is always different from person to person; as well as, shoe to shoe. With any stiffer shoe, like tight leather, there will be a period of time where you may experience slight discomfort, although it should not last long.
q:

Which materials are water resistant?

a:

Most materials are water-resistant; or can at least, be made that way with the help of sprays. The leather is the most and, therefore, usually, the most popular choice in shoes; especially, if they are ones you will be wearing outdoors in any weather condition. The leather is, also, a great option for cleaning, as most stains and spills are easy to wash off, unlike certain materials like a canvas that may soak up a spill. Most synthetic materials are, usually, made to keep your feet dry for short periods of water exposure but shouldn't be heavily relied upon in a lot of rain.
q:

Is a removable sock-liner important?

a:

For anyone needing to insert their own medical orthotics, or insoles, absolutely. Without the option to remove the insole, it makes it very difficult and sometimes next to impossible, to insert your own. The shoe, then, becomes too bulky and may not properly have enough space to fit your feet. If you do not need any extra support or cushioning in your shoe, this is a non-important feature for you.
q:

Will my feet be comfortable after a long day?

a:

There are a few factors that come into play: if the shoe properly fits your foot, offers the correct amount of support, and is well-cushioned, you should get home from a long day, be able to kick off your shoes and be rest assured that you'll be pain-free. If for any reason, you are experiencing pain, it is important to figure out what the cause could be. Being on your feet all day in a shoe that is not well cushioned and not absorbing shock, correctly, is going to leave your feet aching. That is not, necessarily, meaning the shoe is bad. It could be that it just isn't the proper fit and style for you, personally.
Subscribe to our Newsletter