Best Crossfit Shoes Reviewed
In a Hurry? Editors choice: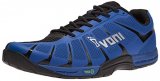 Test Winner: Inov-8 F-Lite 235 V3

Unlike other activities, CrossFit combines a wide variety of specific motions, lifts, and exercises. Exercises which, of course, are not as effective if performed wearing generic footwear. Not only is wearing a pair not specifically designed for CrossFit less efficient, but doing so may also become hazardous.

On the other hand, CrossFit shoes provide essential features such as grip, flexibility, comfort, and shock absorption. These aspects are important in practical training and should be present in every respectable model.

In general, you need a pair that can endure high-intensity aerobic activities and heavy lifts.

Below, we have carefully compiled a list of the ten best CrossFit shoes currently available on the market. Sit back, scroll down, and choose the best option for yourself!
Standout Picks
Criteria Used for Evaluation
Outsole
For maximum performance, the outsole needs to provide outstanding grip, traction, and stability.
Grip & Stability
CrossFit shoes need to be firm and stable to deliver an acceptable lifting experience. It's crucial to maintain a steady grip on the floor's surface at all times. Otherwise, lifters are susceptible to slipping.
The grip depends on multiple factors. For instance, your training surface has a direct impact on the effectiveness of the grip. The materials out of which the outsole is made of also play a crucial role. The best ones need to have a grip that supports lifting, rope climbing, jumping and a good stance for battle ropes. Your pair must maintain a grip on any dry or plain surface, excluding grass and dirt.
Stability is important to optimize the range of motion in each exercise. The lack of stability in a shoe will cause undesired lateral and frontal swings. This is another huge no for weightlifters. Stability is essential during lifts; the trainers should act as a steady platform on the way up, and a firm cushion on the way down. Thus, they must be able to maintain a stable stance during every stage of a training session.
During intensity workouts, such as box jumps, the sneakers must be able to deliver a stable landing as well. A pair of shoes that can't adequately support jumps defeats the purpose of cross-training.
Traction
This sport involves a wide variety of physical motions and exercises. Thus, the best shoes for it must allow you to move around freely and perform these movements adequately. This is where traction comes in.
The amount of traction generated between two surfaces is basically the quality of the grip they have in conjunction with one another. Many factors determine adhesion, such as the exercising surface and its state (wet, dry, moist, etc.). The outsole of your footwear is in charge of generating traction when performing your exercises as well. Even though the shoes for men are designed differently than those for women, they often share the same outsole design.
The outsoles include carefully designed patterns that grip and grab the texture on the floor's surface. Believe it or not, there's a whole science going on behind the blueprint of these outsole patterns. Even those with stylish outsole designs are crafted to maintain a steady balance between style and function.
To distribute traction correctly, the outsoles are designed based on three parameters: impact, biomechanics, and multidirectional movement. These factors help calculate the surface ratio of a shoe during training (the amount of time each part of the outsole is in contact with the surface). When running, for example, only the third quarter of the shoe is in contact with the surface. Thus, such part of the shoe must be designed to generate traction on its own.
Shock Absorption
Proper shock-absorbing materials and technologies are essential to keep your feet pain and injury-free.
Anyone who has done this type of exercise (or any aerobic activity for that matter) knows how important shock absorption is in their footwear. The only protection we have from receiving the full impact of when our feet hit the ground is the shock absorption system a proper design incorporates. A pair of these that fails to diminish impact during workouts is as good as a pair of sandals, and certainly not adequate.
The best pair must be able to absorb shock from the basic to the most intense of exercises.
Those doing High-Intensity Interval Training (HIIT), for example, rely on adequately performing HIIT shoes. If their footwear lacks impact absorption, their feet will take a toll after the first 10 minutes. Not to mention, soreness the day after working out will be intensified from the unnecessary beating. The same goes for runners, sprinters, jumpers, and even weightlifters.
During jump exercises, such as box jumps, this product utilizes shock absorption technology to make landings softer. If jumps are consecutive and quick enough, users can also turn impact into impulse with the proper footwear.
But, shock absorption isn't necessarily limited to direct shock (from running, landing from jumps, etc.). In the case of weightlifters, cushioning is used to reduce tension in the heel area when performing heavy lifts. Additionally, the compression generated by the weight against the specially designed midsole acts as an impulse.
Squats are an example of this when most of the tension from the exercise builds at the midsole. When going back up, the same pressure is released, assisting the user through the motion.
Depending on the design, the heel and outsole might also assist in shock absorption. If no such qualities were present in the shoes, our heels would be responsible for absorbing any and all impact or pressure. Think of your heels absorbing 300lbs+ of squat tension; sounds painful doesn't it?
Comfort
Comfort comes in the form of a roomy toe box and of just enough flexibility to allow for a full range of motion.
Comfort may seem secondary to performance, but it's just as important. Imagine trying to work out with a pair of these that are constantly smashing your toes. Or, a pair with excess space causing your feet to dance around every time you take a step. Your performance would be greatly hindered.
Multiple factors determine the comfort levels of a shoe. Each of these factors must be on point, as the lack of a single one will considerably reduce performance.
The toe box should be wide enough. Compressed toes will hinder running and jumping, as well as cause irritation from friction. Aim for the right size, and the right fit. Avoid footwear that lets your feet wiggle around; it's hazardous when dealing with weights. Last but not least, flexibility is important when performing various aerobic exercises.
True, the platform of cross-trainers must be rigid for lifting. But this doesn't mean they must be completely stiff. These products are not intended exclusively for weightlifting. Without flexibility, you wouldn't be able to perform box jumps, rope jumps or sprints. Look for a shoe that bends into the exercise.
When we talk about flexibility, we don't mean just the vertical running flex. The best cross-training sneakers must support lateral flexibility as well (when engaging laterally). We don't want them to flex to the sides with each step. Trainers that imitate the ankle flexion allow users to have a wider range of motion.
Breathability
Perforated or porous materials such as mesh are key for keeping feet dry, cool and odor-free.
Breathability is another factor that affects the overall training. A completely sealed-off design just can't be called a quality one. Not only will it decrease comfort, but also many other aspects of training.
The accumulation of heat in the inner sole can produce excessive sweating. This triggers a list of side effects that will decrease performance. To start off, it makes feet more susceptible to irritation (and becoming an irritating factor on its own). In some cases, it may also disturb the grip between the feet and the inner sole. Additionally, it generates unwanted odors later on.
When training under the sun, breathability becomes a critical factor. These products must include breathable materials that allow enough air to flow through the design.
The best cross-training sneakers strategically place their breathable zones. Quality manufacturers, such as Reebok, Nike, and Adidas know where heat is more likely to accumulate. Thus, they apply breathable technology where feet need it the most. Look for a pair that contains breathable materials, preferably mesh. Usually, heat accumulates the most on the upper side of the feet and the heel.
The best options are those that come with perforations around the top, heel, and lace area.
Lightweight materials are usually much more breathable and comfortable than heavy ones. Aim for a light design that allows air to flow. If buying them from a store, feel free to step in front of the ventilation systems or air conditioners. Assume a pose that lets the ventilation hit the shoe, and evaluate the amount of air that goes in.
Durability
Shoes that last the longest are equipped with high-quality, abrasion-resistant materials and durable technologies.
The best CrossFit shoes are far from cheap. We know no one wants to have to buy a second pair of $100+ after just two months. That's why we made sure to feature only those that are durable on this list. One would expect that a product with a big price tag is durable, but that's not always the case, unfortunately.
The durability of a shoe depends on multiple factors.
For instance, the materials the cross-trainers are composed of must be able to endure high-intensity training. While we didn't look for bulky, heavy materials, we didn't select short-life materials either.
The technologies incorporated into the shoe should also be durable. If these systems deteriorate before the shoe does as a whole, it will defeat their purpose. Keep in mind that not all of them are protected against water damage.
We kept in mind that the durability depends on the use. Powerlifting footwear won't last if not given the proper use. Thus, we emphasized the particular purpose of each item on this list. If a design shows signs of degrading after heavy workouts, it's not a good option. The best cross-training footwear can keep up with the most intense and heaviest of workouts.
Best Shoes for CrossFit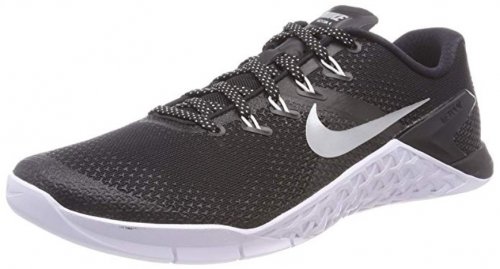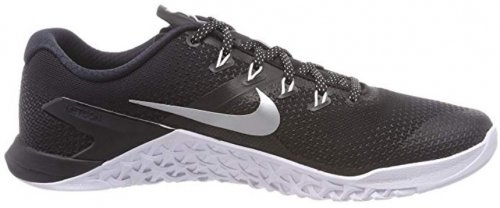 If you know Nike, you know they always come with the best in mind. The Nike Metcon 4 is highly durable and is made with explosiveness, grip, speed, and stability in mind for the wearer. This new model is constructed with a reinforced print from heel to toe and has an additional six eyelets for more precise lacing. These dependable trainers with their lockdown fit and breathable, lightweight construction will last for a very long time.
An exclusive technology only offered by Nike, Flywire consists of filaments that are smartly placed throughout the shoe's construction and operate like suspension cables when in use. What does this mean for you? It means precise support that moves with you and absorbs any tension when you need it while keeping your feet in place.
Participating in an intense exercise generates a lot of friction and heat throughout the body, especially the feet. The Metcon's midsole is constructed with an abrasion-resistant film that helps to reduce any unnecessary friction and heat during your workouts. This gives you better comfort, support, and traction.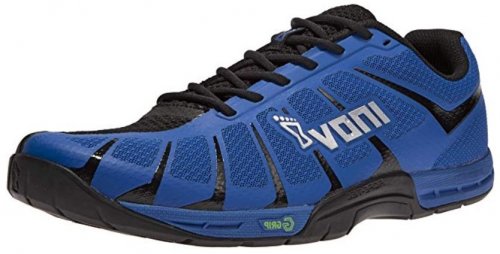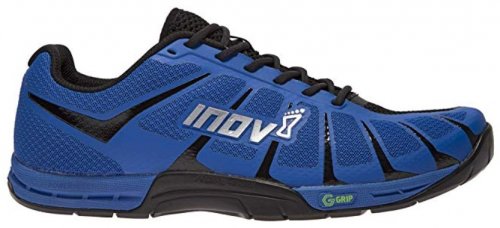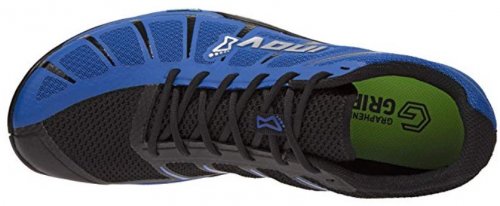 The F-Lite 235 from Inov-8 is designed to follow the natural movement of the foot and enhance it. It is packed with features and innovative technologies that protect you and provide you with ultimate comfort. The F-Lite 235 V3 will follow you into lifting, squatting, jumping, running and more without any problems.
The upper of this design has protective overlays over stretchy, breathable mesh fabric. Special ROPE-TEC along the upper ensures good traction during rope climbing. The midsole carries the POWERFLOW+ technology for better impact absorption and energy rebound. The F-Lite 235 has an outsole that is flexible in the forefoot for maximum ease of movement, and the 4mm drop makes this trainer perfect for lifting.
The Inov-8 F-Lite 235 truly has it all - a midsole that keeps you cushioned, an outsole that moves with your foot, an upper that supports and protects your feet. It is a solid option for a wide range of gym exercises, which is all we're really looking for in a design of this type.

3

. Under Armour TriBase Reign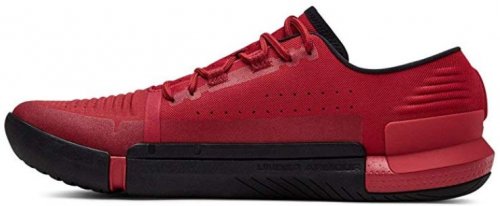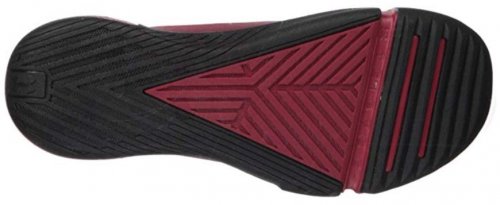 What makes the Tribase Reign stand out from the rest of the options on our list is the fact that it provides a solid foundation for you to work from. It comes with UA's TriBase technology in the outsole which helps you feel the ground better but is also incredibly flexible. All great workouts start from the ground up, and the TriBase Reign is here to support that.
This option has an upper made from ripstop material that is abrasion-resistant and resilient to pretty much anything you throw at it. An external heel counter keeps your heel firmly in place, while there is a Micro G foam midsole inside. This midsole is a full-length element that delivers maximum cushioning. The TriBase outsole provides three points of contact with the ground so that you're always steady on your feet no matter what.
To round up the construction, the outsole also wraps up around the sneaker's lateral sides for even more wear and tear resistance, and there is a medial rope grip that makes rope climbing a breeze. Packed with all the latest innovations from the brand, Under Armour's TriBase Reign is truly a design worth investing in.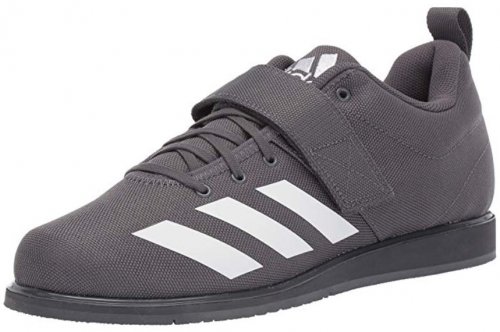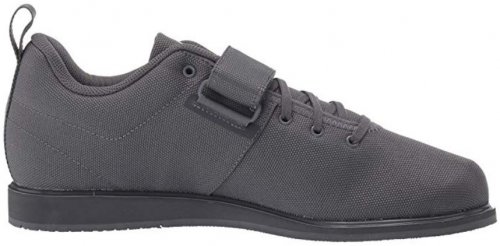 If your workout requires a lot of lifting - of any type - then you may want to invest in a pair of ultimate lifting shoes, the Adidas Powerlift 4. This trainer has everything you need to push your limits and take on the weight you never thought would be possible - a snug fit, a secure strap, a lightweight upper but a durable outsole. Adidas really went above and beyond for their latest Powerlift model!
The Powerlift 4 has a canvas upper, meaning that it keeps your feet dry and cool and breezy even when you work up a sweat in the gym. For adjustability, there is a lace-up closure and for security, the hook-and-loop strap will keep you firmly locked down inside the trainer. The outsole of the Powerlift 4 is Adiwear, specially crafted to provide maximum durability.
The beauty of the Powerlift 4 is that it has flexibility in the forefoot, so that your movements don't feel too restricted and that you can perform activities other than lifting if you so desire. If you're looking for something outstanding and long-lasting, you've come to the right place.

5

. Reebok CrossFit Nano 8.0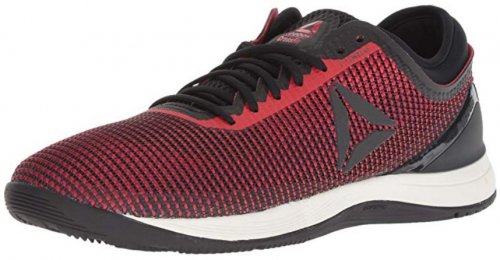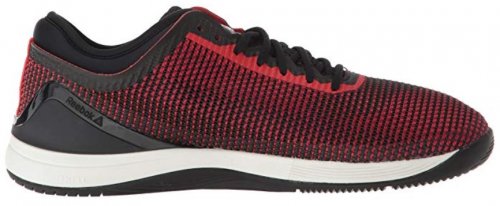 The Reebok Nano series is known for its ability to break boundaries and achieve greatness. The latest model, the Nano 8.0, gives you that same ability that you have come to love plus updated innovative features to take your game to the next level. This very versatile model gives you a powerful foundation, secure footing, and a superb range of movement. You can purchase it in a variety of colors and designs.
Flexweave technology is a fully engineered weave that is weaved in a figure-eight style to ensure great levels of breathability and flexibility. This technology is only featured in the upper and doesn't take away from the reliability and durability of the Nano series.
A toe box that gives the wearer room, comfort and stability is paramount. The Nano 8 is equipped with a toe box that has a power launch to give you an unbreakable foundation in fit, stability, and power. The toe box is also wider to give you better space and movement.

6

. New Balance Minimus 40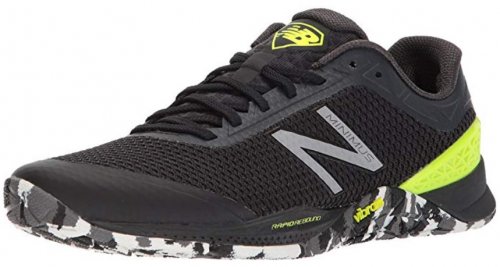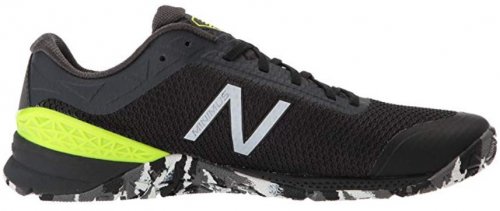 The Minimus 40 from New Balance represents a good combination of a design meant for lifting and one meant for short-distance running. There is a carefully engineered midsole for cushioning and a heel that is designed for stability so that you can lift without fear of losing your footing. The Minimus 40 is a great well-rounded option to get you started in the world.
The upper of this design is made from synthetic mesh, with TPU reinforcements in all the right places. The mesh keeps the air circulating in and out, while the TPU makes it durable. The midsole is outfitted with Rapid Rebound technology that supports short runs and bursts of movement that you often find in a workout. Finally, the outsole is Vibram for excellent grip, and the REVlite in the heel keeps you steady on your feet.
If you're confused as to what choice to make - whether a lifting design or a more versatile one - the New Balance Minimus 40 is a great solution. It has the best of both worlds, and until you venture deeper into the world, it will definitely keep your feet comfortable, protected and happy.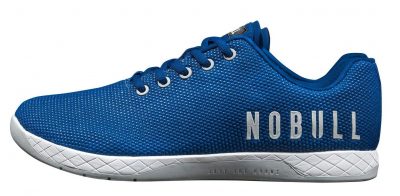 This simple trainer has become quite popular in the community, and it has to do with the fact that they really do live up to their name. It is designed for a multitude of exercises, in whatever environment you choose to do them in. Outdoor, indoor, rain, shine - the NOBULL Trainer is going to hold up and keep you going.
The upper is crafted from the brand's trademarked SuperFabric, a stretchy, flexible material that is lightweight and breathable. The material is also resistant to abrasion, so they aren't going to break down on you any time soon. There are guard plates added in to ensure that there is no damage when you climb ropes or perform other wear and tear activities.
The tread is fantastic, and it's going to serve you well in both wet and dry conditions. Go straight from the inside of a gym to running outdoors without any issue. Great traction and support are the key points here, exactly what any trainer needs.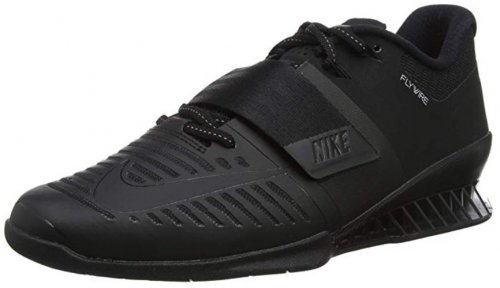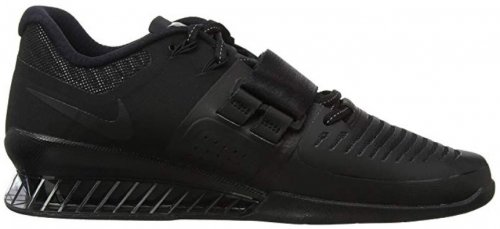 The Nike Romaleos 3 is a new addition to Nike's weightlifting line. They're updated from the previous model 2 with some added design benefits. The most obvious addition in the 3 is Nike's signature Flywire material that enhances the shoe's flexibility and decreases its weight.
As a hybrid lifting shoe, the Romaleos 3 is used for a variety of strength activities. But, with its .79 inch heel height, it is great for lifters who need a little help with their range of motion. The elevated heel helps a lifter remain stable in the squat, snatch, or clean and jerk.
The upper of the shoe is made from the flywire material Nike is known for. Flywire is lightweight and flexible but strong. These are the first lifting shoes designed with Flywire and wearers say you can feel the difference in the material and weight. Flywire gives it a completely different feel and flexibility and could completely change your lifting game.

9

. ASICS GEL-Quantum 180 TR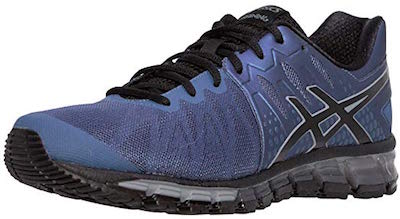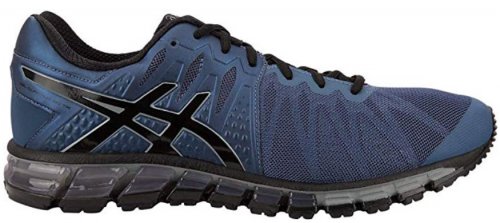 One of the best gym shoes available on the market, the ASICS GEL-Quantum 180 TR edition is the perfect choice for anyone looking for something reliable, flexible, cushioned and lightweight to do their morning (or evening) workouts in. It's a stable sneaker that'll make take-offs quicker and lifts easier, seeing that it provides a base you'll be able to rely on. The upper is made with a combination of mesh and synthetics for a combination of breathability and support, while the vamp has reinforcements to prevent any tears or damage in the shoe.
What ASICS is known for is its cushioning system that uses a silicone-based GEL compound that does an amazing job at absorbing shock with every landing, as well as providing a good amount of energy return when taking off. With GEL pads located both in the forefoot and heel areas of the shoe, the GEL-Quantum 180 TR is a great choice for the varied types of movement this requires.
Combining lightweight and abrasion-resistant materials, ASICS found the perfect balance between weight and durability. On one hand, the midsole of this sneaker is made with a Solyte material that's extremely lightweight and less likely to pack than regular EVA foam, while a Trusstic System ensures durability and integrity. The outsole is made with ASICS High Abrasion Rubber that won't wear down, giving you great grip both indoors and outdoors.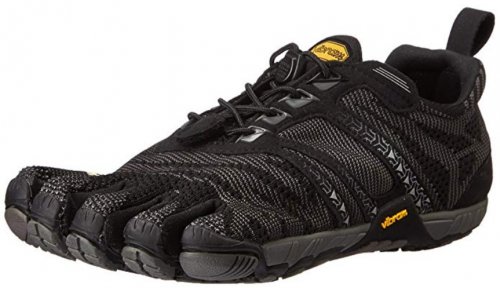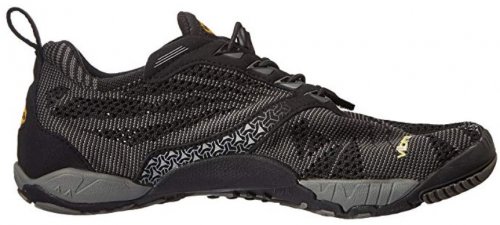 The FiveFinger Vibram is an asphalt specialist when it comes to sprinting, running, and jumping. It has a total sole thickness of 11.8mm, which is pretty thick for a FiveFinger. The barefoot-like experience makes them the ideal choice for aerobic exercise. The grip is firm, and it meets high standards of responsiveness.
The FiveFinger KMD EVO is very agile. Flexibility, shock absorption, and balance make up for a dynamic combination for this design. The sole is thick enough to deal with the impact and sufficiently flexible to maximize each step and jump. Its design makes it great parkour shoes.
Individual toe boxes make the fit very comfortable. The overall design is lightweight and thin, providing a barefoot experience during training. No more tight toes with these aerobic shoes. Cushioning and shock absorption reduce any possible pain.

Subscribe to our Newsletter